25 August 2022: Stocks making the biggest moves
Market Movers | Trading Dashboard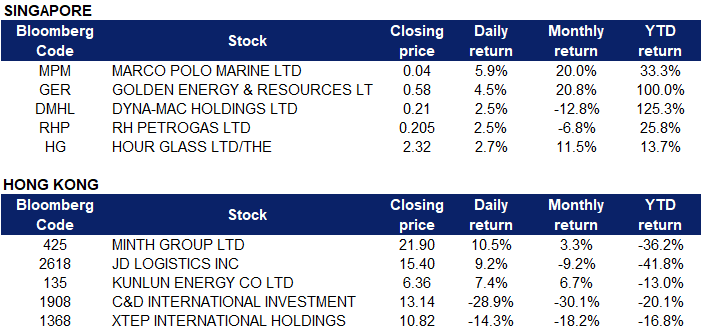 United States
Top Sector Gainers
Top Sector Losers
Bed Bath & Beyond Inc (BBBY US) surged 18.0% on a Wall Street Journal report that the retailer had secured new financing that would help boost its liquidity.
Peloton Interactive Inc (PTON US) jumped 20.4% after news that Peloton struck a deal to sell some of its fitness equipment and accessories on Amazon's U.S. e-commerce site. The move is an attempt to broaden Peloton's consumer base after revenue growth slowed from pandemic highs. The stock is down more than 60% year-to-date.
Nordstrom Inc (JWN US) tumbled 20.0% after cutting its financial forecast for the rest of the year, citing too much inventory and slipping demand. The company reported results Tuesday that beat on earnings and sales in the quarter.
Farfetch Ltd (FTCH US) surged 21.3% after the online luxury retail company said it will take a 47.5% stake in e-commerce fashion retailer YOOX Net-A-Porter from Switzerland's Richemont.
Petco Health & Wellness Co Inc (WOOF US) fell 8.8% after the company reported quarterly earnings that disappointed on the top and bottom lines. The company also slashed its full-year outlook, citing higher costs ahead.

Singapore
Marco Polo Marine Ltd (MPM SP) rose 5.9% yesterday. It was recently announced that Lee Wan Tang, the former executive chairman of SGX-listed Marco Polo Marine, has entered into a share purchase agreement on Aug 21 to acquire 121.8 million shares in the company at 3.3 cents apiece. The transaction is expected to be completed on or before Oct 31. Following the purchase, Lee will hold a direct stake of 148 million shares, or 4.19% of the company's total share capital, from 0.75% previously.
Golden Energy & Resources Ltd (GER SP) continued to rise 4.5%. Global coal prices have shot up over fears of a supply crunch after the European Commission decided to ban imports from Russia following its invasion of Ukraine, while persisting supply-chain issues are likely to keep prices elevated. Furthermore, China is currently mining and importing more coal as its worst heatwave and drought in six decades hits hydroelectricity, the nation's second biggest source of power. The country's crucial Yangtze River has dried up in parts because of extreme heat and scant rainfall. The drought has impacted the water supply for tens of thousands of people and forced the closure of factories in some provinces to preserve electricity supplies.
Dyna-Mac Holdings Ltd (DMHL SP) and RH PetroGas Ltd (RHP SP) rose 2.5% and 2.5% yesterday. Benchmark Brent oil climbed above $100 a barrel on Wednesday after Saudi Arabia suggested this week that OPEC could consider cutting output in response to poor liquidity in the crude futures market and fears about a global economic downturn. Contracts for both crudes soared on Tuesday after Energy Minister Prince Abdulaziz bin Salman flagged the possibility of cutting production amid poor futures market liquidity and macro-economic fears.
Hour Glass Ltd/The (HG SP) rose 2.7% yesterday. On August 23, the company purchased 425,000 more shares to be held as treasury shares, at the price of SGD 2.23577 per share and a total sum of SGD 952,642.74.

Hong Kong
Top Sector Gainers
Top Sector Losers
Minth Group Ltd (0425 HK) rose 10.5% yesterday. On the evening of August 23, Minth Group released its interim results. In the first half of this year, the company achieved a turnover growth of about 8.9%, while the profit attributable to owners decreased by about 27.0%. Overall gross profit margin recovered to 29.1% from 27% in the second half of last year.
JD Logistics Inc (2618 HK) rose 9.2% yesterday. JD Logistics announced its half year results on the evening of August 23. Its reported revenue was 58.6 billion yuan, a year-on-year increase of 20.9%, exceeding the average growth rate of the logistics industry; gross profit margin increased from the same period last year From 3.7% to 6.2%, the gross profit level increased significantly.
Kunlun Energy Company Ltd (0135 HK) shares rose 7.4% yesterday after Kunlun Energy released its interim results for the first half of the year. The group's revenue from operations was 83.864 billion yuan, an increase of 29.54% year-on-year; the profit attributable to the company's shareholders was 3.08 billion yuan, an increase of 18.64% year-on-year. The Group also announced that it achieved natural gas sales volume of 21.933 billion cubic metres, an increase of 887 million cubic metres or 4.21% year-on-year.
C&D International Investment Group Ltd (1908 HK) shares fell 28.9%, after it disclosed that Zhuang Yuekai, chairman and executive director of the company's board of directors, is currently undergoing a disciplinary review and supervisory investigation.
Xtep International Holdings Ltd (1368 HK) shares dropped 14.3% yesterday. The interim data showed that in the first half of the year, the average inventory turnover days of Xtep International increased significantly from 79 days in the same period of the previous year to 106 days, hitting a new high since its listing in 2008. Due to supply chain and logistics issues, Xtep was unable to deliver its goods to certain domestic and international customers in time. Hence, causing the group to accumulate more inventory. The group's investment in new brands may affect the main brand's growth, an approximate reduction in profit margin of the main brand by 0.3-0.5%.


Trading Dashboard Update: Take profit on Ho Bee Land (HOBEE SP) at S$2.84. Cut loss on WH Group (288 HK) at HK$5.25. Add Geo Energy (GERL SP) at S$0.41 and Xinte Energy (1799 HK) at HK$20.5.