20 September 2022: Stocks making the biggest moves
Market Movers | Trading Dashboard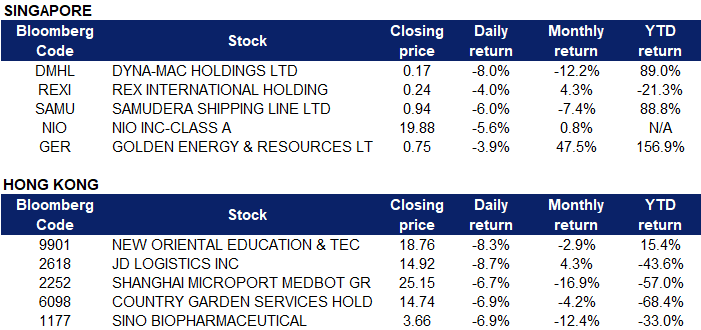 United States
Top Sector Gainers
Top Sector Losers
Wix.Com Ltd (WIX US) soared 15.7% after activist investor Starboard Value revealed a 9% stake in the web development platform company. According to Reuters, Starboard has spoken to Wix about how it can improve operations of the company, which has lost half its value this year.
Coinbase Global Inc (COIN US) fell 5.5% as the price of bitcoin dipped to its lowest level since June and traders continued unwinding short positions following the completion of the Ethereum merge. Stocks also fell Monday ahead of the Fed decision this week. Crypto prices are largely macro driven, and Coinbase's revenue relies heavily on trading fees.
Sunopta Inc (STKL US) rallied 6.8% after being named a top pick by Cowen. Analyst Brian Holland, who has a buy rating on the stock, wrote in a note that "the company's agnostic posture and capital execution is affording strong growth sight lines underappreciated by the market." His $15 price target implies 55.9% upside from Friday's close.
Opendoor Technologies Inc (OPEN US) dropped 4.4% after a Bloomberg reported the iBuyer lost money on 42% of its August resales. Like others in the housing space, the company faces headwinds including a housing recession and mortgage rates over 6%.
GAMCO Investors Inc (GBL US) plunged 9.3% after announcing after the bell on Friday it was voluntarily delisting from the New York Stock Exchange. Gamco has filed an application for its common stock to be quoted on the OTCQX platform, operated by OTC Markets Group.

Singapore
Dyna-Mac Holdings Ltd (DMHL SP) and Rex International Holding Ltd (REXI SP) fell 8.0% and 4.0% respectively yesterday. Oil fell by more than 1% on Monday, pressured by expectations of weaker global demand and by U.S. dollar strength ahead of a possible large interest rate increase, though supply worries limited the decline.
Samudera Shipping Line Ltd (SAMU SP) declined 6.0% yesterday. Singapore stocks ended in slightly negative territory on Monday, tracking losses on global markets as recession fears and worries of further rate hikes weighed on investor optimism.
NIO Inc (NIO SP) fell 5.6% yesterday. Shares in the Asia-Pacific fell on Monday ahead of major central bank meetings this week; on concern the Federal Reserve will push ahead with its fifth interest-rate increase this year to control inflation at the risk of pushing the global economy into a recession.
Golden Energy & Resources Ltd (GER SP) dropped 3.9% yesterday. Coal fell by 1.5% on Monday due to global recession fears and further rate hikes, despite China stepping up spending on coal.

Hong Kong
Top Sector Gainers
Top Sector Losers
New Oriental Education & Technology Group Inc (9901 HK) fell 8.3% yesterday. Hong Kong stocks fell to a six-month low on concern the Federal Reserve will push ahead with its fifth interest-rate increase this year to control inflation at the risk of pushing the global economy into a recession.
JD Logistics Inc (2618 HK) fell 8.7% yesterday. FedEx announced disappointing results for the recent quarter, citing weakness in global shipment volumes, and several Wall Street analysts downgraded the stock. CEO Raj Subramaniam said he expects the economy to enter a "worldwide recession".
Shanghai MicroPort MedBot Group Co Ltd (2252 HK) dropped 6.7% yesterday. Hong Kong stocks ended with more losses on Monday (Sep 19), in line with a sell-off across Asia, as investors prepare for the Federal Reserve's meeting this week where it is expected to announce another big interest rate hike. The Hang Seng Index sank 1.04 per cent, or 195.72 points, to 18,565.97.
Country Garden Services Holdings Co Ltd (6098 HK) declined 6.9% yesterday. The Fed will lift benchmark borrowing costs by at least 75 basis points at its policy meeting this week, according to Fed funds futures, with some traders pricing a full percentage point increase. "Market sentiment is now clearly under pressure as worries are growing among investors that the Fed will be heavy-handed in raising interest rates," said Liu Gu, an analyst at Guotai Junan Securities in Hong Kong. "Hong Kong stocks will have to follow the weak pattern on overseas markets."
Sino Biopharmaceutical Ltd (1177 HK) tumbled 6.9% yesterday. Recently, a number of institutions commented in reports that the unsatisfactory sales performance of Sinovac vaccines will be a drag factor in the second half of the year. UBS lowered the company's earnings per share forecast for this year to the next year by 53%, 30% and 28%, respectively, to reflect the lower profits from joint ventures (contributed by Sinovac vaccines), with a "buy" rating. Nomura lowered the company's revenue forecast for this year and next by 1% each, and its net profit forecast was also lowered by 34% and 9% respectively, reflecting the decrease in investment income from the new crown vaccine joint venture. Credit Suisse lowered its earnings per share forecasts for fiscal years 2022 to 2024 by 44.5%/24.8%/4.1%, respectively, to reflect the reduced share of Sinovac Vaccine's profit contribution, and maintained an "outperform" rating.


Trading Dashboard Update: Add Keppel Corp (KEP SP) at S$7.20.