18 October 2022: Stocks making the biggest moves
Market Movers | Trading Dashboard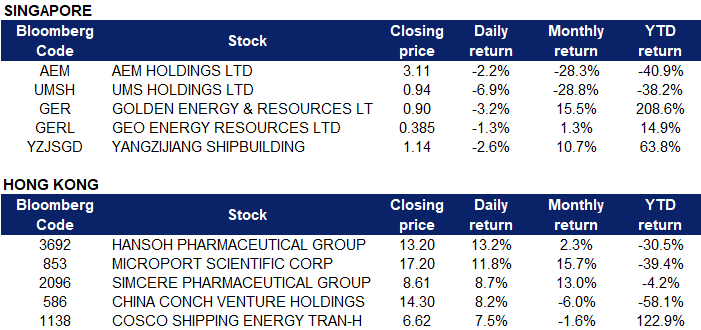 United States
Top Sector Gainers
Roblox Corp (RBLX US) shares shot up 19.83% after the online gaming company reported metrics for September that showed stronger engagement than a year ago.
Continental Resources Inc (CLR US) rose 8.68% after chairman and founder Harold Hamm and his family reached a deal to acquire shares of Continental Resources it doesn't already own for $74.28 per share.
Fox Corp Class A (FOXA US) shares dropped 9.41%, while News Corp Class A (NWSA US) gained 3.4% after Rupert Murdoch formed a special committee to explore a possible deal that would put his two media companies back together. On Monday, Credit Suisse downgraded Fox to neutral from outperform on the news.
Apple Inc (AAPL US) saw its shares rally 2.91% after Morgan Stanley reiterated the stock as overweight. The Wall Street firm said Apple would fare better than other technology companies in the event of an economic downswing, thanks to its loyal user base.
Singapore
AEM Holdings Ltd (AEM SP) and UMS Holdings Ltd (UMSH SP) shares fell 2.2% and 6.9% yesterday respectively. There was no company specific news. Data from Enterprise Singapore indicated that Singapore's key exports growth eased in September, dragged by a contraction in electronic shipments as well as declining deliveries to most of the Republic's top 10 key markets, including China and Hong Kong.
Golden Energy & Resources Ltd (GER SP) and Geo Energy Resources Ltd (GERL SP) shares tumbled 3.2% and 1.3% respectively yesterday. Coal prices fell by 1.13% to USD392.50/T. Newcastle coal futures were trading around the $400 per tonne mark, amid signs that supplies will be adequate to meet winter demand in Asia and Europe. On top of that, top consumer China vowed to raise coal production capacity this year by 300 million tonnes, which is about equivalent to the amount of coal China usually imports yearly.
Yangzijiang Shipbuilding Holdings Ltd (YZJSGD SP) declined 2.6% yesterday. There was no company specific news. US Dollar Index retreats to 113.00, pausing a two-week uptrend amid Monday's sluggish Asian session, as market sentiment improves and the Treasury yields retreat.

Hong Kong
Top Sector Gainers
Top Sector Losers
Hansoh Pharmaceutical Group Company Ltd (3692 HK), Microport Scientific Corp (853 HK) and Simcere Pharmaceutical Group Ltd (2096 HK) Shares soared 13.2%, 11.8% and 8.7% yesterday respectively. There was no company specific news. According to the research report published by CITIC Securities, due to factors such as the expected release of favorable policies for centralised procurement, discounted loans, and the low allocation of the pharmaceutical sector, the valuation of medical equipment and scientific research equipment has gradually ushered in revaluation. The bank expects that the subsidized loan policy will be mainly reflected in the cash flow improvement of medical companies in 22Q4, and will see incremental order contribution in 23Q1. In the next six months, the medical sector is expected to continue to benefit from this policy.
China Conch Venture Holdings Ltd (586 HK) Shares rose 8.2% yesterday. Last month, the company's largest single shareholder, Conch Labor Union, increased its holdings by 1 percentage point. Recently, Industrial Securities recommended to pay attention to Conch Entrepreneurship, saying that its lithium battery recycling project is expected to enter the verification period next year.
COSCO Shipping Energy Transportation Co Ltd (1138 HK) Shares climbed 7.5% yesterday. In the news, COSCO Shipping Energy said in a recent institutional survey that more purchases can be expected in the short term, and low inventories and the diesel deficit in Europe will support cross-regional arbitrage, bringing trade activity and demand for ships. In addition, Middle East refineries may release more capacity in the fourth quarter, and more refined oil products are expected to be sold from the Middle East to Europe, thus providing increased transportation demand. The value of product tanker shipping in the fourth quarter is expected.


Trading Dashboard Update: Cut loss on DBS Group (DBS SP) at S$32.3 and Samsonite International (1910 HK) at HK$17.8.