04 August 2022: Stocks making the biggest moves
Market Movers | Trading Dashboard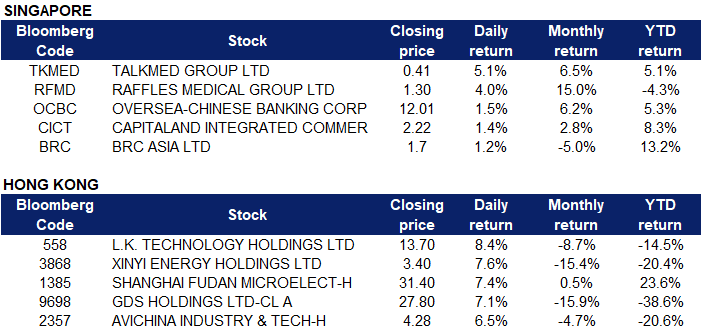 United States
Top Sector Gainers
Top Sector Losers
Moderna, Inc (MRNA) Shares jumped 15.97% yesterday after the company announced its 2Q22 results. Product sales (COVID-19 Vaccine sales) in grew by 8% YoY to US$4.53bn, (estimates of US$3.82bn by Bloomberg), mainly driven by a higher average selling price due to customer mix. Moderna expects that for sales in 2H22, sales will be greater in 4Q22 than in 3Q22, due to timing for approval of its updated COVID-19 vaccines and the related manufacturing ramp-up of new products. Net income declined by 20.97% Y0Y to US$2.2bn. The company's board approved a new US$3bn share buyback plan.
CVS Health Corporation (CVS US) Shares rose 6.3% yesterday after the company announced its 2Q22 results. Beating Wall Street estimates by as much as US$4.3bn, the revenue jumped by 11% YoY to US$80.6bn as Health Care Benefits Segment exceeded expectations to generate US$22.8bn revenue with 11% YoY growth. The medical benefit ratio dropped to 82.9% compared to 84.1% in the corresponding period last year, while medical membership grew by 922,000 members from the end of 2Q21 to 24.4mn. For 2022, the company raised adjusted EPS guidance to US$8.40-8.60 ahead of the average Street forecasts of US$8.36.
eBay Inc (EBAY US) Shares rose 4.23% yesterday. The company posted better-than-expected 2Q22 earnings and optimistic forecast for 3Q22. Revenue for the current quarter is expected to fall in a range of US$2.29 to $2.37bn versus a consensus of US$2.3bn. Meanwhile, an adjusted EPS forecast of US$0.89 to $0.95 came in line with a consensus of US$0.92. For the full year, a forecast of US$9.6 to $9.9bn in revenue and adjusted EPS between US$3.95 and US$4.10 exceeded expectations more notably. Wall Street had anticipated US$9.66bn in revenue and US$3.96 in earnings per share for the full year.
Vale S.A. (VALE US) Share fell 4.33% yesterday. There was no company-specific news. The iron ore price fell on Wednesday as a crisis engulfing property developers in China outweighed improving margins at mills. Iron ore's most-traded September contract on China's Dalian Commodity Exchange ended volatile daytime trade 0.8% lower at 786.50 yuan ($116.44) a tonne. Sentiment has turned shaky after iron ore's solid gains last week. A private survey showed on Monday that China's July new home prices and sales volume both fell from a month earlier.
Occidental Petroleum Corporation (OXY US) Shares fell 6.26% yesterday. Crude oil futures reversed modest gains to move sharply lower Wednesday after data from the Energy Information Administration showed unexpected increases in U.S. crude and gasoline inventories. OPEC+ said it would raise its oil production target by a meager 100K bbl/day, one of the smallest oil production increases in its history. WTI September crude oil dropped 3.7% to US$90.91/bbl, and October Brent crude dropped 3.4% to $97.09/bbl.

Singapore
OCBC (OCBC SP) gained 1.4% after it announced better-than-expected net profit of S$1.48bn, underpinned by robust performance across its banking, wealth management, and insurance business. As opposed to UOB (UOB SP), OCBC reported that NPLs fell to 1.3% vs. 1.5% a year ago with notable improvements in Malaysia and Singapore. OCBC also outperformed in terms of net interest margins, roundly besting UOB's NIM gains (+11bps YoY, +9bps YoY) with +13bps YoY and +16bps QoQ boost from higher asset yield. 56% of YoY NII growth was driven by rate rises. OCBC declared in-line interim DPS of S$0.28/share. DBS (DBS SP) also gained 2%% on the stronger-than-expected results from its peer.
Office rents in the City Hall region rose 1.3% QoQ to S$9.82 psf/month, making it the second-highest in rent among Grade A CBD regions. CapitaLand Integrated Commercial Trust (CICT SP), which has assets (Funan, Raffles City, and Plaza SIngapura) in the area gained 1.4%. Overall Grade A CBD rents improved by 0.4% QoQ due to net demand for office space more than doubling to 136,000 sqft (1Q22: 59,000sqft). There are expectations that office rents will remain resilient despite headwinds from geopolitical uncertainties and higher interest rates due mainly to the low levels of new supply.
TalkMed (TKMED SP) jumped 5.1% after it reported a 12.2% increase in 1H22 net profit to S$12.1m on the back of revenue of S$32.5m (+12.5% YoY). Management noted that the lifting of Covid-19 travel restrictions in April 2022 has resulted in an increase in the number of patient visits compared to the same corresponding period last year. Oncology services accounted for S$31.3 million in revenue, while cellular and gene therapy related products and services made up the remainder. Management declared an interim cash dividend of S$0.015 per share, up from S$0.007 per share in the year-ago period.
Raffles Medical (RFMD SP) continued on breathless gains, putting on another 4% after it disclosed that its executive chairman, Dr Loo Choon Yong had bought shares from the market after the group reported another record set of earnings that beat expectations. Dr Loo bought 53,800 shares at S$1.18 apiece, bringing his direct stake in RFMD to 10.824% (prior: 10.821%). Coupled with his deemed interest, Dr Loo's total stake in RFMD would now be 53.138%.
BRC Asia (BRC SP) gained 1.8% after posting a YoY doubling in 3QFY22 net profit to S$20.4m. Revenue for the quarter rose to S$515.3 million, up from S$340.2 million a year ago. BRC's order book was about S$1.1 billion as of end-June. BRC was a beneficiary of expansion in the local construction sector, which grew 3.8% in 2Q22, "faster" than the 1.8% expansion in the preceding quarter. This was in part due to the relaxation of border restrictions on the inflow of migrant workers. During the quarter, construction site activity levels were "adversely" affected due to 2 "transient" issues: a safety time-out from May 9 due to the rising number of workplace fatalities, and a spate of stop-work orders as a result of the high number of dengue cases, which impeded project progress. Notwithstanding, BRC is cognizant that government pandemic support measures for the local construction industry were coming to an end and there is caution that credit risk in the local construction industry could remain elevated particularly in a rising-interest-rate environment.

Hong Kong
Top Sector Gainers
Top Sector Losers
LK Technology Holdings Ltd (558 HK) Shares rose 8.39% yesterday. There was no company-specific news. Daiwa Securities issued a report, stating that the company remained a good partnership with Tesla and ramp up its injection molding machine capacity by 100% by mid-2023, and maintained the BUY rating with an unchanged TP of HK$27.
Xinyi Energy Holdings Ltd (3868 HK) Shares rose 7.59% yesterday and rebounded from the 52-week low. There was no company-specific news. The photovoltaic sector rebounded as China's National Energy Administration (NEA) has reported that around 8.91 GW of the 30.88 GW of solar deployed in the first half of 2022 come from distributed generation PV systems. The provinces of Henan, Hebei and Shandong account for 2.32 GW, 2.29 GW and 1.92 GW, respectively, of the new capacity from rooftop PV.
Shanghai Fudan Microelectronics Company (1385 HK) Shares rose 7.35% yesterday.There was no company-specific news. Semiconductor sector jumped as President Joe Biden is set to sign into law a bipartisan bill to invest billions of dollars in domestic semiconductor manufacturing and science research. China will acceleartate the localization of chip manufacturing accordingly.
GDS Holdings Ltd (9698 HK) Shares rose 6.75% yesterday. There was no company-specific news. The technology sector recouped yesterday's losses as no actual military opreations were executed.
AviChina Industry & Technology Co Ltd (2357 HK) Shares rose 6.47% yesterday. There was no company-specific news. The military and defense sector jumped as China declared it would conduct missile tests and military drills around Taiwan shortly after US House speaker Nancy Pelosi defied Beijing on Tuesday by landing on the island. The People's Liberation Army said it would stage a series of military drills including "long-range live firing in the Taiwan Strait" from Tuesday evening.


Trading Dashboard Update: No stock additions/deletions.