24 January 2022: Nanofilm Technologies International (NANO SP), Prada S.p.A. (1913 HK)
Singapore Trading Ideas | Hong Kong Trading Ideas | Market Movers | Trading Dashboard
IPO PERFORMANCE
Novo Tellus Alpha Acquisition (NTAA): The SPAC to watch
We will be watching the listing of Novo Tellus Alpha Acquisition (NTAA), which launched its IPO offering at 8PM Thursday (20 Jan) and will close at noon on Tuesday (25 Jan). For those who may not know, Novo Tellus is the fund behind stocks such as AEM Holdings (+4,590% return since investment or +40% annualised), Grand Venture Technology (+300% total return or +1,390% annualised) and ISDN Holdings (+240% total return or +60% annualised).
---
SINGAPORE
Nanofilm Technologies International (NANO SP): Shopping for discounts
BUY Entry – 2.95 Target – 3.50 Stop Loss – 2.80
NANO provides advanced coating solutions to products such as smartphones, smartwatches, computers and automotive. The company serves many Fortune 500 companies with its special proprietary advanced materials and nano-fabrication capabilities.
Shopping for bargains. Shares of NANO are down more than 55% from their peak of S$6.67 in July 2021. A combination of disappointing 1H2021 results and the recent tech sell-off has now bought NANO's shares near to its IPO price of S$2.59. The sell-off looks overdone in our view, and argue that value is now starting to appear.
Looking ahead. The sell-off is likely pricing in the weak 2021 results. However, looking past the current weakness and higher operating costs due to expansion plans, both topline and bottom line growth is expected to accelerate to around 20-30% YoY in 2022. There is potential for growth to surprise on the upside as it ramps up production at its new Shanghai plant.
Consensus estimates. There are 5 BUYS / 2 HOLDS / 2 SELLS and an average 12-month target price of S$3.97, implying a 35% from the last close price. While EPS is forecasted to only increase by 7% in FY2021F, consensus expects it to accelerate to 29% YoY in FY2022F and 20% YoY in FY2023F, bringing FY2021/22/23F P/E to 31x / 24x / 20x.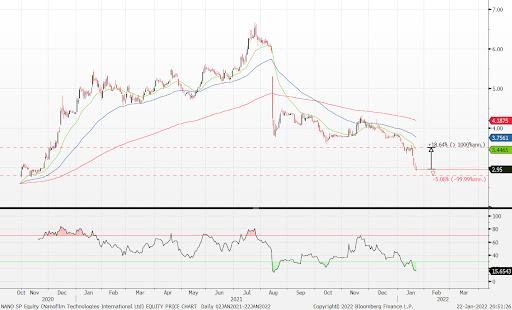 ---
Wilmar International Ltd (WIL SP): Palm oil prices are still going from strength to strength
RE-ITERATE BUY Entry – 4.30 Target – 4.58 Stop Loss – 4.16
Wilmar is Asia's leading agribusiness group that encompasses the entire value chain of the agricultural commodity business, from cultivation and milling of palm oil and sugarcane, to processing, branding and distribution of a wide range of edible food products in consumer, medium and bulk packaging, animal feeds and industrial agri-products such as oleochemicals and biodiesel.
Supply constraints. Indonesia, the world's largest producer and exporter of palm oil, recently required exporters to obtain permits for their shipments amid efforts to control soaring cooking oil prices. The policy will be imposed for six months. While the government has stated that it is not banning exports of palm oil, it goes to show the tight supply in the market at the moment which is supporting palm oil prices at near record levels.
Resilient palm oil prices expected in 2022. Palm oil prices are likely to remain above MYR 4,700 (US$1,124) per ton over the next six months, according to LMC International. In addition, it will still take another 12 months for Southeast Asia's palm oil production to recover to end-2019 levels, after supply from Indonesia and Malaysia declined in 2020 and 2021.
Aggressive share buy-backs. The company bought back S$57mn worth of shares in 4Q2021, bringing total share buybacks for the full-year 2021 to around S$131mn.
Positive consensus estimates. Wilmar currently has 13 BUY recommendations and an average 12M TP of S$5.90, implying a 37% upside potential from the last closing price.
Crude Palm Oil Futures – 3 years historical chart. Still trading near all-time highs due to supply constraints.
---
HONG KONG
Prada S.p.A. (1913 HK): Solid demand for luxury
BUY Entry – 49.5 Target – 55.0 Stop Loss – 47.0
Prada SpA is an Italy-based company engaged in the fashion industry. The Company is a parent of the Prada Group. The Company, along with its subsidiaries, is engaged in the design, production and distribution of leather goods, handbags, clothing, eyewear, fragrances, footwear and accessories. Prada SpA manufactures jackets, trousers, skirts, dresses, sweaters, blouses, as well as perfumes and watches, among others. The Company trades its products through several brands, such as Prada, Miu Miu, The Church and The Car Shoe. Prada SpA operates in approximately 70 countries through directly operated stores, franchise operated stores, a network of selected multi-brand stores and department stores. Prada Spa operates through numerous subsidiaries, including Artisans Shoes Srl, Angelo Marchesi Srl, Prada Far East BV, Tannerie Megisserie Hervy SAS and Prada SA, among others.
2021 business recovered and outperformed its pre-covid level. Total Group revenue for FY21 amounted to Euro 3,364 million, up 41% YoY and up 8% compared to FY19, both at constant exchange rates, boosted by the excellent performance of the Retail channel. Sales in Directly Operated Stores, including e-commerce in 2H21 grew 27% YoY and grew 21% compared to 2H19, both at constant exchange rates. 
Liquidity spill-over positively boosts consumption of luxury goods.  The Covid-19 pandemic triggered flooded liquidity. Not only did prices of traditional asset classes such as equities and properties soar, but also prices of virtual assets such cryptocurrencies and non-fungible tokens skyrocketed. The demand for luxury goods saw a strong V-shape rebound. According to Bain & Co, the market grew by 29% at current exchange rates to hit EUR283bn, increasing the size of the market by 1% versus 2019 levels. It is expected to reach EUR360 to 380bn by 2025 with a sustained growth of 6-8% annually.
Updated market consensus of the EPS growth in FY22/23 are 49.4%/28.5% YoY respectively, which translates to 40.0x/31.1x forward PE. Current PER is 65.9x. Bloomberg consensus average 12-month target price is HK$63.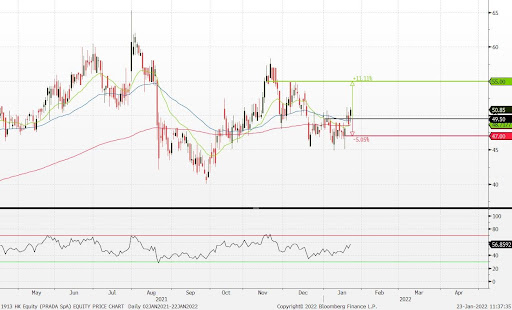 ---
ANTA Sports Products Limited (2020 HK): Rate cut to boost domestic consumption
RE-ITERATE BUY Entry – 118 Target – 135 Stop Loss – 110
ANTA Sports Products Limited is principally engaged in the manufacture and trading of sporting goods, including footwear, apparel and accessories in the Mainland China. The Company focuses on sportswear market in China with a brand portfolio, including ANTA, ANTA KIDS, FILA, FILA KIDS and NBA. Through its subsidiaries, the Company is also engaged in the manufacture of shoe sole. The Company's subsidiaries include Anta Enterprise Group Limited, Motive Force Sports Products Limited and REEDO Sports Products Limited.
Rate cut in China to boost domestic demand. The People's Bank of China cut the one-year loan prime rate by 10 bps to 3.7%, and the five-year loan prime rate was lowered by 5bps to 4.6%. Compared to the global rate hike tide, China is adopting expansionary monetary policies as the economic recovery has slowed down due to a new wave of domestic omicron infections. We expect the loosened financial conditions to boost consumption in the coming months. More importantly, the rate cut is a signal to the market that the central government has started to ease the regulations on the key growth sectors such as property and technology.
Positive profit alert. The company recently announced that the FY21 profit attributable to equity shareholders of the company before/after taking into account the share of loss of a joint venture increased by no less than 35%/45% respectively.
Retail sales performance updates:

ANTA brand: mid-teens positive growth YoY in 4Q21 and 25% to 35% positive growth YoY in FY21.
FILA Brand: high-single digit positive growth YoY in 4Q21 and 25% to 35% positive growth YoY in FY21.
All other brands: 30-35% positive growth YoY in 4Q21 and 50-55% positive growth YoY in FY21.

The updated market consensus of the EPS growth in FY22/23 is 26.2%/24.8% YoY respectively, which translates to 27.3x/21.9x forward PE. Current PER is 35.8x. Bloomberg consensus average 12-month target price is HK$148.27.
---
MARKET MOVERS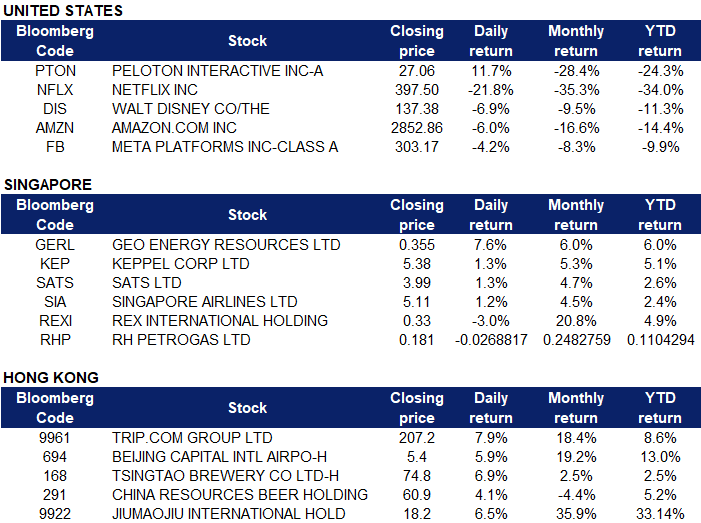 ---
United States
Top Sector Gainers
Top Sector Losers
Peloton Interactive Inc (PTON US) shares rebounded 11.7% on Friday after plunging 23.9% on Thursday. On Thursday, shares plummeted after CNBC reported that production of its exercise equipment would be halted after a decline in demand. However, on Friday, Peloton's CEO issued a statement calling media reports 'incomplete, out of context, and not reflective of Peloton's strategy' while providing preliminary earnings information that meets or beats forecasts. Foley called the report of a complete halt in production of Peloton's stationary bicycles and treadmills "false," and suggested that layoffs are not written in stone yet.
Netflix Inc (NFLX US) shares plunged 21.8% on Friday, after the company quietly admitted that streaming competition was eating into its own growth in its fourth-quarter earnings released on Thursday. The streamer beat on profit and was in line with expectations on revenue. However, Netflix's expectations of adding 2.5 million subscribers during the first quarter of 2022 was far below the 3.98 million it added in Q1 2021. Meanwhile, analysts had expected 6.93 million in the first quarter, according to StreetAccount estimates. Piper Sandler analysts, which maintained an overweight rating on the stock while cutting its target price from $705 to $562, wrote in a note Friday that it still "remains early days" for subscriber growth opportunity overall. A ripple effect followed which saw shares of fellow streaming peer, Walt Disney Inc (DIS US) declining 6.9% on Friday.
Amazon.com Inc (AMZN US), Meta Platforms Inc (FB US). US tech shares extended their losses on Friday, likely fueled by continued fears of upcoming interest rate hikes and Netflix's disappointing results. Amazon and Meta Platform shares lost 6% and 4.2% respectively. Yields have soared on the prospect that the Federal Reserve will deliver more than a quarter-percentage point rate hike in March to tame inflation. The benchmark 10-year U.S. Treasury yield topped 1.87% on Tuesday, its highest level since January 2020 before the coronavirus pandemic roiled markets. However, on Friday, the 10-year yield slipped to 1.76%. Despite declining yields, shares of US tech companies have retreated in the new year as investors swap growth stocks for energy, financials and other cyclical shares that stand to benefit from improving economic growth and higher interest rates.
---
Singapore
Geo Energy Resources Ltd (GERL SP) shares gained 7.6% on Friday. The company announced on Friday that the Indonesian Ministry of Energy and Mineral Resources("ESDM") has given notification on 20 January 2022 for the lifting of the coal export sales ban for 139 coal mining companies, which includes the Group's operating coal mines, PT Sungai Danau Jaya ("SDJ"), PT Tanah Bumbu Resources ("TBR") and PT Bumi Enggang Khatulistiwa ("BEK").
Keppel Corp Ltd (KEP SP) shares gained 1.3% on Friday. Keppel Data Centre Fund II has achieved US$1.1bn worth of total commitments at its final close with Asian Infrastructure Investment Bank (AIIB) joining as its latest investor. In a press statement on Friday, Keppel Capital said AIIB made a US$100mn investment in the fund through a parallel fund structure, and another US$50mn through co-investments. The asset management arm of Keppel Corporation added that the fund had also attracted investments from sovereign wealth funds, financial institutions, insurance funds, and pension funds.
SATS Ltd (SATS SP) and Singapore Airlines Ltd (SIA SP) shares gained 1.3% and 1.2% respectively on Friday. Malaysia has resumed ticket sales for air and land travel under a vaccinated travel lane programme with Singapore that had been suspended until Jan. 20 over Omicron coronavirus variant concerns, the health ministry said on Friday.
Rex International Holdings Ltd (REXI SP) and RH Petrogas Ltd (RHP SG) shares declined 3% and 2.7% respectively yesterday, likely due to profit-taking in tandem with the price correction in oil futures. WTI crude futures retreated below US$85 per barrel on Friday after hitting a fresh 7-year high of $87.1 in the previous session, while Brent crude futures retreated below $87.5 per barrel on Friday after hitting a fresh 7-year high of $89.5 in the previous session. An increase in crude and fuel stockpiles prompted investors to take profits from the rally. According to official data from EIA, crude inventories in the US rose by 515,000 barrels last week, rising for the first time since November and defying market expectations for a 938,000 barrel drop. Crude markets were also dragged by a global selloff in equities as investors reduced exposure to risk assets on prospects of higher interest rates.
---
Hong Kong
Top Sector Gainers
Top Sector Losers
Trip.com Group Ltd (9961 HK), Beijing Capital International Airport Co Ltd (694 HK). Travel related shares rebounded on Friday. China will start promotion of inbound tourism at an appropriate time after the global COVID-19 pandemic is under effective control, the State Council, China's cabinet, announced on Thursday. On the premise that the pandemic is effectively contained, China will promote inbound tourism in an orderly manner, steadily develop outbound tourism, and continue to promote tourism exchanges, according to a guideline on the Chinese tourism market during the 14th Five-Year Plan period (2021-25) released by the State Council.
Tsingtao Brewery Co Ltd (168 HK), China Resources Beer Holdings Co Ltd (291 HK). Beer brewery shares strengthened across the board on Friday. Recently, Tsingtao Beer and Budweiser Beer launched high-end beers at a price of RMB 1,000, which is comparable to Feitian Moutai. The production strength of China's beer industry is relatively mature, and the emergence of ultra-high-end beer signifies the development of the industry and indicates the direction of future development.
Jiumaojiu International Holdings Ltd (9922 HK) shares extended their gains and rose 6.5% on Friday. At the beginning of this week, Goldman Sachs updated its outlook on catering stocks, emphasising that Jiumaojiu is still the first choice for the industry. The bank stated that the company has demonstrated solid execution and business resilience, expansion trajectory and emerging multi-brand portfolio. CICC also gave the company an "outperform" rating. It is expected that the net profit attributable to the parent in 2021 will increase 189% YoY to RMB 358mn. The bank also emphasised that the Taier model is stable and continues to expand stores rapidly, and the company has a high certainty of rapid growth in the future.
---
Trading Dashboard
Trading Dashboard Update: No additions/deletions to the trading dashboard.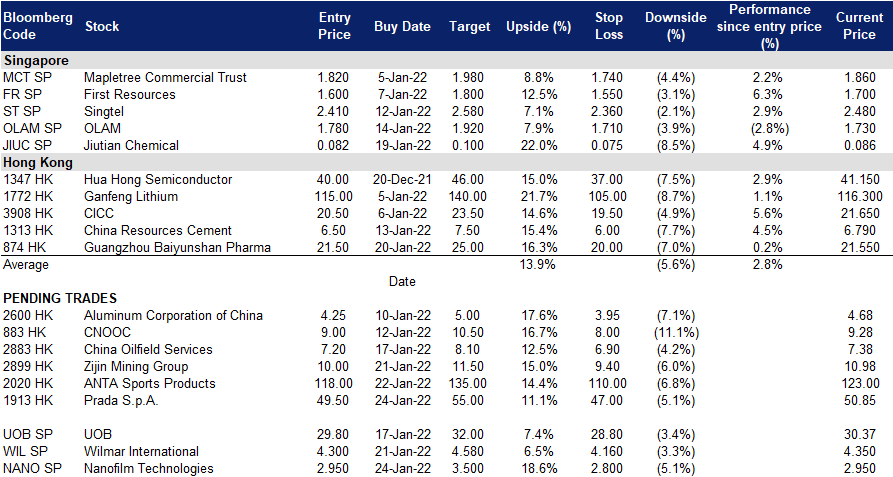 (Click to enlarge image)
---