17 January 2022: UOB (UOB SP), Zijin Mining Group Company Limited (2899 HK)
Singapore Trading Ideas | Hong Kong Trading Ideas | Market Movers | Trading Dashboard
IPO WATCH
Vertex Tech (VTAC SP): First Singapore SPAC
Singapore's first special purpose acquisition company (SPAC) will start trading at 2pm on Thursday (20 Jan). Offering opened on Thursday (13 Jan) and will close 12pm on Tuesday (18 Jan).
A total of 11.8mn units will be offered at an offer price of S$5. However, 11.2mn will be offered via international placement that includes institutional and other investors in Singapore, as well as foreign institutional and selected investors outside the US. Only 600,000 units will be offered via public offering in Singapore.
Each unit will comprise 1 share and 0.3 of a warrant, which will be issued at the completion of the offering. An additional right to 0.2 of a warrant per share will be issued at a later time to holders of shares which have not been tendered for redemption at or around the completion of the initial business combination.
Shares and warrants comprising the units will start trading at separate counters at 9am on the 45th day from the listing date – 7 March.
VTAC will focus on targets in six sectors: Artificial Intelligence, Cyber Security and enterprise Solutions, Consumer Internet and technologies, Financial technologies, Autonomous driving and new-energy vehicles, and Biomedical technologies and digital healthcare.
---
SINGAPORE
UOB (UOB SP): We have lift off!
BUY Entry – 29.0 Target – 32.00 Stop Loss – 27.00
UOB is Singapore's third largest largest bank by total assets. As at the end of 2020, it had S$431bn in total assets and generated a net income of S$2.92bn. The bank has more than 500 offices across 19 countries and offers a range of commercial and personal banking products and services.
Rates liftoff. Markets are increasingly pricing in a March rate hike in the US. Treasury 10-year yields rose to a high of 1.80% last week to reach pre-pandemic levels. In a step further, economists as surveyed by Bloomberg are now penciling in the prospect that the US Fed may even start balance sheet contraction in the second half of the year.
Acceleration of 5 years target. On 14 Jan, UOB announced that it was going to acquire Citigroup's consumer businesses in Indonesia, Malaysia, Thailand and Vietnam for around S$4.9bn. According to UOB, the acquisition will double its existing retail customer base to about 5.3mn post acquisition, and accelerate UOB's customer base target five years ahead of time. Citigroup's consumer business in these four countries has a net asset value of about S$4bn as at end June 2021, a custom rbase of about 2.4mn and generated S$500mn income in 1H2021.
Positive consensus forecasts. UOB is currently trading at 1.2x FY2021F P/B and offers a 4.0% to 4.9% forecasted dividend yield for FY2021-23. EPS is forecasted to grow at an average of 22% per annum over the next three years. The street is overall bullish on the stock, with 17 BUYS and 2 HOLDS, and no SELL rating. The 12m average target price is S$31.96, implying a 7% upside potential from the last close price. We expect positive fourth quarter results due in the first week of Feb to lead to an upward rerating among banking stocks overall.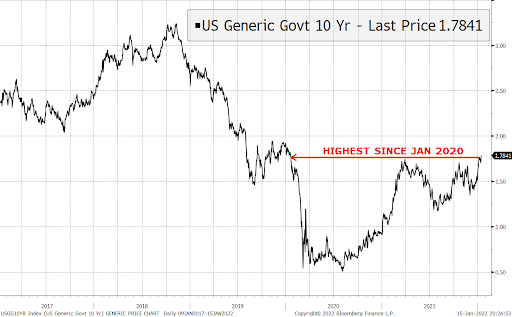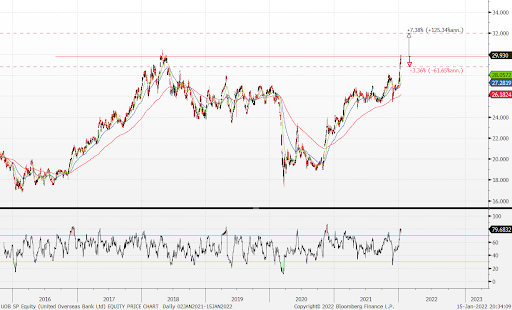 ---
Olam International (OLAM SP): The return of the king
RE-ITERATE BUY Entry – 1.78 Target – 1.92 Stop Loss – 1.71
Olam is a leading food and agri-business operating across the value chain in more than 60 countries, supplying food, ingredients, feed and fibre to more than 17,300 customers worldwide. Listed on 11 February 2005 on the mainboard of SGX, Olam currently ranks among the top 30 largest listed companies in Singapore in terms of market capitalisation and is a Singapore constituent stock of the FT Global All Cap Ex US Index.
Higher food prices are good for Olam but bad for our pockets. The FAO Food Price Index (FFPI), which measures the monthly change in international prices of a basket of food commodities, came in at 133.7 points in Dec 2021, down slightly from Nov 2021, but up 25% YoY (see chart below). Essentially, food prices are at the highest level in more than 10 years, which is set to benefit food producers such as Olam. Bad weather, labour shortages and supply chain bottlenecks are among the factors leading to higher food prices.
Catalyst from the listing of Olam Foods Ingredients (OFI) and entry into STI. OFI intends to seek a primary listing on the London Stock Exchange and a concurrent secondary listing in Singapore in the first half of 2022. The London listing could raise about 2 bn pounds (US$2.8 bn). OFI reported a 29.5% YoY increase in 1H2021 EBIT and the company expects its strong business momentum to continue into the second half of 2021. An additional catalyst for Olam is the inclusion in the STI Index. It is likely that Olam may replace ComfortDelGro in the STI when the quarterly review is announced on 3 March 2022.
Technical analysis. Olam share price has gained 45% from the lows of 2021, and is currently trading within the price range of S$1.67-1.80. Key resistance level is at S$1.80. Since the rally from August 2021, the 100 day EMA has provided firm support to its ongoing uptrend.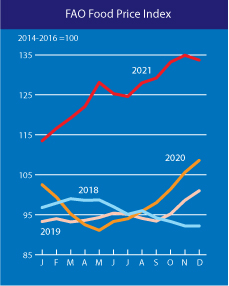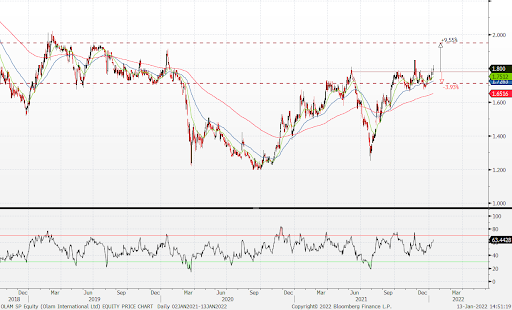 ---
HONG KONG
Zijin Mining Group Company Limited (2899 HK): Round 2 of the commodities supercycle
Buy Entry – 9.5 Target – 11.0 Stop Loss – 8.8
Zijin Mining Group Company Limited is a China-based company principally engaged in the exploration, mining, smelting and sales of gold and other metal minerals. The Company's main products include gold products, copper products, lead and zinc products, iron products, silver products, among others. Its gold products mainly include the mineral gold, standard gold bullions, gold ingots and gold concentrates, among others. The Company is also involved in the geographic survey businesses through its subsidiaries.
Gold and copper performed well during the last rate hike cycle. The last rate hike cycle began in December 2015 and ended in July 2019. There were nine rate hikes lifting the fed fund rate (upper bound) from 25bps to 250bps. The first rate hike was in 2015 , followed by once in 2016, three times in 2017, and four times in 2018.

First year performance: Gold price surged by 30% from the low in December 2015 to the peak in July 2016. Copper jumped by 19% from the low in February 2016 to the peak in May 2016.
Full cycle performance: Gold was up 35%, and copper was up 29%.

Echoes of the commodity super cycle. Commodities prices saw a spectacular jump in 2021. Just right before the bullish cycle kick-started, the market had called a super cycle. Even though those prices have corrected from the peak in 3Q21, the cycle may not have ended as the post-pandemic recovery upholds demand which is outpacing supply. For gold, we see an inverse correlation with cryptocurrencies. The further selldown of crypto could push some funds back to the yellow metal. For copper, it peaked twice in 2021, one in May and the other in October, and has nicely consolidated at above US$9,000/tonne after March 2021. Recently, copper has regained some upward momentum probably due to inventory build before Chinese new year.
Updated market consensus of the EPS growth in FY22/23 are 34.5%/7.4% YoY respectively, which translates to 9.8x/9.2x forward PE. Current PER is 15.8x. FY22F/23F dividend yields are 4.3%/4.8% respectively. Bloomberg consensus average 12-month target price is HK$15.9.
---
China Oilfield Services Limited (2883 HK): A lagging oil & gas E&P counter
BUY Entry – 7.1 Target – 8.1 Stop Loss – 6.6
China Oilfield Services Limited is a comprehensive oilfield service provider. The Company mainly operates through four business segments. The Drilling Services segment is mainly engaged in the provision of oilfield drilling services. The Oil Field Technical Services segment is mainly engaged in the provision of oilfield technical services, including the logging, drilling fluids and directional drilling services. The Geophysical and Engineering Exploration Services segment is mainly engaged in the provision of seismic prospecting and engineering exploration services. The Marine Support Services segment is engaged in the transportation of supplies, including the delivery of crude oil, as well as refined oil and gas products. The Company mainly operates its businesses in domestic and overseas markets.
Oil prices to reclaim the 52-week highs soon. Both Brent and WTI have been trading at above US$80/bbl for most of the trading days YTD. Even though omicron infection cases are still rising, and some lockdowns in several countries remain, the demand for oil have not tapered substantially. The recent decision from OPEC+ to hike output by 400,000 bbls/d failed to bring prices down as the supply-demand gap is narrower than expected. More importantly, the underinvestment in exploration and production will leave limited room for further output hike. Accordingly, the market is projecting oil prices to reach US$100/bbl this year.
We may not see inflation subside in the near term. The US, Europe, and China released their inflation data recently, showing that inflation pressure is still high. Oil and gas is a good hedging against inflation or stagflation amidst the rate hike cycle. The bouyant oil price will gradually pull some investments back in the sector given clean energy investment is overheated at the moment.
The updated market consensus of the EPS growth in FY22/23 is 38.50%/17.6% YoY respectively, which translates to 8.9x/7.5x forward PE. Current PER is 14.6x. Bloomberg consensus average 12-month target price is HK$9.49.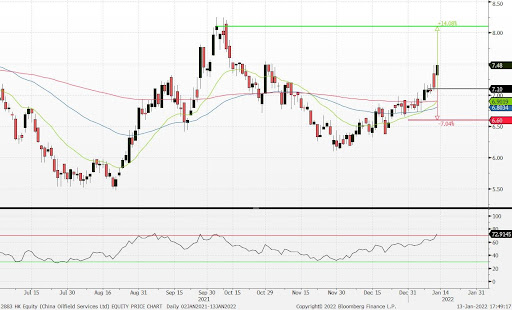 ---
MARKET MOVERS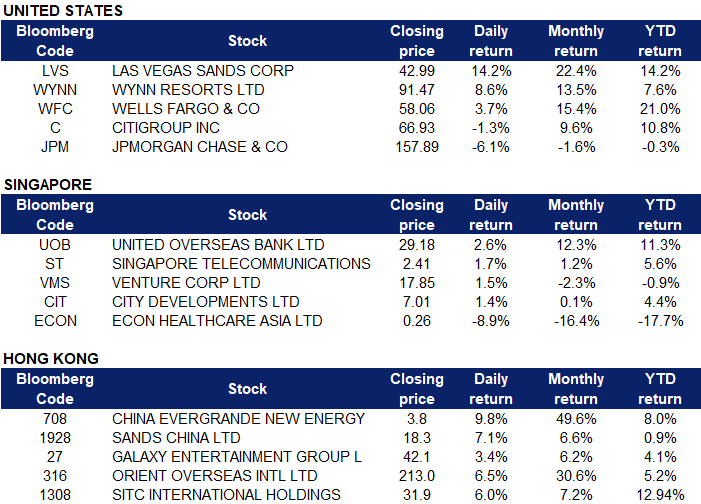 ---
United States
Top Sector Gainers
Top Sector Losers
Las Vegas Sands (LVS) and Wynn Resorts (WYNN US) shares jumped 14.2% and 8.6% respectively on Friday after the Macau government said the number of casinos allowed to operate there would remain limited at six. The number of casino licenses — known as concessions — will remain at six, but the length of those concessions will be halved to 10 years, with a possible extension to 13 years.
JPMorgan Chase (JPM US) shares lost 6.1% on Friday after the company reported its fourth quarter earnings, its smallest earnings beat in nearly two years. JPMorgan's Chief Financial Officer Jeremy Barnum also lowered guidance on company-wide returns, adding that management expected "headwinds" of higher expenses and moderating Wall Street revenue.
Wells Fargo (WFC US) shares jumped 3.7% after the company reported fourth quarter earnings that beat analyst expectations. Earnings per share came in at $1.25 vs consensus estimates of $1.13, revenue was at $20.856 billion vs estimates of $18.824 billion and net income was at $5.75 billion, an 86% increase from a year ago. The company added that results were helped by a $875 million reserve release that the bank had set aside during the pandemic to safeguard against widespread loan losses.
Citigroup (C US) shares lost 1.2% on Friday despite reporting a beat on quarterly earnings and revenue. Net income dropped 26% to $3.2 billion, to which Citigroup cited an increase in expenses for the sharp decline, adding that the results included a "pre-tax impact" of about $1.2 billion related to the sale of its consumer banking businesses in Asia.. Earnings per share came in at $1.46 vs estimates of $1.38, and revenue was at $17 billion vs $16.75 billion expectations.
---
Singapore
United Overseas Bank Ltd (UOB SP) shares rose 2.6% on Friday, after announcing that it has agreed to buy Citigroup's consumer banking businesses in Indonesia, Malaysia, Thailand and Vietnam for about S$4.915bn. The proposed acquisition includes Citigroup's unsecured and secured lending portfolios, wealth management and retail deposit businesses in the four countries. Citigroup's consumer business had an aggregate net asset value of about S$4bn as of end-June last year and a customer base of about 2.4mn as of June last year, and generated about S$500mn income in the first half of 2021.
Singapore Telecommunications Ltd (ST SP) shares gained 1.7% on Friday. Earlier in the week, there were rumours in a Bloomberg report that the telco was considering a potential stake sale in the fibre assets of its Australian subsidiary Singtel Optus. Singtel has held talks with potential advisers to prepare for a strategic review of the Australian fibre business, according to sources in the Bloomberg report who asked to not be identified because the information is private.
Venture Corp Ltd (VMS SP) shares gained 1.5% on Friday. Venture Corp announced that on 11 January 2022, it has issued and allotted an aggregate of 5,000 ordinary shares in the capital of the company at the exercise price of S$12.400 each pursuant to the exercise of options granted under the Venture Corporation Executives' Share Option Scheme 2015. The above-mentioned new shares have been listed and quoted on the Singapore Exchange Securities Trading Limited on 13 January 2022.
City Developments Ltd (CIT SP) shares extended their gains and rose 1.4% on Friday. DBS Group Research analysts Derek Tan and Rachel Tan believe it's a good time to buy Singapore property stocks, given attractive valuations that are "too good to ignore". Even though the government announced a fresh set of property cooling measures effective Dec 16, 2021, the analysts note that listed developers have largely been shielded from potential risks by strong pre-sales. They also note that listed developers are looking to pivot towards building a recurring income base of commercial and hospitality assets to ride the rebound and drive stronger cash flows and net asset values in 2022.
Econ Healthcare (ECON SP) shares extended their losses and declined 8.9% on Friday. DBS Group Research downgraded the stock to "Hold" from "Buy", and lowered its target price to $0.28. The company recently invested about S$4mn of its idle working capital into 11.8mn shares in Hong Kong-listed interior design firm Crosstec, which saw its stock nosedive 84% on Tuesday, implying a potential loss of $3.2mn for Econ Healthcare. DBS analyst Paul Yong said that while the losses could be recouped, he added that Econ's investment mandate and strategy "should be tightened significantly".
---
Hong Kong
Top Sector Gainers
Top Sector Losers
China Evergrande New Energy Vehicle Group Ltd (708 HK) shares rose 9.8% on Friday. On Wednesday, the company officially released a promotional video for Hengchi 5, the first model launched by Evergrande. In addition, parent company China Evergrande Group announced on Thursday that its main unit Hengda Real Estate Group has reached an agreement with bondholders to delay payments for a RMB 4.5bn onshore bond.
Sands China Ltd (1928 HK) and Galaxy Entertainment Group Ltd (27 HK) shares rose 7.1% and 3.4% respectively on Friday. UBS released a report stating that if Macau's regulatory risks on the gaming industry are completely eliminated, and using the bank's base case estimates from 2022 to 2023, Macau's gambling stocks will generate approximately 1.15x returns from the current price to the end of 2022. UBS believes that in the second quarter of 2022, travel restrictions between Macau and Hong Kong and China will be further eased.The bank's top choices for gambling stocks are Sands China and Galaxy Entertainment, both of which have "buy" ratings and target prices of HK$27.3 and HK$56.2 respectively.
Orient Overseas International Ltd (316 HK) and SITC International Holdings Co Ltd (1308 HK) shares rose 6.5% and 6% respectively on Friday. Shipping sector shares gained on Friday as many shipping companies announced the increment of freight rates. It is reported that international shipping companies including Evergreen, HMM, and ONE have recently decided to increase the comprehensive rate surcharge (GRI) from Asia to the United States from February 1, 2022, with an average increase of about 10% for the outbound journey. Credit Suisse noted today that container capacity is expected to remain under pressure due to supply bottlenecks (logistics and labour) and epidemic constraints, as the coronavirus pandemic continues to put pressure on fragile supply chains. At the same time, the bank predicts that container freight rates will continue to rise this year, mainly due to limited new supply, slow growth in fleet size, and strong shipping demand supported by increased exports from the Regional Comprehensive Economic Partnership (RCEP).
---
Trading Dashboard
Trading Dashboard Update: Add Olam International (OLAM SP) at S$1.78. Remove Wilmar International (WIL SP) at S$4.28.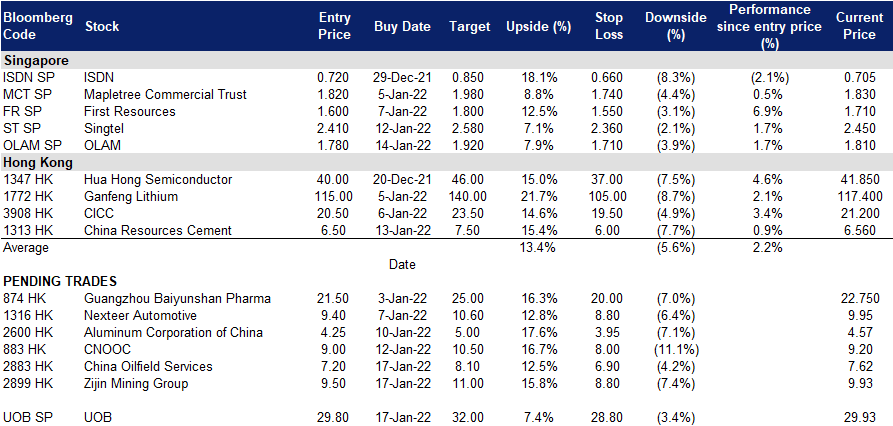 (Click to enlarge image)
---