14 January 2022: Olam International (OLAM SP), China Oilfield Services Limited (2883 HK)
Singapore Trading Ideas | Hong Kong Trading Ideas | Market Movers | Trading Dashboard
SINGAPORE
Olam International (OLAM SP): The return of the king
BUY Entry – 1.78 Target – 1.92 Stop Loss – 1.71
Olam is a leading food and agri-business operating across the value chain in more than 60 countries, supplying food, ingredients, feed and fibre to more than 17,300 customers worldwide. Listed on 11 February 2005 on the mainboard of SGX, Olam currently ranks among the top 30 largest listed companies in Singapore in terms of market capitalisation and is a Singapore constituent stock of the FT Global All Cap Ex US Index.
Higher food prices are good for Olam but bad for our pockets. The FAO Food Price Index (FFPI), which measures the monthly change in international prices of a basket of food commodities, came in at 133.7 points in Dec 2021, down slightly from Nov 2021, but up 25% YoY (see chart below). Essentially, food prices are at the highest level in more than 10 years, which is set to benefit food producers such as Olam. Bad weather, labour shortages and supply chain bottlenecks are among the factors leading to higher food prices.
Catalyst from the listing of Olam Foods Ingredients (OFI) and entry into STI. OFI intends to seek a primary listing on the London Stock Exchange and a concurrent secondary listing in Singapore in the first half of 2022. The London listing could raise about 2 bn pounds (US$2.8 bn). OFI reported a 29.5% YoY increase in 1H2021 EBIT and the company expects its strong business momentum to continue into the second half of 2021. An additional catalyst for Olam is the inclusion in the STI Index. It is likely that Olam may replace ComfortDelGro in the STI when the quarterly review is announced on 3 March 2022.
Technical analysis. Olam share price has gained 45% from the lows of 2021, and is currently trading within the price range of S$1.67-1.80. Key resistance level is at S$1.80. Since the rally from August 2021, the 100 day EMA has provided firm support to its ongoing uptrend.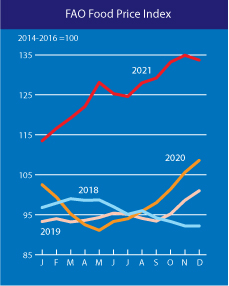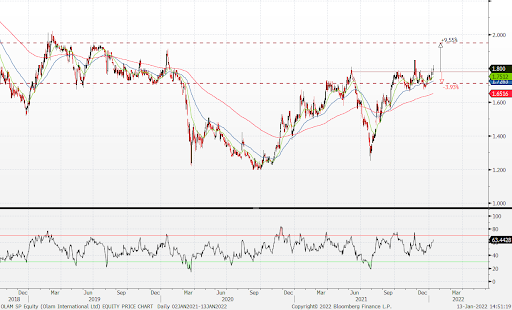 ---
Mapletree Commercial Trust (MCT SP): Buy the dip
RE-ITERATE BUY Entry – 1.82 Target – 1.98 Stop Loss – 1.74
MCT is a Singapore-focused real estate investment trust (REIT) that comprises five properties in Singapore. Its properties include VivoCity (Singapore's largest mall), Mapletree Business City, mTower (previously known as PSA building), Mapletree Anson and Bank of America Merrill Lynch HarbourFront. Its portfolio has a total Net Lettable Area (NLA) of 5mn square feet, valued at S$8.8bn.
Oversold. Units of MCT dropped by as much as 10% over the last two trading sessions, triggered by the REIT's announcement of its merger with Mapletree North Asia Commercial Trust (MNACT). We think this is likely due to MNACT's geographical diversified asset base in North Asia, which is a significant contrast to MCT's focus on the Singapore market. Furthermore, investors may have reservations over MCT's higher gearing after the merger. Post-merger, MCT's gearing is estimated to increase from 33.7% to between 38.0% (scrip-only) and 39.2% (cash-and-scrip), depending on if unitholders were to elect to receive only 100% scrip or a combination of cash and scrip.
Third largest REIT post-merger. Assuming MCT receives 50% of the total number of votes cast for the proposed merger to proceed, the merged REIT entity will be Singapore's third-largest REIT by market capitalization, just below CapitaLand Integrated Commercial Trust (CICT) and Ascendas REIT (AREIT).
Consensus forecast and valuations. After the 10% drop, MCT now trades at a 10% discount to the 10-year P/B average of 1.18x. MCT is forecasted to provide a 5.1% and 5.4% dividend yield for FY2022 and FY2023 (March YE). After the announcement of the merger, consensus estimates are mixed with 7 BUYS, 6 HOLDS and 1 SELL. The 12m average TP is S$2.24, implying a 23% upside potential.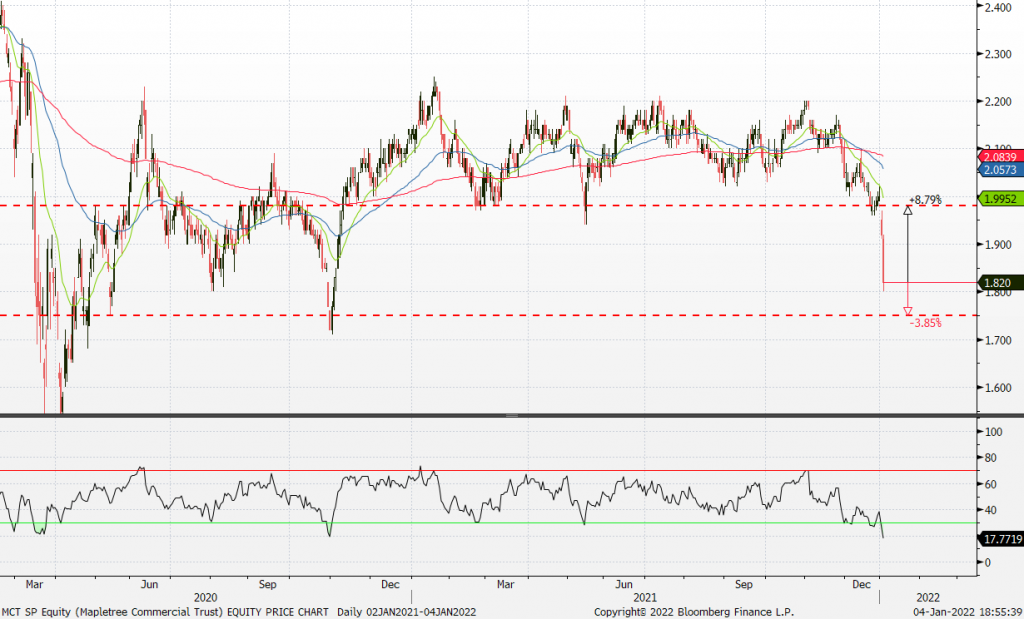 ---
HONG KONG
China Oilfield Services Limited (2883 HK): A lagging oil & gas E&P counter
BUY Entry – 7.1 Target – 8.1 Stop Loss – 6.6
China Oilfield Services Limited is a comprehensive oilfield service provider. The Company mainly operates through four business segments. The Drilling Services segment is mainly engaged in the provision of oilfield drilling services. The Oil Field Technical Services segment is mainly engaged in the provision of oilfield technical services, including the logging, drilling fluids and directional drilling services. The Geophysical and Engineering Exploration Services segment is mainly engaged in the provision of seismic prospecting and engineering exploration services. The Marine Support Services segment is engaged in the transportation of supplies, including the delivery of crude oil, as well as refined oil and gas products. The Company mainly operates its businesses in domestic and overseas markets.
Oil prices to reclaim the 52-week highs soon. Both Brent and WTI have been trading at above US$80/bbl for most of the trading days YTD. Even though omicron infection cases are still rising, and some lockdowns in several countries remain, the demand for oil have not tapered substantially. The recent decision from OPEC+ to hike output by 400,000 bbls/d failed to bring prices down as the supply-demand gap is narrower than expected. More importantly, the underinvestment in exploration and production will leave limited room for further output hike. Accordingly, the market is projecting oil prices to reach US$100/bbl this year.
We may not see inflation subside in the near term. The US, Europe, and China released their inflation data recently, showing that inflation pressure is still high. Oil and gas is a good hedging against inflation or stagflation amidst the rate hike cycle. The bouyant oil price will gradually pull some investments back in the sector given clean energy investment is overheated at the moment.
The updated market consensus of the EPS growth in FY22/23 is 38.50%/17.6% YoY respectively, which translates to 8.9x/7.5x forward PE. Current PER is 14.6x. Bloomberg consensus average 12-month target price is HK$9.49.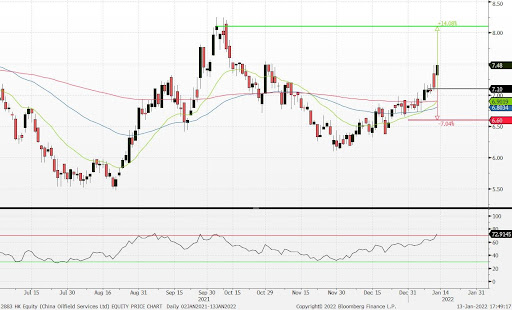 ---
China Resources Cement Holdings Limited (1313 HK): Value for money
RE-ITERATE BUY Entry – 6.5 Target – 7.5 Stop Loss – 6.0
China Resources Cement Holdings Limited is a Hong Kong-based investment holding company principally engaged in the cement and concrete businesses. The Company operates through two business segments. The Cement segment is engaged in the manufacture and sales of cement and related products. The Concrete segment is engaged in the manufacture and sales of concrete and related products. The Company is also involved in the trading of fly ash, mortars and shotcrete, as well as the property holding business through its subsidiaries.
Some easing on the China property sector. According to the South China Morning Post, Beijing's loan limit for real estate companies has been partially relaxed. Chinese policymakers plan to exclude debt raised by a developer to acquire distressed assets of another home builder when calculating their compliance with the three red lines. According to the new rule, companies will be allowed to borrow more from banks and increase their debt level by 5 per cent annually for each red line threshold that they meet, subject to a maximum yearly debt increase of 15 per cent.
Cement price is under correction but remains at multiple year-highs. As of 10th January 2022, the China cement price index was at 178.24, up 16.2% YoY. The recent peak was 213.71 in October 2021. The soft demand for cement was due to the slowdown in the property construction and infrastructure project in 4Q21. However, clean energy projects as well as new infrastructure such as 5G and internet of things could uphold the demand for cement this year.
Value stocks will shine amidst the rate hike cycle. Global economy is entering into the rate hike cycle in 2022. Value stocks (low PE and high dividend yield) are expected to have decent returns in the volatile market.
Updated market consensus of the EPS growth in FY22/23 are 7.0%/4.2% YoY respectively, which translates to 5.4x/5.2x forward PE. Current PER is 6.8x. FY22F/23F dividend yields are 8.6%/9.1% respectively. Bloomberg consensus average 12-month target price is HK$8.88.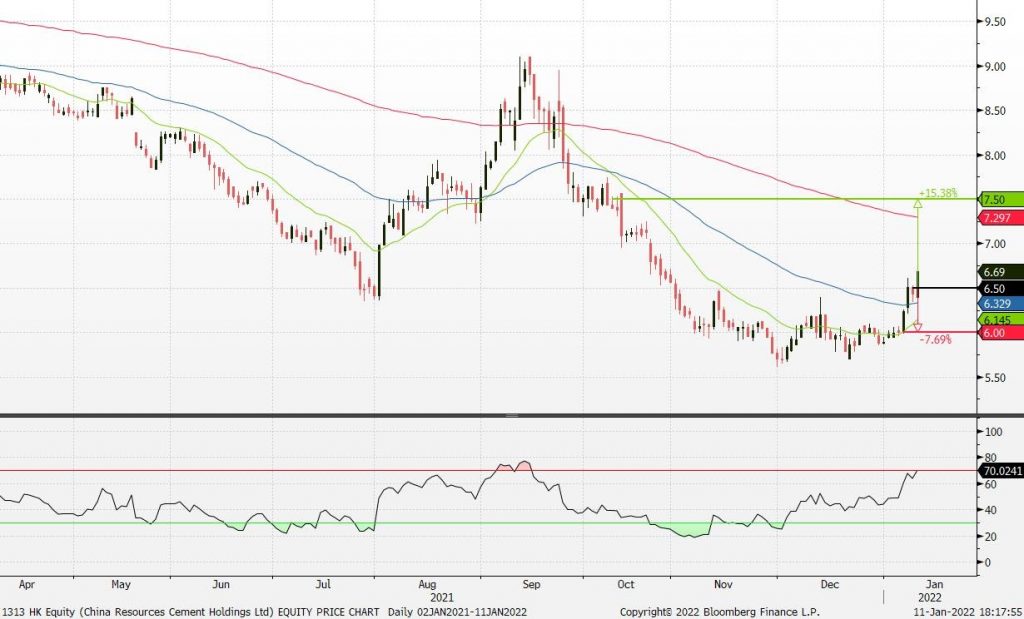 ---
MARKET MOVERS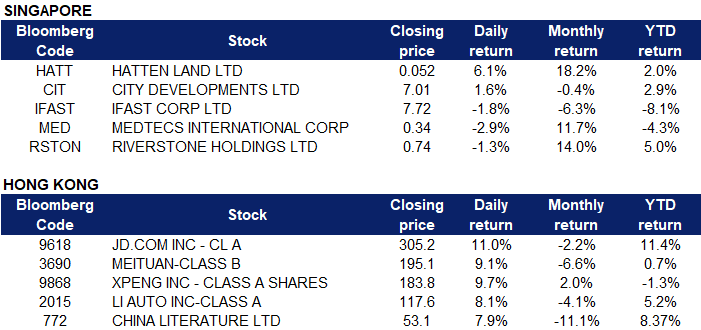 ---
United States
Top Sector Gainers
Top Sector Losers
KB Home (KBH US) shares gained 16.5% yesterday after an earnings beat. Sales for KB Home's final quarter of the year surged 40% YoY on a 28% increase in homes delivered. The average selling price of homes grew 9% YoY to $451,100. Management gave new guidance for fiscal 2022, predicting that it will sell even more houses, at even higher prices — $480,000 to $490,000 on average — this year, and collect revenue between $7.2bn and $7.6bn. At the midpoint, that would translate to a 30% increase in sales. 
Taiwan Semiconductor Manufacturing Company Ltd (TSM US) shares rose 5.3% yesterday after an earnings beat. The company reported a 16.4% jump in net profit for the last quarter of 2021, on a sales jump of 21.2% from the same quarter of 2020. In addition, management  is now projecting average sales growth of 15% to 20% annually — as much as double its previous expectation. The company foresees sales of $16.6bn to $17.2bn in the first quarter alone, at least 5% ahead of estimates. It intends to spend $40bn to $44bn expanding and upgrading capacity in 2022.
Boeing Company (BA US) shares gained 3% yesterday. Boeing Co.'s 737 Max is poised to resume commercial flights in China as soon as this month, according to people familiar with the matter, a significant milestone for the narrow-body workhorse after it was grounded worldwide in 2019. A so-called operational readiness flight conducted by Hainan Airlines on Jan. 9 is a sign the model could return to China's skies within weeks, according to the people, who asked not to be identified discussing non-public information. The country's Max operators haven't given a specific date for the resumption and the move could still be delayed, particularly with Lunar New Year holidays approaching. Other airline peers such as American Airlines Group Inc (AAL US) gained 4.5% yesterday, likely due to a spillover effect from Boeing.
Virgin Galactic Holdings Inc (SPCE US) shares plunged 18.9% yesterday, after the company announced plans to add up to $500mn in debt. The space tourism company intends to raise $425mn from the sale of 2027 convertible senior notes through a private offering, with an additional $75mn option also expected to be granted to buyers. At the time Virgin Galactic said it would begin flying customers in 2020, and Branson and three other company employees did make a headline-grabbing test spaceflight in July 2021. But since then delays to its spacecraft testing and development have steadily pushed back commercial service to late this year at the earliest.
---
Singapore
Hatten Land (HATT SP) shares extended its rally and rose 6.1% yesterday. The company announced that its subsidiary Hatten Edge has signed an agreement with SMI Vantage's subsidiary SMI CS, which will allow the pilot phase of its first 50 sets of crypto mining rigs to commence operations by the end of this month. Despite pointing out in December that it is facing supply chain challenges, Hatten Land now says that it is on track to install and operate over 2,500 sets of crypto mining rigs within its properties in 2022.
City Developments Ltd (CIT SP) shares rose 1.6% yesterday. DBS Group Research analysts Derek Tan and Rachel Tan believe it's a good time to buy Singapore property stocks, given attractive valuations that are "too good to ignore". Even though the government announced a fresh set of property cooling measures effective Dec 16, 2021, the analysts note that listed developers have largely been shielded from potential risks by strong pre-sales. They also note that listed developers are looking to pivot towards building a recurring income base of commercial and hospitality assets to ride the rebound and drive stronger cash flows and net asset values in 2022.
iFAST Corp Ltd (IFAST SP) shares lost 1.8% yesterday after UOB Kay Hian lowered its target price for iFast to S$9.75 from S$11.50, as it believes the wealth management platform's proposed acquisition of UK-based BFC Bank will dampen near-term earnings. iFast on Jan 7 announced that it will be acquiring an 85% stake in the bank for S$74.4mn. UOBKH expects start-up losses at BFC to continue in the first few years post-acquisition before synergies can be reaped, according to a report released on Thursday (Jan 13).
Shares of glove makers, Medtecs International Corp ltd (MED SP) and Riverstone Holdings Ltd (RSTON SP) declined 2.9% and 1.3% respectively yesterday. Despite the surge in Covid-19 and Omicron cases, Singapore intends to continue to gradually reopen its borders, and has plans to restore quarantine-free travel with more countries and regions, said Minister for Transport S Iswaran. In fact, the goal is for Singapore to work towards having quarantine-free travel for all vaccinated travellers, he added. "As part of living with Covid-19, we must shift to a new setting that will enable us to stay connected to the world," said Iswaran.
---
Hong Kong
Top Sector Gainers
Top Sector Losers
Kerry Logistics Network Ltd (636 HK), SITC International Holdings Co Ltd (1308 HK) shares rose 10.9% and 5.1% respectively yesterday. Bank of Communications International released a research report pointing out that by 2030, the Regional Comprehensive Economic Partnership (RCEP) will generate an additional 2.2 million TEUs in Asia, and the near-term prospects in the region are still positive, Clarkson predicts In 2022, the intra-Asia container trade will maintain a steady growth of 5.0% YoY, much higher than other trade routes. The bank believes that SITC will be the long-term winner of Asia's economic prosperity. The company will receive 21/13/2 new ships in 2022-24. The new ships will support further growth in freight volume, while the high proportion of self-owned ships will significantly save costs. The bank maintained a buy rating on SITC and a target price of HK$35, which is based on 12.7x forward 2022 earnings.
MGM China Holdings Ltd (2282 HK), Sands China Ltd (1928 HK) shares declined 4.6% and 2.8% respectively. The Macau Novel Coronavirus Infection Response and Coordination Center announced that, in accordance with the "Infectious Disease Prevention and Control Law", will require all people entering from China through ports other than the airport to produce the required nucleic acid test results. The test must have a negative result within 48 hours of the sampling date. This would be enforced starting January 14.
Ming Yuan Cloud Group Holdings Ltd (909 HK) shares declined 10.7% yesterday CMB International slashed the target price of Ming Yuan Cloud by 29.4% to HK$25.24. However, the bank maintained a "buy" rating. According to the report, Mingyuan Cloud held a conference call on January 12 to provide business updates. The company lowered its FY22 forecast: SaaS revenue will increase by 35%-45% YoY, while ERP revenue will decline by 10%-20% YoY. Reason being: 1) ERP will be partially transformed into SaaS; 2) Despite the fact that real estate industry policies have Bottom, market recovery may take more than 6 months. CMB believes that given the complexity of the system, the transition from ERP to SaaS may be slower than expected.
---
Trading Dashboard
Trading Dashboard Update: Take profit on China Hongqiao (1378 HK) at HK$9.32 and Xtep International (1368 HK) at HK$12.94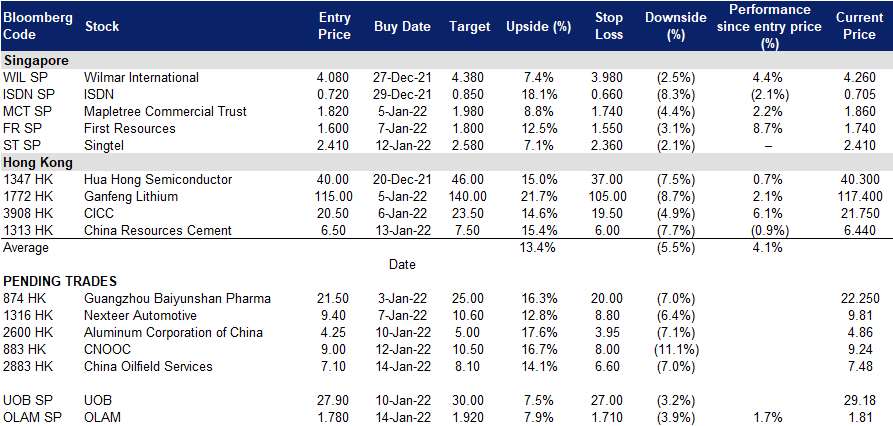 (Click to enlarge image)
---