10 August 2022: United Hampshire US REIT (UHU SP), Ganfeng Lithium Co Ltd (1772 HK)
Singapore Trading Ideas | Hong Kong Trading Ideas | Market Movers | Trading Dashboard
United Hampshire US REIT (UHU SP): Leveraging on shift in US consumption patterns
BUY Entry 0.625 – Target – 0.680 Stop Loss – 0.600
United Hampshire US REIT (UHU SP) is an S-REIT established with the principal investment strategy of investing in a diversified portfolio of stabilised income-producing grocery-anchored and necessity-based retail properties and modern, climate-controlled self-storage facilities located in the US. UHU tenants are e-commerce resistant, with the majority of their anchor tenants of Grocery & Necessity assets utilising their physical stores for their omni-channel strategies.
Changing US consumption patterns as retail focuses on daily necessities. In its earnings results, Walmart (WMT US) alluded to how inflation is causing shoppers to spend more on necessities such as food and less on items like clothing and electronics. Walmart, which is the biggest grocer in the U.S. and often considered a bellwether for the overall economy, said more customers are turning to its stores, which are known for low prices, to fill their pantries and fridges. But they are skipping over general merchandise that they can live without. Such a shift in consumption patterns, will no doubt serve as tailwinds to UHU's grocery-anchored portfolio.
Inorganic growth likely to support FY22F performance. UHU recently announced the proposed acquisition of Upland Square in line with its focus of growing its portfolio of grocery-anchored, and necessity-based retail properties along the Eastern Seaboard of the US. With the acquisition expected to be completed in August 2022, the property would provide attractive NPI yield of 6.5% and is accretive to FY21 DPU by 2.1%.
FY22F distributions expected to moderate on inflation effects, but room for upside surprise. The Street currently has 2/0/0 BUY/HOLD/SELL ratings and an average TP of S$0.83. Based on consensus estimates, FY22F revenue should grow by 6.6% YoY to US$58.9m, but margins may be crimped on inflationary concerns with NPI expected to slip 16.3% YoY to US$43.8m. In line with the weaker FY22F NPI, DPU should fall to 6.4¢ (FY21: 8.4¢), implying a fairly attractive yield of 10.2%, more than 1sd higher than its ~2-year average of 9.7%.
(Source: Bloomberg)

Q&M Dental Group (QNM SP): A recovery trade in the midst of ongoing volatility
RE-ITERATE BUY Entry 0.475 – Target – 0.550 Stop Loss – 0.440
Q&M Dental (QNM) is a private dental healthcare group with 36 dental clinics and a mobile dental clinic with 105 dentists, nine oral health therapists and 302 dental surgery assistants. QNM has treated more than 300,000 patients island-wide from December 2005 and provides dental healthcare services including general dental treatment, endodontics, orthodontics, periodontics, prosthodontics, paedodontics, oral surgery, dental implants and aesthetic dentistry. QNM has a dental laboratory which fabricates dental prosthesis such as crowns, bridges, dentures and retainers.
Lifting of pandemic restrictions to see resumption of strong revenue growth. Recall QNM's 1Q22 revenue saw a 5% YoY gain due mainly to higher revenue from medical laboratory and dental equipment & supplies (+80% YoY). Revenue from dental & medical clinics saw a marginal 2% YoY decline, which should reverse in 2Q22 after the lifting of pandemic restrictions in April. After a slow clinic opening in FY22F, we should see management kick network expansion into second gear. This should also help to grow revenue inorganically.
Acumen listing on NASDAQ to unlock shareholder value. Additionally, the proposed listing of its 51%-owned Acumen Diagnostics on the NASDAQ could help unlock shareholder value. Announced in January 2022, QNM has since brought in the services of UOBKH to further its listing plans. The laboratory currently operates clinical labs that process PCR tests for Covid-19 and the proposed listing would help it enhance its corporate profile as it seeks to expand its business.
FY22F earnings to moderate after stellar FY21 The Street currently has 5/0/0 BUY/HOLD/SELL ratings and an average TP of S$0.72. Based on consensus estimates, FY22F revenue/net profit should moderate by 3.9%/2.6% YoY to S$197.7m/S$29.7m after a record year in FY21. QNM is then expected to recover in FY23F, with revenue/net profit jumping 12.1%/19.2% YoY. In line with the weaker FY22F earnings, DPS should fall to 2.2¢ (FY21: 6¢), implying a still fairly attractive yield of 4.6%. At current prices, QNM would trade at 15.8x forward P/E, in-line with its 2-year average of 15.9x but far below other healthcare plays of 21.7x.
(Source: Bloomberg)


Ganfeng Lithium Co Ltd (1772 HK): Accumulate amidst consolidation
Buy Entry – 70 Target – 80 Stop Loss – 65
GANFENG LITHIUM CO., LTD. is a China-based company principally engaged in the research, development, production and sales of deeply processed lithium products. The Company's main products include lithium compounds, lithium metal and lithium batteries. The Company's products are mainly used in electrical vehicles, chemicals and pharmaceuticals. The Company distributes its products in the domestic market and to overseas markets.
Downstream integration. Ganfeng Lithium has begun construction of a solid-state battery production facility, which the company says will be the largest of its kind in China to date. Once completed, the factory in Chongqing will offer annual capacities of 10 GWh each for the production of battery cells as well as battery packs. The project in Chongqing is not Ganfeng's first battery factory. The company already has a battery production facility in Xinyu, Jiangxi province. Since the commissioning of the expansion stage there in January, up to 2 GWh of solid-state batteries per year and up to 7 GWh of LFP battery cells can be produced.
Stellar 1H22 profit guidance. 1H22 net profit attributable to company shareholders is expected to soar by 408.2% – 535.3% YoY to RMB7.2bn – 9bn. 2Q22 net profit attributable to company shareholders is expected to soar by 290.7% – 482.1% YoY to RMB3.7bn – 5.5bn.
Lithium carbonate prices stay afloat. Lithium carbonate prices in China rose slightly to RMB476,500/tonne in the end of July, remaining near the record-high of RMB500,000/tonne from March and 430% higher YoY amid high demand and tight supply.
The updated market consensus of the EPS growth in FY22/23 is 160.7%/5.9% YoY, respectively, translating to 9.0×/8.5x forward PE. The current PER is 15.1x. Bloomberg consensus average 12-month target price is HK$97.46.
China lithium carbonate price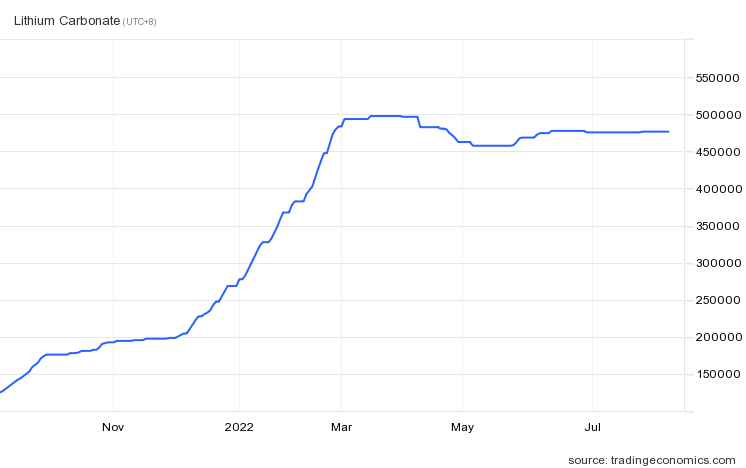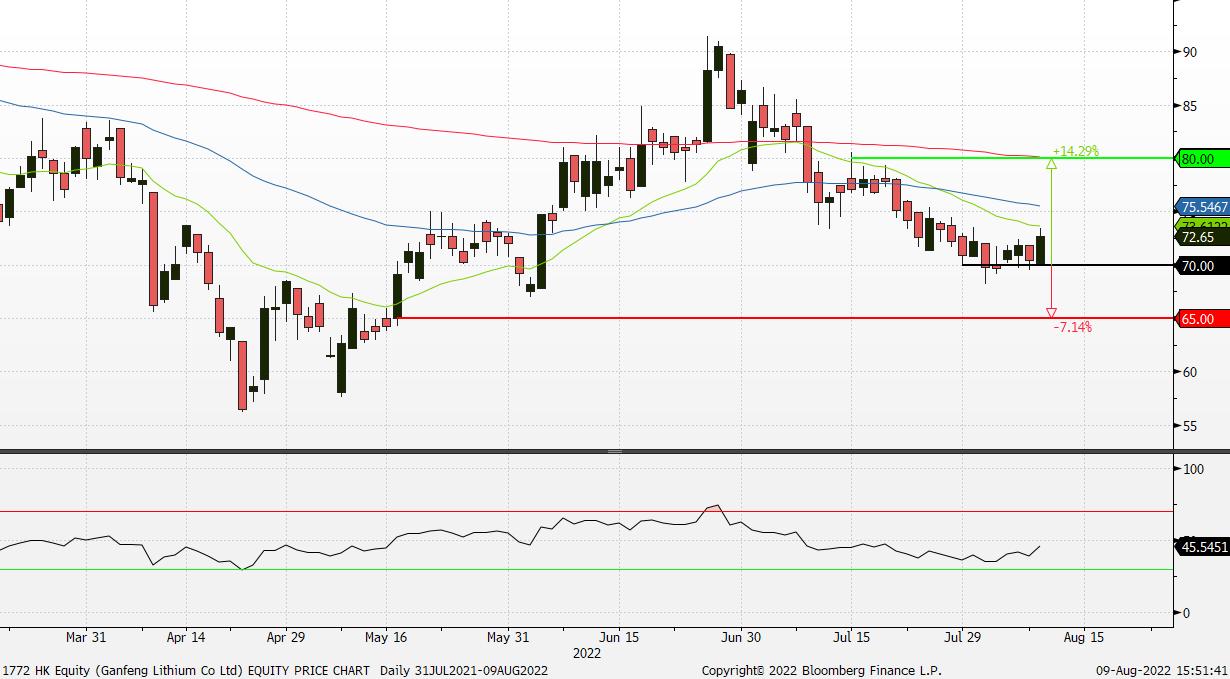 (Source: Bloomberg)
Hua Hong Semiconductor Ltd (1347 HK): Tailwinds to boost the bottom-out
RE-ITERATE BUY Entry – 26 Target – 30 Stop Loss – 24
Hua Hong Semiconductor Ltd is an investment holding company engaged in production and sales of semiconductor wafers. The Company produces 200mm and 300mm-wafers. Its products are applied in general microcontroller (MCU), Type-C interface chips, image stabilization chips, touch control chips, and smart meter controller chips. The products also serve Internet of Things (IoT), new energy vehicles, artificial intelligence and other markets. The Company operates its businesses through its subsidiaries.
Semiconductor confrontation reignites. There were two key recent events attracting investors to relook at the semiconductor sector. last week as House of Representatives Speaker Nancy Pelosi's visit to Taiwan heightened tensions between China and the US, driving patriotic bets on a sector Beijing sees as key to its rivalry with Washington. Meanwhile, the US has passed the Chips and Science Act which includes more than US$52bn for U.S. companies producing computer chips, as well as billions more in tax credits to encourage investment in chip manufacturing. It also provides tens of billions of dollars to fund scientific research and development and to spur the innovation and development of other US technologies. It is expected that China will accelerate semiconductor localization moving forward.
Someone's loss is another's gain. Infineon has reportedly discovered a serious defect in its insulated gate bipolar transistor (IGBT) chips produced between early April and early June 2022 and discarded all of them. Hyundai Motor Co. may suffer a disruption in the production of its electric vehicle IONIQ 5 due to a problem with chips supplied by Germany's Infineon Technologies. The auto chip shortage issues last year caught China's attention, and accordingly, several companies ramped up the capacity of IGBT. China is expected to gradually gain more market shares.
(Source: Bloomberg)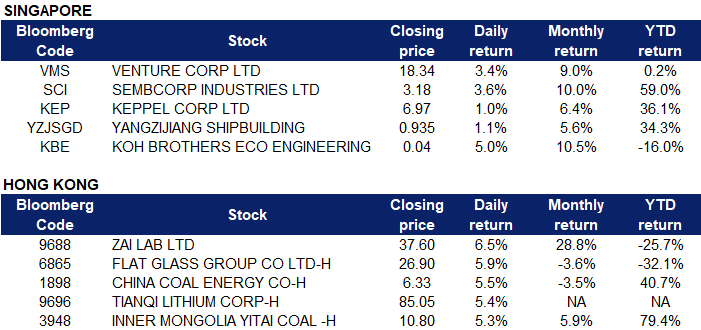 United States
Top Sector Gainers
Top Sector Losers
Norwegian Cruise Line Holdings Ltd (NCLH US) sank 10.6% on Tuesday after the company reported second-quarter results that missed Wall Street's expectations and showed occupancy rates of only 65%, compared to more than 100% in the same quarter in 2019. In addition, the cruise line said that it wouldn't return to pre-pandemic occupancy levels until next year, signalling losses will continue.
Micron Technology Inc (MU US) shares lost 3.7% after the company reported a decline in demand for its DRAM and NAND chips and said it expects a challenging market environment in in the fiscal fourth quarter of 2022 and fiscal first quarter 2023. Several other chip stocks fell with Micron. Applied Materials Inc (AMAT US) and ON Semiconductor Corp (ON US) fell 7.6% and 6.3% respectively.
Novavax Inc (NVAX US) plunged 29.6% after the biotech company slashed its full-year revenue guidance nearly in half because of weak demand for its coronavirus vaccines. Novavax expects it will generate $2 billion to $2.3 billion in revenue in 2022, in comparison to prior guidance of $4 billion to $5 billion.

Singapore
Venture (VMS SP) gained 3.4% as the Street maintained their positive view on VMS after it reported better than expected earnings for 1H22. Recall, VMS reported earnings of S$174m, up 24% YoY. Besides growing the topline, the company was able to maintain its net margins at 9.7% – despite cost pressures inflicted on the global economy. Notably, VMS's overall performance was underpinned by growth across all the domains and its ability to overcome supply-side challenges including global supply chain constraints, rising inflationary pressures and a tight labour situation. Additionally, management anticipates demand to remain unabated in 2H22, and expects this to mitigate supply chain constraints
Sembcorp Industries (SCI SP) gained a further 3.6% as the Street reiterated their bullishness on SCI on all-around solid performances from conventional, renewable energy and stable integrated urban solutions in 1H22. Analysts note that heightened spark spreads in Singapore and India coupled with full year earnings contributions from newly acquired renewable portfolios in China would underpin FY22F results. Separately, decarbonisation initiatives such as the potential divestment of coal-fired power plants in China and India could provide further catalysts for the company.
Keppel (KEP SP) lost 1.1% after it terminated a US$500m contract given by TS Offshore to build a jack-up rig, the TS Jasper , as the client has not paid outstanding amounts due. It also cancelled a US$85m contract to build a liftboat for Crystal Heights, as well as 2015 contract for a semi, Sapura Raiqa as counter parties are unlikely to commit/pay outstanding amounts. KEP is expected to retain all payments already received even as it retains ownership of the vessels built. Both TS Jasper and Sapura Raiqa will be transferred to the JVCo with Sembcorp Marine (SMM SP), which gained 2.6%.
Yangzijiang Shipbuilding (YZJSGD SP) put on 1.1% after reporting 1H22 earnings of RMB1.37bn (-17% YoY). However, earnings from continued operations was up 32% YoY to RMB1.2bn on revenue of RMB9.74bn (+70% YoY) as it rode on a shipbuilding boom and delivered a record number of vessels. It also recorded other gains of RMB306m on favourable FX. Management sees resilient demand ahead, with new orders of US$1.09bn YTD, bringing its total order book to US$8.13bn. Management notes that its recent win to build 4 units of 8,000 TEU LNG dual-fuel contrainership is a sign that it is making inroads in the green vessel space, which has been dominated by Korean yards.
Koh Brothers Eco Engineering (KBE SP) jumped 5% after reporting relatively stable 1H22 earnings of S$1.2m despite revenue slipping 7% YoY to S$101.9m. Management was confident that it would be able to win more mechanical, electrical, and instrumentation control and automation related contracts, as more organisations put more focus on sustainability. Its most recent contract win was in October 2021, amounting to S$200.7m with PUB.

Hong Kong
Top Sector Gainers
Top Sector Losers
Zai Lab Ltd (9688 HK) Shares rose 6.52% yesterday after the company's partner Karuna Therapeutics announced reported positive topline results from its Phase 3 EMERGENT-2 trial evaluating the efficacy, safety, and tolerability of its lead investigational therapy, KarXT (xanomeline-trospium), in adults with schizophrenia. The trial met its primary endpoint, with KarXT demonstrating a statistically significant and clinically meaningful 9.6-point reduction in the Positive and Negative Syndrome Scale (PANSS) total score compared to placebo (-21.2 KarXT vs. -11.6 placebo, p<0.0001) at Week 5 (Cohen's d effect size of 0.61). KarXT also demonstrated an early and sustained statistically significant reduction of symptoms, as assessed by PANSS total score, starting at Week 2 and maintained such reduction through all timepoints in the trial.
Flat Glass Group Co Ltd (6865 HK) Shares rose 5.91% yesterday. There was no company-specific news. The gree power-themed counters rose following the gains of the clean energy-themed stocks in the overnight US market.
Tianqi Lithium Corp (9696 HK) Shares rose 5.39% and closed at a high since IPO yesterday. There was no company-specific news. The stock was included in the China-Hong Kong connect list on 8th August. North bound funds accumulated shares yesterday.
China Coal Energy Company Limited (1898 HK) Shares rose 5.50% yesterday. Inner Mongolia Yitai Coal Company Ltd (3948 HK) Shares rose 5.26% yesterday. Coal sector rose as institutions believes that the capacity utilization rates have peaked during the summer season, but the demand remains strong. High coal prices will remain for a longer period of time.


Trading Dashboard Update: Take profit on Venture Corporation (VMS SP) at S$18.34 and Tianqi Lithium (9696 HK) at HK$85.05. Add Q&M Dental Group (QNM SP) at S$0.475.