20 January 2023: Keppel Corp Ltd. (KEP SP), Jiangxi Copper Company Limited (358 HK)
Singapore Trading Ideas | Hong Kong Trading Ideas | Market Movers | Trading Dashboard
China Sunsine Chemical Holdings Ltd (CSSC SP): Rise in domestic demand
BUY Entry 0.480 – Target – 0.510 Stop Loss – 0.465
China Sunsine Chemical Holdings Ltd is a leading specialty chemical producer. It is the largest producer of rubber accelerators in the world and the largest producer of insoluble sulphur in the PRC. They also have products sold under the "Sunsine" brand with over 700 customers around the world, consisting of more than 65% of the Global Top 75 tire makers, such as Bridgestone, Michelin, Goodyear, Pirelli, Sumitomo, Yokohama, Hankook, Cooper, Kumho Tires, as well as PRC tire giants such as Hangzhou Zhongce, GITI Tire, Shanghai Double Coin Tyre etc.
Domestic demand recovery. China has recently eased their tight Covid measures which consisted of aggressive testing, mass lockdowns and restricted travel policies. With their newfound freedom, Chinese residents would need to service their cars and change their tyres after prolonged periods of curbed movement. Hence, increasing the domestic demand for rubber tyres for the various vehicles owned by residents.
Chinese New Year. Furthermore, with the upcoming one week Chinese New Year Holiday in China, residents will travel across the country to visit their relatives that they have not been able to meet during the restrictive period. The residents that decide to drive across the country for visitations during this anticipated holiday will be more inclined to change their tyres for long distance travel.
3Q22 results review. China Sunsine reported a core net profit of RMB128 million ($24.5 million) for 3Q22, which was 28% higher YoY but 45% lower QoQ.
Updated market consensus of the EPS growth in FY23/24 is -24.8%/12% respectively, which translates to 5.0x/4.4x forward PE. Bloomberg consensus average 12-month target price is S$0.53.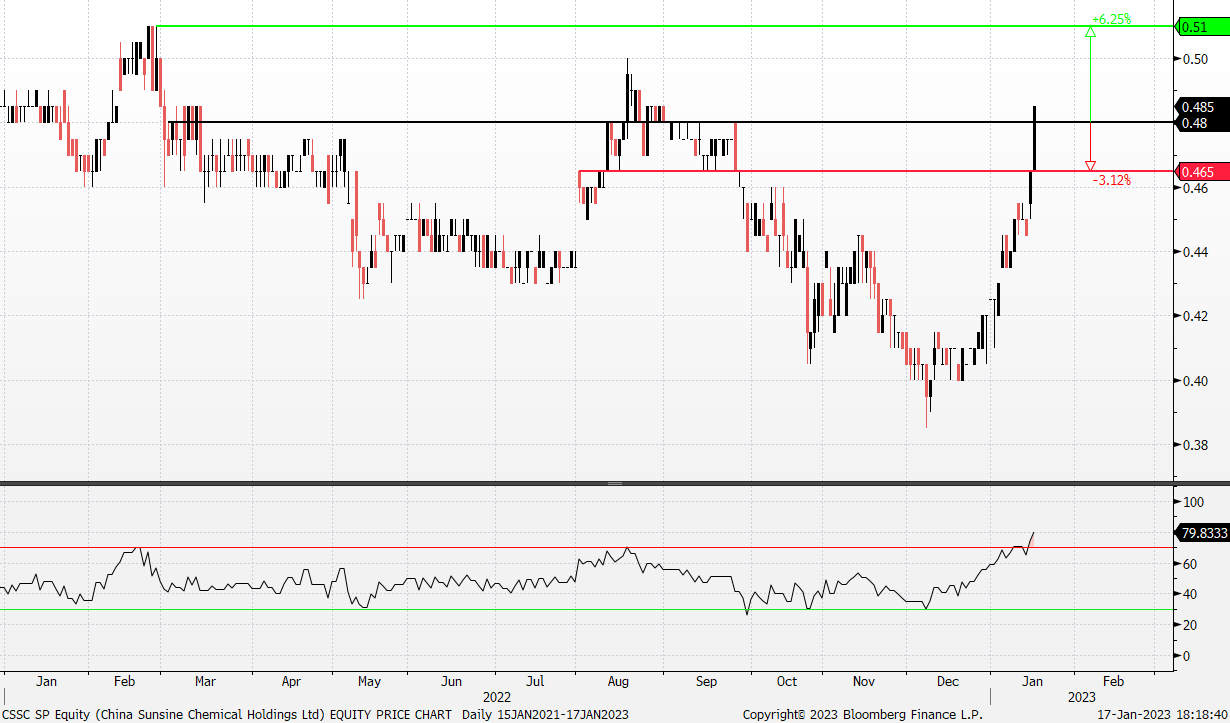 (Source: Bloomberg)

Keppel Corp Ltd. (KEP SP): Reviving infrastructure expansion in the post-COVID era
Entry – 7.25 Target – 7.65 Stop Loss – 7.05
Keppel Corporation is a Singaporean conglomerate headquartered in Keppel Bay Tower, HarbourFront. The company consists of several affiliated businesses that specialises in offshore & marine, property, infrastructure and asset management businesses. It is increasingly focused on transition energy and renewables, and is pivoting to renewables for a more sustainable future.
Tracking China's re-opening. With China being one of Keppel Land's key markets, the reopening of China's economy is bound to drive growth for the business. China's growth is expected to bottom out in the first quarter of 2023 as the government fine- tunes its COVID policy and provides more supportive measures for the property sector.
New Acquisitions driving expansion. Keppel Corp has acquired a freehold 15-storey office tower in Seoul for a purchase price of 220bn won (S$229mn) from Hana Alternative Assets Management, a fund of Hana Financial Group.The property arm of Keppel Corp, Keppel Land has entered into a forward purchase agreement to acquire a project in the western city of Pune for US$29mn, adding 1.1 million square feet to its India office portfolio, as well as a new senior living facility in Nanjing's Qixia District. Keppel Capital, through its China logistics property fund, has partnered Chinese logistic park developer and operator BLOGIS to acquire the fund's first asset, a grade-A high-standard warehouse, located in Dongxihu, Wuhan, China.
New contract. Keppel Offshore & Marine Ltd (Keppel O&M), has secured a contract from an international renewable energy company for the construction of an offshore substation (OSS) worth approximately S$130 million.
(Source: Bloomberg)


Jiangxi Copper Company Limited (358 HK): A good start in 2023
RE-ITERATE BUY Entry – 12.7 Target – 13.7 Stop Loss – 12.2
Jiangxi Copper Company Limited is a China-based company, principally engaged in the mining, smelting and processing of copper. The Company is also engaged in the extraction and processing of precious metals and dissipated metals, sulfur chemical industry business, and financial and trading businesses. The company's products include cathode copper, gold, silver, sulfuric acid, copper rods, copper foils, selenium, tellurium, rhenium, bismuth and others. The Company mainly conducts its businesses within Mainland China and Hongkong.
China bailing out the property market. The People's Bank of China and the China Banking and Insurance Regulatory Commission jointly issued a notice to financial institutions laying out plans to ensure the "stable and healthy development" of the property sector in December. The notice includes 16 measures that range from addressing the liquidity crisis faced by developers to loosening down-payment requirements for homebuyers. Meanwhile, developers' outstanding bank loans and trust borrowings due within the next six months can be extended for a year, while repayment on their bonds can also be extended or swapped through negotiations. The authorities also told the nation's second-tier banks to dole out another RMB 400bn (US$56bn) of financing for the property sector in the final two months of 2022.
Copper prices rallied and the dollar index fell. Copper futures closed at US$413.6/pound, last June's level, and the dollar index pulled back to 102.4. China has released supportive policies for the property market, and the construction activities will widely resume after Chinese New Year. On the other hand, China is expected to continue its infrastructure expansion, especially the renewable energy segment. Both catalysts are tailwinds for the commodities market as both positive pricing and demand factors are expected to uphold the near-term recovery of the metal market.
Copper futures seasonality. Copper performs the best in February in a year based on the last 15-year's track record.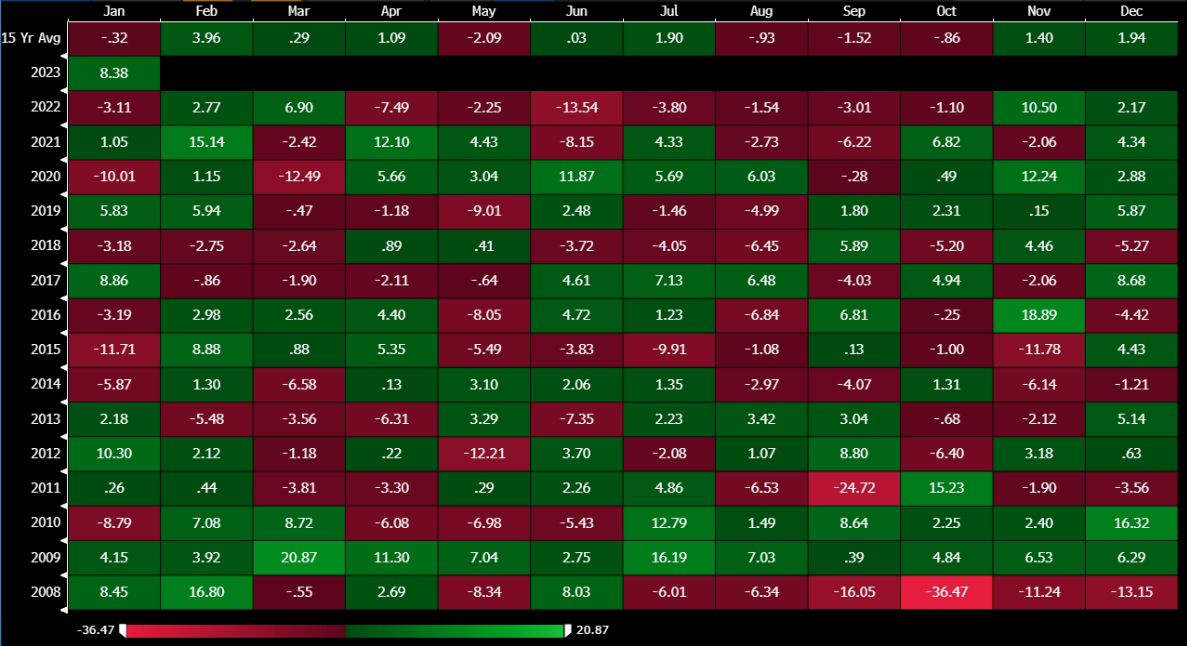 3Q22 earnings review. 3Q22 operating revenue grew by 2.2% YoY to RMB112.9bn. Net profit attributable to shareholders of the company dropped by 13.8% YoY to RMB1.3bn. 9M22 operating revenue grew by 9.2% YoY to RMB368.2bn. Net profit attributable to shareholders of the company increased by 4.9% YoY to RMB4.8bn.
The updated market consensus of the EPS growth in FY22/23 is -3.8%/-23.8% YoY respectively, which translates to 6.2x/8.1x forward PE. The current PER is 5.7x. Bloomberg consensus average 12-month target price is HK$11.36.
(Source: Bloomberg)
BYD Co Ltd (1211 HK): A growing EV market leader
RE-ITERATE Buy Entry – 225 Target – 255 Stop Loss – 210
BYD COMPANY LIMITED is a China-based company principally engaged in the manufacture and sales of transportation equipment. The Company is also engaged in the manufacture and sales of electronic parts and components and electronic devices for daily use. The Company's products include rechargeable batteries and photovoltaic products, mobile phone parts and assembly, and automobiles and related products. The Company mainly conducts its businesses in China, the United States and Europe.
Vehicle sales recovered in China. According to the China Passenger Car Association (CPCA), China's passenger car sales rose 2.4% YoY in December as consumers rushed to make use of a subsidy for electric vehicles before they expired. The CPCA predicted that passenger vehicle sales were likely to remain largely flat or slightly up in 2023. However, it expected sales of new energy cars, mainly EVs, to hit 8.5mn units in 2023, accounting for 36% of total new car sales.
New energy vehicle production and sales in December.

2023 Outlook. The actual NEV sales last year were 1.86mn units, below management's 2022 target of 1.88mn units. The guidance of NEV sales in 2023 from management was 3mn units, up 61.3% YoY.
3Q22 earnings review. Revenue from operations jumped by 84.4% YoY to RMB117.1bn. Net profit attributable to shareholders jumped by 281.1% YoY to RMB 5.7bn.
The updated market consensus of the EPS growth in FY23/24 is 56.6%/42.0% YoY, respectively, translating to 25.9×/18.2x forward PE. The current PER is 58.3x. Bloomberg consensus average 12-month target price is HK$332.47.


United States
Top Sector Gainers
Top Sector Losers
Hong Kong
Top Sector Gainers
Top Sector Losers
Trading Dashboard Update: Add China Sunsine (CSSC SP) at S$0.48.