20 March 2023: Raffles Medical Group Ltd (RFMD SP), SenseTime Group Inc. (20 HK), Coinbase Global Inc (COIN US)
Singapore Trading Ideas | Hong Kong Trading Ideas |United States Trading Ideas | Sector Performance | Trading Dashboard
Raffles Medical Group Ltd (RFMD SP): A defensive stock amidst a market downturn
BUY Entry 1.35 – Target – 1.45 Stop Loss – 1.30
Raffles Medical Group is a leading integrated private healthcare provider in the region, operating medical facilities in thirteen cities in Singapore, China, Japan, Vietnam and Cambodia. The Group is the first Asian member of the Mayo Clinic Care Network. RafflesMedical clinics form one of the largest networks of private family medicine centres in Singapore. RafflesHospital, the flagship of Raffles Medical Group, is a private tertiary hospital located in the heart of Singapore offering a wide range of specialist medical and diagnostic services for both inpatients and outpatients.
Post-COIVD era tailwinds. Singapore continues to see an increase in foreign demand in the healthcare sector, with many foreigners opting for treatment in Singapore. As Singapore opens up its borders, foreign patients return to seek treatment at Raffles Hospital. Singapore residents who postponed their elective surgeries also returned for treatment. Meanwhile, inflation is expected to taper this year, and hence decreasing operating costs will continue to improve its profitability.
Defensive counter amidst market turmoil. The recent banking crisis in the US and Europe markets resulted in rising bearish sentiments which more or less spread to the Asia market. The sell-down in the healthcare services sector creates a buying opportunity as the fundamental remains sound.
FY22 results review. Revenue moderately rose 5.9% YoY to S$766.5mn. Operating profit jumped by 61.4% YoY to S$195.8mn. PATMI jumped by 70.5% YoY to S$143.5mn.
Updated market consensus of the EPS in FY24/25 is 1.9%/3.7% respectively, which translates to 20.0x/20.6x forward PE. Current PER is 17.9x. Bloomberg consensus average 12-month target price is S$1.72.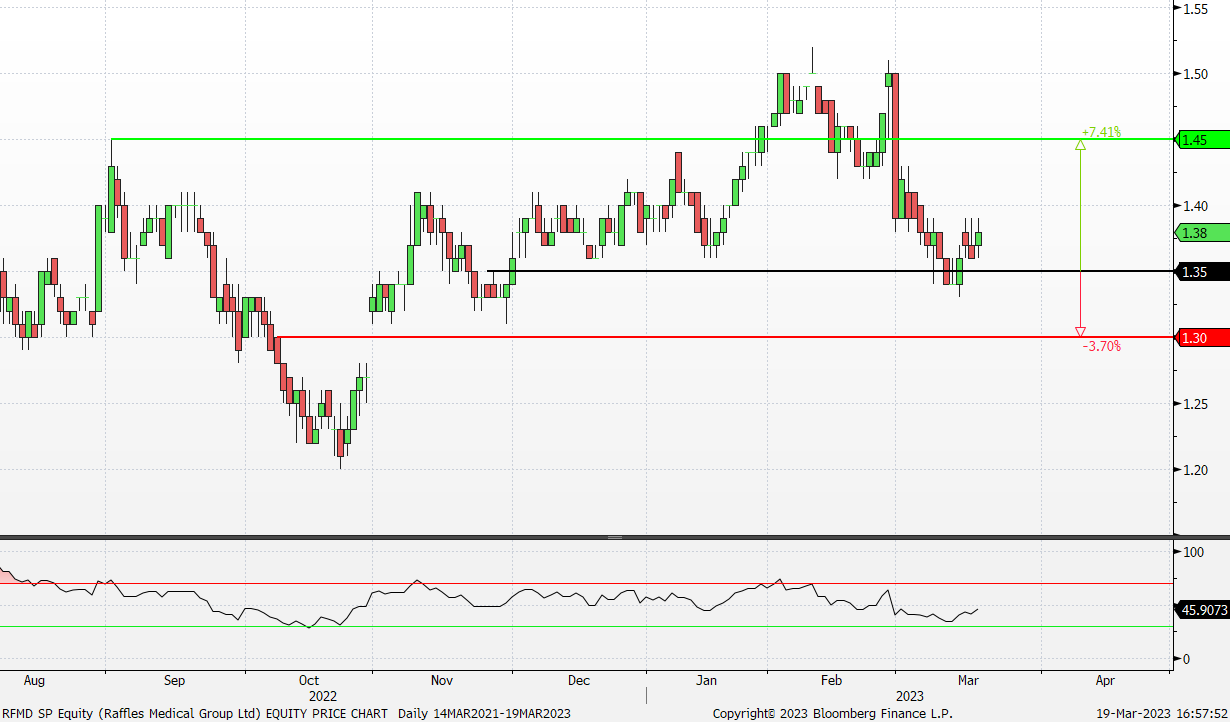 Oversea-Chinese Banking Corp Ltd (OCBC SP): Bank run leads to capital runs away
RE-ITERATE BUY Entry 12.05 – Target – 12.45 Stop Loss – 11.85
Oversea-Chinese Banking Corporation Limited offers a comprehensive range of financial services. The Company's services include deposit-taking, corporate, enterprise and personal lending, international trade financing, investment banking, private banking, treasury, stockbroking, insurance, credit cards, cash management, asset management and other financial and related services.
Capital inflow. The recent crisis at Credit Suisse, Switzerland's second-biggest bank, and the failures of Silicon Valley Bank (SVB) and Signature Bank in the United States have increased concerns of financial contagion on a global scale. Despite measures in place to bail these banks out of trouble by Swiss National bank and the US government, there are still strong bank solvency fears. Some depositors in the Asia region may choose to shift their funds to perceived safer banks in Singapore, which are heavily regulated by the Monetary Authority of Singapore (MAS). The MAS has assured that the local banking system will remain sound and resilient as the banks are well-capitalised and conduct regular stress tests against interest rate and other risks, allowing them to weather potential stresses from global financial developments. Furthermore, MAS has also stated its readiness to provide liquidity to ensure that Singapore's financial system remains stable and markets continue to function in an orderly manner.
Rate cut expectation leading to refinancing. Due to the recent bank collapses in the US leading to heightened volatility in global financial markets, the Federal Reserve is expected to be more cautious when raising rates. The overall market believes that the Feds will also attempt to decrease systemic risk in the financial sector by reducing interest-rate hikes and start to cut rates by 3Q23, with interest rates expected to peak at 4.75% to 5.00%. With the expected decrease in interest rates, borrowers could refinance their loans which were granted at higher rates.
FY22 results. Group net profit increased 18% YoY to S$5.75 bn, from S$4.86 bn in FY21. Net interest income grew 31% from S$5.86 bn to a record S$7.69 bn in FY22.
Updated market consensus of the EPS growth in FY23/24 is 21.0%/2.9% respectively, which translates to 7.9x/7.8x forward PE. Current PER is 9.5x. Bloomberg consensus average 12-month target price is S$14.44.
OCBC's P/B is below the 10-year average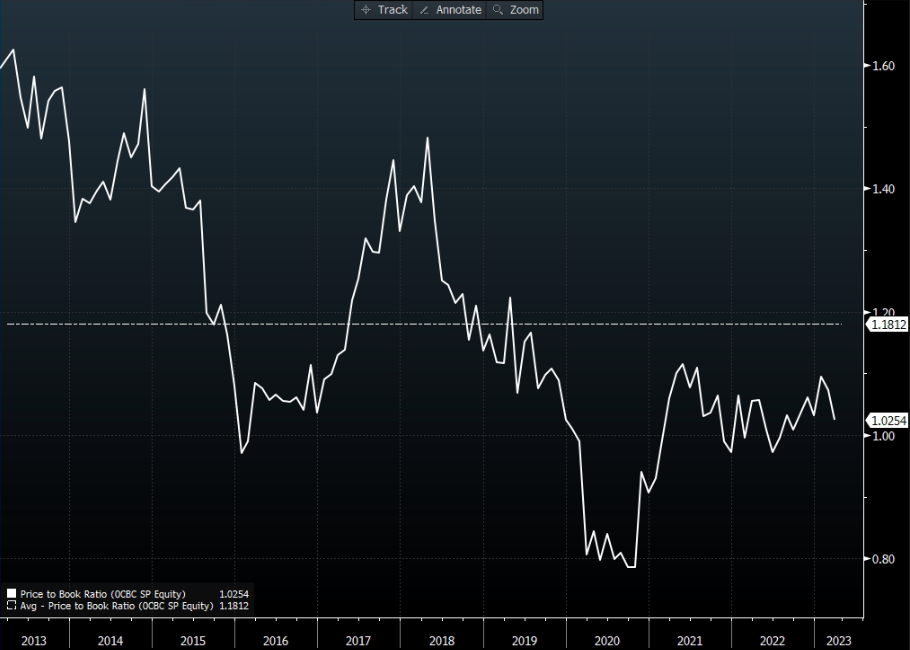 (Source: Bloomberg)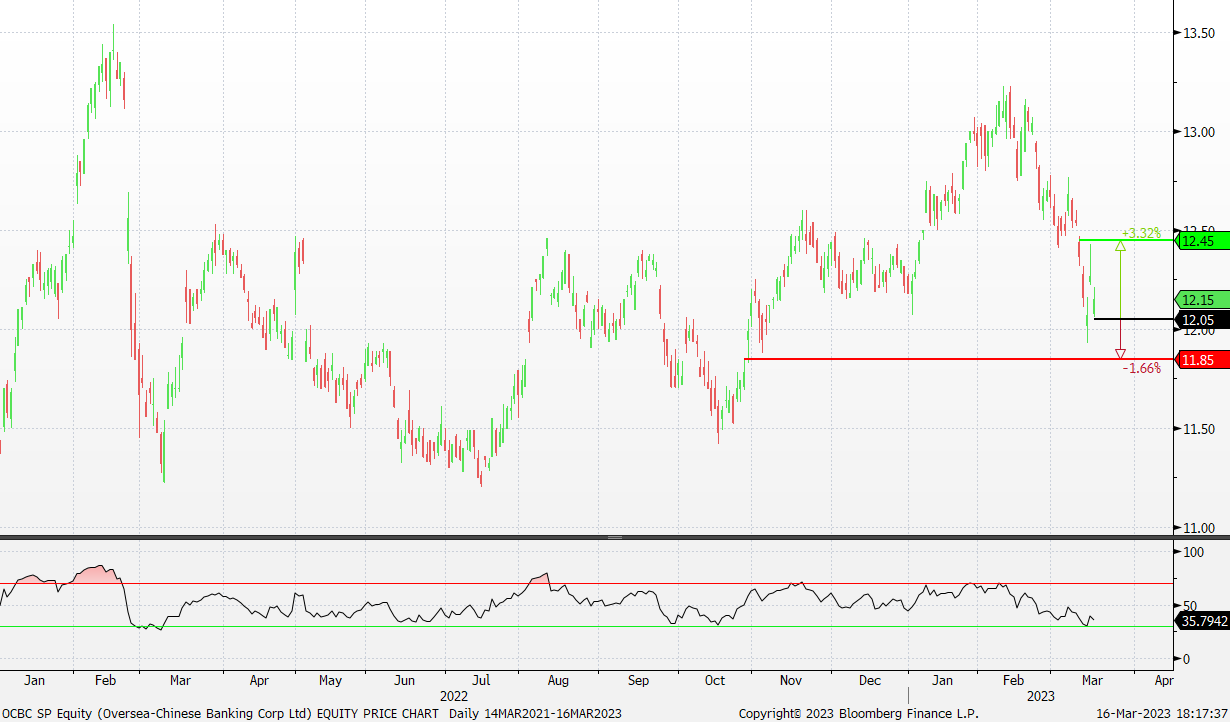 (Source: Bloomberg)


SenseTime Group Inc. (20 HK): An alternative AI-themed choice
BUY Entry – 2.70 Target – 2.94 Stop Loss – 2.58
SenseTime Group Inc is a China-based company mainly engaged in the research and development and application of artificial intelligence (AI) software. The Company has self-developed AI infrastructure SenseCore, which can reduce the price of AI production factors and realize large-scale AI innovation and implementation. The Company's businesses cover four major sectors, including smart business, smart city, smart life, and smart auto. It focuses on AI original technology research and has full-stack AI capabilities, including perception intelligence, decision intelligence, smart content generation, smart content enhancement, and key capabilities such as AI chips, AI sensors, and AI computing infrastructure.
Focus on technological self-reliance. China recently announced at the two sessions that China will be deepening its control over the technology sector, pushing China towards, technological self-reliance. China's Communist Party unveiled a broad overhaul strengthening its role in managing finance, social affairs and technological development, as part of leader Xi Jinping's efforts to entrench his brand of top-down rule. China will continue to expand its 5G network while further promoting the research and development of 6G as well as other cutting-edge technology. This includes humanoid robots, metaverse, quantum technology and more, so as to better support the implementation of a modern industrial system.
Rise of Artificial Intelligence in China. China's 14th Five-Year Plan and Vision 2030 both place a strong focus on the development of the digital economy, seeing this sector as a source of tremendous untapped innovative power and space for growth. In the next few years, the construction of this new AI infrastructure is set to become one of the important pillars of the development of the digital economy and a focus of investment by local governments in China, significantly contributing to regional economic development.
Catching up with ChatGPT. Recently, the company unveiled an open-source AI model, Intern 2.5. Boasting 3 billion parameters, Intern 2.5 is the largest and most accurate on ImageNet among the world's open-source models, and it is the only model in the object detection benchmark dataset COCO that exceeds 65.0 mAP. The ImageNet project is a large visual database designed for use in visual object recognition software research. The model's cross-modal open-task processing ability can provide efficient and accurate perception and understanding support for general scenarios such as autonomous driving and robots.
1H22 earnings. Revenue fell by 14.3% YoY to RMB1,4bn, compared to RMB1.7bn in 1H21. Gross profit fell by 22.5% YoY to RMB934.0mn, compared to RMB1.3bn in 1H21. Net loss attributable to shareholders of the company was RMB3.2bn, compared to RMB3.7bn in 1H21.
The updated market consensus of the EPS growth in FY23/24 is 26.67%/25.79% YoY respectively. Bloomberg consensus average 12-month target price is HK$3.13.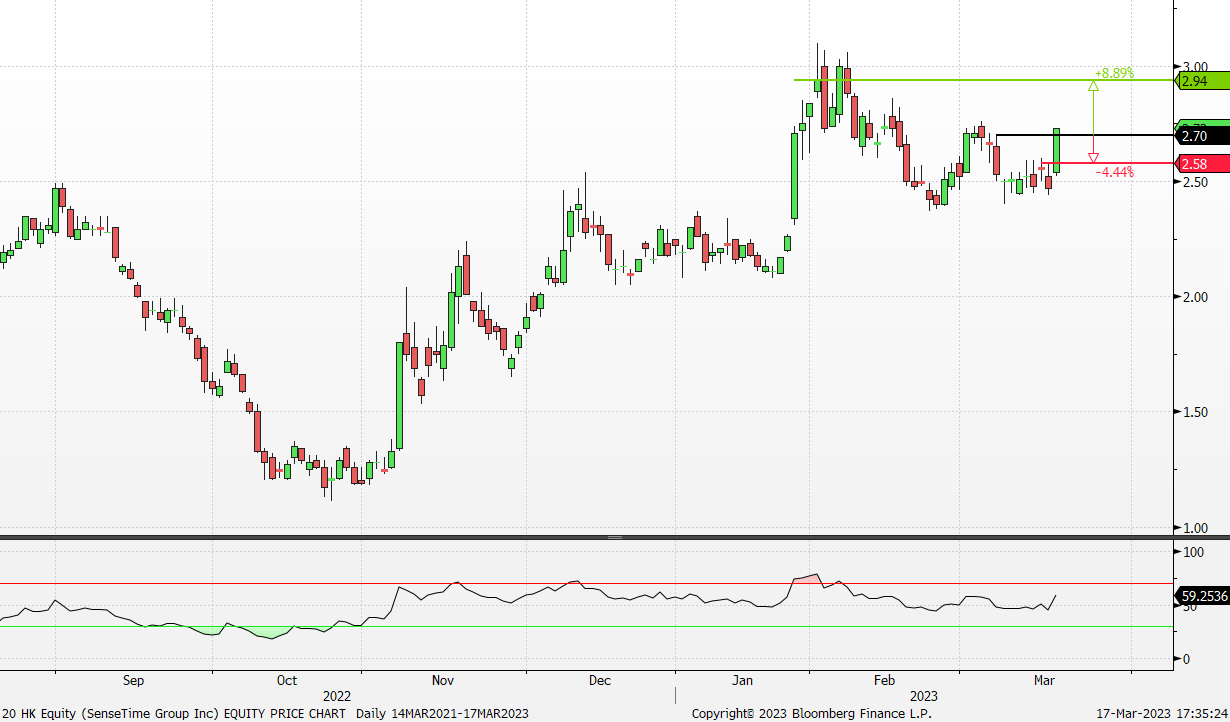 (Source: Bloomberg)

China Traditional Chinese Medicine Holdings Co. Ltd (570 HK): Health is Wealth
RE-ITERATE BUY Entry – 4.15 Target – 4.55 Stop Loss – 3.95
China Traditional Chinese Medicine Holdings Co. Limited is principally engaged in the manufacture and sales of traditional Chinese medicine (TCM) through its 12 subsidiaries.
Reformed Healthcare insurance systems. Local governments recently announced reforming China's healthcare system to improve the use of medical funds and help vulnerable populations like the elderly and those with chronic diseases, which is managed by the China authorities. The demand for and expenses associated with outpatient services are increasing as society develops. More individuals paying out of their pocket for common illnesses would be able to make use to these funds for treatment, hence increasing the demand for healthcare in China.
Better medical and health systems. Chinese authorities has recently issued a set of guidelines to promote the sound development of the medical and health system in the country's rural areas. The guideline highlighted the application of smart and digitalized technologies and the use of traditional Chinese medicine to allow residents to enjoy access to fairer and more systematical medical services in their vicinity.
A defensive stock amidst a market downturn. The Hong Kong market has been hammered by both a slowdown in China's economic recovery and banking crisis. Growth, value, and cyclical sectors, as well as other thematic stocks, have been sold off indiscriminately. However, this stock is relatively outperforming the rest as its business is largely immune to inflation and systemic risks. The business driver is the sales volume rather than profit margins.
1H22 earnings. Revenue rose by 41.9% YoY to RMB431.18mn. Gross profit increased by 108.2% YoY to RMB27.41mn. GPM was at 6.4% for 1H22 compared to 4.3% for 1H21.
The updated market consensus of the EPS growth in FY23/24 is 67.7%/24.6% YoY respectively, which translates to 10.7x/8.6x forward PE. Current PER is 13.2x. Bloomberg consensus average 12-month target price is HK$5.07.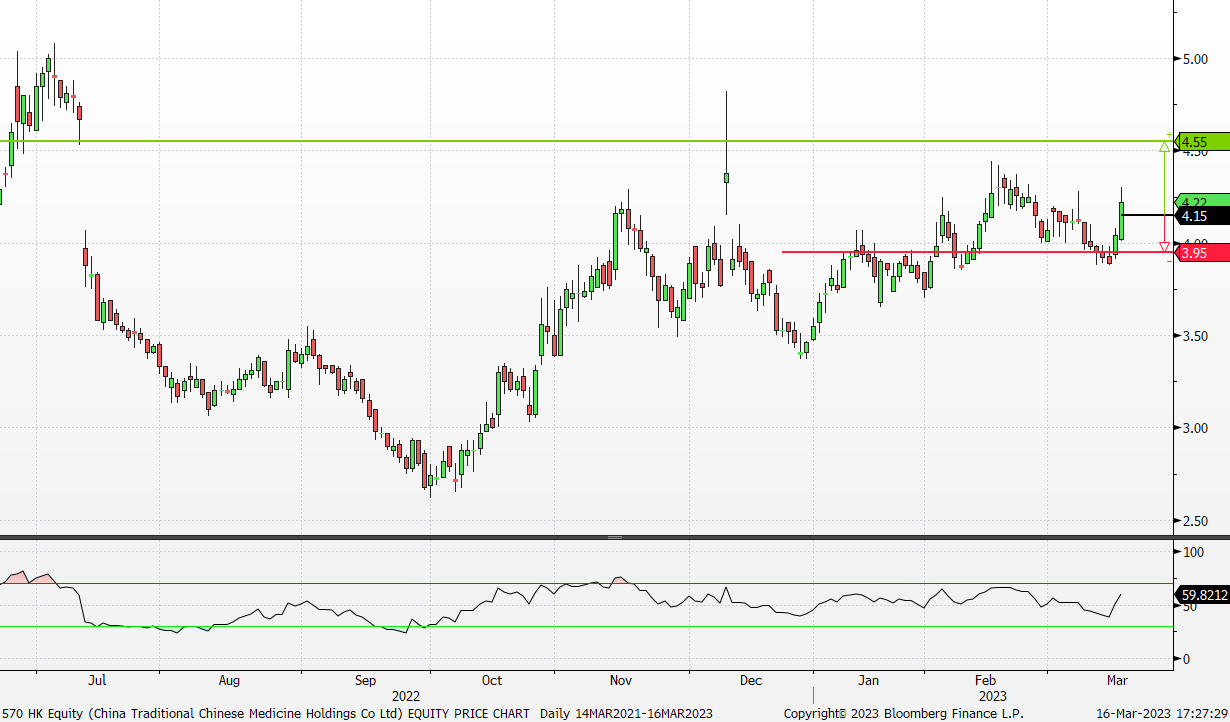 (Source: Bloomberg)


Coinbase Global Inc (COIN US): Blessing in disguise
BUY Entry – 68.0 Target – 84.0 Stop Loss – 60.0
Coinbase Global Inc provides financial solutions. The company offers a platform to buy and sell cryptocurrencies, serving clients worldwide.
Cryptocurrencies resume uptrends. During the recent banking crisis, cryptocurrencies are the best outperforming asset class. The rate cut expectations and the re-expansion of the Fed balance sheet led to bullish sentiments in the technology sector. In fact, the market still has abundant liquidities. Funds keep a large cash position and wait for the dip-buying opportunity. As of Friday, BTC closed above US$27,000, a high since June 2022. ETH closed near US$1,800, a high since August 2022.
Bitcoin & Ethereum price trend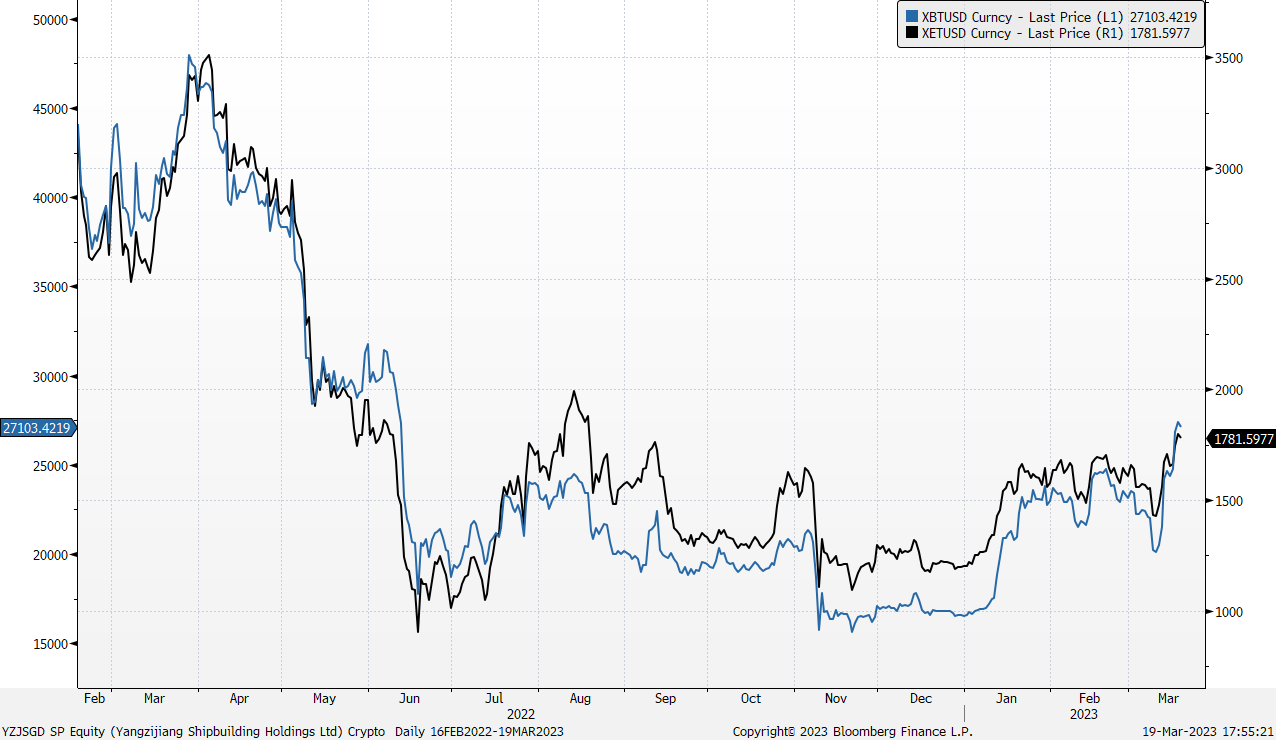 (Source: Bloomberg)
Find another way out. Institutional clients of Coinbase have been contacted by the firm about plans to potentially set up a new crypto-trading platform overseas. The talks with market makers and investment firms involved the potential of establishing an alternative venue. This is occurring against the backdrop of an intensifying US crackdown on cryptocurrencies.
Singapore operations update. Coinbase has updated its retail platform in Singapore to reflect a new strategic banking partnership with Standard Chartered that enables customers to move funds to and from accounts via local banks.
The updated market consensus of the EPS in FY23/24 is -US$2.0/US$1.9, respectively. Bloomberg consensus average 12-month target price is US$65.27.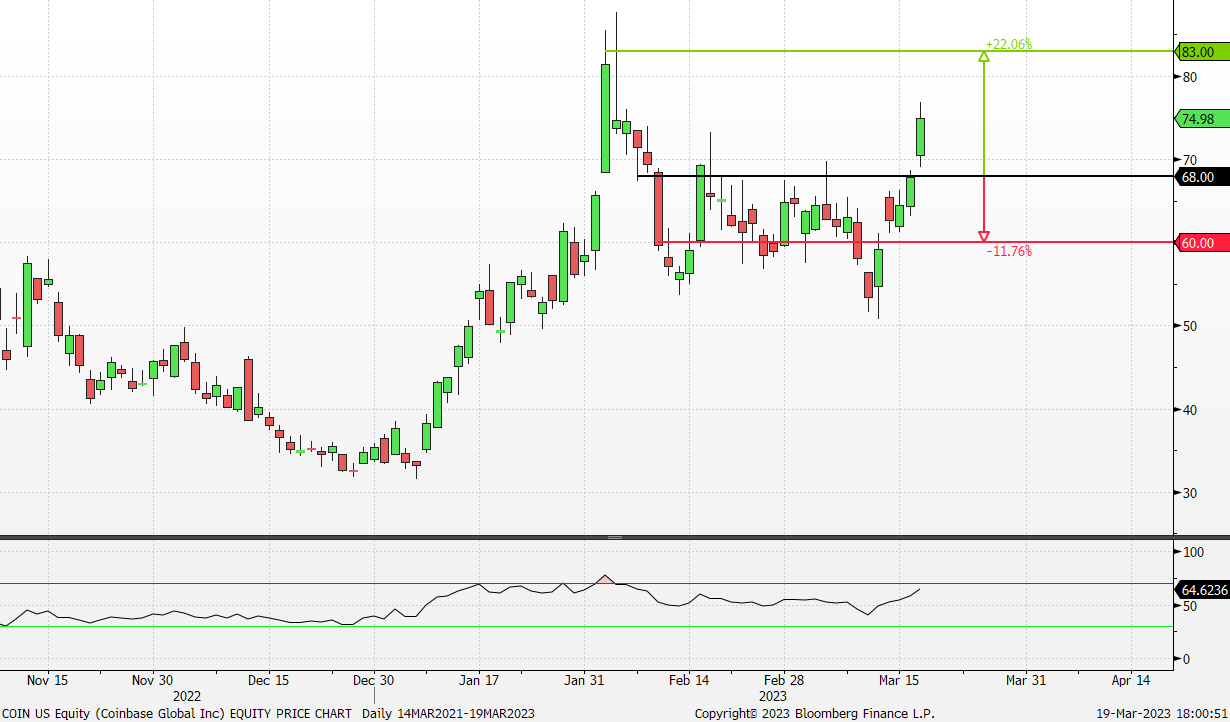 (Source: Bloomberg)
Microsoft Corporation (MSFT US): Revolutionary singularity
RE-ITERATE BUY Entry – 275 Target – 295 Stop Loss – 265
Microsoft Corporation develops, licenses, and supports software, services, devices, and solutions worldwide. The company operates in three segments: Productivity and Business Processes, Intelligent Cloud, and More Personal Computing.
GPT-4 is the game changer. Recently, the current most popular artificial intelligence application ChatGPT had another significant upgrade from previous 3.5 to 4.0. GPT-4 is "multimodal", meaning that it can generate content from both image and text prompts. GPT-3.5 is limited to about 3,000-word responses, while GPT-4 can generate responses of more than 25,000 words. GPT-4 can also understand and talke about pictures. According the GPT-4 Technical Report, GPT-4 is even able to score a 5 on several AP exams and ace a "simulated" bar exam, scoring among the top 10% of test takers on the exam. Microsoft had integrated ChatGPT to Bing chat and Azure previously. The updated development was that it also integrated GPT-4 into its Office Suites. Microsoft is expected to increase revenue by raising prices for the extra embedded packages.
Banks' losses could be good for the technology sector's gains. The recent sell-off in the equity market, especially the finance sector, not only eased previous bigger rate hike expectations in the next week's FOMC meeting but also bring forward the beginning of the rate cut cycle to 3Q23. Rate cut expectations are good for the technology sector.
Fed fund rate expectations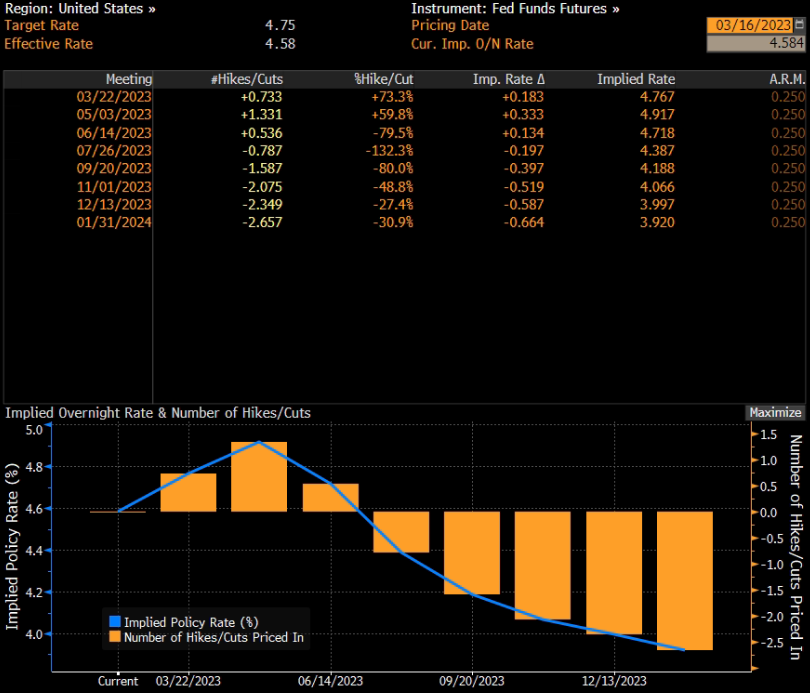 (Source: Bloomberg)
2Q23 earnings review. Revenue slight grew by 1.9% YoY to US$52.7bn, missing estimates by US$450mn. Non-GAAP EPS arrived at US$2.32, beating estimates by US$0.01. The company expected double-digit growth in revenue this year.
The updated market consensus of the EPS growth in FY23/24 is 1.6%/15.0%, respectively, which translates to 28.4x/24.7x forward PE. Current PER is 29.0x. Bloomberg consensus average 12-month target price is US$290.4.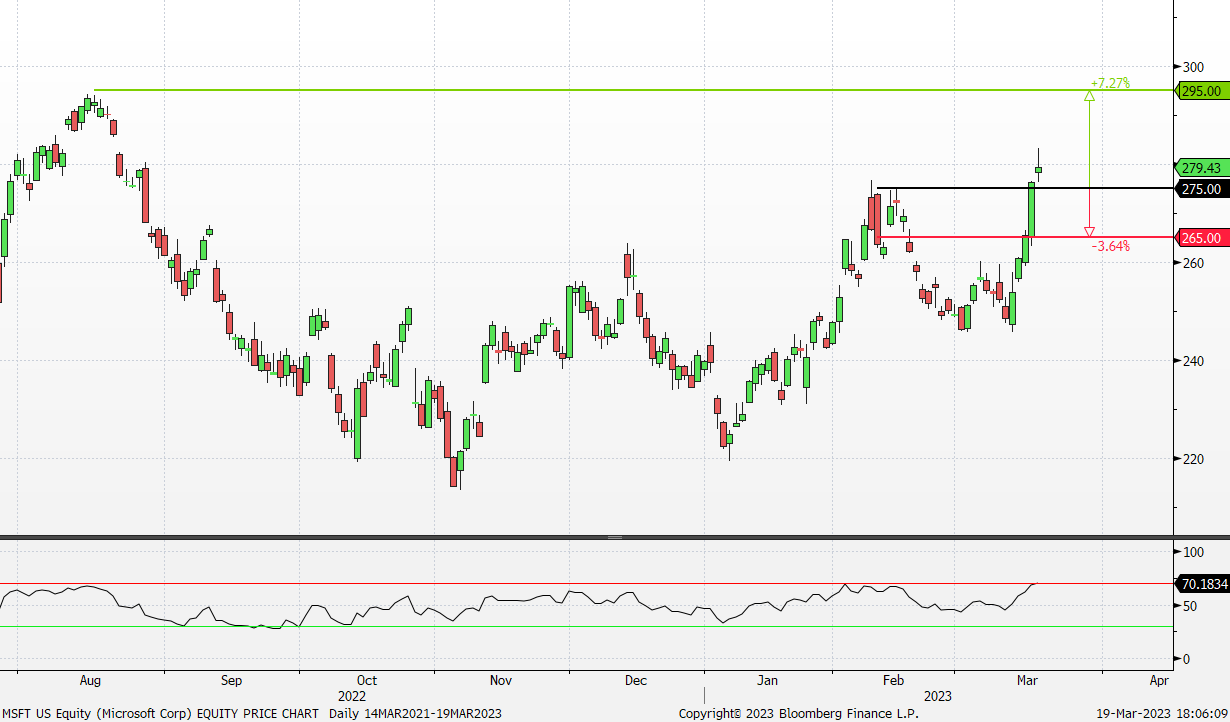 (Source: Bloomberg)


United States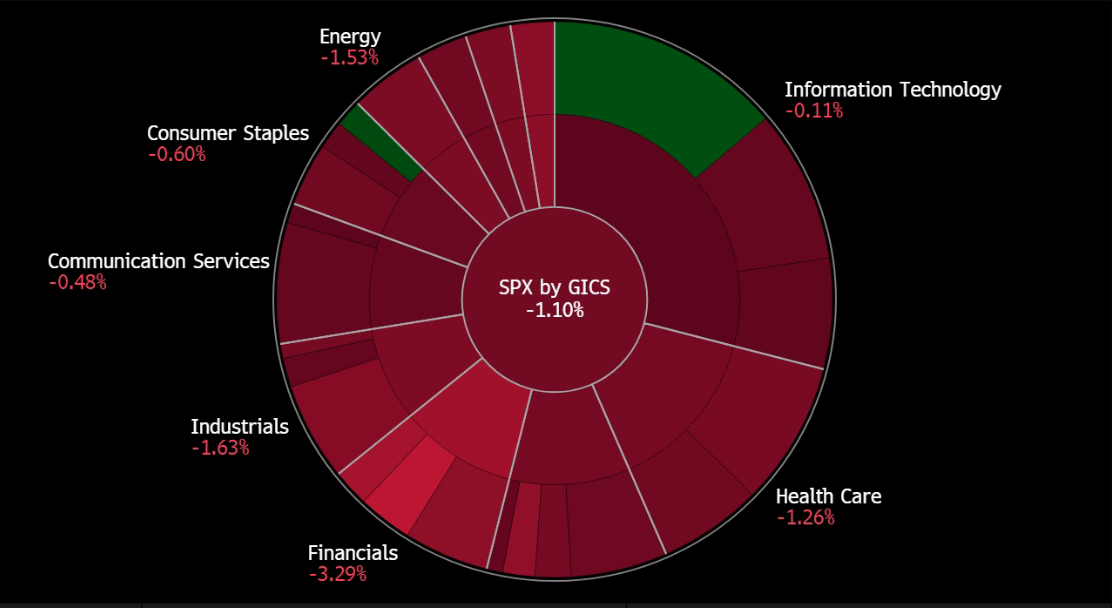 Hong Kong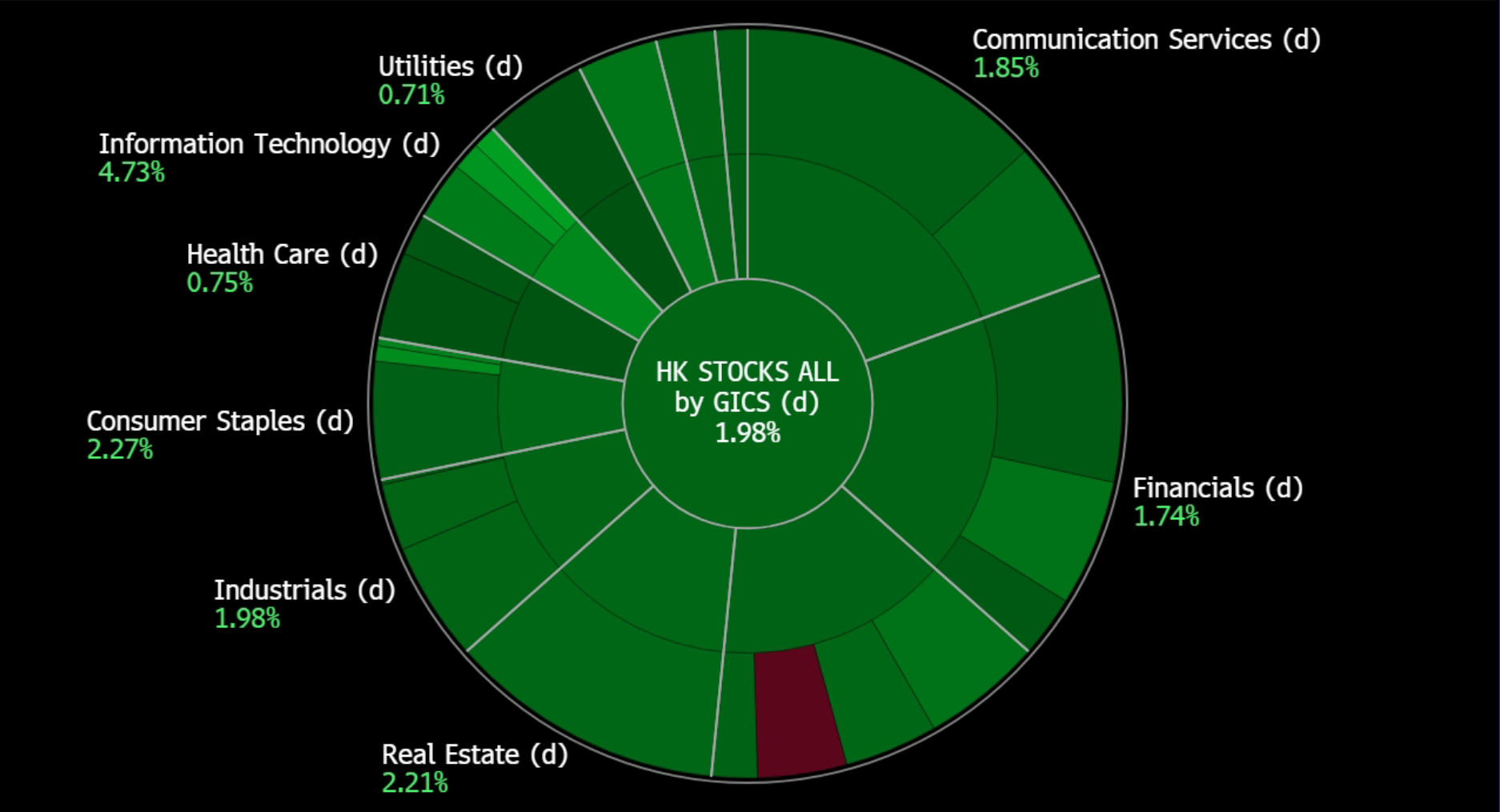 Trading Dashboard Update: Take profit on Wilmar International (WIL SP) at S$4.15.