16 January 2023: Raffles Medical Group Ltd (RFMD SP), BYD Co Ltd (1211 HK)
Singapore Trading Ideas | Hong Kong Trading Ideas | Market Movers | Trading Dashboard
Raffles Medical Group Ltd (RFMD SP): Increasing healthcare demand
RE-ITERATE Entry – 1.35 Target – 1.45 Stop Loss – 1.30
Raffles Medical Group is a leading integrated private healthcare provider in the region, operating medical facilities in thirteen cities in Singapore, China, Japan, Vietnam and Cambodia. The Group is the first Asian member of the Mayo Clinic Care Network. RafflesMedical clinics form one of the largest networks of private family medicine centres in Singapore. RafflesHospital, the flagship of Raffles Medical Group, is a private tertiary hospital located in the heart of Singapore offering a wide range of specialist medical and diagnostic services for both inpatients and outpatients.
Surge in Covid cases. With China easing its Covid restrictions and Covid cases surging in China, Raffles Medical will benefit from this as their medical facilities will be visited by Chinese residents. Raffles Medical has a total of 3 hospitals and 4 clinics located around China. Additionally, they have 3 online stores serving 3 districts in China.
Increase in tourism. With worldwide borders being opened up, the pent-up demand for travel is finally being satisfied. With an influx of tourist into Singapore, healthcare providers are expecting a wave of travellers requiring pre-departure PCR test in the coming months. With a 15 – 20% increase in PCR demand in the month of november, these numbers are expected to rise even higher as measures are continually relaxed.
Rise in demand for services. Singapore is currently facing a surge in foreign demand in the healthcare sector, with many foreigners opting for treatment in Singapore. As Singapore opens up its borders, foreign patients return to seek treatment at RafflesHospital. Singapore residents who postponed their elective surgeries also returned for treatment.
3Q22 results. Raffles Medical reported strong 3Q results ended in September, with a net profit growth of S$98.2 million, up 57.3% YoY. For the period, revenue grew 6.5% YoY to S$199.5 million while net profit surged by 62.1% YoY to S$38.3 million.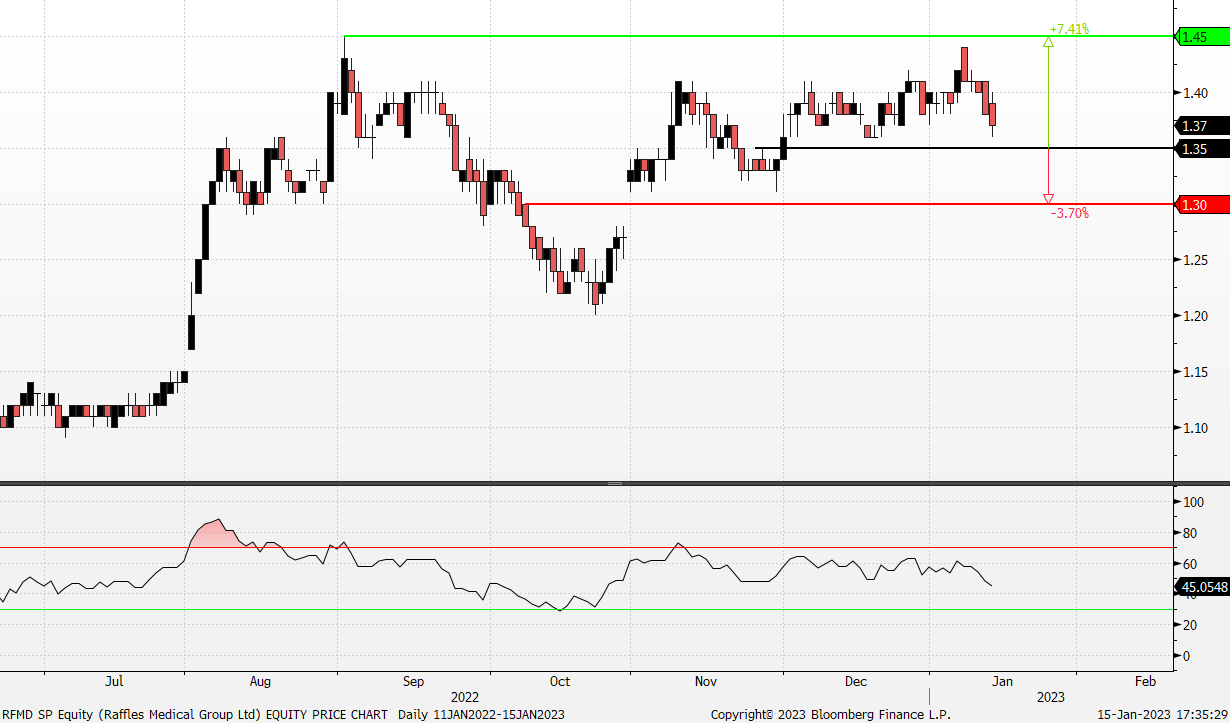 (Source: Bloomberg)

Singapore Airlines Ltd (SIA SP): Further recover in 2023
RE-ITERATE BUY Entry 5.70 – Target – 6.10 Stop Loss – 5.50
The Singapore Airlines Group has over 20 subsidiaries, covering a range of airline-related services, from cargo to engine overhaul. Its subsidiaries also include SIA Engineering Company, Scoot, Tiger Airways, Singapore Flying College and Tradewinds Tours and Travel. Principal activities of the Group consist of air transportation, engineering services and other airline related activities.
Post-Covid boom. In 11M22, according to statistics collated by Singapore Tourism Board, there has been an exponential increase in visitor arrivals since the reopening of our borders to vaccinated travellers without quarantine in April. Between January and November last year, there were about 5.37 million visitors, a YoY increase of 2,164.9% compared to the same period in 2021. China lifted its overseas travelling restrictions in early January 2023, and Singapore is expected to see a spike in Chinese tourist influx this year. According to the recent market survey from travel agents in China, Southeast Asian countries are among the top cross-border travelling preferences after a three-year lockdown.
Jet fuel prices fall. Due to concerns over a slowdown of global economic growth and recession, international oil prices have been trending downward since mid-2022. Accordingly, prices of crude oil derivatives fall, benefiting airline companies as part of operating costs drops.
Jet Fuel Price Index
(Source: IATA)
1H23 results review. In1H23 (YE March), net profit arrived at S$927mn, recovering from an S$837mn loss during 1H22, resulting from the sharp revival in travel demand after economies reopened their borders. SIA and Scoot carried 11.4mn passengers during 1H23, a 13-fold jump from 1H22.
Updated market consensus of the EPS in FY23/24 is S$0.584/S$0.390 respectively, which translates to 9.5x/14.3x forward PE. Bloomberg consensus average 12-month target price is S$5.62.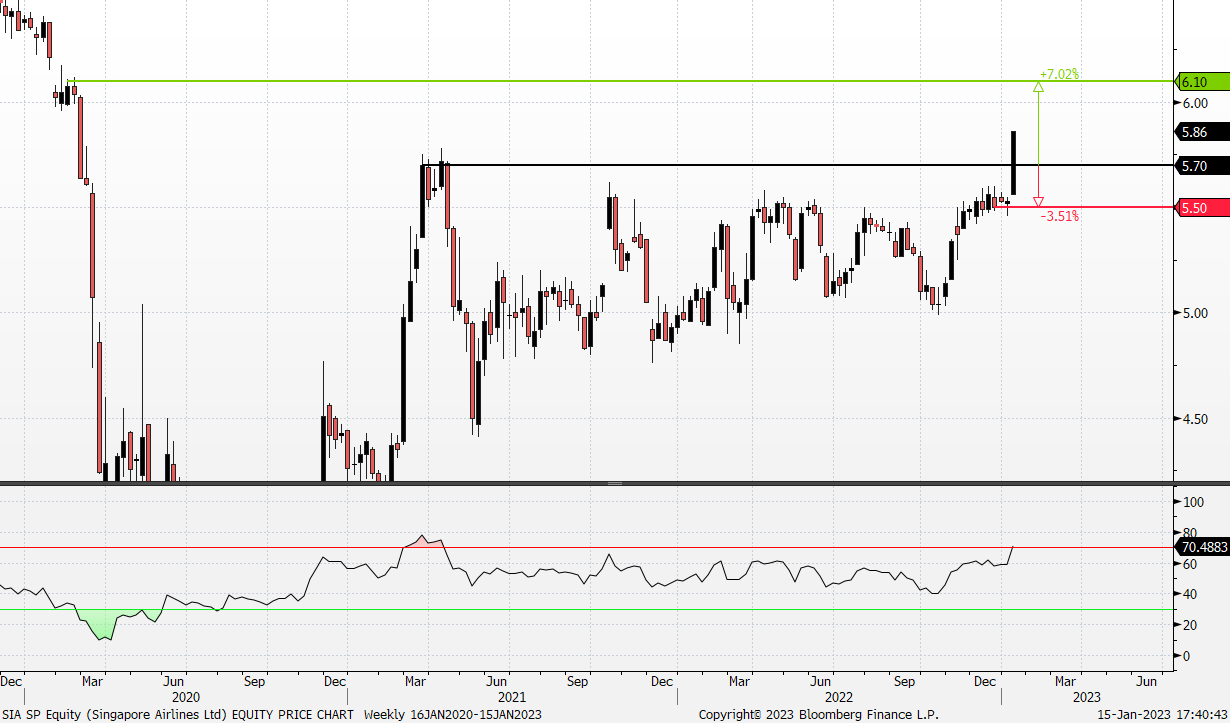 (Source: Bloomberg)


BYD Co Ltd (1211 HK): A growing EV market leader
Buy Entry – 225 Target – 255 Stop Loss – 210
BYD COMPANY LIMITED is a China-based company principally engaged in the manufacture and sales of transportation equipment. The Company is also engaged in the manufacture and sales of electronic parts and components and electronic devices for daily use. The Company's products include rechargeable batteries and photovoltaic products, mobile phone parts and assembly, and automobiles and related products. The Company mainly conducts its businesses in China, the United States and Europe.
Vehicle sales recovered in China. According to the China Passenger Car Association (CPCA), China's passenger car sales rose 2.4% YoY in December as consumers rushed to make use of a subsidy for electric vehicles before they expired. The CPCA predicted that passenger vehicle sales were likely to remain largely flat or slightly up in 2023. However, it expected sales of new energy cars, mainly EVs, to hit 8.5mn units in 2023, accounting for 36% of total new car sales.
New energy vehicle production and sales in December.

2023 Outlook. The actual NEV sales last year were 1.86mn units, below management's 2022 target of 1.88mn units. The guidance of NEV sales in 2023 from management was 3mn units, up 61.3% YoY.
3Q22 earnings review. Revenue from operations jumped by 84.4% YoY to RMB117.1bn. Net profit attributable to shareholders jumped by 281.1% YoY to RMB 5.7bn.
The updated market consensus of the EPS growth in FY23/24 is 56.6%/42.0% YoY, respectively, translating to 25.9×/18.2x forward PE. The current PER is 58.3x. Bloomberg consensus average 12-month target price is HK$332.47.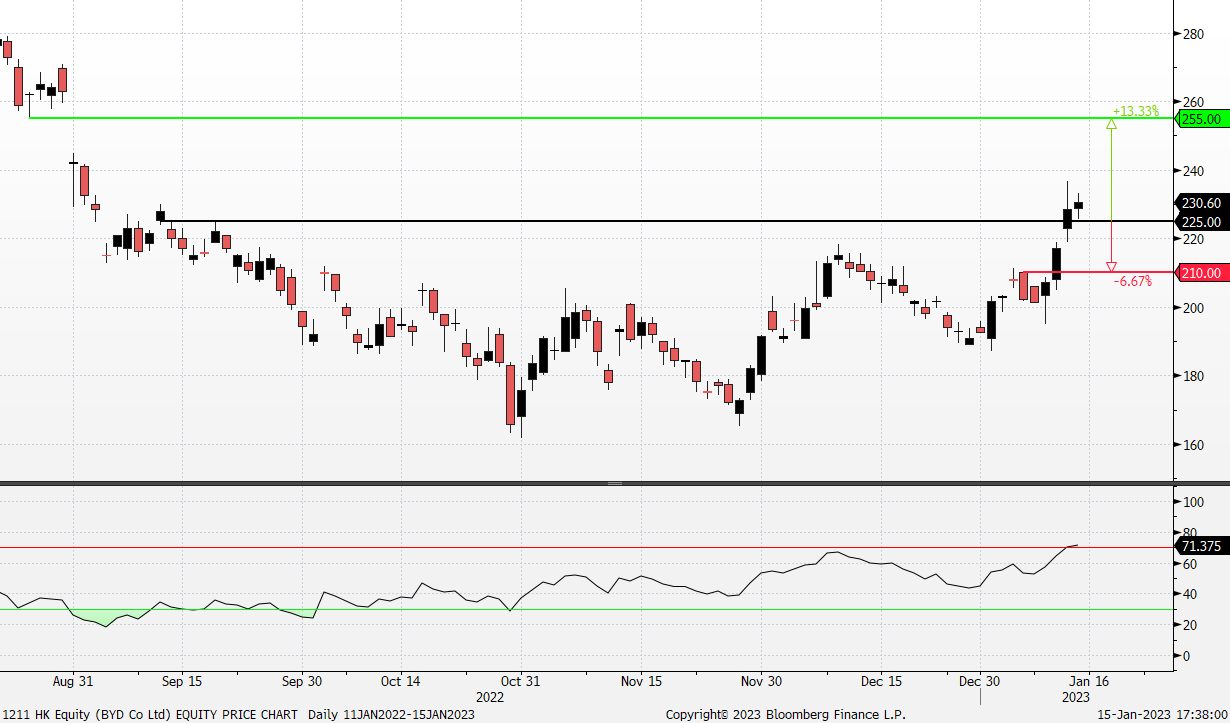 (Source: Bloomberg)
Tianqi Lithium Corp (9696 HK): Priced in correction in lithium prices ahead
RE-ITERATE Buy Entry – 61.0 Target – 70.0 Stop Loss – 56.5
Tianqi Lithium Corp, formerly Sichuan Tianqi Lithium Industries Inc, is a China-based company principally engaged in the research and development, manufacture and distribution of lithium products. The Company's products include two categories, lithium concentrate products and lithium compounds and derivatives. Lithium concentrate products include chemical grade and technical grade lithium concentrate. Lithium compounds and derivatives include lithium carbonate, lithium hydroxide, lithium chloride and lithium metal. The Company's products are used in a wide variety of end markets, primarily electric vehicles, energy storage systems, air transportation, ceramics and glass. The Company mainly operates its businesses in the domestic and overseas markets.
Lithium price to correct with limited downside. In 4Q22, the capital expenditure from the EV sector amounted to more than US$13bn after the Biden administration passed the Inflation Reduction Act. In 2023, global EV sales are expected to grow by 20%YoY to 13mn units, driving demand for lithium batteries. However, the undersupply of lithium in 2022 will be changed as lithium miners expect ramp-ups in capacities this year. In 1Q23, EV manufacturers and battery companies will replenish inventories. Hence, lithium prices will have a short-term rebound after the Chinese New Year amidst its correction this year.
China Lithium Carbonate Price Index (RMB/tonne)
(Source: Bloomberg)
Overseas expansion. On 8th January, Tianqi announced that its 51%-owned joint venture Tianqi Lithium Energy Australia enter a scheme implementation agreement to acquire 100% of Essential Metals Limited (ASX ESS) for A$0.5 with a total amount of A$136mn. ESS is a lithium exploration company which owns 100% of the Pioneer Dome Project in Western Australia with a total lithium resource of 11.2mn tonnes.
3Q22 results update. Operating income jumped by 580.2% YoY to RMB10.4bn. Net profit attributable to shareholders jumped by 1,173.4% YoY to RMB5.7bn. 9M22 operating income jumped by 536.4% YoY to RMB24.7bn. 9M22 Net profit attributable to shareholders jumped by 2,916.4% YoY to RMB16.0bn.
The updated market consensus of the EPS growth in FY23/24 is -4.5%/23.5% YoY, respectively, translating to 4.1×/5.3x forward PE. The current PER is 21.8x. FY23F/24F dividend yield is 6.8%/5.0% respectively. Bloomberg consensus average 12-month target price is HK$95.71.


United States
Top Sector Gainers
Top Sector Losers
Hong Kong
Top Sector Gainers
Top Sector Losers


Trading Dashboard Update: No stock additions/deletions.