29 September 2023: Geo Energy Resources Limited (GERL SP), China Oilfield Services (2883 HK), Uranium Energy Corp (UEC US)
Sector Performance | Hong Kong Trading Ideas |United States Trading Ideas | Singapore Trading Ideas| Trading Dashboard

United States

Hong Kong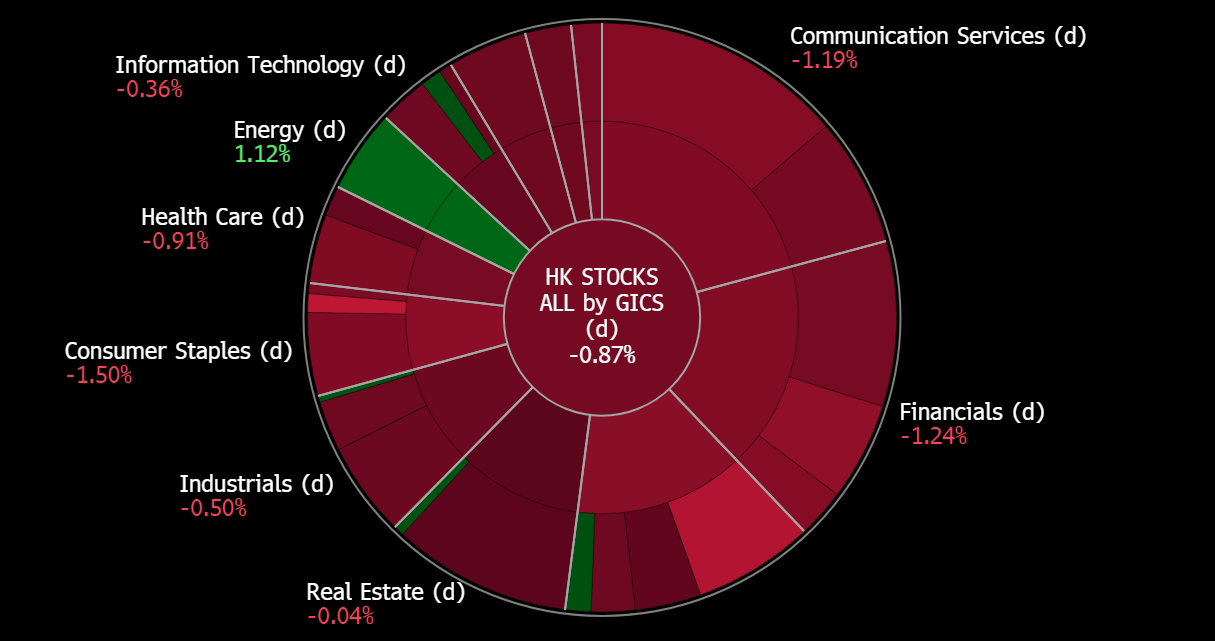 Geo Energy Resources Limited (GERL SP): Profit off from seasonality
RE-ITERATE BUY Entry 0.260 – Target – 0.305 Stop Loss – 0.240
Geo Energy Resources Limited is an integrated coal mining specialist. The Company owns and operates coal mines, offers mine contracting services to third-party mine owners, and sells coal to coal traders and export companies.
War chest secured. The company announced that it has secured US$200mn term loan facilities with an 8.5% p.a. Interest rate and tenor of up to 5 years from Bank Mandiri. The loan is used for potential acquisitions, working capital and other expenditures.
Re-stocking season coming. China's economic recovery has been lukewarm since its reopening in 4Q22. However, its coal demand remains resilient as higher electricity consumption is driven by the recovery in the service sectors. Meanwhile, the increasing penetration of electric vehicles also drives power demand higher. Seasonally, 4Q is the peak season of both electricity and coal demand, and hence, power companies start restocking their coal inventories for the coming winter. Accordingly, coal prices are expected to edge up higher.
Indonesia's coal exports to China seasonality

(Source: Bloomberg)
China port coal stocks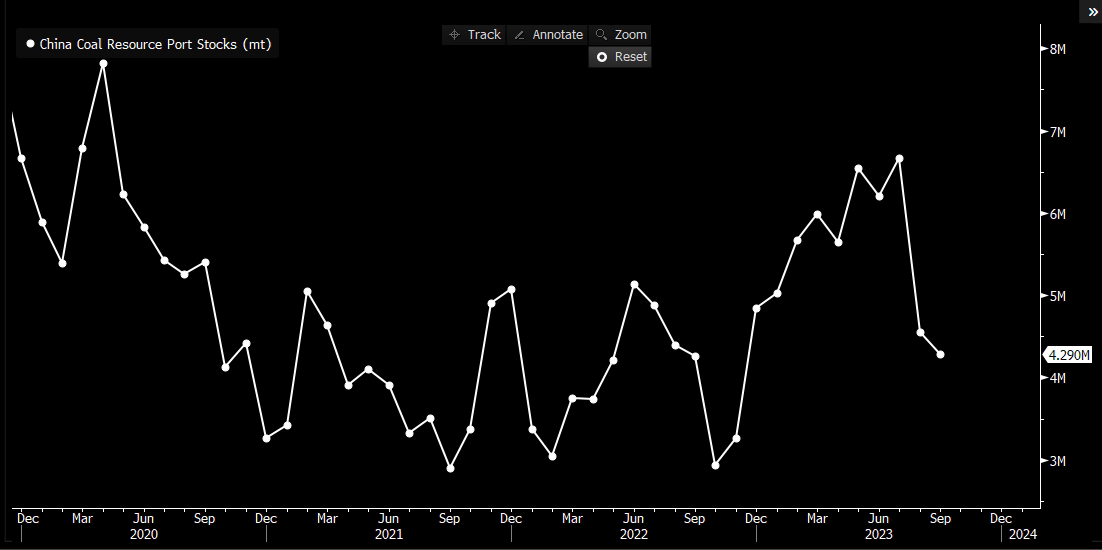 (Source: Bloomberg)
Indonesia 4,200 GAR coal futures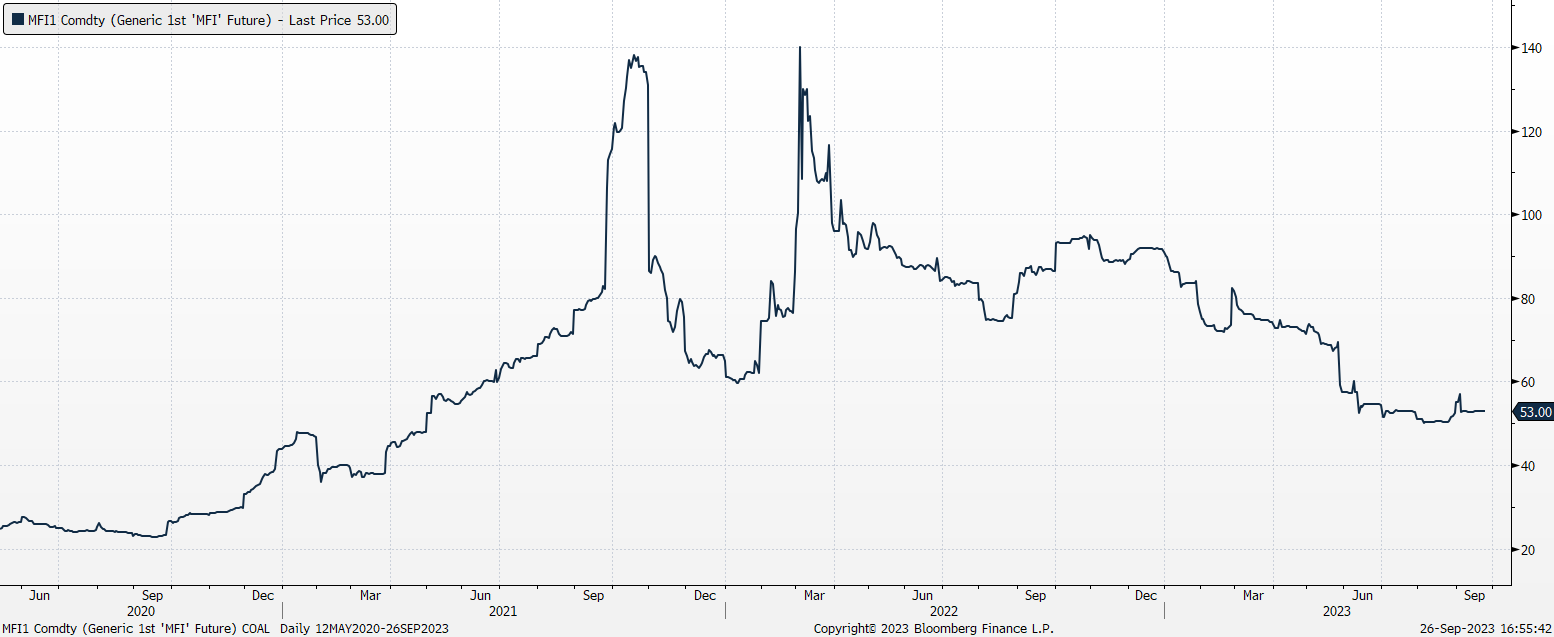 (Source: Bloomberg)
Attractive dividend yield. Geo Energy has been paying consistent quarterly dividends. The current trailing 12M dividend yield is 24%.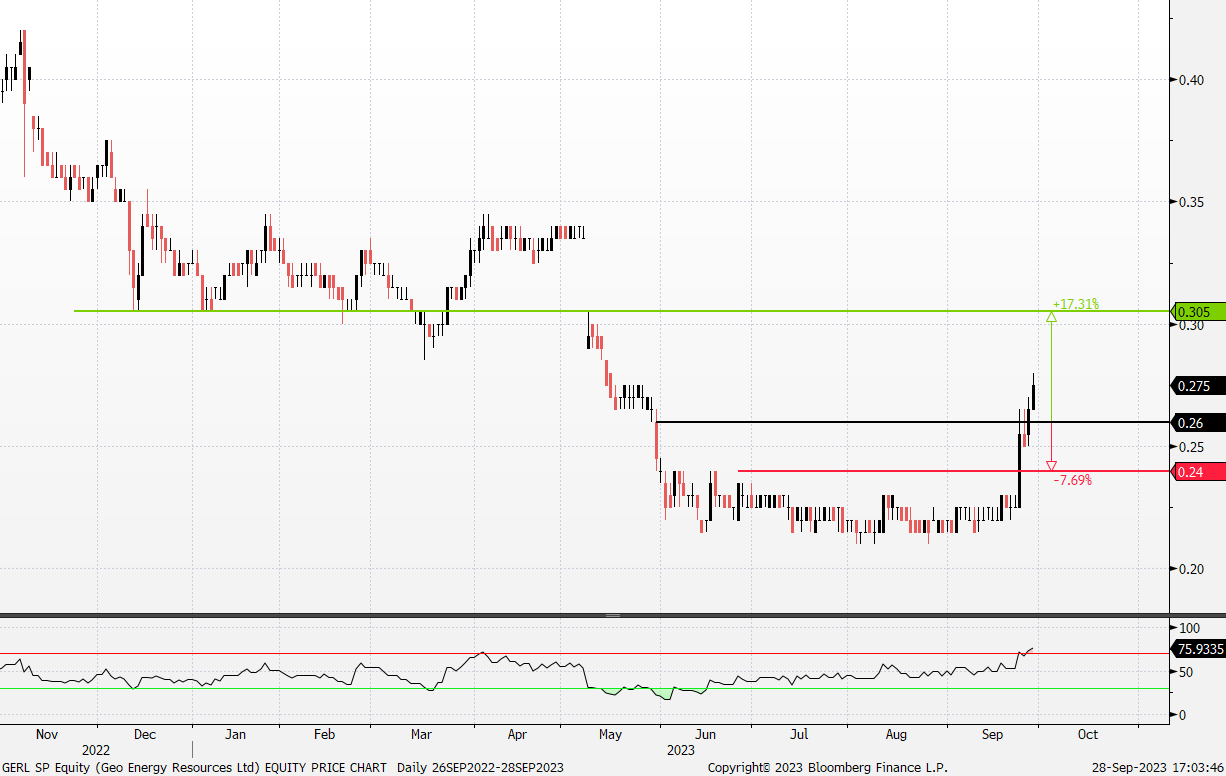 (Source: Bloomberg)

Yangzijiang Shipbuilding (YZJSGD SP): Double bonanzas-record order book and weak RMB
RE-ITEREATE BUY Entry 1.67 – Target 1.80– Stop Loss – 1.61
Yangzijiang Shipbuilding Holdings Limited builds a wide range of ships. The Company produces a wide range of commercial vessels, mini bulk carriers, multi-purpose cargo vessels, container ships, chemical tankers, offshore supply vessels, rescue and salvage vessels, and lifting vessels.
Hedging against weakening RMB. Recent macro figures released from China showed a gloomy outlook as soft domestic, exports and property crisis continues to weaken confidence. USD/RMB broke 7.3 again. The authority has released multiple stimuli, but all are ineffective. The US Fed remains hawkish towards fighting against inflation, and hence, the US will keep rates high for the rest of 2023. There is downside room for RMB if China's economy further slows down in 3Q23.
Share price and USD/RMB price trend comparison

(Source: Bloomberg)
Shipbuilding outshines other sectors. According to the China Association of the National Shipbuilding Industry, new contracts secured by Chinese shipyards surged by 67.7% YoY in 1H23 with 123.77m dwt orders on hand as of June. Containerships and LNG carriers dominate the new orders. The newly-received orders and orders on hand in deadweight tonnage accounted for 49.6%, 72.6% and 53.2% of the global market share; the amount in gross tonnage accounted for 47.3%, 67.2% and 46.8% of the world volume, both ranking as number one in the global market.
1H23 orderbook exceeded the full-year target. As of June, the company has obtained orders for 72 vessels, amounting to a value of US$5.76 billion, surpassing its target of US$3 billion for 2023. This has resulted in the highest-ever outstanding orderbook value for Yangzijiang, standing at US$14.7 billion for 181 vessels. Among all ordered vessels, 91 are containerships, 29 are oil tankers, 53 are bulk carriers, and 8 are LNG/LPG/LEG.
1H23 results review. Revenue for 1H23 increased by 16% YoY to RMB11.3bn. Gross profit increased by 48% YoY to RMB2.1bn. GPM increased by 4ppts to 19%. PATMI increased by 26% YoY to RMB1.7bn.
Market Consensus.

(Source: Bloomberg)


China Oilfield Services (2883 HK): Capturing Oil Demand
BUY Entry – 9.40 Target – 10.20 Stop Loss – 9.00
China Oilfield Services Limited is a comprehensive oilfield service provider. The Company mainly operates through four business segments. The Drilling Services segment is mainly engaged in the provision of oilfield drilling services. The Oil Field Technical Services segment is mainly engaged in the provision of oilfield technical services, including the logging, drilling fluids and directional drilling services. The Geophysical and Engineering Exploration Services segment is mainly engaged in the provision of seismic prospecting and engineering exploration services. The Marine Support Services segment is engaged in the transportation of supplies, including the delivery of crude oil, as well as refined oil and gas products. The Company mainly operates its businesses in domestic and overseas markets.
New Drilling Rig Service Contracts. China Oilfield Services recently announced that its wholly owned subsidiary, COSL Drilling Europe, has entered into multiple drilling rig service agreements with two multinational oil firms in Norway, each with a set term and an option to extend for up to five years. The total value of the contracts with fixed terms is around 4.7 billion RMB.
Demand for oil to outgrow supply. World oil demand is surging to record levels, with growth being driven by a number of factors, including a rebound in air travel, increased oil use in power generation, and strong demand from China's petrochemical industry. Demand is expected to rise by 2.2 mb/d in 2023, reaching 102.2 mb/d. China is expected to account for more than 70% of this growth. Additionally, major oil-producing countries, including Saudi Arabia, also recently announced that they would be extending the voluntary oil cuts to year-end, putting more constraints on oil supply, and driving up oil prices in the near term. Saudi Arabia will be extending its voluntary oil cut of 1mn barrels per day to the end of 2023, and Moscos will be extending its voluntary oil cut of 300,000 barrels per day to end of 2023, with both countries to still review the cuts monthly. Consequently, the cost of oil is anticipated to increase within the market.
1H23 earnings. Revenue rose by 24.1% YoY to RMB18.9bn, compared to RMB15.2bn in 1H22. Net profit rose 31.0% YoY to RMB1.46bn, compared to RMB1.11bn in 1H22. Basic EPS rose by 21.1% YoY to RMB28.06, compared to RMB23.17 in 1H22.
Market Consensus.
Share price and Brent crude oil price correlation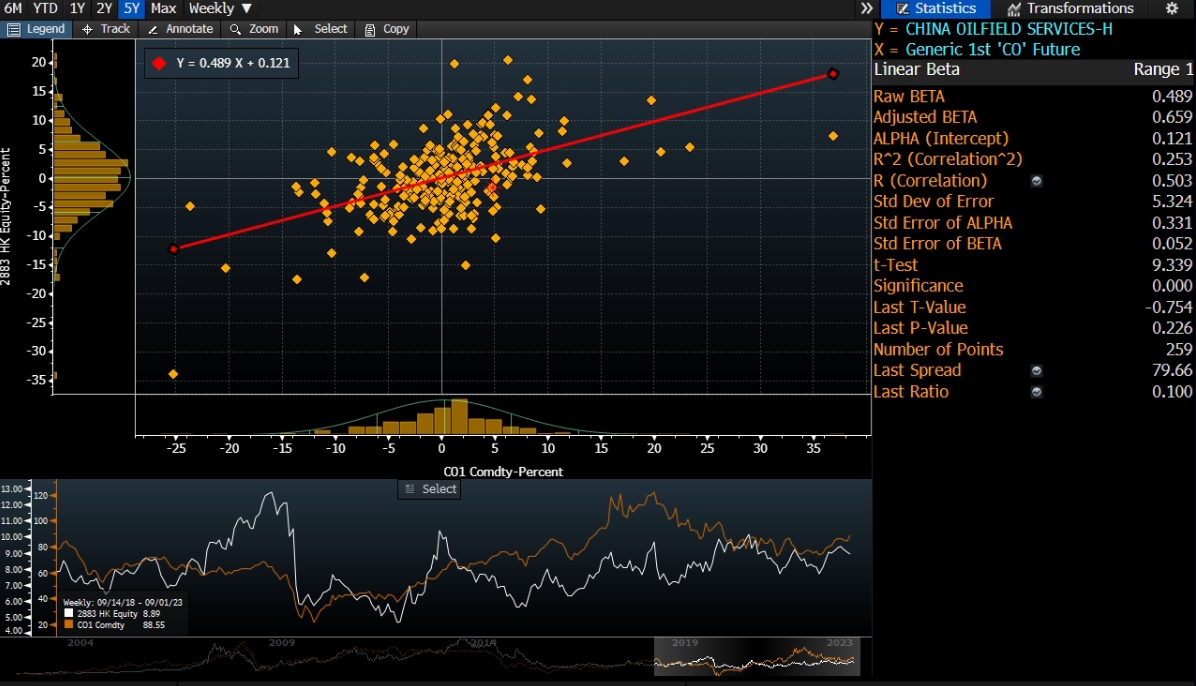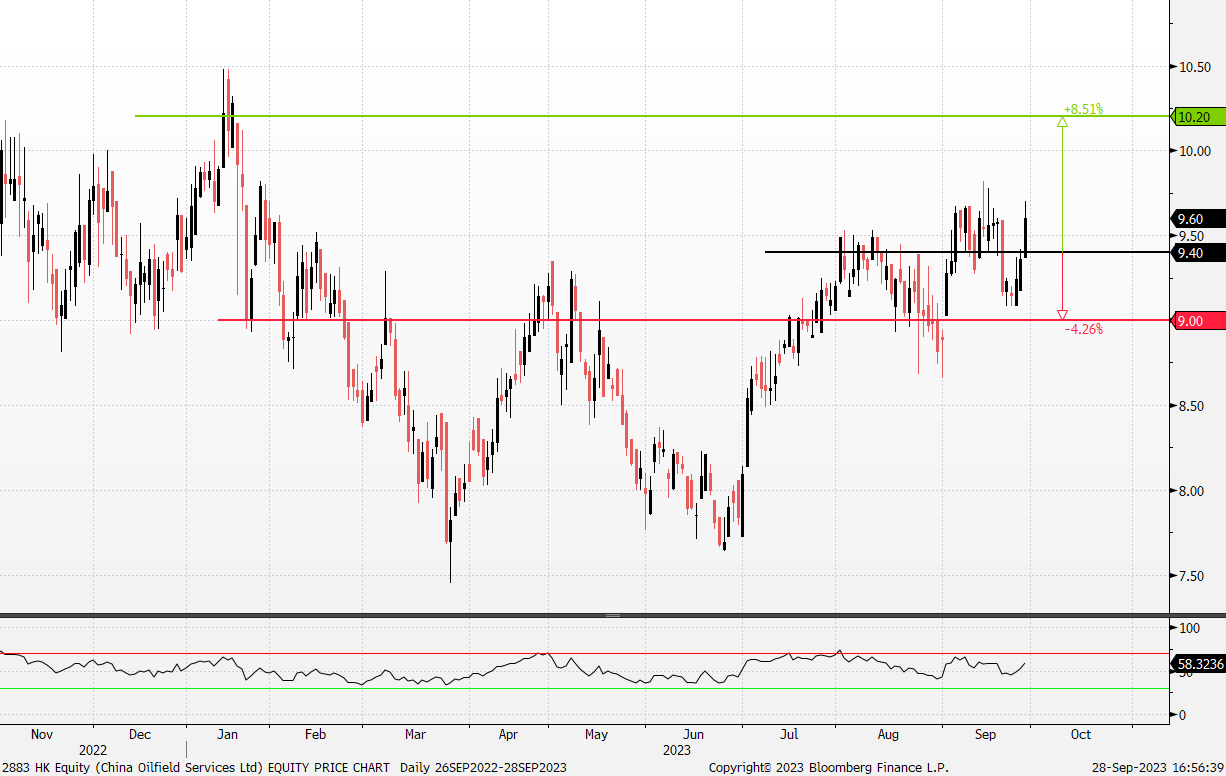 (Source: Bloomberg)

Samsonite International S.A. (1910 HK): Travelling with Style
RE-ITERATE BUY Entry – 25.90 Target – 27.90 Stop Loss – 24.90
Samsonite International S.A. is a Hong Kong-based company principally engaged in the design, manufacture, sourcing and distribution of luggages, business and computer bags, outdoor and casual bags, travel accessories and slim protective cases for personal electronic devices. The Company operates its business through three segments. The Travel Bag segment is engaged in travel products with suitcases and carry-ons of three main categories, including hard-side, soft-side and hybrid luggages. The Casual Bags segment is engaged in daily use, including different types of backpacks, female and male shoulder bags and wheeled duffel bags. The Business Bags segment is engaged in business use, including rolling mobile office bags, briefcases and computer bags.
New partnership with Hugo Boss. Samsonite recently announced that the company has entered into a collaboration with Hugo Boss on an exclusive aluminium capsule collection, which aims to showcase a shared passion for premium quality, innovation, and timeless design with a distinctive twist. This collection would appeal to those consumers who have a passion for travelling and exploration but refuse to compromise on style. This collection will be a limited edition and will start to be on sales in selected BOSS and Samsonite stores, as well as on the brands' respective websites from October 2023 onwards. This partnership helps to promote Samsonite's brand name indirectly, as well as showcasing the premium quality that Samsonite's luggage is able to provide to its consumers.
Expected rising air travel demand. The upcoming Golden Week holiday in China is expected to provide a boost to travel demand. The upcoming holiday, which would be from Sept 29 to Oct 6 encompasses both the Mid-Autumn Festival and the National Day break, providing consumers with an 8-day break to travel. It is expected that more than 21mn people in China will be taking flights over the course of this upcoming holiday period. Domestic travel in China would also surge over the holiday, with an expected 14,000 domestic flights per day. The higher demand for travelling leading up to the Golden Week holiday also lifted China's air passenger traffic to record highs for two consecutive months in July and August.
Plans for expansion. The brand is extending its sales locations in the country using an innovative format already successful in Asia and Europe. This fresh brand concept arrives in Peru, situated within Mall de Salaverry. This year, the company aims to remodel its flagship store at Jockey Plaza, which houses multiple brands. Plans also include launching new stores in Lima and provinces next year, with a target of achieving 25% growth compared to the prior year and 30% growth relative to pre-pandemic 2019. Furthermore, the company also has a plan to expand its warehouse in an attempt to enhance market reach as well as to ramp up its production capacity.
1H23 results. Net sales improved to US$1.78bn, up 39.8% YoY, compared to US$1.27bn in 1H22. Net profit rose to US$170.9mn in 1H23, up 104.9% YoY, compared to US$83.3mn in 1H22. Basic EPS was US$0.106 cents in 1H23, compared to US$0.039 in 1H22.
Market Consensus.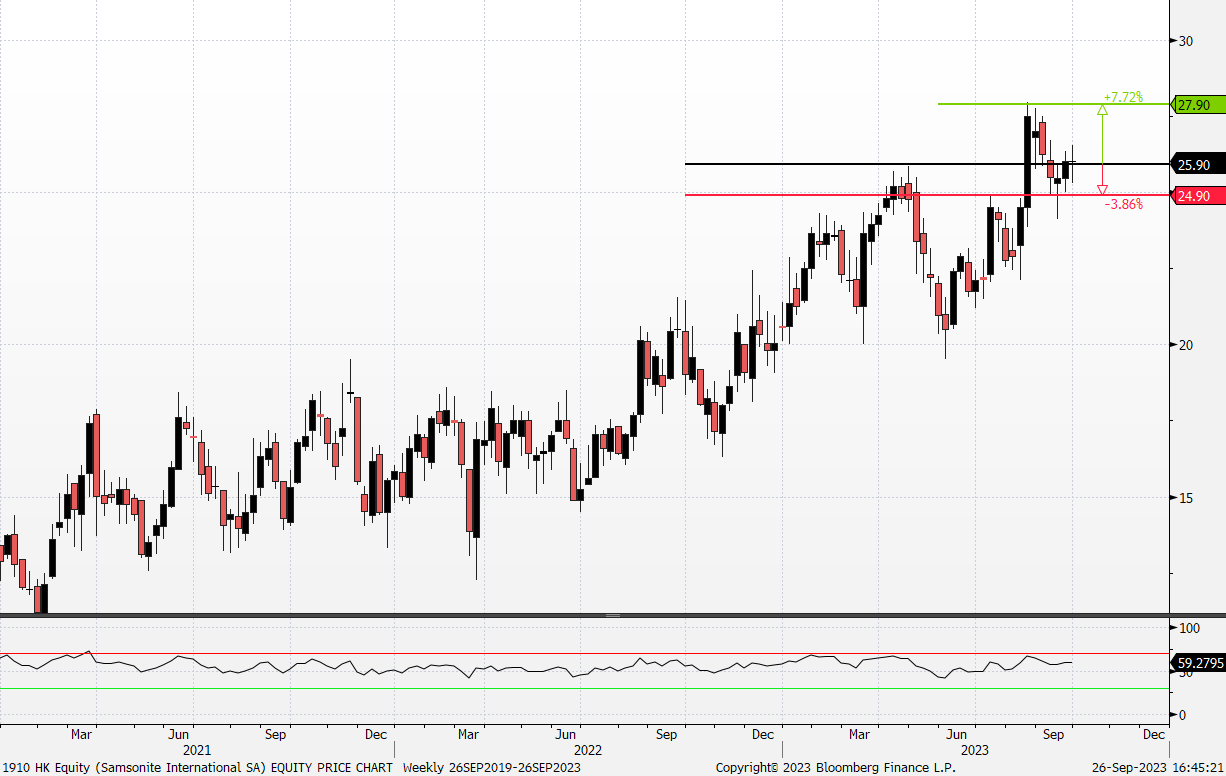 (Source: Bloomberg)


Uranium Energy Corp (UEC US): Uranium is the new gold
RE-ITERATE BUY Entry – 5.00 Target – 5.50 Stop Loss – 4.75
Uranium Energy Corporation is a uranium production, development and exploration company. The Company's fully licensed and permitted Hobson processing facility is central to all of its projects in South Texas, including the Palangana in-situ recovery project, which is ramping up to full production this year, and the Goliad in-situ recovery project.
Surge in Uranium demand. The world's shift towards green energy and reducing reliance on fossil fuels has revived interest in uranium. Uranium prices are expected to continue their strong rally, further driven by countries like China, India, and Russia pursuing nuclear programs. It has caused uranium prices to reach levels not seen since the Fukushima disaster in 2011. Experts predict further price increases as mining costs rise and nuclear generators stockpile uranium for security, increasing demand for nuclear reactors. Furthermore, the push for energy security and geopolitical uncertainties have constrained supply this year. Uranium's importance lies in its role in carbon-free nuclear power, which is crucial for addressing global warming. Additionally, with the uranium demand rising globally, uranium-related securities and funds are performing well, reflecting growing investor interest in this sector.
Uranium Spot price chart

(Source: Bloomberg)
Net Zero Emissions by 2050. Nuclear power capacity is rising globally, with approximately 60 reactors currently under construction, mainly in Asia. There are also plans for new units in Russia. Many existing reactors are being upgraded to increase capacity, and lifetime extension programs are maintaining capacity, especially in the USA. As of August 2023, around 440 nuclear power reactors are operating in 32 countries, providing about 10% of the world's electricity. The International Energy Agency (IEA) predicts a 43% growth in installed nuclear capacity from 2020 to 2050, reaching about 590 GWe, with most of this growth in Asia, particularly India and China. In this scenario, nuclear power's contribution to global electricity generation will be about 8.5% by 2050. The IEA also has scenarios aimed at reducing carbon emissions, with one of them, the "Net Zero Emissions by 2050 Scenario," projecting nuclear capacity to increase to 871 GWe by 2050. Many countries have plans to expand their nuclear power programs to meet growing energy demands.
Number of reactors under construction by country (as of 25/09/2023)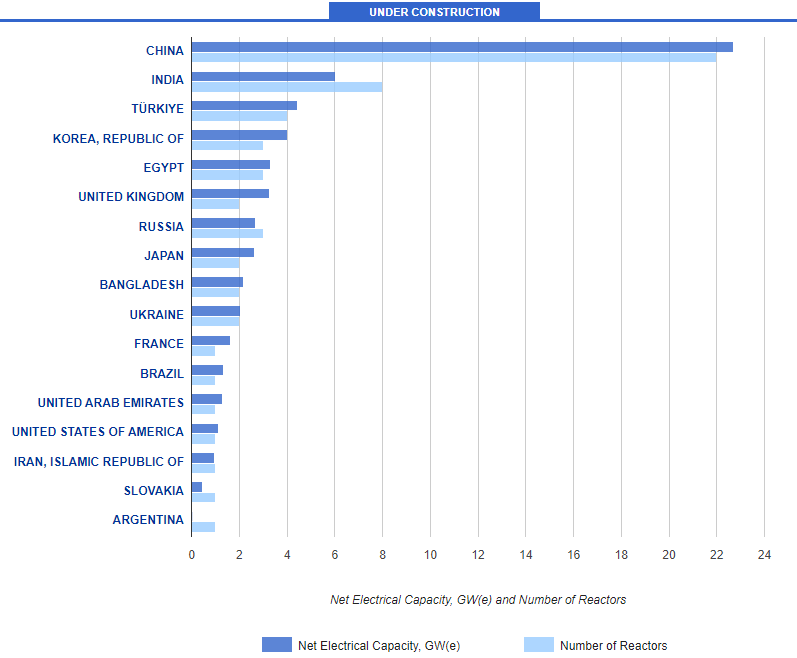 (Source: IAEA Power Reactor Information System (PRIS))
3Q24 results. Revenue rose to US$20.22mn, up 104.4% YoY. GAAP EPS missed estimates by US$0.01 at -US$0.03.
Market consensus.

(Source: Bloomberg)

CrowdStrike Holdings, Inc. (CRWD US): New products to drive sales
RE-ITERATE BUY Entry – 161 Target – 171 Stop Loss – 156
CrowdStrike Holdings, Inc. provides cybersecurity products and services to stop breaches. The Company offers cloud-delivered protection across endpoints, cloud workloads, identity and data, and leading threat intelligence, managed security services, IT operations management, threat hunting, Zero Trust identity protection, and log management. CrowdStrike serves customers worldwide.
Acquisition of cyber startup Bionic. The company recently announced that it would be acquiring cyber startup Bioni, which is a startup offering technology in the emerging category of application security posture management, for US$350mn. The company aims to incorporate the startup's capabilities into its fast-growing cloud-native application protection platform (CNAPP).
New products unveiled. The company recently unveiled several new products at Fal. Con 2023, including CrowdStrike Raptor, Falcon Foundry, Falcon Data Protection, and several more. These products integrate the company's current product with the addition of generative AI features and also aim to provide the company's clients with a single agent, single console and single data backend.
2Q24 results. Revenue rose to US$731.6mn, up 37% YoY, compared to US$535.2bn in 2Q23. Net profit rose to US$8.5mn, compared to a loss of US$49.3mn in 2Q23. Non-GAAP EPS rose to US$0.74, compared to US$0.36 in 2Q23.
Market consensus.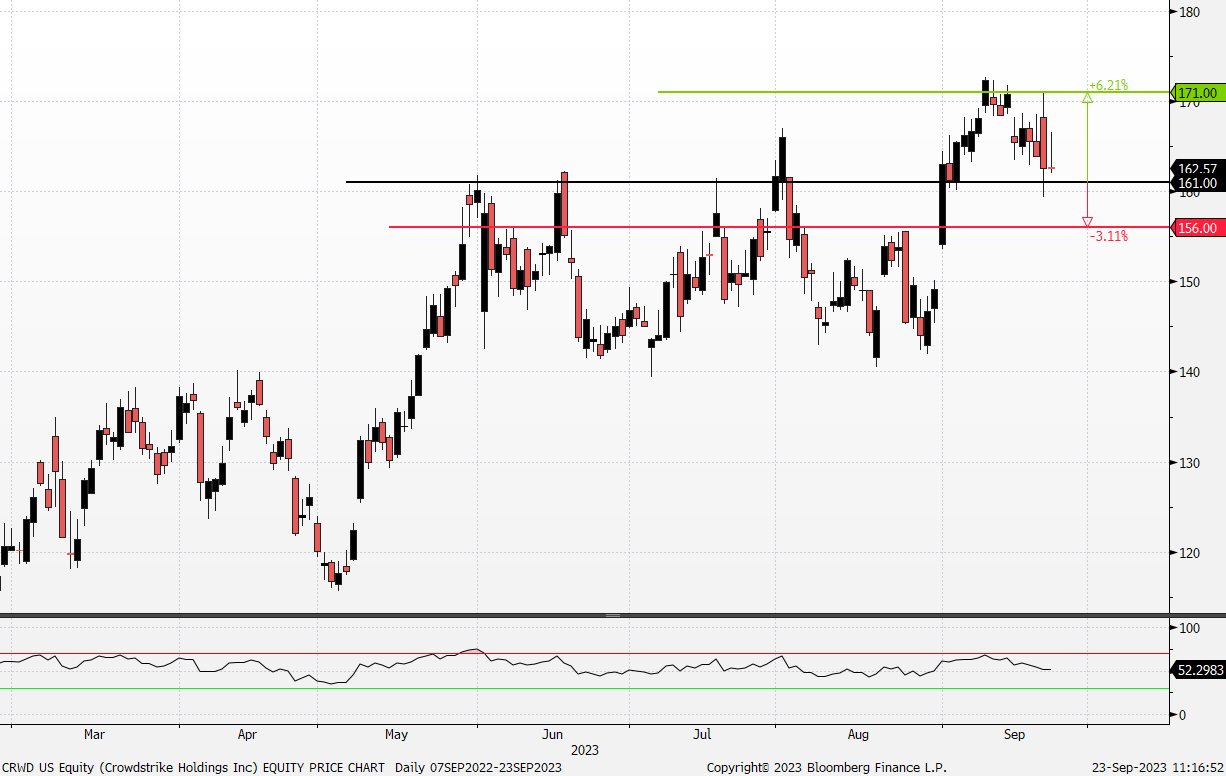 (Source: Bloomberg)


Trading Dashboard Update: Cut loss on Shandong Gold Mining (1910 HK) at HK$15.2, BYD Co. Ltd. (1211 HK) at HK$235, and Hasbro Inc. (HAS US) at US$65.0. Add Samsonite International S.A. (1910 HK) at HK$25.90.