29 May 2023: Oversea-Chinese Banking Corp Ltd (OCBC SP), China Resources Power Holdings Company Limited (836 HK)
Singapore Trading Ideas | Hong Kong Trading Ideas |United States Trading Ideas | Sector Performance | Trading Dashboard
Oversea-Chinese Banking Corp Ltd (OCBC SP): Benefiting from weakening USD
RE-ITERATE BUY Entry 12.1 – Target – 12.5 Stop Loss – 11.9
Oversea-Chinese Banking Corporation Limited offers a comprehensive range of financial services. The Company's services include deposit-taking, corporate, enterprise and personal lending, international trade financing, investment banking, private banking, treasury, stockbroking, insurance, credit cards, cash management, asset management and other financial and related services.
Distribution of first tokenised equity-linked structured note. In partnership with ADDX, OCBC has launched its first tokenised equity-linked structured note. These notes pay regular distributions at pre-defined intervals, subject to the terms of the notes and the absence of any extraordinary or trigger events. Fixed coupon notes provide an opportunity for investors to generate additional cash flow while gaining potential exposure to underlying securities or a basket of securities based on their specific market views, as stated by OCBC. This marks the debut of many upcoming equity-linked notes that OCBC intends to introduce.
Benefit from rate cut expectations. Even though it is uncertain when rates will start to decline, Singapore banks will continue to thrive in this volatile environment as our local banking system is heavily regulated and conditioned under various stresses by the Monetary Authority of Singapore (MAS). MAS has also expressed its readiness to provide liquidity to maintain financial stability and orderly market functions. The overall market believes that the Feds will also attempt to decrease systemic risk in the financial sector by reducing interest-rate hikes and start to cut rates by 3Q23, with interest rates expected to peak at 5.25% to 5.5%. The expected decrease in interest rates could result in borrowers refinancing their loans, which were granted at higher rates.
Growing wealth segment. Singapore is seeing an influx of wealthy individuals and family offices, which has led to a rise in assets under management at the country's banks. The Monetary Authority of Singapore estimated there were about 700 family offices in 2021, but the current estimate is around 1,400, with mainland Chinese being the biggest drivers of growth. Although the family offices generate jobs indirectly through external finance, tax, and legal professionals, little of the money is being invested in funds or private equity firms. Despite this, the influx of wealth will still benefit banks in Singapore, particularly with the tax exemption programs for family offices, which have led to higher assets under management at banks in the country. Furthermore, with fear brewing due to the deteriorating US-China ties, the ultra-rich in Taiwan are considering setting up family offices in Singapore to protect their wealth. BDO Tax Advisory has reported an increase in inquiries from the ultra-rich in Taiwan. OCBC's wealth management income contributed 33% to the Group's total income in FY22. The group wealth management AUM was higher at S$258bn compared to S$257bn in FY21, driven by continued growth in net new money inflows which offset negative market valuation. As Singapore continues to attract a growing number of wealthy individuals, the country's banks are expected to receive a boost in assets and deposits.
Dividend yield and share buyback. OCBC's dividend yield is expected to be 6.3% in FY23.It also has been buying back its share with a mandate.
1Q23 results review. Record net profit S$1.88bn for the first quarter, 39% YoY increase from S$1.36bn a year ago and rose 44% QoQ from S$1.31bn the previous quarter. Net interest income grew 56% YoY to S$2.34bn from S$1.50bn in 1Q22, a slight decline of 2% QoQ from 4Q22 S$2.39bn.
Market consensus.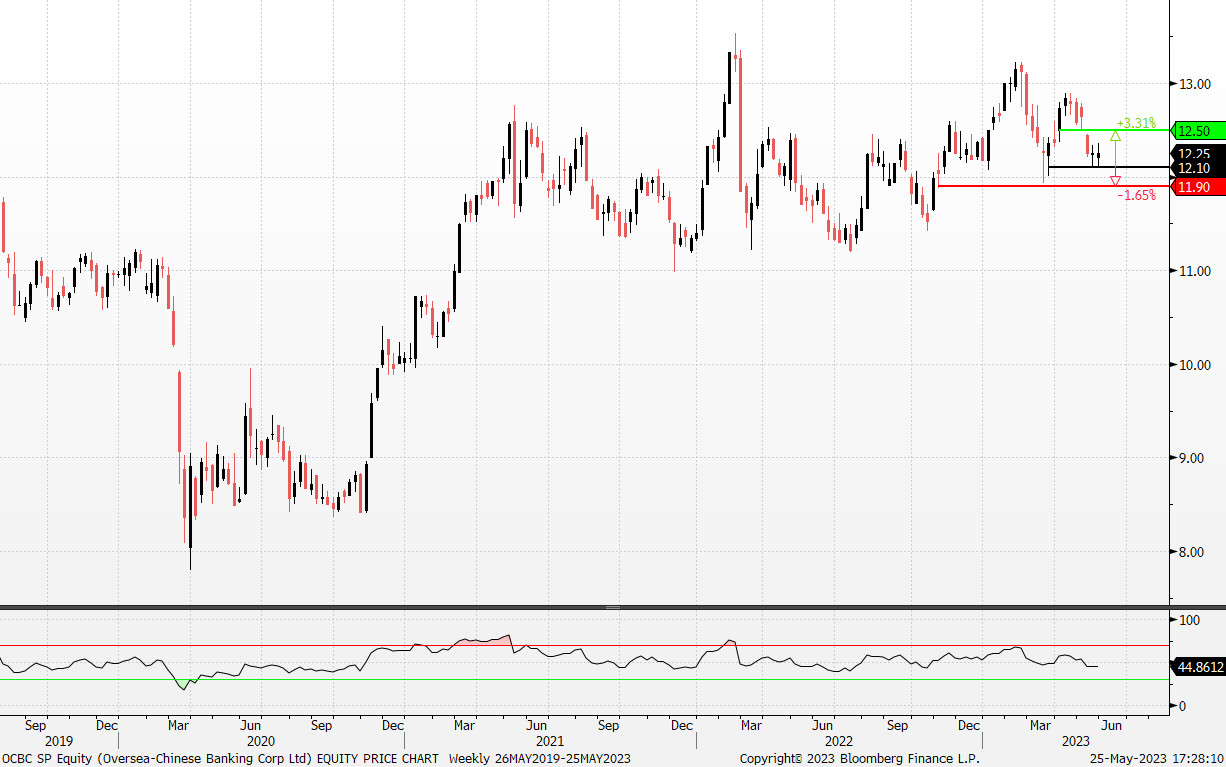 (Source: Bloomberg)

Singapore Airlines Ltd. (SIA SP): Recovering back to the pre-COVID level
RE-ITERATE BUY Entry 6.40 – Target – 6.80 Stop Loss – 6.20
The Singapore Airlines Group has over 20 subsidiaries, covering a range of airline-related services, from cargo to engine overhaul. Its subsidiaries also include SIA Engineering Company, Scoot, Tiger Airways, Singapore Flying College and Tradewinds Tours and Travel. Principal activities of the Group consist of air transportation, engineering services and other airline related activities.
Still more room for visitor arrivals recovery. In April, one year anniversary of Singapore's full reopening of border, there were 1.13mn visitor arrivals to Singapore with 282.5% YoY growth. However, the number of arrivals is far below the pre-COVID level, compared to 1.69mn visitors in January 2020. The average monthly visitor arrivals in 2019 was above 1.5mn. Therefore, the normalisation of tourist visits is still on track.
Visitor arrivals trend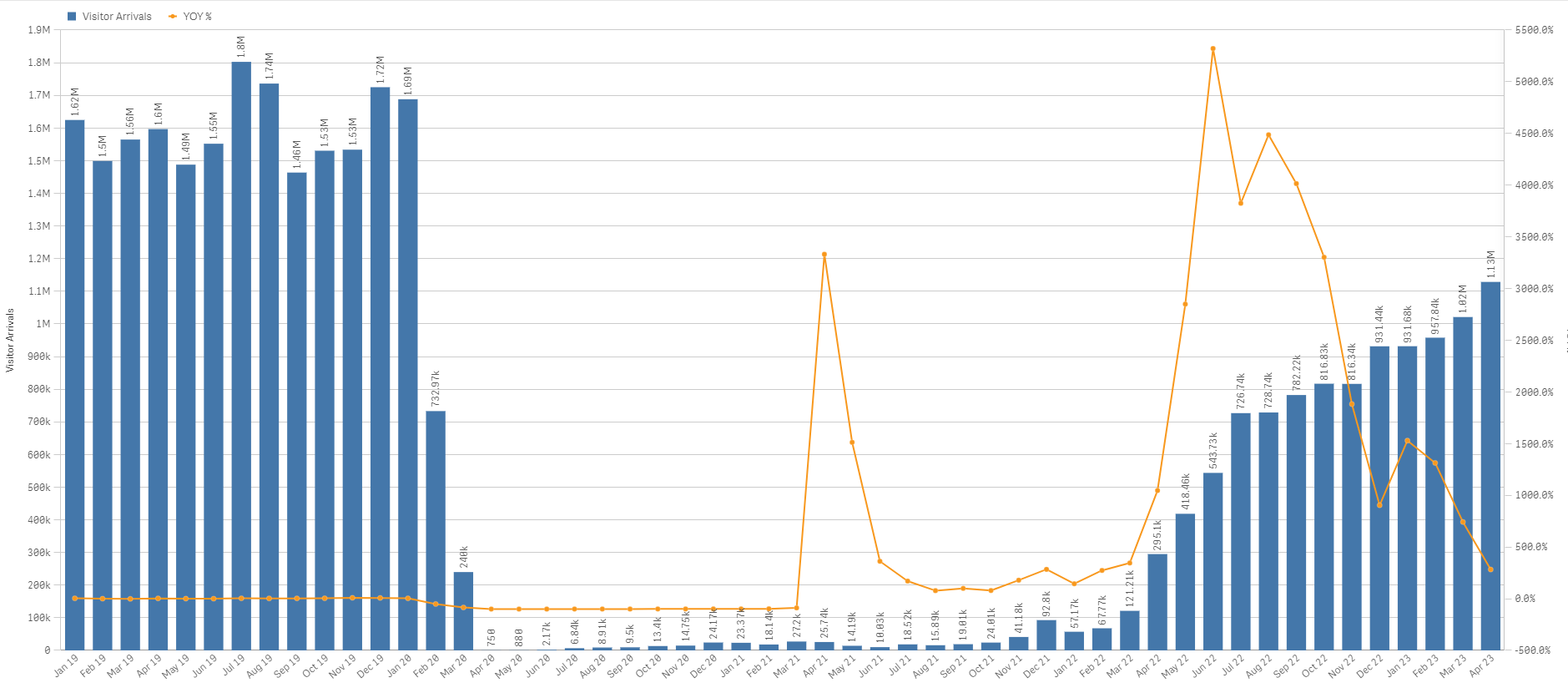 (Source: Singapore Tourism Analytics Network)
To ride on the positive seasonality. The upcoming summer vacation (June to August) is the peak of the travelling season in a year. Meanwhile, this summer holiday is the first one after China's full reopening. It is expected to see more visitors from China, as Singapore is a sweet spot of overseas traveling for families.
Jet fuel prices trending down. Due to concerns over a slowdown of global economic growth and recession, international oil prices have been trending downward since mid-2022. Accordingly, prices of crude oil derivatives fall, benefiting airline companies as part of operating costs drops.
Jet fuel price trend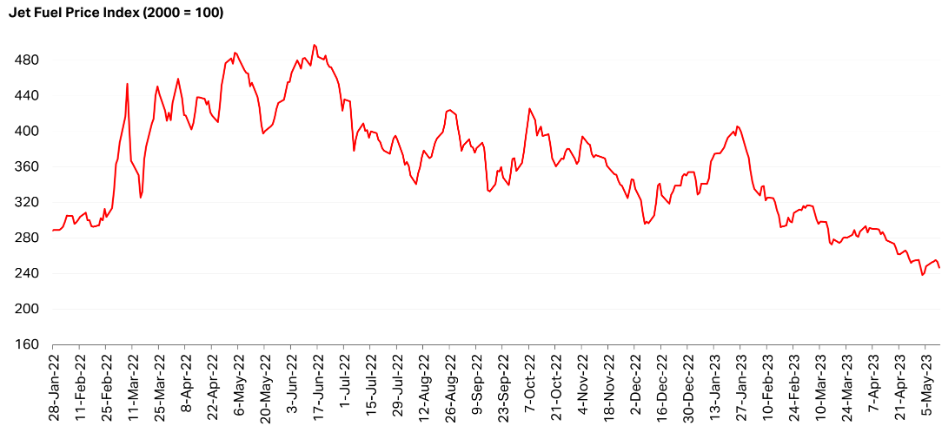 (Source: IATA, S&P Global)
Record profit in FY23. Revenue more than doubled YoY from S$8.2bn to S$15.1bn as bookings soared and both SIA and Scoot substantially ramped up flights. The operating profit of S$2.7bn was a record for the group, reversing the S$610 mn operating loss in FY22. Net profit was S$2.16bn, the highest level achieved by the group since its inception 76 years ago in 1947.
Market consensus.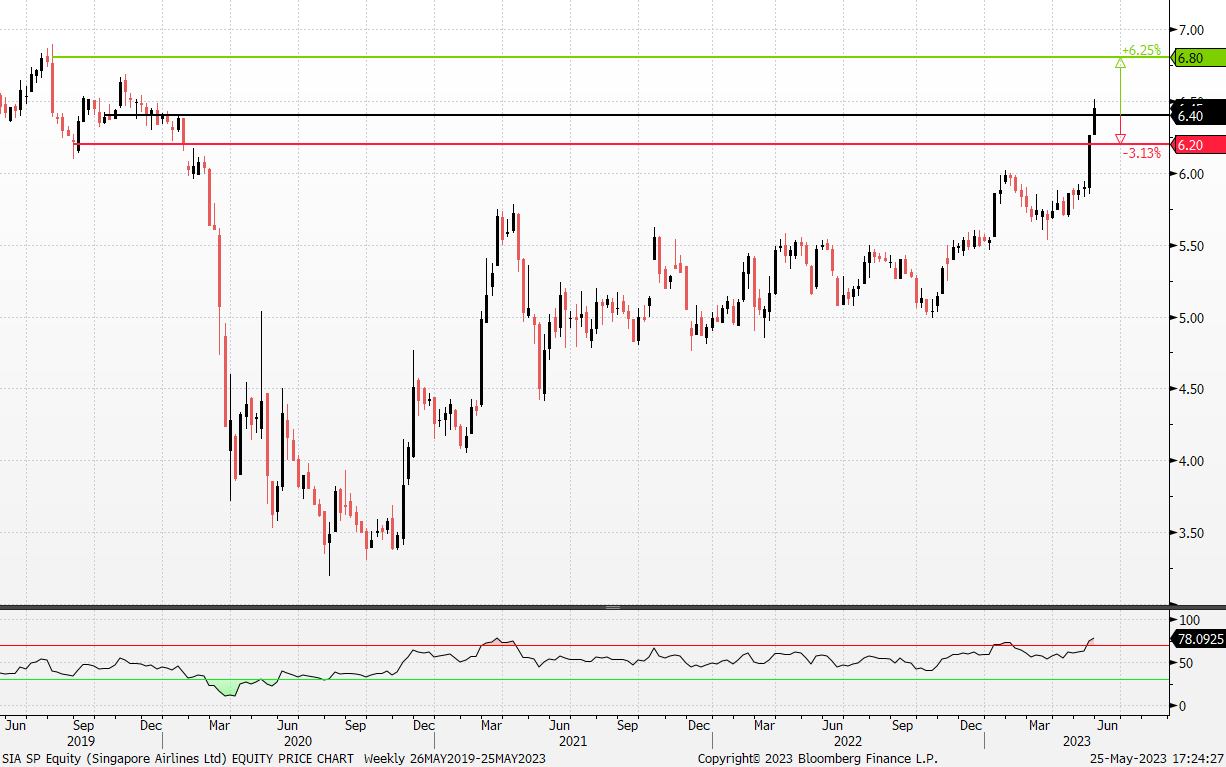 (Source: Bloomberg)


China Resources Power Holdings Company Limited (836 HK): A seasonality trade
BUY Entry – 17.5 Target – 19.5 Stop Loss – 16.5
China Resources Power Holdings Company Limited is a Hong Kong-based investment holding company principally engaged in the investment, development and operation of power plants. The Company operates through three segments. Thermal Power segment is engaged in the investment, development, operation and management of coal-fired power plants and gas-fired power plants, as well as the sales of heat and electricity. Renewable Energy segment is engaged in wind power generation, hydroelectric power generation and photovoltaic power generation, as well as the sales of electricity. Coal Mining segment is engaged in the mining of coal mines, as well as the sales of coal. The Company mainly operates businesses in China.
Decline in thermal coal prices. The decline in global coal prices is expected to have significant benefits for the company's coal-fired power plants and gas-fired power plants. With prices stabilising around $200 per tonne, lower fuel costs for coal-fired power plants translate into improved profitability and a competitive advantage in the market. While China Resources Powers does have its own coal production plants, energy consumption during summer typically skyrockets for China, this means that the company will be required to buy coal from other suppliers to further supplement its energy production and will therefore benefit from the lower prices. Additionally, the predictability of prices enables better operational planning and mitigates risks associated with volatility. The declining prices also create opportunities for the company's gas-fired power plants, as natural gas becomes a more cost-effective alternative. This diversification and cost advantage contribute to improved financial performance, market competitiveness, and the ability to offer competitive electricity prices to consumers. Overall, the decline in coal prices presents favourable conditions for the company's power generation operations, enhancing profitability and sustainability.
Thermal coal price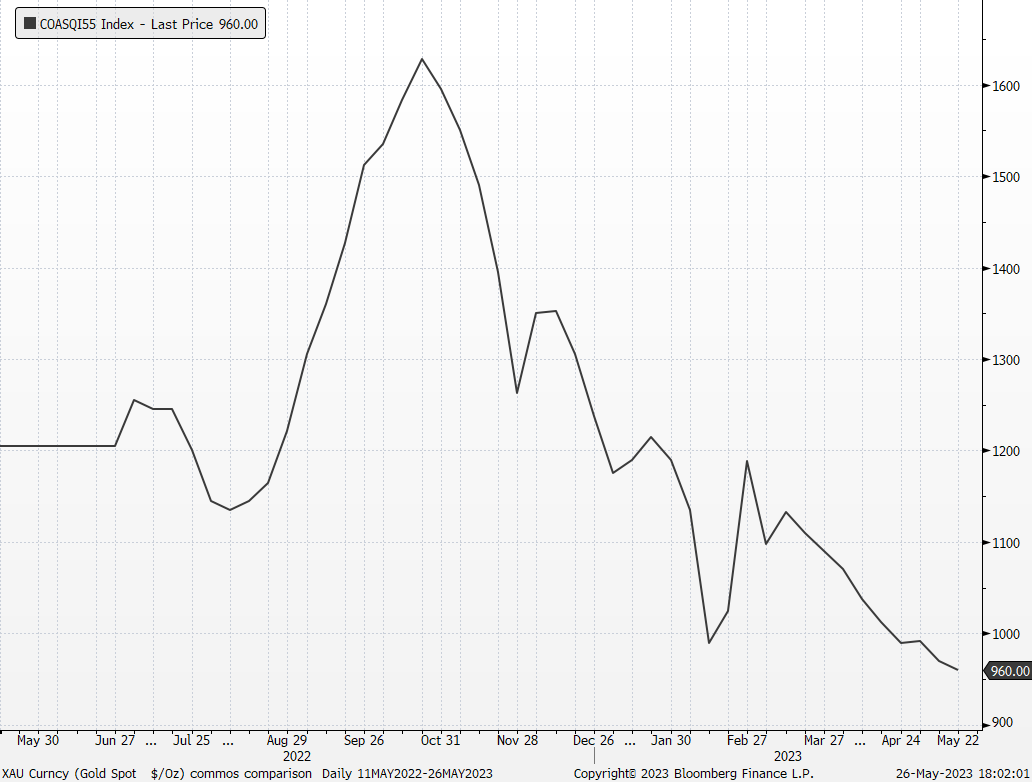 (Source: Bloomberg)
Summer peak consumption period. As the summer season approaches in China, spanning from June to August, there is a significant increase in electricity demand during this peak consumption period. Previous records indicate that Chinese localities have witnessed surges in electricity usage due to soaring temperatures and robust factory operations, driven by the ongoing economic recovery following recent COVID-19 outbreaks.
19-year historical monthly returns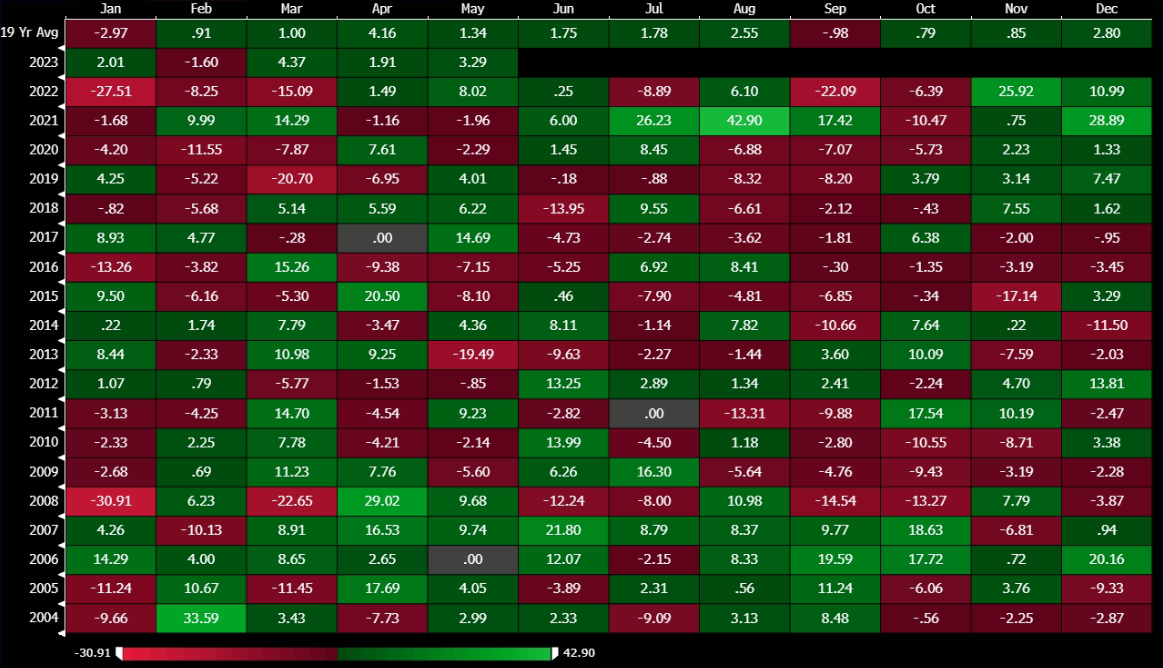 Increase in coal demand. China is taking steps to meet its growing energy demand by fast-tracking the approval and construction of new coal mines, according to an official from the National Energy Administration (NEA). With peak energy demand predicted to exceed 1.36 billion kilowatts this summer, a significant increase from last year, there is a possibility of power cuts in certain provinces. Coal plays a crucial role in China's energy mix, especially during the summer when households rely heavily on air conditioning and hydroelectric power generation decreases due to limited rainfall. These actions underscore China's commitment to ensuring energy security while transitioning to a more renewable-powered system.
FY22 earnings. Revenue rose to HK$103.3bn, a 15.0% increase YoY. Net Income of HK$7.04bn was up 342% compared to FY2021.Net profit Margin rose to 6.8%, compared to 1.8% in FY2021.
Market Consensus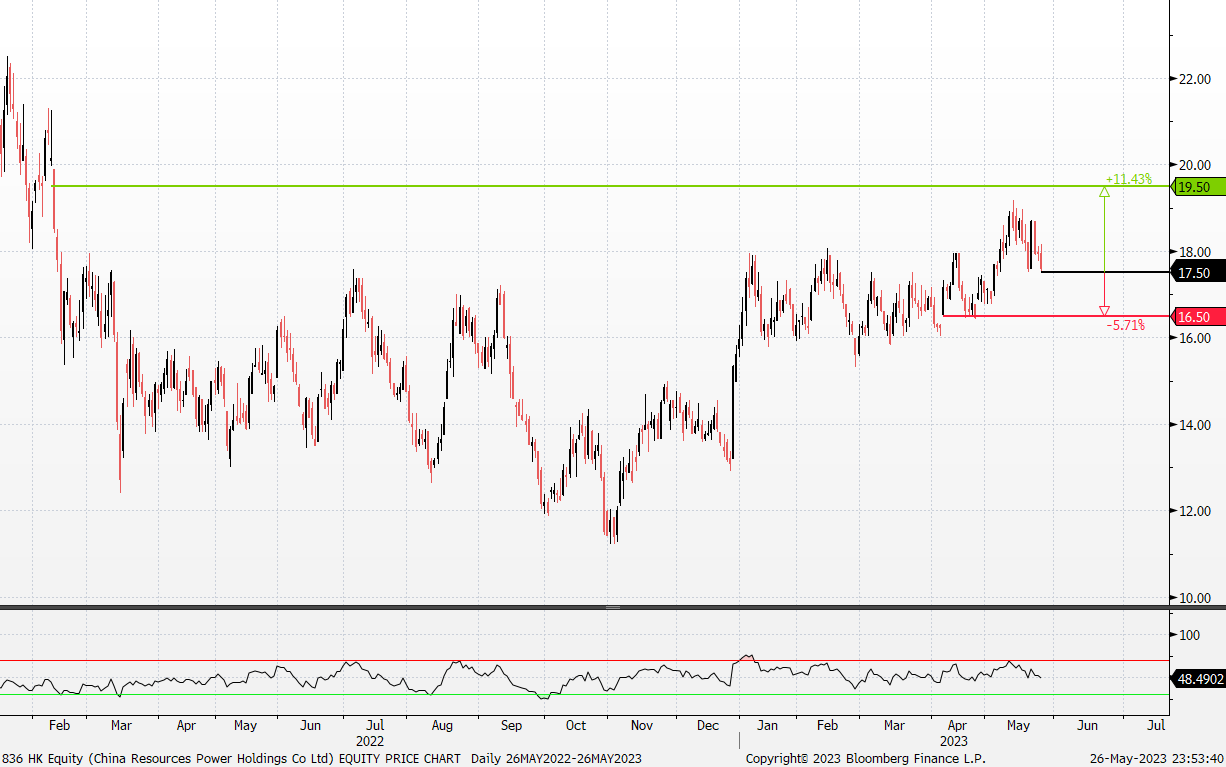 (Source: Bloomberg)

CRRC Corporation Ltd. (1766 HK): Several tailwinds to drive growth
BUY Entry – 4.50 Target – 5.00 Stop Loss – 4.25
CRRC Corp Ltd is a China-based company principally engaged in the manufacture and sale of rail transit equipment. The Company's main businesses include railway equipment business, urban rail and urban infrastructure business, new industry business and modern service business. The railway equipment business mainly includes locomotive business, motor train unit and passenger car business, freight car business and rail construction machinery business. The urban rail and urban infrastructure business mainly includes urban rail vehicles, general contracting of urban rail projects and general contracting of other projects. The new industry business mainly includes electromechanical business and emerging industry business. The modern service business mainly includes financial business, logistics, trade business and other businesses.
Hydrogen-powered city train. CRRC Corp. recently unveiled its latest hydrogen-powered city train at the exposition on China Brand amid the 2023 China Brand Day events. With a 600-km driving mileage, the train is equipped with automated start and stop technology and can reach zero emission while driving, of which CRRC Corp Ltd also holds full independent intellectual property rights for its latest hydrogen-powered city train.
China Climate Action Plan. China's pledge to reach carbon neutrality before 2060 and peaking Co2 emissions before 2030. By 2030, China aims to decrease its carbon intensity by over 65 % from the 2005 level and to reach over 1 200 GW of installed wind and solar power. CRRC Corp. latest hydrogen-powered city train supports China's pledge to reach carbon neutrality.
Tourism recovery to drive demand for transport. China recently worked with Central Asian countries to develop tourism based on intangible cultural resources along the ancient Silk Road in order to better reflect the region's rich history. Trial opening of Shanghai Disneyland has also attracted thousands of Chinese. These efforts to promote tourism should drive the demand for transport, and CRRC Corporation would stand to benefit from this rise in demand.
1Q23 earnings reveiw. Revenue rose to RMB32.38bn, a 5.65% increase YoY. Net Profit rose to RMB615.3mn, up 180.01% YoY. Net profit margin rose to 1.9%, up 163.89% YoY and diluted EPS rose 100% to RMB0.02 YoY.
Market Consensus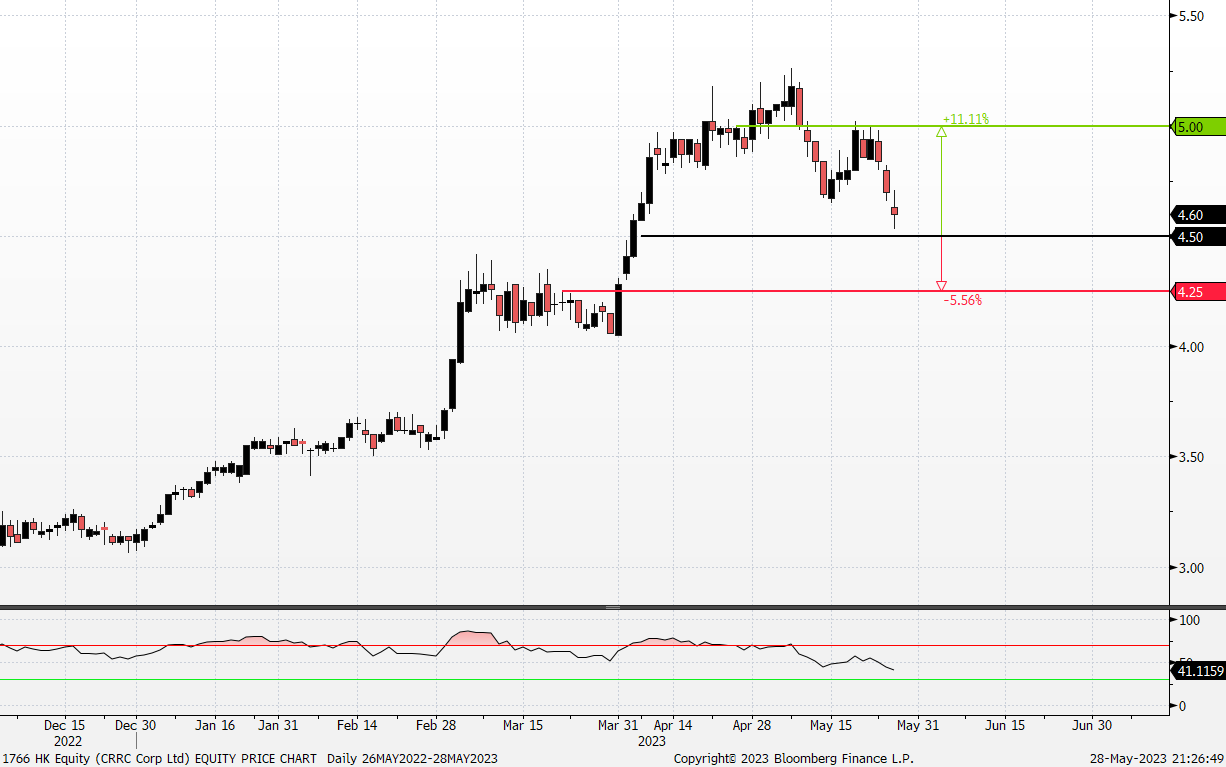 (Source: Bloomberg)


The US market is closed today in observance of a public holiday (Memorial Day). Trading resumes on Tuesday, 30 May.


United States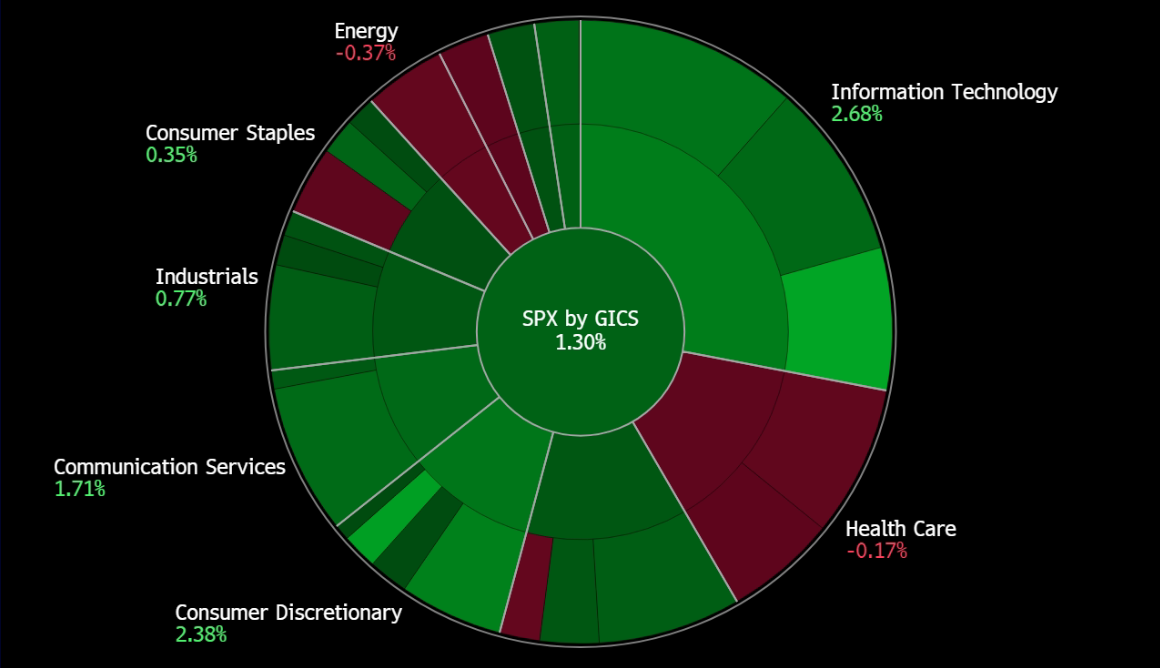 Hong Kong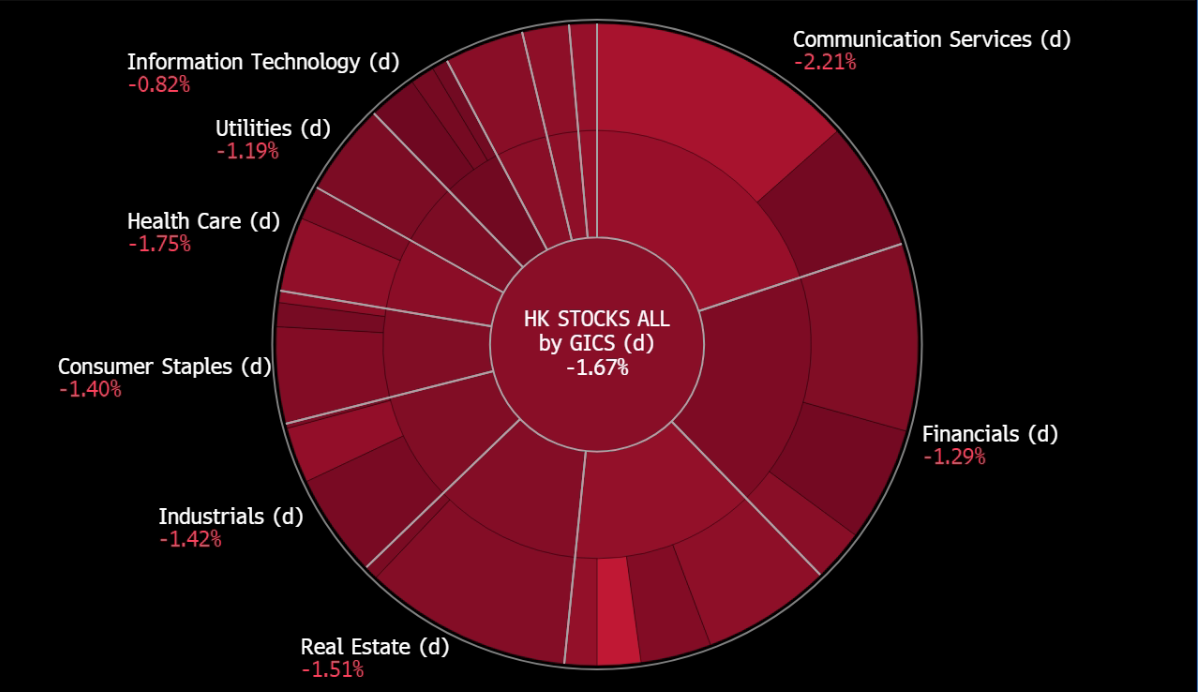 Trading Dashboard Update: No stock additions/deletions.