9 March 2022: Singtel (ST SP), Sinopharm Group Co Ltd (1099 HK)
Singapore Trading Ideas | Hong Kong Trading Ideas | Market Movers | Trading Dashboard
SINGAPORE
Singtel (ST SP): Defence over offence
BUY Entry – 2.50 Target – 2.82 Stop Loss – 2.34
Singtel provides an extensive range of telecommunications and digital services to consumers and businesses across Asia, Australia, Africa and the US. It serves over 753 million mobile customers in 21 countries, including Singapore, Australia (via wholly-owned subsidiary Singtel Optus) and the emerging markets of India, Indonesia, the Philippines, Thailand and Africa.
Headwinds are easing. Singtel is forecasted to post mid-single digit EBITDA growth in FY2022, a turnaround from the 16% decline in the prior year financial period. Stabilising Singapore average revenue per user (ARPU) and higher Optus ARPU may drive EBITDA growth higher. Furthermore, dividends from associates, which make up more than 25% of operating cash flow, may finally be turning around, driven mainly by the easing of competition of associate Bharti Airtel.
Defence over offence. Risk of recession is rising due to the surge in oil prices, which will also be exacerbated by the US Federal Reserve hiking rates. Massive surges in oil prices have historically preceded recessions, as was the case in 2008, early 2000s and 1991. It is thus prudent to move to defence over offence in the current environment.
Consensus estimates. Consensus has an overall positive outlook on Singtel, with 16 BUYS / 2 HOLDS / 0 SELL, and a 12m TP of S$3.16 (+26% upside potential). EPS is forecasted to finally grow 303% and 20% in FY2022 (YE March) and FY2023. The stock offers a decent dividend yield of 3.9% for FY2022 and 4.9% for FY2023.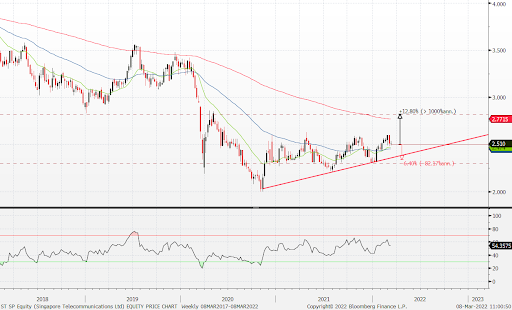 ---
Fortress Minerals Limited (FMIL SP): Rebounding iron ore prices
RE-ITERATE BUY Entry – 0.49 Target – 0.60 Stop Loss – 0.44
Iron ore play. Fortress Minerals engages in the exploration, mining, production, and sale of iron ore concentrates. The company is also involved in the wholesale trade of various goods; transportation of iron ore and minerals; rental of transport equipment and vehicles; extraction, dredging, and dealing of industrial sand; acquisition of mines, mining rights, metalliferous land, and quarries; and provision of supporting services for transport equipment and vehicles. It sells its iron ore concentrate primarily to steel mills in Malaysia. The company also exports its products to China and Vietnam.
Recovery in iron ore prices. Iron ore prices rose for the week as the war in Ukraine and recovering Chinese demand drove prices higher. Iron ore on the Singapore Exchange April 62% Fe futures settled near US$160/t. Chinese port data showed that iron ore inventory slipped 430,000 tonnes to 153.6mn tonnes. Blast furnaces have been building stocks as restrictions around the Winter Olympics have eased. The ongoing war and limited prospect for an immediate resolution may mean that iron ore prices may be supported for some time.
Set to benefit. Fortress Minerals reported disappointing 3QFY2022 results, where net profit declined 35% YoY to US$2.8mn due to lower selling price.The group achieved an average realised selling price of US$87.44 in 3QFY2022 vs US$110.06 in the prior year period. However, we expect this decline to reverse in the next quarter due to rising iron ore prices.
SGX Iron Ore 62% Futures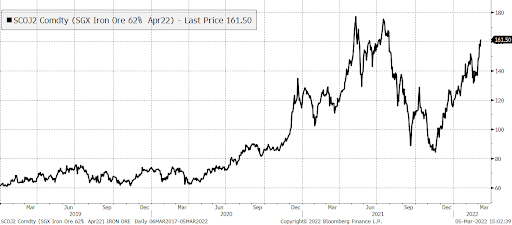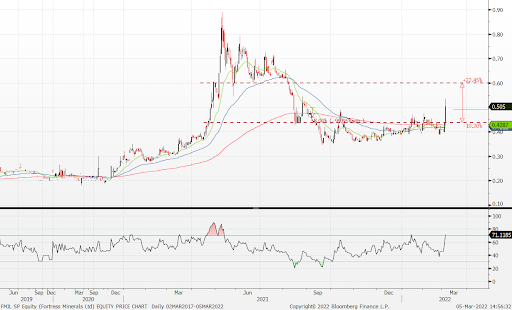 ---
HONG KONG
Sinopharm Group Co., Ltd. (1099 HK): One of the few defensive plays
BUY Entry – 17.2 Target – 19.7 Stop Loss – 16.0
Sinopharm Group Co Ltd is a China-based company principally engaged in pharmaceutical and medical devices distribution business. The Company operates its business through four segments. Pharmaceutical Distribution segment is engaged in the distribution of pharmaceutical products to hospitals, other distributors, retail pharmacy stores and clinics. Medical Devices segment is engaged in the distribution of medical devices, as well as provides installation and maintenance services. Retail Pharmacy segment is engaged in the operation of chain pharmacy stores. Other Business segment is engaged in the distribution of laboratory supplies, manufacture and distribution of chemical reagents, production and sale of pharmaceutical products.
Concerns over an inflationary recession. Commodities prices have rallied to multi-year highs, and some even touching all-time highs. Crude oil (Brent) price topped at near US$140/bbl. Oil prices have surged by more than 50% YTD. Historically, recessions came right after oil prices soared by more than 50%. Meanwhile, basic metals and agricultural products witnessed short squeeze movements. Nickel futures jumped by more than 300% this week. Gold surpassed the US$2,000/oz psychological level. US Treasuries 2 years-10 years spread has narrowed to near 20bps, the lowest since March 2020 when the COVID-19 outbreak shocked the market. Dollar index climbed to near 100, implying funds are leaving emerging markets. The probability of a potential inflationary recession in the near term are high as the above mentioned indicators have already shown red flags.
A defensive stock amidst market sell-off. The Hong Kong market has been hammered by both domestic crackdowns and unfavourable external macro conditions. Growth, value, and cyclical sectors, as well as other thematic stocks, have been sold off indiscriminately. However, this stock is relatively outperforming the rest as its business is largely immune to inflation and policy risks. The business driver is the distribution volume rather than profit margins. The growth in demand for medicines and medical devices is stable with low price sensitivity.
The updated market consensus of the EPS growth in FY22/23 is 10.7%/11.2% YoY respectively, which translates to 5.0x/4.5x forward PE. The current PER is 7.5x. The FY22F/23F dividend yield is 6.0%/5.9%. Bloomberg consensus average 12-month target price is HK$24.14.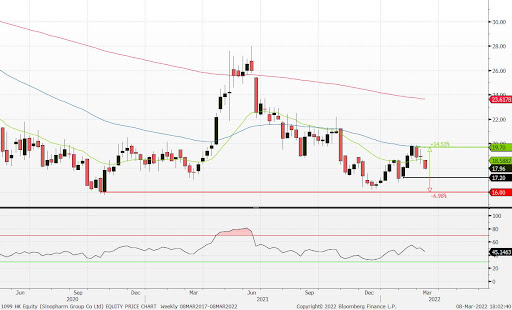 ---
Ganfeng Lithium Co Ltd (1772 HK): High oil prices accelerate the end of petroleum vehicle era
BUY Entry – 90 Target – 110 Stop Loss – 81
GANFENG LITHIUM CO., LTD. is a China-based company principally engaged in the research, development, production and sales of deeply processed lithium products. The Company's main products include lithium compounds, lithium metal and lithium batteries. The Company's products are mainly used in electrical vehicles, chemicals and pharmaceuticals. The Company distributes its products in the domestic market and to overseas markets.
Lithium carbonate reached another record high. Lithium carbonate prices in China rose to RMB493,500/tonne as of 8th March due to high global demand and tight supplies. Prices have jumped more than 87% YTD. China is expected to double the EV sales in 2022 to more than 5mn units. Meanwhile, battery producers rush to secure long-term supply contracts with lithium mining companies. The recent sanction on Russia pushed oil prices back to more than US$100/bbl. The outlook for oil is still very bullish. Accordingly, the demand for petroleum vehicles will be further suppressed. On the contrary, the demand for EVs, especially in Europe and the US will be further propelled. As a result, lithium, the main raw material for batteries, is expected to see stronger demands.
Positive FY21 earnings alert. The company announced the FY21 earnings alert. Net profit attributable to shareholders of the company jumped by between 368.45% and 436.76% YoY to between RMB4.8bn to RMB5.5bn. Net profit after deduction of non-recurring gains and losses jumped by between 621% and 795.04% YoY to between RMB2.9bn and RMB3.6bn.
Oversold due to panic mode. Share prices have dropped for four consecutive trading days. However, lithium carbonate prices stayed firmly at the record high of RMB493,500/tonne as of 8th March. The panic selling was due to the concern of an inflationary recession which is triggered by unprecedentedly high commodities prices.
Updated market consensus of the EPS growth in FY22/23 is 67.8%/7.0% YoY respectively, which translates to 16.8×15.7x forward PE. Current PER is 36.2x. Bloomberg consensus average 12-month target price is HK$204.85.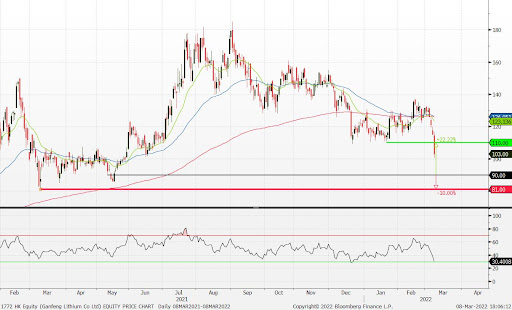 ---
MARKET MOVERS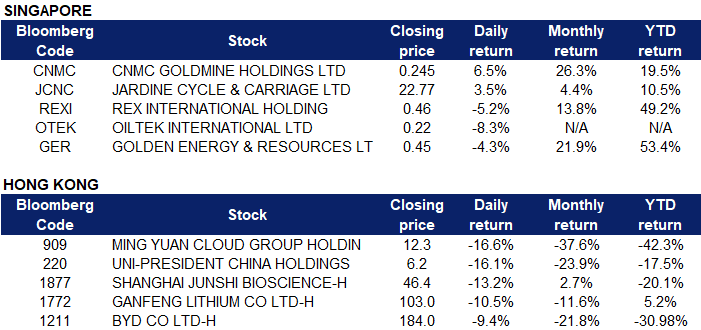 ---
United States
Top Sector Gainers
Top Sector Losers
Enphase Energy Inc (ENPH US) and Solaredge Technologies Inc (SEDG US) shares rose10.8% and 10.4% respectively yesterday, as rising oil prices resulting from the Russia-Ukraine conflict continue to shift attention toward alternative energy sources. President Joe Biden also announced Tuesday a ban on Russian oil and gas imports. President Joe Biden also announced Tuesday a ban on Russian oil and gas imports.
Caterpillar Inc (CAT US) shares rose 6.8% yesterday after the construction and mining equipment company was upgraded at Jefferies, with analyst Stephen Volkmann saying the company has historically been a "strong hedge" to commodity and general inflation. Volkmann raised his rating to buy from hold, and boosted his stock price target to $260. "[W]e believe the Russia/Ukraine crisis has fundamentally altered global commodity markets and is likely to drive a decade of reinvestment, similar to what the world experienced in the 1970s," Volkmann wrote in a note to clients.
Schlumberger NV (SLB US) shares extended their rally and rose 7.1% yesterday, after the company announced that it has been awarded an extensive contract for drilling, completions and production services by TotalEnergies for its Tilenga onshore oil development in Uganda. The scope of the contract includes the provision of directional drilling services, upper completions, lower completions, artificial lift solutions, and wellheads for the Tilenga development, which comprises six fields with up to 426 wells, which will be developed across 31 wellpads.
DISH Network Corp (DISH US) shares rose 5.1% yesterday, after receiving an upgrade from UBS to buy. UBS said in a note to clients that Dish's spectrum holdings are undervalued and provide a backstop against downside risk for the stock.
---
Singapore
CNMC Goldmine Holdings Ltd (CNMC SP) shares rose 6.5% yesterday, in tandem with rising gold prices. Gold broke decisively above $2,000 an ounce on Tuesday, marching towards an all-time high in August 2020 as geopolitical and economic uncertainties surrounding the Russia-Ukraine war lifted demand for the safe-haven metal. The ongoing conflict in Ukraine showed no signs of de-escalation, shaking up commodity markets because Russia is a heavyweight supplier in many areas and a major gold producer.
Jardine Cycle & Carriage Ltd (JCNC SP) shares rose 3.5% yesterday. Recently, Jardine Cycle and Carriage reported revenue and earnings of US$17.6 billion and US$786 million respectively for its FY2021 ended December. This represents a 34% and 83% rise y-o-y, which reflected "improvements across all parts of the portfolio." However, Jardine noted the results were 9% lower than in 2019, prior to the start of the pandemic.
Rex International Holding Ltd (REXI SP) and Oiltek International Ltd (OTEK) shares lost 5.2% and 8.3% respectively, likely on profit-taking. WTI crude futures rose 2% to near $122 per barrel on Tuesday, having touched a new 2008-high at $130 in the previous session, while Brent crude futures rose 2% to above $125 per barrel on Tuesday, having touched a new 2008-high at $139 in the previous session. Oil prices remain elevated as Biden's administration is considering banning imports of oil from Russia even though European allies showed reluctance. TotalEnergies SE was the first big oil company to announce its traders will no longer buy Russian crude and most buyers are already shunning its supplies.
Golden Energy & Resources Ltd (GER SP) shares lost 4.3% yesterday, likely on profit-taking. Newcastle coal futures lost approximately 3% and were trading around $410 per tonne on Tuesday, retreating from record high of $430 per tonne amidst the conflict in Ukraine. However, prices remain elevated and surged more than 100% since the beginning of 2022, with earlier bullish sentiment already fueled by supply disruptions in top exporting countries such as Indonesia and Australia. In addition, the recent sanctions on Russia, such as restricting access to European ports, triggered a rush in Asia and Europe to find alternative suppliers, such as Australia. The war has created a global energy crunch and exacerbated concerns over coal supplies in a market already tight in balance after outages.
---
Hong Kong
Top Sector Gainers
Top Sector Losers
Ming Yuan Cloud Group Holdings Ltd (909 HK) shares plunged 16.6% yesterday. The company announced yesterday that for the year ended December 31, 2021, the group expects to record a loss attributable to owners of the company from approximately RMB 310 million to RMB 360 million. The loss is mainly due to share-based compensation expenses recognised from equity incentive plans amounting to approximately RMB 803 million.
Uni-President China Holdings Ltd (220 HK) shares plunged 16.1% yesterday, after Goldman Sachs released a research report giving the company a "neutral" rating. Based on a 17 times forecast price-earnings ratio for 2022-23, the target price was lowered 8.9% from HK$7.9 to HK$7.2. The bank cut its 2022-24 EPS forecasts by 12% to 14% to reflect rising cost pressures and tighter control over selling expenses. Revenue growth in 2022 is currently expected to be 7% and net profit is expected to decline 4%.
Shanghai Junshi Biosciences Co Ltd (1877 HK) shares declined 13.2% yesterday. The company announced yesterday that it plans to raise no more than RMB 3.98 billion, of which RMB 3.682 billion will be used for innovative drug research and development projects, accounting for more than 92% of the total fundraising. Junshi Bio said that the fundraising projects involved in the issuance will help accelerate the company's clinical research work and promote the listing process of related products at home and abroad, and enhance the synergy between the company's preclinical research and clinical research.
Ganfeng Lithium Co Ltd (1772 HK) and BYD Co Ltd (1211 HK) shares declined 10.5% and 9.5% respectively yesterday. The price of battery-grade lithium carbonate has continued to rise, and the quotation has recently exceeded RMB 500,000 per ton. According to market sources, domestic battery giants including CATL and BYD have announced measures to combat the skyrocketing price of lithium carbonate. There are also rumours that some domestic cathode factories are also finding ways to resist the rise in lithium prices by not purchasing goods, but the news has not been confirmed.
---
Trading Dashboard
Trading Dashboard Update: Take profit on Rex International (REXI SP) at S$0.455. Cut loss on China Molybdenum (3993 HK) at HK$4.0, Ganfeng Lithium (1772 HK) at HK$110 and Jiangxi Copper (358 HK) at HK$13.60.

(Click to enlarge image)
---