KGI DAILY TRADING IDEAS – 6 August 2021
Singapore Trading Ideas | Hong Kong Trading Ideas | Market Movers | Trading Dashboard
SINGAPORE
Yangzijiang Shipbuilding (YZJSGD SP): Busy as a bee
BUY Entry – 1.43 Target – 1.64 Stop Loss – 1.35
Yangzijiang is China's largest private shipbuilder. The company builds a broad range of commercial vessels including containerships, bulk carriers and LNG vessels. Yangzijiang has been at the forefront of shipbuilding in China, receiving its first ever 24,000 TEU containership order in December 2020, the largest containership currently operating in the world.
2Q2021 results. Yangzijiang yesterday reported a 39% surge in its 1H2021 earnings to RMB1.64bn on the back of higher gross profit margin of 26% vs 24% in the prior year period. Earnings were helped by other income and reversal of impairment losses which totaled around RMB0.5bn in 1H2021.
Very busy year. The company had a record high order win of US$6.7bn year-to-date, buoyed by favourable market sentiments and the group's reputation and capabilities in shipbuilding. As of yesterday, the group had a record net orderbook of S$8.7bn for a total of 167 vessels. As a testament to its advanced shipbuilding capabilities, the group won 3 units of 40,000 CBM LPG vessels and 10+5 units of LNG dual-fuel 7,000 TEU containerships.
Bullish consensus forecasts. There are 7 BUYS / 1 HOLD / 1 SELL and a 12m TP of S$1.80 (+25% upside). Valuations are attractive at 10x and 8x FY2021 and FY2022 P/E respectively. Dividend yield is decent at 3-4% per year from 2021 to 2023, backed by a rock-solid cash balance of almost RMB10bn (end 2Q21).
Yangzijiang's orderbook as of 5 August 2021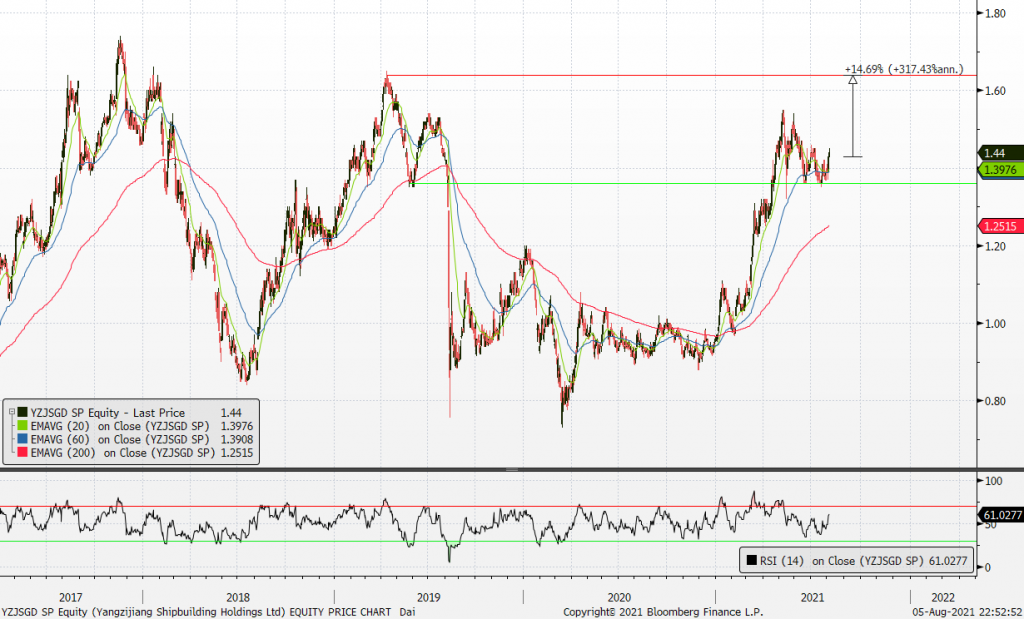 ---
Q&M Dental (QNM SP): Testing, testing and more testing
BUY Entry – 0.84 Target – 0.95 Stop Loss – 0.80
Q&M Dental Group (Q&M) is the largest private dental healthcare group in Singapore with more than 70 dental clinics islandwide. The group has more than 200 qualified and experienced dentists, about 40 are specialists or dentists who have undergone extensive post-graduate training either locally or from various established training institutions overseas.
Resilience amidst adversity. Q&M has remained resilient with its dental and medical services through Covid-19. It continues to be the bread and butter of the group, as its network of clinics dominate the private dental healthcare space.
Leading Covid-19 test provider. In 1Q21, the group generated S$4.6mn sales from its equipment and lab tests segment (from S$1.6mn in 1Q20), a significant part contributed from its investment in medical tech firm Acumen Diagnostics. Given the continued need for Covid-19 testing regardless of the availability of vaccines, we are confident on the outlook of Acumen Diagnostics in 2021 and 2022.
Street is bullish. Analysts are upbeat on the prospects of the company with 6 BUYS / 0 HOLD / 0 SELL and a 12-month target price of S$0.95 (+17% potential upside). Earnings per share is expected to increase by 62% YoY in FY2021 and 16% YoY in FY2022 respectively, which would bring its FY2022 P/E to 17x, a discount to other healthcare peers.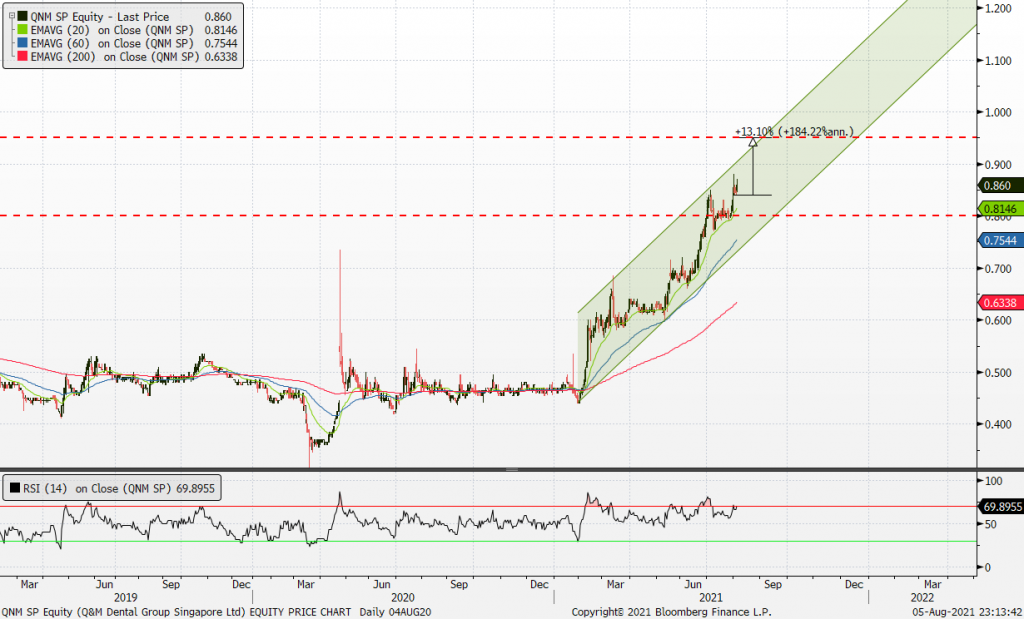 ---
HONG KONG
Xtep International Holdings Limited (1368 HK): Government gives the greenlight. Sprint!
Buy Entry – 12.2 Target – 14.5 Stop Loss – 11
Xtep International Holdings Limited is principally engaged in the design, development, manufacturing, sales, marketing and brand management of sportswear, including footwear, apparel and accessories. Its products are mainly sold under the self-owned brand of Xtep.
The sportswear sector has definitely been one of the best performing sectors YTD as demand has surged on the back of more people choosing to exercise during the pandemic and also due to the boycott against foreign brands. The Tokyo Olympics is expected to translate the pro-China sentiment into more consumption of domestic brands' sportswear.
Recently the State Council issued a national exercise plan from 2021 to 2025, to ensure the population's fitness and exercise demands. The plan vowed to increase the number of people who often participate in regular exercise by 38.5% and expand the scale of the nationwide sports industry to 5 trillion yuan ($773.69 billion) by 2025. This was the one of the few positive news for the market given the government initiated clamp-downs on the various sectors. Sports sector is now officially supported by the authorities. Hence, we expect fund flows to flow into it.
Based on the peers' comparison, we think the company still has upside potential to catch up with the market leaders such as Anta Sports and Li Ning.

Updated market consensus of the EPS growths in FY21 and FY22 are 46.6% YoY and 21.5% YoY respectively, which translates to 35.4x and 29.1x forward PE. Current PER is 51.8x. Bloomberg consensus average 12-month target price is HK$14.98.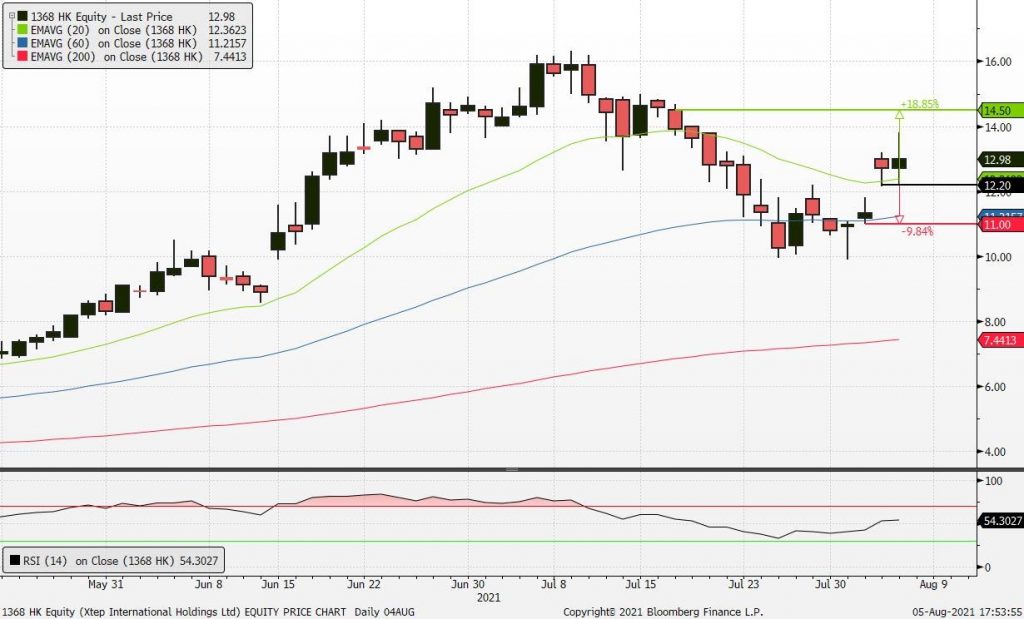 ---
China Resources Cement Holdings Limited (1313 HK): A perfect candidate of Peter Lynch's "Turnarounds" classification
Reiterate BUY Entry – 6.86 Target – 8.0 Stop Loss – 6.36
China Resources Cement Holdings Limited is a Hong Kong-based investment holding company principally engaged in the cement and concrete businesses. The company operates through two business segments. The cement segment is engaged in the manufacture and sales of cement and related products. The Concrete segment is engaged in the manufacture and sales of concrete and related products. The Company is also involved in the trading of fly ash, mortars and shotcrete, as well as the property holding business through its subsidiaries.
On 2nd August, China released Caixin manufacturing July PMI which was 50.3, lower than the expectation of 51.0. However, the infrastructure sector rebounded substantially even though investors were concerned about the slowdown of the economic recovery. The counter-intuitive market reaction could be due to investors wagering on a new round of infrastructure expansion in 2H21 as consumption and exports are not expected to uphold the economic recovery.
Infrastructure stocks have been out of flavour since February as investors were chasing technology, consumer staples & discretionary, and materials stocks in 1H21. The whole industrial sector has been dropping and breaking key support levels. At the moment, investors are trying to avoid sectors exposed to regulatory risks and are seeking safe havens. Industrial stocks are one of the candidates as their valuations are dirt cheap.
Currently, China's domestic average cement price have reached last August's level where the previous uptrend started. The company's forward PE dropped to the 10-year lows recently. Therefore, we see it as deeply undervalued right now.
Updated market consensus of the estimated growth of net profit in FY21 and FY22 are -0.96% and 3.24% respectively, which translates to 5.7x and 5.5x forward PE. The current PE is 5.5x. The estimated respective dividend yield in FY21 and FY22 is around 8.3% to 8.5%. Bloomberg consensus average 12-month target price is HK$9.67.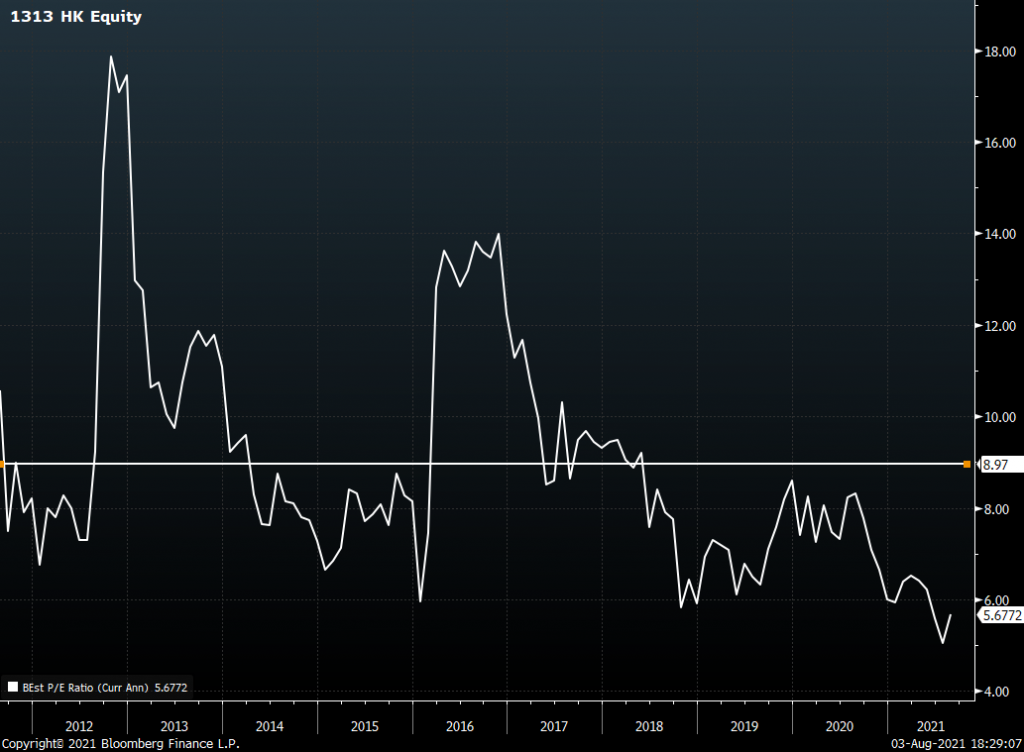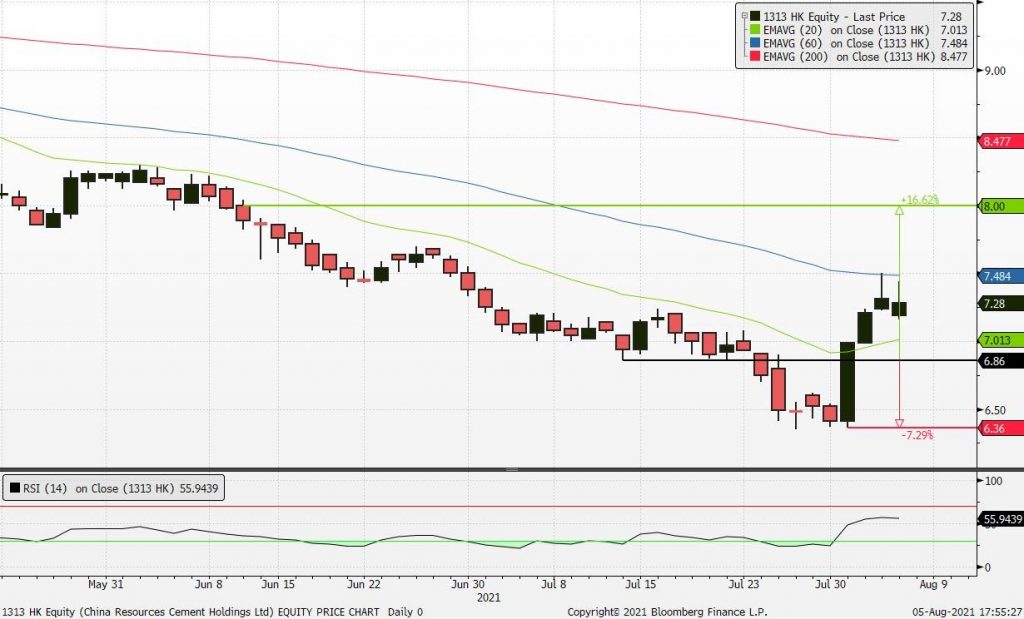 ---
Market Movers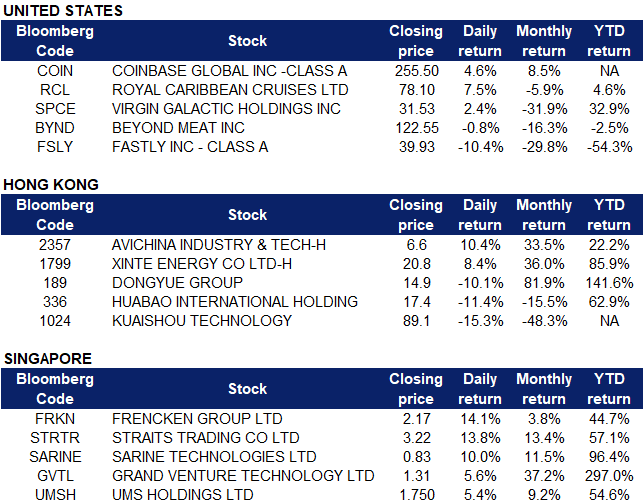 United States
Cryptocurrency stocks rose on Thursday. Shares of crypto exchange Coinbase (COIN US) rose more than 4.5% after Gary Genlser, the chairman of the SEC said a few days ago that he would be more open to a Bitcoin ETF if it was based on bitcoin futures traded on the CME. The news prompted ETF company Proshares and investment company Invesco to file documents with the SEC for ETFs based on bitcoin futures.
Cruise stocks were up on Thursday despite the United States recording more than 92,000 cases of COVID-19. Royal Carribean (RCL US) rose 7.5% to close at $78.10 after the company released its second quarter results, reporting a $5.29 loss per share in the quarter, while also predicting a loss in Q3 and the year as a whole. However, Royal Carribean's CFO pointed out that 29 of the cruise line's 68 ships were back in the water, and they expect to have 85% of its fleet operational again by the end of the year, predicting that the company will be cash flow positive in about six months. Related cruise stocks Carnival Corporation (CCL) and Norwegian Cruise Line Holdings (NCLH US) were up 6.9% and 6.3% respectively at market close.
Virgin Galactic (SPCE US) shares jumped after the spaceflight company reported quarterly sales and said it will reopen ticket sales. Space flights are available as single seats, multi-seat packages, and a full-flight buy out, and will start at $450,000 a seat.
Beyond Meat (BYND US) stock dipped 4% in extended trading on Thursday after missing earnings estimates during the second quarter. Revenue came in at $14.4 million, a 32% YOY improvement, and reported a net loss of $19.65 million (or 31 cents per share). The meat alternative company also forecasted that demand will moderate in Q3, suggesting that their rapid growth is cooling off quickly.
Shares of Fastly (FSLY US) plunged 10.4% on Thursday after the company announced disappointing second quarter results. Revenue rose 14% YOY to $85 million, which fell short of analyst expectations of $85.7 million. This was likely attributed to a global network outage in June 2021, causing lesser traffic to be sent through its network. Fastly responded by issuing credits to customers to mitigate the damage which further weighted on its sales. The company also noted that the outage cost Fastly one of its largest customers, and declined to reveal the name of the company.
---
Singapore
---
Hong Kong
AviChina Industry & Technology Co Ltd (2357 HK). The military and defence sector jumped. There was no company specific news. The stock has been underperforming the market since January 2021. Recently, traditional sectors recorded consistent fund inflows due to sector rotation. Growth sectors, especially technology, are under selling pressure due to the ongoing regulatory scrutiny.
Xinte Energy Co Ltd (1799 HK). The company announced that they would be placing shares. Total number of shares to be placed out will be about 62.7mn, representing 20% of the existing H-shares in issue and approximately 5.22% of the number of total issued shares and approximately 16.67% of the number of H-shares as enlarged by the allotment and issue of the placement shares. The placement price will be HK$16.5. The aggregate net proceeds of the placing shares are expected to be HK$1.017bn. The entire net proceeds from the placement will be used for the 100,000-ton Polysilicon Project through capital injection to Inner Mongolia Xinte.
Dongyue Group Ltd (189 HK). Shares were sold off as the demand for PVDF in photovoltaic and coating areas dropped due to the rise of PVDF prices. Meanwhile, the two sectors found substitutes for PVDF. Therefore, it is expected that profitability will weaken and come in below expectations.
Huabao International Holdings Limited (336 HK). The e-cigarette sector plunged after state media reported that many minors are able to purchase e-cigarettes in the country despite a ban on sales to under-18s and cited an expert as saying a tougher crackdown was needed. Xinhua news agency said its reporters made unannounced visits to e-cigarette shops in the northern cities of Tianjin and Shenyang and found that while all had signs stating sales to minors were prohibited, enforcement of the law varied in practice.
Kuaishou Technology (1024 HK) shares plunged after the company said on Wednesday it will shut down its controversial short video app Zynn later this month. The app was only available in the U.S. Meanwhile, the 6-month lock-up period of 3.882bn shares ended on Thursday.
Trading Dashboard: Add Jiangxi Copper (358 HK) at HK$15.8.
---
Trading Dashboard
---

---
Related Posts: