KGI DAILY TRADING IDEAS – 5 July 2021
IPO Watch: LinkDoc Technology | Singapore Trading Ideas | Hong Kong Trading Ideas | Market Movers | Trading Dashboard
---
IPO WATCH
LinkDoc Technology (LDOC US): Eastern telehealth lists in the West
Alibaba-backed LinkDoc Technology is a Chinese healthcare data company specialising in oncology patients.
China has the 2nd largest healthcare market in the world, with healthcare expenditures expected to grow 9% per year for the next 10 years. Oncology is expected to have one of the highest growth rates in healthcare expenditure at close to 10% CAGR. Additionally, Healthcare Big Data spending is expected to proliferate at 43% growth per year over the same time period.
LinkDoc will IPO at around US$1.6bn market cap with a 12.3x EV/TTM Sales valuation, fairly close to the current valuation of JD Health.
Forward multiples and sales growth expectations imply a fair IPO valuation for LinkDoc. However, telehealth peers in US trade at a higher multiple, thus LinkDoc could see upside from a relative valuation basis, or if future growth rates return closer to their prior year's numbers.
LinkDoc will price on Thursday and likely trade on Friday, 9th July.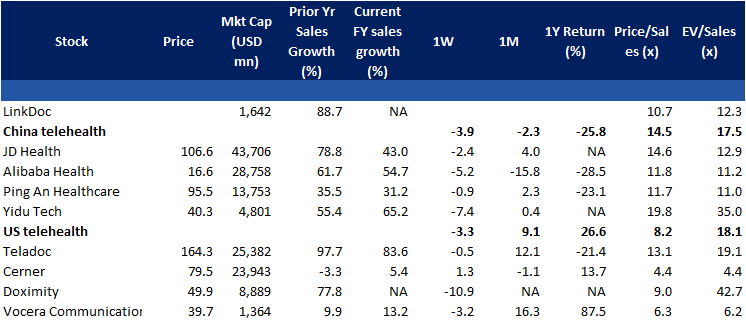 ---
SINGAPORE
ISDN (ISDN SP): Accelerating the pace of industrial automation
BUY Entry – 0.73 Target – 0.85 Stop Loss – 0.68
ISDN is a leading engineering solution provider in motion control and industrial computing solutions. The group generates around 68% of sales from China and 70% from the motion control segment.
Accelerated growth due to Covid-19. ISDN reported an increase in revenue from S$291.0mn in FY19 to S$361.9mn in FY20, a 24.4% YoY jump. PATMI increased by 115% YoY, from S$7.0mn in FY19 to S$15.1mn in FY20, mainly due to the growth in gross profit of 23.4%. EPS more than doubled YoY from S$1.68 cents to S$3.51 cents and dividends increased from 0.4 Sing cents to 0.8 Sing cents.
Strong start to the year. 1Q21 revenue increased 23.4% YoY, from S$79.8mn in 1Q20 to S$98.4mn in 1Q21. Gross profit rose by 52.7%, due to increased gross profit margins from 21.8% to 27.0%, contributed by accelerated sales growth in the Motion Control segment. Bottom line remained strong with a 95.4% increase YoY, from S$3.1mn to S$6.0mn, which was achieved by a combination of solid gross profit margins and substantially decreasing distribution costs and administrative expenses.
Growth momentum to continue; upside from its hydropower plants next year. Sales to China are expected to grow in light of Sino-US tensions. Coupled with the growing trend in industrial automation in China, we expect a continued boost to ISDN's top line. Revenue recognition from its Indonesian hydropower business next year is likely to provide further upside.
Maintain OUTPERFORM and raise our TP to S$0.85. Read our report here.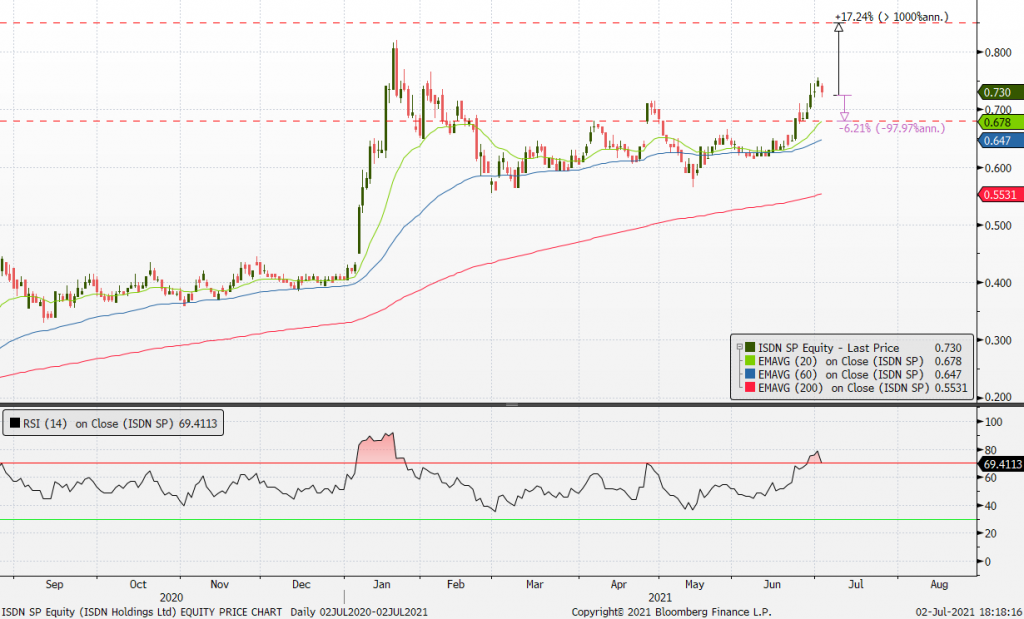 ---
Golden Energy & Resources (GER SP): A hidden GEM
RE-ITERATE BUY Entry – 0.32 Target – 0.43 Stop Loss – 0.26
GER owns and operates thermal coal mines in Indonesia (through 63% owned PT Golden Energy Mines), and metallurgical coal (75% owned Stanmore Resources) and gold mining (50% owned Ravenswood Gold) in Australia. Stanmore has coal resources estimates of 1.7 billion tonnes, marketable coal reserves estimates of 130.0 million tonnes and a coal handling preparation plant capacity of up to 3.5 million tonnes per annum. PT Golden Energy Mines (GEMS) has more than 2.9 billion tonnes of energy coal resources and more than 1 billion tonnes of coal reserves. Meanwhile, Ravenswood Gold has 3.9 million ounces of gold resources and 2.6 million ounces of gold reserves, and a gold processing facility of up to 5.0 million tonnes per annum.
Record production; long-life assets. The company has ramped up production significantly over the past 10 years. For its Indonesian operations, production increased from 1.8mt in 2010 to 33.5mn in 2020. Meanwhile, its assets in Australia are made up of high quality met coal mines and sizable gold reserves and resources. Post expansion, GER's Ravenswood Gold is expected to be one of the largest gold producers in Queensland, Australia.
Coal prices are near their highest in a decade, as a combination of natural gas shortfall, rebounding electricity usage and limited rainfall in China have lifted demand for thermal coal. Thermal coal prices have almost doubled from last year, and we expect prices to remain firm going into the second half of 2021. While global demand for coal peaked in 2014, the dearth of new supplies combined with the surge in electricity demand could lead to even higher prices.
GER's share price should be around 34-48 cents based on the previous time that coal prices were trading at these levels in 2017-2018. In fact, current coal prices are more than 30% higher than the previous cycle peak in 2018.
ICI 4 Indonesian Coal Index (Argus/Coalindo) Futures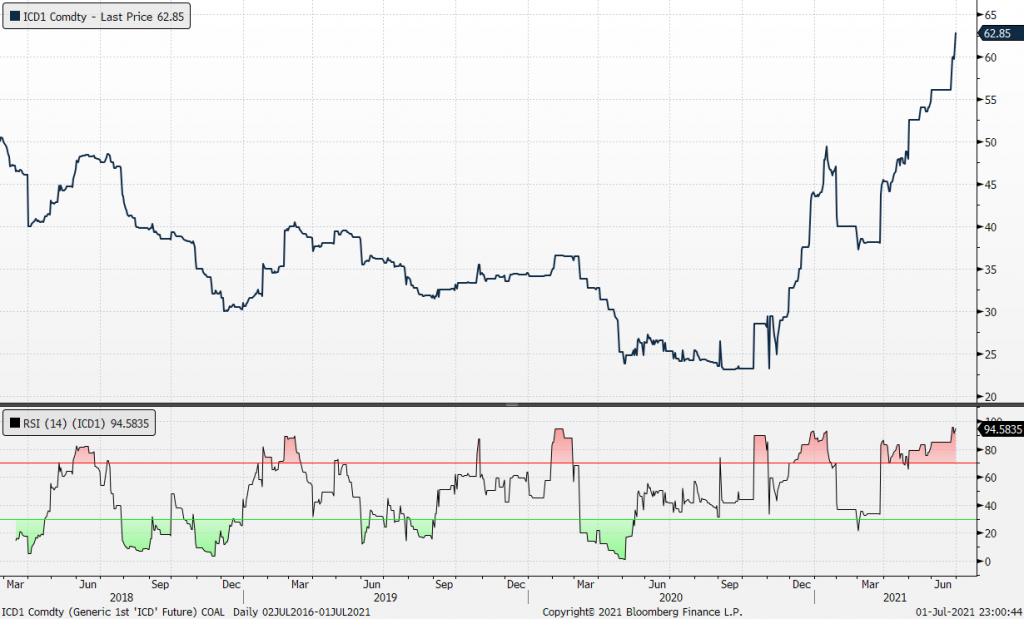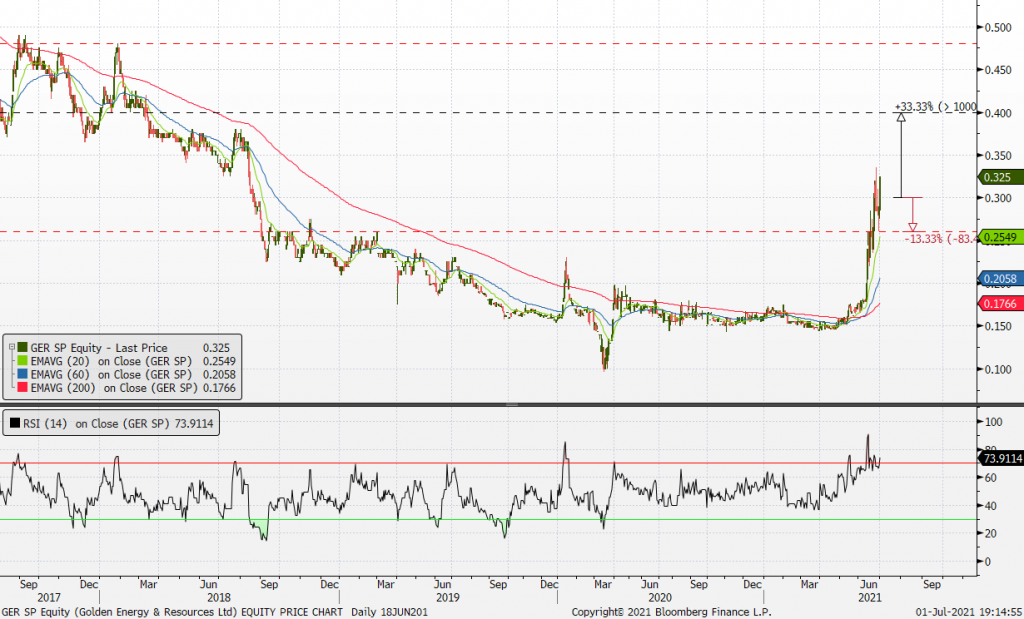 ---
HONG KONG
Geely Automobile Holdings Limited (175 HK): Another chance to get on board
Reiterate Buy Entry – 22.5 Target – 26.5 Stop Loss – 20.5
Geely Automobile Holdings Ltd is an investment holding company principally engaged in the production and sales of automobiles. The company mainly develops, manufactures and sells automobiles, including cars, sport utility vehicles (SUVs), new energy and electrified vehicles. The company's car types include home, travel and sports. The company's new energy and electrified vehicles include electric vehicles, battery electric vehicles, hybrid electric vehicles, mild hybrid electric vehicles and plug-in hybrid electric vehicles. In addition, the Company produces and sells automobile parts and related automobile components.
The recent correction was due mainly to the withdrawal of an application for listing on Shanghai Star Board. This had limited impact on the fundamental business. Therefore, it could be a buy-the-dip opportunity for investors who missed out on the previous rally which was driven by the positive sentiment of the EV sector.
Previously, the company announced some good news. Jidu Auto, the electric vehicle (EV) venture between Chinese search and AI giant Baidu and automaker Geely, will unveil its first model at the 2022 Beijing Auto Show. The 1.56mn units vehicle sales target for this year is intact despite the ongoing chip shortage. The company also formed a JV with Guangdong Xinyueneng Semiconductor to cover the design, manufacturing and sale of integrated circuits, and the manufacturing of discrete semiconductors.
Updated market consensus of the estimated growths of EPS in FY21 and FY22 are 62% and 27.2% respectively, which translates to 23.7x and 18.6x forward PE. The current PE is 36.2x. Bloomberg consensus average 12-month target price is HK$27.27.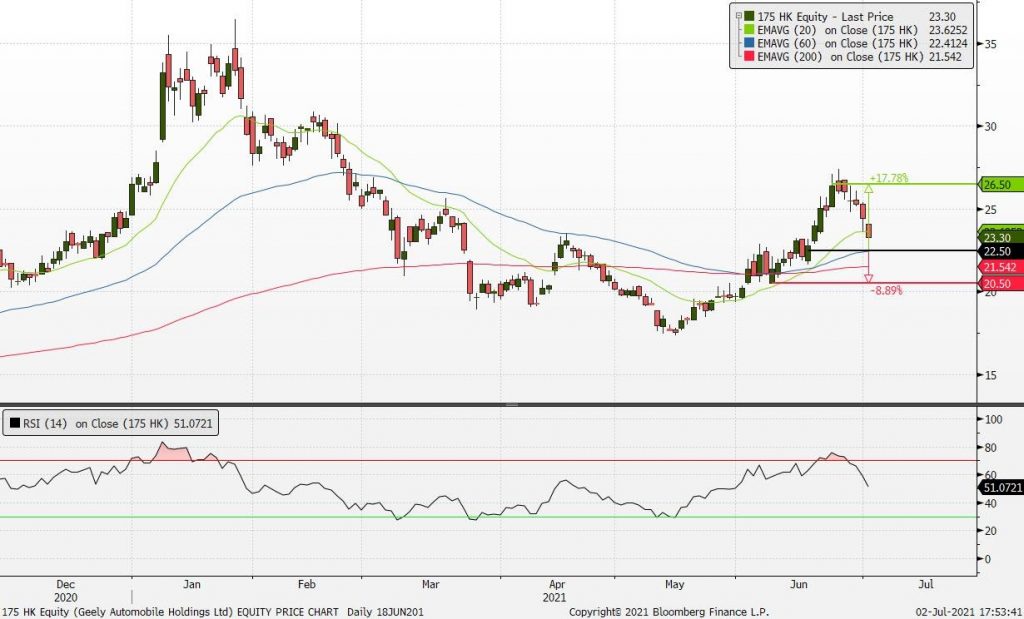 ---
Hainan Meilan International Airport Company Limited (357 HK): Range bound trade and a new IPO's knock-on effect
Buy Entry – 30 Target – 36 Stop Loss – 28
The company operates through aeronautical businesses and non-aeronautical businesses. Its aeronautical businesses include the provision of terminal facilities, ground handling services and passenger services. Its non-aeronautical businesses include the leasing of commercial and retail spaces at Meilan Airport, airport-related businesses franchising, advertising spaces leasing, car parking businesses, cargo handling and the sales of consumable goods.
On 20 June, China's State Council Information Office released a white paper on the construction of the Hainan Free Trade Port (FTP). The master plan provides guidelines for trade and investment in the FTP from 2022 to 2030.
The upcoming catalyst is the IPO of China Tourism Group Duty Free Corporation Limited. The company is seeking a dual listing in HKEX. The company is viewed as a key Hainan FTP-themed stock as it has a big plan to expand business in Hainan province. The IPO could bring positive sentiments to the Hainan sector, including Hainan Meilan International Airport.
Shares have been trading range bound between HK$30 and $37 since March this year. Technically, the stock formed a support at HK$30.
Market consensus of net profit growth in FY22 and FY23 are 18.9% YoY and 32.0% YoY, which implies forward PERs of 14.9x and 11.3x. It is expected to turn profitable with a FY21F EPS of 1.46, compared to FY20 EPS of -2.83. Bloomberg consensus average 12-month target price is HK$42.5.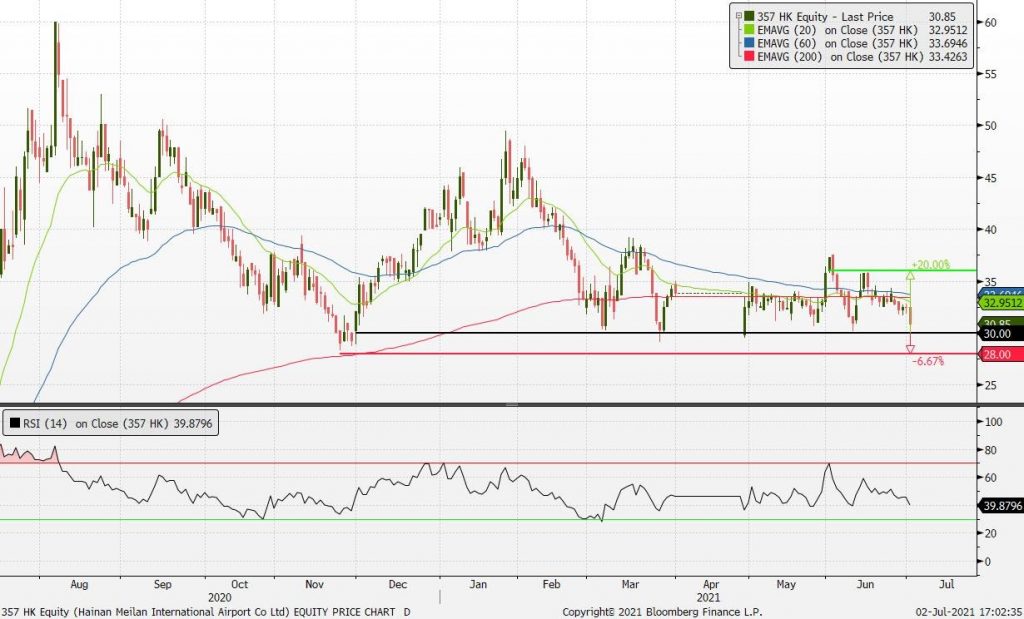 ---
Market Movers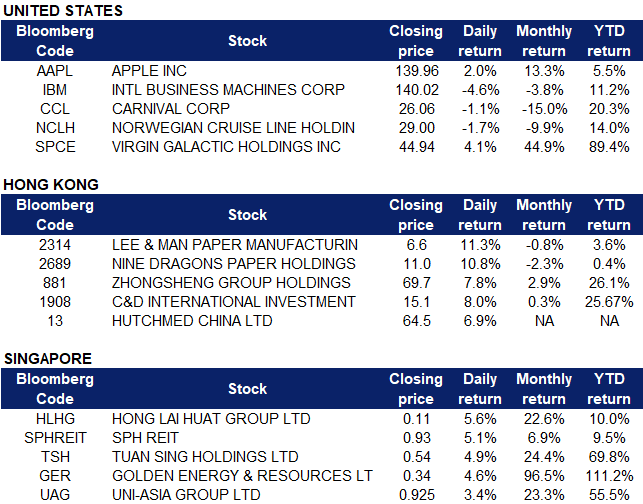 United States
Apple Inc (AAPL US) closed just shy of US$140 after the 5th straight day of closing higher, leading all 3 major indices higher.
International Business Machines (IBM US) fell 5% on Friday after announcing that President Jim Whitehurst will be stepping down in the near future. Whitehurst is the former CEO of Red Hat, one of IBM's largest acquisitions in 2019 which was a key contributor to IBM's success in the cloud computing space.
Carnival Corporation (CCL US) and Norwegian Cruise Line Holdings (NCLH US) slipped for the week as concerns rose over unvaccinated passengers bringing the COVID-19 virus onto cruises. Cruise line stocks are trading double or triple their pandemic lows, thus there could be room for more bearishness for the sector.
Virgin Galactic (SPCE US) fell 20% this week after spiking up almost 40% last Friday from the Federal Aviation Administration's approval for the company to fly customers into space.
---
Singapore
Hong Lai Huat (HLHG SP) Shares closed the week 15% higher after a company presentation. Management updated on its plans to uplift its agricultural land assets in Cambodia by transforming it into an agri-hub development. In addition, the company also seeks to partner with MNCs to generate multiple income streams. The company currently trades at attractive valuations of 0.5x P/B, backed by strong net cash position, properties and land bank.
SPH REIT (SPHREIT SP) SPH REIT was the third best performing REIT for the week, closing 6% WoW, trailing only behind OUE Commercial REIT (+7% WoW) and ESR-REIT (+11% WoW). The rise was likely due to the possibility of renewed corporate action with its parent company, SPH, upon the spin-off of the media business. Earlier in June, Daiwa Capital, initiated with an Outperform and TP of S$0.92. The REIT is forecasted to offer a dividend yield of 5.6-5.7% over the next three years.
Tuan Sing Holdings (TSH SP) Continued to buy back shares in the open market. The company bought back 3,000 shares last Friday, in addition to the 87,000 shares bought over the past month. The Straits Times on 24 June 2021 had put a spotlight on the company's unappreciated and undervalued share value. Even with the 70% year-to-date appreciation of its share price, the company still trades at a massive 45% discount to its book value.
Golden Energy & Resources (GER SP) shares have almost doubled over the past month as the company is expected to benefit from the strong rally in thermal coal prices. We currently have a trading buy on Golden Energy. Our target price of 43 sing cents implies a return of 21% return from its current share price of 34 sing cents. Read our trading note here.
Trading Dashboard: Add Hyphens Pharma (HYP SP) at S$0.325. Remove Keppel Corp (KEP SP) at S$5.41
---
Hong Kong
Lee & Man Paper Manufacturing (2314 HK), Nine Dragons Paper Holdings (2689 HK) China's paper sector rose last Friday, with Lee & Man achieving top gains at 11.34% and Nine Dragons following next at 10.84%. Waste paper generally accounts for more than 85% of raw materials for corrugated cardboard, and at present many distributors of corrugated cardboard in the market have overstocked inventory, which has restrained the rise in paper prices. Analysts believe that the peak demand for waste paper is approaching in 2H21, as recently waste paper resources have been in short supply. Huachuang Securities believes that the golden season for leading paper producers is coming. The shortage of waste paper is highly certain in 2021, and both national waste paper prices as well as finished paper prices are expected to increase.
Zhongsheng Group Holdings (881 HK) Shares rose as CICC raised the TP by 10.3% to HK$80.5, which is equivalent to the forecasted 2022 P/E ratio of 18.5x. CICC also raised Zhongsheng Group's 2021 and 2022 net profit forecasts by 4.1% and 4.6% respectively. This was due to the company's announcement that it will acquire Renfu China, one of Mercedes-Benz's largest sellers in South and West China for a total consideration of US$1.3bn.
C&D International Investment (1908 HK) Shares surged due to positive earnings announcement. In 1H21, the group together with its joint ventures and associated companies, achieved cumulative contracted sales of approximately RMB91.7bn and cumulative contracted sales area of ​​approximately 4.3mn square meters, representing an increase of approximately 256.0% YoY and 175.9% YoY respectively.
Hutchmed China Ltd (0013 HK) Shares rose further following the company's listing on HKEX on 30 June. Investors have positive sentiments over Hutchmed as it is one of the first pharmaceutical companies in China to develop innovative drugs. In addition, the company could be included in the China-Hong Kong Stock Connect.
---
Trading Dashboard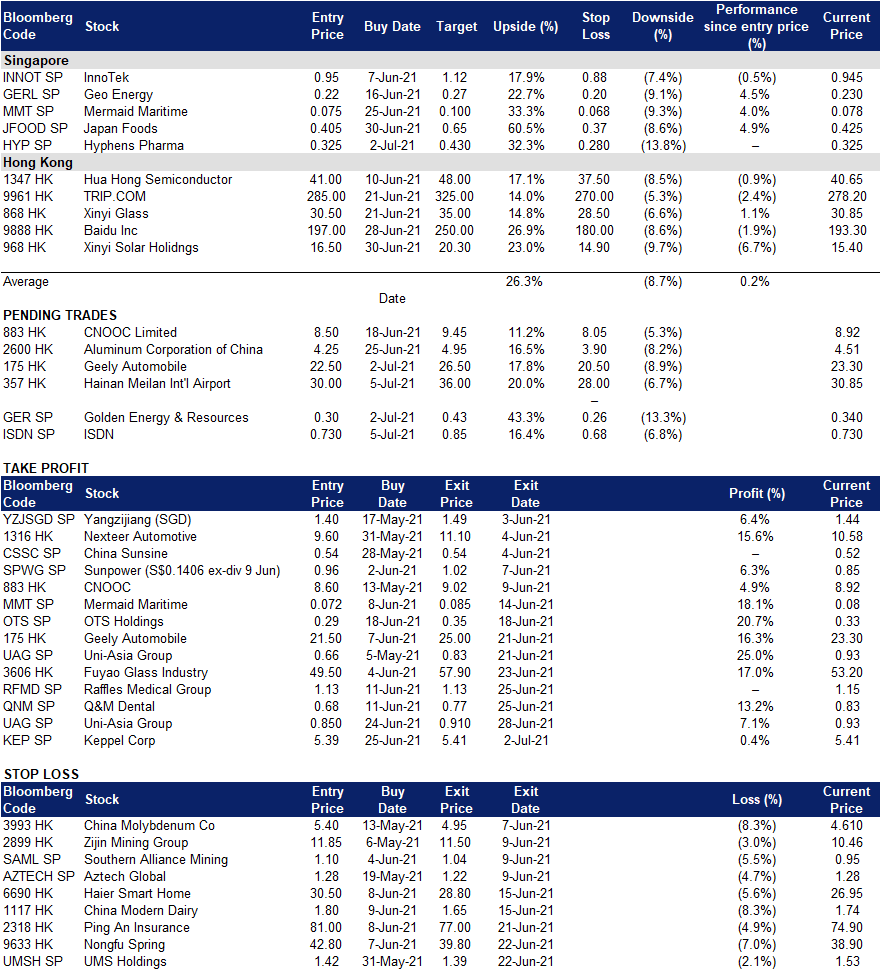 ---

---
Related Posts: