4 February 2022: Wilmar International (WIL SP), Alibaba Group Holding Ltd (9988 HK)
Singapore Trading Ideas | Hong Kong Trading Ideas | Market Movers | Trading Dashboard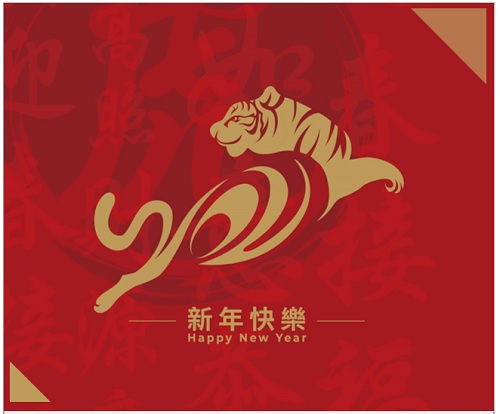 SINGAPORE
Wilmar International Ltd (WIL SP): Palm oil prices to the moon
BUY Entry – 4.38 Target – 4.80 Stop Loss – 4.16
Wilmar is Asia's leading agribusiness group that encompasses the entire value chain of the agricultural commodity business, from cultivation and milling of palm oil and sugarcane, to processing, branding and distribution of a wide range of edible food products in consumer, medium and bulk packaging, animal feeds and industrial agri-products such as oleochemicals and biodiesel.
Supply constraints. Palm oil prices hit another record high last week due to supply constraints. Indonesia, the world's largest producer and exporter of palm oil, has imposed a new rule that made it mandatory for producers to sell 20% of their output to domestic consumers at a fixed price.
Resilient palm oil prices expected in 2022. Palm oil prices are likely to remain above MYR 4,700 (US$1,124) per ton over the next six months, according to LMC International. In addition, it will still take another 12 months for Southeast Asia's palm oil production to recover to end-2019 levels, after supply from Indonesia and Malaysia declined in 2020 and 2021.
Aggressive share buy-backs. The company bought back S$57mn worth of shares in 4Q2021, bringing total share buybacks for the full-year 2021 to around S$131mn.
Positive consensus estimates. Wilmar currently has 13 BUY recommendations and an average 12M TP of S$6.05, implying a 38% upside potential from the last closing price.
Crude Palm Oil Futures – 5 years historical chart. Still trading near all-time highs due to supply constraints.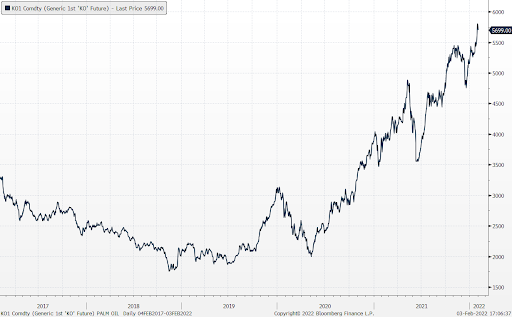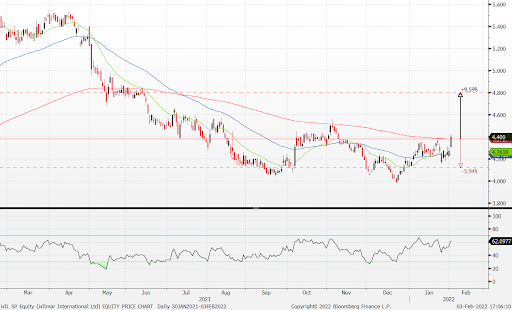 ---
Frencken Group (FRKN SP): Cheap enough
RE-ITERATE BUY Entry – 1.55 Target – 1.80 Stop Loss – 1.45
FRKN is a technology manufacturer providing end-to-end solutions to global clients including ASML (semiconductor), Philips (medical), Siemens (medical), FEI (analytical), Seagate (industrial automation) and ThermoFisher (analytical).
Share price correction overdone. Shares of FRKN have dropped around 40% since peaking at S$2.52 in mid-September. We think the selling is overdone. While we acknowledge one key reason for FRKN's share price weakness is due to margin pressure due to higher freight and component costs, we expect the pressure to ease as the company adjusts towards higher value added projects heading into 2022.
Positive surprise from Seagate. Last week, Seagate, Frencken's key industrial automation client, reported a better-than-expected quarterly profit and provided revenue and earnings forecasts that were expected to grow in 2022. Seagate's CEO believes that hard-disk drives will remain a critical enabling technology as data management continues to grow.
Consensus estimates are positive. There are 5 BUYS and an average TP of S$2.38, implying a 49% potential upside. Valuations are now cheap at 11x and 10x FY2021 and FY2022 EPS, a 33% discount to SG-listed technology manufacturing peers.
Peer comparison of Singapore-listed technology manufacturers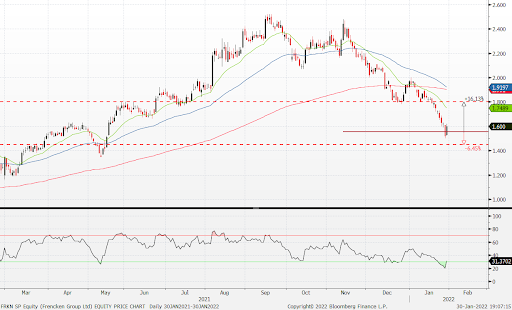 ---
HONG KONG
Alibaba Group Holding Ltd (9988 HK): Upcoming 4Q21 result is the watershed event
RE-ITERATE BUY Entry – 100 Target – 125 Stop Loss – 90
Alibaba Group Holding Ltd is a holding company that provides the technology infrastructure and marketing reach to help merchants, brands and other businesses to leverage the power of new technology to engage with users and customers to operate. The Company operates four business segments. The Core Commerce segment provides China retail, China wholesale, International retail, International wholesale, Cainiao logistics services and local consumer services through Taobao Marketplace and Tmall. The Cloud Computing segment provides complete suite of cloud services, including database, storage, network virtualization services, big data analytics and others. The Digital Media and Entertainment segment provides consumer services beyond the core business operations. The Innovation Initiatives and Others segment is to innovate and deliver new services and products.
Headwinds or noises. The recent negative news for the e-commerce giant was that the US government has started reviewing its cloud business to determine whether it poses a risk to US national security. However, Alibaba's cloud services are mainly located in China. Given that US financial institutions have substantial holdings in the company, the US government is not expected to impose sanctions on Alibaba or put it in the entity list.
Technology re-rating amidst the rate hike cycle. The worst start of 2022 for the US market was driven by the Federal Reserve's more aggressive than expected rate hike and balance sheet reduction. Technology companies' shares have been hammered and under selling pressure. However, Chinese technology peers have already re-rated due to policy and geopolitical risks. Comparatively, Chinese companies are less impacted from the sell-off given that downside is limited. YTD, China has recorded more ETF fund inflows than the US.
Growth is the anchor for valuation. Investors have been averaging down into BABA's shares since its downturn in 2021 given cheap valuations. We use PEG as a simple valuation metric. Based on Bloomberg estimates, BABA EPS is expected to drop by 20.64% YoY in FY22 and rebound by 13.0% YoY in FY23. Its FY23F PER is at 12.35x. The PEG is about 0.95x, which is lower than the US big tech giants' averages of between 1.0x and 2.0x.
Updated market consensus of the EPS growth in FY22/23 are -20.64%/12.99% YoY respectively, which translates to 14.0x/12.4x forward PE. Current PER is 16.8x. Bloomberg consensus average 12-month target price is HK$190.72.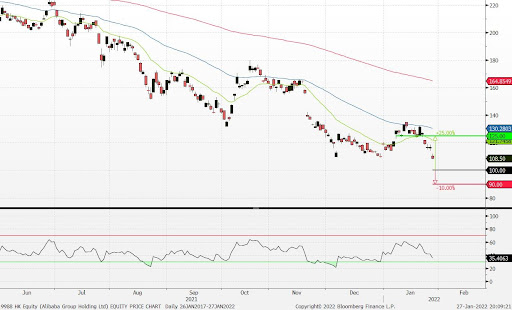 ---
Ganfeng Lithium Co Ltd (1772 HK): A stock with both growth and inflation-hedge features
RE-ITERATE BUY Entry – 118 Target – 140 Stop Loss – 108
GANFENG LITHIUM CO., LTD. is a China-based company principally engaged in the research, development, production and sales of deeply processed lithium products. The Company's main products include lithium compounds, lithium metal and lithium batteries. The Company's products are mainly used in electrical vehicles, chemicals and pharmaceuticals. The Company distributes its products in the domestic market and to overseas markets.
Lithium carbonate reached another record high. Lithium carbonate prices in China rose to RMB358,500/tonne as of 25th January due to high global demand and tight supplies. Prices have jumped more than 25% YTD. China is expected to double the EV sales in 2022 to more than 5mn units. Meanwhile, battery producers rush to secure long-term supply contracts with lithium mining companies.
Lithium carbonate prices in China reached another record high (RMB/tonne)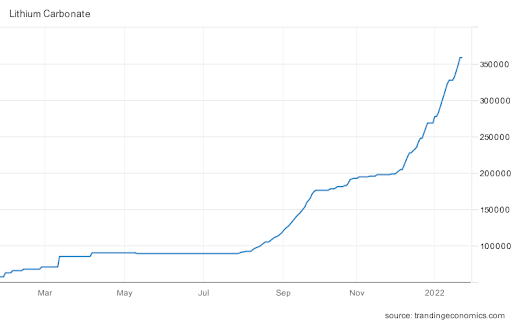 Positive FY21 earnings alert. The company announced the FY21 earnings alert. Net profit attributable to shareholders of the company jumped by between 368.45% and 436.76% YoY to between RMB4.8bn to RMB5.5bn. Net profit after deduction of non-recurring gains and losses jumped by between 621% and 795.04% YoY to between RMB2.9bn and RMB3.6bn.
Technical breakout from the recent consolidation base. Share price has corrected by 41% from the peak of HK$185 in August 2021 to the low of HK$109 in December 2021. Driven by the positive earnings guidance, shares just broke out the consolidation of around HK$115 amidst the overall market downturn.
Updated market consensus of the EPS growth in FY22/23 is 67.1%/20.6% YoY respectively, which translates to 23.6x/19.6x forward PE. Current PER is 44.3x. Bloomberg consensus average 12-month target price is HK$203.37.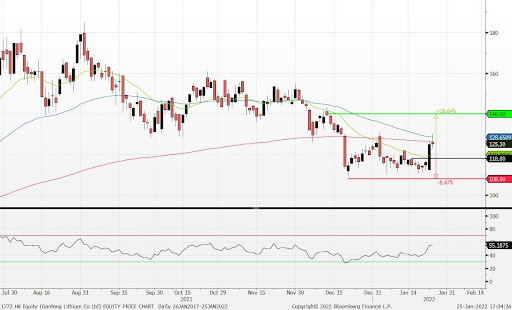 ---
MARKET MOVERS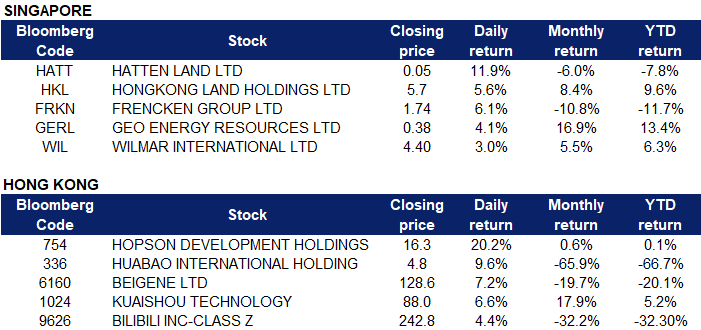 ---
United States
Top Sector Gainers
Top Sector Losers
Meta Platforms Inc (FB US) shares plunged 26.4% yesterday on weak earnings and a big forecast miss. According to Refinitiv, EPS was $3.67 vs $3.84 expected while revenue generated was $33.67 billion vs $33.4 billion expected. Facebook also missed estimates with user numbers. Monthly Active Users (MAUs) was 2.91 billion vs 2.95 billion expected by analysts, according to StreetAccount. Facebook said it's being hit by a combination of factors, including privacy changes to Apple's iOS and macroeconomic challenges. It blamed the lower-than-expected growth in part on inflation and supply chain issues that are impacting advertisers' budgets. "On the impressions side, we expect continued headwinds from both increased competition for people's time and a shift of engagement within our apps towards video surfaces like Reels, which monetize at lower rates than Feed and Stories," Facebook said. A ripple effect caused fellow social media platforms, Pinterest (PINS US) and Snap Inc (SNAP US) to plunge 10.3% and 23.6% respectively. They are set to report earnings after the market closes on 3 February, Thursday. Both companies reported an earnings beat, which gained approximately 20% and 56% after hours.
Spotify Inc (SPOT US) shares declined 16.8% yesterday after its user growth guidance for the first quarter failed to impress Wall Street. Spotify said it expected 418 million active users for the first quarter, roughly in-line with estimates according to FactSet's StreetAccount. However, the company's outlook overshadowed fourth-quarter revenue, as Chief Financial Officer Paul Vogel said this year would not be that much different than last in terms of users and subscribers."While we have not given full year guidance anymore on subscribers … we don't expect a material difference in the net additions for either users or subscribers in 2022 relative to 2021," Vogel told Reuters. The company did report higher revenue and a smaller loss per share than expected for the fourth quarter, but it's also embroiled in a controversy over its exclusive relationship with podcast host Joe Rogan.
Paypal Holdings Inc (PYPL US) shares extended their losses from Wednesday and dipped another 6.2% yesterday, after the company missed bottom-line forecasts and issued a weaker-than-expected current-quarter outlook. PayPal missed consensus forecasts by a penny with adjusted quarterly earnings of $1.11 per share, though the payment service's revenue beat estimates. PayPal's operating agreement with eBay, its former parent, has ended and the online marketplace's transition to its own payments platform is impacting transaction volumes, the company said on Tuesday.
---
Singapore
Hatten Land Ltd (HATT SP) shares surged 11.9% yesterday. Hatten Land has previously announced that its subsidiary Hatten Edge had signed an agreement with SMI Vantage's subsidiary SMI CS, which will allow the pilot phase of its first 50 sets of crypto mining rigs to commence operations by the end of January 2022. Despite pointing out in December that it is facing supply chain challenges, Hatten Land now says that it is on track to install and operate over 2,500 sets of crypto mining rigs within its properties in 2022.
Frencken Group Ltd (FRKN SP) shares extended their gains from last Friday and rose another 6.1% yesterday. The company announced that it entered into a sale and purchase agreement (SPA) to acquire a 50% stake in Malaysian company Penchem Technologies for MYR 15.6mn. Frencken has also simultaneously entered into a subscription agreement with Penchem to subscribe for 10,058 shares, or 1.92% of the ordinary shares of Penchem. The subscription price for these shares was RM0.6mn.
Hong Kong Land Holdings Ltd (HKL SP) shares gained 5.6% yesterday, near its 52-week high of US$5.80 as the Jardine company continued its US$500 million share repurchase programme. The company has purchased 5.5mn shares worth S$30mn year-to-date, after buying back S$193mn worth of shares last year.
Geo Energy Resources Ltd (GERL SP) shares gained 4.1% yesterday, in tandem with the rebound in coal prices. Coal prices fell more than 5% to $210 a ton before recovering some losses to $220, as Indonesia lifted a ban on coal exports, citing improving conditions of coal supply for local power plants. Still, only exporters that fulfil their domestic market obligation will be able to resume shipments from February 1st, which could continue to limit coal supply.
Wilmar International Ltd (WIL SP) shares gained 3% yesterday. Even though Malaysian palm oil futures fell to MYR 5,500 per tonne, prices still remained close to an all-time high of MYR 5,700 per tonne, boosted by mounting concerns over supply and following a rise in prices of other vegetable oils and crude oil. Indonesia, the world's biggest palm oil producer, implemented a new rule that made it mandatory for palm oil producers to sell 20% of their output to domestic consumers at fixed prices. Also, Indonesia's palm oil exports are projected to fall 3% to 33.21mn tonnes this year. Meanwhile, output in the second-largest producer Malaysia is likely to stay tight in the first quarter of 2022 as the country is still facing an acute labour shortage related to covid-19m restrictions and floods which destroyed crops in some areas at the end of last year.
---
Hong Kong
Top Sector Gainers
Top Sector Losers
Hopson Development Holdings Ltd (754 HK) shares surged 20.2% on Monday. The Group announced the recommendation of Ernst & Young as the Group's new auditor to fill the temporary vacancy after PricewaterhouseCoopers resigned, subject to the approval of the shareholders at the special general meeting. On Friday, shares plunged 17.1% after the company announced that its auditor pricewaterhouseCoopers resigned after receiving insufficient information to complete auditing procedures.
Huabao International Holdings Ltd (336 HK) shares rose 9.6% on Monday. Considering that the US Federal Reserve is likely to end its bond purchases in March 2022 and is expected to raise interest rates three times in 2022, the Board believes that more measures should be taken in cash resource management. The reallocation of the unutilized net proceeds was changed from the original plan, with an increase of HK$358mn for repayment of bank loans, a decrease of HK$158mn for acquisitions and/or investments, and a decrease of HK$200mn for general working capital.
Beigene Ltd (6160 HK) shares rose 7.2% on Monday. The company announced on the 28th that the Center for Drug Evaluation of the State Drug Administration has accepted a new study of BeiGene's BTK inhibitor Baiyueze (zanubrutinib) for the treatment of adult patients with chronic lymphocytic leukaemia or small lymphocytic lymphoma.
Kuaishou (1024 HK) shares gained 6.6% on Monday. On January 30, Kuaishou officially announced the cooperation with CCTV Spring Festival Gala. Users can search for "Spring Festival Gala" on Kuaishou to make an appointment for the live broadcast of CCTV Spring Festival Gala of the Year of the Tiger. Earlier, Kuaishou also announced that it has reached cooperation with 11 provincial and municipal satellite TVs to present the Spring Festival Gala in the form of "short video + live broadcast". At the same time, a number of brokerages have recently conducted outlook analysis on the company's Q4 performance. Institutions believe that the company will record a growth of more than 25% in Q4 revenue in 2021.
Bilibili Inc (9626 HK) shares rose 4.4% on Monday. Bilibili recently launched the Real-CUGAN general animation image super-resolution model on GitHub, which can transform old animation images into high-definition. According to reports, Real-CUGAN is a general animation image super-resolution model with a structure compatible with Waifu2x. It supports 2x\3x\4x super-resolution, of which 2x model supports 4 noise reduction strengths and conservative repairs, and 3x/4x model supports 2 noise reduction strengths and conservative repairs.
---
Trading Dashboard
Trading Dashboard Update: No additions/deletions to trading dashboard.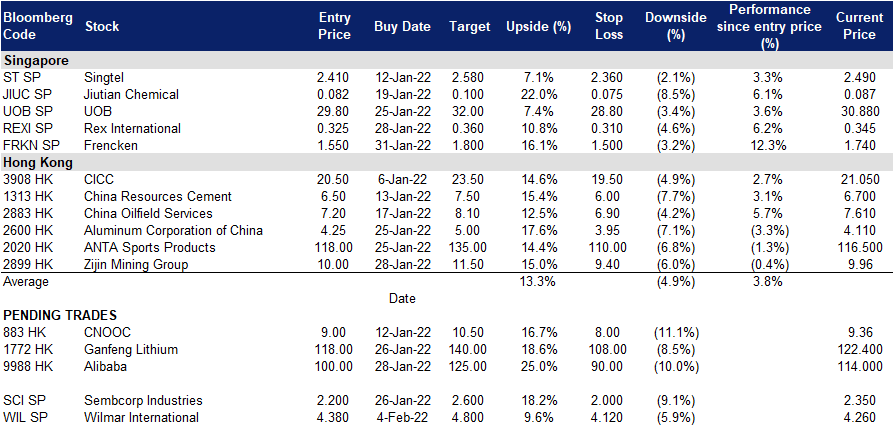 (Click to enlarge image)
---