31 January 2022: Frencken Group (FRKN SP), Alibaba Group Holding Ltd (9988 HK)
Singapore Trading Ideas | Hong Kong Trading Ideas | Market Movers | Trading Dashboard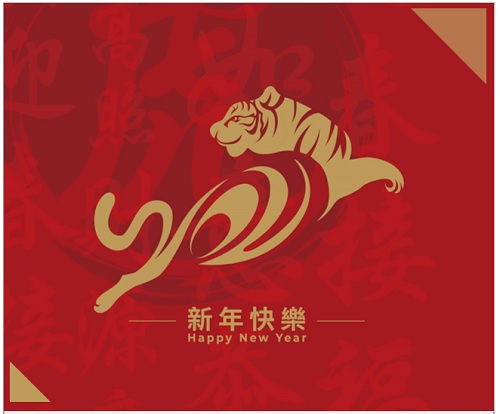 IPO PERFORMANCE
Singapore SPACs: Dragged by the Fed
Novo Tellus Alpha Acquisition (NTAA) closed 2% lower at S$4.90, below the theoretical minimum price of S$5.0 that SG SPACs should trade at.
The weaker-than-expected performance was likely due to the overall sell-off in the technology space over concerns of rising interest rates. Shares of SGX-listed technology-related names have declined between 12% and 26% since the start of the year.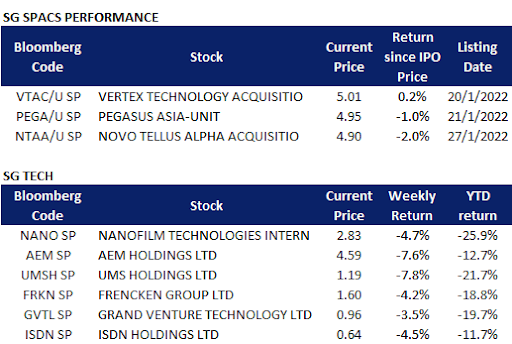 ---
SINGAPORE
Frencken Group (FRKN SP): Cheap enough
BUY Entry – 1.55 Target – 1.80 Stop Loss – 1.45
FRKN is a technology manufacturer providing end-to-end solutions to global clients including ASML (semiconductor), Philips (medical), Siemens (medical), FEI (analytical), Seagate (industrial automation) and ThermoFisher (analytical).
Share price correction overdone. Shares of FRKN have dropped around 40% since peaking at S$2.52 in mid-September. We think the selling is overdone. While we acknowledge one key reason for FRKN's share price weakness is due to margin pressure due to higher freight and component costs, we expect the pressure to ease as the company adjusts towards higher value added projects heading into 2022.
Positive surprise from Seagate. Last week, Seagate, Frencken's key industrial automation client, reported a better-than-expected quarterly profit and provided revenue and earnings forecasts that were expected to grow in 2022. Seagate's CEO believes that hard-disk drives will remain a critical enabling technology as data management continues to grow.
Consensus estimates are positive. There are 5 BUYS and an average TP of S$2.38, implying a 49% potential upside. Valuations are now cheap at 11x and 10x FY2021 and FY2022 EPS, a 33% discount to SG-listed technology manufacturing peers.
Peer comparison of Singapore-listed technology manufacturers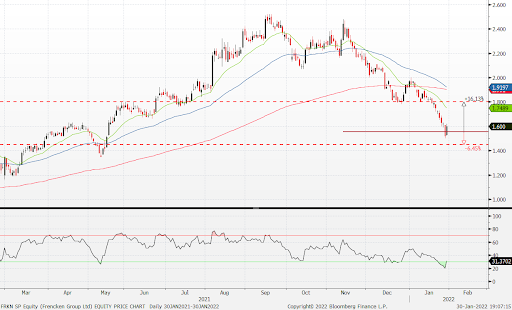 ---
Sembcorp Industries (SCI SP): Don't be mean, be green
RE-ITERATE BUY Entry – 2.15 Target – 2.50 Stop Loss – 2.00
SCI is a leading provider of sustainable solutions in Asia. The group has a target for its sustainable solutions portfolio to make up 70% of the group's net profit by 2025, up from 40% in 2020. What this means is that the group targets to achieve a 30% CAGR for its renewable energy portfolio by 2025, and for gross installed renewable energy capacity to increase from 2.6GW at the end of 2020, to 10GW by 2025.
The only green play in town. SCI is the only pure-play green energy stock listed in Singapore. The group generates 56% of 2020 profits from Gas & Thermal power, 29% from Waters & Others, and 15% from Renewable power. In terms of geographical focus, 29% of net profit is contributed from China, 27% from Singapore and the rest of Southeast Asia, and 27% from India.
Market leader. SCI is a leading renewables player in Singapore with about 280MWp of solar capacity. The group offers the full suite of solutions including ground-mounted, rooftop and floating solar PV systems. In India, SCI achieved the highest wind capacity under self-operations of any independent power producer in the country.
Positive consensus estimates. Analysts are generally bullish on the stock with 9 BUYS and 2 HOLD recommendations. There is a 12m TP of S$2.62 which implies a 19% total return from the last close price. Valuations are decent at around 1.0x FY2022F P/B against a forecasted 10.5% FY2022F ROE.
SCI's path to a sustainable future by 2025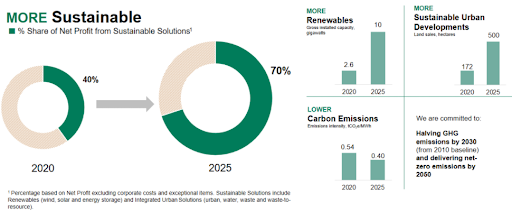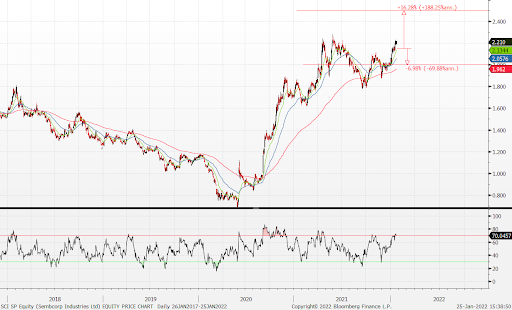 ---
HONG KONG
Alibaba Group Holding Ltd (9988 HK): Upcoming 4Q21 result is the watershed event
RE-ITERATE BUY Entry – 100 Target – 125 Stop Loss – 90
Alibaba Group Holding Ltd is a holding company that provides the technology infrastructure and marketing reach to help merchants, brands and other businesses to leverage the power of new technology to engage with users and customers to operate. The Company operates four business segments. The Core Commerce segment provides China retail, China wholesale, International retail, International wholesale, Cainiao logistics services and local consumer services through Taobao Marketplace and Tmall. The Cloud Computing segment provides complete suite of cloud services, including database, storage, network virtualization services, big data analytics and others. The Digital Media and Entertainment segment provides consumer services beyond the core business operations. The Innovation Initiatives and Others segment is to innovate and deliver new services and products.
Headwinds or noises. The recent negative news for the e-commerce giant was that the US government has started reviewing its cloud business to determine whether it poses a risk to US national security. However, Alibaba's cloud services are mainly located in China. Given that US financial institutions have substantial holdings in the company, the US government is not expected to impose sanctions on Alibaba or put it in the entity list.
Technology re-rating amidst the rate hike cycle. The worst start of 2022 for the US market was driven by the Federal Reserve's more aggressive than expected rate hike and balance sheet reduction. Technology companies' shares have been hammered and under selling pressure. However, Chinese technology peers have already re-rated due to policy and geopolitical risks. Comparatively, Chinese companies are less impacted from the sell-off given that downside is limited. YTD, China has recorded more ETF fund inflows than the US.
Growth is the anchor for valuation. Investors have been averaging down into BABA's shares since its downturn in 2021 given cheap valuations. We use PEG as a simple valuation metric. Based on Bloomberg estimates, BABA EPS is expected to drop by 20.64% YoY in FY22 and rebound by 13.0% YoY in FY23. Its FY23F PER is at 12.35x. The PEG is about 0.95x, which is lower than the US big tech giants' averages of between 1.0x and 2.0x.
Updated market consensus of the EPS growth in FY22/23 are -20.64%/12.99% YoY respectively, which translates to 14.0x/12.4x forward PE. Current PER is 16.8x. Bloomberg consensus average 12-month target price is HK$190.72.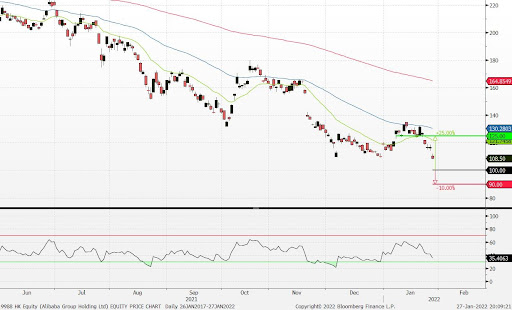 ---
Ganfeng Lithium Co Ltd (1772 HK): A stock with both growth and inflation-hedge features
RE-ITERATE BUY Entry – 118 Target – 140 Stop Loss – 108
GANFENG LITHIUM CO., LTD. is a China-based company principally engaged in the research, development, production and sales of deeply processed lithium products. The Company's main products include lithium compounds, lithium metal and lithium batteries. The Company's products are mainly used in electrical vehicles, chemicals and pharmaceuticals. The Company distributes its products in the domestic market and to overseas markets.
Lithium carbonate reached another record high. Lithium carbonate prices in China rose to RMB358,500/tonne as of 25th January due to high global demand and tight supplies. Prices have jumped more than 25% YTD. China is expected to double the EV sales in 2022 to more than 5mn units. Meanwhile, battery producers rush to secure long-term supply contracts with lithium mining companies.
Lithium carbonate prices in China reached another record high (RMB/tonne)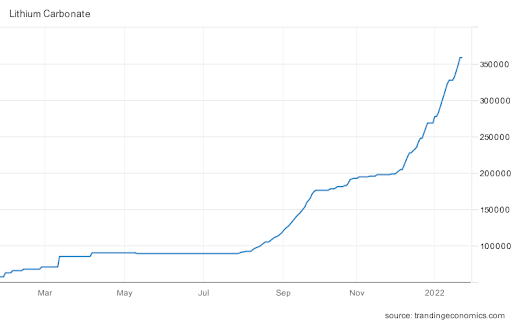 Positive FY21 earnings alert. The company announced the FY21 earnings alert. Net profit attributable to shareholders of the company jumped by between 368.45% and 436.76% YoY to between RMB4.8bn to RMB5.5bn. Net profit after deduction of non-recurring gains and losses jumped by between 621% and 795.04% YoY to between RMB2.9bn and RMB3.6bn.
Technical breakout from the recent consolidation base. Share price has corrected by 41% from the peak of HK$185 in August 2021 to the low of HK$109 in December 2021. Driven by the positive earnings guidance, shares just broke out the consolidation of around HK$115 amidst the overall market downturn.
Updated market consensus of the EPS growth in FY22/23 is 67.1%/20.6% YoY respectively, which translates to 23.6x/19.6x forward PE. Current PER is 44.3x. Bloomberg consensus average 12-month target price is HK$203.37.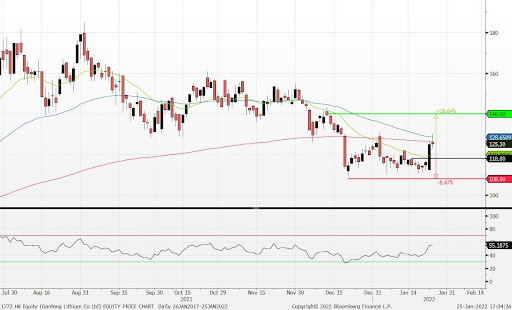 ---
MARKET MOVERS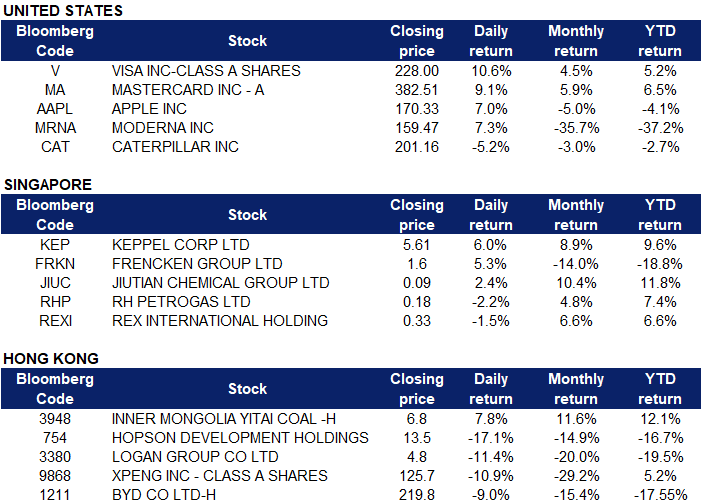 ---
United States
Top Sector Gainers
Top Sector Losers
Visa Inc (V US) shares surged 10.6% on Friday, after the payments giant delivered an earnings report that offered a confident view on the prospects for a continued rebound in travel spending. Visa reported sales of $7.1 billion in its 2022 fiscal first quarter, topping estimates by 3.9%, according to FactSet. Earnings per share of $1.81 beat the consensus estimate of $1.70 by 6.3%. Investors are feeling increasingly upbeat about Visa as the company's earnings report and commentary from late Thursday signalled momentum around cross-border travel, which has been depressed due to pandemic-related restrictions. Fellow payment giant, Mastercard Inc (MA US) enjoyed a boost on Friday as well, gaining 9.1%.
Moderna Inc (MRNA US) shares gained 7.3% after the company announced that it has begun clinical trials of a booster dose of vaccine designed specifically to combat the Omicron variant of the coronavirus. Moderna's statement came the day after rivals Pfizer and BioNTech said they had begun enrollment for a clinical trial for an Omicron-specific vaccine.
Apple Inc (AAPL US) shares gained 7% on Friday after the iPhone maker reported blockbuster results and teased its metaverse ambitions, holding out against a rout in technology and growth stocks from the start of this year. At least 11 brokerages raised their price targets for the stock, bringing the median price target to US$188.5, according to Refinitiv data. Apple also teased its metaverse ambitions as Chief Executive Tim Cook talked of the company investing in the expansion of its library of 14,000 augmented reality apps, prompting strong investor response.
Caterpillar Inc (CAT US) shares declined 5.2% on Friday. Revenue rose 22.8% to $13.80 billion, well above the FactSet consensus of $13.17, as sales for all three primary businesses rose above forecasts. Adjusted earnings per share rose to $2.69 from $2.12 to beat the FactSet consensus of $2.26. However, cost of goods sold grew faster than sales, by 28.5%, to $10.00 billion and total operating costs increased 23.7% to $12.19 billion. Chief Financial Officer Andrew Bonfield followed by saying that while he believes the margin pressures are temporary, he expects them to get worse in the short term before gradually getting better as supply chain constraints fade.
---
Singapore
Keppel Corp Ltd (KEP SP) shares surged 6% on Friday. Full-year earnings at Keppel Corporation exceeded the S$1bn mark for the first time in six years after a robust performance from all the group's business segments. Earnings came in at S$1.02bn for the 12 months to Dec 31, 2021, reversing losses of S$506mn in 2020. As a result, Keppel is proposing a final dividend of 21 Sing cents per share, taking total dividends for 2021 to 33 Sing cents per share.
Frencken Group Ltd (FRKN SP) shares gained 5.3% on Friday. The company announced that it entered into a sale and purchase agreement (SPA) to acquire a 50% stake in Malaysian company Penchem Technologies for RM15.6mn. Frencken has also simultaneously entered into a subscription agreement with Penchem to subscribe for 10,058 shares, or 1.92% of the ordinary shares of Penchem. The subscription price for these shares was RM0.6mn.
Jiutian Chemical Ltd (JIUC SP) shares gained 2.4% on Friday. Recently, CGS-CIMB announced that ahead of its full-year results in February, Jiutian Chemical Group may report a "blowout quarter", says CGS-CIMB Research analysts Kenneth Tan and Ong Khang Chuen. In a Jan 19 note, Tan and Ong are maintaining "add" on Jiutian, with a raised target price of 15 Sing cents, up from 14 Sing cents previously. "We believe 4QFY2021F was the strongest quarter in Jiutian's operating history, on the back of stronger profit spread from higher average selling prices (ASPs), and optimal utilisation of production capacity," write the analysts.
RH Petrogas Ltd (RHP SG) and Rex International Holdings Ltd (REXI SP) shares declined 2.2% and 1.5% respectively yesterday. WTI crude futures held near US$87 per barrel on Friday after retreating from a 7-year high of US$88.54 in the previous session, while Brent crude futures held near US$90 per barrel on Friday after retreating from a 7-year high of US$91.04 in the previous session. However, prices were still set for their sixth weekly gain as supply tightness and a policy of moderate output increases from major producers kept oil prices elevated. Oil prices have also gained about 15% since the start of the year as geopolitical tensions in Eastern Europe involving Russia, the second-largest oil producer and a key natural gas provider to Europe, and in the Middle East stoked fears of supply disruptions.
---
Hong Kong
Top Sector Gainers
Top Sector Losers
Inner Mongolia Yitai Coal Company Ltd (3948 HK) shares gained 7.8% on Friday. The company announced yesterday that for the fourth quarter ended December 31, 2021, the company's coal production was 12.3331mn tons, a YoY increase of 4.62%, while revenue generated was RMB 14.695bn, a YoY increase of 89.81%.
Hopson Development Holdings Ltd (754 HK) Shares plunged 17.1% on Friday after announcing that its auditor PricewaterhouseCoopers resigned after receiving insufficient information to complete auditing procedures.Earlier this week, China Aoyuan Group Ltd. said Deloitte Touche Tohmatsu Ltd. resigned as an auditor for the company. They were unable to reach a consensus on the audit fee partly because of additional procedures needed in light of the firm's liquidity issues, it said. Shimao Group Holdings Ltd.'s onshore unit also announced it would change its auditor for the first time in 27 years.
Logan Group Company Limited (3380 HK) shares plunged 11.4% on Friday, extending losses from the previous trading session. The company announced that it issued a convertible bond worth HK$1.95bn. The expiry of the bond is on 4th August 2026, and the coupon rate is 6.95%. The initial conversion price is HK$7.25. Even though it successfully secured financing amidst weak market sentiment, the cost is higher than the previous bond issued half a year ago with a coupon rate of 4.7%. The recent issuance of CMBS also had a lower coupon rate of 5.2%. On Friday, Standard & Poor's placed Logan's "BB" long-term issuer credit rating and the "BB-" long-term issue rating of its outstanding senior unsecured notes on its negative impact credit watch list.
Xpeng Inc (9868 HK), BYD Company Ltd (1211 HK). China EV stocks fell collectively on Friday, with shares declining 10.9% and 9% respectively. UBS noted that Chinese automakers, including pure EV makers, are mostly in net cash positions, hence changes in RMB interest rates will not affect corporate earnings much. However, if Chinese automakers are listed in HK or the US., where foreign investors use USD as their investment currency, changes in the long-term interest rate of the U.S. may impact the intrinsic value of Chinese automakers considerably.
---
Trading Dashboard
Trading Dashboard Update: Add Rex International (REXI SP) at S$0.325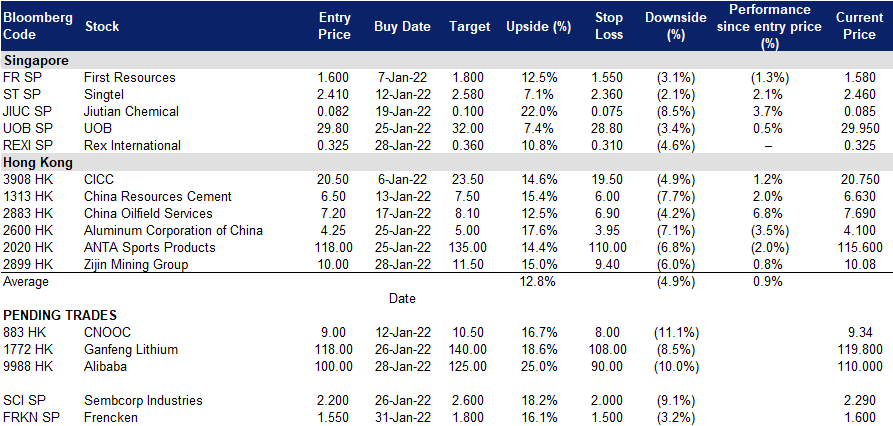 (Click to enlarge image)
---