30 November 2022: Banyan Tree Holdings Ltd (BTH SP), Ping An Insurance (Group) Company of China, Ltd (2318 HK)
Singapore Trading Ideas | Hong Kong Trading Ideas | Market Movers | Trading Dashboard
Banyan Tree Holdings Ltd (BTH SP): Strong traveling demand
Banyan Tree Holdings Ltd is a global hospitality group that has grown in its roots in Southeast Asia and is currently operating in 23 countries. The group's headquarters is in Singapore, allowing it to have easy access to the majority of its properties located in Southeast Asia. BTH currently manages over 60 hotels and plans to continue expanding, with this number being forecasted to increase to 109 hotels in 2025. Among its holdings, Thailand and Maldives are the most prominent.
Pent-up demand. As the pandemic measures begin to ease globally, we expect tourism rates to return to the pre-covid numbers or even higher. The global hotel industry continues to navigate challenges stemming from the pandemic as well as more recent headwinds from labour shortages, inflation, and geopolitical concerns. The hotel business has been recovering smoothly as more countries gradually open their borders for cross-border travel.
Focus on wellness. With wellness being an important brand value for BTH since its inception, BTH differentiates itself from its competitors by focusing on well-being of its associates and guests. Last year, the company launched Wellbeing Sanctuaries, combining club floors or resort wings, dedicated dining options, spas, and multifunctional practice spaces into an exclusive journey. All the executive club floors have been converted into well-being sanctuaries.
Expansion. Instead of conforming to the norm of expanding the ecosystem by going upscale, most of Banyan Tree's new brands are in the mid-tier segments of the market. In response to the emerging markets of Asia exploding post-covid, BTH now is focusing on regional and midscale tourism; it unveils new concept hotels that will diversify its portfolio of guests, appealing more to current travellers, millennials. Most of the new moderately priced sub-brands will initially focus on Asia, taking advantage of the undersupply in the region.
1H22 results. Banyan Tree's revenue more than doubled to S$119 million. Operating Profit achieved S$26 million vs previous loss of S$16 million.
Technical TP of S$0.305; fundamental TP of S$0.400. While we have a technical TP of S$0.305 based on short-term technical factors, we initiated a coverage with a fundamentals-based TP of S$0.400. Our fundamental TP is based on 1.24x FY23F P/S as we expect FY22 earnings to improve due to the slow recovery and reopening of the industry. Read the full fundamentals-based report here.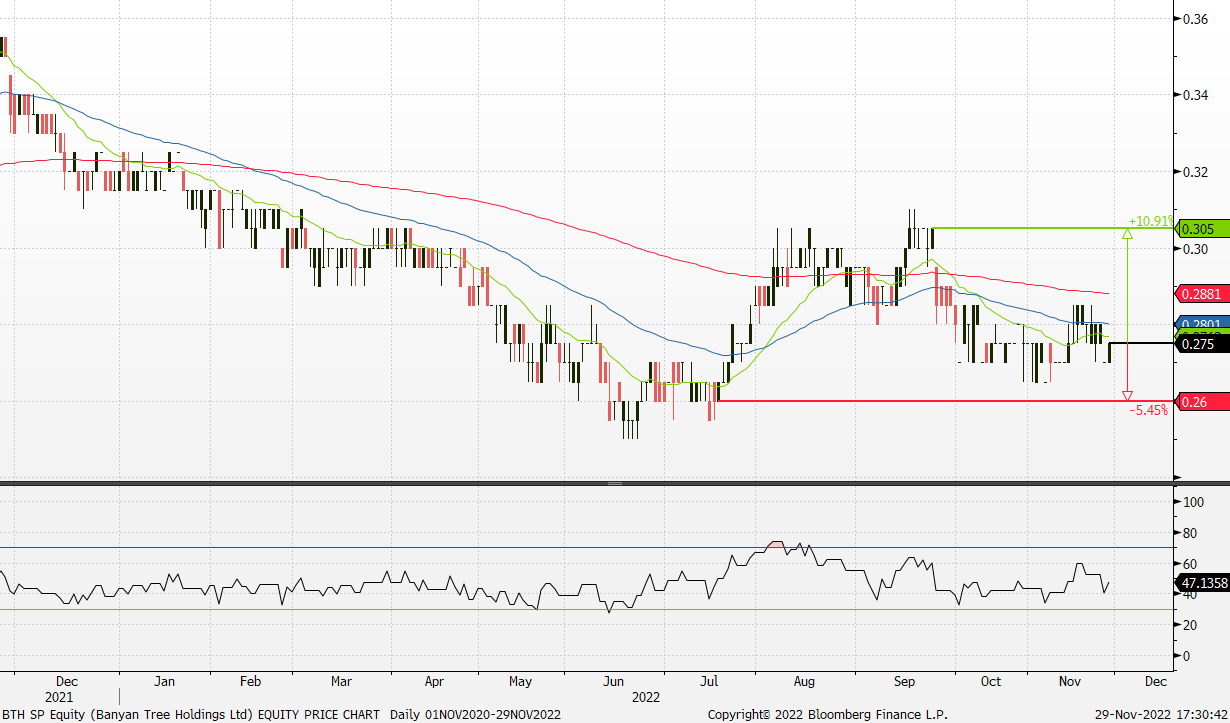 (Source: Bloomberg)

Raffles Medical Group Ltd (RFMD SP): Travellers are back
Raffles Medical Group is a leading integrated private healthcare provider in the region, operating medical facilities in thirteen cities in Singapore, China, Japan, Vietnam and Cambodia. The Group is the first Asian member of the Mayo Clinic Care Network. RafflesMedical clinics form one of the largest networks of private family medicine centres in Singapore. RafflesHospital, the flagship of Raffles Medical Group, is a private tertiary hospital located in the heart of Singapore offering a wide range of specialist medical and diagnostic services for both inpatients and outpatients.
Covid-19. Raffles Medical is still benefitting from being the largest Covid-19 service provider in Singapore. Even though the Covid-19 initiatives in the community have been reduced, they may still benefit from their partnership with the Ministry of Health on the Emergency Care Collaboration programme, with the recent bed crunch in public hospitals due to the Omicron XBB wave. Additionally, when China reopens, it will be able to serve more people in its medical facilities located in China.
Pent-up demand. Singapore's international visitor arrivals have been rising since the start of the pandemic, some of these tourists come to Singapore to receive treatment at Raffles Medical. The group will benefit from the recovery of elective procedures and the return of medical tourism, which will offset some tapering of Covid-19-related services. Furthermore, outpatient volumes at its general practitioner clinics have already surpassed pre-pandemic levels amid the ongoing wave of Covid-19 infections driven by the Omicron XBB sub-variant.
3Q22 results. Raffles Medical reported strong 3Q results ended in September, with a net profit growth of S$98.2 million, up 57.3% YoY. For the period, revenue grew 6.5% YoY to S$199.5 million while net profit surged by 62.1% YoY to S$38.3 million.
Updated market consensus of the EPS growth in FY22/23 is 29.4%/-8.0% YoY respectively, which translates to 22.9x/25.1x forward PE. Current PER is 23.8x. Bloomberg consensus average 12-month target price is S$1.61.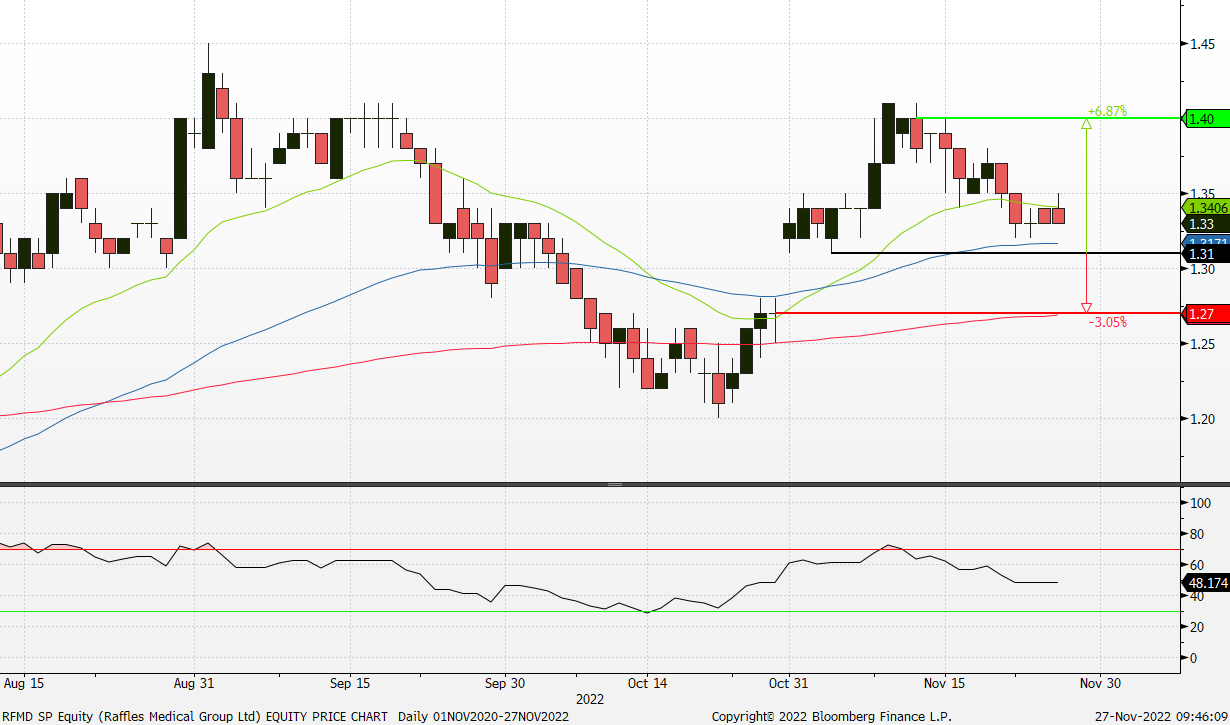 (Source: Bloomberg)


Ping An Insurance (Group) Company of China, Ltd (2318 HK): Some relieves for property developers
Buy Entry – 45.0 Target – 52.0 Stop Loss – 41.5
Ping An Insurance (Group) Company of China, Ltd. is a personal financial services provider. The Company provides insurance, banking, investment, and Internet finance products and services. The Company operates its businesses through four segments. The Insurance segment provides life insurance and property insurance, including term, whole-life, endowment, annuity, automobile and health insurance. The Banking segment is engaged in loan and intermediary businesses with corporate customers and retail business. The Assets management segment is engaged in security, trust and other assets management businesses, including investment, brokerage, trading and asset management services. The Internet Financing segment is engaged in the provision of Internet finance products and services.
Reopen gateways for developers to finance. On November 28th, China's securities regulator lifted a ban on equity refinancing for listed firms, allowing eligible listed developers to issue shares to buy property-related assets, replenish working capital or repay debts. Meanwhile, the authority will promote developer financing through the listing of qualified projects via real estate investment trusts (Reits), and will encourage the setting up of property-focused private equity funds. The measures will give some room for developers to solve the near-term liquidity crunch and reduce defaults on borrowings.
Another 25bps of RRR cut. Last week, The People's Bank of China announced that it will cut the reserve requirement ratio for most banks by 25bps, effective on December 5th. There will be RMB500bn injected into the economy. This was the second time of RRR cut this year. The general year-end liquidity crunch is expected to be mitigated to some extent.
9M22 earnings review. Total revenue declined by 3.2% YoY to RMB952.7bn in 9M22. Operating profit attributable to shareholders of the parent company rose 3.8% YoY to RMB123.3bn. Profit attributable to the parent declined by 6.34% YoY to RMB76.5bn. Total premium income rose by 3.6% YoY to RMB587.5bn.
The updated market consensus of the EPS growth in FY22/23/24 is -0.3%/29.5%/14.2% YoY respectively, translating to 7.5×/5.8x/5.1x forward PE. The current PER is 7.8x. Bloomberg consensus average 12-month target price is HK$64.79.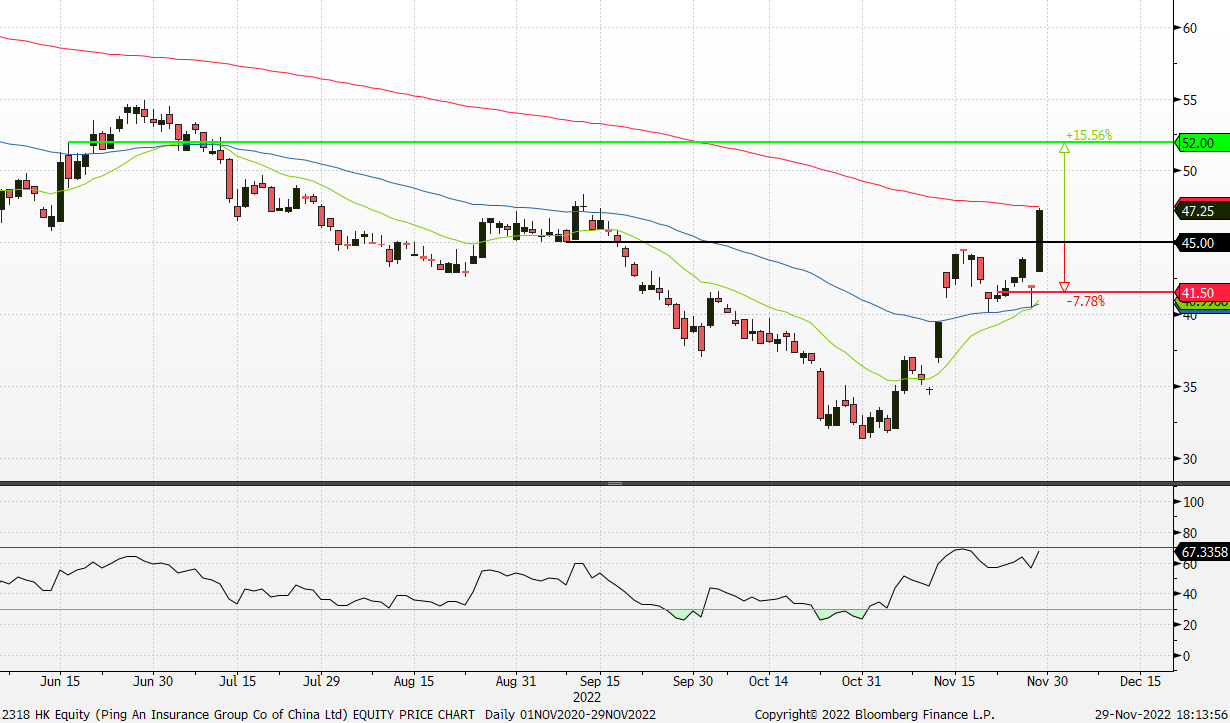 (Source: Bloomberg)

Samsonite International S.A. (1910 HK): Expecting a year-end rally during the holiday season
RE-ITERATE Buy Entry – 18.5 Target – 20.5 Stop Loss – 17.5
Samsonite International S.A. is a Hong Kong-based company principally engaged in the design, manufacture, sourcing and distribution of luggages, business and computer bags, outdoor and casual bags, travel accessories and slim protective cases for personal electronic devices. The Company operates its business through three segments. The Travel Bag segment is engaged in travel products with suitcases and carry-ons of three main categories, including hard-side, soft-side and hybrid luggages. The Casual Bags segment is engaged in daily use, including different types of backpacks, female and male shoulder bags and wheeled duffel bags. The Business Bags segment is engaged in business use, including rolling mobile office bags, briefcases and computer bags.
Global tourism to continue to recover in 2023. According to the Economist Intelligence Unit Tourism in 2023 report, the global tourism arrivals will increase by 30% YoY in 2023, following growth of 60% YoY in 2022, but will remain below pre-COVID levels. Meanwhile, EIU also expects international arrivals to recover back to 2019 levels in 2024.
3Q22 results review. Net sales jumped by 42.0% (+54.7% constant currency) YoY to US$790.9mn. Operating profit jumped by 140% YoY to US$121.8mn. Profit attributable to the equity shareholders arrived at US$58.2mn in 3Q22 compared to a loss of US$5.2mn in 3Q21. The turnaround of the business and financials was due mainly to the effects of the COVID-19 pandemic on demand for the Group's products moderated in most countries due to the continued rollout and effectiveness of vaccines leading governments in many countries to further loosen socialdistancing, travel and other restrictions, which has led to the continuing recovery in travel. However, the Chinese government reinstated travel restrictions and social distancing measures in an effort to combat further outbreaks of COVID-19, which has slowed the Group's net sales recovery in China.
The updated market consensus of the EPS growth in FY22/23/24 is 1,300%/38.7%/18.5% YoY respectively, translating to 17.4×/12.6x/10.6x forward PE. The current PER is 10.5x. Bloomberg consensus average 12-month target price is HK$27.24.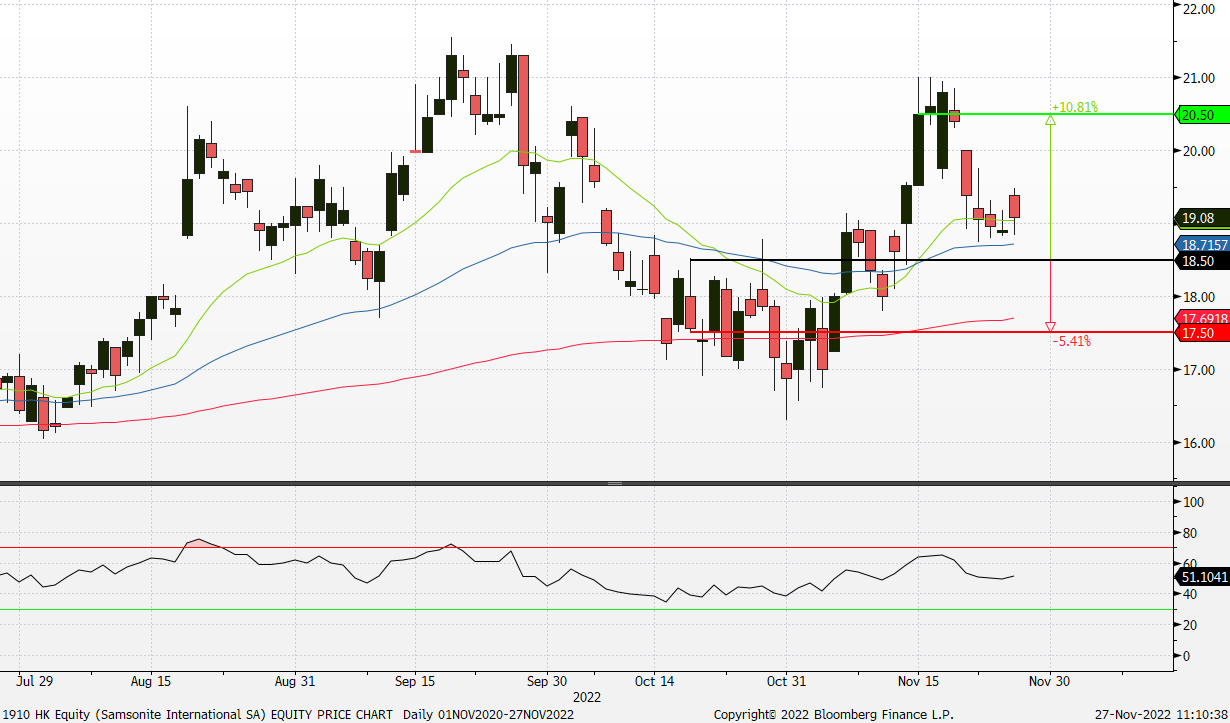 United States
Top Sector Gainers
Top Sector Losers
Hong Kong
Top Sector Gainers
Top Sector Losers


Trading Dashboard Update: Add Genting Singapore (GENS SP) at S$0.85, Raffles Medical Group (RFMD SP) at S$1.31, Jiangxi Copper (358 HK) at HK$10.5, and Samsonite International (1910 HK) at HK$18.5.