30 May 2022: The Hour Glass (HG SP), Samsonite International S.A. (1910 HK)
Singapore Trading Ideas | Hong Kong Trading Ideas | Market Movers | Trading Dashboard

The Hour Glass (HG SP): More tourists to visit Singapore
BUY Entry – 2.30 Target – 2.55 Stop Loss – 2.20
The Hour Glass Limited is a specialty luxury watch retail group with multi-brand and standalone boutiques in the Asia Pacific Region. The group also owns Watches of Switzerland, a watch retail chain in Singapore that deals in mid-tier to high-end Swiss timepieces.
Stellar 2H22 results. The company announced its 2H22 results (YE March). Revenue increased by 23.8% YoY to S$561mn. Net profit attributable to the company shareholders jumped by 75% YoY to S$92.1mn. The company proposed a final dividend of 6 SG cents for the full FY22.
Benefiting from the in-time reopening. Singapore has eased travelling restrictions since March. According to the Singapore Tourism Analytics Network, the number of visitor arrivals significantly improve in April, reflecting the onset of recovery of tourism. Therefore, we expect the ongoing recovery of tourism to uphold the upbeat outlook of the company.
Visitor Arrivals (VA) YoY Trends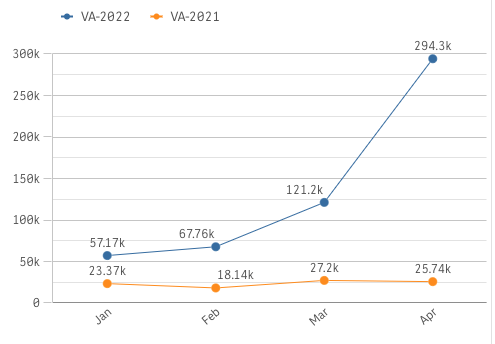 Source: Singapore Tourism Analytics Network
Asia's road to recovery. Geographically, Southeast Asia and Oceania (Australia and New Zealand) contribute over 80% to the company's total revenue. Singapore registered strong growth in consumer spending power despite the ongoing pandemic, evident from the retail sales index for watches and jewellery maintaining at pre-covid level in March 2022. Thailand and Malaysia on the other hand, are expected to catch up in 2022 with the reopening of foreign borders.
Technical buy TP of S$2.55 and a fundamental outperform rating with a TP of S$2.32. Our TP is based on a discounted cash flow, taking into account a WACC rate of 10.5% and terminal growth rate of 2%. The last closing price was above our TP, and we will give an update accordingly. Read our previous fundamental report here.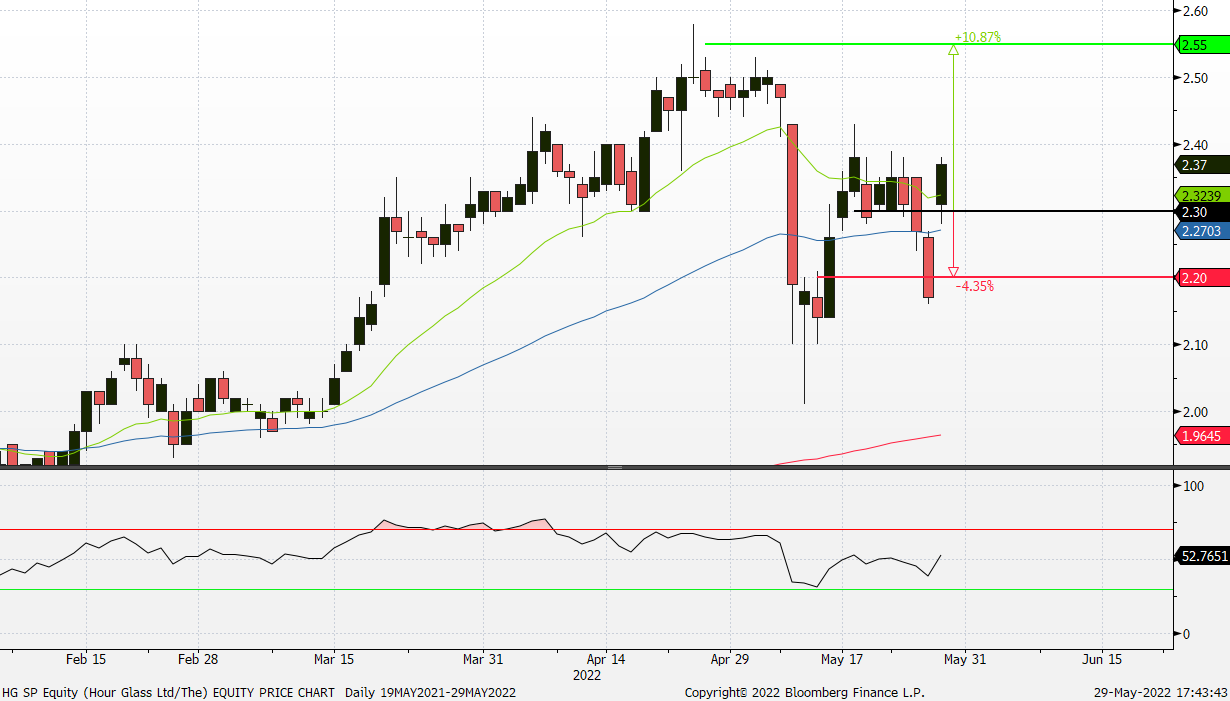 (Source: Bloomberg)

Singtel Ltd (ST SP): FY22 earnings expected to outshine FY21
Singtel provides an extensive range of telecommunications and digital services to consumers and businesses across Asia, Australia, Africa and the US. It serves over 753 million mobile customers in 21 countries, including Singapore, Australia (via wholly-owned subsidiary Singtel Optus) and the emerging markets of India, Indonesia, the Philippines, Thailand and Africa.
Earnings preview. Singtel is expected to post an underlying net profit of S$2.20 bn for the fiscal year ended 31 March 2022, according to a FactSet compilation of analysts' estimates. That compares with an underlying net profit of S$1.73 bn a year earlier, when it took massive non-cash impairment charges on its investments in two of its units. Revenue is forecasted at S$15.86 billion, according to analysts. That compares with revenue of S$15.64 billion a year earlier. Based on Singtel's earlier announcements, its reported 2HFY22 results may be boosted by gains on the sale of its 70% stake in Australia Tower Network of $538 million and 1.6% stake in Airtel Africa of $34 million. The market will likely focus on developments relating to its digital banking license in Malaysia, after the country's central bank awarded a digital banking license to a joint venture between Singtel and Grab Holdings Ltd. in late April.
Singtel will be announcing its results for the second half and financial year ended 31 March 2022 on 27 May 2022, before the start of trading on the Singapore Exchange.
Rumoured Bharti Airtel stake sale. Yesterday, Business Times reported that Singtel has initiated talks with Bharti Airtel chairman Sunil Mittal, to potentially sell a "small" part of its holding in the Indian telco to the Mittal family. The transaction could be worth about US$1-2 billion through a mix of both Bharti Telecom and Bharti Airtel shares – although the quantum and details of the transaction have yet to be worked out. Selling US$1 billion of Bharti Airtel shares is estimated by the Indian daily to reduce Singtel's holding by close to 2%, to less than 30%, while divesting shares worth US$2 billion would reduce Singtel's holding by 4%.
Positive street view. Consensus has an overall positive outlook on Singtel, with 16 BUYS, 2 HOLDS, 0 SELL, and a 12m TP of S$3.13, implying an upside of 14.7% as of 26 May 2022.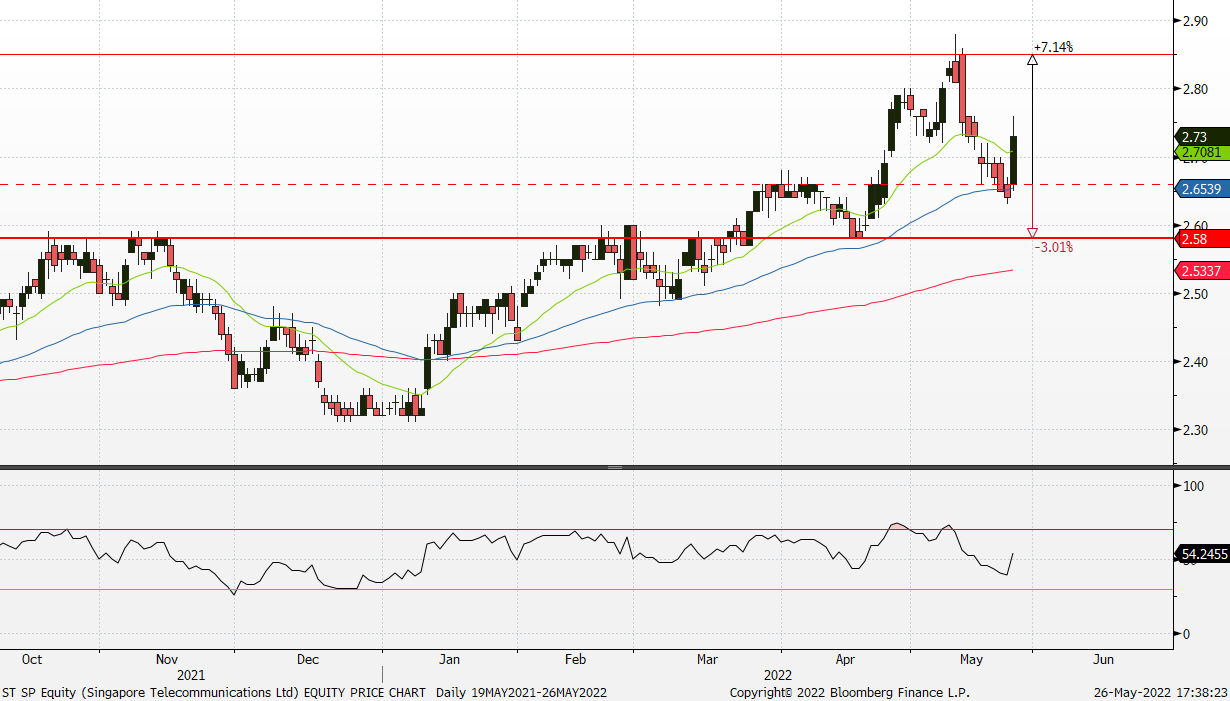 Samsonite International S.A. (1910 HK): Summer vacation is coming
Buy Entry – 17 Target – 19 Stop Loss – 16
Trip.com Group Limited, formerly Ctrip.com International, Ltd., is a travel service provider in China that provides accommodation booking, transportation ticketing, package tours and corporate travel management. The company aggregates hotel and transportation information to help leisure and business travellers make reservations. The company helps leisure travellers book travel packages and guided tours and helps corporate clients manage their travel needs. The company also offers a range of travel-related services to meet the different booking and travel needs of leisure and business travellers, including visitor reviews, attraction tickets, travel-related financial services, car services, travel insurance services and passport services. The company also offers package tours for independent leisure travellers, including tour groups, semi-tour groups and private groups, as well as package tours that require different transportation arrangements (such as cruise, buses or self-driving).
1Q22 results review. Net sales jumped by 67.7% YoY to US$576.6mn. Operating profit arrived at US$58.1mn compared to a loss of US$47mn during the same period last year. Profit attributable to the equity shareholders arrived at US$16.4mn in 1Q22 compared to a loss of US$72.7mn in 1Q21. The effects of the COVID-19 pandemic on demand for the company's products moderated due to the continued rollout and effectiveness of vaccines leading governments in many countries to further loosen social-distancing, travel and other restrictions, which has led to the continuing recovery in travel.
Further recovery in the tourism sector. According to the IATA, the global economics air passenger traffic will continue to recover, indicating an enhancement in tourism. On average, the industry-wide air traffic volume will reach 83% of the 2019 level in 2022 compared to 47% of the pre-COVID level in 2021.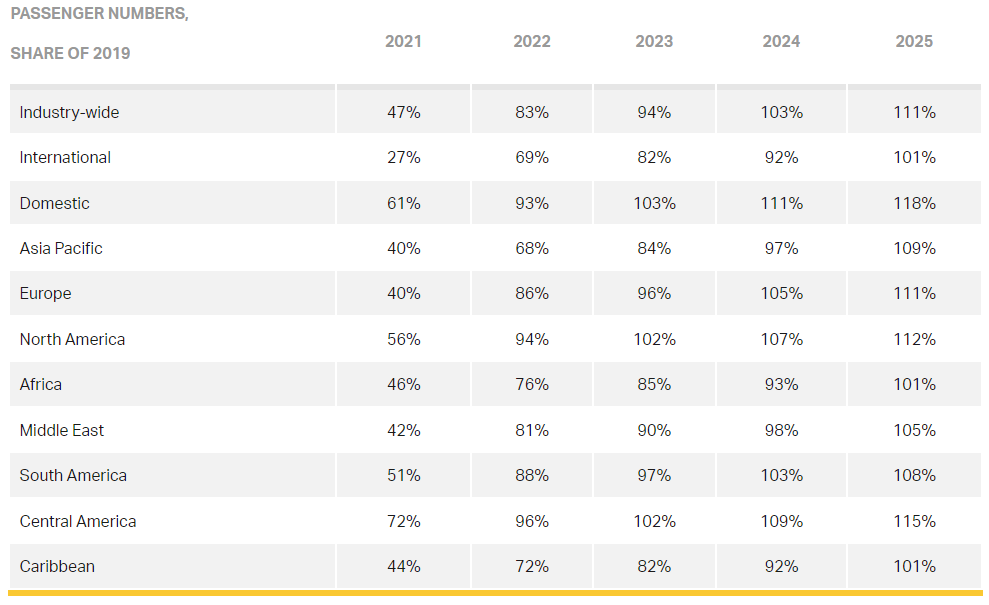 The updated market consensus of the EPS growth in FY22/23 is 1,214%/37.0% YoY, respectively, translating to 16.5×/12.0x forward PE. The current PER is 30.3x. Bloomberg consensus average 12-month target price is HK$22.54.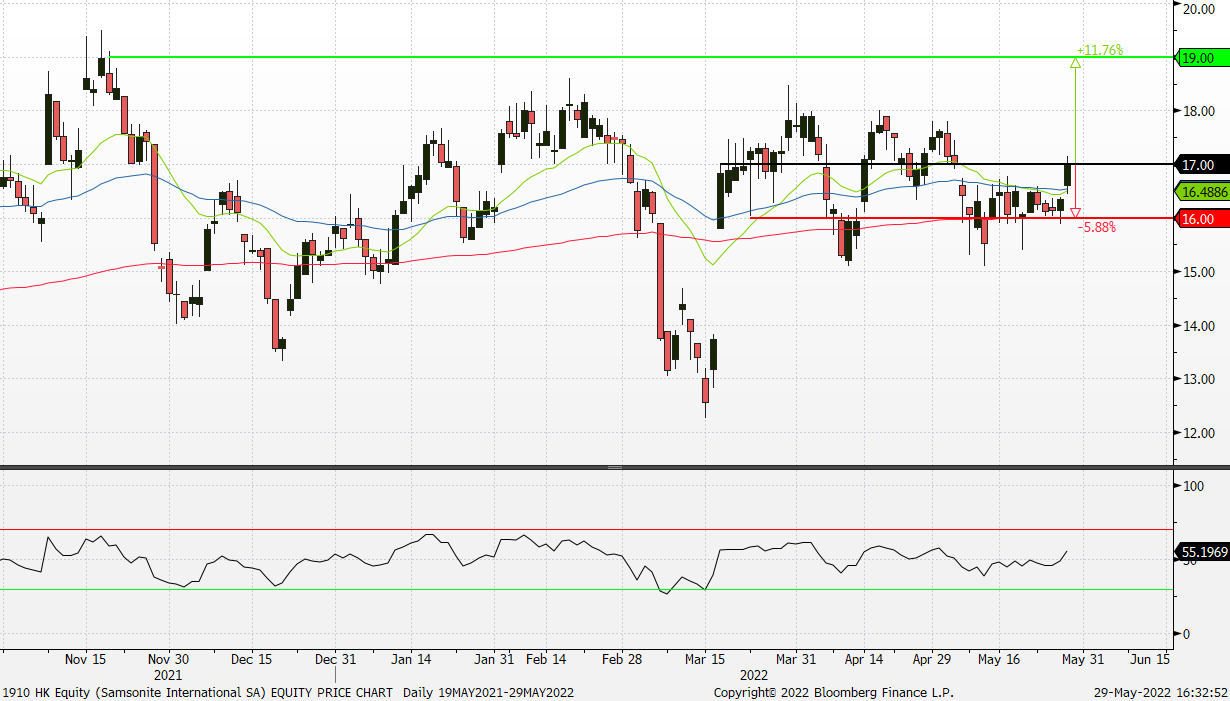 (Source: Bloomberg)

China Oilfield Services Limited (2883 HK): An oil E&P value play
RE-ITEREATE Buy Entry – 8.6 Target – 9.5 Stop Loss – 8.2
China Oilfield Services Limited is a comprehensive oilfield service provider. The Company mainly operates through four business segments. The Drilling Services segment is mainly engaged in the provision of oilfield drilling services. The Oil Field Technical Services segment is mainly engaged in the provision of oilfield technical services, including the logging, drilling fluids and directional drilling services. The Geophysical and Engineering Exploration Services segment is mainly engaged in the provision of seismic prospecting and engineering exploration services. The Marine Support Services segment is engaged in the transportation of supplies, including the delivery of crude oil, as well as refined oil and gas products. The Company mainly operates its businesses in domestic and overseas markets.
1Q22 results review. Gross revenue grew by 15.2% YoY to RMB6.8bn. Gross profit grew by 10.8% YoY to RMB733.7mn. Net profit attributable to shareholders of the company jumped by 67.7% YoY RMB303.8mn. Net profit excluding non-recurring gain and loss attributable to shareholders of the company jumped by 76.5% YoY to RMB266.7mn.
Key operations highlights.
Expecting ongoing crude supply tightness. The EU continued to haggle with Hungary over plans to ban oil imports from Russia. Meanwhile, the European Council was confident to reach an agreement on the EU embargo on Russian oil before the council's next meeting on May 30. President Joe Biden's envoy for Iran said Wednesday the prospects of reviving the 2015 Iran nuclear deal were "tenuous" at best. The US also imposed sanctions on what it described as a Russian-backed oil smuggling and money laundering network for Iran's Revolutionary Guards' Quds Force. The geopolitical headwinds intensified the concerns over supply tightness moving forward. Brent and WTI slightly edged up to above US$114/bbl and US$110/bbl respectively on Thursday during the Asian hours.
Mean reversion of capex. During 2020/21, the global integrated oil companies trimmed the capex of the exploration and production substantially. However, market analysts expect the capex to surge by 36.6% YoY to US$52.4bn in 2022. The performance of the exploration sector still lags behind the one of the production sector currently, but it will catch up eventually.
Updated market consensus of the EPS growth in FY22/23 is 896.5%/19.4% YoY respectively, which translates to11.4x/9.6x forward PE. The current PER is 82.4x. Bloomberg consensus average 12-month target price is HK$10.99.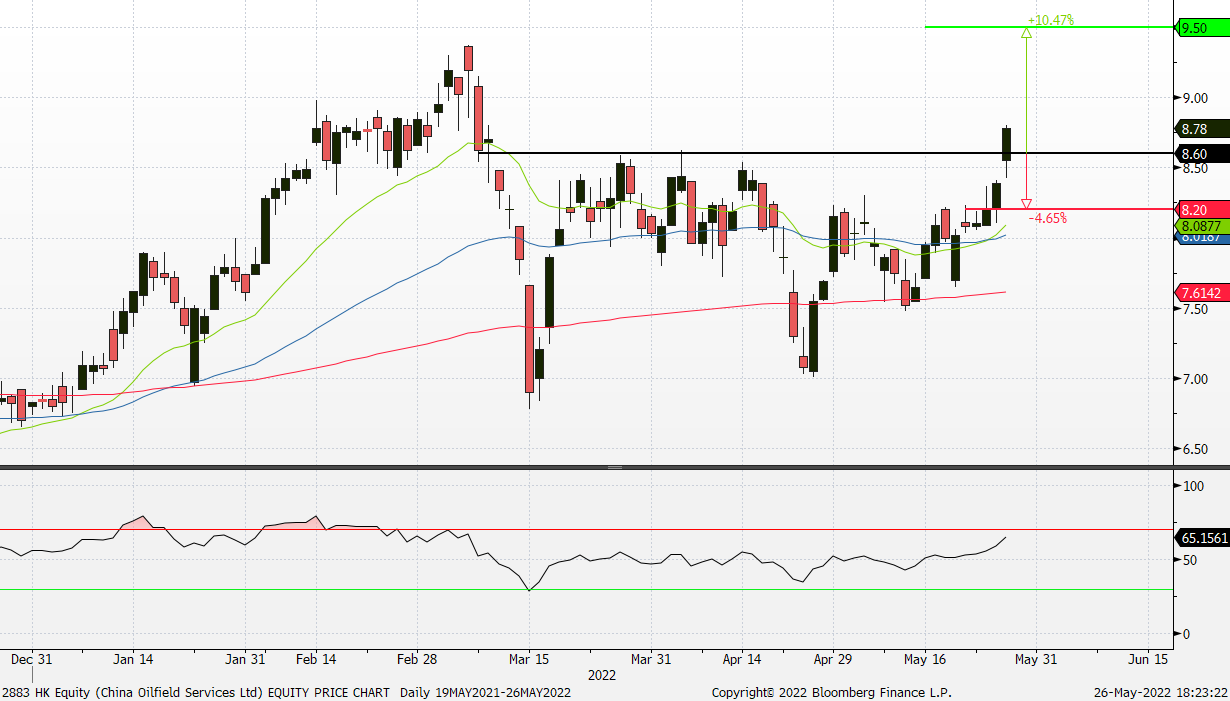 Singapore
The Hour Glass Ltd (HG SP) shares rose 9.2% on Friday. The Hour Glass posted a net profit of S$92.1 million for its fiscal second half ended Mar 31, 2022. This is 74.7% higher than the S$52.8 million it made over the same period in the previous financial year. Revenue for the period also increased 23.8% to S$561 million, from S$453.1 million in the corresponding half-year period, the company disclosed in a bourse filing after market close on Thursday (May 26). With the strong set of results, The Hour Glass has proposed a final dividend of 6 Singapore cents per ordinary share for the full 2022 financial year, up from 4 cents last year.
Jardine Matheson Holdings Ltd (JM SP) shares rose 4.1% on Friday. Jardine Matheson Holdings announced last week that it and its companies have seen a positive YoY recovery in performances for their 1QFY2022 ended March period. Leading the recovery is Astra, Hong Kong Land (HKL), Jardine Cycle & Carriage (JC&C) and the Motors business, with all delivering increases in profit. Jardine Pacific saw a decline year-on-year and the performances of DFI Retail and Mandarin Oriental were broadly flat, with these businesses impacted by the resurgence of the pandemic in North Asia.
RH Petrogas Ltd (RHP SP) and Dyna-Mac Holdings Ltd (DMHL SP) shares rose 2.1% and 3.8% respectively on Friday. WTI crude futures traded below $114 per barrel on Friday but were on track to close the week higher, buoyed by persistent concerns about tight global supply. EIA data released on Wednesday showed a larger-than-expected drawdown in US crude inventories last week due to soaring exports, highlighting a tight global market. Meanwhile, the EU continues to haggle with Hungary over banning oil imports from Russia with European Council Charles Michel saying he is confident that an agreement can be reached before the council's next meeting on May 30. A top Hungarian aide said the country needs 3-½ to 4 years to shift away from Russian crude and make huge investments to adjust its economy and that it could not back the EU's proposed oil embargo until there was a deal on all issues.
Yangzijiang Financial Holdings Ltd (YZJFH SP) shares lost 3.1% on Friday, likely due to profit taking. Yangzijiang Financial Holding plans to call for an EGM on June 8, to get the mandate from shareholders to commence share buybacks. With a total base of around 3.95 billion shares, YFH can potentially buy back up to around 395 million shares – given the 10% cap – until the next mandate is needed. Prior to the listing, YFH's management had said the company will consider buying back shares if its share price is below its NTA of $1.07 per share as at Dec 31 2021.

Hong Kong
Top Sector Gainers
Top Sector Losers
Baidu Inc (9888 HK) Shares jumped 14.3% last Friday following the rally in the overnight US market. Previously, the company released its 1Q22 results. 1Q22 revenue edged up by 1% YoY to RMB28.1bn. Revenues from Baidu Core remained healthy with non-ad revenues increasing by 35% YoY, driven by Baidu AI Cloud, which grew 45% YoY. Operating profits (non-GAAP) dropped by 7% (8%) YoY to RMB2.8bn (RMB4.4bn). Net income (non-GAAP) to Baidu was RMB25.7bn (RMB4.3bn) compared to a net loss of RMB140mn and a non-GAAP net income of RMB4.3bn during the same period last year.
Alibaba Group Holding Ltd (9988 HK) Shares jumped 12.2% last Friday following the rally in the overnight US market. Previously, the company released its 1Q22 results. 1Q22 revenue grew by 9% YoY to RMB187.4bn. The increase was mainly driven by the revenue growth of China commerce, Local consumer services and Cloud segments. Adjusted EBITDA dropped by 22% YoY to RMB29.9bn. Net loss attributable to ordinary shareholders fell by 196% YoY to RMB5.5bn. Non-GAAP net income dropped by 24% YoY to RMB26.2bn.
Cansino Biologics Inc (6185 HK) Shares rose 8.9% last Friday after the company announced that the "B" marker will cease to be affixed the company's Chinese and English stock short name from May 31st. Previously, The World Health Organization issued an emergency use listing for the single-dose COVID-19 vaccine from the company.
NIO Inc (9866 HK) Shares rose 8.5% last Friday, following the overnight rally in the US automobile sector. There was no company-specific news.
Tongcheng Travel Holdings Ltd (780 HK) Shares rose 7.5% last Friday. There was no company-specific news. Morgan Stanley expected the stock to outperform the market in 60 days as the RevPAR of the domestic hotels had improved since mid-March. The average price of the air tickets for the upcoming Dragonboat Day holiday jumped by 28% compared to the May Day holiday. Domestic tourism has been recovering. Meanwhile, Shanghai is expected to reopen in June.


Trading Dashboard Update: Add Singtel (ST SP) at S$2.66. Take profit on CNOOC (883 HK) at HK$12.08.