30 March 2022: Uni-Asia Group (UAG SP), China Oilfield Services Limited (2883 HK)
Singapore Trading Ideas | Hong Kong Trading Ideas | Market Movers | Trading Dashboard
SINGAPORE
Uni-Asia Group (UAG SP): Hot property
BUY Entry – 1.30 Target – 1.66 Stop Loss – 1.12
UAG is an alternative investment company that owns and manages bulk carriers, invests in Hong Kong commercial offices and develops residential properties in Japan. The group derives around 65% of its revenues from charter income generated by its fleet of bulk carriers. The remainder of its revenue is from the property projects in HK and Japan.
Smaller vessels are in hot demand. The Baltic Handysize Index (BHI) dropped by 50% from October 2021 to January 2022 but rebounded by more than 40% since the start of February 2022. Even then, BHI at where it stands now is still at levels that are more than double the average rates seen over the past 10 years as demand for smaller vessels have continued to find support amid an already stretched global supply chain. Eight of UAG's wholly-owned dry bulks will renew in 2022, and another two in 1Q2023. Unlike previous rounds of bull markets in the handysize dry bulk shipping market, this upcycle seems more robust given the better dynamics in the market.
Dry bulk carriers supply-demand dynamics are favourable. In the last shipping super cycle (2006-2008), new handysize orders made up as much as 50% of the total fleet, driven by significant speculative demand and easy financing. But recent orderbook for handysize bulk carriers has fallen to a multi-decade low of 4.6% of current fleet size by deadweight tonnage (dwt), thus providing a very good supply-demand dynamic for the sector.
Higher average charter rates. UAG's average charter rate increased from US$14,321 in 3Q2021 to US$18,893 in 4Q2021. This marks the sixth consecutive quarter of QoQ increase. The group will be renewing the charters for its 10-wholly owned vessels in 2022 and 1Q2023.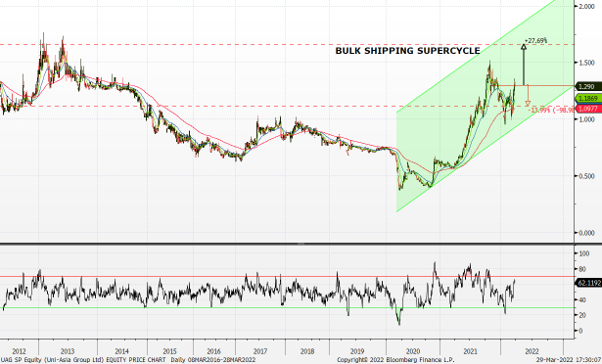 ---
ComfortDelGro (CD SP): Singapore reopens
RE-ITERATE BUY Entry – 1.48 Target – 1.62 Stop Loss – 1.42
CD is one of the largest land transport companies in the world, operating in seven countries and with a global network of over 40,000 vehicles. The company's businesses include bus, taxi, rail, car rental and leasing, automotive engineering, inspection and testing services, drive centres and outdoor advertising. Singapore is the largest contributor of revenue, making up 55% in FY2020, followed by UK/Ireland (23% of total revenue), Australia (19%) and China (4%).
Singapore reopens. The Singapore government yesterday announced that all vaccinated travellers can enter Singapore without quarantine from the first of April. Travellers will no longer be required to take only designated flights to enter Singapore quarantine-free, and will not have to take the antigen rapid test (ART) within 24 hours of arrival. This latest round of easing will make travelling as seamless as it was before the pandemic.
Freedom. On the domestic front, up to 75% of workers can return to their workplaces, while social gatherings will increase up from the 5 maximum limit to 10. This should lead to an increase in daily commuters and benefit CD's extensive taxi fleet.
Positive street view and attractive valuations. There are currently 9 BUYS and 2 HOLDS, and a 12m average TP of S$1.75 (implying a return of 18% from the last close price). CD trades at 16x FY2022F P/E and only 4.6x FY2022F EV/EBITDA, which is among the cheapest of the transport-related stocks listed in Singapore.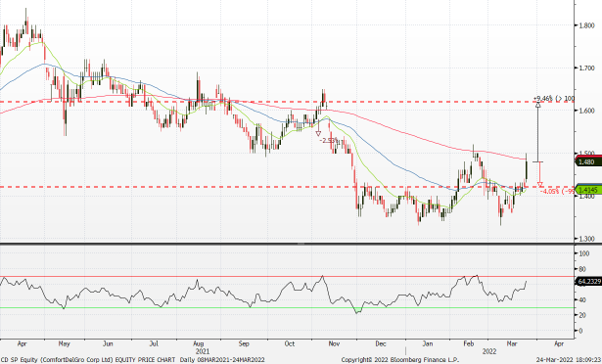 ---
HONG KONG
China Oilfield Services Limited (2883 HK): High oil prices to stay longer than expected
RE-ITERATE BUY Entry 8.0 – Target – 9.0 Stop Loss – 7.5
China Oilfield Services Limited is a comprehensive oilfield service provider. The Company mainly operates through four business segments. The Drilling Services segment is mainly engaged in the provision of oilfield drilling services. The Oil Field Technical Services segment is mainly engaged in the provision of oilfield technical services, including the logging, drilling fluids and directional drilling services. The Geophysical and Engineering Exploration Services segment is mainly engaged in the provision of seismic prospecting and engineering exploration services. The Marine Support Services segment is engaged in the transportation of supplies, including the delivery of crude oil, as well as refined oil and gas products. The Company mainly operates its businesses in domestic and overseas markets.
FY21 earnings highlight. The company announced the FY21 annual results on 24th March. Revenue grew mildly by 0.8% YoY to RMB29.2bn. Net profit attributable to company shareholders dropped substantially by 88.4% YoY to RMB313.1mn due to the increase in operating expenses, especially employee compensation costs.
Oil prices have support at US$100/bbl. The Russia-Ukraine conflict has changed the structure of global energy and agriculture supply due to sanctions on Russia. The supply gap of 4mn bbl/d is hardly filled in the near term. Even the potential ramp-up in production from Iran and Venezuela theoretically fill the current gap, the demand growth will continue as a further reopening in the upcoming summer worldwide. The recent oil price correction factored in China's rising covid infections and lockdowns of cities. However, China is expected to contain the current wave, and demand for oil will continue to recover along with production activities resume accordingly.
Warren buffet's bet. Berkshire Hathaway invested another US$10bn in Occidental Petroleum (OXY US) after the invasion. The long oil prices stay high, the more fund flows enter the oil and gas upstream sector. Given the underinvestments over the past few years, the upcycle of oil will gradually translate a great turnaround for the exploration and production companies.
An updated market consensus of the EPS growth in FY22/23 is 83.5%/21.9% YoY respectively, which translates to 9.9x/8.1x forward PE. The current PER is 102.6x. Bloomberg consensus average 12-month target price is HK$10.3.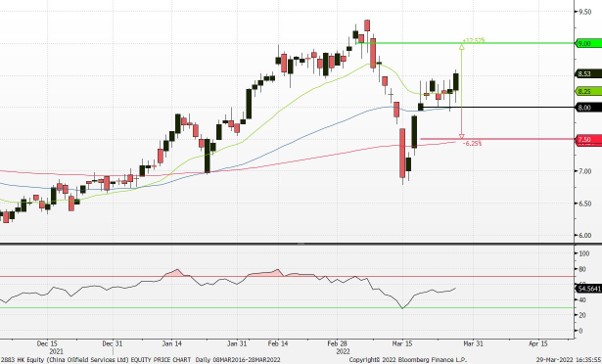 ---
AviChina Industry & Technology Co Ltd (2357 HK): Be prepared for danger in times of safety
BUY Entry – 4.2 Target – 4.80 Stop Loss – 3.9
AviChina Industry & Technology Company Limited is principally engaged in the research, development, manufacture and sale of civil aviation products. The Company operates its business through two segments. The Aviation Entire Aircraft segment is engaged in the manufacture, assembly, sales and servicing of helicopters, trainers and other aircraft. The Aviation Parts and Components segment is engaged in the manufacture and sale of aviation parts and components.
Invasion marks the start of accelerating expansion of worldwide defence spending. The Russia-Ukraine conflict continued to escalate even though the peace talks ended on Monday night. Previously, Russia had raised nuclear threats by putting its nuclear forces on high alert on Sunday. Subsequently, Germany announced to commit EUR100bn (US$112.7bn) of the 2022 budget for the armed forces. Meanwhile, the EU agreed to give EUR500mn in arms to aid Ukraine. The ripple effect is expected to extend the arms race globally as the Middle East, South, Southeast and Northeast Asia have huge geographical disputes and ideological conflicts. The world order which was built after WWII is being undermined. China has been increasing its defence spending consistently, and its 2022 defence budget was announced to be RMB1.45tn, up 7.1% YoY.
Preliminary FY21 earnings. Total operating revenue grew by 25.2% YoY to RMB12.9bn. Gross profits jumped by 34.9% YoY to RMB2.3bn. Net profits attributable to the shareholders excluding non-recurring gains and losses jumped by 38.4% YoY to RMB1.9bn. The company will be announcing the FY21 annual results today.
The updated market consensus of the EPS growth in FY22/23 is 17.3%/14.3% YoY respectively, which translates to 9.8x/8.6x forward PE. The current PER is 12.0x. Bloomberg consensus average 12-month target price is HK$6.79.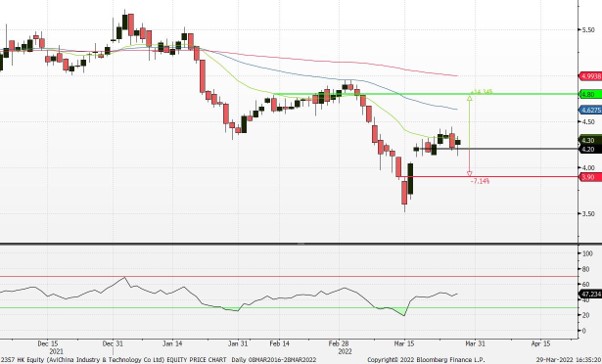 ---
MARKET MOVERS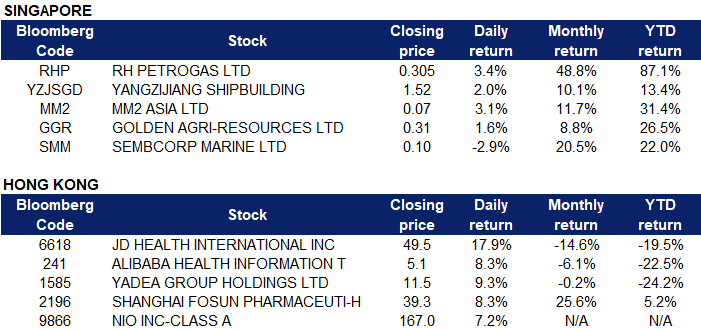 ---
United States
Top Sector Gainers
Top Sector Losers
Nielsen Holdings Plc (NLSN US) shares surged 20.3% following news that a group of private equity investors led by Brookfield Business Partners will acquire the ratings company for $16 billion. The company had previously rejected a $9 billion offer from the same group.
Dave & Buster's Entertainment Inc (PLAY US) shares rose 14.9% yesterday despite missing on the top and bottom lines of its quarterly results. Dave & Buster's said that business "strengthened" in the first eight weeks of the first quarter with same-store sales up 5.4% over the same period in 2019.
Uber Technologies Inc (UBER US) shares rose 7% yesterday after the ride-hailing company announced it is close to a deal to include San Francisco taxis to its app, The New York Times reported. The report comes after Uber last week announced an agreement to offer New York City taxi rides on its platform.
Jefferies Financial Group (JEF US) shares rose 4.4% after reporting better than expected quarterly profit and revenue. Jefferies earned $1.23 per share, well above the 89 cent consensus estimate, according to Refinitiv.
Fedex Corp (FDX US) shares rose 3.7% on news that CEO Fred Smith will step down on June 1. Smith, who founded the package and delivery company more than 50 years ago, will serve as executive chairman. President and Chief Operating Officer Raj Subramaniam will replace him as CEO.
---
Singapore
RH Petrogas Ltd (RHP SP) shares gained 3.4% yesterday. WTI crude futures traded higher above $106 per barrel on Tuesday, after a 7% decline in the previous session as investors were monitoring the situation in Ukraine and assessing the impact of Covid curbs in China on global demand ahead of the OPEC+ meeting next Thursday. Shanghai lockdown could cut oil demand by as much as 200,000 bpd, according to Rystad Energy. Meanwhile, major oil producers will meet to discuss its supply policy for May and the group has signalled it will stick to its existing plan and ratify an increase of 430,000 bpd in output.
Yanzijiang Shipbuilding Holdings Ltd (YZJSGD SP) shares rose 2% yesterday after the shipbuilder announced it had increased the share capital of Yangzijiang Financial Holding (YZJFH) – the investment unit it is proposing to spin off. All Yangzijiang Shipbuilding shareholders will be entitled to a dividend-in-specie on a one-to-one basis, the group added. This means Yangzijiang shareholders will receive 1 share for every Yangzijiang share they hold upon the former's successful listing. Analysts believe Yangzijiang is on track for a potential re-rating following the successful spin-off of YZJFH, on the basis of improved earnings quality.
MM2 Asia Ltd (MM2 SP) shares rose 3.1% yesterday, even though there was no specific news. Shares likely rose as MM2 resides in the entertainment industry and reopening plays are gaining traction as Singapore moves towards a new phase of living with Covid-19. Gatherings will be doubled from the current five persons to 10 people for mask-off activities and the capacity limit for larger events and settings – those with more than 1,000 people – will be raised to 75%. Live performances will be allowed to resume at all venues, including F&B establishments. Outdoor live performances and busking will also be allowed to resume. In addition, most restrictions for fully vaccinated visitors entering Singapore.
Golden Agri-Resources Ltd (GGR SP) shares rose 1.6% yesterday. Palm oil futures bottomed around the MYR 6,000 region, pulling back from a rally that saw the benchmark hit a record high of MYR 7,200 earlier this month, pressured by a slump in crude prices and Indonesia's decision to remove its export restrictions on palm oil products.
Sembcorp Marine Ltd (SMM SP) shares lost 2.9% yesterday after gaining 9.6% in the previous trading session. Yesterday, the company gave notice that it recorded 3 consecutive years of pre-tax losses, based on its audited full-year consolidated accounts. Firms are placed on the SGX watch list if they record losses for the 3 latest consecutive financial years and have an average daily market cap of under S$40 million over the last 6 months. It was recently announced that Sembcorp Marine, through its wholly-owned subsidiary Sembcorp Marine Rigs & Floaters, has secured a contract to construct a wind turbine installation vessel. The company said the contract validates "its strategy to transform itself into an innovative engineering solutions provider in the offshore, marine and energy industries with a strategic focus on sustainability". The value of the contract is not disclosed. The project is scheduled to be completed in early 2025.
---
Hong Kong
Top Sector Gainers
Top Sector Losers
JD Health International Inc (6618 HK) shares rose 17.9% yesterday. JD Health announced net revenue of RMB 30.68 billion yuan, an increase of 58.3% year on year. Profit (on a non-IFRS basis) was RMB 1.4 billion yuan, up by 91.5% YoY. On Dec. 21, 2021, annual active user accounts reached 123 million, representing a net addition of over 33.56 million from the 12-month period ended December 31, 2020. Additionally, its online medical consultation service grew rapidly, with its daily average consultations exceeding 190,000. JD Health continued to deepen collaborations with leading pharmaceutical companies such as Sanofi China, UCB China, Novartis and more, and became their first choice to release new medicines for online sales as well as a preferred partner to explore digital marketing innovations. As a result, fellow peer Alibaba Health Information Technology Ltd (241 HK) rose 8.3% yesterday.
Yadea Group Holdings Ltd (1585 HK) shares rose 9.3% yesterday after releasing its annual results for the year ended December 31, 2021. Revenue increased approximately 39.3% YoY to 26.9675 billion yuan, while profit attributable to company owners increased approximately 43% YoY to 1.37 billion yuan. Moving forward, the Group will focus on expanding production capacity, domestic and foreign distribution networks, overseas markets and enhancing R&D capabilities, so as to provide customers with safer, smarter, more convenient, more environmentally friendly and higher value-added products.
Shanghai Fosun Pharmaceutical (Group) Co Ltd (2196 HK) shares rose 8.3% yesterday. Fosun Pharma's revenue and profit both rose around 30% last year as Covid-19 vaccines and stake sales in its subsidiaries contributed to its top and bottom lines. However, the company's gross margin fell sharply as some of its drugs were added to government procurement programs that promise higher sales but at heavy discounts.
Nio Inc (9866 HK) shares rose 7.2% yesterday. Nio delivered the first batch of ET7s to customers at its China headquarters on Monday. The ET7 is the first new Nio electric vehicle to use the company's second-generation architecture, called NT2.0. The new architecture has more robust computing power, allowing for new features including more advanced driver-assist systems. Nio confirmed that subscriptions to an automated highway-driving system similar to Tesla's Autopilot will be available to ET7 owners in some regions beginning in the fourth quarter of 2022.
---
Trading Dashboard
Trading Dashboard Update: No additions or deletions to trading dashboard.

(Click to enlarge image)
---