KGI DAILY TRADING IDEAS – 30 July 2021
Singapore Trading Ideas | Hong Kong Trading Ideas | Market Movers | Trading Dashboard
SINGAPORE
First Resources (FR SP): Palm oil prices are near all-time highs again
BUY Entry – 1.34 Target – 1.50 Stop Loss – 1.30
Established in 1992 and listed on the SGX since 2007, First Resources is one of the leading palm oil producers in the region, managing over 200,000 hectares of oil palm plantations across the Riau, East Kalimantan and West Kalimantan provinces of Indonesia. The group's core business activities include cultivating oil palms, harvesting, and milling them into crude palm oil (CPO) and palm kernel (PK). In addition, the group through its refinery, fractionation, biodiesel and kernel crushing plants, processes its CPO and PK production into higher value palm-based products such as biodiesel, refined, bleached and deodorised (RBD) olein and RBD stearin, palm kernel oil and palm kernel expeller.
Palm oil prices are back to near all-time highs. Palm oil futures jumped in July and are testing the highs set in May, driven mainly by expectations of lower production for the month of July due to lower yields and labour shortages. Stronger soybean prices are also helping palm oil prices.
2H2021 should be better. First Resource's second half is shaping up to be better after a costly hedging strategy caused it to miss 1Q2021 earnings estimates. The company has guided that it will be less aggressive in its 2H2021 hedging and sounded positive on CPO price outlook. The company is due to report its 1H2021 results on 13 August 2021.
Street is still bullish. Analysts remain upbeat on the company with 7 BUYS / 1 HOLD / 0 SELL and a 12-month target price of S$1.73 (+28% potential upside). Earnings per share is expected to increase by 60% YoY in FY2021 and 19% YoY in FY2022 respectively, which would bring its FY2022 P/E to only 9x, a discount to the 15x 10-year P/E average.
Palm oil prices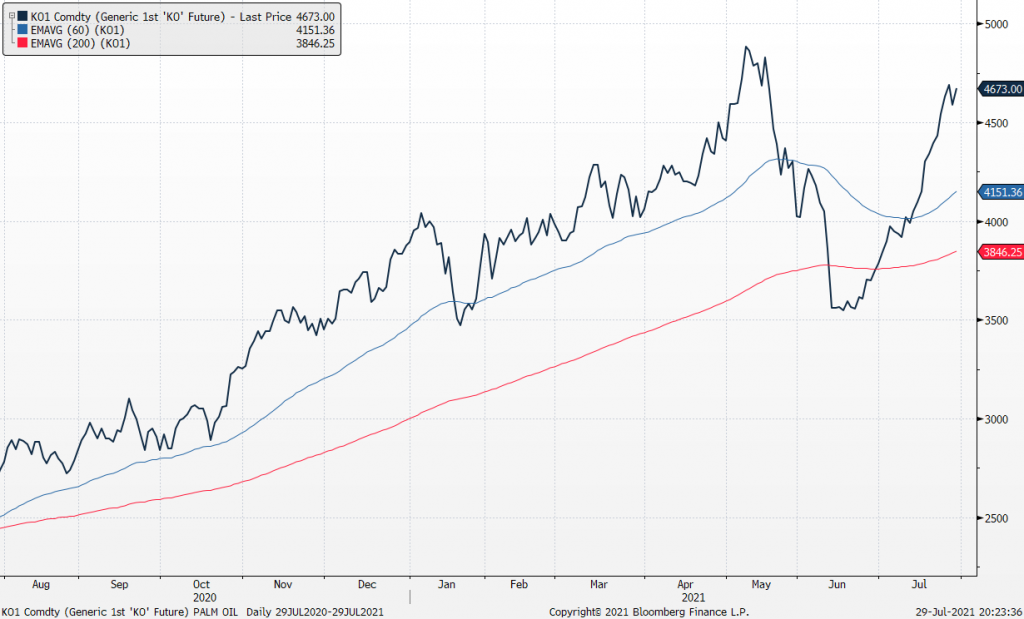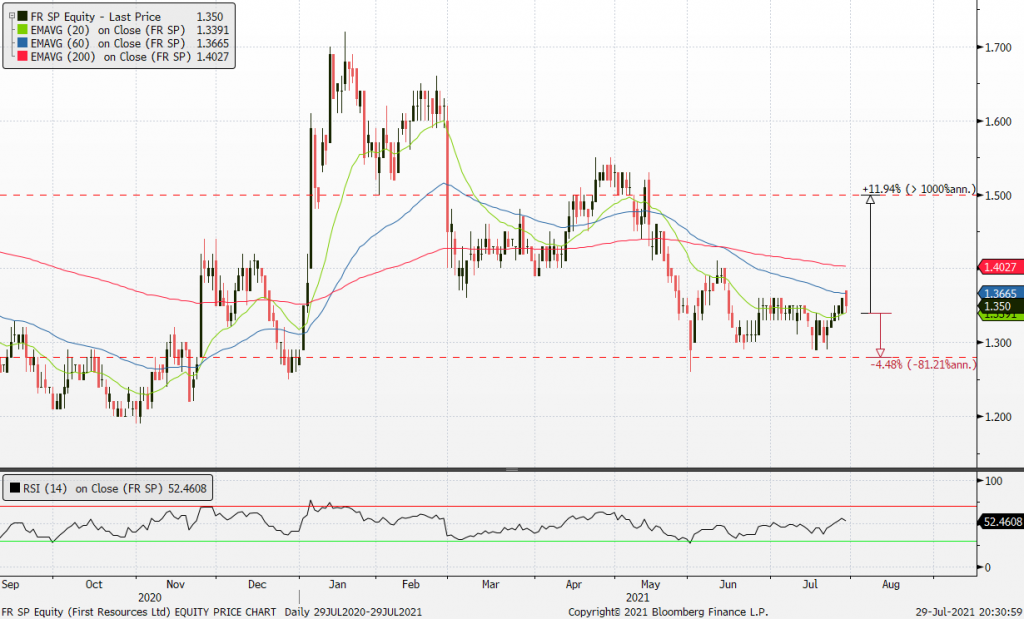 ---
Silverlake Axis (SILV SP): The future is digital
BUY Entry – 0.26 Target – 0.30 Stop Loss – 0.24
Silverlake Axis is a software company that provides banking solutions to banks in Asia. The company has been operating for more than 30 years. Of the top 20 largest banks in Southeast Asia, 40% of them use Silverlake's core banking solutions.
Parent's new partner. Earlier this month, The Edge reported that private equity firm Ikhlas Capital is investing US$40mn in Silverlake Group, the holding company of the SGX-listed Silverlake Axis Ltd. Silverlake Group is the largest shareholder of Silverlake Axis. In turn, Ikhlas Capital is partly owned by former banker Datuk Seri Nazir Razak, and the firm is one of the partners of a conglomerate comprising other firms including AirAsia's Group e-wallet unit Big Pay and Malaysian Industrial Development Finance (MIDF) vying for one of the five digital banking licenses to be awarded by the first quarter of 2022.
New opportunities. Given Silverlake Axis's experience and expertise in providing banking solutions over the past 30 years, combined with the recent news of investment by Ikhlas Capital into its parent company, we think that the award of one of the five digital banking licenses could provide a much-need catalyst to Silverlake's share price. Silverlake's share price is currently trading near its 8-year low, partly due to business slowdown over the years, and also due to a damaging short-seller report in 2015 which caused its market cap to almost halve in value.
10-year share price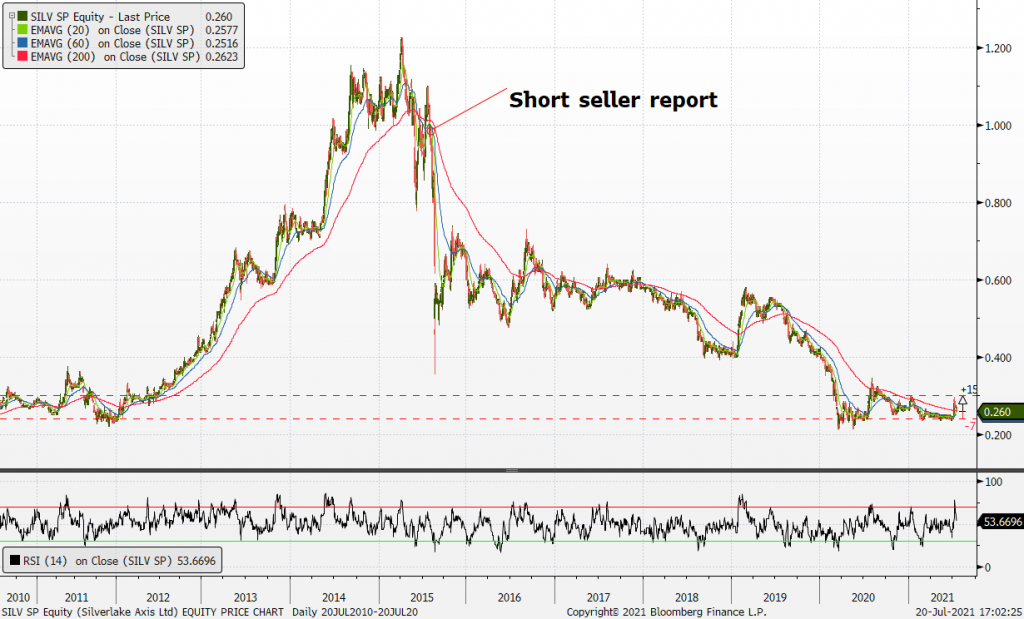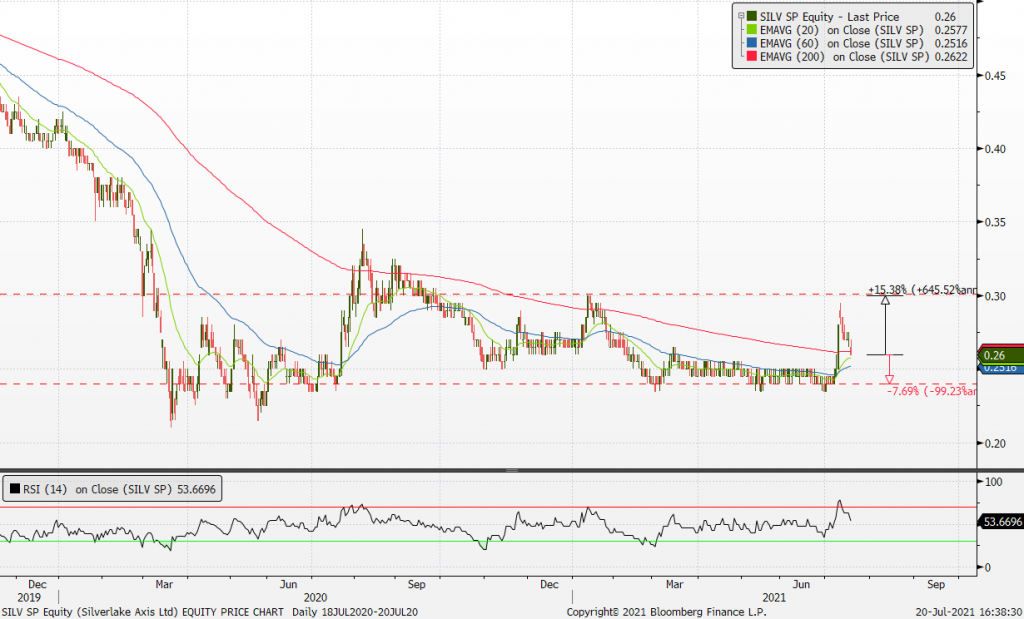 ---
HONG KONG
Jinxin Fertility Group Ltd (1951 HK): Seize the momentum, do what policy advocates
Buy Entry – 15.18 Target – 17.3 Stop Loss – 13.96
Jinxin Fertility Group Limited is a China-based company principally engaged in the provision of assisted reproductive services (ARS). The company operates its business through three segments. The ARS segment primarily provides its patients with two treatment solutions: artificial insemination (AI) and in vitro fertilization (IVF) technology. The Management Services segment provides management services to Jinjiang IVF Center and Jinxin Fertility Center. The Ancillary Medical Services segment mainly provides medical services in the areas of gynecology, urology and internal medicine through Shenzhen Zhongshan Hospital. The Company mainly operates its business in China and the Unites.
China and Hong Kong capital markets recently were negatively impacted by various sector regulations which resulted in a panic sell-off. Investors should have an understanding of what is driving the government to regulate technology, property, education, and pharmaceutical sectors. The rationale behind the clamp-down was because of China's current demographic crisis. China's birth rate has basically fallen over the past few years. Without sufficient young labour force in the next decades, the growth of the economy will slow down substantially. According to a survey on why families are not having children, the reasons cited were unaffordable property, education, and healthcare costs. Therefore, the central government immediately implemented regulations to rein in price increase in such sectors. Meanwhile, the authorities also released the supportive triple-child policy to advocate couples to give birth to the second or third child.
The company is a one of the triple-child policy-themed stocks. Boosting fertility rates will be the long-term national strategy of China. Therefore, the company is less subject to regulatory risks which investors aim to avoid at the moment.
Current sentiment has turned positive and favoring prices to recover back to the recent pre-crash levels.
Updated market consensus of the EPS growths in FY21 and FY22 are 60.4% YoY and 40.5% YoY respectively, which translates to 77.9x and 55.3x forward PE. Current PER is 118.5x. Bloomberg consensus average 12-month target price is HK$22.59.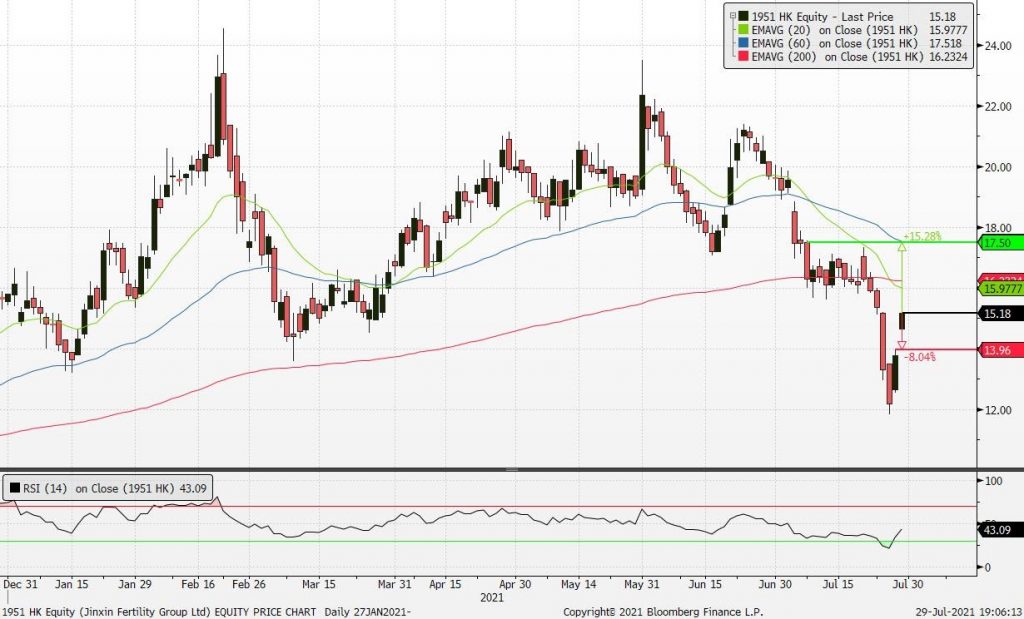 ---
Jiangxi Copper Company Limited (358 HK): Rest is over, the new run is starting
Reiterate BUY Entry – 15.8 Target – 17.9 Stop Loss – 14.8
Jiangxi Copper Company Limited is a China-based company, principally engaged in the mining, smelting and processing of copper. The company is also engaged in the extraction and processing of precious metals and dissipated metals, sulfur chemical industry business, and financial and trading businesses. The company's products include cathode copper, gold, silver, sulfuric acid, copper rods, copper foils, selenium, tellurium, rhenium, bismuth and others. The Company mainly conducts its businesses within Mainland China and Hongkong.
According to the Shanghai Futures Exchange, the copper inventory had been dropping substantially, from about 100,000 tonnes on 28th June to slightly above 50,000 tonnes on 23th July. A new wave of demand for copper kick-started in July.
COMEX copper futures closed at a one-month high of US$4.45/pound, breaking out the consolidating channel. The stock has relatively high copper beta (regression against copper futures). The market estimates of copper price average at US$9,138/tonne (US$4.14/pound) by 4Q21. Based on the regression model and the average estimates, the implied stock price is HK$16.
Updated market consensus of the EPS growths in FY21 and FY22 are 75.6% YoY and 8% YoY respectively, which translates to 9.5x and 8.8x forward PE. Current PER is 15.1x. Bloomberg consensus average 12-month target price is HK$19.68.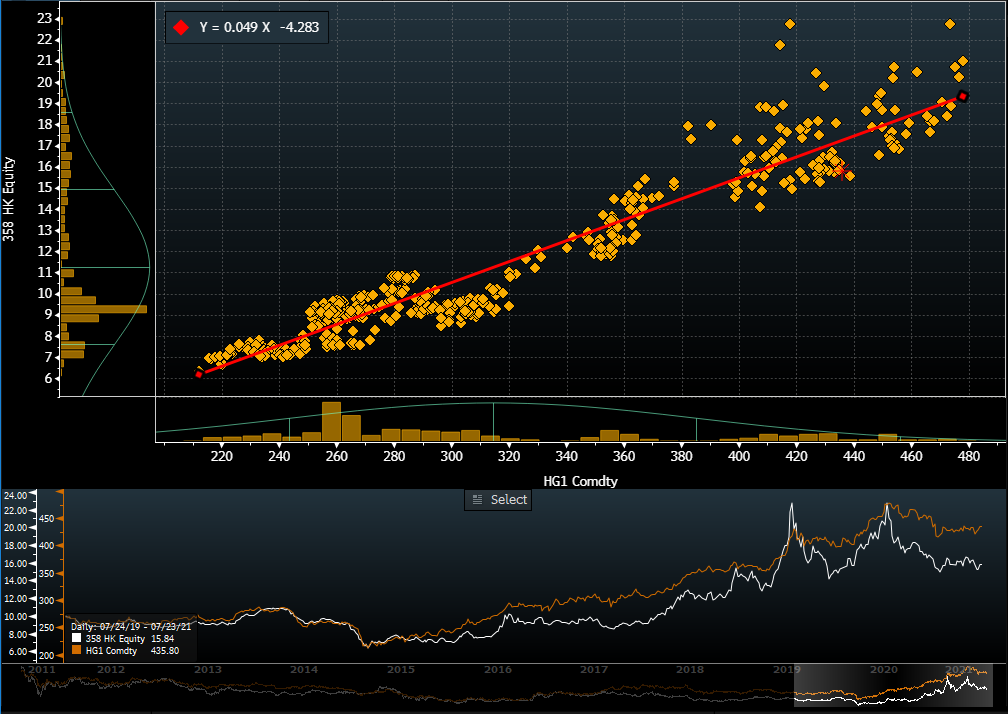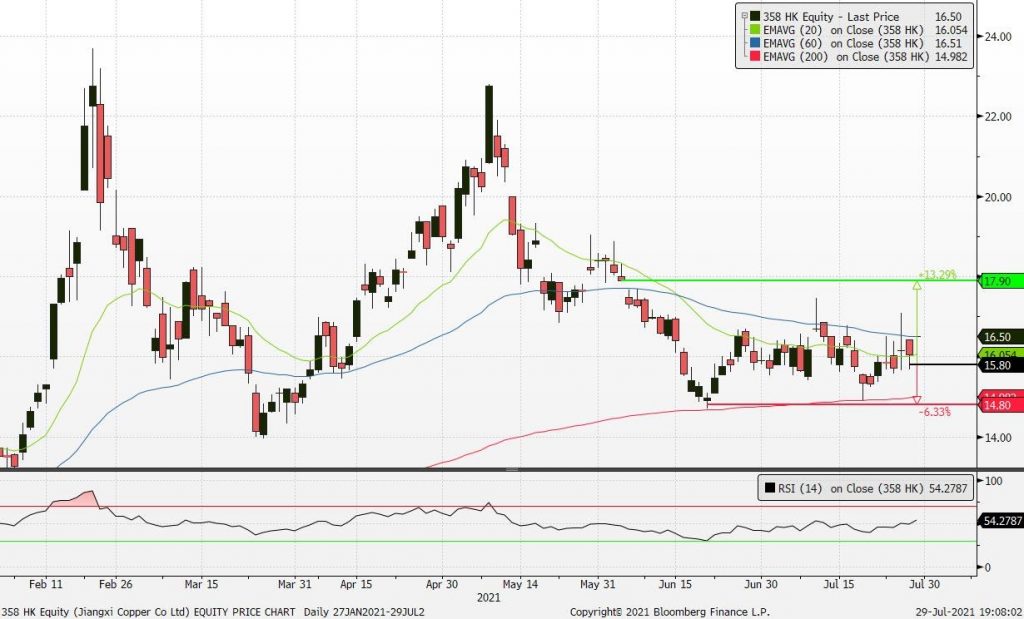 ---
Market Movers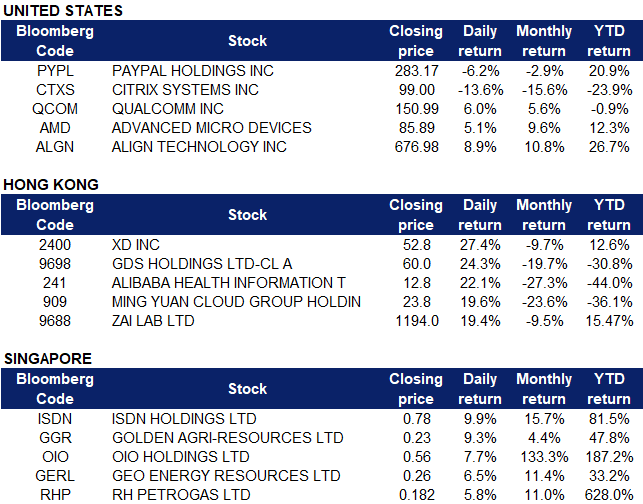 Paypal Holdings (PYPL US) shares fell 6.2% on Thursday after it was revealed that the company was facing probes from the U.S. Securities Exchange and Commission and the Consumer Financial Protection Bureau. The SEC is investigating whether interchange fees paid to banks that issue Paypal debit cards are consistent with Federal Reserve guidelines. The company is also being investigated for how they report marketing fees earned from its branded card program. The digital payment giant reported second quarter results. Net revenue jumped 19% YOY to $6.2 billion; whereas adjusted earnings per share increased only 8%. The company attributed this to the rising pressure faced from eBay's transition off its payment platform.
Citrix (CTXS US) shares plunged 13.57% on Thursday, after the SaaS provided issued a 2021 outlook that fell short of expectations and reported mixed results for the second quarter. The company said it expects full-year revenue between $3.2 – $3.25 billion with adjusted earnings per share between $4.75 – $4.95. Analysts were expecting revenue of $3.4 billion with $5.70 earnings.
Semiconductor stocks Qualcomm (QCOM US) and Advanced Micro Devices (AMD US) soared 6% and 5.1% respectively on Thursday. The PHLX Semiconductor index advanced 1.9% as a result, as the global semiconductor shortage fuelled chip makers to sell everything they can.
Align Technology (ALGN US) shares rose 8.86% after reporting second quarter earnings that topped analyst estimates. The company offers invisible tooth straighteners which are increasingly popular among consumers who don't want the pain or aesthetic of traditional orthodontics. Total revenue for the company was $1.1 billion, up 186.9% YOY, driven by strong sales of its Invisalign Clear Aligners and iTero scanners and imaging systems.
---
Singapore
ISDN Holdings Limited (ISDN SP) Shares rose by 9.9% yesterday and closed at its highest since January 2021. The company announced a positive profit guidance on 28 July based on the latest available information and a preliminary review of the unaudited financial results. The group is expected to record an increase in profit after tax of more than 50% for 1H21, as compared to that in 1H20, driven by continued strong growth from ISDN's core industrial automation business. We currently have a TP of S$0.85 for ISDN, an upside of 8.97% from yesterday's closing price of S$0.78. Read here for our full report.
Golden Agri-Resources Limited (GGR SP) Golden Agri shares rose by 9.3% yesterday and closed at a one-month high after palm oil prices gained on lingering concerns over lower output over the coming weeks. Palm oil prices are testing new highs with the most liquid Malaysian palm oil futures contracts closing at MYR 4,422/mt (US$1,044.8/mt) on 27 July, the highest since May. Golden Agri is due to report its earnings results by mid-week August.
RH PetroGas Limited (RHP SP) shares rose by 5.8% and closed at a five-year high. There was no specific news for the company yesterday. Shares could have risen as oil prices extended gains in the later half yesterday, with WTI crude trading at 2-week high above US$73 a barrel amid a larger than expected inventory draw and expectations of stronger demand. Risk appetite was also lifted by the Fed's statement on Wednesday that the US economic recovery is still on track despite the rise in COVID-19 cases.
OIO Holdings Limited (OIO SP) Shares continued to rise since Wednesday following positive news announced by the company. Moonstake, the second-largest staking business in Asia which is 100% owned by OIO, announced on Wednesday that the company has integrated its DeFi application partner, Muse Finance into the Web Wallet to bring advanced DeFi connectivity to Moonstake's platform.The connection with DeFi products, which has been growing strong since last year, will further enhance users' experience on Moonstake's platform. Future product launches of Muse will add liquidity to the staking assets and open the door to innovative DeFi products, all of which will be supported by Moonstake. The company also highlighted that following its full-scale operation launched in August 2020, business has expanded and as of July 2021, total staking assets have exceeded over US$1bn.
Geo Energy Resources Limited (GERL SP) Shares continued to rise on higher-than-average trading activity yesterday. On Wednesday, The Business Times featured Geo Energy as one of two locally-listed coal miners who are set to benefit from higher demand for thermal coal from China. Coal prices of the Indonesian Coal Index 4 (ICI4) has risen 67% year-to-date to US$65 a tonne, the highest in eight years, as heat waves in Zhejiang, Jiangsu and Guangdong, China's biggest industrial provinces, pushed electricity consumption to unprecedented levels. Furthermore, as China currently has a trade spat with Australia, investors are likely to favour the Indonesian coal producers to continue feeding China's growing demand.
Trading Dashboard Update: Remove Riverstone (RSTON SP) at S$1.22
---
Hong Kong
XD Inc (2400 HK), GDS Holdings Ltd (9698 HK), Alibaba Health Information Technology Limited (241 HK), Ming Yuan Cloud Group Holdings Ltd. (909 HK), Zai Lab Ltd (9688 HK). The overall Hong Kong market saw a huge rebound after Beijing convened a meeting with bankers to calm fears over its regulatory actions in the technology and education sectors. The central bank separately injected more cash into the system. China's regulatory actions, whether against internet-platform operators or after-school education firms, are not an attempt to restrict or clamp down on the related industries but for the long-term development of the economy and society, the official Xinhua News Agency said in a commentary late Wednesday. It also stressed that China will continue to allow companies to go public in offshore markets. The Hang Seng Index surged 3.3% to 26,315.32, mainly driven by technology, pharmaceutical and biotechnology, and commodities sectors which had plunged since last Friday. The Hang Seng Technology Index recorded the biggest single day jump of 8%.
---
Trading Dashboard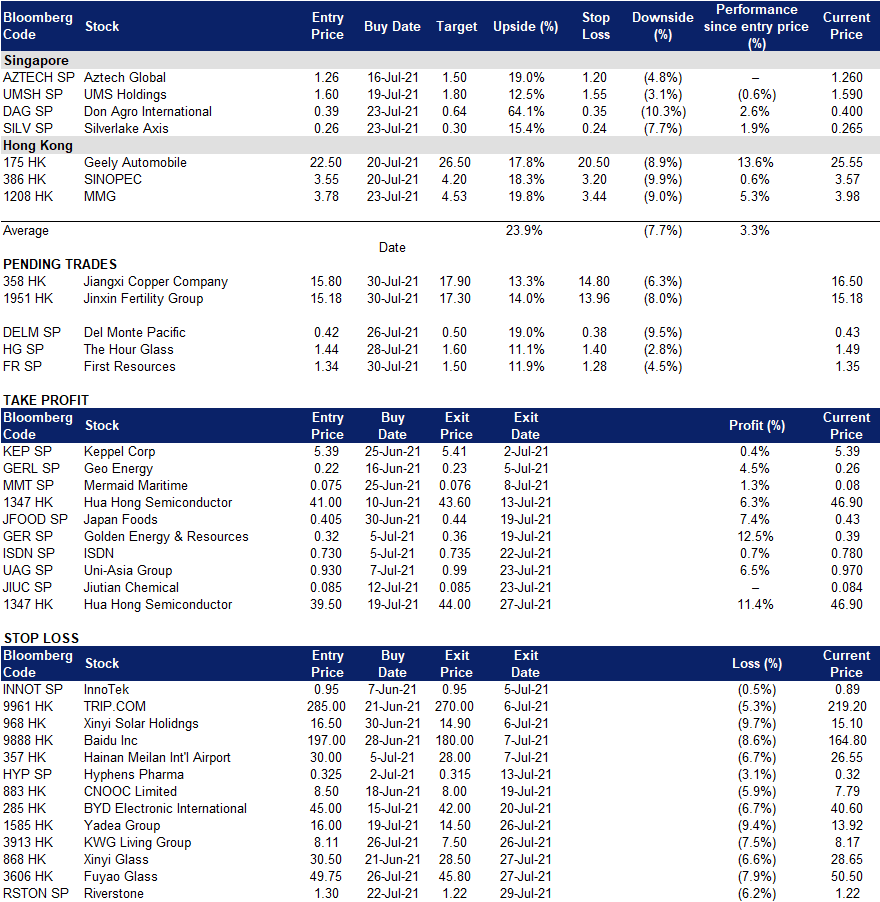 ---

---
Related Posts: