KGI DAILY TRADING IDEAS – 3 September 2021
Singapore Trading Ideas | Hong Kong Trading Ideas | Market Movers | Trading Dashboard
SINGAPORE
Sunpower Group (SPWG SP): A purer play on clean energy going forward
BUY Entry – 0.60 Target –1.22 Stop Loss – 0.52
Sunpower invests, develops and operates centralised steam, heat and electricity generation plants. The group is strongly positioned to capitalise on the enormous market opportunities in the environmental protection sector in China and build a valuable portfolio of assets that generates attractive investment returns, as well as recurring, long-term and high-quality income and cash flows based on typically 30-year concession agreements.
Carbon neutrality. China, Asia's largest economy and biggest energy consumer, proposed a carbon neutrality target that aims to have CO2 emissions peak before 2030 and achieve carbon neutrality before 2060. On the one hand, China will gradually slow down dirty coal consumption and raise the clean energy supply in the energy mix over the next decade; on the other hand, it will also improve energy consumption efficiency, especially fossil fuels. In the draft 14th-Five-Year Plan, the authorities continue to promote the development of the circular economy industrial parks and centralised steam facilities. Therefore, Sunpower is set to continue benefiting from the policy tailwinds.
We maintain our OUTPERFORM recommendation with an unchanged target price of $$1.22, based on the discounted cash flows of each project. As of June 2021, there were nine GI plants under operation, two new plants under construction and two existing plants being expanded. Most of the new capacity is expected to come onstream by end-2021, with Shanxi Xinjiang to be completed in early 2022.
Read our full report here.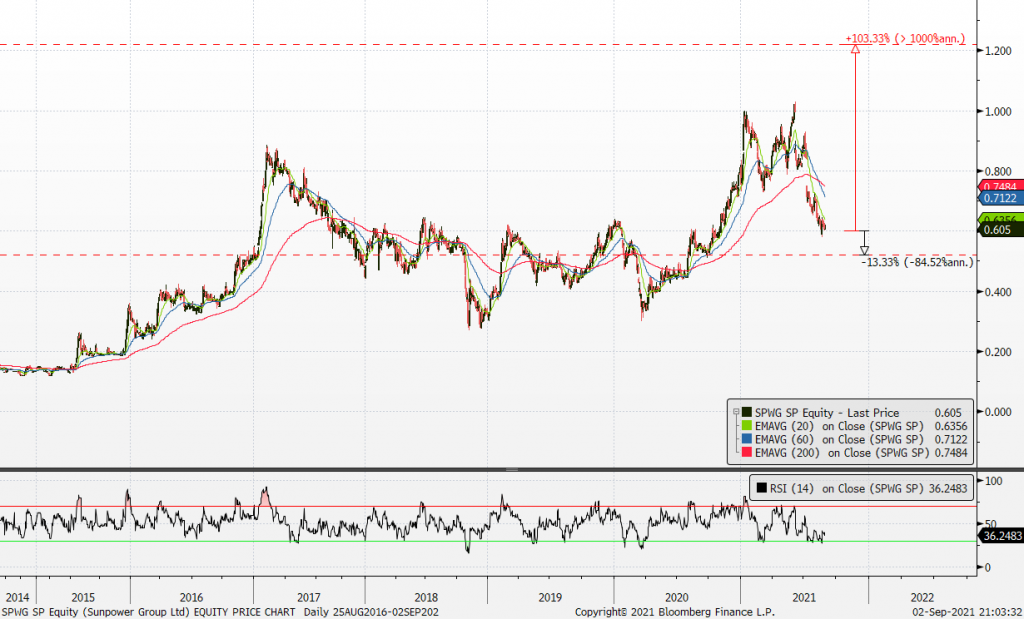 ---
OCBC (OCBC SP): Technical support at $11.38
RE-ITERATE BUY Entry – 11.43 Target –12.40 Stop Loss – 11.00
OCBC is Singapore's longest established bank, formed in 1932 from the merger of three local banks. It is now the second largest financial services group in Southeast Asia by assets and one of the world's most highly-rated banks, with Aa1 by Moody's and AA- by both Fitch and S&P. Assets under management (AUM) at its private banking subsidiary, Bank of Singapore, grew 11% YoY to US$125bn (S$169bn) as at 30 June 2021.
Recovery from the pandemic. OCBC's 1H2021 net profit surged 86% YoY and 23% HoH to S$2.7bn, driven by a 29% increase in non-interest income and substantially lower allowances. 1H2021 ROE rose to 10.8% from 6.1% in the prior year period. Given the stronger performance, the bank's interim dividend was reinstated back to 25 Sing cents, up from 15.9 Sing cents in the prior year, and back to where it was pre-Covid.
Technical support. Shares of OCBC have dropped almost 10% from its recent peak and are now supported by the critical 200 day simple moving average. RSI also dropped to just slightly above 30 yesterday. The selling pressure on OCBC can be attributed to the reduction of the bank's weighting in the MSCI Singapore Index. OCBC's weight in the index will decline from 16.43% (before 31 Aug 2021), to 15.16% after August 2021, further down to 13.83% in November 2021 and finally 11.76% in February 2022.
Positive consensus estimates. There are 17 BUYS and 5 HOLDS with an average TP of S$13.92, implying a total return of 22%. OCBC currently trades at 1.01x forward P/B, an almost 40% discount to DBS, while offering a decent 4-5% forward dividend yield.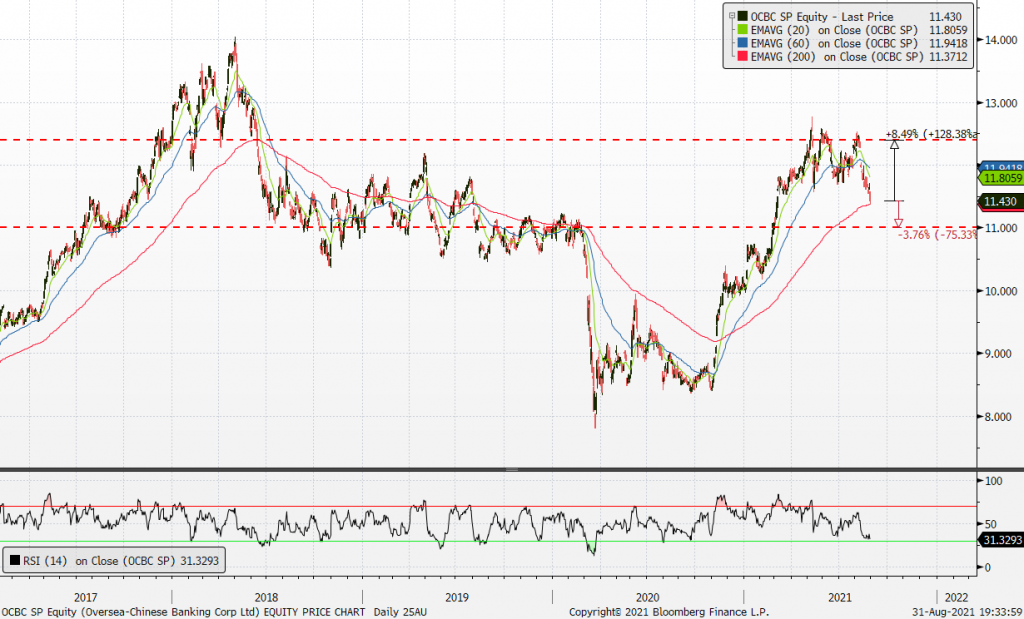 ---
HONG KONG
KWG Living Group Holdings Ltd (3913 HK): Robust fundamentals and outlook
BUY Entry – 6.2 Target – 7 Stop Loss – 5.8
KWG Living Group Holdings Ltd is a holding company engaged in provision of property management services. The company operates two segments. The Residential Property Management Services segment provides pre-sale management services, property management services, community value-added services and public space value-added services. The Commercial Property Management and Operational Services segment provides pre-sale management services, commercial property management services, commercial operation services and other value-added services.
Previously, the company announced 1H21 interim results. Revenue jumped by 83.1% YoY to RMB1.2bn. Gross profit jumped by 107.6% YoY to RMB534.4mn. Net profit jumped by 156.1% YoY to RMB318.9mn. The aggregate GFA under management and the aggregated contracted GFA amounted to approximately 165.1mn sqm and approximately 221.7mn sqm respectively, representing an increase of 617.8% YoY and 540.8% YoY respectively.
The company has a relatively attractive valuation compared to peers in the property management sector. Its forward 12M PEG is the lowest among its peers, and the estimated dividend yield is decent compared to peers.
The market consensus of net profit growth in FY21/22/23 is 83.7%/60.7%/42.6%, which implies forward PERs of 1.0x/9.3x/6.5x. The current PER is 27.5x. Bloomberg consensus average 12-month target price is HK$11.7.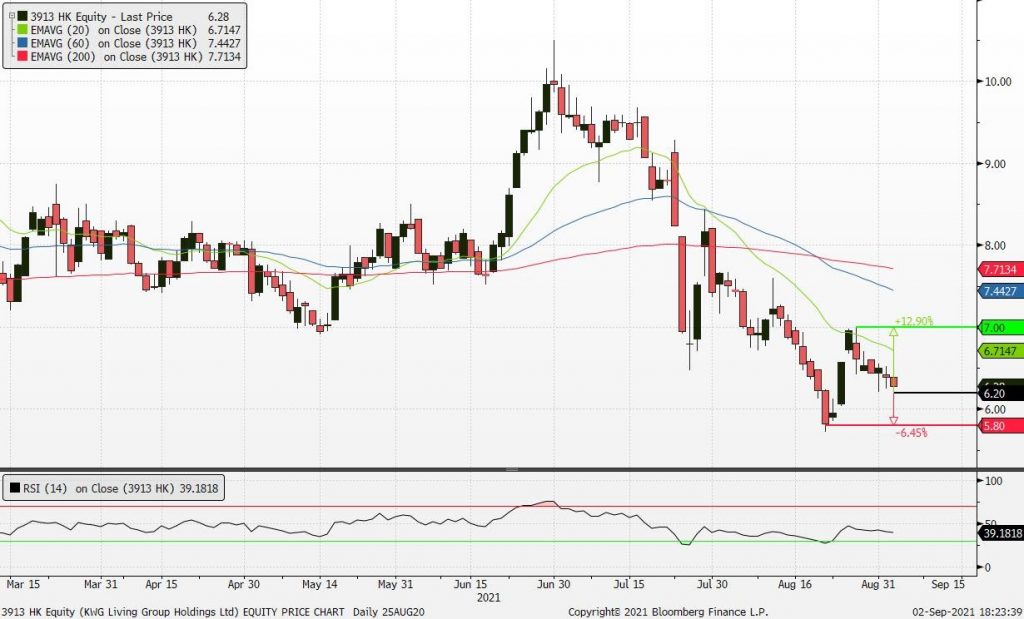 ---
Sunny Optical Technology (Group) Co. Ltd (2382HK): Riding on a new iPhone hype
BUY Entry – 235 Target – 260 Stop Loss – 221
Sunny Optical Technology (Group) Company Limited is an investment holding company principally engaged in the design, research and development, manufacture and sale of optical and optical related products and scientific instruments. The Company operates its business through three segments: Optical Components, Optoelectronic Products and Optical Instruments. Through its subsidiaries, the Company is also engaged in the research and development of infrared technologies. The Company distributes its products in domestic market and to overseas market.
Previously, the company announced 1H21 interim results. Revenue increased by 5.1% YoY to RMB19.8bn. Gross profit jumped by 34.5% YoY to RMB4.9bn. GPM increased 5.4ppts to 24.9% during the period. Net profit jumped by 52.4% YoY to RMB2.7bn, and NPM was 13.6%.
The company is an Apple-themed stock as it is one of the suppliers to Apple. The upcoming catalyst is Apple's autumn new product launch on 14th September. On Monday, Apple broke a record high, implying investors are looking forward to the release of the iPhone 13. The positive sentiment could help Sunny Optical break new highs soon.
The updated market consensus of the estimated net profit growth in FY21 and FY22 is 21.2.0% and 23.6% respectively, which translates to 36.6x and 29.6x forward PE. The current PE is 36.7x. Bloomberg consensus average 12-month target price is HK$244.52.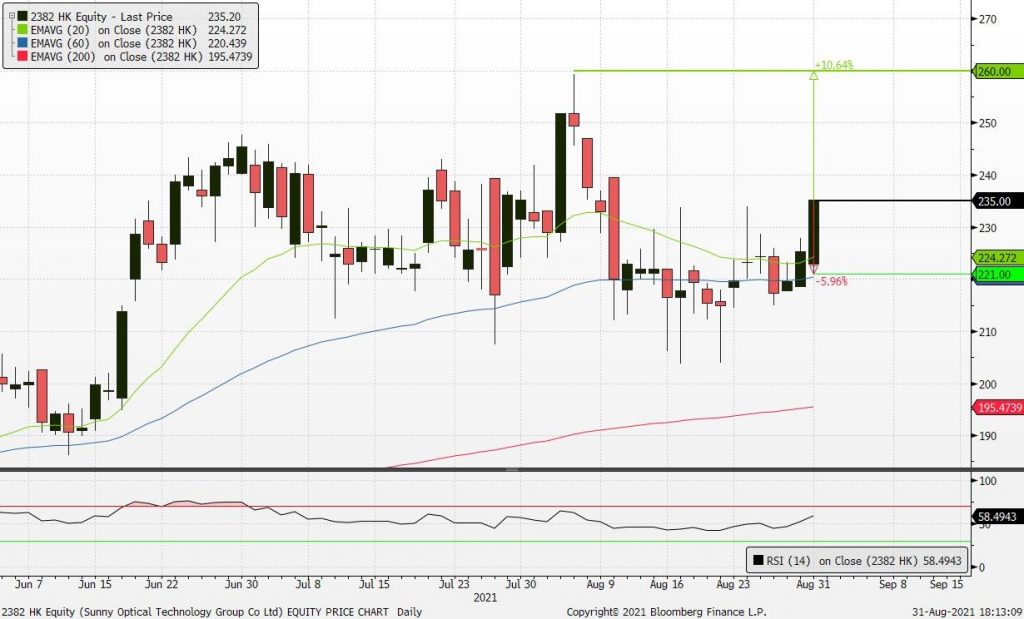 ---
Market Movers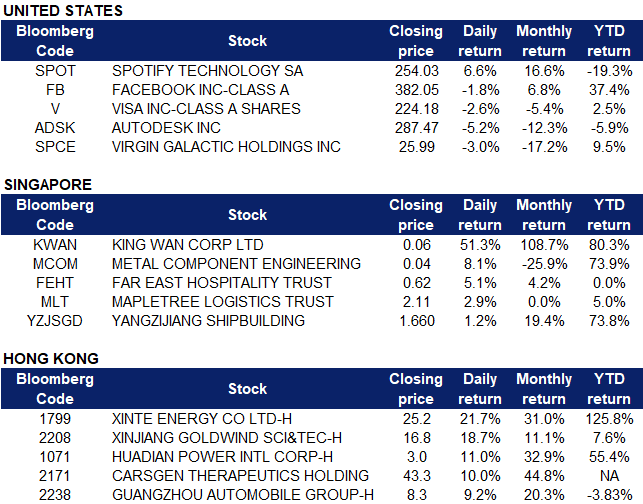 United States
Spotify Technology (SPOT US) climbed 6.57% on Thursday after Apple announced on Wednesday that it would allow certain applications to directly link to websites without going through Apple's payment network. With this move, Spotify customers can skip Apple's app store commissions of 10-20%. Previously, Spotify users had to go to separate URL to manage their subscriptions, but Spotify can now direct users to its own website to sign up for its premium services, potentially improving and creating a more efficient user experience. 
Facebook (FB US) shares were down 1.77%, slipping to $375.28 on Thursday after the social media giant's messaging service WhatsApp was slapped with a $267 million fine by Irish privacy regulator, The Data Protection Commission. The company was fined for violating European Union privacy rules about sharing user data with other Facebook-owned properties. This fine concludes an investigation started in December 2018.
Visa (V US) shares dipped 2.58% on Thursday to close at $224.18. There was no company-specific news. Despite being one of the biggest losers among Dow stocks, Visa has gained over 3.52% and has earned $4.15 per share in the past 12 months. Its average rating from analysts is a strong Buy. In its fiscal third quarter results, quarterly revenue stood at $6.1 billion, up 27% YOY, beating analyst estimates. CFO Vasant Prabhu said during the company's third-quarter conference call that the spread of COVID-19's delta variant wasn't crimping consumer spending.
Autodesk Inc (ADSK US) shares rose 0.3% in pre-market trading before sinking 5.2% to close at $287.47, adding to a week-long decline as Morgan Stanley analyst Keith Weiss maintained his equal weight rating on the stock but lowered his target price from $334 to $324. Weiss commented that the company's free cash flow levels are projected to decline over the next two to three years as the company transitions from having customers pay for multi-year subscriptions to charging for annual subscriptions, starting in its 2024 fiscal year. The software company's stock has fallen 16% since August 2021.
Virgin Galactic (SPCE US) stocks were trading as much as 7.4% higher on Thursday before plunging sharply and closing 2.99% lower at $25.99. The Federal Aviation Administration (FAA) is stepping in to investigate Virgin Galactic, forcing the company to halt flights until it investigates a course deviation during the July flight that took CEO Richard Branson into space. The FAA said in a statement to CNBC that ""Virgin Galactic may not return the SpaceShipTwo vehicle to flight until the FAA approves the final mishap investigation report or determines the issues related to the mishap do not affect public safety".
---
Singapore
Singapore REITs. Eleven smaller Singapore REITs will be included in the FTSE EPRA Nareit Global Real Estate Index series. The entries into the FTSE EPRA Nareit Global Developed Index include AIMS APAC Reit, ARA Logos Logistics Trust, Cromwell European Reit, ESR-Reit, Far East Hospitality Trust, Keppel Pacific Oak US Reit, Lendlease Global Commercial Reit, OUE Commercial Reit, Prime US Reit, SPH Reit and Starhill Global Reit. Following this news, Far East Hospitality Trust (FEHT SP) and Mapletree Logistics Trust (MLT SP) shares climbed 5.08% and 2.9% respectively.
Yangzijiang Shipbuilding (YZJSGD SP) The company yesterday updated that the letter of intent (LOI) for five LNG dual 7,000 TEU containerships placed by Seaspan corporation has been declared effective. In addition, the company has also secured an order for the building of one 82,000 DWT in August 2021. Year to date, Yangzijiang has secured a total of 118 shipbuilding contracts with a total value of US$7.2bn.
Metal Component Engineering Ltd (MCOM SP) shares were up 8.11% following news of the company's unit 5Digital signing a term sheet to invest 7 billion rupiah in PT Gaido Digital Medika for a 70% stake. The metal stamping company said the investment will help strengthen its position in the omnichannel digital health industry. The companies intend to enter into a share purchase agreement by 30 October 2021.
King Wan Corporation (KWAN SP) shares rose another 51.28% following its surge on Tuesday. The building services company released a regulatory update on Tuesday night, saying that discussions with a party to set up a joint venture to carry out retrofitting and upgrading solutions could have unusual movement in its stocks. It was one of the most heavily traded stocks on the Singapore Exchange this week. In a response to a query by SGX, the company said "The company is also continuously and actively exploring opportunities to build and diversify our business and revenue streams, and may, from time to time, engage in discussions with potential targets." King Wan has also confirmed that it is in compliance with SGX's listing rules.
Trading Dashboard: Remove Rex International (REXI SP) at S$0.195, add Golden Energy & Resources (GER SP) at S$0.32
---
Hong Kong
Xinte Energy Co Ltd (1799 HK). Shares closed at a 52-week high. There was no company-specific news. The company previously announced 1H21 interim results. Revenue jumped by 130.2% YoY to RMB7.8bn. Gross profit jumped by 294.1% YoY to RMB2.5bn. Net profit attributable to the company shareholders jumped by 705.6 times to RMB1.2bn.
Xinjiang Goldwind Science & Tech Co Ltd (2208 HK), Huadian Power International Corp. Ltd. (1071 HK). Both shares closed at a 52-week high. There was no company-specific news. Clean energy sectors such as wind power and photovoltaic saw huge fund inflows as related companies reported better than expected interim results recently. The Chinese government recently implemented favourable policies in support of the sector.
CARsgen Therapeutics Holdings Ltd (2171 HK). Shares closed at a new high since its IPO in June. There was no company-specific news. The pharmaceutical sector recovered as concerns of the impact from China's centralised drug procurement gradually tapered.
Guangzhou Automobile Group Co Ltd (2238 HK). Shares closed at a 52-week high. The company previously announced 1H21 interim results. Revenue jumped by 34.8% YoY to RMB34.6bn. Gross profit jumped by 67.1% YoY to RMB1.6bn. Net profit attributable to the company shareholders jumped by 87% YoY to RMB4.4bn.
Trading dashboard: Trip.com (9961 HK) took profit at HK$247.8, Add CNOOC (883 HK) at HK$7.7.
---
Trading Dashboard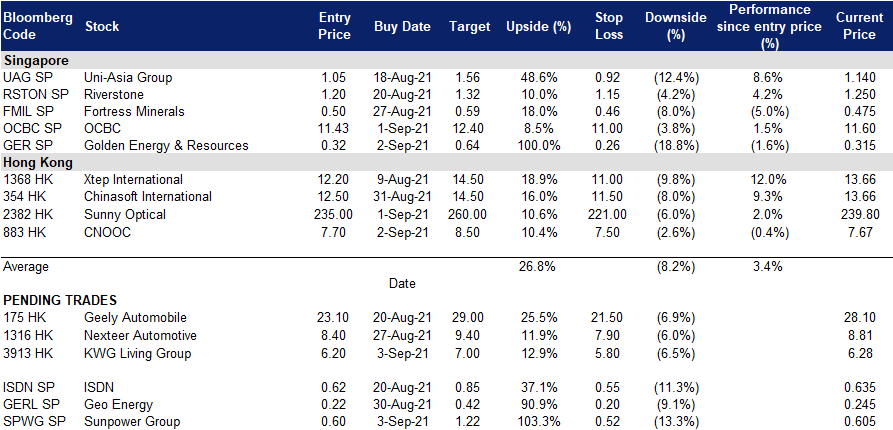 ---

---
Related Posts: