KGI DAILY TRADING IDEAS – 3 November 2021
Singapore Trading Ideas | Hong Kong Trading Ideas | Market Movers | Trading Dashboard
SINGAPORE
Yangzijiang Shipbuilding (YZJSGD SP): Danger or opportunity
BUY Entry – 1.30 Target – 1.65 Stop Loss – 1.20
China's largest private shipbuilder. Yangzijiang is China's largest private shipbuilder. The company builds a broad range of commercial vessels including containerships, bulk carriers and LNG vessels. Yangzijiang has been at the forefront of shipbuilding in China, receiving its first ever 24,000 TEU containership order in December 2020, the largest containership currently operating in the world.
Poor 3Q earnings. Shares of Yangzijiang fell 5% yesterday after its 3Q2021 numbers failed to impress. While 3Q revenue surged 45% YoY to RMB3.7bn, gross profit dropped 30% YoY to RMB0.5bn, mainly as gross profit margin fell to 13% (from 27% in the prior year) due to higher raw material costs.
Potentially better 4Q. Due to the power crunch in China, there were some constraints to the company in September and October. However, management has said that since the start of November, restrictions and constraints on electricity usage have eased and the shipyards are back to normal operations. Furthermore, we note that raw material prices have also come down in 4Q2021.
Upside catalyst from potential spin-off of investment portfolio. Yangzijiang is currently conducting a preliminary strategic review of its debt investment portfolio to focus on shipbuilding. The potential listing of Yangzijiang's debt securities portfolio, which makes up 50% of gross profit, could provide a rerating to its share price.
Positive consensus estimates. Valuations are still attractive at 8x/7x/6x FY21/22/23 PE, while trading at a 25% discount to historical book value. Cash & cash equivalents make up almost 80% of its current market cap. Consensus currently has 7 BUYS, 1 HOLD and 1 SELL, and a 12m TP of S$1.77.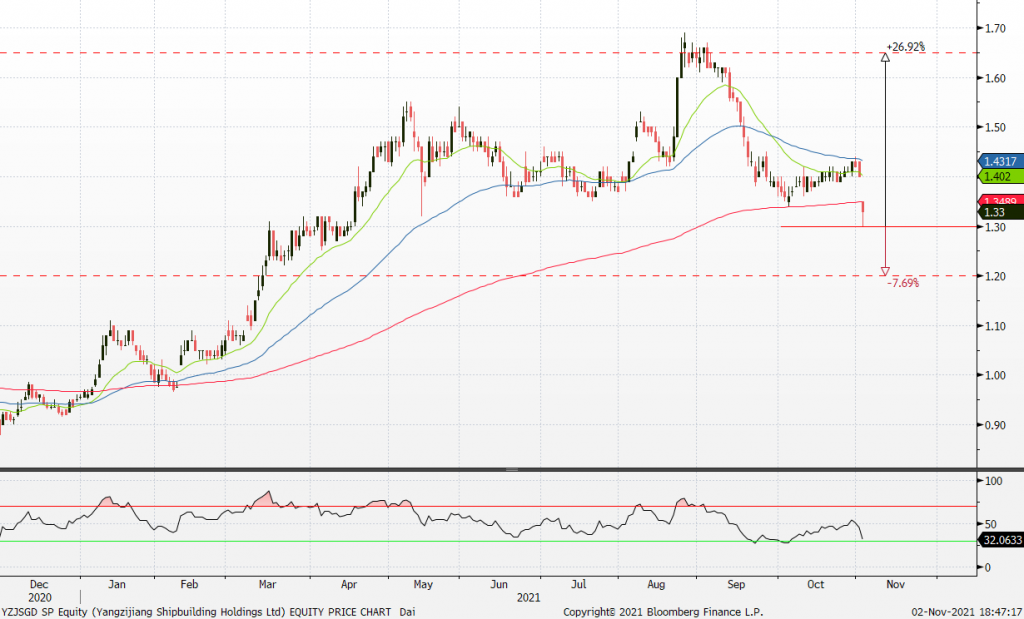 ---
Frencken Group (FRKN SP): Uptrend ahead of 3Q business update
REITERATE BUY Entry – 2.26 Target – 2.50 Stop Loss – 2.15
FRKN is a technology manufacturer providing end-to-end solutions to global clients including ASML (semiconductor), Philips (medical), Siemens (medical), FEI (analytical), Seagate (industrial automation) and ThermoFisher (analytical).
The force is strong. Based on the quarterly results and outlook commentary of semiconductor giant TSMC, the upstream segment of the sector is likely to benefit from positive tailwinds for at least another 2 years. TSMC commented that it is seeing booming demand for its products and services and that supplies will likely remain tight going into 2022. The second positive point is that TSMC will build a new plant in Japan, in a JV with Sony Corp. As a recap, TSMC plans to spend about US$100bn over the next three years to expand its manufacturing capacity and to support R&D.
Diversifying into aerospace. While the aerospace sector was hit hard by the Covid-19 pandemic, there are signs that it is turning around. It is in this context that Frencken has made a timely acquisition of Avimac Pte Ltd, an aerospace and semiconductor-focused company, for a total sum of S$14mn. The acquisition, while tiny relative to Frencken's current market cap, will help Frencken gain access to new customers and get a foot into the recovering aerospace sector.
Consensus estimates are positive. There are 5 BUYS and an average TP of S$2.59, implying a 11% potential upside. Valuations are still decent at 16x and 14x FY2021 and FY2022 EPS. The company is likely to provide the 3Q business update either end this week or early next week.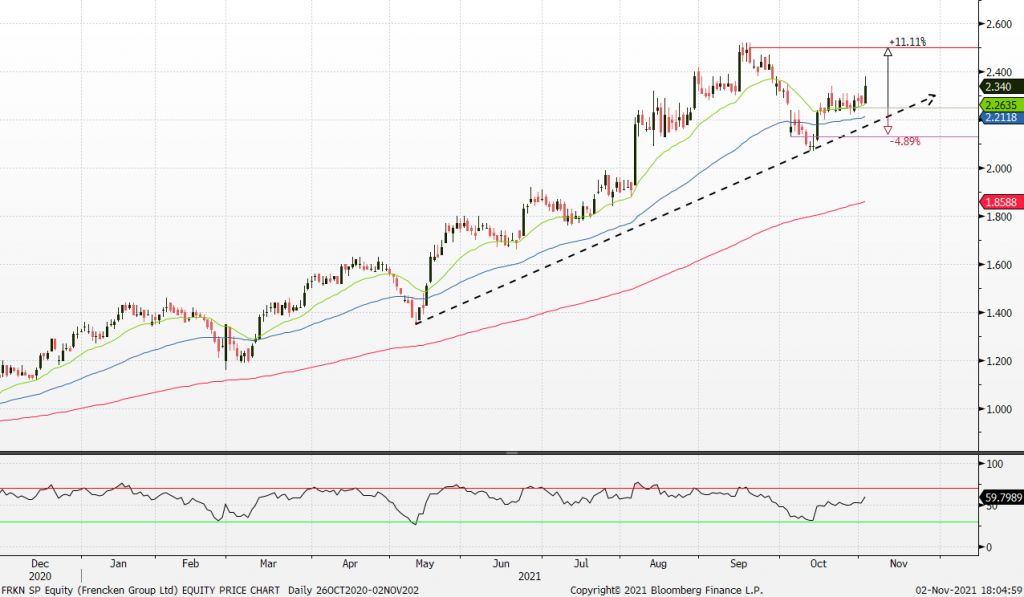 ---
HONG KONG
Fuyao Glass Industry Group Co Ltd (3606 HK): Ride on the automobile sector recovery
Buy Entry – 43.5 Target – 50 Stop Loss – 41.5
Fuyao Glass Industry Group Co Ltd is a China-based company, principally engaged in the manufacture and distribution of float glasses and automobile glasses. The company's products portfolio consist of automobile glasses, such as coating glasses and others, which are applied in passenger cars, buses, limousines and others, and float glasses. The company distributes its products within domestic markets and to overseas markets.
Key financial highlights:
| | | | |
| --- | --- | --- | --- |
| (RMB mn) | 9M21 | 9M20 | YoY change |
| Revenue | 17,152.9 | 13,776.3 | 24.5% |
| Net profit | 2,595.7 | 1,722,9 | 50.7% |
| NPM (%) | 15.1 | 12.5 | 2.6 ppt |
Chip shortage. Impacted by shortage of automobile chips, the automobile production recovery has slowed down even as demand for passenger vehicles continue to rise. Global automakers are forced to shut several plants due to insufficient chip supply. Automobile glass is one of the parts in a vehicle, and hence, its sales are highly correlated to the auto production volume.
Power shortage. Due to extraditionarily high coal prices, China is facing a power outage which directly affects industrial production. Glass production demands a huge amount of electricity usage.
Headwinds are transitory. Currently, shares are hammered due to the abovementioned unfavourable macro factors. However, unsustainable high coal prices are more impactful in the near term. Gradually, we believe that the negatives will be mitigated as China has resumed operations of some coal mines. Meanwhile, infections in Southeast Asia countries are decreasing, especially in Malaysia where most auto chip packaging is done. Hence, we could see some improvements in auto ship supply in 4Q21.
Consensus estimates per the 12-month target price is at HK$57.73, implying a 47.3% upside potential. EPS is forecasted to grow at 38.5%/28.4%/16.1% for FY2021/22/23F, which would bring forward P/Es down to 26.1x/20.4x/17.5x FY2021/22/23F.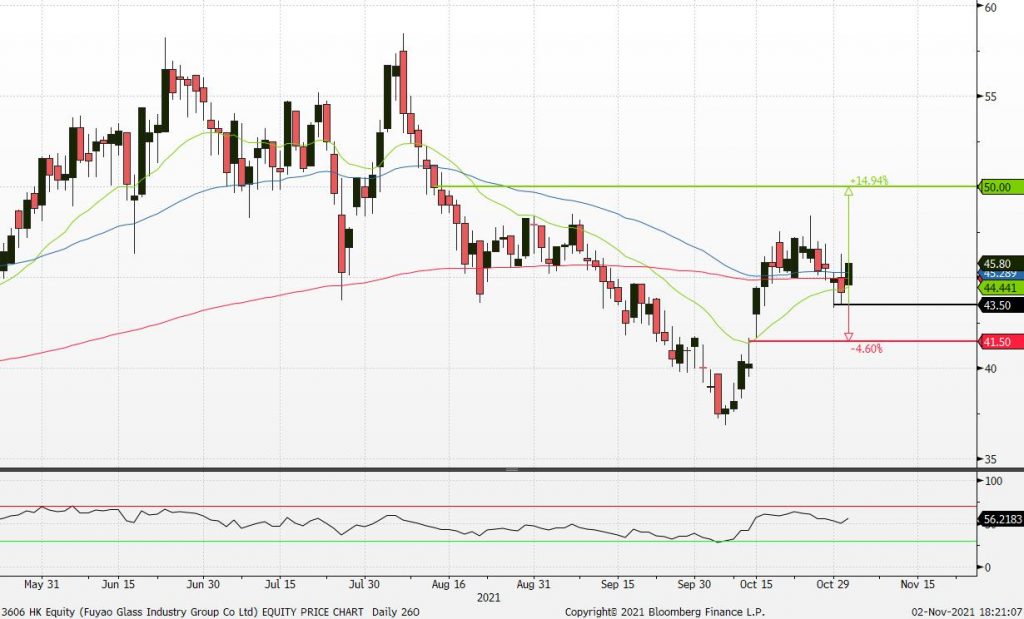 ---
TRIP.COM (9961 HK): Contrarian trade, buy the dip when lockdown comes
Buy Entry – 220 Target – 250 Stop Loss – 205
Trip.com Group Limited, formerly Ctrip.com International, Ltd., is a travel service provider in China that provides accommodation booking, transportation ticketing, package tours and corporate travel management. The company aggregates hotel and transportation information to help leisure and business travellers make reservations. The company helps leisure travellers book travel packages and guided tours and helps corporate clients manage their travel needs. The company also offers a range of travel-related services to meet the different booking and travel needs of leisure and business travellers, including visitor reviews, attraction tickets, travel-related financial services, car services, travel insurance services and passport services. The company also offers package tours for independent leisure travellers, including tour groups, semi-tour groups and private groups, as well as package tours that require different transportation arrangements (such as cruise, buses or self-driving).
Speed bump again. Tourism and recreation sector is on a tortuous path of recovery. Countries who have 60% to 70% of vaccination rates gradually open the borders. However, China still strictly adopts the zero-infection policy domestically. Recently, there were rising infection cases in China, and related cities and districts were locked down again. This led to the sell-down of the stock, breaking the recovery of price. However, it is a buying opportunity now as the past performance showed a resiliency to such kind of news.
Promising recovery against COVID-19. Previously, the company announced 1H21 results. Total net revenue increased by 86% YoY and 43% QoQ to RMB10bn, driven by the strong recovery momentum of the China domestic market. Both domestic hotel and air-ticket GMV increased by about 150% YoY. Compared with the same pre-COVID period in 2019, both domestic hotel and air ticketing reservations achieved double-digit growth in 2Q21. Staycation travel continues to serve as a major driver of domestic recovery with local hotel reservations growing nearly 80% versus pre-COVID period in 2019. Revenues from corporate travel management grew 141% year over year and 26% compared with the pre-COVID period in 2019. In 1H21, the company reported a net profit of RMB 1bn compared to a net loss of RMB 5.8bn during the same period last year.
Best performance among all the e-commerce large-cap Chinese companies. The crackdown of multiple sectors hammered share prices of technology stocks. Currently, there is no obvious sign of turnaround. However, tourism is one of the few sectors that are relatively immune to policy risks. The price performance of the company showed positive signs of turnaround amidst the recent bearish market sentiment.
The updated market consensus of the estimated net profit growth in FY22 and FY23 is 383.1% and 51.6% respectively, which translates to 27.4x and 18.1x forward PE. Bloomberg consensus average 12-month target price is HK$286.36.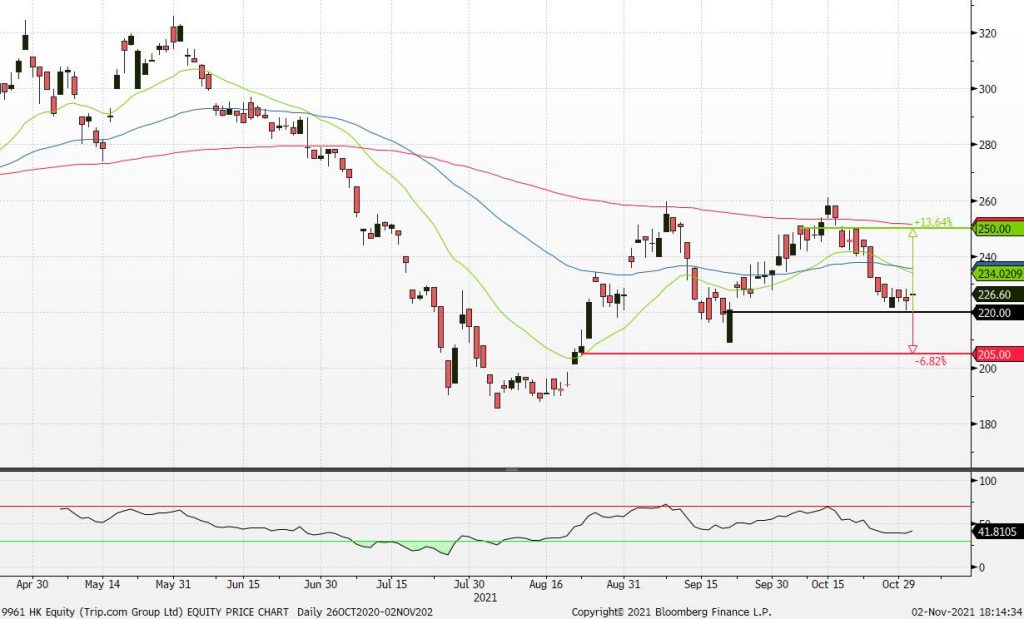 ---
Market Movers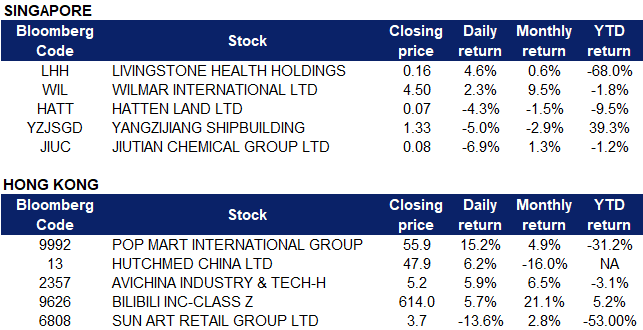 United States
Pfizer (PFE US) shares jumped 4.2% after the company posted stronger than expected third quarter earnings on Tuesday, and boosted its full year profit forecast. It also lifted its vaccine sales estimates to approximately $36 billion. Adjusted earnings for the quarter was at $1.34 per share, an 86% increase from the same period last year, beating estimates of $1.09. Group revenues nearly doubled from last year to $24.1 billion, beating estimates of $22.71 billion. Pfizer said it expects to deliver around 2.3 billion vaccine doses this year, a 200 million increase from its prior forecast, with a total manufacturing total of around 3 billion. Additionally, the CDC cleared Pfizer's doses for children aged 5 to 11 on Tuesday night after a unanimous recommendation by the agency's Advisory Committee on Immunization Practices. Vaccinations for young children are expected to begin immediately, and will be given to kids in smaller doses, one-third of the dosage given to teens and adults.
Tesla (TSLA US) shares retreated 3% on Tuesday after Elon Musk tweeted on Monday night that Tesla had not signed a contract with rental car company Hertz. Hertz previously announced last week it would offer 100,000 Tesla cars by the end of 2022, and said Tesla has already started delivering cars into its rental fleet.
DraftKings (DKNG US) shares fell as much as 4.7% after Morgan Stanley and Roth Capital analysts reported weak coverage on the stock. Morgan Stanley gave the stock equal-weight rating and a target price of $53, citing that they were not optimistic about when the company might swing to profitability. Roth Capital said that the company's upcoming third quarter earnings and guidance might be "underwhelming", and gave the stock a "Sell" rating, maintaining their target price of $41. Draftkings is set to report third quarter results on Friday, 5 November before the market opens.
Bed, Bath & Beyond (BBBY US) shares surged 67.5% in after hours trading on Tuesday after the company unveiled a distribution partnership with Kroger Co, the largest grocery chain in the U.S., where customers will have access to BBBY's products. The stock's gains was mostly likely fueled by heavy short covering, as it was one of the original meme stocks that Reddit investors were talking about earlier this year. Other meme stocks such as AMC Entertainment (AMC US) and Gamestop (GME US) also jumped 6% in extended trade.
---
Singapore
Jiutian Chemical (JIUC SP) shares plunged 6.9% on Tuesday after it was announced that the company's controlling shareholder, Anyang Chemical Industry Group, is currently undergoing an asset and debt restructuring exercise. In its filing to SGX, the board said that the restructuring exercise would not affect operations of the group, but may result in an asset impairment for Jiutian.
Yangzijiang Shipbuilding (YZJSGD SP) shares declined 5% after the company posted its business updates for 3Q2021. Revenue increased by 45% YOY to a record of RMB3.69 billion mainly due to higher level of shipbuilding activities during the quarter as compared to a year ago. Gross profit for the third quarter ended 30 September was RMB 1 billion, down from RMB1.26 billion in the year-ago period, which the company said was due to rising costs of raw materials. Revenue from the trading segment declined to RMB99.4 million in 3Q2021 due to lower volume of trading activities.
Hatten Land (HATT SP) shares declined 4.3% on Tuesday, likely on profit taking. The company previously announced that its subsidiary Hatten Technology had entered into a joint venture agreement with local fintech company Hydra X to jointly develop and operate cryptocurrency exchanges which will focus on the listing and trading of newly-minted bitcoins. Under the joint venture agreement, Hatten Land will hold 60% equity stake, while the remaining 40% will be held by Hydra X, and revenue generated will provide custody services for cryptocurrencies and tokens that are being traded.
Wilmar International (WIL SP) shares climbed 2% yesterday. The company previously posted third quarter earnings with net profit for the quarter to September rising 6% to US$568.7 million. Its core net profit jumped by 15% to a record high US$576.4 million for the first time since its listing on the SGX mainboard. The company said that the results improved as the Feed and Industrial Products, and Plantation and Sugar Milling segments turned in better performances.
Livingstone Health (LHH SP) shares jumped 4.6% after the company posted a 56% increase in net profit to $2.1 million for its first half ended 30 September, up from $1.3 million a year ago. The healthcare specialist group said that this was largely due to contributions from its existing business segments, new initiatives and administration of Sinovac COVID-19 vaccines. Earnings per share was at $0.0065, up from $0.0042 a year ago. Revenue for 1H was at $16 million, a 97% jump from $8.1 million a year ago. Additionally, Livingstone Health was appointed by the Ministry of Health in September to lead the procurement of 101,000 additional doses of the Sinovac vaccine on behalf of private healthcare institutions in Singapore. The company also added that it expects its performance for FY2022 to improve compared to FY2021, given the vaccine procurement, distribution and administration, its growth strategies, as well as the absence of the financial effects of the RTO and RTO-related professional costs.
---
Hong Kong
Pop Mart International Group Ltd (9992 HK). Shares gained 15.2% yesterday, extending its rally since Monday as a couple of banks gave Pop Mart a BUY rating. Goldman Sachs reiterated its BUY rating with a target price of HK$94, with drivers being the company's online promotion strategy, strong pricing power and rich product portfolio. Citic Securities also released a research report stating that as the peak season is approaching, the bank is optimistic about the fourth quarter, with catalysts being Double 11 and Christmas. Coupled with store expansion and new product launches, this would boost full year performance. Currently, according to Bloomberg consensus, Pop Mart has a rating of 21 BUYS, 0 HOLD and 0 SELL, with a 12M TP of HK$82.19, representing an upside of 47.2% as of yesterday's closing price.
Hutchmed China Ltd (0013 HK). Shares gained 6.2% yesterday, after the company announced that it would be collaborating with AstraZeneca (AZN US) to initiate a combination therapy of Savolitinib and IMFINZI for the treatment of patients with MET-driven advanced papillary renal cell carcinoma SAMETA International Phase III clinical trial.
AviChina Industry & Technology Co Ltd (2357 HK). Shares rose 5.9% yesterday after the company announced that in the first three quarters, its subsidiary Hongdu Aviation recorded operating income of approximately RMB 4.303bn, a YoY increase of 42.68%. The net profit attributable to shareholders was approximately RMB 67.137mn, a YoY increase of 429.47%. In addition, another of the company's subsidiaries, Hongdu Airlines recorded operating income of approximately RMB 1.612bn, a YoY increase of 101.92%. The net profit attributable to shareholders was approximately RMB 9,351,100, a YoY increase of 218.14%
Bilibili Inc (9626 HK). Shares rose 5.7% yesterday even though there was no company specific news. Investors are likely buying ahead of the company's third quarter earnings results expected to be announced on 17 November, Wednesday. Last month, Tianfeng Securities released a research report, expecting Bilibili's third quarter revenue to increase by 61.2% YoY to RMB 5.2bn. It is also optimistic on the company's growth value and commercialization space and maintained a BUY rating. Currently, according to Bloomberg consensus, Bilibili has a rating of 19 BUYS, 1 HOLD and 0 SELL, with a 12M TP of HK$865.84, representing an upside of 41% as of yesterday's closing price.
Sun Art Retail Group Ltd (6808 HK). Shares declined 13.6% yesterday, after the company announced disappointing half year results. From April 1 to September 30, 2021, the company achieved revenue of RMB 41.534bn, down 5% YoY, while profit attributable to shareholders of RMB 117mn, down 86% YoY. Even though the company's retail B2C business has steadily improved, with online orders from RT-Mart Youxian APP, Taoxianda, Ele.me, and Tmall increasing by 25% YoY, its B2B business was impacted by community group purchases. However, the group expects the B2B business to return to the growth track in the next fiscal year.
Trading Dashboard: Ping An Insurance (2318 HK) cut loss at HK$57.7. China Molybdenum (3993 HK) cut loss at HK$4.95. Add Nexteer Automotive (1316 HK) at HK$8.8. Add Bosideng International (3998 HK) at HK$6.05. Add Xtep International (1368 HK) at HK$10.5.
---
Trading Dashboard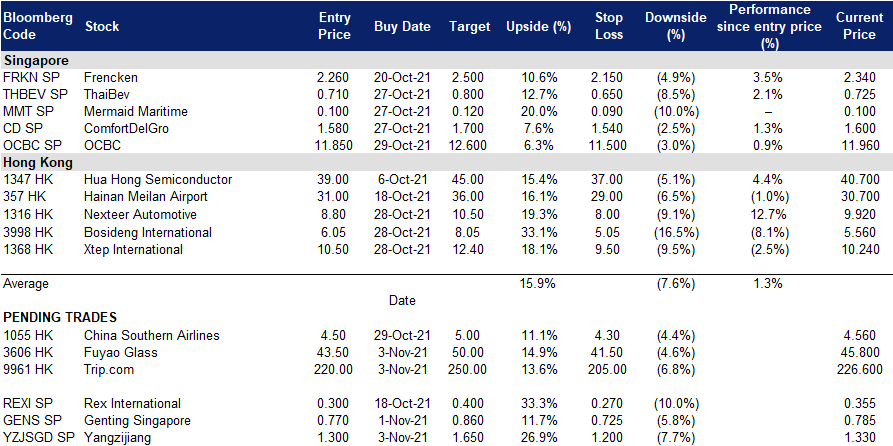 ---

---
Related Posts: