3 Dec 2021: OCBC (OCBC SP), Smoore International Holdings Ltd (6969 HK)
Singapore Trading Ideas | Hong Kong Trading Ideas | Market Movers | Trading Dashboard
SINGAPORE
OCBC (OCBC SP): It's time to tame inflation
BUY Entry – 11.85 Target –12.60 Stop Loss – 11.50
OCBC is Singapore's longest established bank, formed in 1932 from the merger of three local banks. It is now the second largest financial services group in Southeast Asia by assets and one of the world's most highly-rated banks, with Aa1 by Moody's and AA- by both Fitch and S&P. Assets under management (AUM) at its private banking subsidiary, Bank of Singapore, grew 11% YoY to US$125bn (S$169bn) as at 30 June 2021.
Rate hikes to tame inflation. With inflation in the OECD area surging in October to the highest rate in almost 25 years, Fed Chair Powell has recently turned more hawkish, saying that inflation pressures will "linger well into next year." Markets are now pricing in a full quarter-point rate hike in June 2022, while a second rate hike is expected in November 2022. We also believe that global economic growth will start to re-accelerate in the second half of 2022 once supply chain issues are resolved, lending to further loan growth momentum for the banks.
Positive consensus estimates. There are 18 BUYS and 4 HOLDS with an average TP of S$14.00, implying a total return of 24%. OCBC currently trades at 0.99x forward P/B, an almost 40% discount to DBS, while offering a decent 5% forward dividend yield.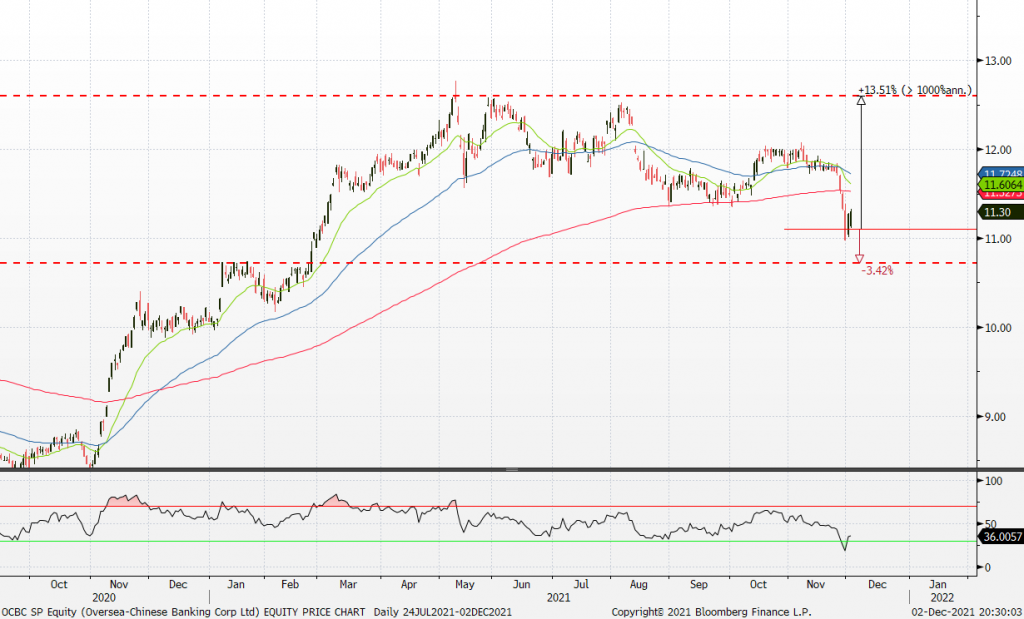 ---
Singtel (ST SP): Oversold and entering accumulation zone
REITERATE BUY Entry – 2.36 Target –2.80 Stop Loss – 2.20
Singtel provides an extensive range of telecommunications and digital services to consumers and businesses across Asia, Australia, Africa and the US. It serves over 753 million mobile customers in 21 countries, including Singapore, Australia (via wholly-owned subsidiary Singtel Optus) and the emerging markets of India, Indonesia, the Philippines, Thailand and Africa.
Oversold. Shares of Singtel have lost around 10% from their 1-year high of S$2.63, driven partly by the broad-based selling due to the new Covid variant – Omicron. RSI of 26 indicates oversold conditions, while shares are now within the 1-year accumulation band (see graph below).
Improving outlook. Consensus anticipates an improving outlook for Bharti as the Indian wireless industry becomes a quasi-duopoly, which should drive revenue and earnings growth going forward. Meanwhile, its 100%-owned Australian subsidiary, Optus, is seeing a better competitive environment as operators remove discounts and are offering less bonus data.
Banking on digital. In the next 12-24 months, a key driver will be Singtel's digital banking plans together with its partner, Grab Holdings. The Singtel-Grab consortium will allow it to take deposits and offer banking services to retail and corporate customers. For now, we think Singtel's share price has not factored in contribution from the digital bank business, and will likely be a positive boost to its shares when visibility emerges.
Consensus estimates. Consensus has an overall positive outlook on Singtel, with 17 BUYS / 2 HOLDS / 0 SELL, and a 12m TP of S$3.08 (+31% upside potential). EPS is forecasted to finally grow 31% and 18% for FY2022 (YE March) and FY2023. The stock offers a decent dividend yield of 4.3% for FY2022 and 5.1% for FY2023.
---
HONG KONG
Smoore International Holdings Ltd (6969 HK): Legalisation of E-cigarette turns out to be a tailwind
Buy Entry – 43.5 Target – 53.5 Stop Loss – 39.5
Smoore International Holdings Ltd is a China-based investment holding company. The Company is mainly engaged in the research, design, manufacture and sales of vaping devices and components and self-branded advanced personal vaporizers (APV). The Company distributes its products to tobacco companies, independent vaping companies and retail clients. The Company's APV brands include Vaporesso, Renova and Revenant Vape. The Company mainly operates its businesses in the United States, Mainland China, Hong Kong, Japan, Switzerland and the United Kingdom, among others.
3Q21 financial results updates. 3Q21 unaudited adjusted net profit edged up by 7.6% YoY to RMB1.25bn.
Uncertainties were cleared. China issues draft rules requiring e-cigarette firms to obtain licences. According to the draft rules, companies selling e-cigarettes in China must meet national standards in order to register with the tobacco authority and do business legally. Companies engaged in the production of e-cigarettes must also receive a special licence from the tobacco authority, provided they can prove that they have the funds for production and a facility with equipment that meets standards.
Updated market consensus of the EPS growths in FY22/23 are 30.4%/28.5% YoY respectively, which translates to 34.1x/26.5x forward PE. Current PER is 48.0x. Bloomberg consensus average 12-month target price is HK$64.90.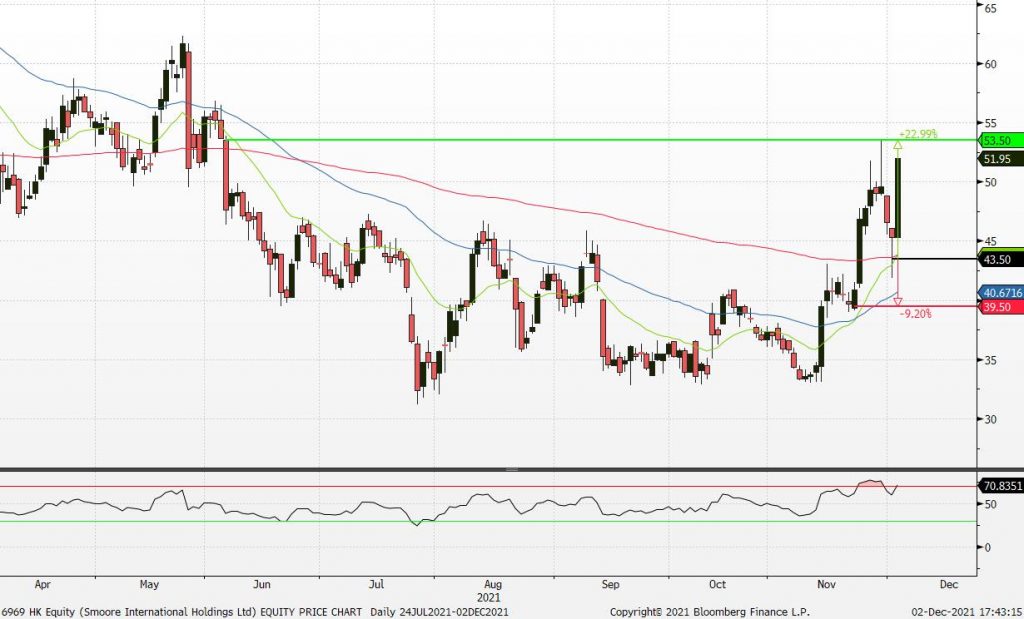 ---
PC Partner Group Limited (1263 HK): Ride on the trend
Buy Entry – 15 Target – 20 Stop Loss – 12.5
PC Partner Group Limited is an investment holding company principally engaged in the electronics and personal computer (PC) parts and accessories businesses. Its main business includes the design, development and manufacturing of video graphics cards for desktop PCs, the provision of electronics manufacturing services, as well as the manufacturing and trading of other PC related product components. The Company is also engaged in the provision of technical support services through its subsidiaries. Its primary products are video graphics cards, motherboards and mini-PCs. Its primary brands include ZOTAC, Inno3D and Manli. Its businesses are mainly conducted in Mainland China, Hong Kong, Macau, Korea and the US.
Expecting 3Q21 to reach a new record. Prices of graphic cards continue to rise. The price hikes of RTX 3080 or lower, GTX 10 series, and RX 6000 series range from 3% to 7% in September. AMD (AMD US) announced its 3Q21 results. Its Computing and Graphics segment revenue jumped by 44% YoY or 7% QoQ to US$2.4bn. In 1H21, PC Partner's graphic card revenue grew by 140.8% YoY to HK$6.0bn. The group's gross profit margin increased to 27.2% from 9% during the same period. It is expected that PC Partner Group's 3Q21 results will be stellar.
Metaverse theme hype. Facebook (FB US) recently changed its name to META, announcing the metaverse as its core development for the next decade. Previously, Nvidia (NVDA US) also announced plans to develop the metaverse area. In the foreseeable future, the demand for graphic cards will have exponential growth. PC Partner can be viewed as one of the few metaverse-themed stocks listed in Hong Kong. AMD announced its next-gen Zen 4-based EPYC "Genoa" CPUs at its Accelerated Data Center event, as well as the world's first MCM-based "Aldebaran" GPU that will power AMD's new Instinct MI250X and MI250 accelerators. Meanwhile, they also announced that they have secured Meta, the company formerly known as Facebook, as a new customer. Meta will be using AMD EPYC CPUs inside of its data centres.
Cryptocurrencies on the long-term bull trend. Another driver for sales growth is the positive uptrend of the crypto market. Both Bitcoin and Ethereum remained at a healthy uptrend. An increasing number of institutions have accepted cryptocurrencies as one part of their asset allocations. With higher crypto prices, mining activities remain buoyant globally, pushing higher demand for graphic cards.
The company's valuation is attractive. The stock is currently trading at only 5.8x PE.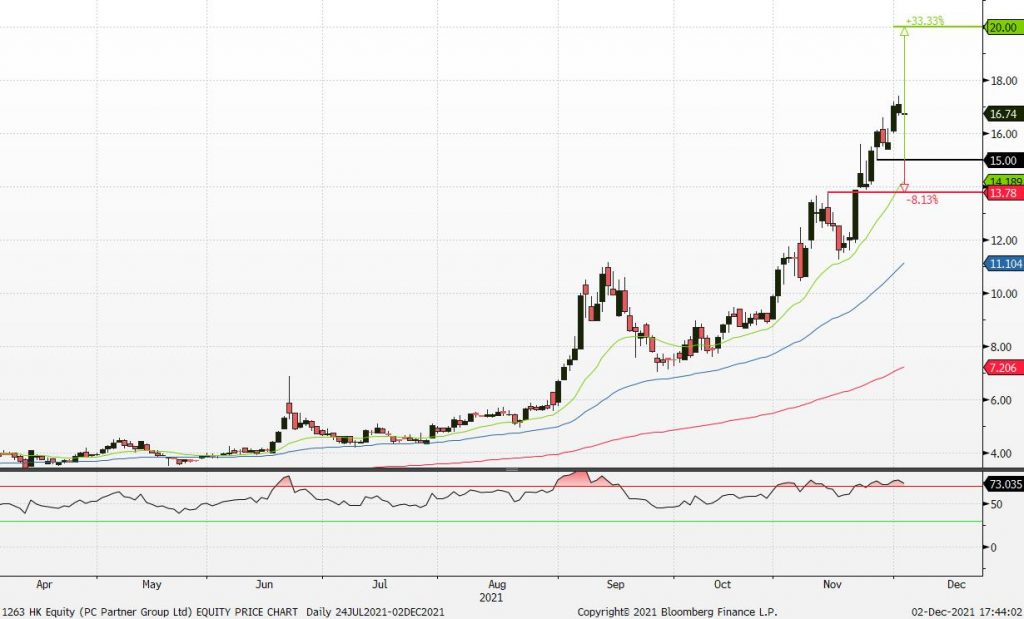 ---
Market Movers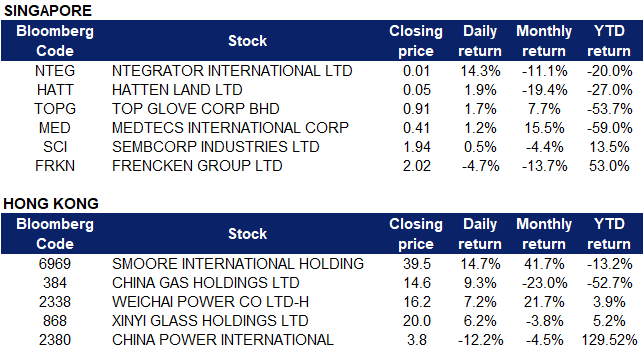 ---
United States
Top Sector Gainers
Top Sector Losers
Boeing (BA US) shares rose 7.4% yesterday after China's aviation regulator cleared the Boeing 737 Max to return to flying with technical upgrades more than two years after the plane was grounded worldwide following two fatal crashes. China is the last major market where the Boeing 737 Max was awaiting approval after the United States allowed flights to resume in December 2020 and European Union regulators gave permission in January. Brazil and Canada also have given approval.
Snowflake (SNOW US) shares surged 15.9% after the company delivered sparkling growth metrics in its fiscal 2022 third-quarter report. Revenue jumped 110% YOY to $334.4 million, well above Wall Street's estimates of $305.6 million. Management now projects that its product revenue will increase by approximately 104% to $1.13 billion in fiscal 2022, up from its prior guidance for revenue growth of roughly 92%.
Airline stocks recovered yesterday, with markets taking comfort in reports that the Omicron variant might not be as lethal as it seems. Additionally, JP Morgan analysts said yesterday that they "view the recent selloff in these segments as an opportunity to buy the dip in cyclicals, commodities and reopening themes, and to position for higher bond yields and steepening." Shares of Delta Airlines (DAL US), American Airlines (AAL US), JetBlue Airlines (JBLU US) rose 9.3%, 7% and 7.7% respectively.
Visa (V US) shares closed 4.3% higher yesterday. There was no company specific news. The Wall Street Journal reported yesterday that "credit card applications hit [a] pandemic high" in October, and that "almost 27% of U.S. consumers said in October that they had applied for a credit card in the past 12 months."
---
Singapore
Hatten Land (HATT SP) shares climbed 1.9% yesterday. The company previously announced in a corporate and business update that it has completed what it called a "strategic review" of its business and will diversify its operations into the blockchain sector and the digital economy. Hatten Land has outlined four strategic initiatives that it plans to take: 1) re-purposing its malls to include 'green' cryptocurrency mining activities, 2) creating a 'metaverse' world, 3) implementing renewable initiatives commencing with solar panels to be installed on the roofs of their malls and 4) preparation for post-pandemic economic activities resumption and improving the tenant mix and related activity of malls in Melaka.
Sembcorp Industries (SCI SP) shares climbed as much as 1% yesterday after it announced that it is acquiring a 35% interest in SDIC New Energy, a power company in China with a portfolio of 30 operational wind and solar photovoltaic (PV) assets, for 1.5 billion yuan or S$320 million. Sembcorp said that the investment is part of the group's target to reach 10GW in gross installed renewables capacity by 2025.
Ntegrator International (NTEG SP) shares jumped after announcing that it has secured an S$8.6 million contract extension from a regional telecom provider for pipe installation and maintenance works in eastern, northern and western Singapore. Ntegrator said that this deal adds to its order book of S$65.9 million as at Jun 30, 2021.
Medtecs International Corp Ltd (MED SP), Top Glove (TOPG SP) shares recovered slightly yesterday, gaining 1.2% and 1.7% respectively. Shares of the medical disposals makers previously surged on news of the new COVID-19 variant, omicron.
Frencken Group Ltd (FRKN SP). Shares declined 4.7% yesterday. Even though Maybank KE upgraded Frencken back to 'buy' following its recent share price correction, this remains below the stock's former S$2.63 target price before Maybank KE downgraded its call to "hold" from "buy" on Nov 16. With the upgrade, Frencken's target price has been left unchanged at S$2.50, based on 15.5x FY2022 price-to-earnings. According to the research report published yesterday, Maybank KE analyst Lai Gene Lih remains "positive" on the overall sector on the view that demand dynamics remain "solid", but continues to be "incrementally selective" in response to supply-side bottlenecks. He believes Frencken, AEM and UMS face fewer supply-side bottlenecks than downstream players amid the global chip shortage.
---
Hong Kong
Top Sector Gainers
Top Sector Losers
Smoore International Holdings Ltd (6969 HK). Shares closed at a 5-month high. E-cigarette stocks jumped. China issues draft rules requiring e-cigarette firms to obtain licences. According to the draft rules, companies selling e-cigarettes in China must meet national standards in order to register with the tobacco authority and do business legally. Companies engaged in the production of e-cigarettes must also receive a special licence from the tobacco authority, provided they can prove that they have the funds for production and a facility with equipment that meets standards.
China Gas Holdings Ltd (384 HK). Shares rebounded from a 52-week low. The company announced that it and the People's Government of Harbin City have entered into a cooperation agreement of dual-control of energy consumption and dual-carbon management in city on 1 December 2021. Previously, the company announced its 1H21 results. Revenue jumped by 43.4% YoY to HK$38.95bn. Net profit attributable to owners of the company grew by 19.3% YoY to HK$4.1bn. Meanwhile, the board declared an interim dividend of HK10.0 cents per share.
Weichai Power Co Ltd (2338 HK). Shares closed at a 2-month high. Sichuan province and Chongqing city announced a plan to deploy 400 hydrogen fuel cell vehicles in two years and 1000 units by 2025, and to build related hydrogen charging stations. Weichai Power has owned related core technologies.
Xinyi Glass Holdings Ltd. (868 HK). There was no company-specific news. Major shareholders repurchased 5.4mn shars at the average price of HK$19.20.
China Power International Development Ltd (2380 HK). The company announced a plan to place 1.027bn shares at the price of HK$3.8. The tidal number of placing shares represents approximately 9.48% of the issued share capital. The gross proceeds and net proceeds are estimated to be approximately HK$3.9bn and HK$3.867bn respectively. The company intends to use the proceeds from issuing the for the development and expansion of the group's clean energy business and as general working capital.
Trading Dashboard: Cut loss on Kintor Pharmaceutical (9939 HK) at HK$54.
---
Trading Dashboard
(Click to enlarge image)
---

---
Related Posts: