KGI DAILY TRADING IDEAS – 29 September 2021
Singapore Trading Ideas | Hong Kong Trading Ideas | Market Movers | Trading Dashboard
SINGAPORE
LHN (LHN SP): A diversified real estate management service provider
BUY Entry – 0.335 Target –0.49 Stop Loss – 0.30
LHN is a real estate management service group which specialises in space optimisation. The company also provides facilities management and logistics services, which complements its space optimisation business.
Strong top and bottom line. Revenue increased 20.8% YoY to S$134mn in FY20, while net profit surged 183.0% YoY to S$24mn. The jump in net profit was mainly due to better gross margins of 47.4%, which was almost double from the prior year. Strong bottom-line was supported by Job Support Scheme (JSS) and rental rebates of S$4.7mn, as well as an investment gain in subleases of S$6.9mn. Eliminating one-off gains, core PATMI for FY20 stood at S$11.3mn, an increase of 40.9% from FY19.
Catalysts. A solid FY22 revenue growth is expected from the space optimization business, given that 4 residential properties are expected to commence operations. Revenue and earnings drivers include reopening of borders and positive momentum of co-living trends. Meanwhile, the facilities management segment is expected to grow in tandem with the space optimization business, coupled with recurring dormitory management income. Finally, the logistics management segment is expected to grow in line with robust shipping activity.
Attractive valuations. We initiate LHN with an Outperform recommendation and a TP of S$0.49. Our TP is based on 6.0x P/E to its FY22F EPS of S$0.082.
Read the full initiation report here.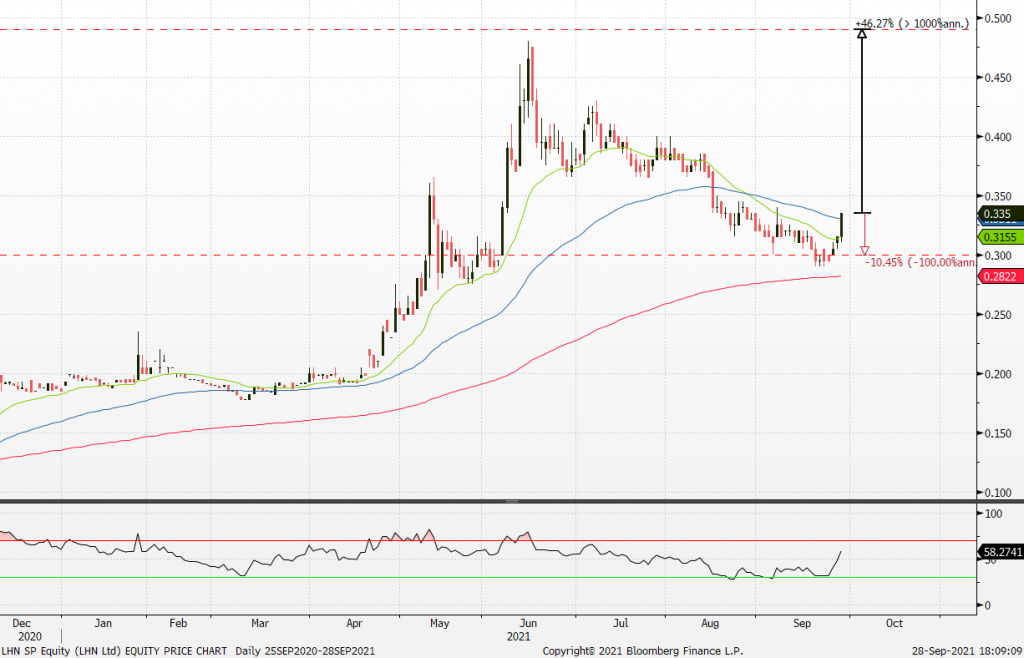 ---
Uni-Asia Group (UAG SP): Strength to strength
RE-ITERATE BUY Entry – 1.03 Target –1.56 Stop Loss – 0.92
UAG is an alternative investment company that owns and manages bulk carriers, invests in Hong Kong commercial offices and develops residential properties in Japan. The group derives around 65% of its revenues from charter income generated by its fleet of bulk carriers. The remainder of its revenue is from the property projects in HK and Japan.
Sky-high freight rates. The broad-based increase in commodity demand and the tight supply of vessels have pushed Baltic Freight rates to their highest in more than 10 years. The market for handysize, which UAG specialises in, is even more favourable as rates rise to their highest since 2008. Current charter rates for handysize carriers are now above US$30,000 per day, which is three times more than the average US$10,900 charter rate that UAG achieved in 1H2021.
More structural than expected. We expect charter rates to remain resilient at these levels, or even increase, amid historically low order book, rising scrap rates and further cuts in operating speeds.
UAG is set to benefit. Six of UAG's wholly-owned dry bulks will renew in 2H2021, three will renew in 1H2022 and one in 2H2022.
Attractive valuations. Valuations are attractive amid the stronger-than-expected bulk carrier upcycle. We have an OUTPERFORM recommendation and a TP of S$1.56, or an implied 0.7x FY2021F P/B, which is still a conservative 30% discount to international peers who are trading above 1.0x P/B.
Read our full report here.
Baltic Dry Index Handysize Index (2016-2021 YTD)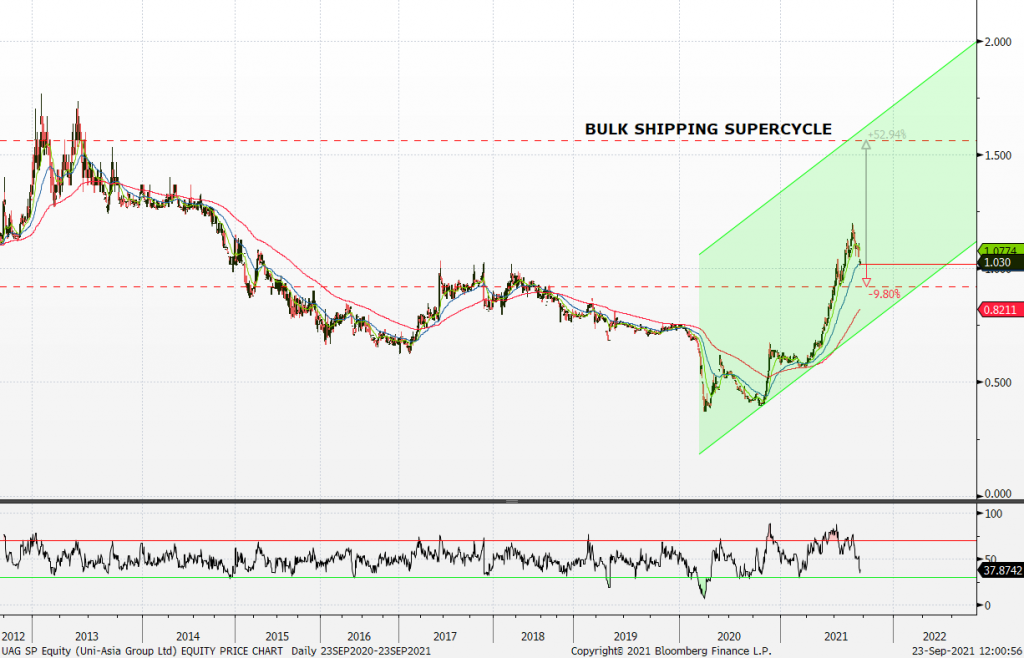 ---
HONG KONG
Fuyao Glass Industry Group Co Ltd (3606 HK): Double whammies are the buy-the-dip opportunity
Buy Entry – 40 Target – 37 Stop Loss – 50
Fuyao Glass Industry Group Co Ltd is a China-based company, principally engaged in the manufacture and distribution of float glasses and automobile glasses. The company's products portfolio consist of automobile glasses, such as coating glasses and others, which are applied in passenger cars, buses, limousines and others, and float glasses. The company distributes its products within domestic markets and to overseas markets.
Key financial highlights:
| | | | |
| --- | --- | --- | --- |
| (RMB mn) | 1H21 | 1H20 | YoY change |
| Revenue | 11,543.2 | 8,121.3 | 42.1% |
| Gross profit | 4,586.7 | 2,807.6 | 63.4% |
| GPM (%) | 39.7 | 34.6 | 5.1 ppt |
| Net profit | 1,766.7 | 962.5 | 83.6% |
| NPM (%) | 15.3 | 11.9 | 3.4 ppt |
Chip shortage. Impacted by shortage of automobile chips, the automobile production recovery has slowed down even as demand for passenger vehicles continue to rise. Global automakers are forced to shut several plants due to insufficient chip supply. Automobile glass is one of the parts in a vehicle, and hence, its sales are highly correlated to the auto production volume.
Power shortage. Due to extraditionarily high coal prices, China is facing a power outage which directly affects industrial production. Glass production demands a huge amount of electricity usage.
Headwinds are transitory. Currently, shares are hammered due to the abovementioned unfavourable macro factors. However, unsustainable high coal prices are more impactful in the near term. Gradually, we believe that the negatives will be mitigated as China has resumed operations in some coal mines. Meanwhile, infections in Southeast Asia countries are decreasing, especially in Malaysia where most auto chip packaging is done. Hence, we could see some improvements in auto ship supply in 4Q21.
Consensus estimates per the 12-month target price is at HK$60.85, implying a 47.3% upside potential. EPS is forecasted to grow at 52.8%/25.3%/16.5% for FY2021/22/23F, which would bring forward P/Es down to 21.6x/17.2x/14.8x FY2021/22/23F.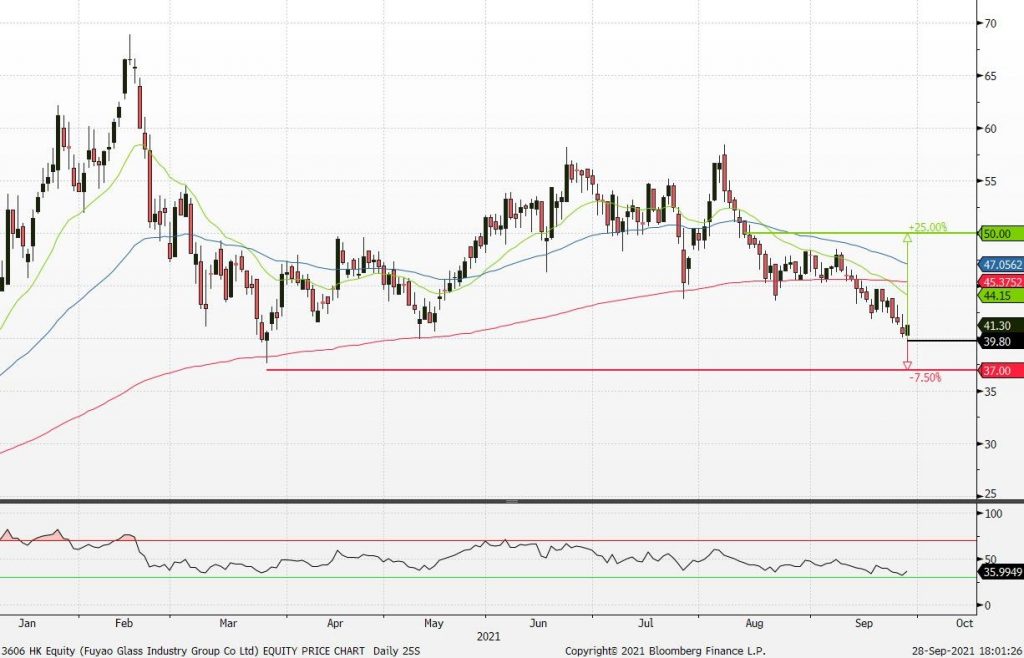 ---
Hainan Meilan International Airport Company Limited (357 HK): Golden week holiday trade
RE-ITERATE Buy Entry – 31 Target – 36 Stop Loss – 29
The company operates through aeronautical businesses and non-aeronautical businesses. Its aeronautical businesses include the provision of terminal facilities, ground handling services and passenger services. Its non-aeronautical businesses include the leasing of commercial and retail spaces at Meilan Airport, airport-related businesses franchising, advertising spaces leasing, car parking businesses, cargo handling and the sales of consumable goods.
1H21 revenue increased by 46.9% YoY to RMB894mn. Net profit attributable to company shareholders jumped by 333.8% YoY to RMB345mn.
Business highlights:
| | | | |
| --- | --- | --- | --- |
| | 1H21 | 1H20 | YoY change |
| Passenger throughput | 10mn | 6mn | 66.7% |
| Aircraft takeoff and landing | 74,940 times | 50,830 times | 47.4% |
| Cargo and mail throughput | 86,828 tonnes | 69,948 tonnes | 24.1% |
The upcoming catalyst is the Golden week holiday (1st to 7th Oct) in China. The sporadic Delta variant infections ruined the summer holiday during July and August. At the moment, China managed to contain the situation. The past Mid-autumn Festival holiday recorded more than 80mn tourist traffic. The pent-up demand for travel is strong. Hainan province is the sweet spot for vacation goers as it has zero COVID cases, and it has the largest duty-free shop in China.
Updated market consensus of EPS growth in FY/22/23 is -4.8%/52.9% YoY respectively, which translates to 20.7x/13.6x forward PE. Current PER is 19.7x. Bloomberg consensus average 12-month target price is HK$47.01.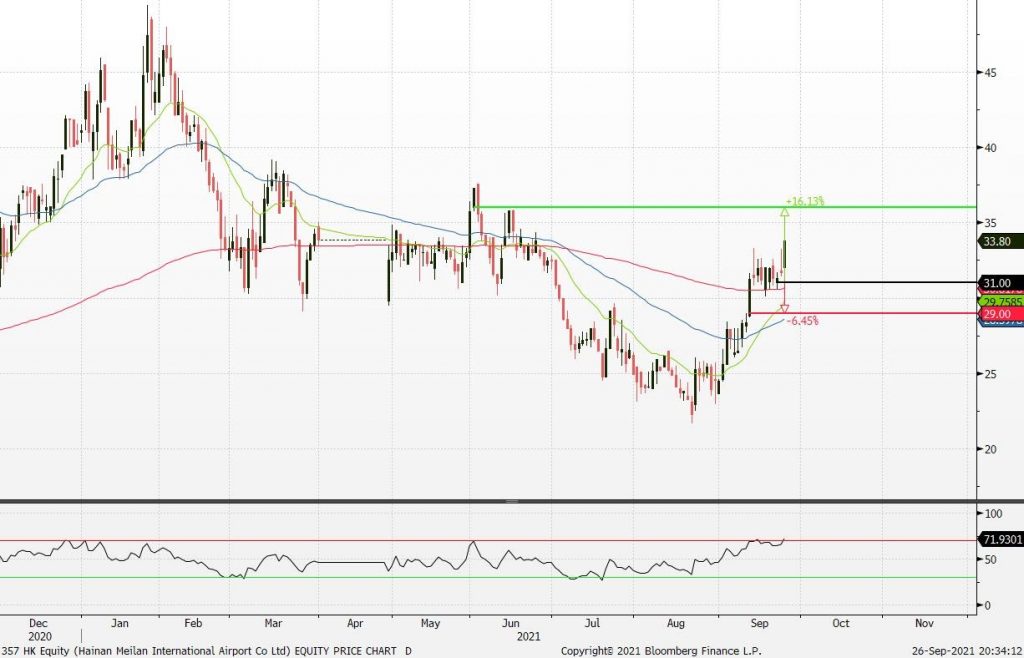 ---
Market Movers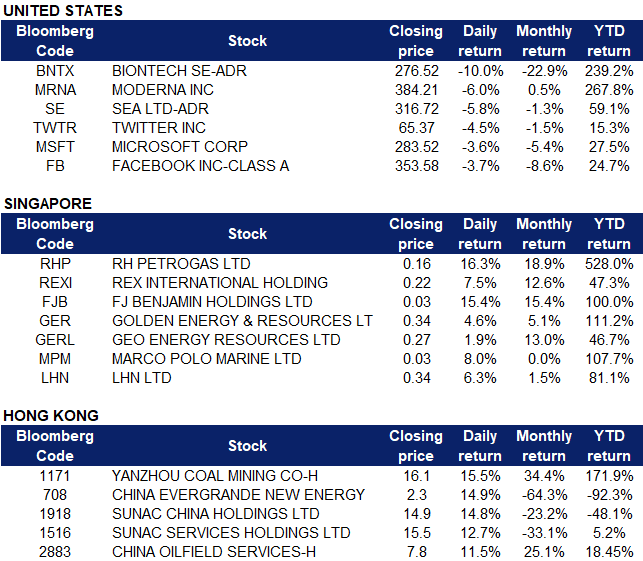 United States
Tech stocks fell on Tuesday as the 10-year Treasury Yield touched a high of 1.567%. Twitter (TWTR US), Microsoft (MSFT US) and Facebook (FB US) fell 4.47%, 3.66% and 3.62% respectively. Growth stocks such as tech stocks are generally affected by rising bond yields, as higher interest rates can mean slower growth for the economy overall.
Sea Limited (SE US) shares closed 5.81% lower at $316.72, following news that CEO Cathie Wood of ARK Invest had sold some shares of the company on Monday. However, the ARK Innovation ETF still holds 654,161 shares of Sea Limited, representing slightly over 1% of the fund's holdings. Woods also bought several other stocks on Monday such as Coinbase Global, DraftKings, Robinhood Markets and Peloton Interactive.
COVID-19 vaccine stocks BioNTech (BNTX US) and Moderna (MRNA US) fell 9.95% and 6.02% respectively despite good news about the companies emerging. French drugmaker Sanofi announced positive results of a study of its MRNA-based vaccine. Sanofi said it would stop further development because the market is already well dominated by Pfizer and Moderna. Instead, it'll focus on using MRNA technology and developing a protein-based Covid vaccine with GlaxoSmithKline. Additionally, investors might be becoming anxious about the prospects for vaccine stock, as there is uncertainty as to whether COVID-19 vaccine sales will remain as strong as they are now in the future. The CEOs of Pfizer and Moderna previously predicted that the pandemic could end in 2022.
---
Singapore
---
Hong Kong
Yanzhou Coal Mining Company Limited (1171 HK) Shares regained last week's losses since coal prices edged up to a new high. As of September 28th, China thermal coal spot price closed at RMB1,328.8/tonnes.
China Evergrande New Energy Vehicle Group Ltd (708 HK) There was no update on the liquidity crunch. The jump could be due to short covering as yesterday was the last day of southbound trading.
Sunac China Holdings Ltd (1918 HK), Sunac Services Holdings Ltd (1516 HK) Both shares ended three consecutive days' drop. Previously, Sunac's unit in the Zhejiang provincial city of Shaoxing has had to wait for local authorities to register the titles of its apartments, preventing the developer from collecting more than 4 billion yuan (US$619 million) in sales proceeds. The company declared that it has never asked for help from the Chinese authorities, the developer said in a statement a day later via its official WeChat account.
China Oilfield Services Ltd (2883 HK) There was no company specific news. International oil prices went back up to the 2018 high levels. Brent broke above US$80/bbl.
---
Trading Dashboard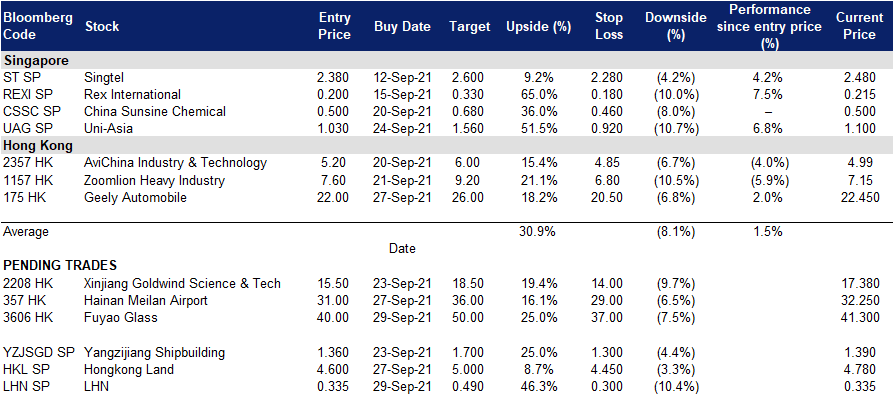 ---

---
Related Posts: