KGI DAILY TRADING IDEAS – 29 October 2021
Singapore Trading Ideas | Hong Kong Trading Ideas | Market Movers | Trading Dashboard
SINGAPORE
OCBC (OCBC SP): Rates liftoff and earnings next week
BUY Entry – 11.85 Target –12.60 Stop Loss – 11.50
OCBC is Singapore's longest established bank, formed in 1932 from the merger of three local banks. It is now the second largest financial services group in Southeast Asia by assets and one of the world's most highly-rated banks, with Aa1 by Moody's and AA- by both Fitch and S&P. Assets under management (AUM) at its private banking subsidiary, Bank of Singapore, grew 11% YoY to US$125bn (S$169bn) as at 30 June 2021.
3Q2021 earnings ahead. The three local banks are due to report their 3Q earnings next week, with OCBC on tap to be the first among them to report before the market opens next Wednesday (3 Nov). As a recap, the three local banks reported a very good set of 1H numbers. OCBC's 1H2021 net profit surged 86% YoY and 23% HoH to S$2.7bn. 1H2021 ROE rose to 10.8% from 6.1% in the prior year period. Given the stronger performance, the bank's interim dividend was reinstated back to 25 Sing cents, up from 15.9 Sing cents in the prior year, and back to where it was pre-Covid.
Rising rates. There are growing expectations that major central banks will raise rates much earlier in order to fight growing inflationary pressure. According to Bloomberg's World Interest Rate Probabilities function, sentiment among investors has shifted such that markets now expect the US Fed to start lifting rates by as early as March 2022. It is also likely that the Fed will start tapering its massive asset purchase programme next week. We also believe that global economic growth will start to re-accelerate in the second half of 2022 once supply chain issues are resolved, lending to further loan growth momentum for the banks.
Positive consensus estimates. There are 17 BUYS and 5 HOLDS with an average TP of S$13.88, implying a total return of 17%. OCBC currently trades at 1.04x forward P/B, an almost 40% discount to DBS, while offering a decent 4-5% forward dividend yield.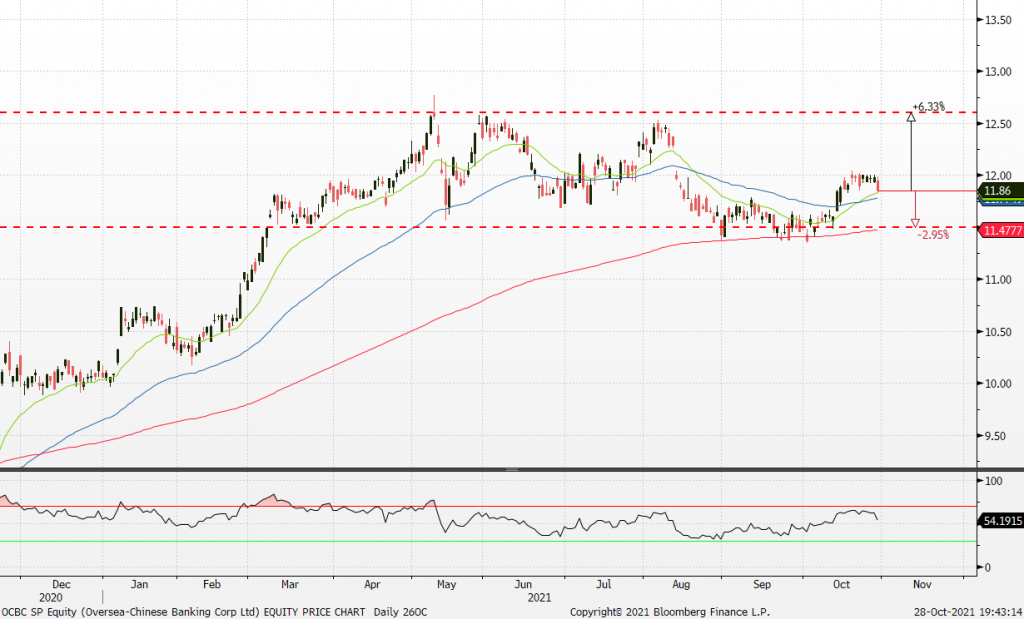 ---
ComfortDelGro (CD SP): Unlocking value + Reopening play #2
BUY Entry – 1.58 Target – 1.70 Stop Loss – 1.54
CD is one of the largest land transport companies in the world, operating in seven countries and with a global network of over 40,000 vehicles. The company's businesses include bus, taxi, rail, car rental and leasing, automotive engineering, inspection and testing services, drive centres and outdoor advertising. Singapore is the largest contributor of revenue, making up 55% in FY2020, followed by UK/Ireland (23% of total revenue), Australia (19%) and China (4%).
Unlocking value. CD is looking to unlock the value of its Australian assets by the public listing of ComfortDelGro Australia. Australia is CD's single largest overseas investment destination, with a total investment of S$1.17bn. According to media reports, CD's Australian operations could be worth about A$1bn on a market capitalization basis.
More reopenings. The reopening of Singapore and Australia's borders should be a positive rerating catalyst for CD's share price. Vaccinated travellers from Australia and Switzerland will be able to enter Singapore w/o quarantine from 8 Nov. Likewise, Australia will be reopening its international borders from Nov.
Valuations look attractive after the recent sell off. It currently trades at 19x FY2021F P/E and only 15x FY2022F P/E, while offering a dividend yield of 3.3% in FY2021 and 5.1% in FY2022.
Positive consensus ratings. Street estimates are overall positive on CD with 11 BUYS / 0 HOLD / 0 SELL and an average 12-month target price of S$1.93.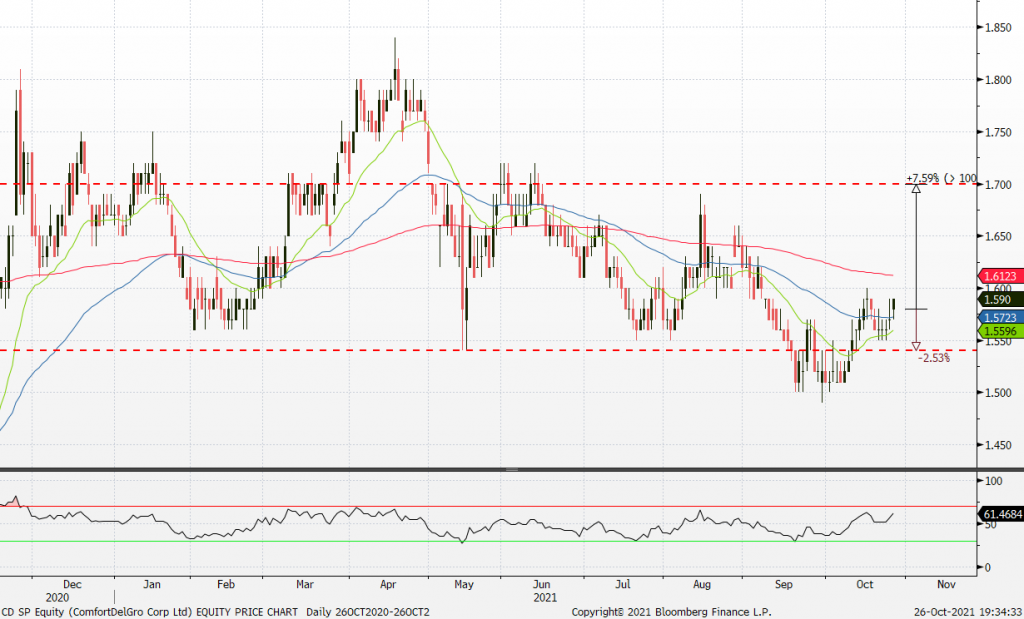 ---
HONG KONG
Nexteer Automotive Group Limited (1316 HK): Upward momentum comes
REITERATE BUY Entry – 8.8 Target – 10.5 Stop Loss – 8.0
Nexteer Automotive Group Limited is an investment holding company principally engaged in the development, manufacturing, and provision of steering and driveline systems. Along with subsidiaries, the company operates its business through four segments: the North America segment, Asia Pacific segment, the Europe & South America segment, and the Others segment. The company's products include electric power steering, hydraulic power steering (HPS), steering columns and intermediate shafts (CISs), driveline systems (DL), advanced driver assistance systems and automated driving (AD) products, among others.
Impacted by shortage of automobile chips, the whole vehicle manufacturing industry has slowed down production even as demand for passenger vehicles is rising. The company's product is one of the key components in a vehicle, and hence, its business is highly correlated to the sector's prospects.
Previously, the company announced the 1H21 results. Revenue grew by 43% YoY to US$1.7bn. Gross profit jumped by 85.5% YoY to US$226.5mn. Profit attributable to equity holders of the company jumped by 6300% YoY to US$83.1mn.
The current price has factored in the less favourable earnings. Although the recovery of the business has slowed due to the headwinds of the auto chip shortage which has resulted in a slower than expected recovery in the overall auto sector, this is transitory rather than permanent. In the coming months, we expect more positive sector news to emerge, such as the resumption of auto production or production target hikes for 2022. It is likely that good news will have more impact on the stock price rather than negative news, given the substantial price correction of its share price.
Updated market consensus of the estimated net profit growth in FY21/22/23 is 53.6%/45.1%/15.9% respectively, which translates to 14.2x/9.8x/8.4x forward PE. The current PE is 14.7x. Bloomberg consensus average 12-month target price is HK$19.8.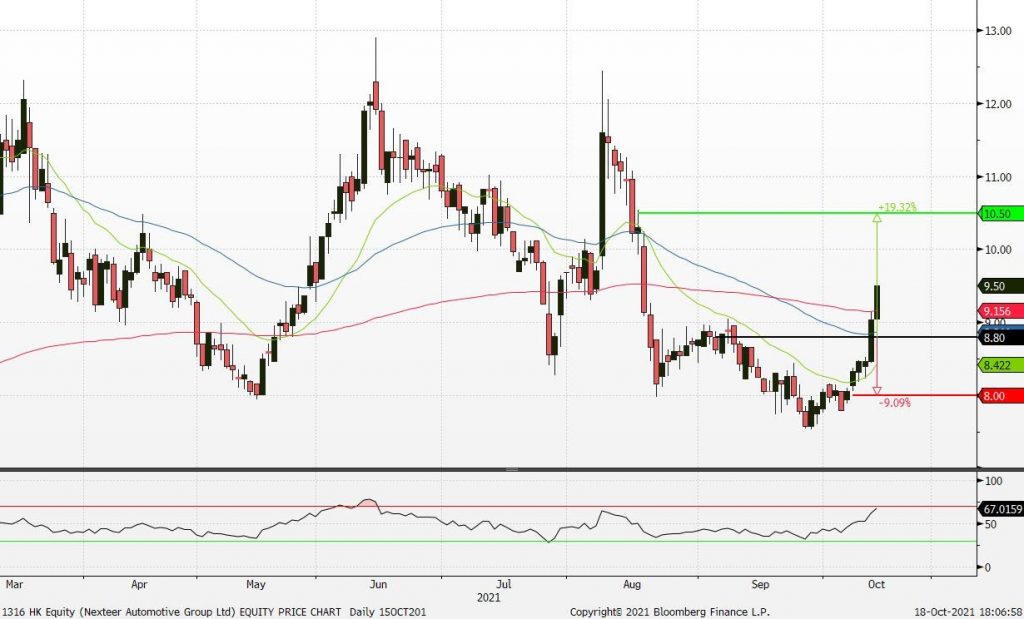 ---
China Southern Airlines Company Limited (1055 HK): Slow but steady price uptrend
REITERATE Buy Entry – 4.5 Target – 5.0 Stop Loss – 4.3
China Southern Airlines Company Limited is principally engaged in the operation of civil aviation, including the provision of passenger, cargo, mail delivery and other extended transportation services. The Company operates through two business segments, including Airline Transportation segment and Other segment. Airline Transportation segment consists of passenger and cargo and mail operations. Other segment includes hotel and tour operation, ground services, cargo handling and other miscellaneous services. The Company also provides services of general aviation and aircraft maintenance.
Move on to post-COVID era. With more than 50% of the population vaccinated in major economies, and potential oral medicine of COVID treatment, countries are expected to fully open their borders in 2022. China has been insisting on a "zero infection" policy and adopting the most draconian quarantine measures on visitors. However, it has to normalise international travelling eventually when other countries open borders and adapt to coexist with the COVID virus. After all, isolation deters economic recovery and growth. The second largest economy with the largest population in the world cannot afford to maintain the absolute zero COVID patient at the price of reduction in travelling for a long term. The normalisation of travelling will be one of the main themes next year.
High oil prices are another headwind but could correct for a while. The rally of oil price is expected to extend further. However, this is a secondary negative impact given that the air passenger volume is much lower compared to pre-COVID levels. The rally of oil prices is sharp and speedy. Hence, there could be some correction as oil is now becoming a crowded trade.
Updated market consensus expects loss per share to narrow to RMB0.33 in FY21 from RMB0.77 in FY20, and eventually to turn profitable with an EPS of RMB0.176/0.267 in FY22/23. Bloomberg consensus average 12-month target price is HK$5.61.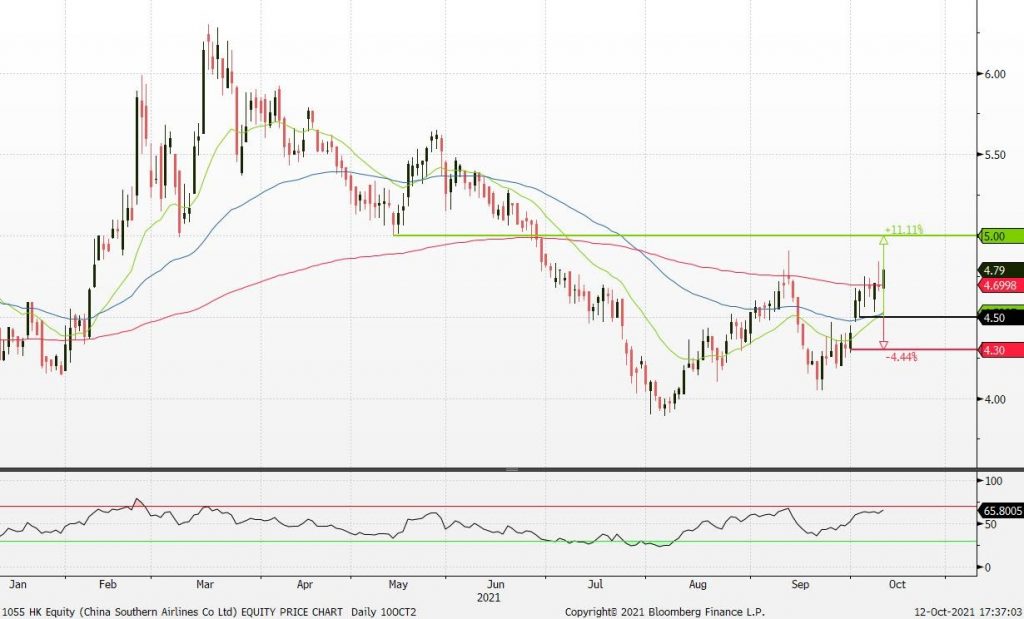 ---
Market Movers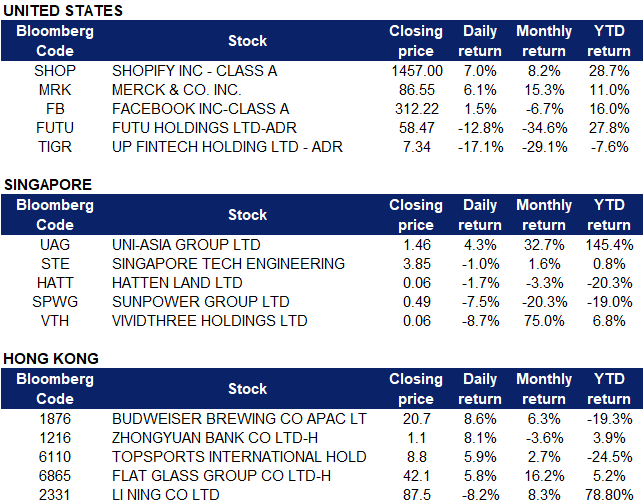 United States
Shares of Chinese online brokerages Futu Holdings (FUTU US) and Up Fintech Holdings (TIGR US) fell sharply on Thursday after a Chinese central bank official warned online brokers who offer cross-border trades to mainland investors without a domestic licence are operating illegally. The shares fell as much as 25% and 20% respectively. "Cross-border online brokerages are driving in China without a driver's license. They're conducting illegal financial activities," Sun Tianqi, China's head of the Financial Stability Department of the PBOC, said Wednesday, according to a transcript of his speech.
Facebook (FB US) shares rose as much as 3.6% before closing 1.51% higher after CEO Mark Zuckerberg announced that the company will be changing its name to 'Meta', along with a new logo. Zuckerberg said that the change is an attempt to bring focus to its work on the "metaverse", as it refers to a host of augmented and virtual reality features that it claims will be the future of social networking. Zuckerberg added that the name "Facebook" does not reflect everything the company did, pointing to existing separate apps such as Instagram and its Oculus virtual reality platform, suggesting an attempt to shift focus away from its ongoing controversies. Facebook shares will trade under the ticker MVRS as of 1 December.
Shopify (SHOP US) shares climbed 8% after the company released third quarter financial results. Revenue jumped 46% year over year to $1.1 billion, largely driven by a 37% rise in the company's subscription solutions revenue to $336.2 million, and a 51% surge in merchant solutions revenue to $787.5 million. President Farley Finkelstein said in a press release that more transactions are taking place in physical retail locations, suggesting that Shopify is finding success beyond its core e-commerce business.
Merck (MRK US) shares jumped 6.14% after the company posted stellar third quarter financial results. Earnings per $1.75, beating estimates of $1.55, while quarterly revenue of $13.2 billion beat estimates of $12.33 billion. Merck announced earlier this month that it was seeking Emergency Use Authorization for the pill, known as 'molnupiravir', for treatment of "mild-to-moderate COVID-19 in adults who are at risk for progressing to severe COVID-19 and/or hospitalization," which CEO Robert Davis cited as a "notable clinical milestone". The company also recently announced a proposed acquisition of Acceleron Pharma which will strengthen the company's cardiovascular portfolio with "complementary, cutting-edge science and an exciting late-stage candidate."
---
Singapore
Singapore Technologies Engineering Ltd (STE SP) shares rose as much as 2.83% before closing 1.03% lower, likely on profit-taking. The company announced on Thursday in a press statement that it has secured a 5-year maintenance-by-the-hour contract with Japan. STE will provide component MBTH to JAL's Boeing 787 fleet from September 2021, adding on to its current component MBTH contract for JAL's Boeing 737-800 fleet.
Vividthree Holdings (VTH SP), a digital content production company, announced that it was exploring the gaming sector. The stock climbed nearly 3% on Thursday morning, adding to its 53.33% gains on Wednesday before closing 8.7% lower. The company previously announced that it has commenced preliminary discussions with several parties to capitalise on popular trends such as blockchain and non-fungible tokens (NFT) in the gaming sector. Blockchain-related games have seen a surge in popularity recently, partly due to the COVID-19 pandemic.
Hatten Land (HATT SP) shares surged as much as 6.8% on Thursday morning before calling for a trading halt. The company announced its full yearly results. The company posted a net loss of RM94 million for the fourth quarter ended 30 June, a 53.1% drop from a net loss of RM200.3 in Q4FY2020.
Uni-Asia Group Ltd (UAG SP) shares climbed 4.29% after UOB Kay Hian initiated on the company with a Buy call and a target price of $2.34. The brokerage believes that freight rates will "stay elevated" through 2022, attributed to a strong demand for various commodities, as well as the recent spike in dry-bulk freight rates to a supply squeeze as vessels stay longer in ports. The brokerage said that current valuations for Uni-Asia are "attractive" at 4.8 times 2021 and 4.2 times 2022 price-to-earnings ratios, as well as a 2022 dividend yield of 4.3 per cent.
Sunpower Group Ltd (SPWG SP) shares declined 7.55% after the company issued a profit guidance on Wednesday night, saying that it expects net profit for the third quarter ended 30 September to be negatively impacted. The company cites the recent rises in commodity prices and a power rationing occurring in China as reasons for its guidance. Rising commodity prices have pushed up the company's feedstock costs, leading to cost pressures on the production operations of its green investment projects. Power rationing in China since September 2021 has resulted in downstream customers temporarily reducing their steam consumption due to operational constraints.
---
Hong Kong
Budweiser Brewing Company APAC Ltd (1876 HK). Shares gained 8.6% yesterday, after the company released its third quarter results. The company's operating income for the three quarters ended 30 September 2021 was US$5.359bn, a YoY increase of 14.3%, while net profit attributable to the parent company was US$85mn, a YoY increase of 69.86%. According to the news, Budweiser's business is unique and diversified and occupies a leading position in high-profit markets and occupies a leading position in a number of major markets in the Asia-Pacific region. Fellow peers China Resources Beer Holdings Co Ltd (291 HK) gained 3.4% while Tsingtao Brewery Co Ltd (168 HK) gained 3.5%.
Zhongyuan Bank Co Ltd (1216 HK). Shares gained 8.1% yesterday, after the bank announced a possible M&A of small and medium-sized banks. On Wednesday evening, Zhongyuan Bank announced that it intends to merge Luoyang Bank Co Ltd, Pingdingshan Bank Co Ltd and Jiaozuo China Travel Bank Co Ltd. If the M&A goes smoothly, the bank is expected to break through the trillion-dollar scale. Zhongyuan Bank stated in its announcement that it has been committed to the development goal of "turning Zhongyuan Bank into a first-class commercial bank" put forward by the Henan Provincial Party Committee and the Provincial Government.
Topsports International Holdings Ltd (6110 HK). Shares rose 5.9% yesterday, after Morgan Stanley released a research report with an OVERWEIGHT rating on Topsports, commenting the stock price will rise in the next 15 days, with a 70% to 80% chance rate of hitting the bank's target price of HK$13.8. The bank believes that the stock price has over-reflected unfavorable factors and that the company's better operating capabilities are underestimated. The bank pointed out that Topsport's profit performance in fiscal year 2020-2021 was higher than market expectations and is expected that the company's sales in fiscal year 2022 will increase by 7% and operating profit will increase by 12%.
Flat Glass Group Co Ltd (6865 HK). Shares rose 5.8% yesterday, after Daiwa Securities released a research report maintaining its BUY rating on Flat Glass and raising its target price from HK$47 to HK$48. According to the report, the company announced the acquisition of the quartzite mineral resources business yesterday, and third quarter performance was in line with expectations. However, fourth quarter gross profit margin is expected to continue to be under pressure, due to higher silica sand and sodium carbonate prices, higher production costs, and potential increases in winter natural gas costs. Daiwa believes that the acquisition of the two target companies will further guarantee the supply of Flat Glass silica sand and reduce additional procurement costs.
Li Ning Co Ltd (2331 HK). Shares declined 8.2% yesterday, after the company announced its intention of a share placement. Li Ning proposed to issue 120mn new shares at HK$ 87.50 each to its major shareholder Viva China under a top-up stock issue, according to a Hong Kong stock exchange filing yesterday. The proceeds will help fund an overseas expansion and enhance Li Ning's brands and supply chain system, it added. On a positive note, Guoyuan International released a research report saying that it maintains a BUY rating on Li Ning with a target price of HK$115, on sustained high growth in Q3 as a result of the brand and product power.
Trading Dashboard: Ping An Insurance (2318 HK) cut loss at HK$57.7. China Molybdenum (3993 HK) cut loss at HK$4.95. Add Nexteer Automotive (1316 HK) at HK$8.8. Add Bosideng International (3998 HK) at HK$6.05. Add Xtep International (1368 HK) at HK$10.5.
---
Trading Dashboard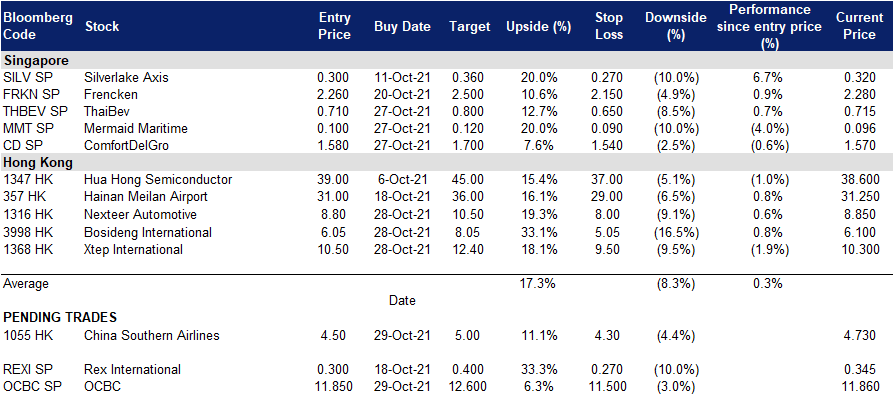 ---

---
Related Posts: