29 Nov 2021: ISDN (ISDN SP), Kintor Pharmaceutical Ltd (9939 HK)
Singapore Trading Ideas | Hong Kong Trading Ideas | Market Movers | Trading Dashboard
SINGAPORE
ISDN (ISDN SP): Cyber Monday sale
BUY Entry – 0.69 Target –0.85 Stop Loss – 0.62
ISDN is a leading provider of industrial automation solutions throughout Asia. The company has more than 10,000 customers, and 74 offices spanning key Asian growth markets, and has a 35-year history of innovating alongside the growing technology needs of its customers. Today, ISDN's solutions power advanced industrial sectors including semiconductors, Industry 4.0 manufacturing, medical devices, aerospace, and clean energy. The group generates around 68% of sales from China.
Cyber Monday sale. Shares of ISDN have lost almost 12% from the recent 1 month peak of S$0.785 due to the broad-based sell-off last week over concerns on the new Covid-19 variant. However, we see this as an opportunity to buy quality stocks who are trading at attractive valuations, such as ISDN.
Record revenue and profits in 1H2021. ISDN 1H2021 rose 30% YoY to S$217mn while net profit surged 51% YoY to S$19mn. This was on the back of better gross profit margins which rose 2.1% points to 26.8%.
Growing productivity. ISDN has continued its strategic buildout by expanding its solutions portfolio to include industrial internet-of-things (IoT) connectivity, deepening advanced engineering, growing industrial systems projects, and advancing software and cloud solutions. Covid-19 and geopolitical tensions have reduced global labour mobility and increased employee health risk, leading to an acceleration in labour automation for the group's customer base.
Fundamental OUTPERFORM and TP to S$0.85. ISDN currently trades at only 6x forward EV/EBITDA, a significant discount to its international peers who are trading at around 10x EV/EBITDA.

---
Olam International (OLAM SP): Joining the big boys
RE-ITERATE BUY Entry – 1.80 Target – 1.95 Stop Loss – 1.72
Olam is a leading food and agri-business operating across the value chain in more than 60 countries, supplying food, ingredients, feed and fibre to more than 17,300 customers worldwide. Listed on 11 February 2005 on the mainboard of SGX, Olam currently ranks among the top 30 largest listed companies in Singapore in terms of market capitalisation and is a Singapore constituent stock of the FT Global All Cap Ex US Index.
Higher food prices. Food prices globally have risen in 13 of the past 15 months and are near their peak of 2011, owing to poor weather and pandemic-related disruptions. Earlier in October, The United Nations Reported that its Food Price Index (FFPI), which tracks the international price of a basket of food items, is already up 30% in 2021 from the 2020 annual average, the largest increase in 47 years. The escalating cost of producing fertilisers and transportation are exacerbating the surge in food prices.
Catalyst from the listing of Olam Foods Ingredients (OFI) and entry into STI. OFI intends to seek a primary listing on the London Stock Exchange and a concurrent secondary listing in Singapore in the first half of 2022. The London listing could raise about 2 bn pounds (US$2.8 bn). OFI reported a 29.5% YoY increase in 1H2021 EBIT and the company expects its strong business momentum to continue into the second half of 2021. An additional catalyst for Olam is the inclusion in the STI Index. It is likely that Olam may replace ComfortDelGro in the STI when the quarterly review is done in December 2021.
Technical analysis. Olam share price has gained 36% from the recent low touched in July, and are currently testing the resistance of S$1.79. Since the rally from July, the 20 day EMA has provided firm support to its ongoing uptrend.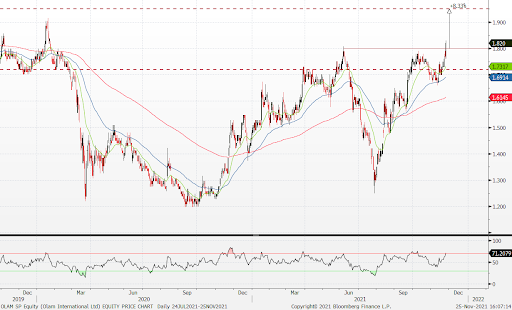 ---
HONG KONG
Kintor Pharmaceutical Ltd (9939 HK): A potential drug to counter covid mutations
Buy Entry – 59 (buy stop) Target – 69 Stop Loss – 54
Kintor Pharmaceutical Ltd is a clinical-stage novel drug developer in China. The Company is focused on the research and development of drugs for cancers and other androgen receptor (AR) related diseases. Its primary drug candidate is Proxalutamide which is in phase III clinical trials in China for metastatic castration-resistant prostate cancer (mCRPC). The Company are also developing other drug candidates, including a phase II small molecule drug candidate Pyrilutamide, a phase II monoclonal antibody drug candidate ALK-1, a phase I mTOR inhibitor drug candidate Detorsertib and an inhibitor of the hedgehog signal translation pathway GT1708F.
Fears over new covid variant. The discovery of a new coronavirus variant named Omicron triggered global alarm on Friday as countries rushed to suspend travel from southern Africa and stock markets on both sides of the Atlantic suffered their biggest falls in more than a year.
Effective against covid mutations. According to the latest statement, the company would release the interim data from multi-regional phase III clinical trial in countries including US on its COVID-19 candidate drug proxalutamide for treating COVID-19 outpatients in December. Meanwhile, the Chief Financial Officer Lucy Lu said that its proxalutamide could significantly inhibit the entry of the coronavirus into host cells by transcriptionally down-regulating the expression of TMRPSS2 and ACE2, which make it not only effective against the wide-type coronavirus but numerous following mutations like Alpha, Delta and Gamma.
The updated market consensus of the estimated EPS in FY22 and 23 is HK$15.1 and HK$9.7 respectively, which translates to 3.1x and 4.8x forward PE. FY21F EPS is -HK$1.56. Bloomberg consensus average 12-month target price is HK$102.96.
---
Hua Hong Semiconductor Ltd (1347 HK): Chase the breakout
REITERATE Buy Entry – 45 Target – 53.5 Stop Loss – 42.35
Hua Hong Semiconductor Ltd is an investment holding company engaged in production and sales of semiconductor wafers. The company produces 200mm and 300mm-wafers. Its products are applied in general microcontroller (MCU), Type-C interface chips, image stabilization chips, touch control chips, and smart meter controller chips. The products also serve the Internet of Things (IoT), new energy vehicles, artificial intelligence and other markets.
3Q21 results updates. Revenue reached another new high of US$451.5mn, up 78.5% YoY and 30.4% QoQ.Gross margin was 27.1%, 2.9 ppts over 3Q20 and 2.3 ppts above 2Q21. Net profit attributable to shareholders of the parent company was US$50.8mn, up 187.1% YoY and 15.3% QoQ. Management guidance for FY21 revenue is US$490mn, and GPM is expected to be between 27% and 28%. The company plans to reach a 12-inch monthly production capacity of 95,000 wafers by the end of 2022.
Semiconductor upcycle remains. The supply chain bottleneck is expected to last at least till mid-2022. Insufficient supply of auto chips, graphic cards, and other related chips will continue. Meanwhile, there will be more demand for computing power in the post-COVID era, driven by EV penetration and metaverse development. Sentiment towards the semiconductor sector is bullish.
The updated market consensus of the estimated net profit growth in FY21/22/23 is 88.1%/26.6%/18.4% respectively, which translates to 43.2x/34.0x/28.8x forward PE. The current PE is 47.1x. Bloomberg consensus average 12-month target price is HK$56.16.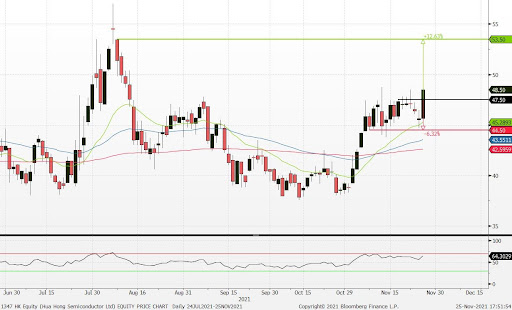 ---
Market Movers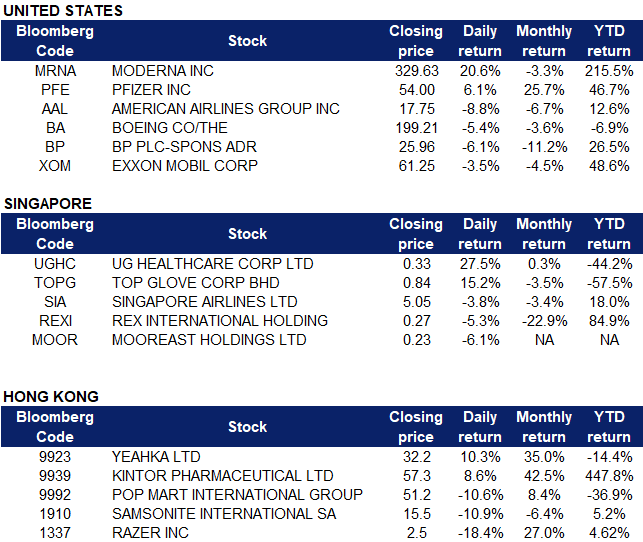 ---
United States
Top Sector Gainers
Top Sector Losers
On Friday, a new variant of the Covid-19 virus, named Omicron was discovered. The World Health Organisation (WHO) said Omicron may spread more quickly than other forms, and preliminary evidence suggested there is an increased risk of reinfection. The new mutations were first discovered in South Africa and have since been detected in Belgium, Botswana, Israel and Hong Kong. The United States will restrict travel from South Africa and neighbouring countries effective Monday, a senior Biden administration official said.
Pfizer Inc (PFE US), Moderna Inc (MRNA US). Vaccine stocks rose collectively on Friday. Pfizer and Moderna shares rose 6.1% and 20.6% respectively.
Boeing Company (The) (BA US), American Airlines Group Inc (AAL US). Airline shares fell collectively on Friday. Boeing and American Airlines shares declined 5.4% and 8.8% respectively.
Exxon Mobil Corporation (XOM US), BP Plc (BP US). Oil stocks declined collectively on Friday. Shares fell 3.5% and 6.1% respectively. WTI crude futures extended losses to near 13% to trade around US$68 per barrel on Friday, the lowest in eleven weeks on growing demand concerns after a new and possibly vaccine-resistant coronavirus variant was detected in South Africa. The OPEC's advisory board expects a 400,000 barrels per day excess in the oil markets in December and predicted that the surplus would expand to 2.3mn bdp in January and 3.7mn bdp in February if consumer nations proceed with the release.
---
Singapore
Top Glove (TOPG SP); UG Healthcare (UGHC SP) Shares of the Malaysian glove makers surged between 15% and 27% over concerns on the new Covid-19 variant that has set off travel bans on some African nations.
Travel and tourism related stocks such as SIA (SIA SP) and Genting Singapore (GENS SP) lost 4% on average last Friday after Singapore announced restrictions on travel from 7 African countries due to the new Covid variant.
Rex International (REXI SP) lost 5% after WTI closed 13% lower, the biggest decline since April 2020, while Brent slumped 12%. The plunge in oil prices was exacerbated by lower trading volumes in global markets due to the Thanksgiving holiday in the US. Investors will be closely watching OPEC's meeting scheduled on 1 December (Wed) for any announcement that the group may abandon plans for a modest production hike scheduled for January.
Mooreast (MOOR SP) shares of the newly listed company declined 6.0% on Friday. giving up some of the gains from its first day of trading on Wednesday. Despite yesterday's decline, shares are just slightly up by 5% compared to the IPO price of S$0.22.
Trading Dashboard Update: Cut loss on Singtel (ST SP) at S$2.45
---
Hong Kong
Top Sector Gainers
Top Sector Losers
Yeahka Ltd (9923 HK). Shares closed at a 2-month high. There was no company-specific news. The People's Bank of China has banned the use of WeChat and Alipay payment codes for businesses beginning on March 1, 2022. Personal collection codes and barcodes for non-face-to-face collections will be halted. The ban on payments codes may also align with the emerging digital yuan, a central bank digital currency that is being tested in the Chinese market. The utilization of a government-supported digital currency may make it easier to monitor or stop illicit transactions.
Kintor Pharmaceutical Ltd (9939HK) The World Health Organization (WHO) said that a strain of coronavirus recently discovered by South African researchers is a variant of concern, posing a threat that could confound countries' efforts to slow the spread of Covid-19. The WHO assigned the Greek letter omicron to the variant, which had been known as B.1.1.529, following a meeting by a panel of experts Friday. The company said it would release the interim data from multi-regional phase III clinical trial in countries including US on its COVID-19 candidate drug proxalutamide for treating COVID-19 outpatients in December. Kintor is also closely following and conducting research on the new variant Omicron that was firstly discovered in South Africa.
Pop Mart International Group Ltd (9992 HK). There was no company-specific news. The overall market was sold off due to the new Covid Omicron variant spread. One of the shareholder sold 13.04mn shares at an average price of HK$56.53 on the previous Friday.
Samsonite International S.A. (1910 HK). Omicron coronavirus variant detected in UK, concern triggers more travel curbs. Authorities in Germany and the Czech Republic also said they had suspected cases. The discovery of the variant has sparked global concern, a wave of travel bans or curbs and a sell-off on financial markets on Friday as investors worried that Omicron could stall a global recovery from the nearly two-year pandemic.
Razer Inc (1337 HK). Berjaya Corp divested stake in Razer Fintech. It sold a 30 per cent stake in Razer Fintech back to Razer for US$53.6 million. This pared Berjaya's stake in Razer Fintech to 19% from 49% previously.
---
Trading Dashboard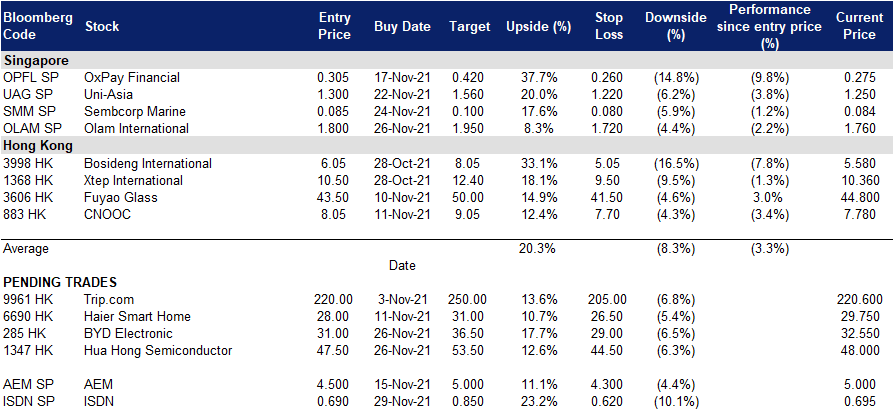 (Click to enlarge image)
---

---
Related Posts: