29 June 2022: ThaiBev (THBEV SP), Samsonite International S.A. (1910 HK)
Singapore Trading Ideas | Hong Kong Trading Ideas | Market Movers | Trading Dashboard

ThaiBev (THBEV SP): Scrapped Thai curbs to lift alcohol consumption
BUY Entry 0.660 – Target – 0.715 Stop Loss – 0.640
Thai Beverage is Thailand's largest beverage producer and distributor and is among the leading distillers and brewers in Southeast Asia. ThaiBev's leading products include a variety of well-established spirits brands, including its famous brew Chang Beer. In the non-alcoholic beverage category, key products include water, tonic soda, and RTD green tea. ThaiBev owns and operates 18 well-equipped and modernised distilleries in Thailand with a total production capacity of approximately 819m litres per year. It also operates 3 state-of-the-art breweries with a total installed capacity of approximately 1,550m litres per year.
Share price lagging regional peer even as Thailand removes pandemic curbs. As Thailand's leading beer brewer, we believe that THBEV's share price has not benefited from the recent lifting of pandemic curbs in Thailand. Recall, Thailand rolled back its remaining pandemic curbs by allowing bars and pubs to remain open for longer hours. In addition, we believe that the Thais' love for the beautiful game and the World Cup 2022 in December could be strong potential tailwinds for the stock. We believe that THBEV, which is currently trading flat YTD, could ultimately play catch up with its peer, Budweiser (1376 HK), which has already surged 13.1% YTD.
Potential spin-off and listing of BeerCo proceeding as planned. As at last update, THBEV said that SGX has since given its conditional eligibility-to-list letter for the proposed spin-off listing of BeerCo. This was after it put the proposed listing on hold due to the pandemic. It intends to conduct an IPO of up to 20% of BeerCo's shares. BeerCo has 3 breweries in Thailand and a network of 26 breweries in Vietnam, and includes the production, distribution, and sales of beer including the Chang and Bia Saigon brands. The successful listing would help unlock value for current THBEV shareholders and potentially provide for special payouts.
Growing dividends even as FY22F EPS is projected to return to normalcy. The Street is overwhelmingly positive on THBEV's prospects with 15 BUYS, only 1 HOLD, and a 12M TP of S$0.89. The street is expecting FY22F/23F EPS to grow 15.3%/5.5% YoY, with DPS growing in tandem at 13.2%/8.3% to S$0.566/S$0.613 per share. At these projected levels, THBEV would trade at 17.8x and 15.8x FY22/23 P/E and 3.4%/3.6% FY22/23 yield respectively.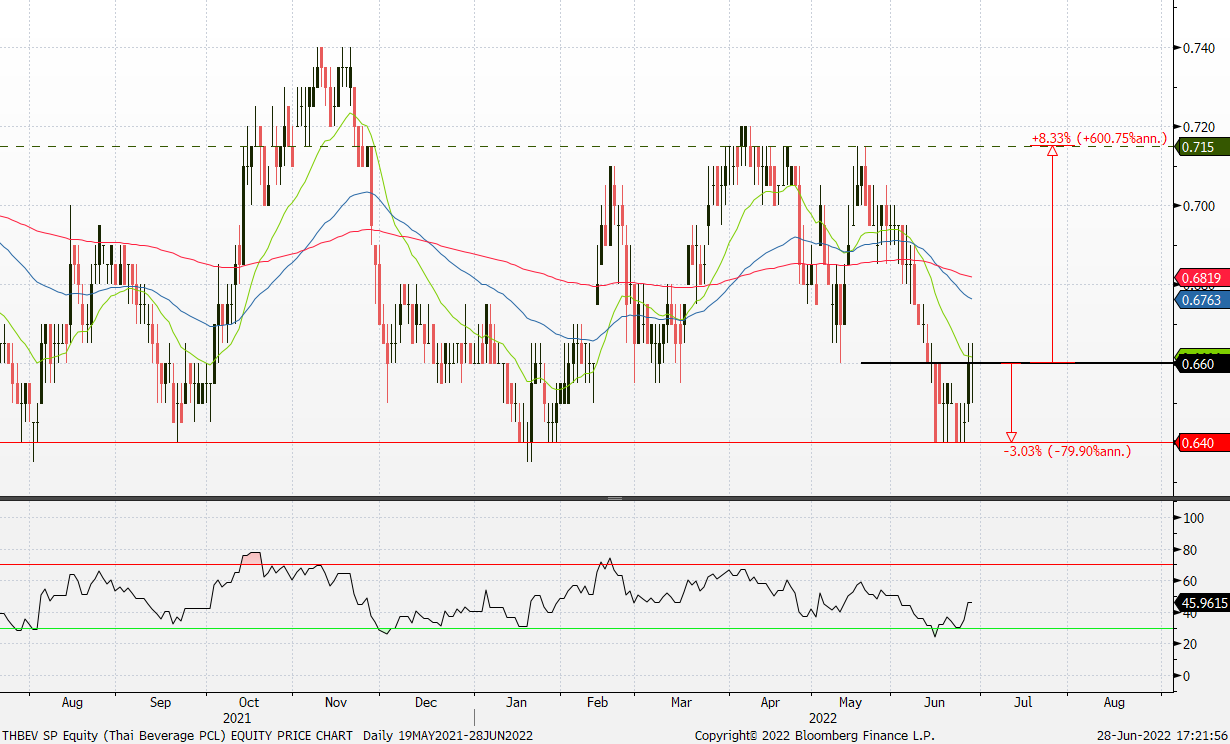 CapitaLand Investment (CLI SP): Sets up first Chinese onshore fund amidst share buybacks
RE-ITERATE BUY Entry 3.85 – Target – 4.23 Stop Loss – 3.45
CapitaLand Investment Limited is a global real estate investment manager with a focus on Asia. Its real estate funds under management ("FUM") is held via its managed listed funds and unlisted funds across the Asia-Pacific, Europe and the United States of America. The Group's FUM is diversified across asset classes, namely, integrated developments, retail, office, lodging and new economy sectors such as business parks, industrial, logistics and data centres. The Group's business model comprises two key segments, namely, fee income-related business and real estate investments.
Announced initial foray in China with RMB700m fund. CLI recently announced a 12%-stake in an RMB700m onshore China-based fund, in partnership with a local asset management fund. The fund's maiden investment took advantage of the ongoing special situation in China, by acquiring a quality office building in Shanghai at an attractive but undisclosed price. The transaction is expected to be completed in July 2022. CLI is expecting this initial foray to further expand its private fund management business, which has since grown to S$1.9bn spread across 9 funds since 2021.
Share buybacks to support share price in the near and medium term. Since the approval of its share buyback mandate on 29 April, CLI has routinely carried out open market acquisitions of its shares. As at last update, CLI has bought back over 27.8m shares at between S$3.77 to S$3.85 apiece, providing share price support at those levels. CLI currently has about 89% of its buyback mandate remaining till next year, providing it with ample breathing room to acquire back more shares.
Growing dividends even as FY22F EPS projected to return to normalcy. The Street is overwhelmingly positive on CLI's prospects with 17 BUYS, and only 1 HOLD, and a 12M TP of S$4.30. The street is expecting FY22F EPS to decline 34% YoY after a strong FY21A, which saw asset recycling efforts garner a record S$616m in portfolio gains. After returning to a more sustainable level in FY22F, the street is projecting 13% YoY growth in FY23F. At these projected levels, CLI would trade at 17.8x and 15.8x FY22/23 P/E respectively. Additionally, there are also expectations for increasing shareholder payouts, with FY22/23 dividends growing 7.5%/6.2% YoY to S$0.129/S$0.137, implying a yield of 3.4%/3.6% respectively.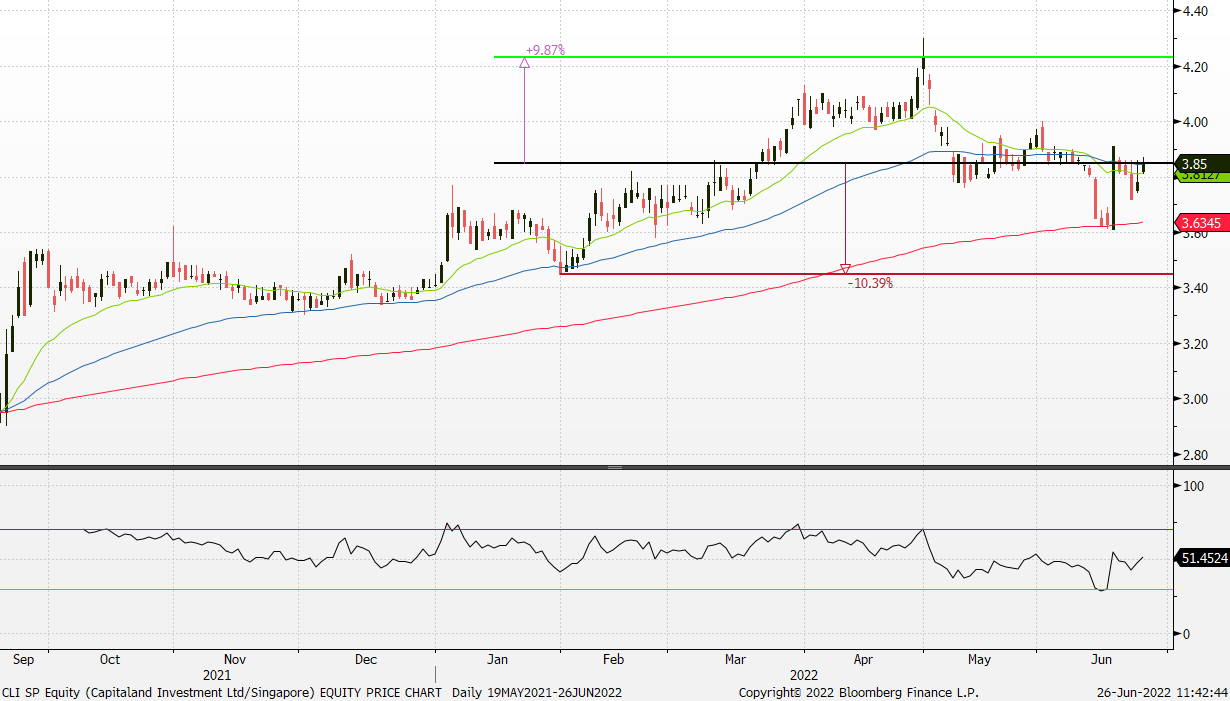 Samsonite International S.A. (1910 HK): Travelling peak season has come
Buy Entry – 16.3 Target – 18.0 Stop Loss – 15.5
Samsonite International S.A. is a Hong Kong-based company principally engaged in the design, manufacture, sourcing and distribution of luggages, business and computer bags, outdoor and casual bags, travel accessories and slim protective cases for personal electronic devices. The Company operates its business through three segments. The Travel Bag segment is engaged in travel products with suitcases and carry-ons of three main categories, including hard-side, soft-side and hybrid luggages. The Casual Bags segment is engaged in daily use, including different types of backpacks, female and male shoulder bags and wheeled duffel bags. The Business Bags segment is engaged in business use, including rolling mobile office bags, briefcases and computer bags.
China eases travel quarantine. Travelers to the country must spend seven days in centralized quarantine, then closely monitor their health for another three days at home, according to a government protocol released Tuesday by National Health Commission. Previously, China required up to 21 days of hotel quarantine.
Air travel continued to recover. According to IATA, total demand for air travel in April 2022 (measured in revenue passenger kilometers or RPKs) was up 78.7% YoY. April domestic air travel was down 1.0% compared to the year-ago period, a reversal from the 10.6% demand rise in March. This was driven entirely by continuing strict travel restrictions in China, where domestic traffic was down 80.8% year-to-year. Overall, April domestic traffic was down 25.8% versus April 2019. International RPKs rose 331.9% YoY in April.
1Q22 results review. Net sales jumped by 67.7% YoY to US$576.6mn. Operating profit arrived at US$58.1mn compared to a loss of US$47mn during the same period last year. Profit attributable to the equity shareholders arrived at US$16.4mn in 1Q22 compared to a loss of US$72.7mn in 1Q21. The effects of the COVID-19 pandemic on demand for the company's products moderated due to the continued rollout and effectiveness of vaccines leading governments in many countries to further loosen social-distancing, travel and other restrictions, which has led to the continuing recovery in travel.
The updated market consensus of the EPS growth in FY22/23 is 1,120%/47.5% YoY, respectively, translating to 17.3×/11.7x forward PE. The current PER is 29.6x. Bloomberg consensus average 12-month target price is HK$22.60.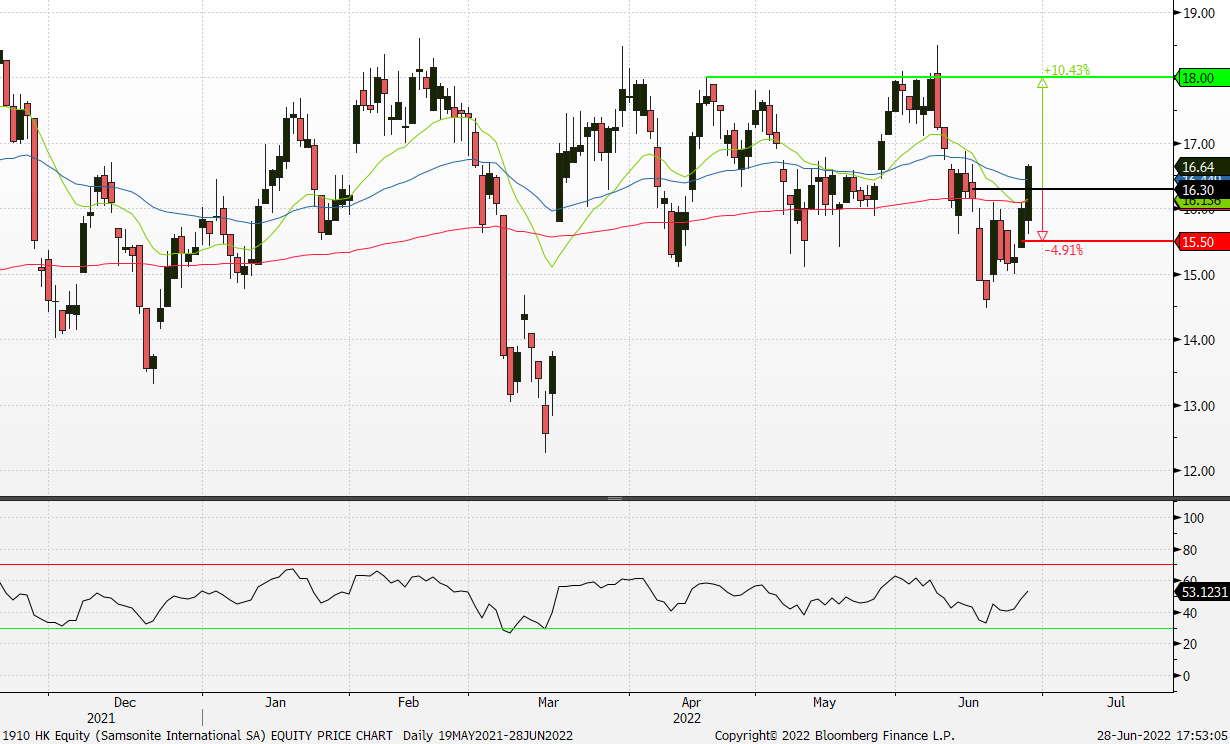 (Source: Bloomberg)

Fuyao Glass Industry Group Co Ltd (3606 HK): Auto parts producers are catching up
RE-ITERATE Buy Entry – 40.5 Target – 45.0 Stop Loss – 38.2
Fuyao Glass Industry Group Co Ltd is a China-based company, principally engaged in the manufacture and distribution of float glasses and automobile glasses. The company's products portfolio consist of automobile glasses, such as coating glasses and others, which are applied in passenger cars, buses, limousines and others, and float glasses. The company distributes its products within domestic markets and to overseas markets.
1Q22 earnings review. Operating revenue grew by 14.75% YoY to RMB6.5bn. Net profit attributable to company shareholders grew by 1.86% YoY to RMB871.2mn. Three negatives resulted in mediocre results, including appreciation of RMB, high raw material costs, and high freight rates. The appreciation of RMB led to a decrease of RMB50.4mn in the gross profit. The high material costs and freight rates led to a decrease of RMB70.2mn and RMB53.1mn in total profit respectively. The company announced a final dividend of RMB10 (tax inclusive) (equivalent to HK$11.6) in cash per 10 shares.
Automobile production to accelerate from June onwards. Previously, the authority announced an auto purchase tax cut, and major cities started to ease the lockdown measures. The expected improving demand for automobiles will drive producers to accelerate production as supply chain disruptions mitigate. The global EV leader, Tesla planned to manufacture more than 71,000 units of both Model 3 and Model Y in June. Due to Shanghai's lockdown from March to May, Tesla's Shanghai factory halted production for three weeks, and its daily production was 1,000 units in 2HApril. Therefore, Tesla has boosted its capacity utilization rate to 100% since the lockdown measures were lifted. Auto part manufacturers are expected to benefit from the turnaround of the sales and production of the sector.
Consensus estimates per the 12-month target price are at HK$45.45. EPS is forecasted to grow at 26.1%/24.4% for FY22F/23F, which would bring forward P/Es down to 22.9x/18.4x for FY22F/23F. The current PER is 28.9x.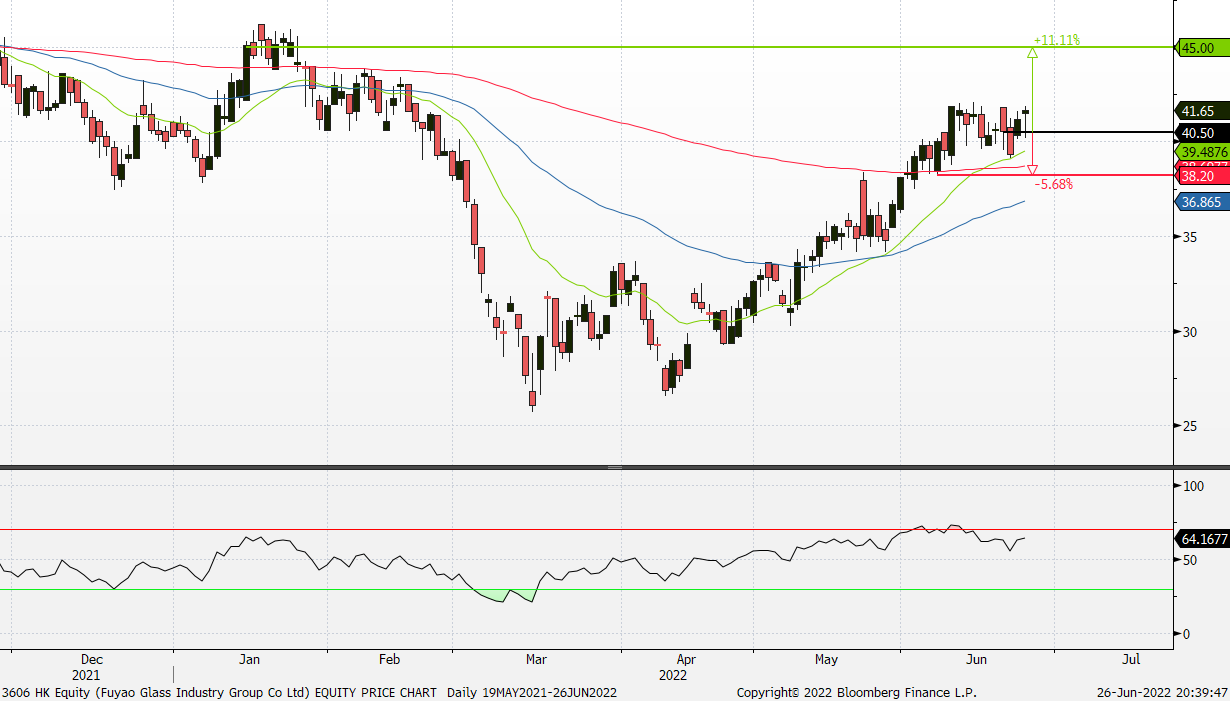 (Source: Bloomberg)



United States
Top Sector Gainers
Top Sector Losers
Nike Inc (NKE US) shares fell 7.0% even after the company topped Wall Street's earnings and sales expectations for the fiscal fourth-quarter. Nike said it anticipates flat to slightly higher revenue for its fiscal first-quarter versus the prior year, and low double-digit revenue for the full year 2023 on a currency-neutral basis.
Occidental Petroleum Corp (OXY US) stock jumped 4.8% on news that Warren Buffett's Berkshire Hathaway upped its stake in the company by $44 million. It comes less than a week after securities filings revealed that Berkshire bought an additional 9.55 million shares in Occidental Petroleum.
Spirit Airlines Inc (SAVE US) shares rose 1.1% after JetBlue Airways increased its takeover offer again. JetBlue's latest effort to win over Spirit comes ahead of a shareholder vote on an existing deal between Frontier and Spirit.
Farfetch Limited (FTCH US) stock fell 11.4% following a downgrade to neutral from UBS. The firm's analyst said expectations for the company are likely too optimistic should fears of a recession prove correct.
Walt Disney Co (DIS US) shares closed down 0.7% after rising 1% earlier in the session on news that Shanghai Disneyland will reopen this week. The move came after China relaxed its Covid restrictions for inbound travellers, cutting their quarantine time upon arrival by half to seven days.

Singapore
RH Petrogas Ltd (RHP SP) and Rex International Holding Ltd (REXI SP) shares rose 6.5% and 3.6% respectively yesterday. WTI crude futures jumped toward $111 per barrel on Tuesday, rising for the third straight session, amid reports that the UAE and Saudi Arabia are producing near capacity, while political unrest in Libya and Ecuador threatened to tighten supply further. UAE Energy Minister Suhail al-Mazrouei said Monday that the country was producing near maximum capacity based on its quota of 3.168 million barrels per day under the agreement with OPEC+. This confirmed remarks by French President Emmanuel Macron who told US President Joe Biden that UAE and Saudi Arabia, previously perceived as the only two countries in the OPEC with spare capacity, can barely increase oil production.
Golden Energy & Resources Ltd (GER SP) and Geo Energy Resources Ltd (GERL SP) shares rose 5.2% and 5.5% respectively yesterday. Newcastle coal futures, the benchmark for top consuming region Asia, consolidated below the $400-per-tonne mark as surging inventories and prospects for weaker demand amid signs of slowing global growth continued to pressure the market. Global coal supply investment is forecasted to grow by 10% in 2022 as tight supply continues to attract investment in new projects, particularly in Europe, with top consumers stepping up efforts to diversify their energy sources. The war in Eastern Europe has created a global energy crunch and exacerbated concerns over coal supplies in a market already in a tight balance.
Bumitama Agri Ltd (BAL SP) shares extended their rally and rose 3.1% yesterday. Malaysian palm oil futures extended gains towards the MYR 5,000-per-tonne mark as dip buyers emerged to blunt a massive meltdown that sent the commodity to a six-month low of MYR 4,500 last week. Still, fundamentals in the palm oil complex remained clouded by rising global supplies and weak export demand from Malaysia. Indonesia has recently announced an export acceleration scheme to ship at least 1 million tonnes of crude palm oil and derivatives. The world's biggest exporter also reduced the maximum export tax rate and levy for crude palm oil to $488 per tonne from $575 per tonne to boost shipments.

Hong Kong
Top Sector Gainers
Top Sector Losers
Trip.com Group Ltd (9961 HK) shares rose 16.5% yesterday. The Company delivered resilient results in the first quarter despite the disruptions of the COVID-19 resurgence in China. For the first quarter of 2022, Trip.com Group reported net revenue of RMB4.1 billion (US$649 million), which was flat compared to the same period in 2021. Net revenue for the first quarter of 2022 decreased by 12% from the previous quarter, primarily due to the continued disruptions resulting from the COVID-19 resurgence in China.
Wynn Macau Ltd (1128 HK) and Sands China Ltd (1928 HK) shares rose 12.8% and 11.7% respectively yesterday. Legislators in Macau approved a landmark casino bill on Tuesday, the biggest reforms in more than two decades, ahead of an expected casino licence bidding process in the world's biggest gambling hub. The moves are expected ahead of casino licence expirations due this month. The extension, to Dec. 31, allows more time for a highly anticipated rebidding process. Macau is the only place in China where gambling in casinos is legal. Macau's casino operators – Wynn Macau (1128.HK), Sands China (1928.HK), MGM China (2282.HK), Galaxy Entertainment (0027.HK) and Melco Resorts – all have sufficient liquidity with only SJM Holdings needing to beef up liquidity, analysts said.
Air China Ltd (753 HK) and Cathay Pacific Airways Ltd (293 HK) shares rose 10.1% and 6.4% respectively yesterday. Shares of many consumer- and travel-related stocks rose sharply after news that China will ease some of the restrictions to curb Covid-19 infections that have weighed on the world's second-largest economy for more than two years. The Chinese government said Tuesday it will shorten the quarantine time for international travellers and those who have come into close contact with Covid-19 patients to 10 days from 21 days. Beijing will also loosen its testing requirements for people in quarantine.


Trading Dashboard Update: Take profit on Tongcheng Travel (780 HK) at HK$17.5.