29 July 2022: Sembcorp Industries (SCI SP), Hainan Meilan International Airport Co Ltd (357 HK)
Singapore Trading Ideas | Hong Kong Trading Ideas | Market Movers | Trading Dashboard
Sembcorp Industries (SCI SP): High power prices to be sticky amidst high inflation environment
BUY Entry 2.93 – Target – 3.17 Stop Loss – 2.75
Headquartered in Singapore, Sembcorp Industries (SCI) leverages its sector expertise and global track record to deliver solutions that support energy transition and sustainable development. By focusing on growing its Renewables and Integrated Urban Solutions businesses, SCI aims to transform its portfolio towards a greener future and be a leading provider of sustainable solutions. SCI has a balanced energy portfolio of 16.5GW, with 7.0GW of gross renewable energy capacity comprising solar, wind and energy storage globally. SCI also has a track record of transforming raw land into sustainable urban developments, with a project portfolio spanning over 13,000 hectares across Asia.
Media reports on electricity wholesale price spike. On 18 July, media reported that Singapore's wholesale electricity price surged for a second time during the week, a sign of further volatility in the market amidst a global power crunch. The cost of 1 megawatt-hour jumped to more than S$4,200, close to the pricing cap of S$4,500. The high price was also sticky for the longest period this year, with the pricing staying for 3 hours. The latest prolonged surge implied a tightness in the market that could not easily be mitigated. High prices would also incentivise power generation companies such as SCI to sell more electricity. Prices staying high thus suggests a fundamental lack of sufficient capacity.
Share price erased gains despite positive profit guidance. SCI's share price has essentially given up all gains that were made during its positive profit guidance. Recall that SCI announced that it was looking at stronger-than-expected 1H22 performance driven by its conventional energy segment as electricity prices in Singapore and India remained high. Recall that SCI's FY21 performance was already substantially stronger on a YoY basis. FY21 turnover/adjusted net profit jumped 43%/57% YoY to S$7.8bn/S$472m mainly on contributions from conventional energy again. Notably, sustainable solutions also saw turnover improve 17% YoY.
Forecasts upbeat with room for further rerating. The Street currently has 9/2/0 BUY/HOLD/SELL ratings and an average TP of S$3.45. Based on consensus estimates, FY22F gross revenue/net profit should pick up by 9.7%/6.6 YoY to S$8.55bn/S$503m respectively. In line with this, the street is expecting FY22F DPU to jump 28% YoY to 6.4¢ (FY21: 5.0¢) or at a 2.2% yield. At current prices, SCI would trade at 11.1 forward P/E roughly at the YTD average of 11x, although this might change if the street starts a round of upgrades in the event of stronger-than-expected SCI results and more bullish guidance. SCI is due to announce 1H22 results on 5 August before trading commences.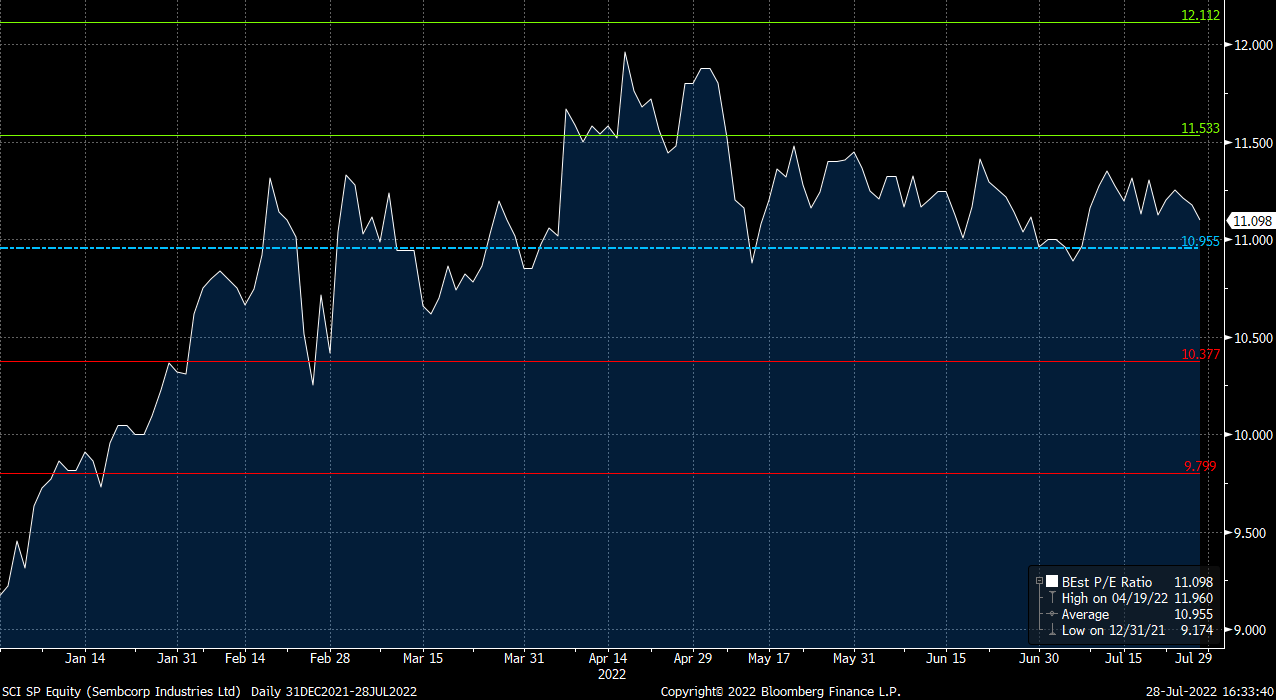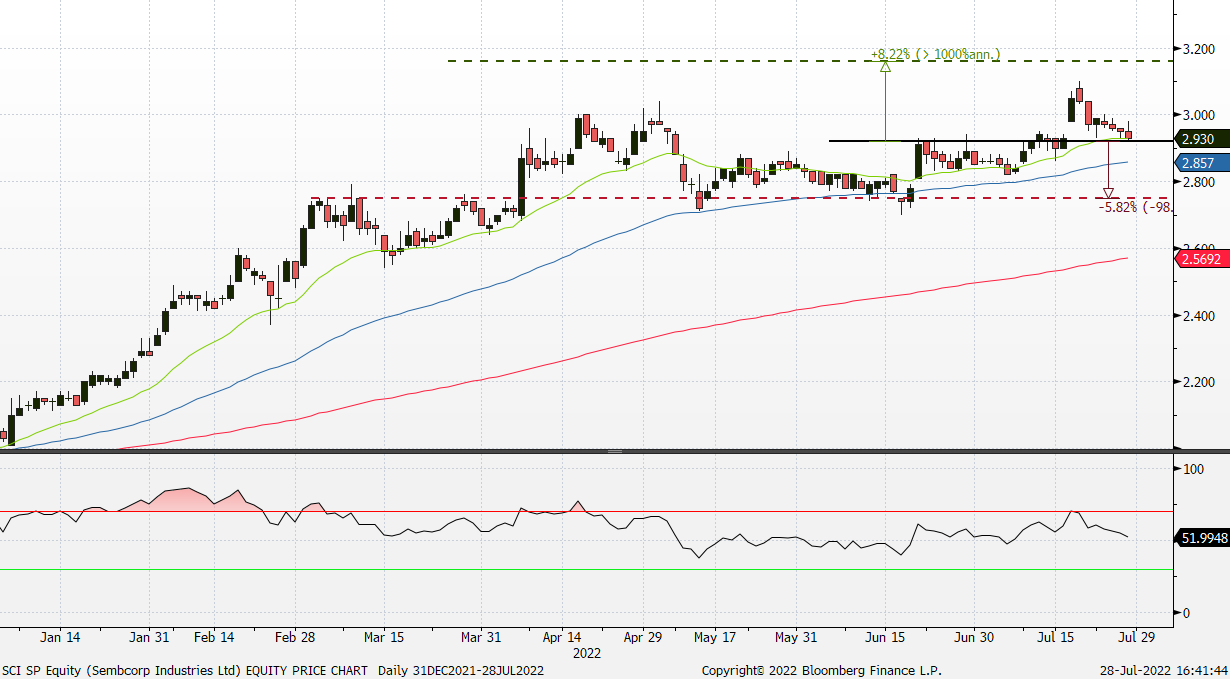 Ascott Residence Trust (ART SP): Tourism recovery still in play; results on 29 July
RE-ITERATE BUY Entry 1.15 – Target – 1.30 Stop Loss – 1.10
Ascott Residence Trust (ART) is the largest hospitality trust in Asia Pacific with an asset value of S$7.7bn as at 31 December 2021. ART's international portfolio comprises 95 properties with more than 17,000 units in 44 cities across 15 countries in Asia Pacific, Europe and the United States of America as at 31 March 2022. ART's properties are mostly operated under the Ascott The Residence, Somerset, Quest and Citadines brands. They are mainly located in key gateway cities such as Barcelona, Berlin, Brussels, Hanoi, Ho Chi Minh City, Jakarta, Kuala Lumpur, London, Manila, Melbourne, Munich, New York, Paris, Perth, Seoul, Singapore, Sydney and Tokyo. ART is managed by Ascott Residence Trust Management Limited (as manager of Ascott Reit) and Ascott Business Trust Management Pte. Ltd. (as trustee-manager of Ascott BT), both of which are wholly-owned subsidiaries of Singapore-listed CapitaLand Investment Limited (CLI SP).
UNWTO/IATA sees growing occupancy rates across Asia, Europe, and the Americas. According to the UNWTO Tourism Recovery Tracker, key ART markets such as Asia Pacific, Europe, and the Americas have seen recovering occupancy rates vis-a-vis pre-pandemic levels in 2019. In the Asia Pacific region, June occupancy levels have grown to 56% vs Jan's 43%. Meanwhile, other key markets in Europe and Americas have seen stronger and more robust occupancy rates likely due to the summer vacations. Europe's Jun occupancy rates were 75% (Jan: 34%) of 2019 levels, while the Americas' stood at 69% (Jan: 47%). Notwithstanding the occupancy rates, we note that the same tracker observes the Asia Pacific region further picking up the slack with hotel bookings currently at -19% (Jan: -78%) vs 2019 levels, while Europe and the Americas are substantially higher, albeit still stronger booking rates of -59% (Jan: -82%) and -59% (Jan: -72%), respectively.
Green shoots of recovery already seen in 1Q22. ART reported strengthening portfolio RevPAU of S$67 (+22% YoY) or about 50% of 1Q19 levels, with increases in both average daily rates and occupancy. Additionally, management shared that forward bookings had indicated sustained robust demand from leisure and corporate travel segments combined with growth in the MICE industry. Leisure demand was particularly boosted by revenge travelling into key markets such as Australia, Japan, Singapore, UK, and the US.
Trading below pre-pandemic valuations even as recovery likely picked up. The Street currently has 6/3/1 BUY/HOLD/SELL ratings and an average TP of S$1.23. Based on consensus estimates, FY22F gross revenue and NPI should surge 32.5%/55.8% YoY, while FY22F DPU growth should jump 20.6% YoY higher to S$0.052 apiece. While ART's valuations have improved significantly since the pandemic struck, it is still significantly lower than the levels it was trading at prior. As the tourism recovery takes hold, we believe that there is upside risk that ART could outperform the Street's forecasts and revert to its pre-pandemic valuations. At current prices, ART would trade at a still fairly attractive 4.5%/5.4% FY22F/23F yield.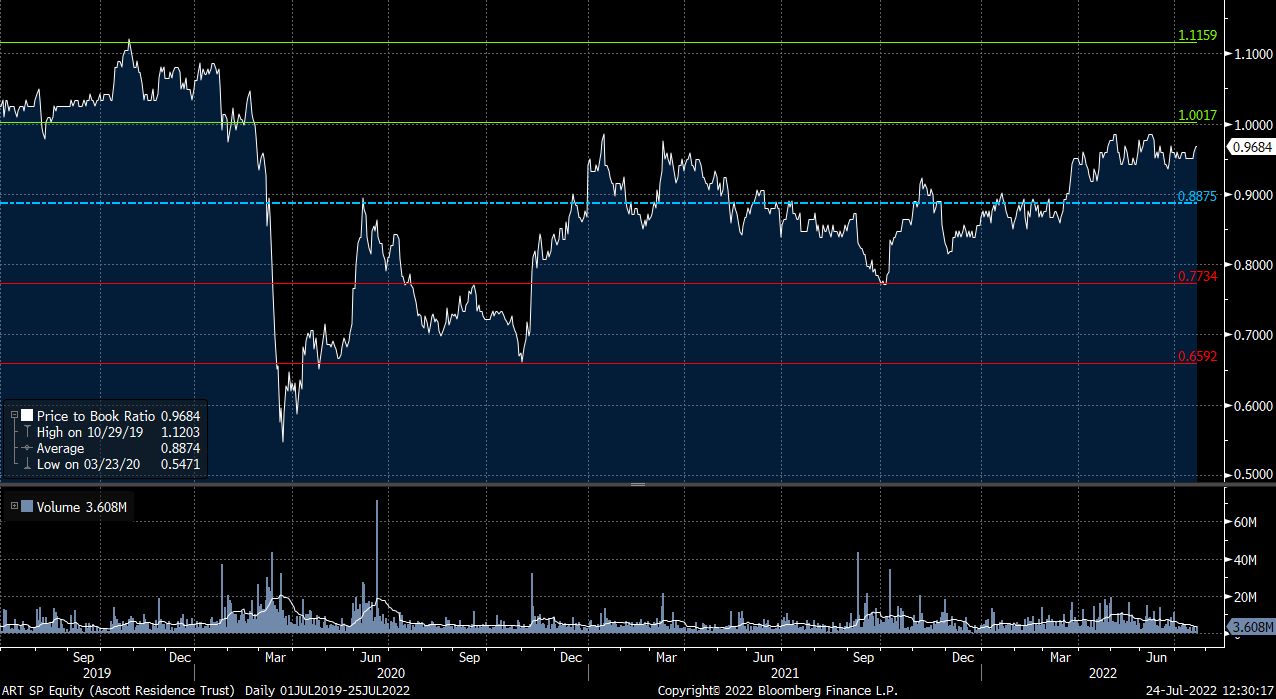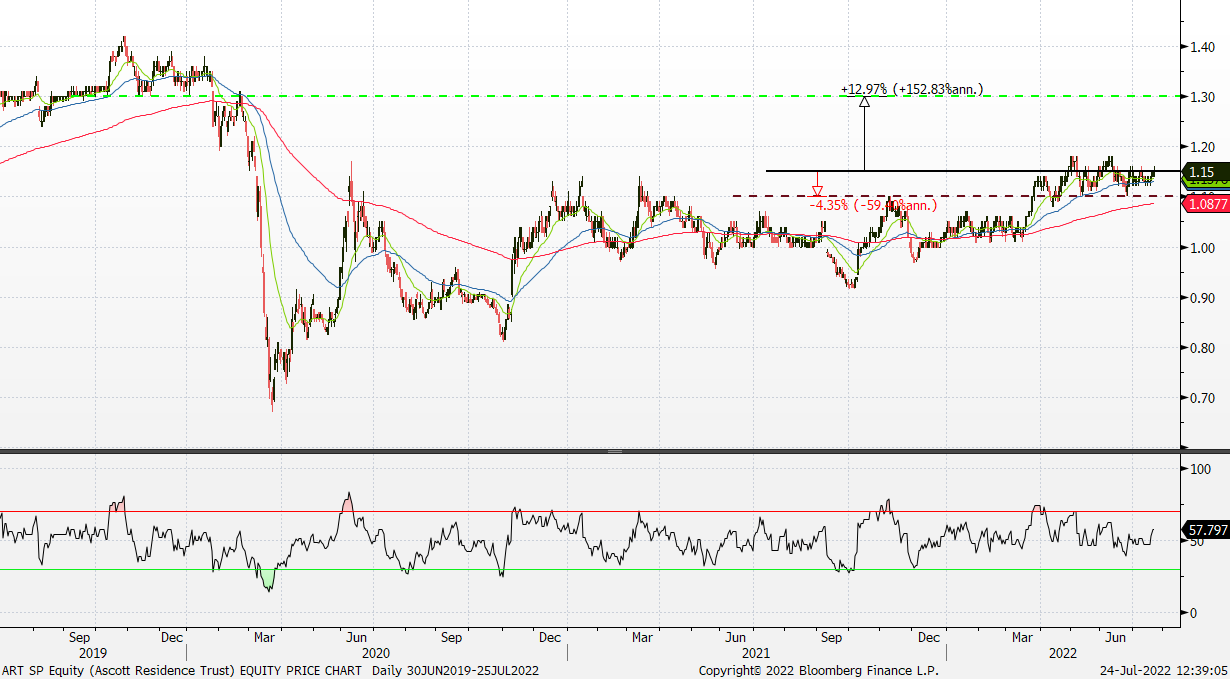 Hainan Meilan International Airport Co Ltd (357 HK): More upbeat tailwinds in this summer
RE-ITEREATE Buy Entry – 21.2 Target – 25.5 Stop Loss – 19.2
Hainan Meilan International Airport Company Limited, formerly Regal International Airport Group Company Limited, is a Hong Kong-based investment holding company principally engaged in aviation and related businesses. The Company operates through aeronautical businesses and non-aeronautical businesses. Its aeronautical businesses include the provision of terminal facilities, ground handling services and passenger services. Its non-aeronautical businesses include the leasing of commercial and retail spaces at Meilan Airport, airport-related businesses franchising, advertising spaces leasing, car parking businesses, cargo handling and the sales of consumable goods.
The second China International Consumer Products Expo opened. The Expo runs from 25th to 30th July in Haikou, the capital city of Hainan province. It will host 2,800 local and international brands, and more than 100 events will be held on the sidelines of the expo. The provincial government announced to release RMB100mn worth of consumer voucher, 60%/30%/10% of which is allocated to the consumption of offshore duty-free goods/food & beverage and retail goods/home appliance.
Duty-Free Shopping Festival kick started. On 28th June, The first Hainan International Offshore Duty-Free Shopping Festival was launched in Sanya. The international tourism island sets to hold more than 50 promotional events during the half-year festival period to boost the recovery of duty-free shopping.
The updated market consensus of the EPS growth in FY22/23 is -73.4%/207.5% YoY, respectively, translating to 44.0×/14.3x forward PE. The current PER is 11.7x. Bloomberg consensus average 12-month target price is HK$25.43.
(Source: Bloomberg)

Tongcheng Travel Holdings Limited (780 HK): Summer holiday to revive the domestic tourism
RE-ITERATE Buy Entry – 15.8 Target – 17.5 Stop Loss – 15.0
Tongcheng Travel Holdings Ltd, formerly Tongcheng-Elong Holdings Ltd, is a China-based holding company mainly providing online tourism products and services. The Company is mainly engaged in transportation ticketing services, accommodation reservation services and other services. The transportation ticketing services mainly include air ticket and train ticket booking, sales of tourism insurance and other transportation related services. The accommodation reservation services mainly provide accommodation booking services. Other services mainly include attraction ticketing, ancillary value-added user services and advertising services.
The worst could be over. China Tourism Academy released a report stating that domestic tourism had a downturn in 1H22 due to the covid outbreaks and the ensuing lockdowns. In 1H22, travelers made 1.46bn domestic visits, down 22.2% YoY. Revenue dropped by 28.2% YoY to US$173bn. However, the tourism market started to recover in June as the number of travellers recovered to 60% of last year's level. It is expected to rebound further in July.
Resumption of inter-provincial group tours. At the beginning of June, more than ten Chinese localities moved to restart inter-provincial group tours, after the Ministry of Culture and Tourism (MCT) announced more targeted anti-epidemic measures in an effort to boost tourism.
1Q22 financials and operations review. Revenue grew by 6.5% YoY to RMB1.72bn. Adjusted net profit dropped by 18% YoY to RMB298.9mn. Average MAUs grew by 4.5% YoY to 234.2mn. Average MPUs grew by 16.1% YoY to 27.3mn.
The updated market consensus of the EPS growth in FY22/23 is 17.8%/72.0% YoY, respectively, translating to 36.2×/21.1x forward PE. The current PER is 47.5x. Bloomberg consensus average 12-month target price is HK$17.68.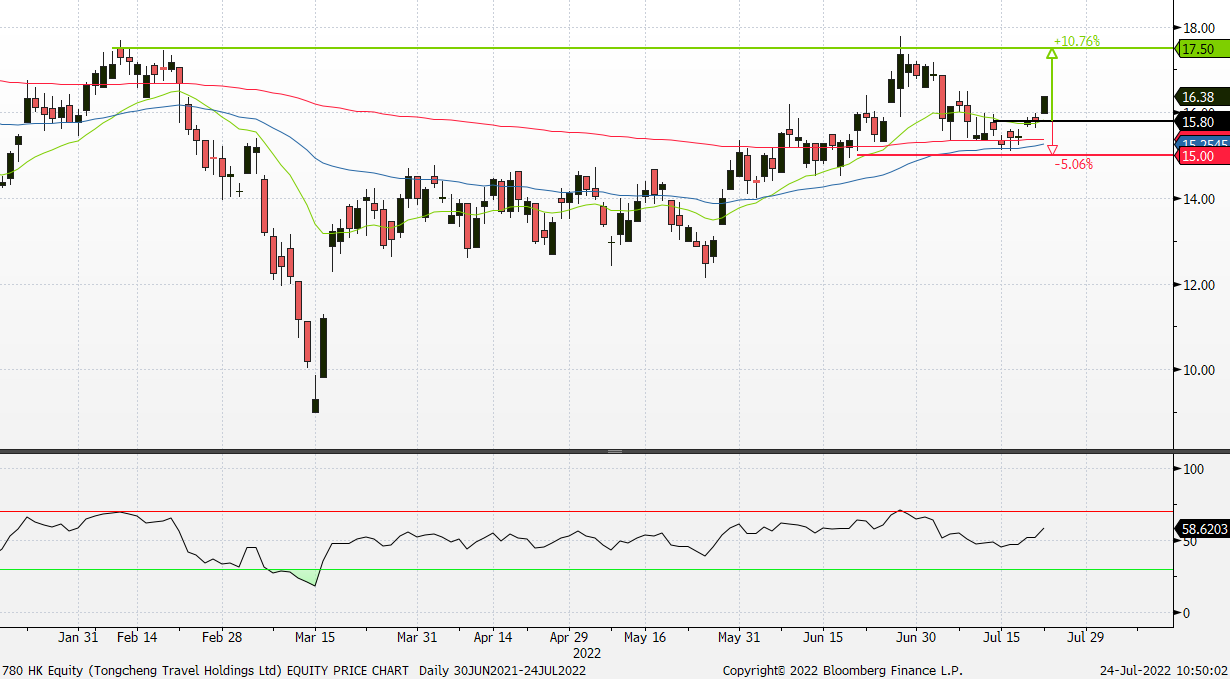 United States
Top Sector Gainers
Top Sector Losers
Solar stocks jumped on Thursday after Senate Majority Leader Chuck Schumer, and Sen. Joe Manchin, said they've reached a deal on what would be the most ambitious climate spending package in U.S. history. Shares in Sunrun Inc (RUN US), Sunnova Energy International Inc (NOVA US), and SunPower Corp (SPWR US) surged 30%/27.9%/18.2% respectively. The bill, which the full Senate will consider next week, includes a 10-year extension of clean energy tax incentives. The Investment Tax Credit, which has been key to the industry's growth and has typically garnered bipartisan support, was last extended in 2020. It was set to decrease at the end of this year. The package would also include incentives for domestic manufacturing. Provisions for electric vehicles, hydrogen and nuclear power are also included in the proposed funding.
Spirit Airlines (SAVE US) jumped 5.6% after JetBlue Airways Corp (JBLU US) reached a US$3.8bn deal to buy the former in a takeover that would create the US's fifth-largest airline and remove a fast-growing budget carrier from the market. The deal caps a fierce, monthslong bidding war for Spirit and came hours after Spirit scrapped plans to combine with fellow discounter Frontier Airlines. JetBlue believes that by buying Spirit, it would fast-track its growth by giving it access to more Airbus jetliners and pilots and help it compete with large carriers like American, Delta, United and Southwest, which control most of the US market. JetBlue said it will pay US$33.50 a share in cash for Spirit, including a US$2.50 per share prepayment if Spirit shareholders approve the deal and a 10 cent per month ticking fee starting next year until the deal closes.
Comcast Corp (CMCSA US) dived 9.1% despite reporting 2Q22 revenue and earnings that topped analyst estimates, but the cable provider didn't add broadband customers in a quarter for the first time ever. Comcast's high-speed internet customers in the quarter were flat, trailing the 84,000 average analyst estimate. Comcast is seeing growing competition for high-speed broadband, its most lucrative product. For more than a decade, the cable industry has dominated the home broadband market, but wireless companies such as T-Mobile are now competing by offering 5G home internet products. T-Mobile added 560,000 broadband users in the second quarter, well above its first-quarter total of 338,000.
Meta (META US) shares slumped 5.2% as it reported a steeper-than-expected drop in revenue, missed on earnings and issued a surprisingly weak forecast, pointing to a second consecutive decline in year-over-year sales. Facebook's holding company reported EPS of US$2.46 (est: US$2.59) on revenue of US$28.82bn (est: US$28.94bn. Meta shares have lost about half their value since the beginning of the year, underscoring investor concern about the health of the company's core online advertising business. That unit has been hurt by Apple's iOS privacy update last year, limiting Meta's ability to track users, and by a weakening economy that's led some companies to slash their ad budgets. Meta joins other big tech names in reducing headcount growth over the next year as it tightens its belt for the economic slowdown.
Qualcomm Inc (QCOM US) fell 4.5% after it guided for a weaker-than-expected current quarter. Qualcomm said it expected between US$3 and US$3.30 in earnings per share during the fourth quarter on between US$11bn and US$11.8bn in sales, falling short of Wall Street's Q4 earnings expectations of US$3.23 per share and US$11.87bn in sales. Qualcomm's forecast suggested that the company's handset sales growth would slow during its fiscal fourth quarter, reflecting that a decline in smartphone demand could hit its main business both in terms of revenue and earnings. The company expects operating expenses to rise between 6% and 8% sequentially during the quarter.
Singapore
OCBC (OCBC SP), UOB (UOB SP), and DBS (DBS SP) gained 1%/0.9%/0.5% respectively on the back of the 75bps Fed rate hike. The Street is expecting the banks to report an improvement in second-quarter net interest income, a key source of revenue, benefiting from higher interest rates. However, rising credit impairments and weak financial markets could weigh on banks' performance as the macro environment deteriorates. Singapore banks are expected to report 10bps net interest margin expansion on a QoQ basis, the highest over the last 8 quarters, outperforming Asian peers. United Overseas Bank (UOB) unveils results this Friday (Jul 29), followed by Overseas Chinese Banking Corp (OCBC) on Aug 3, and DBS a day later.
PropNex (PROP SP) and APAC Realty (APAC SP) jumped 7.6% and 4% respectively after media reports on the recent robust demand for AMO Residence. The condominium project sold nearly all its units on the first day of launch suggesting that rising mortgage rates have not dampened pent-up demand for properties in Singapore. Local home upgraders are still drawn to attractively priced private properties in good locations. Others may be seeking a safe investment haven amid rising inflation and economic uncertainties. Property agencies such as PROP and APAC are expected to benefit from the robust demand in the property market.
Ascendas REIT (AREIT SP) gained 0.7% as prices and rents of Singapore industrial spaces continued to climb for the seventh straight quarter in 2Q22. Meanwhile, occupancy rates crept up in the quarter after dipping in 1Q22, according to JTC's quarterly market report. Singapore's strong manufacturing performance, particularly in the electronics and precision engineering segments, helped drive demand for factories during the period, noted property analysts. The strengthening Singapore dollar also supported stockpiling activity amid rising global concerns over food security and access to raw materials, boosting demand for logistics – hence warehouse – space. FLCT is scheduled to announce results before trading commences on Aug 5.
Oil plays such as RH Petrogas (RHP SP) and Rex International (REXI SP) shares rose 4.6% and 2.0% respectively yesterday. Oil prices gained ground with WTI notching a 2.6% gain to US$99.75/bbl in Asian trade, towards the key US$100/bbl psychological mark. Media reported that top oil exporter Saudi Arabia could raise September crude prices for customers in Asia for a third month even though refining margins have declined as high fuel prices and persistent COVID-19 restrictions in China hit demand. State oil giant Saudi Aramco could hike the official selling price (OSP) for its flagship Arab Light crude by between US70 cents and US$1 a barrel from the previous month

Hong Kong
Top Sector Gainers
Top Sector Losers
Koolearn Technology Holding Ltd (1797 HK) Shares jumped 16.43% yesterday. There was no company-specific news. Tianfeng Securities issued a report and maintained the positive view of the company's outlook. The company's daily and accumulative GMV is about 22mn and 1.3bn respectively. The online viewerships and durations are better than expected. Hence, the growth prospects are upbeat.
New Oriental Education & Techlgy Grp Inc (9901 HK) Shares jumped 9.86% yesterday after the company announced its 4Q22 (YE May) results. Total net revenues decreased by 56.8% YoY to US$524.0mn. Operating loss was US$105.6mn. Net loss attributable to New Oriental was US$189.3mn. However, the new business Koolearn.com, the online education platform, is expected to continue to expand its online educational offerings to adults and university students, and actively seek business opportunities in new areas.
Country Garden Services Holdings Co Ltd (6098 HK) Shares increased 6.42% yesterday after hitting a 52-week low on Wednesday. Previously, Country Garden Holdings (2007 HK) announced a share placement plan. The company will place out 870mn shares at HK$3.25. The placing shares represent approximately 3.76% of the issued share capital of the company as at the date of the announcement and approximately 3.62% of the issued share capital of the company as enlarged by the issue of the placing shares. The rebound could be due to some short covering movements.
BYD Electronic (International) Co. Ltd (285 HK) Shares increased 5.67% yesterday. There was no company-specifc news. Apple (AAPL US) will be announcing its 3Q22 results on 28th July. Investors are upbeat on the earnings. Apple-themed stocks jumped.
SenseTime Group Inc (20 HK) Shares increased 5.56% yesterday following the US technology sector's rebound after the 75bps rate hike.. There was no company specific news.


Trading Dashboard Update: Add Hainan Meilan International Airport (357 HK) at HK$21.2.