28 March 2022: Olam Group (OLG SP), China Oilfield Services Limited (2883 HK)
Singapore Trading Ideas | Hong Kong Trading Ideas | Market Movers | Trading Dashboard
SINGAPORE
Olam Group (OLG SP): Hedge against inflation
BUY Entry – 1.82 Target – 1.98 Stop Loss – 1.725
Olam is a leading food and agri-business operating across the value chain in more than 60 countries, supplying food, ingredients, feed and fibre to more than 17,300 customers worldwide. Listed on 11 February 2005 on the mainboard of SGX, Olam currently ranks among the top 30 largest listed companies in Singapore in terms of market capitalisation and is a Singapore constituent stock of the FT Global All Cap Ex US Index.
Food prices at record levels. World food prices rose 21% YoY and touched records in February 2022, led by a surge in vegetables oils and dairy products, according to the UN food agency earlier this month. The Food Price Index, which tracks the most globally traded food commodities, averaged 141 points in February (see graph below).
Unlocking value. Last week, Olam announced that it had agreed to sell a 35% stake in Olam Agri Holdings to Saudi Agricultural and Livestock Investment Company (Salic) for US$1.2bn. Salic is a wholly-owned subsidiary of the Public Investment Fund of Saudi Arabia. Following the sale, Olam Group will still retain a 64.6% stake in Olam Agri. According to Olam's CEO Sunny Verghese, the sale will help in the valuation of Olam Agri prior to the potential or eventual IPO or demerger of the unit.
Delay of another catalyst due to the Russia-Ukraine war. Olam Group's other subsidiary, OFI, was supposed to list in the second quarter of 2022. However, the group announced last Thursday (24 March) that it will delay the IPO due to the ongoing conflict in Ukraine, and no longer expects the IPO to take place in 2Q 2022. Still, we remain optimistic that Olam will proceed with OFI's IPO when the market stabilises, which would then provide another upside catalyst to its share price.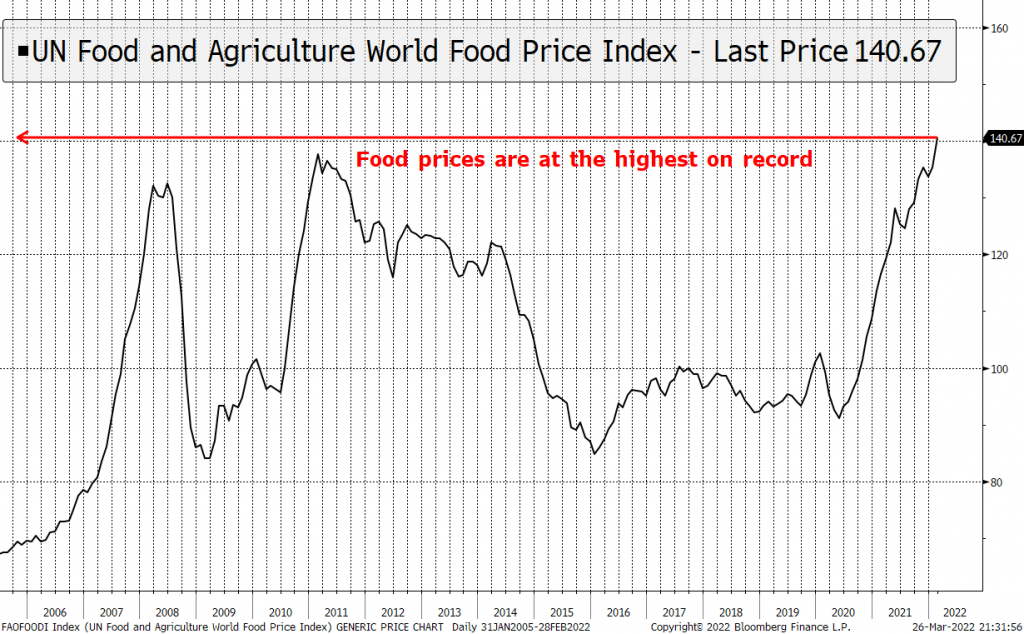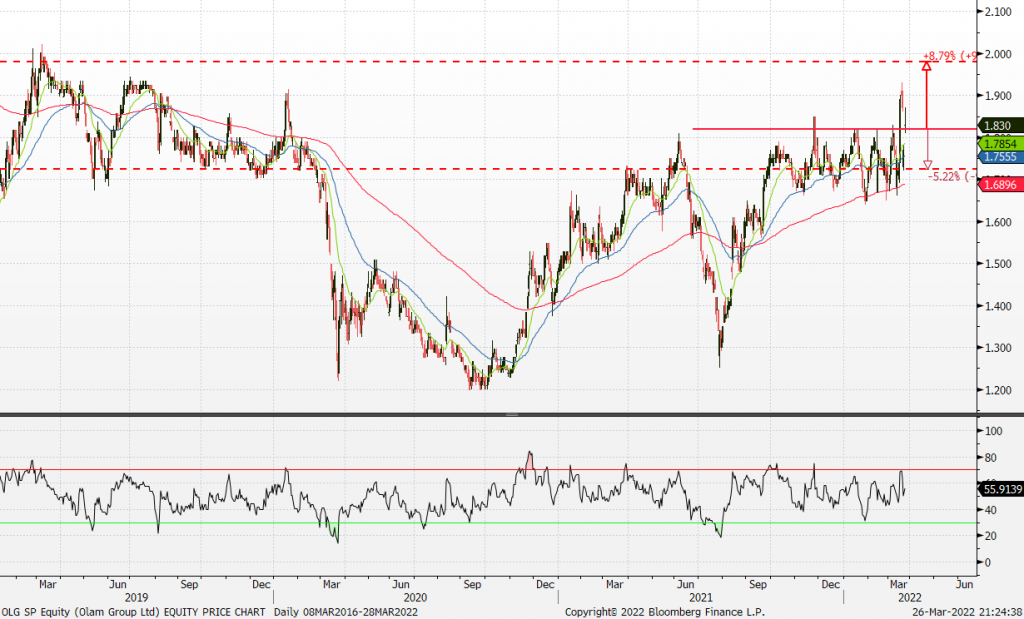 ---
ComfortDelGro (CD SP): Singapore reopens
RE-ITERATE BUY Entry – 1.48 Target – 1.62 Stop Loss – 1.42
CD is one of the largest land transport companies in the world, operating in seven countries and with a global network of over 40,000 vehicles. The company's businesses include bus, taxi, rail, car rental and leasing, automotive engineering, inspection and testing services, drive centres and outdoor advertising. Singapore is the largest contributor of revenue, making up 55% in FY2020, followed by UK/Ireland (23% of total revenue), Australia (19%) and China (4%).
Singapore reopens. The Singapore government yesterday announced that all vaccinated travellers can enter Singapore without quarantine from the first of April. Travellers will no longer be required to take only designated flights to enter Singapore quarantine-free, and will not have to take the antigen rapid test (ART) within 24 hours of arrival. This latest round of easing will make travelling as seamless as it was before the pandemic.
Freedom. On the domestic front, up to 75% of workers can return to their workplaces, while social gatherings will increase up from the 5 maximum limit to 10. This should lead to an increase in daily commuters and benefit CD's extensive taxi fleet.
Positive street view and attractive valuations. There are currently 9 BUYS and 2 HOLDS, and a 12m average TP of S$1.75 (implying a return of 18% from the last close price). CD trades at 16x FY2022F P/E and only 4.6x FY2022F EV/EBITDA, which is among the cheapest of the transport-related stocks listed in Singapore.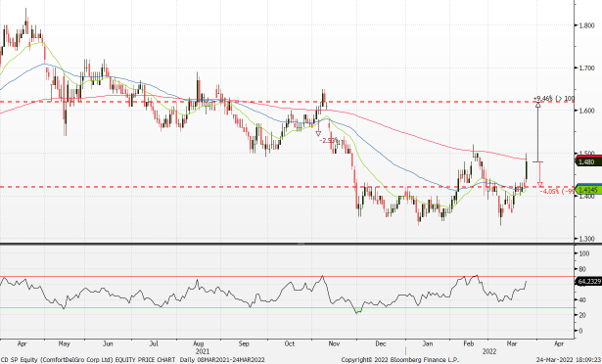 ---
HONG KONG
China Oilfield Services Limited (2883 HK): High oil prices to stay longer than expected
BUY Entry 8.0 – Target – 9.0 Stop Loss – 7.5
China Oilfield Services Limited is a comprehensive oilfield service provider. The Company mainly operates through four business segments. The Drilling Services segment is mainly engaged in the provision of oilfield drilling services. The Oil Field Technical Services segment is mainly engaged in the provision of oilfield technical services, including the logging, drilling fluids and directional drilling services. The Geophysical and Engineering Exploration Services segment is mainly engaged in the provision of seismic prospecting and engineering exploration services. The Marine Support Services segment is engaged in the transportation of supplies, including the delivery of crude oil, as well as refined oil and gas products. The Company mainly operates its businesses in domestic and overseas markets.
FY21 earnings highlight. The company announced the FY21 annual results on 24th March. Revenue grew mildly by 0.8% YoY to RMB29.2bn. Net profit attributable to company shareholders dropped substantially by 88.4% YoY to RMB313.1mn due to the increase in operating expenses, especially employee compensation costs.
Oil prices have support at US$100/bbl. The Russia-Ukraine conflict has changed the structure of global energy and agriculture supply due to sanctions on Russia. The supply gap of 4mn bbl/d is hardly filled in the near term. Even the potential ramp-up in production from Iran and Venezuela theoretically fill the current gap, the demand growth will continue as a further reopening in the upcoming summer worldwide. The recent oil price correction factored in China's rising covid infections and lockdowns of cities. However, China is expected to contain the current wave, and demand for oil will continue to recover along with production activities resume accordingly.
Warren buffet's bet. Berkshire Hathaway invested another US$10bn in Occidental Petroleum (OXY US) after the invasion. The long oil prices stay high, the more fund flows enter the oil and gas upstream sector. Given the underinvestments over the past few years, the upcycle of oil will gradually translate a great turnaround for the exploration and production companies.
An updated market consensus of the EPS growth in FY22/23 is 83.5%/21.9% YoY respectively, which translates to 9.9x/8.1x forward PE. The current PER is 102.6x. Bloomberg consensus average 12-month target price is HK$10.3.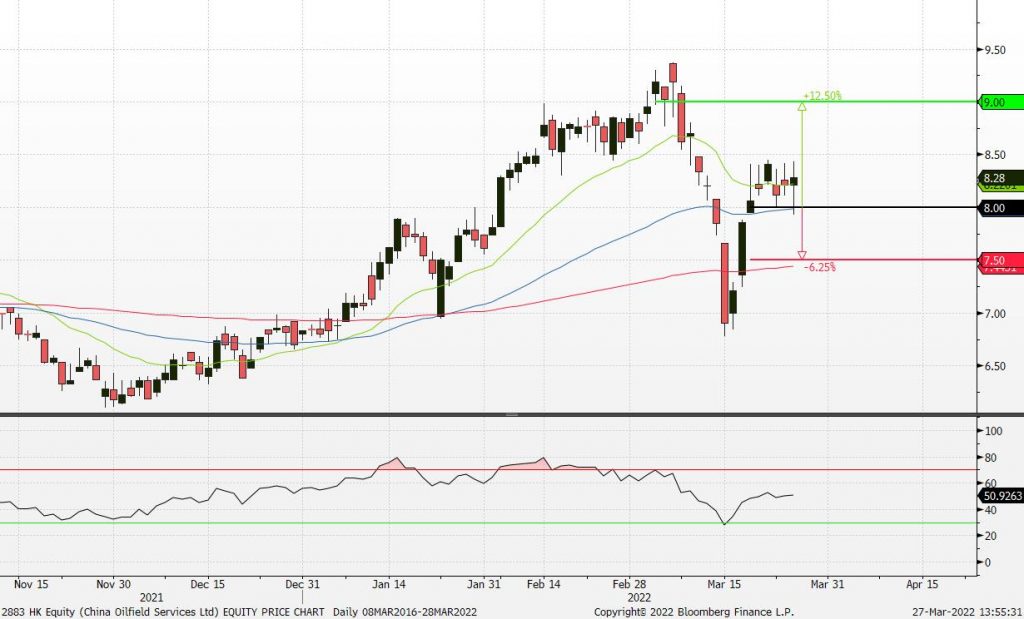 ---
Trip.com Group Ltd (9961 HK): Pent-up summer travelling spree
RE-ITERATE BUY Entry – 190 Target – 230 Stop Loss – 170
Trip.com Group Limited, formerly Ctrip.com International, Ltd., is a travel service provider in China that provides accommodation booking, transportation ticketing, package tours and corporate travel management. The Company aggregates hotel and transportation information to help leisure and business travelers make reservations. The Company helps leisure travelers book travel packages and guided tours and helps corporate clients manage their travel needs. The Company also offers a range of travel-related services to meet the different booking and travel needs of leisure and business travelers, including visitor reviews, attraction tickets, travel-related financial services, car services, travel insurance services and passport services. The Company also offers package tours for independent leisure travelers, including tour groups, semi-tour groups and private groups, as well as package tours that require different transportation arrangements (such as cruise, buses or self-driving).
FY21 earnings review. On 24th March, the company announced its FY21 annual results. Net revenue (breakdown is shown below) increased moderately by 9% YoY to RMB20bn in FY21. Adjusted EBITDA dropped by 23.5% YoY to RMB1.3bn. Net loss attributable to company shareholders was RMB550mn compared to a net loss of RMB3.2bn in FY20. Non-GAAP net income attributable to company shareholders was RMB1.4bn in FY21 compared to a net loss of RMB913mn in FY20.
Risk and opportunity. The recovery of the tourism sector in China shows strong resilience during the COVID-19 period. The three main waves of infections, namely Alpha, Delta, the current Omicron, resulted in instant lockdowns of cities. However, after the previous two infection waves tapered, the pent-up demand for travelling substantially helped the recovery of the businesses, especially during the ensuing golden week holiday seasons. At the moment, China is undergoing main cities lockdowns amidst rising COVID cases. If China manages to contain the spread, the company will see a surge in bookings in the upcoming May Day holiday and summer holiday.
Updated market consensus of the EPS growth in FY22/23 is 64.0%/145.1% YoY respectively, which translates to 43.7x/17.8x forward PE. Bloomberg consensus average 12-month target price is HK$255.2.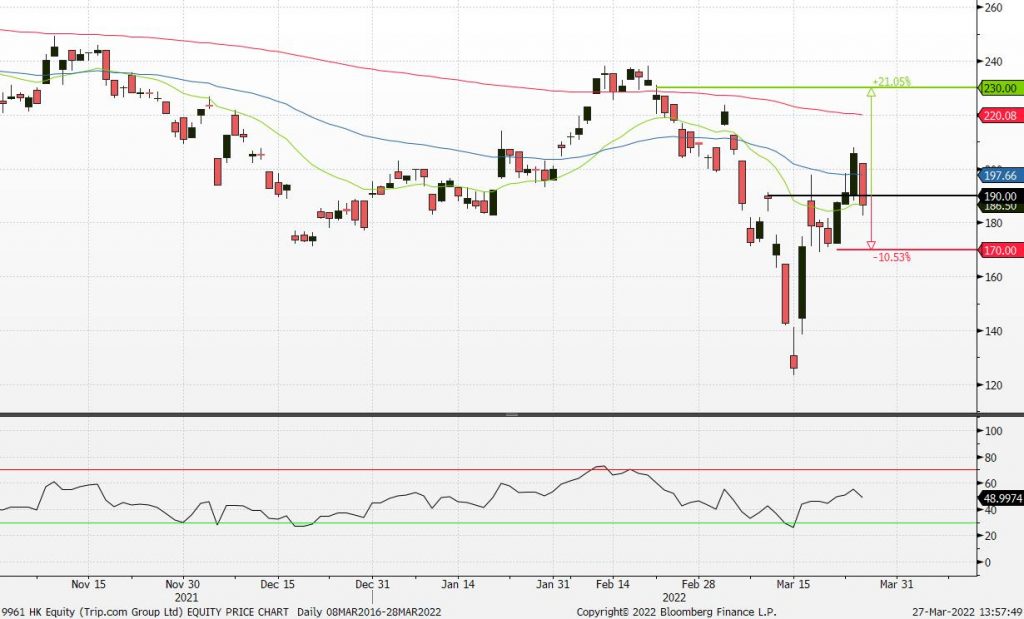 ---
MARKET MOVERS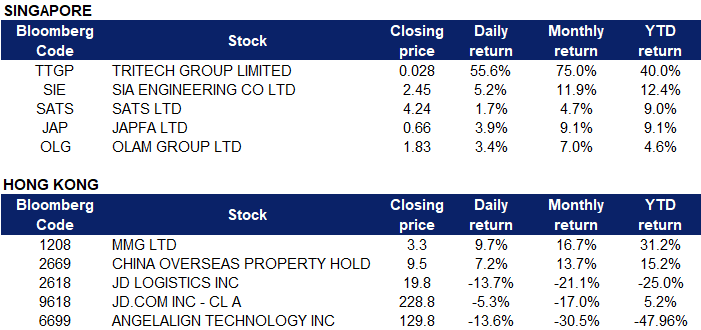 ---
United States
Top Sector Gainers
Top Sector Losers
Tilray Inc (TLRY US) shares surged 22.8% on Friday together with other marijuana producers, following an industry publication's report that the House will vote for a second time next week to legalise cannabis at the federal level. The House passed such a bill in 2020, but the Senate did not follow suit.
Honest Company Inc (HNST US) shares plunged 22.5% on Friday after posting a wider-than-expected quarterly loss as sales of masks and sanitising products dropped significantly. Late Thursday, the company reported a loss of 10 cents a share in its fiscal fourth quarter on revenue of $80.4 million, an increase of 3% from a year earlier. Analysts were expecting a loss of 7 cents a share on sales of nearly $85 million. It also issued guidance for the current quarter that was weaker than expected.
Nio Inc (NIO US) shares fell 9.4% on Friday after reporting better-than-expected quarterly sales Thursday, but its deliveries forecast fell short of estimates. For 2021's fourth quarter, the company reported a 16 cent per-share loss from almost $1.6 billion in sales. Wall Street was projecting a 16-cent loss from closer to $1.5 billion in sales. Looking ahead, the company expects to deliver 25,000 to 26,000 vehicles in 2022's first quarter. Wall Street was expecting deliveries closer to 28,000.
Moderna Inc (MRNA US) and Novavax Inc (NVAX US) shares fell 7.7% and 9% respectively on Friday, as investors are worried that the U.S. government won't purchase additional COVID-19 vaccine doses. Moderna CEO Stéphane Bancel stated in an interview with Yahoo! Finance yesterday that his company is preparing "for a private-market situation." In addition, Endpoints News reported that an anonymous Biden official revealed concerns that the U.S. Congress might not move forward with additional funding needed to purchase more vaccine doses. The Biden administration has been lobbying for these funds, saying in a public statement last week, "Without funding, the United States will not have enough additional boosters or variant specific vaccines, if needed, for all Americans."
---
Singapore
Tritech Group Ltd (TTGP SP) shares rose 55.6% on Friday after announcing that it has entered into four collaboration agreements with new strategic investors. The agreements, which were signed on March 22, were in relation to the development and commercial use of the eco-friendly automated uni-cell fish farming in Singapore. The agreements were entered into with Protocol Capital W.L.L. and Roads Holding Group W.L.L., Jackie Ng Chin Song and Tan Hong Seok, Stephanie Lorraine. Under the agreements, Protocol Capital will invest up to US$475 mn, of which up to US$80 mn will go towards the new special purpose vehicles (SPVs) incorporated or to be incorporated for the purposes of carrying out the proposed collaborations.
SIA Engineering Company Ltd (SIE US) and SATS Ltd (SATS SP) shares rose 5.2% and 1.7% respectively yesterday on Friday, extending their rally after announcement that Singapore will reopen its borders to all fully vaccinated travellers, removing all existing vaccinated travel lanes (VTL) and unilateral opening arrangements from Apr 1. Instead, it will transition to a new simplified travel framework – the vaccinated travel framework – where countries and regions will be classified into two categories – general travel or the restricted category. Gatherings will be doubled from the current five persons to 10 people for mask-off activities and the capacity limit for larger events and settings – those with more than 1,000 people – will be raised to 75%.
Japfa Ltd (JAP SP) shares rose 3.9% on Friday. DBS Group Research analyst Cheria Christi Widjaja has kept "hold" on Japfa as she sees the group's near-term outlook to remain subdued due to the limited room for margin improvements in FY2022. However, Widjaja remains positive on certain aspects of Japfa's business, such as strong broiler prices in Indonesia with the upcoming Ramadhan season and favourable raw milk prices in China. In her report dated March 24, Widjaja has kept her target price unchanged at 67 cents, as she has kept her EBITDA forecasts for the FY2022/FY2023 the same following Japfa's FY2021 results.
Olam International Ltd (OLAM SP) shares rose 3.4% on Friday after announcing that it plans to sell a 35% stake in unit Olam Agri to Saudi Agricultural and Livestock Investment Co (SALIC) for US$1.24 bn, paving the way for an IPO and demerger of the unit. "Secondary placement for Olam Agri would lead to an immediate unlocking of value for our shareholders, set a benchmark valuation for future IPO and demerger of Olam Agri," said Sunny Verghese, the group's chief executive.
---
Hong Kong
Top Sector Gainers
Top Sector Losers
MMG Ltd (1308 HK) shares rose 9.7% on Friday, after announcing its FY2021 results. The mining company posted a net profit of $667.1mn for the year compared with a $64.7mn loss in 2020. Full year revenue was $4.26bn versus $3.03bn the year before. The company said separately late Thursday that it approved the development of the Kinsevere Expansion Project, which will extend the life of the operation for at least 13 years from 2022. The total investment amount of $550mn to $600mn will be funded via a combination of debt and available cash reserves, it said.
China Overseas Property Holdings Ltd (2669 HK) shares rose 7.2% on Friday, after announcing its FY2021 results. The property manager's full year net profit was HK$ 983.9mn, beating a consensus estimate of HK$ 912.9mn according to analysts polled by FactSet. That also exceeded its 2020 net profit of HK$ 700.0mn. China Overseas Property's 2021 revenue was HK$ 9.44bn versus HK$ 6.54bn in the previous year. That also exceeded the HK$ 9.29bn tipped by the poll of analysts.
JD Logistics Inc (2618 HK) shares lost 13.7% on Friday after announcing intentions for a share placement. JD Logistics is looking to raise $1.1bn from a $700mn share placement with its parent company JD.Com plus a $400mn primary capital raising, according to regulatory filings on Thursday. The company is selling the new shares in a range of HK$20.30 to $HK21.15 each, according to a term sheet seen by Reuters. Parent company JD.com Inc (9618 HK) shares lost 5.3% on Friday.
Angelalign Technology Inc (6699 HK) shares lost 13.6% on Friday. The company recognized total revenue of RMB 1,271.7mn, representing a YoY growth of 55.7%. Adjusted EBITDA increased by 40.7% YoY to RMB 417.5mn, and the adjusted net profit increased by 52.9% YoY to RMB 347.5mn. However, Nomura maintained a "Neutral" rating on Times Angel and lowered its target price down 49% to HK$169.5. The bank pointed out that business growth slowed down in the second half of last year, which is believed to be affected by the epidemic.
---
Trading Dashboard
Trading Dashboard Update: No additions or deletions to trading dashboard.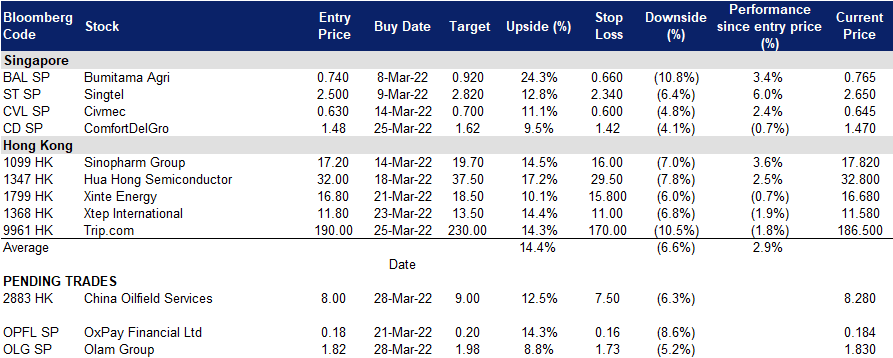 (Click to enlarge image)
---