28 February 2022: Jiutian Chemical (JIUC SP), Angang Steel Company Limited (347 HK)
Singapore Trading Ideas | Hong Kong Trading Ideas | Market Movers | Trading Dashboard
SINGAPORE
Jiutian Chemical (JIUC SP): Stellar performance
BUY Entry – 0.084 Target – 0.105 Stop Loss – 0.075
Jiutian is the second largest Dimethylformamide (DMF) producer in China, with a total annual capacity of 150,000 tons of DMF and methylamine (MA). Both these chemicals are important ingredients in industries as diverse as consumer goods, petrochemicals, electronics, pharmaceuticals and fertilisers. In addition, it now produces chemicals for fast growing sectors such as batteries that are used in electric vehicles.
FY2021 net profit +79% YoY. JIUC reported a 79% YoY surge in net profit to RMB310mn, even when taking into account a RMB126mn impairment related to an associated company, Anyang Jiujiu Chemical Technology. This was on the back of strong average selling prices (ASP) of Dimethylformamide (DMF) and Methylamine. JIUC was able to achieve an ASP of RMB12,127 per tonne for DMF and RMB11,837 per tonne for Methylamine, an increase of 103% YoY and 57% YoY respectively. Overall sales volume increased 9-11% YoY.
Tight market riding on strong demand. Driven by the exceptionally high average selling prices, China DMF sector also recorded historically high profits which are estimated to be more than RMB7,000/tonne. The widening spread was mainly due to the relatively low cost of raw materials such as methanol and synthetic ammonia (trough-to-peak: up 55%) and the strong demand from Southeast Asia. The effective capacity of China's domestic DMF capacity in FY21 was 900,000 tonnes and the capacity utilisation rate averaged at 80%. In 2H21, market leader Hualu Hengsheng (600426 CH) had 150,000 tonnes of capacity overhaul, resulting in a shortage of DMF supply.
FY22 outlook remains upbeat. COVID-19 pandemic is expected to end in 2022 as the majority becomes vaccinated. With potential treatment pills released and the adoption of herd immunity policy, most countries will be fully opened by 2H22. The full normalisation of production activities will support demand for DMF and related products. Meanwhile, the domestic capacity will not see a substantial ramp-up this year. Therefore, the supply and demand dynamics will remain relatively tight. The raw material costs have little room to grow as methanol import is expected to resume to a normal level of 13mn tonnes, and the domestic methanol capacity is expected to be 70mn tonnes. Meanwhile, the domestic methanol demand is expected to be around 83mn tonnes.
Cheap valuations and higher dividends later. JIUC currently trades at only 2.7x FY2021 P/E. If we exclude the one-off impairment, JIUC will be trading at 1.9x FY2021 Core P/E. Assuming DMF prices of RMB10,000 per tonne in FY2022, which we believe is a very conservative assumption when compared to the current market price and the RMB12,127 ASP achieved in FY2021, JIUC will still be trading at only 3.8x FY2022F P/E. We understand that the S$0.0012 final dividend has not fully accounted for the stellar performance in FY2021 given the delay in cash transfer and we still expect that the company to be able to pay out at least S$0.011 based on a 25% payout ratio of its FY2021 net profit of RMB 310mn.
Jiutian's FY2021 Key financial highlights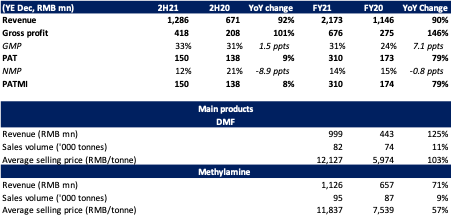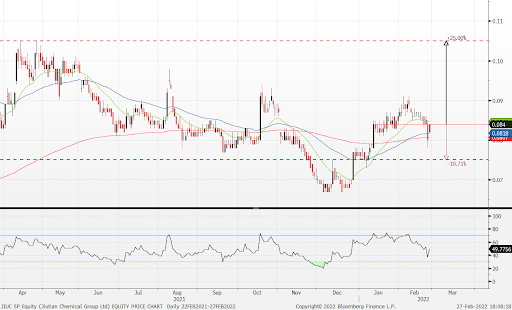 ---
Frencken Group (FRKN SP): Even better this year
BUY Entry – 1.62 Target –  1.81 Stop Loss – 1.52
FRKN is a technology manufacturer providing end-to-end solutions to global clients including ASML (semiconductor), Philips (medical), Siemens (medical), FEI (analytical), Seagate (industrial automation) and ThermoFisher (analytical). 
Good 2021 results. FRKN reported its FY2021 results last Thursday. 4Q2021 PATMI rose 15% YoY to S$27mn while full-year FY201 PATMI surged 38% YoY to S$59mn. The better performance was driven by its mechatronics division whose revenue rose 27% YoY to S$659mn in FY2021 on the back of double-digit sales growth of the semiconductor, medical and analytical segments. 
Positive outlook in 1H2022. The group expects higher revenue for its semiconductor, industrial automation and automotive segments for 1H2022 compared to the previous period in the prior year. FRKN continues to expand capacity and production at its new facilities in Europe, Malaysia and Singapore. 
Consensus estimates are positive. There are 5 BUYS and an average TP of S$2.27, implying a 39% potential upside. Valuations are now cheap at 10x and 9x FY2022F and FY2023F EPS, a 28% discount to SG-listed technology manufacturing peers. 
Peer comparison of Singapore-listed technology manufacturers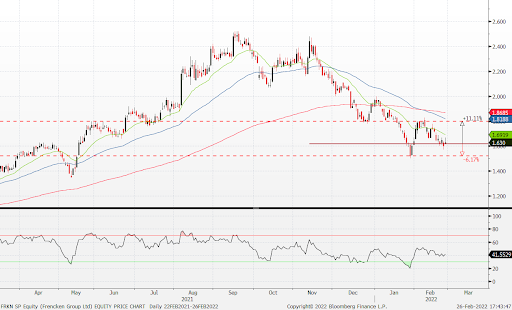 ---
HONG KONG
Angang Steel Company Limited (347 HK): Butterfly effect benefits steel prices
BUY Entry – 3.75 Target – 4.20 Stop Loss – 3.50
Angang Steel Company Limited is a China-based company principally engaged in the production and distribution of steel. The Company's main products include hot-rolled steel sheet products, cold-rolled steel sheet products, medium and heavy sheets and other steel products. The Company distributes its products within the domestic market and to overseas markets.
A butterfly effect as a result of the invasion. Steel shipments from key exporter Ukraine have been halted following Russia's invasion of its neighbor early-Feb. Ukraine's steel accounts for 10% of Europe's import. The overhang of war could push steel prices higher in the near term. 
Inflation concern is the next focus. The US, Europe, and China released their inflation data recently, showing that inflation pressure is still high. Commodities including oil and gas, metals, and agricultural products have been climbing with an increase in fund inflows. Hedging is necessary during the rising inflation cycle. 
Positive profit alert for FY21. In January, the company announced a positive FY21 profit guidance. Net profit attributable to shareholders of the company jump by 256% YoY to RMB7.04bn. The strong earnings were due to higher selling prices and significant cost reduction. 
The updated market consensus of the EPS growth in FY22/23 is -9.88%/1.72% YoY respectively, which translates to 3.8x/3.7x forward PE. Current PER is 3.6x. FY22F/23F dividend yield is 10.1%/10.6%. Bloomberg consensus average 12-month target price is HK$5.89.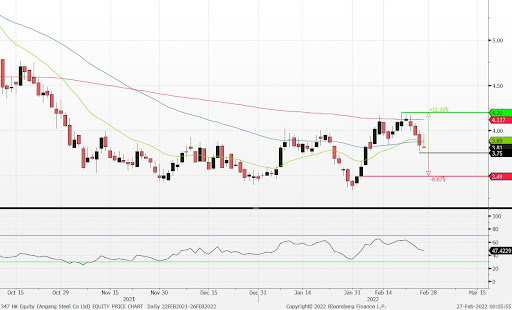 ---
Alibaba Group Holding Ltd (9988 HK): Unfavourable 3Q21 results
RE-ITERATE BUY Entry – 100 Target – 125 Stop Loss – 90
Alibaba Group Holding Ltd is a holding company that provides the technology infrastructure and marketing reach to help merchants, brands and other businesses to leverage the power of new technology to engage with users and customers to operate. The Company operates four business segments. The Core Commerce segment provides China retail, China wholesale, International retail, International wholesale, Cainiao logistics services and local consumer services through Taobao Marketplace and Tmall. The Cloud Computing segment provides complete suite of cloud services, including database, storage, network virtualization services, big data analytics and others. The Digital Media and Entertainment segment provides consumer services beyond the core business operations. The Innovation Initiatives and Others segment is to innovate and deliver new services and products.
Headwinds or noises. The recent negative news for the e-commerce giant was a fresh round of checks on state-owned companies and banks regarding the financial exposure to Ant Group. As Alibaba owns about one-third of Ant, the shares were sold down again owing to the concerns of another new round of crackdown which could result in some headwinds.
Technology re-rating amidst the rate hike cycle. The worst start of 2022 for the US market was driven by the Federal Reserve's more aggressive than expected rate hike and balance sheet reduction. Technology companies' shares have been hammered and under selling pressure. However, Chinese technology peers have already re-rated due to policy and geopolitical risks. Comparatively, Chinese companies are less impacted by the sell-off given that downside is limited. YTD, China has recorded more ETF fund inflows than the US.
Growth is the anchor for valuation. Investors have been averaging down into BABA's shares since its downturn in 2021 given cheap valuations. We use PEG as a simple valuation metric. Based on Bloomberg estimates, BABA EPS is expected to drop by 20.64% YoY in FY22 and rebound by 13.0% YoY in FY23. Its FY23F PER is at 12.35x. The PEG is about 0.95x, which is lower than the US big tech giants' averages of between 1.0x and 2.0x.
3Q22 earnings showed mixed signals. 3Q22 Non-GAAP EPS of RMB16.87 beat by RMB0.82. Revenue of RMB242.58bn grew by 9.7% YoY, missing by RMB3.21B. The top-line growth was the lowest in 8 years. The updated market consensus of the EPS growth in FY22/23 is -21.23%/12.4% YoY respectively, which translates to 12.9x/11.6x forward PE. The current PER is 14.6x. Bloomberg consensus average 12-month target price is HK$188.89.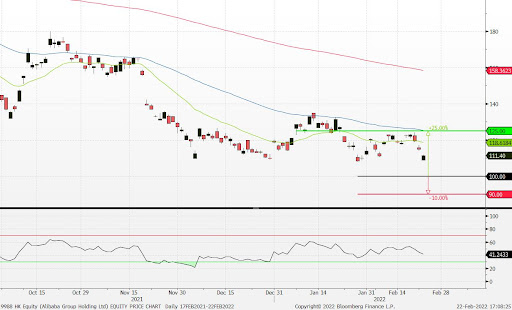 ---
MARKET MOVERS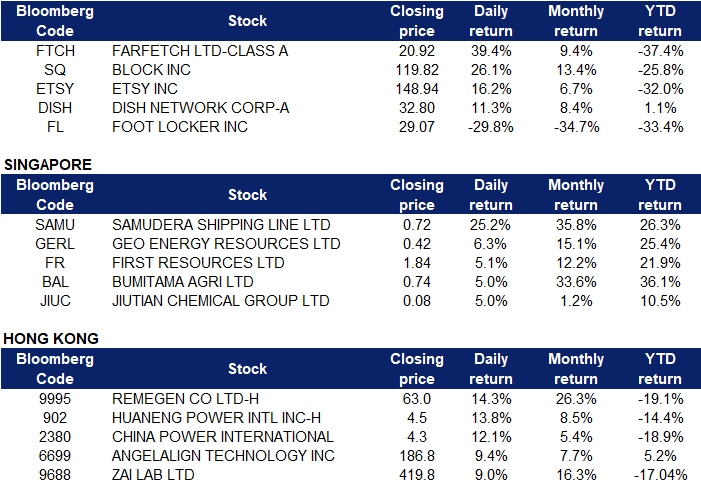 ---
United States
Top Sector Gainers
Top Sector Losers
Farfetch Ltd (FTCH US) shares surged 39.4% on Friday. Farfetch said revenue rose 35% to $2.3 billion in 2021 over 2020, breaking $2 billion for the first time, driven by increased volume on the Farfetch marketplace and sales at Off-White parent New Guards Group. Net income in the fourth quarter of 2021 reached $96.9 million, marking the company's first full year of profitability after 12 years of losses and since going public in 2018.
Block Inc (SQ US) shares surged 26.1% on Friday after the company reported earnings and revenue that beat analysts' expectations for its latest quarter. Total revenue hit $4.08 billion in the quarter from $3.16 billion a year earlier, while "gross profit" jumped 47% to $1.18 billion, the company said. It also issued upbeat guidance for the current quarter and the full year, citing growing success in its consumer business, Cash App.
Etsy Inc (ETSY US) shares surged 16.2% on Friday after reporting better-than-expected results for the fourth quarter. Etsy said it had 96.3 million active buyers on the platform as of the fourth quarter, a touch higher than analysts' projected 95.6 million. The digital retailer said it expects first-quarter revenue to come in between $565 million and $590 million, while Wall Street projected revenue of $630 million. Gross merchandise sales during the quarter are projected to be in the range of $3.2 billion to $3.4 billion, which is lower than consensus estimates of $3.5 billion. However, investors appeared to be unfazed by the middling expectations, focusing instead on the fourth-quarter earnings and sales results.
Dish Network Corp (DISH US) shares rose 11.3% on Friday after JPMorgan upgraded the stock to overweight from underweight. The investment firm said that the stock appeared more attractive after a recent decline and had several potential positive catalysts upcoming.
Foot Locker Inc (FL US) shares plunged 29.8% on Friday after the retailer said it expects revenue to drop in 2022 as it anticipates it will no longer be able to sell as many products from its top vendor, Nike. Foot Locker said that Nike is looking to sell more of its sneakers and apparel directly to consumers. In turn, Foot Locker said it is ramping up its own direct to consumer efforts, by launching a number of private label brands including in clothing. During a call with analysts, Foot Locker management said the company will also be leaning into existing relationships with brands such as New Balance, Puma and Crocs.
---
Singapore
Samudera Shipping Line Ltd (SAMU SP) shares surged 25.2% on Friday. The company posted a net profit of US$128.6 million for the full year ended Dec 31, 2021, from US$7.2 million the year before due to better performance from its container shipping segment as a result of higher freight rates. With the severe congestion at ports around the world, Samudera is expecting upward pressure on freight rates as well as robust demand for shipping services given the gradual reopening of economies globally. The board has a special dividend of 12.75 Singapore cents , higher than the 0.30 cent special dividend declared the previous year. A final dividend of 0.75 cent was also proposed, unchanged from the corresponding period the previous year.
Geo Energy Resources Ltd (GERL SP) shares rose 6.3% on Friday. Geo Energy Resources has had a record 2021. Driven by the increase in sales volume and high ASP, Geo Energy achieved its highest ever revenue and net profits in FY2021. Revenue doubled YoY to US$641.9 million in 2021. Net profit from operations of US$179.1 million was a turnaround from the net loss from operations of US$11.5 million in 2020, excluding the gain on repurchases of USD bonds. Geo Energy rewarded shareholders with a final dividend of 5 cents, after paying out an interim dividend of 4 cents, taking the dividend payout ratio to 52%.
First Resources Ltd (FR SP) shares rose 5.1% on Friday. The company reported US$128.6 million in net profit for H2 FY2021, representing a 112.1% YoY increase from its restated H2 FY2020 profit of US$60.6 million. Sales grew by 62% to US$619.4 million on the back of higher average selling prices and sales volumes. A final ordinary dividend of S$0.051 per share has been proposed, bringing the dividend for the full year to S$0.0635. The group said this is in line with its dividend policy, which was revised last year to distribute up to 50% of the group's underlying net profit annually, from 30% previously. As a result of stellar earnings, fellow peer Bumitama Agri Ltd (BAL SP) shares rose 5% on Friday.
Jiutian Chemical Group Ltd (JIUC SP) shares rose 5% on Friday. Jiutian's net profit for FY2021 soared by 79% to RMB 310 million despite a prudent loan impairment provision of RMB 120 million to the sodium hydrosulfite project under an associated company of the Group. 4Q2021 recorded the highest quarterly net profit (before the above provision) of RMB 213 million on the back of strong sales volume and average selling prices.
---
Hong Kong
Top Sector Gainers
Top Sector Losers
RemeGen Co Ltd (9995 HK) shares jumped 14.3% on Friday. Last week, Daiwa reiterated its BUY rating on Remegen as the bank's preferred stock in biotechnology, saying that it is still confident in its overseas development and believes that the company is seriously undervalued. However, Daiwa lowered its forecast for the company's  full-year overseas revenue by 20%, and lowered its target price from HK$130 to HK$114.
Huaneng Power International Inc (902 HK) shares rose 13.8% on Friday. Last week, Zhongtai Securities released a research report giving Huaneng International a BUY rating. The reasons for the rating are: 1) The company is the largest listed national comprehensive power provider; 2) Profits within the thermal power sector are expected to be restored, providing support for the development of new energy business; 3) The installed capacity of new energy is expected to keep improving. 
As a result, fellow peer, China Power International Dev. Ltd (2380 HK) shares rose 12.1% on Friday.
Angelalign Technology Inc (6699 HK) shares rose 9.4% on Friday. As a leader in the industry, the Angelalign was given a BUY rating by Citic Securities, with a target price of HK$380. It is reported that the domestic invisible orthodontic track presents a duopoly competition pattern. Angelalign prospectus data shows that in the invisible orthodontics market in 2020, the company will occupy 41% of the market share, tied for first place with Invisalign. Another report emphasised that the market size of the invisible orthodontics under the catalysis of both supply and demand is expected to reach 100 billion due to high incidence and low penetration rate.
Zai Lab Ltd (9688 HK) shares rose 9% on Friday. Recently, Zai Lab announced that a new generation of tyrosine kinase inhibitor (TKI) repotrectinib has been included in the breakthrough therapy category in China for ROS1-positive metastatic disease. According to Zai Lab, repotrectinib is designed to be smaller and more permeable than existing targeted drugs, so it can bypass some of the resistance mechanisms found in tumours with ROS1, NTRK and ALK mutations.
---
Trading Dashboard
Trading Dashboard Update:  No additions/deletions to trading dashboard.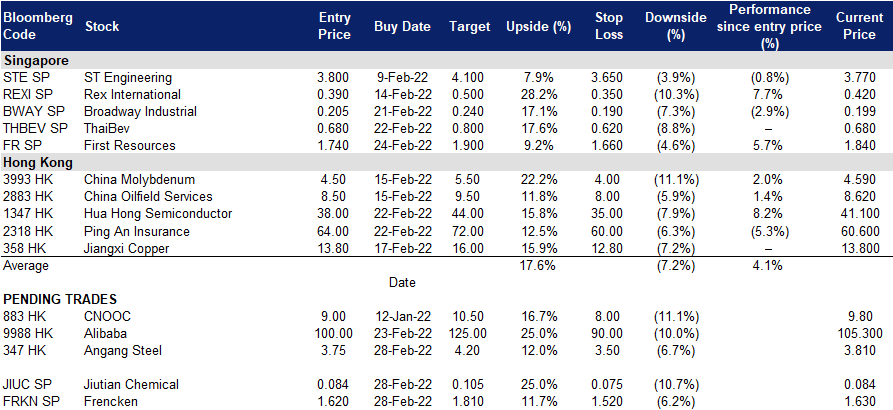 (Click to enlarge image)
---