27 May 2022: Singtel Ltd (ST SP), China Oilfield Services Limited (2883 HK)
Singapore Trading Ideas | Hong Kong Trading Ideas | Market Movers | Trading Dashboard

Singtel Ltd (ST SP): FY22 earnings expected to outshine FY21
Singtel provides an extensive range of telecommunications and digital services to consumers and businesses across Asia, Australia, Africa and the US. It serves over 753 million mobile customers in 21 countries, including Singapore, Australia (via wholly-owned subsidiary Singtel Optus) and the emerging markets of India, Indonesia, the Philippines, Thailand and Africa.
Earnings preview. Singtel is expected to post an underlying net profit of S$2.20 bn for the fiscal year ended 31 March 2022, according to a FactSet compilation of analysts' estimates. That compares with an underlying net profit of S$1.73 bn a year earlier, when it took massive non-cash impairment charges on its investments in two of its units. Revenue is forecasted at S$15.86 billion, according to analysts. That compares with revenue of S$15.64 billion a year earlier. Based on Singtel's earlier announcements, its reported 2HFY22 results may be boosted by gains on the sale of its 70% stake in Australia Tower Network of $538 million and 1.6% stake in Airtel Africa of $34 million. The market will likely focus on developments relating to its digital banking license in Malaysia, after the country's central bank awarded a digital banking license to a joint venture between Singtel and Grab Holdings Ltd. in late April.
Singtel will be announcing its results for the second half and financial year ended 31 March 2022 on 27 May 2022, before the start of trading on the Singapore Exchange.
Rumoured Bharti Airtel stake sale. Yesterday, Business Times reported that Singtel has initiated talks with Bharti Airtel chairman Sunil Mittal, to potentially sell a "small" part of its holding in the Indian telco to the Mittal family. The transaction could be worth about US$1-2 billion through a mix of both Bharti Telecom and Bharti Airtel shares – although the quantum and details of the transaction have yet to be worked out. Selling US$1 billion of Bharti Airtel shares is estimated by the Indian daily to reduce Singtel's holding by close to 2%, to less than 30%, while divesting shares worth US$2 billion would reduce Singtel's holding by 4%.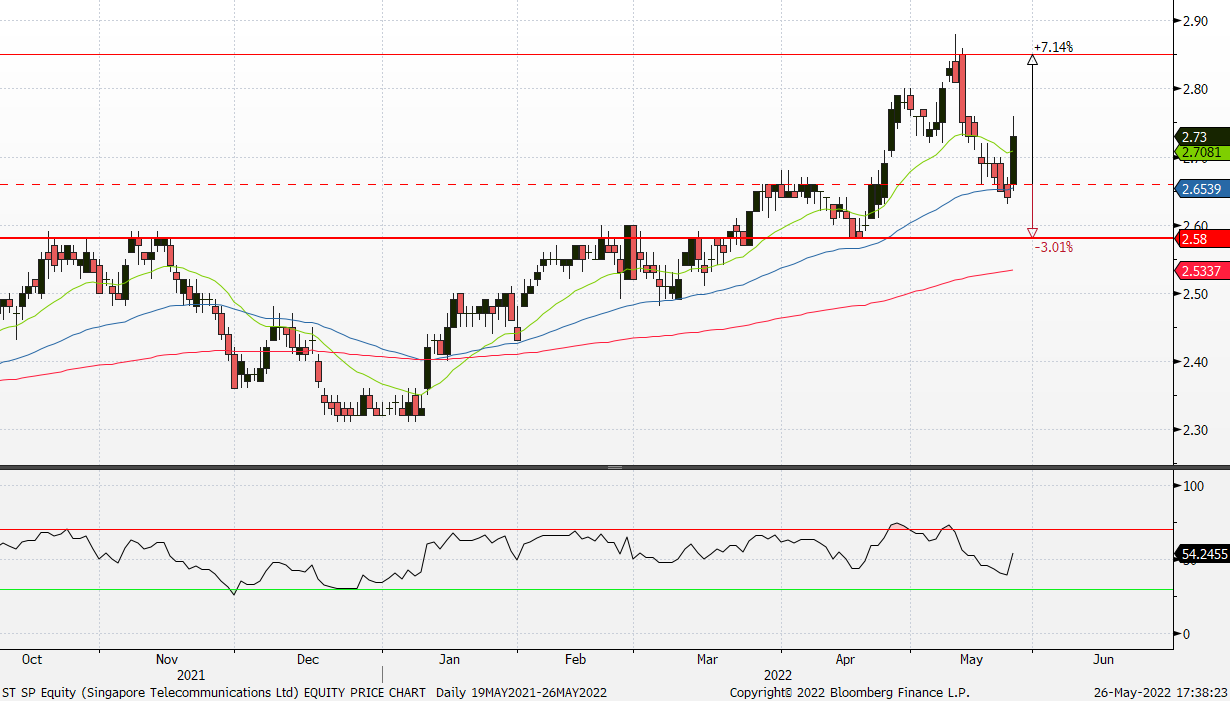 (Source: Bloomberg)

YZJ Financial (YZJFH SP): Seeking shareholders' approval for buyback mandate
RE-ITERATE BUY Entry – 0.475 Target – 0.550 Stop Loss – 0.450
Yangzijiang Financial is a spin-off from Yangzijiang Shipbuilding, and is focused on investment management business, which seeks capital appreciation and investment income and debt investment business, which is primarily made up of debt investments. The firm also intends to enter into the fund/wealth management business to generate recurring fee-based income.
Proposed 10% buyback mandate. YZJ Financial is proposing a share buyback mandate that will allow it to repurchase 10% of its outstanding 3.95bn shares at 105%/120% of on/off market purchases. YZJ Financial believes that the resolution, if passed, will give its directors flexibility to undertake share buybacks when circumstances permit. In terms of signalling, the mandate provides investors with some assurance that management could place a floor on share price, especially since the stock has come off 23.4% since its opening debut close of S$0.62.
Investment management services gaining traction. Recently, YZJ Financial announced that GEM Asset Management had engaged it to provide investment advisory services for AUM of about S$500m. The firm is currently in discussions with various parties to set up family office and asset management funds in Singapore. This will help the firm consistently grow its AUM.
Trading at a tight range. There is currently no coverage on the stock. Nonetheless, we believe that YZJ Financial will trade at a similar range as its peers listed in China, which currently trade at about 0.4x-0.7x P/B. We expect YZJ Finance to recover from its lacklustre performance post listing, to trade at about 0.67x P/B, with a target of S$0.55, implying a 15.8% gain from last close of S$0.475.

(Source: Bloomberg)


China Oilfield Services Limited (2883 HK): An oil E&P value play
Buy Entry – 8.6 Target – 9.5 Stop Loss – 8.2
China Oilfield Services Limited is a comprehensive oilfield service provider. The Company mainly operates through four business segments. The Drilling Services segment is mainly engaged in the provision of oilfield drilling services. The Oil Field Technical Services segment is mainly engaged in the provision of oilfield technical services, including the logging, drilling fluids and directional drilling services. The Geophysical and Engineering Exploration Services segment is mainly engaged in the provision of seismic prospecting and engineering exploration services. The Marine Support Services segment is engaged in the transportation of supplies, including the delivery of crude oil, as well as refined oil and gas products. The Company mainly operates its businesses in domestic and overseas markets.
1Q22 results review. Gross revenue grew by 15.2% YoY to RMB6.8bn. Gross profit grew by 10.8% YoY to RMB733.7mn. Net profit attributable to shareholders of the company jumped by 67.7% YoY RMB303.8mn. Net profit excluding non-recurring gain and loss attributable to shareholders of the company jumped by 76.5% YoY to RMB266.7mn.
Key operations highlights.
Expecting ongoing crude supply tightness. The EU continued to haggle with Hungary over plans to ban oil imports from Russia. Meanwhile, the European Council was confident to reach an agreement on the EU embargo on Russian oil before the council's next meeting on May 30. President Joe Biden's envoy for Iran said Wednesday the prospects of reviving the 2015 Iran nuclear deal were "tenuous" at best. The US also imposed sanctions on what it described as a Russian-backed oil smuggling and money laundering network for Iran's Revolutionary Guards' Quds Force. The geopolitical headwinds intensified the concerns over supply tightness moving forward. Brent and WTI slightly edged up to above US$114/bbl and US$110/bbl respectively on Thursday during the Asian hours.
Mean reversion of capex. During 2020/21, the global integrated oil companies trimmed the capex of the exploration and production substantially. However, market analysts expect the capex to surge by 36.6% YoY to US$52.4bn in 2022. The performance of the exploration sector still lags behind the one of the production sector currently, but it will catch up eventually.
Updated market consensus of the EPS growth in FY22/23 is 896.5%/19.4% YoY respectively, which translates to11.4x/9.6x forward PE. The current PER is 82.4x. Bloomberg consensus average 12-month target price is HK$10.99.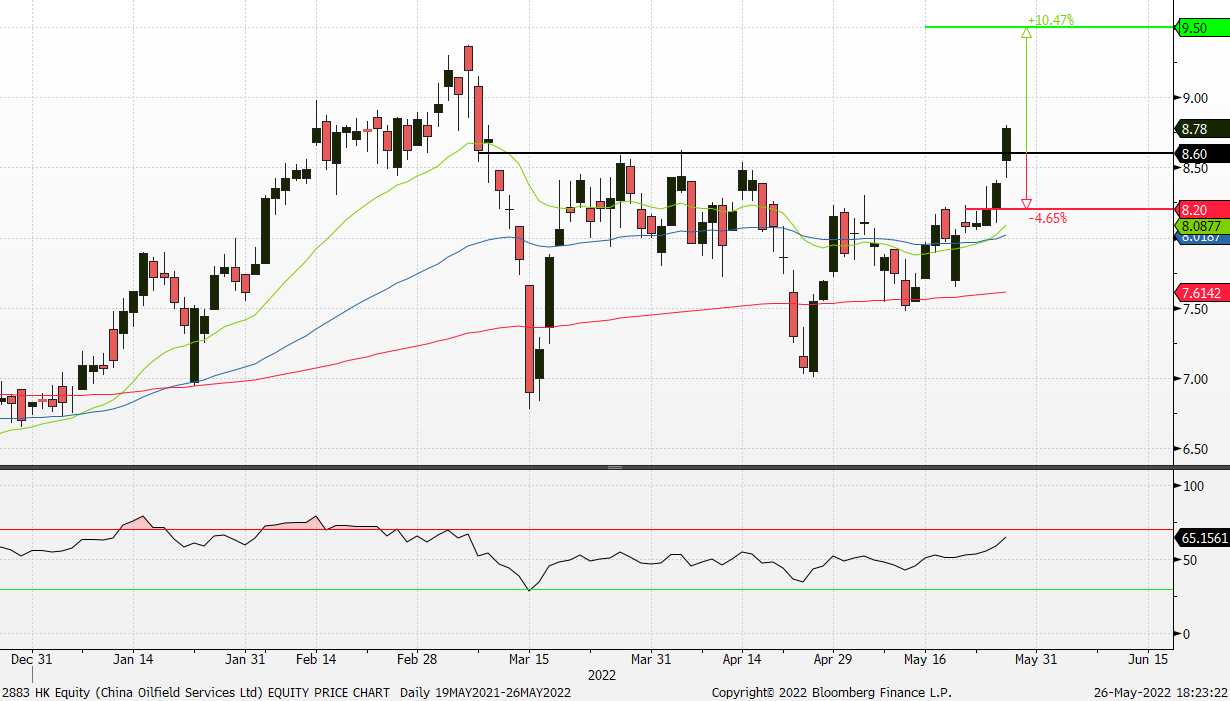 (Source: Bloomberg)

Fuyao Glass Industry Group Co Ltd (3606 HK): Short–term headwinds are priced in
RE-ITERATE Buy Entry – 34 Target – 38 Stop Loss – 32
Fuyao Glass Industry Group Co Ltd is a China-based company, principally engaged in the manufacture and distribution of float glasses and automobile glasses. The company's products portfolio consist of automobile glasses, such as coating glasses and others, which are applied in passenger cars, buses, limousines and others, and float glasses. The company distributes its products within domestic markets and to overseas markets.
1Q22 earnings review. Operating revenue grew by 14.75% YoY to RMB6.5bn. Net profit attributable to company shareholders grew by 1.86% YoY to RMB871.2mn. Three negatives resulted in mediocre results, including appreciation of RMB, high raw material costs, and high freight rates. The appreciation of RMB led to a decrease of RMB50.4mn in the gross profit. The high material costs and freight rates led to a decrease of RMB70.2mn and RMB53.1mn in total profit respectively. The company announced a final dividend of RMB10 (tax inclusive) (equivalent to HK$11.6) in cash per 10 shares.
Headwinds are priced in. Rising covid cases and ensuing lockdowns of cities in China, rising materials costs resulting from Russia-Ukraine conflicts and ongoing supply chain disruptions have been factored in the previous sell-off. We believe the next catalysts such as lifting lockdown measures and reopening ports will provide a short-term relief rally as automobile sales are expected to rebound, and supply chain issues will be mitigated.
Consensus estimates per the 12-month target price are at HK$43.97. EPS is forecasted to grow at 25.2%/22.0% for FY22F/23F, which would bring forward P/Es down to 19.3x/15.9x for FY22F/23F. The current PER is 24.3x.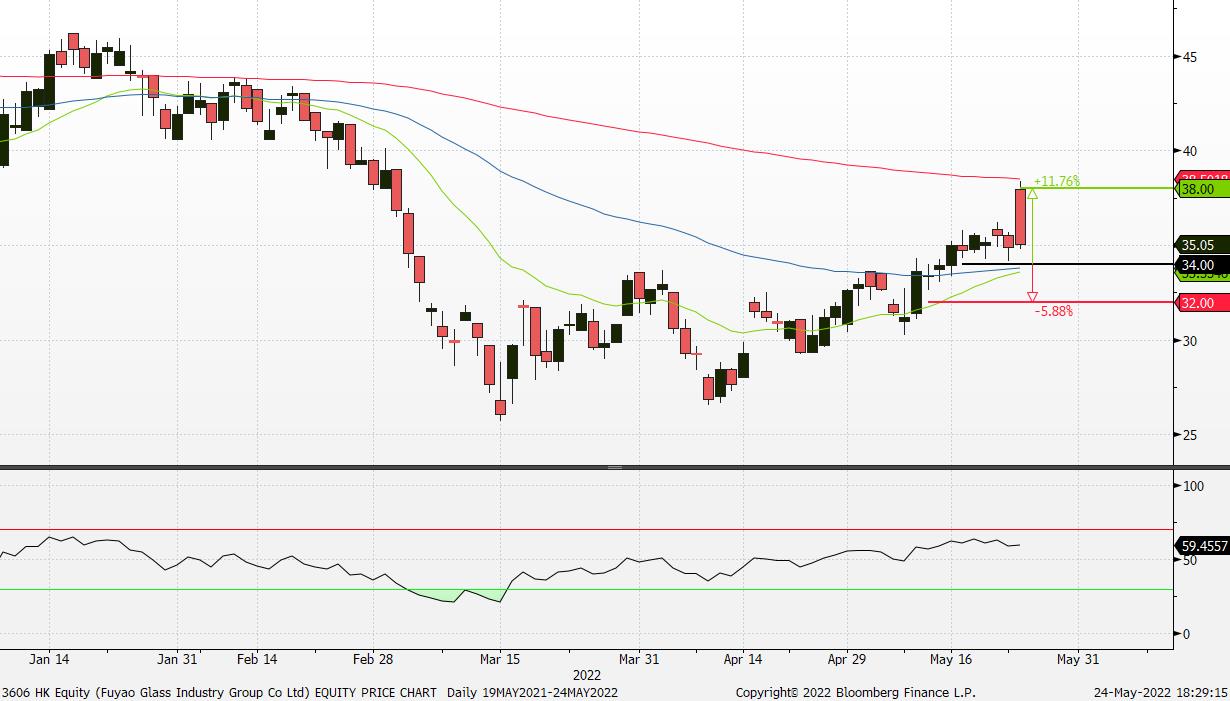 United States
Top Sector Gainers
Top Sector Losers
Dollar Tree Inc (DLTR US) shares soared 21.9% after posting quarterly earnings and revenue that beat analyst expectations. Dollar Tree reported earnings per share of $2.37 on revenues of $6.9 billion. Analysts anticipated earnings of $2.00 a share on $6.76 billion in revenue, according to Refinitiv.
Macy's Inc (M US) shares jumped 19.3% after the department store chain reported better-than-expected quarterly results and raised its profit guidance. Macy's got a boost from shoppers who are snapping up apparel and other goods regardless of rising prices.
Lululemon Athletica Inc (LULU US) shares jumped 10.3% after Morgan Stanley upgraded Lululemon to overweight and said its well-positioned to perform well, even as a recession looms.
Nvidia (NVDA US) shares gained 5.2% after falling earlier in the session. It came as Nvidia issued weaker-than-expected guidance for the current quarter and said it plans to slow hiring. Fellow peer, Advanced Micro Devices Inc (AMD US) shares gained 6.6% after the company announced it has completed its acquisition of Pensando Systems in a transaction valued at approximately $1.9 billion. Pensando's distributed services platform will expand AMD's data center product portfolio with a high-performance data processing unit (DPU) and software stack that are already deployed at scale across cloud and enterprise customers including Goldman Sachs, IBM Cloud, Microsoft Azure and Oracle Cloud.
---
Singapore
Singtel (ST SP) shares rose 3.4% yesterday after the Economic Times reported it initiated talks with Bharti Airtel chairman Sunil Mittal, to potentially sell a "small" part of its holding in the Indian telco to the Mittal family. Citing people familiar with the matter, the Economic Times on May 26 said the transaction could be worth about US$1-2 billion through a mix of both Bharti Telecom and Bharti Airtel shares – although the quantum and details of the transaction have yet to be worked out.
Reopening themed stocks, ComfortDelGro (CD SP) and SATS Ltd (SATS SP) rose 2.8% and 1.8% respectively yesterday. It was announced recently that Changi Airport Terminal 2 will reopen progressively from May 29 as the air hub prepares to meet an expected increase in passenger traffic in the months ahead. When completed by 2024, the expansion works will raise the terminal's capacity by five million to 28 million passenger movements per year, said Changi Airport Group (CAG) on Sunday (May 22).
Sembcorp Marine Ltd (SMM SP) shares extended their rally and rose 2.7% yesterday. In a business update, Sembcorp Marine (SCM) announced that its cash flow and liquidity management have improved following the completion and successful deliveries of several projects in 1Q2022. As a result, the Group's net debt/equity ratio has improved to 0.38 times at end 1Q2022 from 0.49 times at end 4Q2021. In March 2022, Sembcorp Marine secured a landmark contract from Maersk for the construction of a WTIV. The WTIV brings breakthrough design to the wind market with the vessel designed to operate at a high level of efficiency and to handle the next generation of larger wind turbines.
Yangzijiang Financial Holdings Ltd (YZJFH SP) shares rose 2.1% yesterday. Yangzijiang Financial Holding plans to call for an EGM on June 8, to get the mandate from shareholders to commence share buybacks. With a total base of around 3.95 billion shares, YFH can potentially buy back up to around 395 million shares – given the 10% cap – until the next mandate is needed. Prior to the listing, YFH's management had said the company will consider buying back shares if its share price is below its NTA of $1.07 per share as at Dec 31 2021.

Hong Kong
Top Sector Gainers
Top Sector Losers
Autohome Inc (2518 HK) Shares rose 8.5% yesterday after the company released its 1Q22 results. Net revenue dropped by 20% YoY to RMB1.47bn. Net income attributable to the company shareholders dropped 55% YoY to RMB318mn. Both top and bottom lines exceeded market expectations. In March 2022, the aggregated average daily active users grew by 7.5% YoY to 45.21mn, according to QuestMobile, further solidifying our leadership position in the auto media sector. In addition, revenues from NEV brands soared by 156.1% in the first quarter of 2022 compared to the same period last year.
United Energy Group Ltd (467 HK) Shares rose 5.9% yesterday. There was no company-specific news. During Asian market hours, Brent and WTI edged up to US$114/bbl and US$111/bbl respectively after the US imposed sanctions on an oil smuggling network led by figures connected to Iran's Revolutionary Guards and allegedly backed by the Russian government.
ZTE Corp (763HK) Shares rose 5.6% yesterday. There was no company-specific news. Previously, The government of Canada announced to ban Huawei and ZTE from local 5G network building. Without any concrete evidence, Canada decided to exclude the said Chinese firms from its market on national security grounds, thus severely generalizing the "national security" concept in breach of the market economy principle and free trade rules.
Kingdee International Software Group Co (268 HK) Shares fell 5.8% yesterday, recording a fall in three consecutive trading days. Previously, Credit Suisse downgraded the TP to HK$17.2 from HK$17.9 and maintained a NEUTRAL rating. The bank expected the slowdown in sales growth and rising costs to affect the businesses.
Zai Lab Ltd (9688 HK) Shares fell 5.8% yesterday. There was no company-specific news. The overall biotech sector was sold down.


Trading Dashboard Update: No additions/deletions of stocks.