27 June 2022: CapitaLand Investment (CLI SP), Fuyao Glass Industry Group Co Ltd (3606 HK)
Singapore Trading Ideas | Hong Kong Trading Ideas | Market Movers | Trading Dashboard

CapitaLand Investment (CLI SP): Sets up first Chinese onshore fund amidst share buybacks
BUY Entry 3.85 – Target – 4.23 Stop Loss – 3.45
CapitaLand Investment Limited is a global real estate investment manager with a focus on Asia. Its real estate funds under management ("FUM") is held via its managed listed funds and unlisted funds across the Asia-Pacific, Europe and the United States of America. The Group's FUM is diversified across asset classes, namely, integrated developments, retail, office, lodging and new economy sectors such as business parks, industrial, logistics and data centres. The Group's business model comprises two key segments, namely, fee income-related business and real estate investments.
Announced initial foray in China with RMB700m fund. CLI recently announced a 12%-stake in an RMB700m onshore China-based fund, in partnership with a local asset management fund. The fund's maiden investment took advantage of the ongoing special situation in China, by acquiring a quality office building in Shanghai at an attractive but undisclosed price. The transaction is expected to be completed in July 2022. CLI is expecting this initial foray to further expand its private fund management business, which has since grown to S$1.9bn spread across 9 funds since 2021.
Share buybacks to support share price in the near and medium term. Since the approval of its share buyback mandate on 29 April, CLI has routinely carried out open market acquisitions of its shares. As at last update, CLI has bought back over 27.8m shares at between S$3.77 to S$3.85 apiece, providing share price support at those levels. CLI currently has about 89% of its buyback mandate remaining till next year, providing it with ample breathing room to acquire back more shares.
Growing dividends even as FY22F EPS projected to return to normalcy. The Street is overwhelmingly positive on CLI's prospects with 17 BUYS, and only 1 HOLD, and a 12M TP of S$4.30. The street is expecting FY22F EPS to decline 34% YoY after a strong FY21A, which saw asset recycling efforts garner a record S$616m in portfolio gains. After returning to a more sustainable level in FY22F, the street is projecting 13% YoY growth in FY23F. At these projected levels, CLI would trade at 17.8x and 15.8x FY22/23 P/E respectively. Additionally, there are also expectations for increasing shareholder payouts, with FY22/23 dividends growing 7.5%/6.2% YoY to S$0.129/S$0.137, implying a yield of 3.4%/3.6% respectively.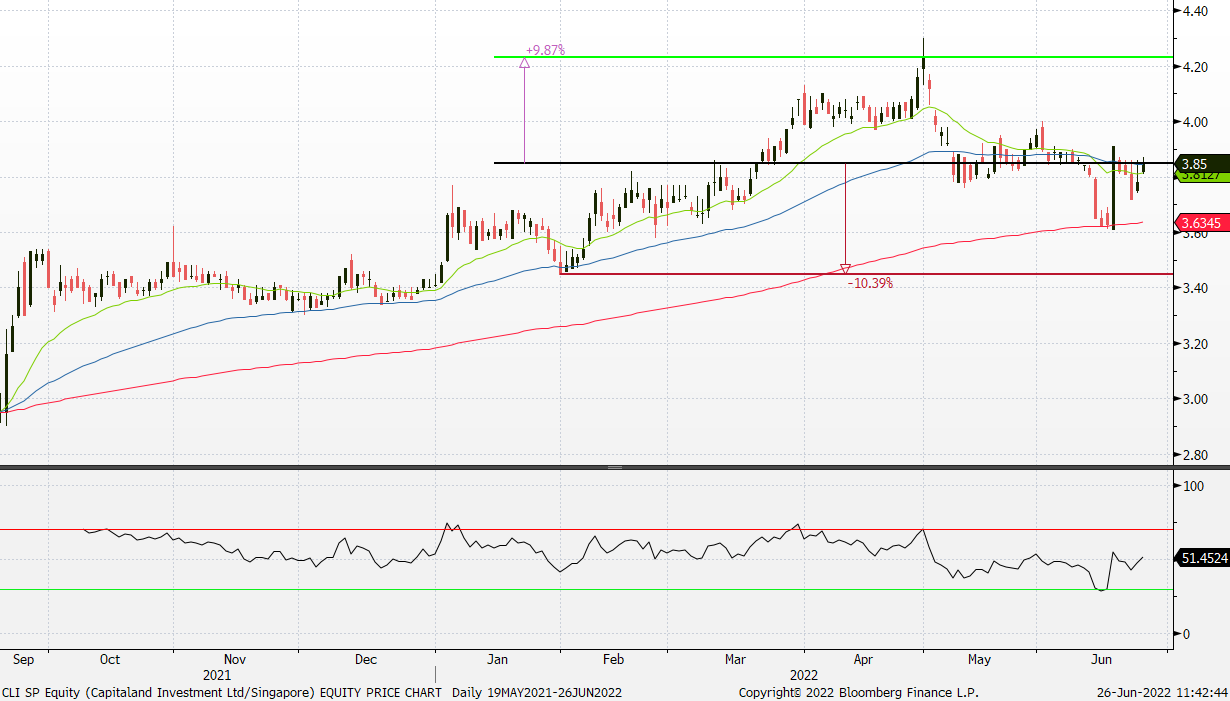 ST Engineering (STE SP): Share buybacks to provide price floor
RE-ITERATE BUY Entry 3.88 – Target – 4.23 Stop Loss – 3.77
ST Engineering is a global technology, defence, and engineering group with offices across Asia, Europe, the Middle East, and the US. It uses technology and innovation to solve real-world problems and improve lives through its diverse portfolio of businesses across the aerospace, smart city, defence, and public security segments.
Bought back 2 million shares since April 2022. After securing a share buyback mandate for max 62.4 million shares on 21 April 2022, STE has recently started to acquire shares in the open market at S$3.91 to S$3.97 apiece. We believe that these open market acquisitions would help place a price floor on the stock. With about 97% of its mandate still available for use until next year, we reckon that STE will be able to time its purchases opportunistically.
1Q22 results saw broad based growth across all business units. STE announced 1Q22 revenue of S$2bn (+13%YoY), in line with its pre-pandemic performance. This was achieved by broad based revenue growth across Commercial Aerospace (+22% YoY), Urban Solutions & Satcom (+12% YoY), and Defence & Public Security (+9% YoY). STE also reported a robust order book, growing to S$21.3bn (+10% YoY) with 1Q22 new contracts mainly coming from Defence & Public Security (S$1.3bn), followed by Commercial Aerospace (S$0.9bn), and Urban Solutions & Satcom (S$0.2bn).
Positive consensus estimates. The Street is mostly positive on STE's prospects with 11 BUYS, 2 HOLDS and 1 SELL, and a 12M TP of S$4.50. The updated market consensus of the EPS growth in FY22/23 stands at 3.3%/12.2% YoY, respectively, translating to 20.9×/18.7x forward PE. FY22F/23F dividend yield is 4.0%/4.1% respectively.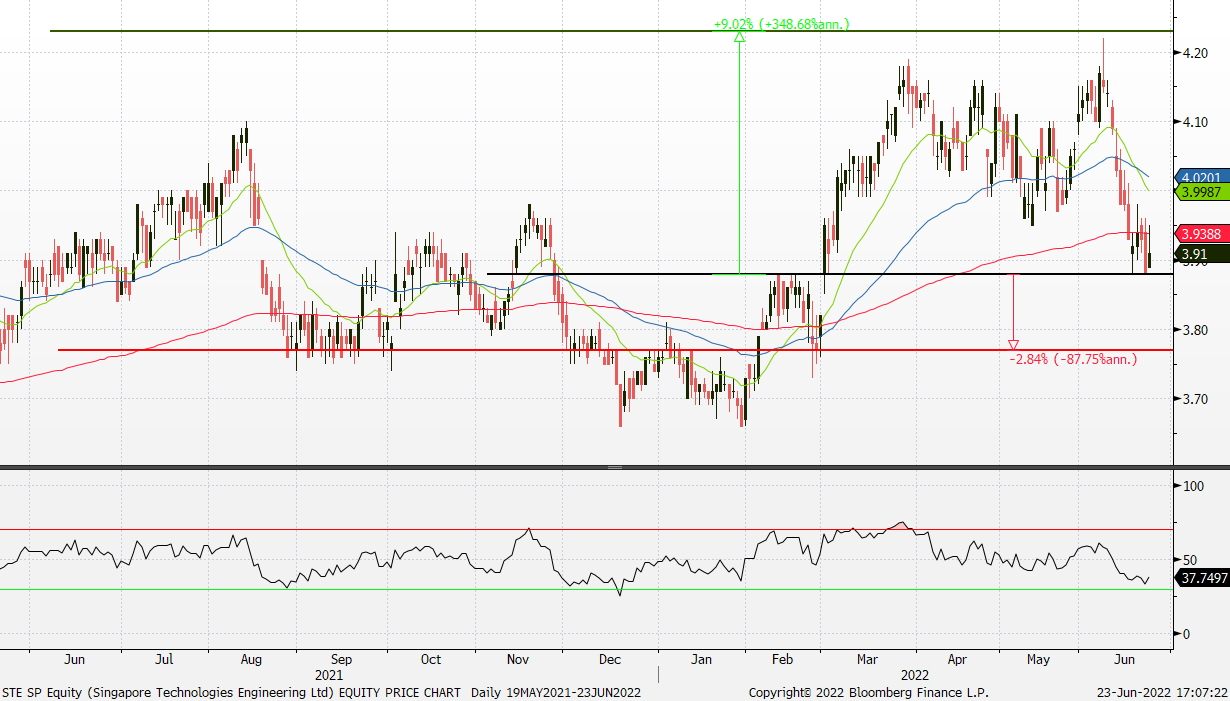 (Source: Bloomberg)


Fuyao Glass Industry Group Co Ltd (3606 HK): Auto parts producers are catching up
Buy Entry – 40.5 Target – 45.0 Stop Loss – 38.2
Fuyao Glass Industry Group Co Ltd is a China-based company, principally engaged in the manufacture and distribution of float glasses and automobile glasses. The company's products portfolio consist of automobile glasses, such as coating glasses and others, which are applied in passenger cars, buses, limousines and others, and float glasses. The company distributes its products within domestic markets and to overseas markets.
1Q22 earnings review. Operating revenue grew by 14.75% YoY to RMB6.5bn. Net profit attributable to company shareholders grew by 1.86% YoY to RMB871.2mn. Three negatives resulted in mediocre results, including appreciation of RMB, high raw material costs, and high freight rates. The appreciation of RMB led to a decrease of RMB50.4mn in the gross profit. The high material costs and freight rates led to a decrease of RMB70.2mn and RMB53.1mn in total profit respectively. The company announced a final dividend of RMB10 (tax inclusive) (equivalent to HK$11.6) in cash per 10 shares.
Automobile production to accelerate from June onwards. Previously, the authority announced an auto purchase tax cut, and major cities started to ease the lockdown measures. The expected improving demand for automobiles will drive producers to accelerate production as supply chain disruptions mitigate. The global EV leader, Tesla planned to manufacture more than 71,000 units of both Model 3 and Model Y in June. Due to Shanghai's lockdown from March to May, Tesla's Shanghai factory halted production for three weeks, and its daily production was 1,000 units in 2HApril. Therefore, Tesla has boosted its capacity utilization rate to 100% since the lockdown measures were lifted. Auto part manufacturers are expected to benefit from the turnaround of the sales and production of the sector.
(Source: Bloomberg)

Tongcheng Travel Holdings Limited (780 HK): Summer holiday to revive the domestic tourism
RE-ITEREATE Buy Entry – 15.5 Target – 17.5 Stop Loss – 14.5
Tongcheng Travel Holdings Ltd, formerly Tongcheng-Elong Holdings Ltd, is a China-based holding company mainly providing online tourism products and services. The Company is mainly engaged in transportation ticketing services, accommodation reservation services and other services. The transportation ticketing services mainly include air ticket and train ticket booking, sales of tourism insurance and other transportation related services. The accommodation reservation services mainly provide accommodation booking services. Other services mainly include attraction ticketing, ancillary value-added user services and advertising services.
Resumption of inter-provincial group tours. At the beginning of June, more than ten Chinese localities moved to restart inter-provincial group tours, after the Ministry of Culture and Tourism (MCT) announced more targeted anti-epidemic measures in an effort to boost tourism. Accordingly, the tourism sector picked up during the three-day Dragon Boat Festival holiday.
Promising outlook of the upcoming summer holiday. According to the 2022 Summer Vacation Trend Forecast issued by Trip.com, as of 10th June, the air ticket bookings for summer vacation jumped by 162% WoW, tour group bookings jumped by 109% WoW, and hotel bookings jumped by more than 50% WoW. Meanwhile, the overall visitor traffic is expected to recover to 70% of the 2019 level during the same period.
1Q22 financials and operations review. Revenue grew by 6.5% YoY to RMB1.72bn. Adjusted net profit dropped by 18% YoY to RMB298.9mn. Average MAUs grew by 4.5% YoY to 234.2mn. Average MPUs grew by 16.1% YoY to 27.3mn.
The updated market consensus of the EPS growth in FY22/23 is 21.2%/63.8% YoY, respectively, translating to 34.1×/20.8x forward PE. The current PER is 46.0x. Bloomberg consensus average 12-month target price is HK$17.22.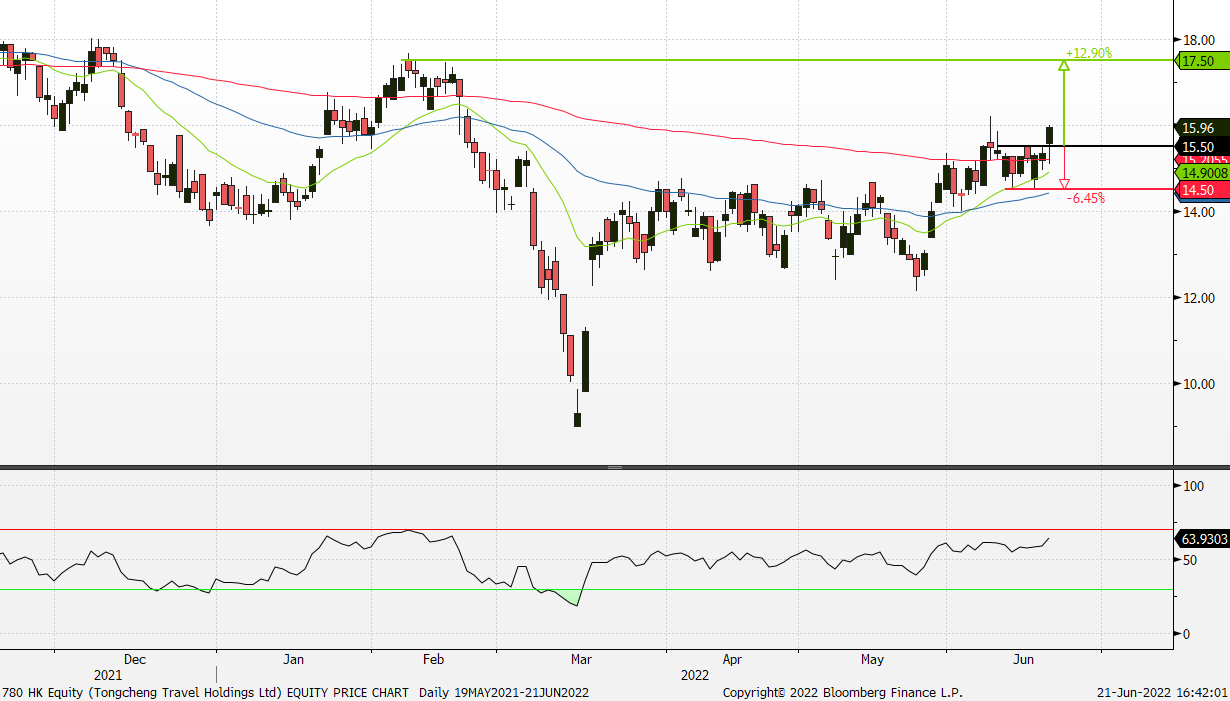 United States
Top Sector Gainers
Top Sector Losers
Sector
Loss
Related News
Managed Health Care
-0.34%
N/A

Alignment Healthcare Inc(ALHC)
Carnival Corporation (CCL US) shares jumped 12.4% after the travel company said it had its best booking volumes since the start of the pandemic during the second quarter. Carnival's results missed estimates on top and bottom lines. The company also reported that cash from operations turned positive in April and was positive for the second quarter.
FedEx Corporation (FDX US) stock rose 7.2% after FedEx said it expected adjusted earnings to rise in its current fiscal year. FedEx reported mixed results for its fiscal fourth quarter, with adjusted earnings of $6.87 per share on $24.39 billion of revenue. Analysts surveyed by Refinitiv were looking for $6.86 in earnings per share of $24.56 billion of revenue.
Zendesk Inc (ZEN US) shares surged by nearly 28.0% after the company announced a buyout deal with a group of private equity firms including Hellman & Friedman and Permira. The all-cash deal values Zendesk at about $10.2 billion.
Microsoft Corporation (MSFT US) shares advanced by 3.4% after Citi named it a "top pick" and said the sell-off in software stocks is mostly done. Citi has high conviction in Microsoft's double-digit growth and long-term pricing power, it said in a note Friday.
CarMax Inc (KMX US) stocks rose 7.2% after CarMax beat estimates on the top and bottom lines The company reported $1.56 in earnings per share on $9.31 billion of revenue. Analysts surveyed by Refinitiv were looking for $1.49 in earnings per share on $9.06 billion of revenue.
Singapore
Golden Energy and Resources Ltd (GER SP) dropped by 2.0% on Friday. Australia, a major supplier of coal and natural gas to the rest of the world, is itself facing a power crisis as malfunctions and fuel supply problems dog ageing coal-fired plants that have taken a back seat to investment in renewable energy. The shortage has been exacerbated by a wave of demand for heating in June amid a record early-winter cold snap.
Rex International Holding (REXI SP) and Dyna-Mac Holdings Ltd (DMHL SP) shares declined 1.8% and 2.3% respectively yesterday. WTI crude futures traded around $104 per barrel on Friday and were on track to decline for the second straight week, pressured recently by fears that aggressive monetary tightening in major economies aimed at curbing soaring inflation could lead to a global recession and dampen oil demand. Meanwhile, investors remained cautious amid signs that global crude oil and fuel supply remains tight.
Singapore Telecommunications Ltd (ST SP) shares rose 2.0% on Friday. They are reportedly in talks to sell its advertising technology unit Amobee in a deal that analysts said should lead to an improvement in the telco's profitability. Tremor International, a UK-listed advertising technology company, is said to be in talks with mainboard-listed Singtel to purchase Amobee for £165 million (S$280.4 million).
CapitaLand Investment Ltd (CLI SP) shares rose 1.9% on Friday. It established its first onshore renminbi (RMB) fund in China, in partnership with a domestic asset management company. In line with CLI's asset-light strategy to grow its funds under management (FUM), it holds a 12% stake in the RMB700 million (S$144 million) fund. Capitalising on the opportunity arising from China's current market environment, the fund is acquiring a quality office building in Shanghai at an attractive price. The transaction is expected to be completed in July 2022.

Hong Kong
Top Sector Gainers
Top Sector Losers
GCL Technology Holdings Ltd (3800 HK) shares rose 11.0% on Friday. The price of polysilicon, a key material for producing solar panels, touched the highest level in China in 11 years, reflecting strong demand amid the country's clean energy push. The price gained 25.8% from a year ago and is the highest since 2011. Demand for solar panels has expanded quickly as China pushes forward clean energy development to meet its climate goals.
Xpeng Inc (9868 HK), Li Auto Inc (2015 HK) Geely Automobile Holdings Ltd (0175 HK) shares rose 7.3%, 5.9% and 6.5% respectively on Friday. The state council held a meeting to discuss methods to boost the automobile industry in China. These include creating a second-hand car market, promoting the renewal of automobile contracts, supporting the purchase of electric vehicles, improving their parallel import policy and supporting the construction of more parking lots.
Innovent Biologics Inc (1801 HK) shares rose 11.9% on Friday. On June 20, Innovent announced that Daboshu (sintilimab) in combination with paclitaxel and cisplatin or fluorouracil and cisplatin was approved for the first-line treatment of esophageal squamous cell carcinoma. It is reported that sintilimab is a PD-1 inhibitor jointly developed by Innovent and Eli Lilly, and has been successfully approved for 5 indications.


Trading Dashboard Update: No stocks additions/deletions.