27 Dec 2021: Wilmar International Ltd (WIL SP), iFast Corp (IFAST SP)
Singapore Trading Ideas | Hong Kong Trading Ideas | Market Movers | Trading Dashboard
SINGAPORE
Wilmar International Ltd (WIL SP): A delayed Christmas rally
BUY Entry – 4.08 Target – 4.38 Stop Loss – 3.98
Wilmar is Asia's leading agribusiness group that encompasses the entire value chain of the agricultural commodity business, from cultivation and milling of palm oil and sugarcane, to processing, branding and distribution of a wide range of edible food products in consumer, medium and bulk packaging, animal feeds and industrial agri-products such as oleochemicals and biodiesel.
Resilient palm oil prices. Seasonally, December has been a strong month for crude oil prices. Malaysian palm oil futures bounced back above MYR 5,1000 per tonne last week over concerns about lower production after flooding impacted plantations in Malaysia. Palm oil production shrank around 13% MoM in the first 20 days of December, according to estimates by the Malaysian Palm Oil Association.
HIgher soybean prices are also boosting palm oil prices. Palm oil prices are also receiving a boost from Chicago soybean futures which surged higher to their highest since August as dry weather threatened crops in Brazil and Argentina.
Aggressive share buy-backs. The company bought back S$14mn worth of shares in December, bringing year-to-date share buyback to S$131mn.
Positive consensus estimates. Wilmar currently has 13 BUY recommendations and an average 12M TP of S$5.93, implying a 45% upside potential from the last closing price.
Generic 1st Crude Palm Oil (K01 Comdty): December 2020 rally
---
iFast Corp (IFAST SP): S$100bn by 2028
REITERATE BUY Entry – 8.00 Target – 8.80 Stop Loss – 7.60
iFast provides investment solutions to financial advisers, financial institutions, insurance companies, pension fund managers, retail and accredited investors, and multinational companies. The company's investment platform offers a wide selection of investment products from many different product manufacturers into one consolidated portfolio.
Growing assets under administration (AUA). iFast's AUA continued to register new record levels, reaching S$18.4bn as at 30 September 2021, a growth of 46% YoY and 27% year-to-date. The AUA of unit trusts, its key investment asset class, grew to a record S$13.5bn, a growth of 40% YoY and 24% year-to-date.
Big hairy audacious goal. The group has set an AUA target of S$100bn by 2028 as it accelerates growth in HK, pursues more financial licenses in different jurisdictions, and makes more progress towards being a top Fintech wealth management player with a global business model. Reaching the S$100bn AUA target would imply a 27% CAGR from its current AUA of S$18.4bn.
Positive consensus view. There are 4 BUYS / 1 HOLD / 1 SELL and a 12m average target price of S$10.32, implying a 33% upside potential from last close. EPS is forecasted to grow 54% YoY in FY21 and 25% YoY in FY22, bringing down forward P/Es to 65x and 52x.
iFast's Assets under Administration growth has exploded since the pandemic began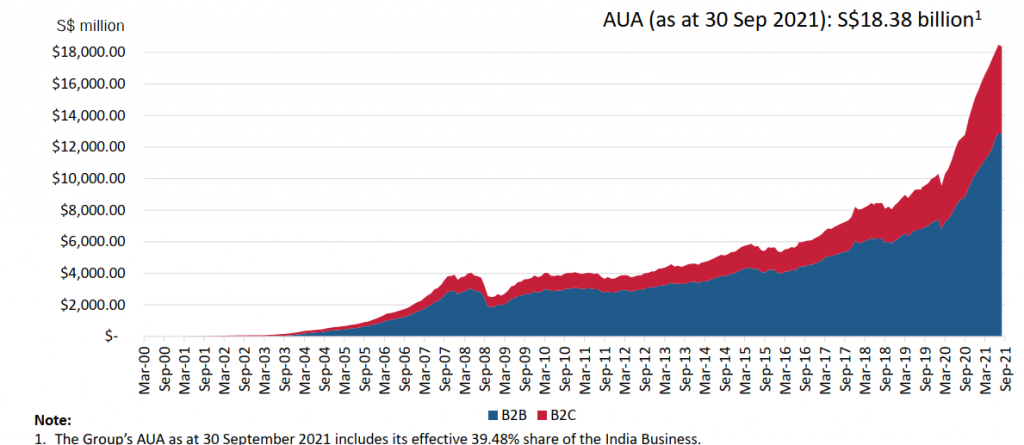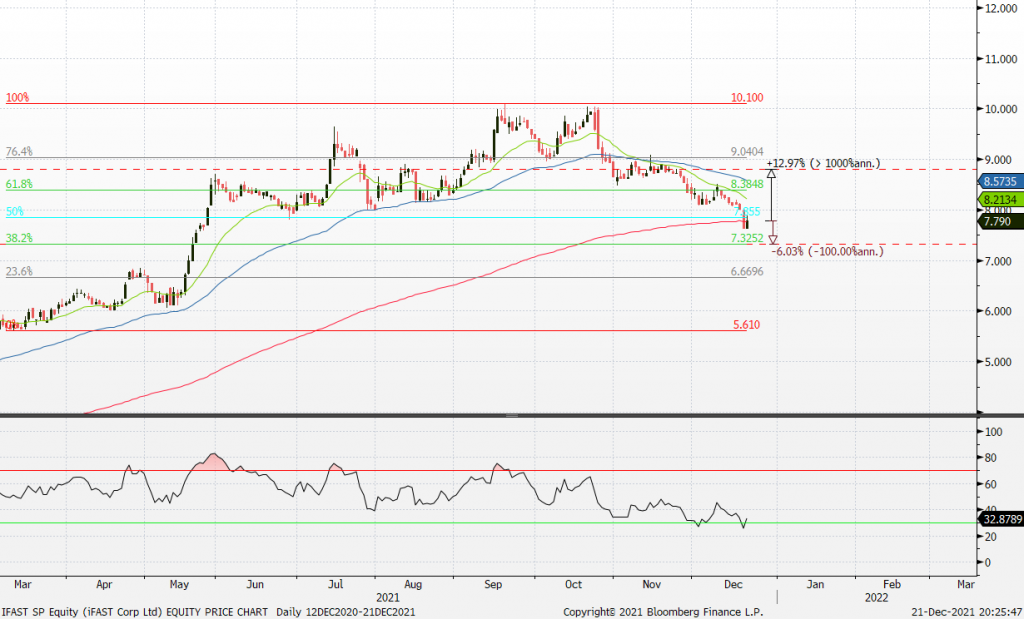 ---
HONG KONG
The Hong Kong market is closed today in observation of a public holiday (Boxing Day). Trading resumes tomorrow, 28 December 2021.
---
MARKET MOVERS
---
United States
Top Sector Gainers
Top Sector Losers
The U.S. market was closed on 24 December 2021 in observance of Christmas holidays. Trading resumes today, 27 December 2021.
---
Singapore
Shares of Metech International (CENR SP) climbed 1.4% on Friday after it announced that it has entered into a strategic collaboration agreement with Chinese firm Ningbo Meishan through its joint venture company Asian Eco Technology. Ningbo Meishan will provide funding of US$100 million for AET's lab-grown diamond business activities through debt and/or equity financing.
SUTL Enterprise (SUTL SP) shares declined 1% on Friday. It was previously announced that non-executive chairman Lew Syn Pau will be stepping down on 31 December and Eu Yan Sang's Richard Eu will join as an independent director. Lew, who was appointed as non-executive chairman in February 2009 and re-elected in April 2018, decided to step down to allow the board to "refresh and renew its slate of independent directors".
Chuan Hup (CH SP) shares extended its loss on Friday, declining another 2.2%. The company announced that its subsidiary Ventrade Australia will enter into a joint venture to acquire a 964 square metre land site located in Queensland for A$7.6 million, and develop it. Ventrade will hold a 50% stake in the JV.
Energy stocks Rex International (REXI SP) and RH Petrogas (RHP SP) gained 3.7% and 2.6% respectively on Friday as oil prices ease, as fears over the impact of the highly infectious Omicron variant on the global economy receded, with early data suggesting it causes a milder level of illness. Brent crude futures and West Texas Intermediate (WTI) crude futures are set for a third straight day of gains and have risen around 46% and 50% respectively so far this year.
---
Hong Kong
Top Sector Gainers
Top Sector Losers
China Evergrande New Energy Vehicle Group Ltd (708 HK) shares extended its rally and rose 9.8% on Friday. Chinese property giant Evergrande said on Wednesday it would "actively engage" with its creditors following its recent missed debt repayments. "In view of the risks the Group is currently facing, the Risk Management Committee of China Evergrande Group is utilising its extensive resources and will actively engage with the Group's creditors," Evergrande said in a statement on the Hong Kong stock exchange.
Wynn Macau Ltd (1128 HK), MGM China Holdings Ltd (2282 HK). Gaming sector shares rose collectively on Friday. Shares rose 8% and 7.2% respectively. According to data from the Statistics and Census Bureau of the Macao Special Administrative Region, the hosting of grand car racing, food festivals and other tourism events in November drove the number of inbound tourists to increase by 1.4 times MoM to 801,300. Night visitors increased 64.4% YoY, while overnight visitors decreased 11.2%.
China Everbright Environment Group Ltd (257 HK) shares rose 6% on Friday. Everbright Environment announced that it has signed the Henan Nanyang Waste-to-energy Project Phase II, Hainan Lingshui Waste-to-energy Project Phase II, and Danzhou Waste-to-energy Project Phase II. In addition, Guotai Junan recently issued a research report stating that domestic methane treatment policies are expected to be advantageous to the industry, especially pertaining to landfill, water sediment and algae treatment.
Chinasoft International Ltd (354 HK) shares declined 10.1% on Friday. On Thursday, the company announced that Beijing ChinaSoft International intends to transfer 50.83% of Shenzhen Kaihong's equity and Shenzhen Kaihong would receive a total of RMB 200mn in capital injection. On the same day, Beijing Chinasoft International, Yixin Technology, Hubble, CCB Chinasoft International, Hongju Innovation and Shenzhen Kaihong entered into the Shenzhen Kaihong Capital Injection Agreement. Hubble, CCB Chinasoft International and Hongju Innovation have agreed to deal with Shenzhen Kaihong where Shenzhen Kaihong injected a total of RMB 200mn in equity capital.
---
Trading Dashboard
Trading Dashboard Update: Added Tianjin Zhongxin (TIAN SP) at S$1.11
(Click to enlarge image)
---

---
Related Posts: