KGI DAILY TRADING IDEAS – 27 August 2021
Singapore Trading Ideas | Hong Kong Trading Ideas | Market Movers | Trading Dashboard
SINGAPORE
Fortress Minerals Limited (FMIL SP): Rebounding in tandem with iron ore
BUY Entry – 0.50 Target –0.59 Stop Loss – 0.46
Iron ore play. Fortress Minerals engages in the exploration, mining, production, and sale of iron ore concentrates. The company is also involved in the wholesale trade of various goods; transportation of iron ore and minerals; rental of transport equipment and vehicles; extraction, dredging, and dealing of industrial sand; acquisition of mines, mining rights, metalliferous land, and quarries; and provision of supporting services for transport equipment and vehicles. It sells its iron ore concentrate primarily to steel mills in Malaysia. The company also exports its products to China and Vietnam.
Recovery in iron ore prices. The strong iron ore price rally this year was sharply interrupted last month when China urged steel mills to reduce output in hopes of cutting back on pollution. According to S&P, China's manufacturing production index of steel consumption stood at 91 points in July, a five-month low but still 3 points higher than the same period in 2020. Despite China's policy, iron ore prices rose on Wednesday amid signs of resilient demand. China's announcement on Monday that it had reported no new local Covid-19 cases for the first time since July eased concerns about the sizable impact to commodity demand in the world's largest consumer for raw materials.
Huge upside potential. Iron ore prices have declined by 36.6% since its high of US$1,386.50 in June. Prices started to rebound from last Friday, with total gains of 7.9% as of yesterday. Potential downside to its 52-week low is 7.7%, which is relatively conservative. Consequently, as of yesterday's closing price, FMIL's share price has declined by 41.6% since its high in May, rebounding by approximately 19.7% from its consolidation range over the past week.
Strong financials. Revenue increased by 84.9% YoY to US$65.5mn in 2021 whereas net income increased by a significant 182.2% YoY to US$25.1mn. 1Q22 financial performance remained strong, with an increase of revenue by 143.8% YoY to US$17.3mn. 1QFY2022 (YE Feb) revenue already represents approximately 36.3% of full year FY2021's revenue. In addition, ASP for 1Q22 was US$143, an increase of 61.6% YoY.
Generic 1st Iron Ore (IOE1 Comdty)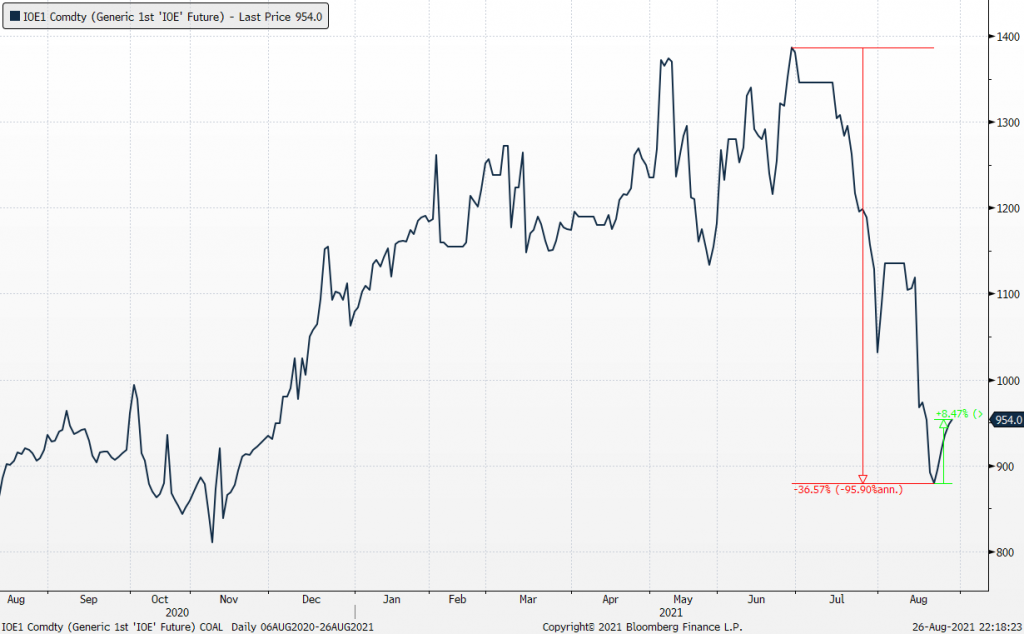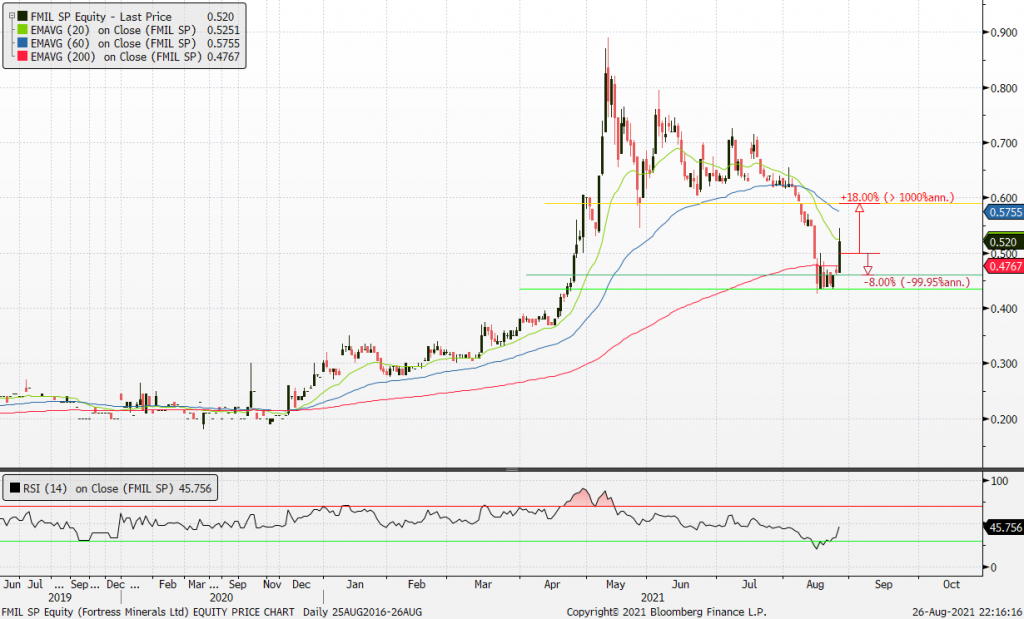 ---
Golden Energy & Resources (GER SP): Fastest growing coal producer in Asia
RE-ITERATE BUY Entry – 0.28 Target –0.64 Stop Loss – 0.24
Resources play. Golden Energy and Resources (GEAR) is a diversified mining and natural resources investment company. Having its roots as one of Indonesia's largest coal miner, the group has since branched out into precious metals over the past four years. GEAR will further diversify into base metals that will be utilised for clean energy uses such as copper, cobalt, zinc and nickel. 
Still growing. While other coal miners have plateaued or are reporting only single digit production growth, GEAR is expected to increase production by 30% over the next three years. GEAR, through its 50% owned Ravenswood Gold (Ravenswood) gold mine, is estimated to produce around 200koz of gold per annum by 2022. Its ASX-listed company Stanmore Resources Limited (Stanmore) will ramp up production to 2.4mn tonnes per annum of metallurgical coal in 2H2021. 
The rise of Asia. It is consensus view that coal demand will decline in North America and Europe but will rise in Asia. Coal is expected to remain a major part of China's electricity generation beyond 2030, alongside growing capacity for renewables. In 2020, coal still dominated China's energy mix at 59% of market share, and Platts Analytics expects the country's coal-fired power generation to only peak by 2027. Therefore, coal demand in the world's largest coal consuming country will continue to grow from 2021 to until at least 2025.
Near term catalysts from sky high coal prices. The group is set to benefit in the second half given how resilient coal prices have been. Coal futures for the ICI 4 coal index (4,200 kcal GAR fob) rose to new 10-year highs amid supportive regional demand, notably from China and India, and limited supply. 
We initiate with an Outperform recommendation and a DCF-backed target price of S$0.64. Read our full report here. 
ICI 4 (4,200 kcal GAR fob) coal price index – highest in a decade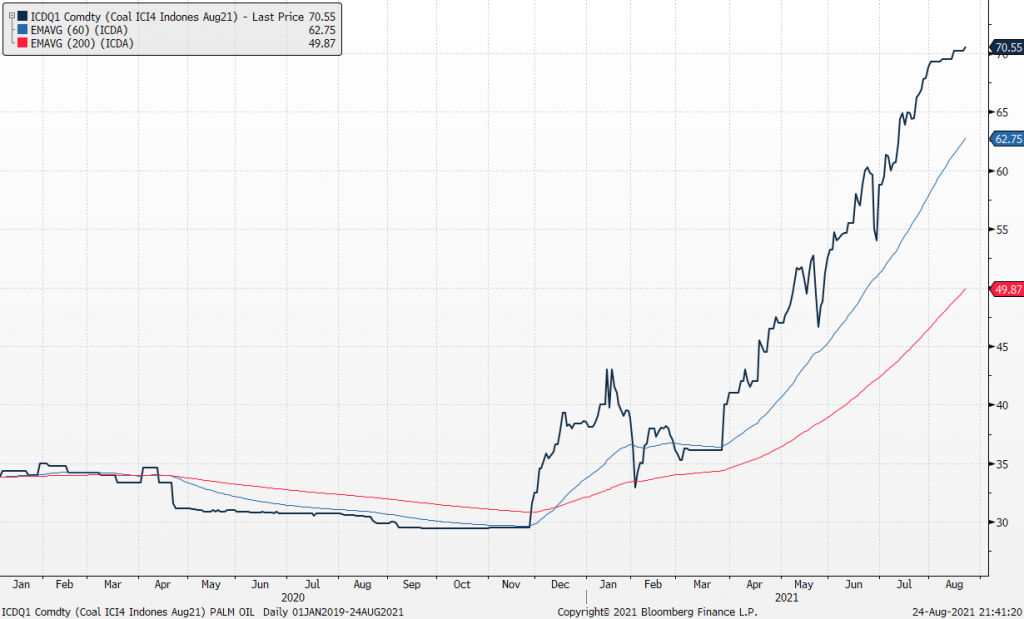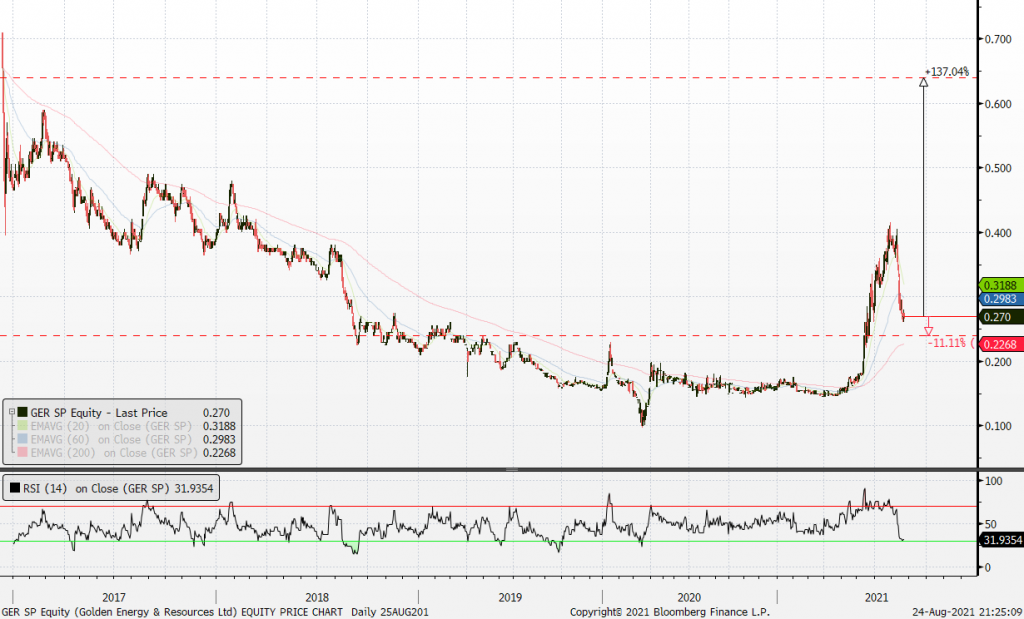 ---
HONG KONG
Nexteer Automotive Group Limited (1316 HK): A value stock for a weak market
BUY Entry – 8.4 Target – 9.4 Stop Loss – 7.9
Nexteer Automotive Group Limited is an investment holding company principally engaged in the development, manufacturing, and provision of steering and driveline systems. Along with subsidiaries, the company operates its business through four segments: the North America segment, Asia Pacific segment, the Europe & South America segment, and the Others segment. The company's products include electric power steering, hydraulic power steering (HPS), steering columns and intermediate shafts (CISs), driveline systems (DL), advanced driver assistance systems and automated driving (AD) products, among others.
Impacted by shortage of automobile chips, the whole vehicle manufacturing industry has slowed down production even as demand for passenger vehicles is rising. The company's product is one of the key components in a vehicle, and hence, its business is highly correlated to the sector's prospects.
Previously, the company announced the 1H21 results. Revenue grew by 43% YoY to US$1.7bn. Gross profit jumped by 85.5% YoY to US$226.5mn. Profit attributable to equity holders of the company jumped by 6300% YoY to US$83.1mn.
The current price has factored in the less favourable earnings. Although the recovery of the business has slowed due to the headwinds of the auto chip shortage which has resulted in a slower than expected recovery in the overall auto sector, this is transitory rather than permanent. In the coming months, we expect more positive sector news to emerge, such as the resumption of auto production or production target hikes for 2022. It is likely that good news will have more impact on the stock price rather than negative news, given the substantial price correction of its share price.
Updated market consensus of the estimated net profit growth in FY21 and FY22 are 57.0% and 43.6% respectively, which translates to 13.1x and 9.2x forward PE. The current PE is 13.9x. Bloomberg consensus average 12-month target price is HK$13.9.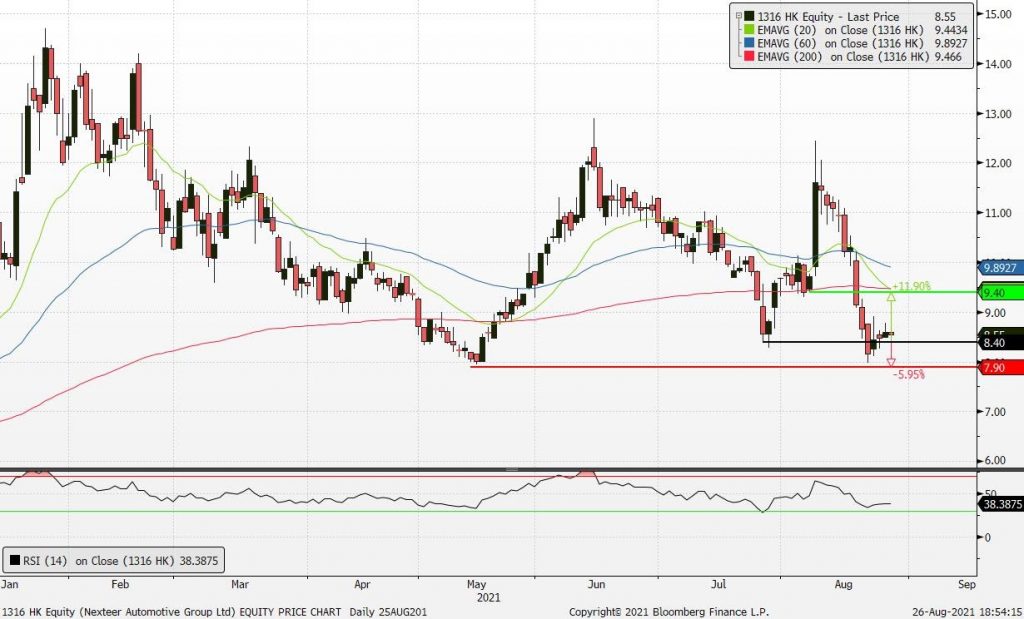 ---
TRIP.COM (9961 HK): A trip heading north
Reiterate BUY Entry – 220 Target – 247.8 Stop Loss – 208
Trip.com Group Limited, formerly Ctrip.com International, Ltd., is a travel service provider in China that provides accommodation booking, transportation ticketing, package tours and corporate travel management. The company aggregates hotel and transportation information to help leisure and business travelers make reservations. The company helps leisure travelers book travel packages and guided tours and helps corporate clients manage their travel needs. The company also offers a range of travel-related services to meet the different booking and travel needs of leisure and business travelers, including visitor reviews, attraction tickets, travel-related financial services, car services, travel insurance services and passport services. The company also offers package tours for independent leisure travelers, including tour groups, semi-tour groups and private groups, as well as package tours that require different transportation arrangements (such as cruise, buses or self-driving).
The new wave of COVID-19 outbreak in China is under control. Though summer vacation was ruined, this was factored in the recent sell-down of the stock. The pent-up traveling demand could boost the seasonal sales for the upcoming golden week (Mid-autumn festival and national day Holiday) in late September. The bearish sentiment for the technology sector could be over temporarily. In fact, the US-listed shares had bottomed out last week.
Inclusion in major indices. The stock was included in Hang Seng Tech Index and Hang Seng Composite Index, effective on 6th September.
Updated market consensus of the estimated growth for FY22 is 196.9%, which translates to 19.7x forward PE. FY21 EPS is expected to be HK$3.833 compared to -HK$0.214 in FY20. The FY21F PE is 58.4x. Bloomberg consensus average 12-month target price is HK$329.76.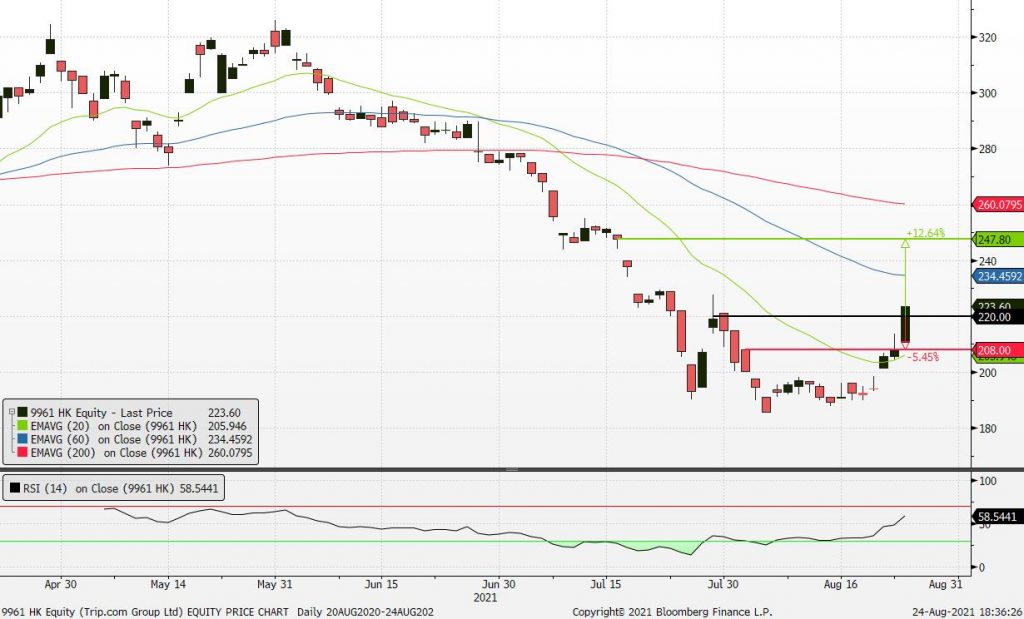 ---
Market Movers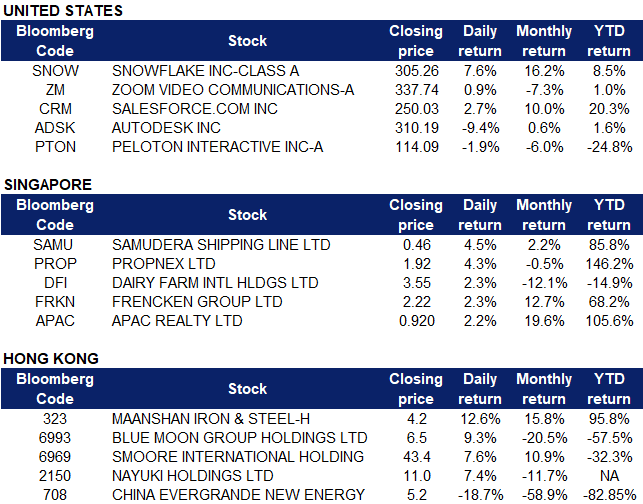 United States
Snowflake (SNOW US) shares surged 7.7% on Thursday after the company released its fiscal 2022 second quarter financial results. Revenue soared 104% YOY to $272.2 million, with a 60% increase in total customers. Snowflake's adjusted loss per share was at $0.04, beating analyst expectations of a loss of $0.15.
Zoom Video Communications (ZOOM US) rallied on Thursday following Morgan Stanley analyst Meta Marshall's upgrade of the stock to overweight with a new target price of $400. Shares rose as much as 3% before closing 0.86% higher at $340.63. Marshall believes that investors have become too bearish on the cloud software company's near-term growth prospects, and expects Zoom to continue winning corporate customers even as more people return to their offices.
Salesforce (CRM US) shares rose 2.66% after the company released strong second quarter results and boosted its full-year outlook in the January 2022 fiscal year. Revenue jumped 23% YOY to $64 billion, and adjusted net income was at $1.4 billion or $1.48 per share, beating analyst expectations for adjusted EPS of $0.92. Management now expects revenue to grow as much as 24% to $2.63 billion.
Autodesk (ADSK US) shares plunged 9.37% on Thursday after the company reported financial results. 2Q revenue was up 16% YOY to $1.06 billion, net income was up 18% to $115.6 million or $1.21 per share above analyst estimates of $1.13. Morgan Stanley reiterated its equal weight rating and target price of $334, and said that "the quarter likely fell short of buy-side expectations and may mute confidence in executing against a second-half ramp."
Peloton Interactive (PTON US) shares dropped 1.86% in regular trading and skidded another 6% down after the e-fitness company said it plans to slash the price of its landmark Peloton Bike by $400 to $1,495. Memberships will still cost $39.99 per month. Nearly a year ago, the price of its bike was lowered by $350 when the company launched its higher-end Bike+ for $2,495. The company warned that the reduction in price along with higher costs, could weigh on profitability in the coming quarters.
---
Singapore
Samudera Shipping (SAMU SP)'s share price was lifted by record high trans-pacific liner rates ahead of the seasonal peak season. The Drewry Hong Kong-Los Angeles container-rate benchmark rose 2.6% sequentially to a record of US$7,961 per 40-foot container in the week ended Aug 25. Current rates are 164% above their five-year average, driven by supply chain dislocations and port congestion in both China and the US.
Propnex Limited (PROP SP) Shares rose by 4.3% yesterday after the company announced that it has entered into an exclusive collaboration to provide a one-stop trading platform with Tiger Brokers and SingCapital. Tiger Brokers will be offering PropNex's Community a special promotion of up to S$240 worth of PropNex stock vouchers. In further enhancing the financial literacy of the community, a series of webinars will be organized together with Singcapital – Singapore's leading Financial Advisory Firms dedicated to providing quality financial services and solutions for individuals and corporations, working alongside with Tiger Brokers. Read the full announcement here.
Dairy Farm International Holdings Limited (DFI SP) Shares rose by 2.3% yesterday and closed at S$3.55, slightly below the last low of S$3.56 in January 2007. The Straits Times featured Dairy Farm in the news yesterday, highlighting Cold Storage's opening of its new flagship outlet, CS Fresh Gold, at Paragon on Wednesday. This move is part of a S$40mn rebranding exercise that will see a revamp of all 48 Cold Storage stores by the end of next year, said DFI Retail Group (DFI), which owns the chain. The flagship store, spanning 1,848 sq m, will have what is said to be Singapore's largest organic produce range. It will also stock plant-based products from brands such as Impossible Foods and Beyond Meat. Technically, the stock looks oversold (with RSI dropping below 30 in the past 2 weeks) and due for a rebound.
Frencken Group Limited (FRKN SP). Shares rose by 2.3% yesterday after UOB Kayhian upgraded Frencken's TP to S$2.52 from S$2.13 and maintained a BUY rating, as the demand outlook for the semiconductor segment may stay strong through 2022. The current chip shortage situation in the semiconductor industry is spurring demand for front-and back-end semiconductor equipment, which augurs well for its customers, and in turn, should benefit its semiconductor segment. Also, current indications and outlook of Frencken's key clients in the semiconductor industry cite that demand for equipment will probably be sustained into 2022.
APAC Realty Limited (APAC SP). Shares rose by 2.2% yesterday, even though there was no company specific news. On 18 August, RHB Group Research analyst Vijay Natarajan downgraded his recommendation on APAC Realty to NEUTRAL while raising his TP from S$0.70 to S$0.88. The downgrade was despite the property group's strong set of numbers in the 1HFY2021 ended June. He commented that the recent property market euphoria and price hikes raise policy intervention risk, with higher possibility of demand-side measures in the near term – a key risk to APAC's share price. Amidst the mixed sentiment, investors are likely buying ahead to enjoy the dividend payout of S$0.03 per share. Ex-dividend date is expected to be on 30 August and payout date on 9 September.
---
Hong Kong
Maanshan Iron & Steel Co Ltd (323 HK). Shares closed at a three-month high. The company announced 1H21 interim results. Revenue jumped by 51.9% YoY to RMB56.9bn. Net profit attributable to owners of the parent jumped by 471.7% YoY. During the period, the company produced 7.47mn tonnes of pig iron, 8.88 mn tons of crude steel, and 8.3mn tons of steel, representing increases of 2.75% YoY, 11.41% YoY and 13.70% YoY respectively.
Blue Moon Group Holdings Limited (6993 HK). The company announced 1H21 interim results. Revenue decreased by approximately 3.3% YoY to HK$1,259.5mn. Gross profit margin decreased by approximately 10.5% to approximately 53.5%. Loss attributable to equity holders of the company was approximately HK$43.9mn, compared to net profit of HK$302.2mn in 1H20.
Smoore International Holdings Ltd (6969 HK). The company announced 1H21 interim results. Revenue jumped by 79.2% YoY to RMB7.0bn. Gross profit jumped by 100.9% YoY to RMB3.8bn. Adjusted net profit jumped by 127.5% YoY to RMB3.0bn.
Nayuki Holdings Ltd (2150 HK). The company announced 1H21 interim results. revenue increased by 80.2% from RMB1,179.5mn. Adjusted net profit/(loss) turned from a loss of RMB63.5 million in 1H20 to RMB48.2mn in 1H21. Store-level operating profit of RMB385.2mn for Nayuki teahouses, representing an increase of 497.2% YoY. The store-level operating profit margin of Nayuki teahouses was 19.2% in 1H21, representing an overall increase of 7 and 3 ppts compared to the full year of 2020 and 2019 respectively.
China Evergrande New Energy Vehicle Group Ltd (708 HK). Shares closed at a 52-week low. The parent company China Evergrande Group (3333 HK) announced 1H21 interim results which showed the struggling operations of the group. Previously, the New Energy Vehicle Group announced a profit warning that the net loss in 1H21 was expected to be RMB4.8bn compared to a net loss of RMB2.45bn in 1H20.
---
Trading Dashboard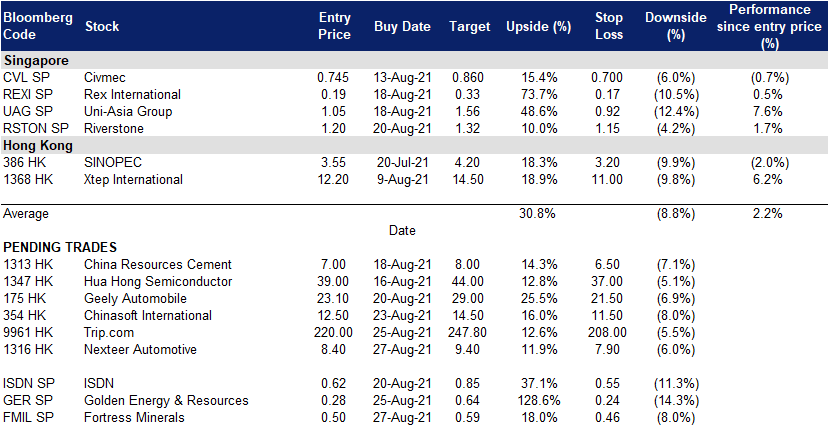 ---

---
Related Posts: