26 Nov 2021: Olam International (OLAM SP), Hua Hong Semiconductor (1347 HK)
Market Movers | Trading Dashboard
IPO WATCH
Digital Core REIT (DCREIT SP): Data is king
DCREIT will be offering 267mn shares for subscription at US$0.88 per unit. Initial market cap is estimated to be US$990mn.
The Digital Core REIT IPO Portfolio comprises 10 institutional quality, 100% freehold data centres concentrated within top-tier markets in the US and Canada with an aggregate appraised valuation of US$1.4bn.
DCREIT is backed by US-listed Digital Realty, who will take a 10% stake in the REIT. Digital Realty is the largest owner, operator, developer and acquirer of data centres in the world. As of 30 June 2021, Digital Reality had a total committed active investment of US$5bn.
The REIT will have a projected distribution yield of 4.75% for FY2022 and DPU growth of 5.26% from FY2022 to FY2023. For reference, DCREIT's DPU is higher than Keppel DC REIT's (KDCREIT) forecasted yield of 4.3% for FY2021 and 4.5% for FY2022.
Overall, we think DCREIT offers an attractive opportunity given that it will be able to tap on the sponsor's huge pipeline of data centres globally.
Digital Core REIT portfolio of 10 data centres in North America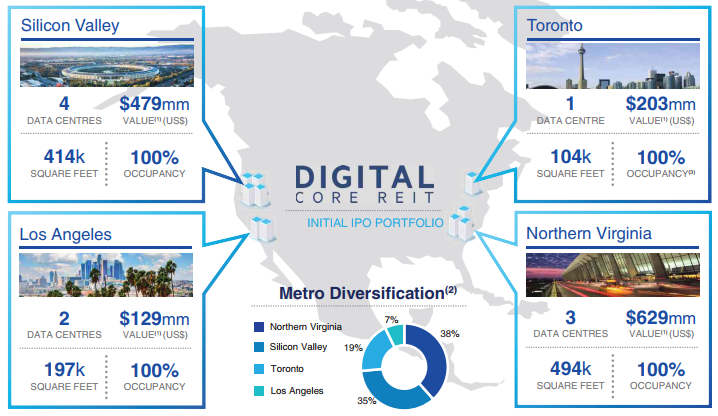 SINGAPORE
Olam International (OLAM SP): Joining the big boys
BUY Entry – 1.80 Target – 1.95 Stop Loss – 1.72
Olam is a leading food and agri-business operating across the value chain in more than 60 countries, supplying food, ingredients, feed and fibre to more than 17,300 customers worldwide. Listed on 11 February 2005 on the mainboard of SGX, Olam currently ranks among the top 30 largest listed companies in Singapore in terms of market capitalisation and is a Singapore constituent stock of the FT Global All Cap Ex US Index.
Higher food prices. Food prices globally have risen in 13 of the past 15 months and are near their peak of 2011, owing to poor weather and pandemic-related disruptions. Earlier in October, The United Nations Reported that its Food Price Index (FFPI), which tracks the international price of a basket of food items, is already up 30% in 2021 from the 2020 annual average, the largest increase in 47 years. The escalating cost of producing fertilisers and transportation are exacerbating the surge in food prices.
Catalyst from the listing of Olam Foods Ingredients (OFI) and entry into STI. OFI intends to seek a primary listing on the London Stock Exchange and a concurrent secondary listing in Singapore in the first half of 2022. The London listing could raise about 2 bn pounds (US$2.8 bn). OFI reported a 29.5% YoY increase in 1H2021 EBIT and the company expects its strong business momentum to continue into the second half of 2021. An additional catalyst for Olam is the inclusion in the STI Index. It is likely that Olam may replace ComfortDelGro in the STI when the quarterly review is done in December 2021.
Technical analysis. Olam share price has gained 36% from the recent low touched in July, and are currently testing the resistance of S$1.79. Since the rally from July, the 20 day EMA has provided firm support to its ongoing uptrend.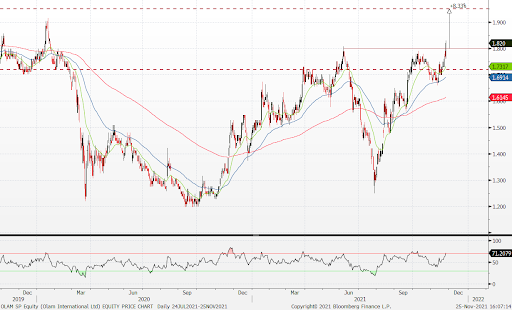 ---
Uni-Asia Group (UAG SP): Bumper year ahead for Handysize
REITERATE BUY Entry – 1.30 Target –1.56 Stop Loss – 1.25
UAG is an alternative investment company that owns and manages bulk carriers, invests in Hong Kong commercial offices and develops residential properties in Japan. The group derives around 65% of its revenues from charter income generated by its fleet of bulk carriers. The remainder of its revenue is from the property projects in HK and Japan.
Still going strong. UAG provided a 9M21 business update. While no revenue and earnings were disclosed, the overall tone was positive. Industry trends for handysize dry bulk carriers remain supportive, even with the recent correction of the Baltic Dry Bulk indices. Meanwhile, HK's property market is expected to improve upon the reopening of borders with China.
Resilient demand for handysize. Six of UAG's wholly-owned dry bulks will renew in 2H2021, three will renew in 1H2022 and one in 2H2022. Charter rates in the market remain above US$25,000 per day vs UAG's average charter income of US$14,321 in 3Q2021, leaving more upside as we head into 2022 .We expect charter rates for handysizes to remain resilient at these levels, or even increase, amid historically low order book, rising scrap rates and further cuts in operating speeds.
Attractive valuations. Despite the 125% YTD rally of its shares, UAG's valuations are attractive amid the stronger-than-expected bulk carrier upcycle. Our TP implies a 0.7x FY2021F P/B, which is still a conservative 30% discount to int'l peers who are trading >1.0x P/B. Read our full report here.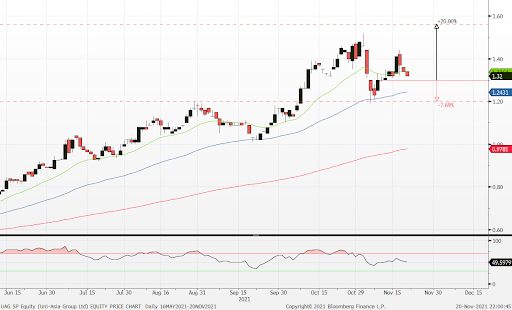 ---
HONG KONG
Hua Hong Semiconductor Ltd (1347 HK): Chase the breakout
Buy Entry – 47.5 Target – 53.5 Stop Loss – 44.5
Hua Hong Semiconductor Ltd is an investment holding company engaged in production and sales of semiconductor wafers. The company produces 200mm and 300mm-wafers. Its products are applied in general microcontroller (MCU), Type-C interface chips, image stabilization chips, touch control chips, and smart meter controller chips. The products also serve the Internet of Things (IoT), new energy vehicles, artificial intelligence and other markets.
3Q21 results updates. Revenue reached another new high of US$451.5mn, up 78.5% YoY and 30.4% QoQ.Gross margin was 27.1%, 2.9 ppts over 3Q20 and 2.3 ppts above 2Q21. Net profit attributable to shareholders of the parent company was US$50.8mn, up 187.1% YoY and 15.3% QoQ. Management guidance for FY21 revenue is US$490mn, and GPM is expected to be between 27% and 28%. The company plans to reach a 12-inch monthly production capacity of 95,000 wafers by the end of 2022.
Semiconductor upcycle remains. The supply chain bottleneck is expected to last at least till mid-2022. Insufficient supply of auto chips, graphic cards, and other related chips will continue. Meanwhile, there will be more demand for computing power in the post-COVID era, driven by EV penetration and metaverse development. Sentiment towards the semiconductor sector is bullish.
The updated market consensus of the estimated net profit growth in FY21/22/23 is 88.1%/26.6%/18.4% respectively, which translates to 43.2x/34.0x/28.8x forward PE. The current PE is 47.1x. Bloomberg consensus average 12-month target price is HK$56.16.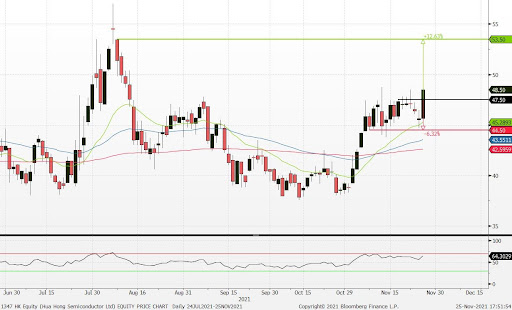 ---
BYD Electronic (International) Co Ltd (285 HK): The vape theme is back
Reiterate Entry – 31 Target – 35.5 Stop Loss – 29
BYD Electronic International Co Ltd is an investment holding company principally engaged in the manufacture of mobile intelligent terminal components and modules. The Company with its subsidiaries mainly provides one-stop services including new material development, product design, research and development, manufacturing, supply chain management, logistics and after-sales services. Its businesses include three major parts: smartphones and personal computers (PCs), new intelligent products and automotive intelligent systems, covering molds, metals, plastic parts, glass, ceramics and electronic products. Its products are used in consumer electronics, Internet of things, smart home, smart industry, smart business, smart game equipment, smart cockpits, smart networked systems, communication modules and other fields. The Company conducts its businesses within the China market and to overseas markets such as Asia-Pacific and the United States.
3Q21 results update. 9M21 total turnover grew by 27.99% YoY to RMB65.9bn. Gross profit fell by 38.5% YoY to RMB4.6bn. Profit attributable to equity owners of the parent fell by 50.2% YoY to RMB2.2bn. The unfavorable performance was due to the shortage of chips and the restrictions on the short-term production arising from the national dual-control policies for energy consumption.
Uncertainties of e-cigarrette eased. Chinese media cited the National Public Service Platform for Standards Information, the international standards of e-cigarette (20171624-Q-456) had its status changed to "drafting" from "reviewing". Meanwhile, the testing criteria for e-cigarette liquid of nicotine, glycol and glycerol-gas (20172264-T-456) had its status still at "approving".
The updated market consensus of the estimated net profit growth in FY21/22/23 is -46.9%/40.5%/35.6% respectively, which translates to 20.6x/14.7x/10.8x forward PE. The current PE is 13.0x. Bloomberg consensus average 12-month target price is HK$35.27.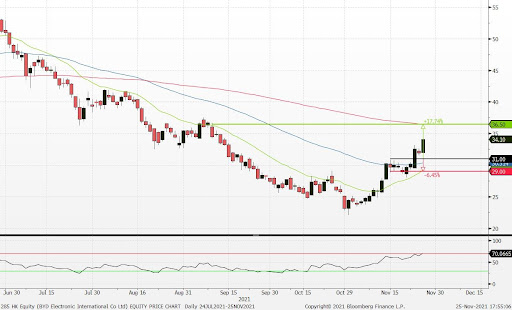 ---
Market Movers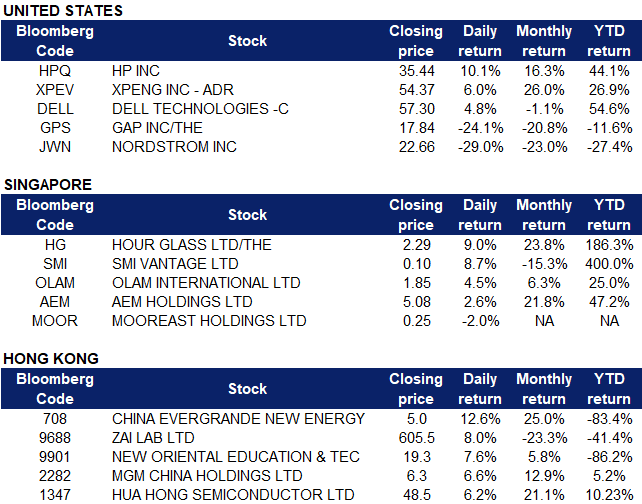 United States
Top Sector Gainers
Top Sector Losers
HP (HPQ US) rose 10% after 4Q earnings came in above expectations, driven by 25% growth in commercial PC. Non-GAAP earnings surged 52% YoY to 94 cents as it reflected higher revenues and favourable pricing, product mix currency exchange rates, partially offset by higher commodity costs and increased investments.
Dell Technologies (DELL US) shares rose 4.8% on heavy volume after reporting a quarterly outlook led by robust PC sales, reflecting the strong earnings from those of HP.
Xpeng (XPEV US) shares continued gains and surged another 6.0% after the Chinese EV maker reported stronger-than-expected third quarter revenues amid the global shortage in semiconductor supplies. The company delivered 25,666 cars over the three months ending in October, a 200% increase from the same period last year that powered a 187.4% surge in overall revenues to RMB 5.72 billion, well above analyst expectations. Citi raised its TP to US$92 from US$87 and kept a Buy rating while BofA increased its TP to US$66 from US$63, also maintaining a Buy rating.
Nordstrom (JWN US); Gap (GPS US) both plunged 24-29% in overnight trading after reporting weaker-than-expected quarterly results and warned of supply chain problems ahead of the US holiday shopping season. As a result, JP Morgan downgraded Gap to Neutral from Buy and lowered its TP to US$22 from US$39, while maintaining a Sell rating on Nordstrom.
---
Singapore
The Hour Glass (HG SP) There was no company specific news yesterday but the positive price momentum can largely be attributed to the strong 1HFY2022 performance it announced earlier in the month. Earnings for 1HFY2022 surged 110% YoY and management expects consumer sentiment within the watch industry to remain positive.
SMI Vantage (SMI SP) Shares rose 8.7% after the company announced the acquisition of 3,000 crypto mining machines, with an option to buy a further 2,000 machines. The company intends to develop a new "mining-as-a-service" platform with its partners.
Olam International (OLAM SP) shares of the food and agricultural supplier rose 4.5% on market talks that the company may replace ComfortDelGro (CD SP) in the Straits Times Index (STI) in the next quarterly review scheduled in December. Olam was last included in the STI back in September 2015.
UMS (UMSH SP), AEM (AEM SP) following gains among leading US semicon companies. The recent earnings season has led to earnings upgrade and expectations that demand for chips will exceed supply for even longer. DBS Group Research raised its TP on AEM to S$6.04 from S$4.98 previously, while maintaining a BUY rating on the stock.
Mooreast (MOOR SP) shares of the newly listed company declined 2.0% on Thursday, giving up some of the gains from its first day of trading on Wednesday. Despite yesterday's decline, shares are still 11% higher than the S$0.22 IPO price.
---
Hong Kong
Top Sector Gainers
Top Sector Losers
China Evergrande New Energy Vehicle Group Ltd (708 HK). Shares closed at a 2-month high. There was no company-specific news. Previously, the company placed 900mn shares at HK$3 per share through top-up placing. The company intends to dedicate the proceeds on research and development and production of the group's new energy vehicles, paving the groundwork for putting Hengchi new energy vehicles into production.
Zai Lab Ltd (9688HK) Shares rebounded from the 52-week low. There was no company specific news. The rebound could be due to some short covering activities.
New Oriental Education & Techlgy Grp Inc (9901 HK). Shares closed at a high since the sell-off in July. The company announced plans to further repurchase the bonds. As of 24th November, the total repurchased principal amount is in the aggregate of US$91,500,000, representing approximately 30.5% of the initial principal amount of the bonds.
MGM China Holdings Ltd (2282 HK). Casino sector jumped. There was no company-specific news. Credit Suisse expected Macau casino operators' risk-reward to turn positive on softer-than-anticipated regulation, meaningful GGR upside room from Hong Kong-Macau border reboot, and an undemanding valuation. The broker assumed a 33%/ 20% compound return by end-2023/24 should casinos get back to pre-Covid levels.
Hua Hong Semiconductor Ltd (1347HK). Shares closed at a 3-month high. There was no company-specific news. Semiconductor sector was trading upward, following the recovery of the US semicon sector overnight.
---
Trading Dashboard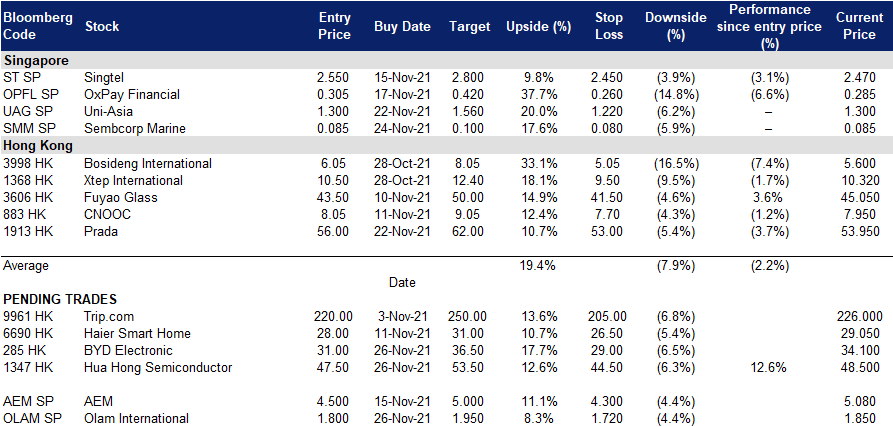 (Click to enlarge image)
---

---
Related Posts: