26 January 2022: Sembcorp Industries (SCI SP), Ganfeng Lithium Co Ltd (1772 HK)
Singapore Trading Ideas | Hong Kong Trading Ideas | Market Movers | Trading Dashboard
IPO PERFORMANCE
Novo Tellus Alpha Acquisition (NTAA): The SPAC to watch
NTAA will start trading on Thursday (27 Jan)
We will be watching the listing of Novo Tellus Alpha Acquisition (NTAA), which launched its IPO offering at 8PM Thursday (20 Jan) and closed at noon on Tuesday (25 Jan).
Novo Tellus is the fund behind stocks such as AEM Holdings (+4,590% return since investment or +40% annualised), Grand Venture Technology (+300% total return or +1,390% annualised) and ISDN Holdings (+240% total return or +60% annualised).
---
SINGAPORE
Sembcorp Industries (SCI SP): Don't be mean, be green
BUY Entry – 2.15 Target – 2.50 Stop Loss – 2.00
SCI is a leading provider of sustainable solutions in Asia. The group has a target for its sustainable solutions portfolio to make up 70% of the group's net profit by 2025, up from 40% in 2020. What this means is that the group targets to achieve a 30% CAGR for its renewable energy portfolio by 2025, and for gross installed renewable energy capacity to increase from 2.6GW at the end of 2020, to 10GW by 2025.
The only green play in town. SCI is the only pure-play green energy stock listed in Singapore. The group generates 56% of 2020 profits from Gas & Thermal power, 29% from Waters & Others, and 15% from Renewable power. In terms of geographical focus, 29% of net profit is contributed from China, 27% from Singapore and the rest of Southeast Asia, and 27% from India.
Market leader. SCI is a leading renewables player in Singapore with about 280MWp of solar capacity. The group offers the full suite of solutions including ground-mounted, rooftop and floating solar PV systems. In India, SCI achieved the highest wind capacity under self-operations of any independent power producer in the country.
Positive consensus estimates. Analysts are generally bullish on the stock with 9 BUYS and 2 HOLD recommendations. There is a 12m TP of S$2.62 which implies a 19% total return from the last close price. Valuations are decent at around 1.0x FY2022F P/B against a forecasted 10.5% FY2022F ROE.
SCI's path to a sustainable future by 2025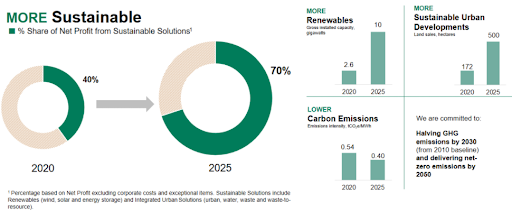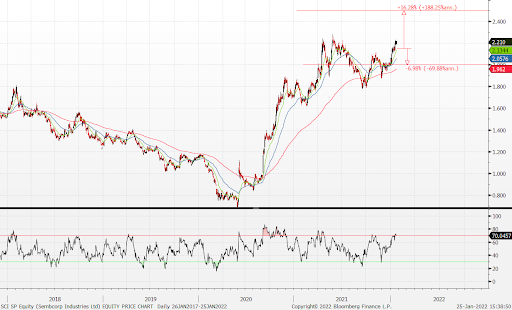 ---
Nanofilm Technologies International (NANO SP): Shopping for discounts
RE-ITERATE BUY Entry – 2.95 Target – 3.50 Stop Loss – 2.80
NANO provides advanced coating solutions to products such as smartphones, smartwatches, computers and automotive. The company serves many Fortune 500 companies with its special proprietary advanced materials and nano-fabrication capabilities.
Shopping for bargains. Shares of NANO are down more than 55% from their peak of S$6.67 in July 2021. A combination of disappointing 1H2021 results and the recent tech sell-off has now bought NANO's shares near to its IPO price of S$2.59. The sell-off looks overdone in our view, and argue that value is now starting to appear.
Looking ahead. The sell-off is likely pricing in the weak 2021 results. However, looking past the current weakness and higher operating costs due to expansion plans, both topline and bottom line growth is expected to accelerate to around 20-30% YoY in 2022. There is potential for growth to surprise on the upside as it ramps up production at its new Shanghai plant.
Consensus estimates. There are 5 BUYS / 2 HOLDS / 2 SELLS and an average 12-month target price of S$3.97, implying a 35% from the last close price. While EPS is forecasted to only increase by 7% in FY2021F, consensus expects it to accelerate to 29% YoY in FY2022F and 20% YoY in FY2023F, bringing FY2021/22/23F P/E to 31x / 24x / 20x.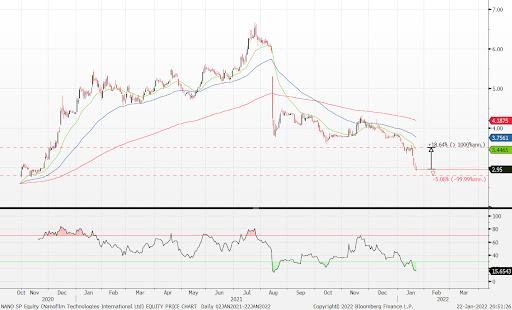 ---
HONG KONG
Ganfeng Lithium Co Ltd (1772 HK): A stock with both growth and inflation-hedge features
BUY Entry – 118 Target – 140 Stop Loss – 108
GANFENG LITHIUM CO., LTD. is a China-based company principally engaged in the research, development, production and sales of deeply processed lithium products. The Company's main products include lithium compounds, lithium metal and lithium batteries. The Company's products are mainly used in electrical vehicles, chemicals and pharmaceuticals. The Company distributes its products in the domestic market and to overseas markets.
Lithium carbonate reached another record high. Lithium carbonate prices in China rose to RMB358,500/tonne as of 25th January due to high global demand and tight supplies. Prices have jumped more than 25% YTD. China is expected to double the EV sales in 2022 to more than 5mn units. Meanwhile, battery producers rush to secure long-term supply contracts with lithium mining companies.
Lithium carbonate prices in China reached another record high (RMB/tonne)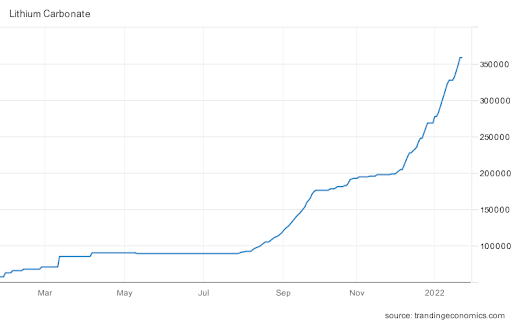 Positive FY21 earnings alert. The company announced the FY21 earnings alert. Net profit attributable to shareholders of the company jumped by between 368.45% and 436.76% YoY to between RMB4.8bn to RMB5.5bn. Net profit after deduction of non-recurring gains and losses jumped by between 621% and 795.04% YoY to between RMB2.9bn and RMB3.6bn.
Technical breakout from the recent consolidation base. Share price has corrected by 41% from the peak of HK$185 in August 2021 to the low of HK$109 in December 2021. Driven by the positive earnings guidance, shares just broke out the consolidation of around HK$115 amidst the overall market downturn.
Updated market consensus of the EPS growth in FY22/23 is 67.1%/20.6% YoY respectively, which translates to 23.6x/19.6x forward PE. Current PER is 44.3x. Bloomberg consensus average 12-month target price is HK$203.37.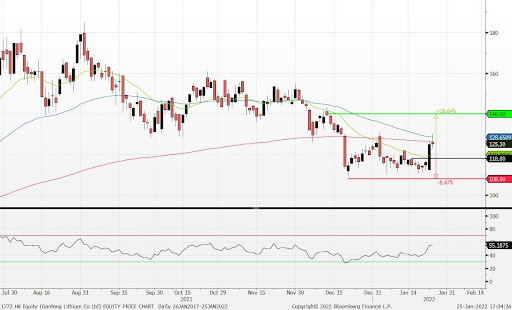 ---
Zijin Mining Group Company Limited (2899 HK): Round 2 of the commodities supercycle
RE-ITERATE BUY Entry – 10 Target – 11.5 Stop Loss – 9.4
Zijin Mining Group Company Limited is a China-based company principally engaged in the exploration, mining, smelting and sales of gold and other metal minerals. The Company's main products include gold products, copper products, lead and zinc products, iron products, silver products, among others. Its gold products mainly include the mineral gold, standard gold bullions, gold ingots and gold concentrates, among others. The Company is also involved in the geographic survey businesses through its subsidiaries.
Gold and copper performed well during the last rate hike cycle. The last rate hike cycle began in December 2015 and ended in July 2019. There were nine rate hikes lifting the fed fund rate (upper bound) from 25bps to 250bps. The first rate hike was in 2015 , followed by once in 2016, three times in 2017, and four times in 2018.

First year performance: Gold price surged by 30% from the low in December 2015 to the peak in July 2016. Copper jumped by 19% from the low in February 2016 to the peak in May 2016.
Full cycle performance: Gold was up 35%, and copper was up 29%.

Echoes of the commodity super cycle. Commodities prices saw a spectacular jump in 2021. Just right before the bullish cycle kick-started, the market had called a super cycle. Even though those prices have corrected from the peak in 3Q21, the cycle may not have ended as the post-pandemic recovery upholds demand which is outpacing supply. For gold, we see an inverse correlation with cryptocurrencies. The further selldown of crypto could push some funds back to the yellow metal. For copper, it peaked twice in 2021, one in May and the other in October, and has nicely consolidated at above US$9,000/tonne after March 2021. Recently, copper has regained some upward momentum probably due to inventory build before Chinese new year.
Updated market consensus of the EPS growth in FY22/23 are 34.5%/7.4% YoY respectively, which translates to 9.8x/9.2x forward PE. Current PER is 15.8x. FY22F/23F dividend yields are 4.3%/4.8% respectively. Bloomberg consensus average 12-month target price is HK$15.9.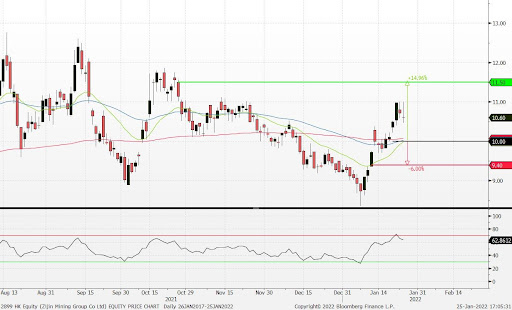 ---
MARKET MOVERS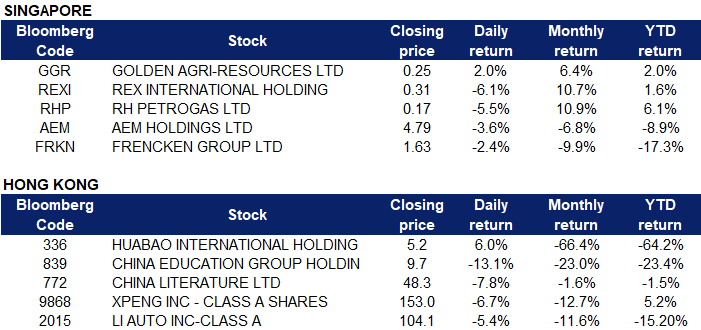 ---
United States
Top Sector Gainers
Top Sector Losers
American Express Co (AXP US) shares surged 8.9% yesterday after the company beat estimates on the top and bottom lines for the fourth quarter. The payments company earned US$2.18 per share on US$12.15 bn in revenue. Analysts surveyed by Refinitiv were expecting US$1.87 in earnings per share on US$11.5bn revenue. American Express also said it expected revenue growth of 18% to 20% in 2022.
Occidental Petroleum Corp (OXY US) and Marathon Oil Corp (MRO US) shares gained 8.1% and 6.6% respectively yesterday, in tandem with a rebound in oil prices. WTI Crude oil closed above US$85 per barrel yesterday, gaining 1.3% compared to the previous session, while Brent crude oil closed above US$87 per barrel yesterday, gaining 0.9% compared to the previous session. Concerns over tight supplies due to Ukraine-Russia tensions, threats to infrastructure in the United Arab Emirates and struggles by OPEC+ to hit its targeted monthly output increase led the gains in oil prices.
IBM Corp (IBM US) shares gained 5.7% yesterday following a better-than-expected quarterly report. IBM reported that its revenue climbed 6% in the fourth quarter, surpassing expectations. The company spun out its managed infrastructure services unit during the quarter into a publicly held company named Kyndryl.
General Electric Co (GE US) shares declined 6% yesterday after the company missed revenue estimates for the fiscal fourth quarter. The conglomerate reported US$0.92 in adjusted earnings per share on US$20.3bn revenue. Analysts surveyed by Refinitiv were looking for US$0.85 on US$21.53bn revenue. The company said supply chain issues weighed on its sales.
---
Singapore
Golden Agri-Resources Ltd (GGR SP) shares gained 2% yesterday. Malaysian palm oil futures held above MYR 5,000 per tonne at the end of January, following a five-week rally that sent prices to all-time highs of MYR 5,380 during the fourth week of the month, amid lingering concerns over supply and output. Indonesia, the world's biggest palm oil producer, said it would start requiring palm oil exporters to get shipment approvals from the trade ministry starting on January 24th, while the government is also discussing a plan to limit exports of the vegetable oil.
Rex International Holdings Ltd (REXI SP) and RH Petrogas Ltd (RHP SG) shares declined 6% and 5.5% respectively yesterday, likely on profit-taking before data from API is released with regards to the latest weekly estimate of US oil inventories. WTI crude futures climbed above US$84 per barrel on Tuesday after falling more than 2% in the previous session, while Brent crude futures held above US$87 per barrel on Tuesday after falling almost 2% in the previous session. Rising geopolitical tensions in Eastern Europe and the Middle East stoked fears of supply disruptions. In the Middle East, the Iran-aligned Houthi movement launched a missile attack at the UAE on Monday that targeted a base hosting the US military, but was thwarted by US-built Patriot interceptors. However, a combination of profit-taking and a Fed-driven risk-off sentiment led to a correction in oil markets on Monday.
AEM Holdings Ltd (AEM SP) and Frencken Group Ltd (FRKN SP) shares lost 3.6% and 2.4% respectively yesterday, in tandem with the overall weak performance from US semicon companies as a result of interest rate hike fears. Market participants are awaiting the Federal Open Market Committee's meeting this week for clues as to how much the central bank will raise interest rates this year and when it will start. The Fed's January two-day policy meeting is due to start Tuesday and conclude Wednesday. Goldman Sachs said Sunday that its baseline forecast calls for four rate hikes this year, but the bank sees a risk for more rate increases due to the surge in inflation.
---
Hong Kong
Top Sector Gainers
Top Sector Losers
Huabao International Holdings Ltd (336 HK) shares gained 6% yesterday. The company announced on the 24th that the group has further received purchase orders from Guangdong China Tobacco Company, a related party for the raw materials of cigarettes. The total consideration for the purchase order is approximately RMB 43,272,300.
China Education Group Holdings Ltd (839 HK), China Literature Ltd (772 HK). Education sector shares declined yesterday, with shares losing 13.1% and 7.8% respectively. CICC released a research report which maintained an "Outperform" rating on China Literature. However, the target price was lowered by 19.2% to HK$74.5, corresponding to 40x of Non-IFRS 2022 P/E. In addition, considering the delay in the launch of licensed games and the uncertainty of the development cycle of IP-related projects, Non-IFRS net profit in 2021/22 was lowered to RMB 1.246/1.636bn. China Literature will announce its 2021 results on March 22, 2022. CICC expects that in 2021, the company will achieve revenue of RMB 9.023bn, a YoY increase of 5.8%, Non-IFRS net profit of RMB 1.246bn, a YoY increase of 35.9%.
XPeng Inc (9868 HK), Li Auto Inc (2015 HK). EV stocks extended their losses yesterday, with shares losing 6.7% and 5.4% respectively. Traders and investors appeared to be unloading anything that might be considered "risky" as they digested several worrisome developments, including the possibility of a confrontation between Russia and Western powers over Ukraine, the likelihood of U.S. interest rate hikes starting soon, and the sharp declines of many cryptoassets over the weekend. However, Guosheng Securities issued a research report recently with a BUY rating on XPeng and a target price of HK$259. XPeng Motors is the first car company in China to conduct full-stack self-development of autonomous driving. At present, there are two main functions of XPILOT3.0/3.5 system, VPA intelligent parking and NGP automatic navigation assistance. The bank believes that intelligent driving is not only a technological advantage of the company, but will also be an important revenue and profit improvement generator.
---
Trading Dashboard
Trading Dashboard Update: Add Aluminum Corporation of China (2600 HK) at HK$4.25, ANTA Sports Products (2020 HK) at HK$118, UOB (UOB SP) at S$29.80 and Nanofilm Technologies (NANO SP) at S$2.95. Cut loss on Prada S.p.A. (1913 HK) at HK$47.00, Olam International (OLAM SP) at S$1.71 and Wilmar International (WIL SP) at S$4.16.
(Click to enlarge image)
---