26 August 2022: Geo Energy Resources Ltd (GERL SP), China Tourism Group Duty Free Corp Ltd (1880)
Singapore Trading Ideas | Hong Kong Trading Ideas | Market Movers | Trading Dashboard
Geo Energy Resources Ltd (GERL SP): Unexpected tailwind to uphold coal prices
Geo Energy is a coal mining group that commenced business operations in 2008 and has an established track record in the operation of coal mining sites for the purpose of coal production and coal sale in Indonesia. Its coal production operations are primarily located in Kalimantan, Indonesia. Its main businesses include 1. owning and operating its own coal mine. 2. offering mine contracting services to third party mine owners. 3. selling coal to both coal traders and coal export companies.
Tailwinds for thermal coal prices. China's Southwest regions are under a heatwave. State weather forecasters issued a heat "red alert" for the 11th consecutive day on Monday, as extreme weather continues to play havoc with power supplies and damage crops. China's scorched southwestern regions extended curbs on power consumption on Monday as they deal with dwindling hydropower output and surging household electricity demand during a long drought and heatwave. The supply shortage of hydropower will put thermal power plants under pressure. It is expected that thermal coal prices to rebound in the near term as urgent demand resumes.
Record-high 1H22 earnings. Revenue jumped by 67% YoY to US$368.3mn. Gross profit surged by 117% YoY to US$151.5mn. GPM was 31.7% compared to 11.0% during the same period last year. Profit attributable to owners of the company soared by 118% YoY to US$105.0mn. The stellar performance was mainly driven by the skyrocketing coal prices. The average ICI4 in 1H2022 was US$85.89/tonne, compared to US$47.78/tonne in 1H2021. The total coal sales volume dropped 3.7% YoY to 5.18mn tonnes.
High dividends and cheap valuations. GERL declared a second interim dividend of S$0.02 per share. Along with the first interim dividend of S$0.02 per share paid on 27 May 2022, this represents 39% pay-out ratio on the Group's 1H22 net earnings. GERL currently trades at only 2.3x FY21 P/E.
SGX IHS McCloskey Indonesian 4200kc GAR FOB Thermal Coal Futures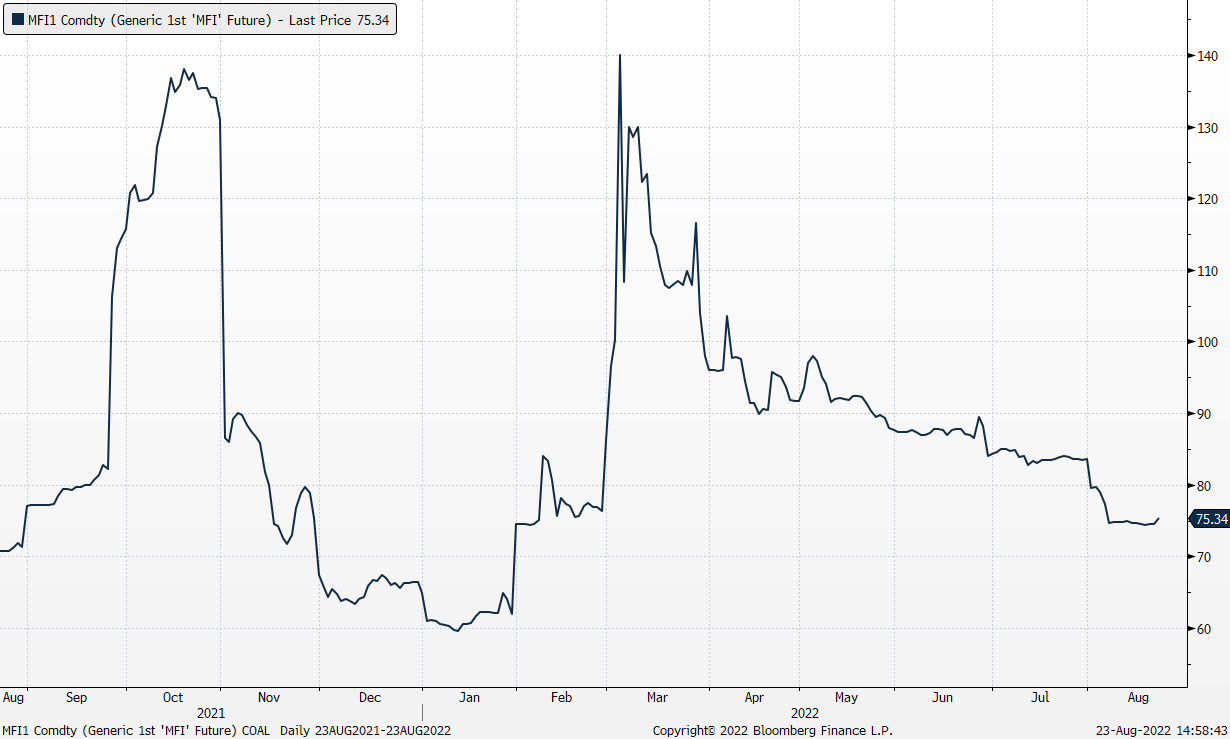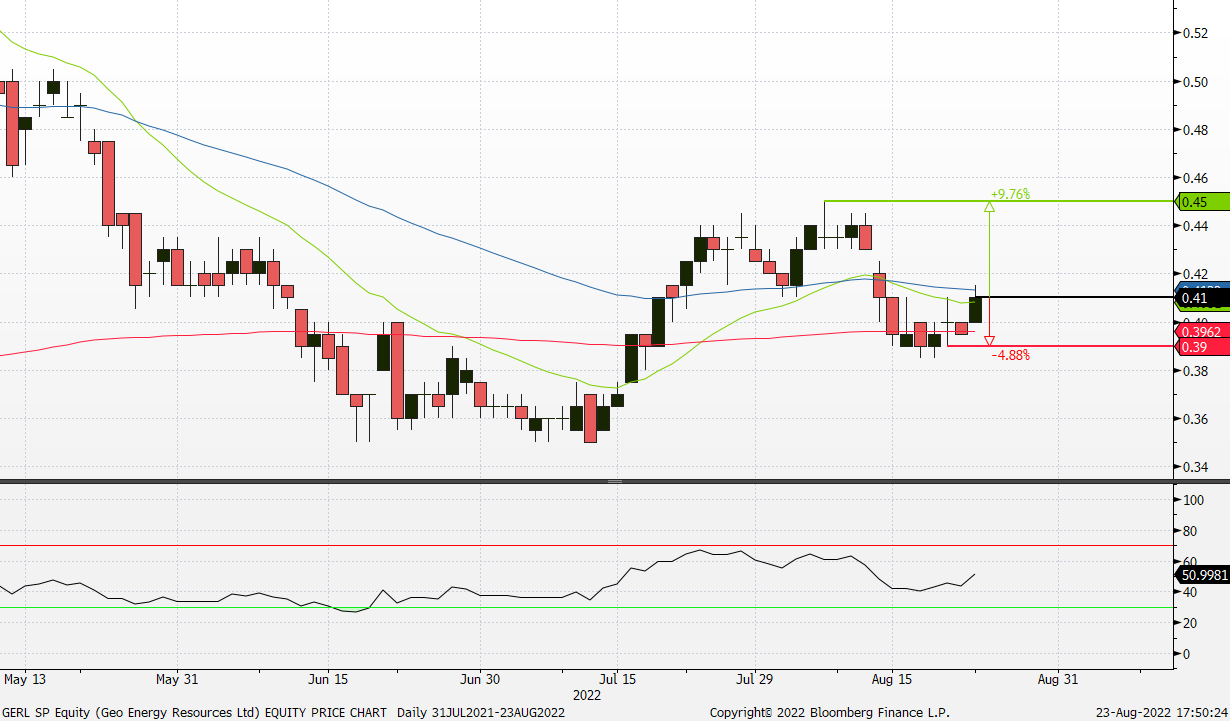 (Source: Bloomberg)

Bumitama Agri Ltd (BAL SP): Short-term rebound of palm oil
RE-ITERATE BUY Entry – 0.64 Target – 0.68 Stop Loss – 0.62
Bumitama Agri Ltd is an Indonesia-based producer of crude palm oil and palm kernel with oil palm plantations and mills located in three provinces of Indonesia, namely Central Kalimantan, West Kalimantan and Riau. Its primary business activities are cultivating and harvesting oil palm trees, processing fresh palm fruit bunches from its oil palm plantations, plasma plantations and third parties into crude palm oil and palm kernel, and selling crude palm oil and palm kernel.
Palm oil prices recovered from a two-week low. Futures for November delivery climbed as much as 1.6% to RM4,250, before closing at RM4,200 in Kuala Lumpur. Soybean oil, palm's closest substitute, rose as much as 1% in Chicago to snap two days of losses. The recovery of prices was also driven by bargain hunting as some buyers wanted to take advantage of Indonesia's export levy waiver until the end of August. Indonesia reduced the additional exports levy from US$200/tonne to zero for shipments between mid-July and end-August.
Stellar 1H22 earnings. Revenue jumped by 64.9% YoY to IDR8,968,347 mn. Gross profit surged by 223.8% to IDR3,772,241mn. Gross profit margin was 42.1% in 1H22, compared to 21.4% in 1H21. Net profit attributable to the owners of the company soared by 350.1% YoY to IDR2,178,739mn. The stellar results were due mainly to an increase in the average CPO and PK sales price. CPO sales volume decreased by 6.5% YoY, resulting from delays in shipment arising from buyers' full tank capacity due to the export ban of cooking oil and its raw material imposed by Indonesia Government.
Updated market consensus of the EPS growth in FY22/23 is 76.8%/-31.3% YoY respectively, which translates to 4.0x/5.9x forward PE. Current PER is 3.6x. FY22F/23F dividend yield is 9.2%/6.6%. Bloomberg consensus average 12-month target price is S$0.83.
Crude palm oil prices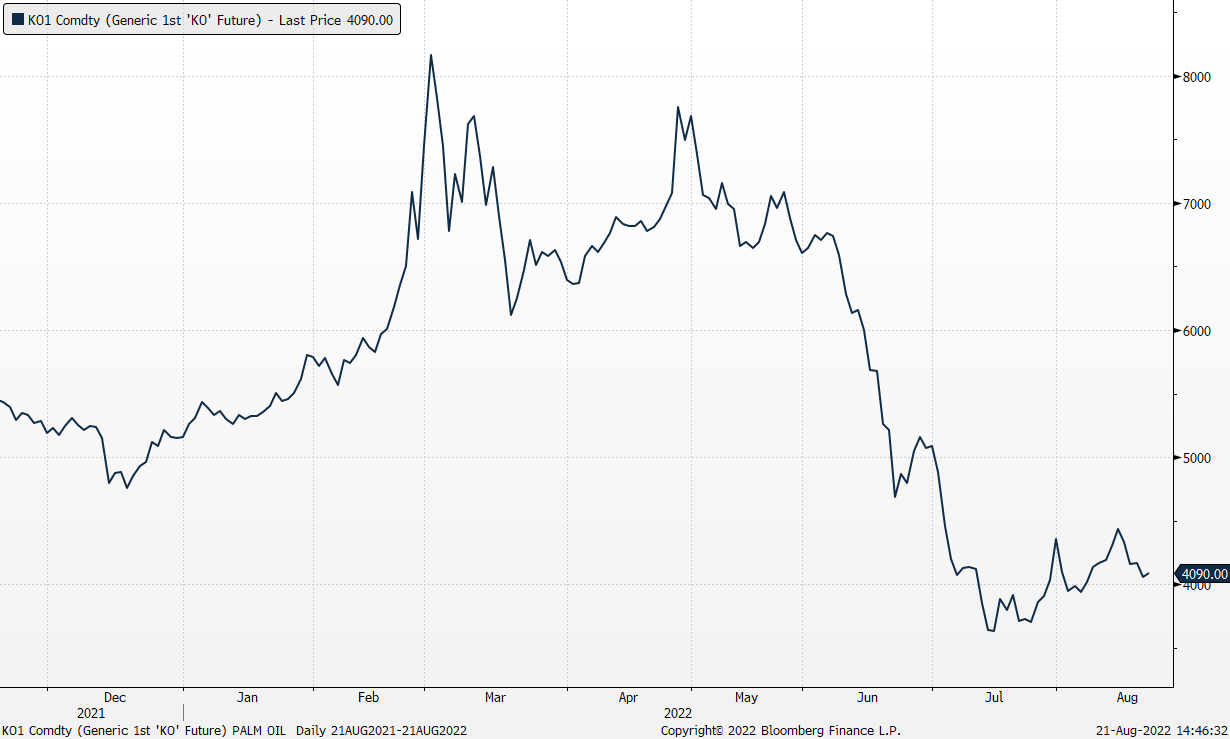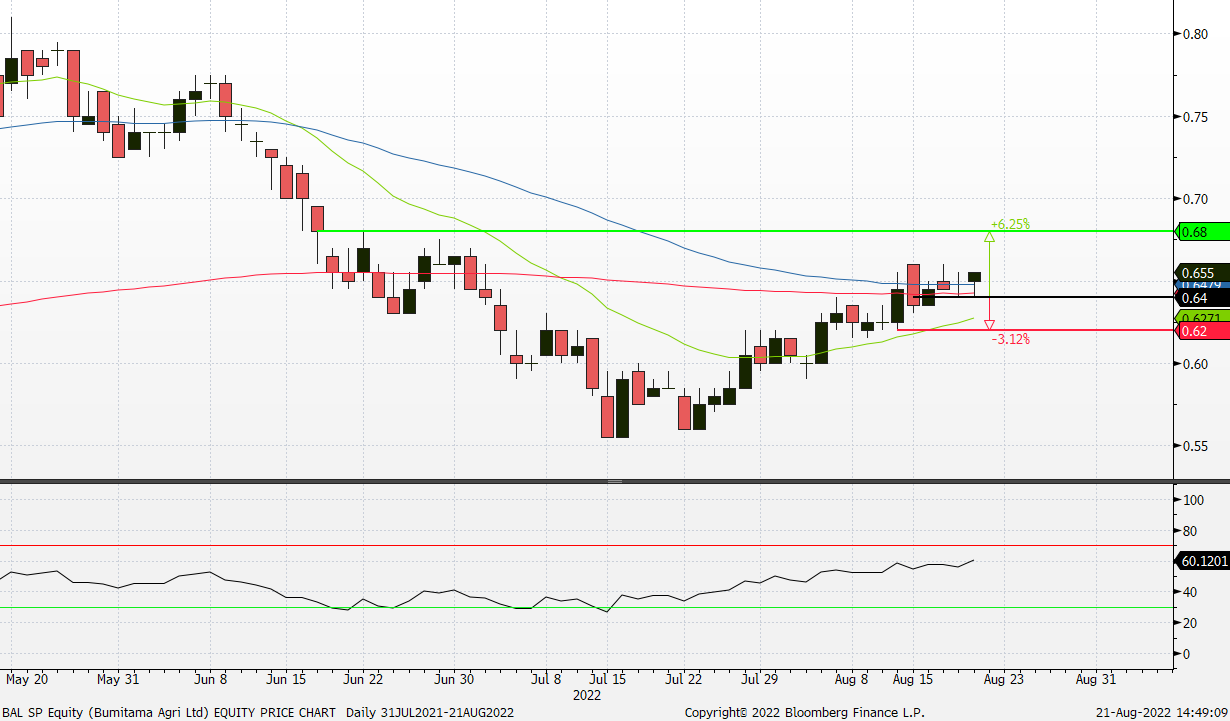 (Source: Bloomberg)


China Tourism Group Duty Free Corp Ltd (1880): A new largest IPO in Hong Kong YTD in 2022
IPO overview:

Sector: Consumer discretionary
Issued price: HK$158.0
Total new shares issued: 102.8mn
Initial market cap: HK$324.7bn
Subscription rate of the public tranche: undersubscribed
Sponsors: CICC, UBS
Listing date: 25th August Thursday
RE-ITERATE Buy Entry – 150 Target – 170 Stop Loss – 140
China Tourism Group Duty Free is the largest travel retail operator in the world focusing on sales of high-quality duty-free and duty-paid merchandise to travelers. Worldwide ranking by retail sales value has steadily over the past ten years, from the 19th in 2010 to the 12th in 2015, and further to the fourth in 2019 before reaching the first in 2020 and 2021, with 24.6% share of the global travel retail industry in 2021. The company is the only retail operator in China covering all duty-free sales channels (which include port stores, offshore stores, downtown stores, cruise stores, inflight stores and ship-supply stores). It has the most dutyfree stores in China. It operates 193 stores, including 184 stores in 100 cities across 28 provinces, municipalities and autonomous regions in China. It also operates 9 duty-free stores overseas in Hong Kong, Macau and Cambodia.
Financials overview over the past three years.
Use of proceeds. 48.8% of the proceed raised by China Tourism Group Duty Free's H-share listing is to reinforce domestic channels, and 22.5% of which is to expand overseas channels. The remaining 13.5%/10.0%/3.7%/1.5% is for supply chain efficiency improvement/working captial/marketing/information technology system upgrade respectively.
Valuations. According to Bloomberg, the consensus estimates of FY22/23 EPS growth is -1.54%/49.73%, translating to 38.9x/26.1x. The long-term average PER before COVID-19 occurred was 31.6x. Assuming FY22F net profit to be similar to the one in FY21. The fair valuation of the company will be RMB307.4bn, equivalent to HK$354.9bn based on the long-term average PER. Based on the listing price of HK$158, the initial market cap will be HK$324.7bn, and hence the potential upside is around 9.3%.
China Tourism Group Duty Free Corp Ltd (601888 CH) 10-year PER
China Resources Power Holdings Company Limited (836 HK): Heat wave stikes
China Resources Power Holdings Company Limited is a Hong Kong-based investment holding company principally engaged in the investment, development and operation of power plants. The Company operates through three segments. Thermal Power segment is engaged in the investment, development, operation and management of coal-fired power plants and gas-fired power plants, as well as the sales of heat and electricity. Renewable Energy segment is engaged in wind power generation, hydroelectric power generation and photovoltaic power generation, as well as the sales of electricity. Coal Mining segment is engaged in the mining of coal mines, as well as the sales of coal. The Company mainly operates businesses in China.
Worse heat wave in 60 years. Temperatures in several provinces routinely reached 40°C (104°F). In Sichuan, a regional manufacturing powerhouse that is home to more than 80 million people, the record heat wave has exacerbated an ongoing drought, cutting water levels at hydropower reservoirs in half this month. It is expected that the domestic power supply shortage could haunt again as hydropower generation falls. Coal-fired power generation will surge accordingly.
Net generation of subsidiary power plants edged up in July. Total net generation of subsidiary power plants in July 2022 increased by 8.0% YoY to 17,396.8GWh, among which, subsidiary wind farms decreased by 6.9% YoY to 2,273.2GWh, subsidiary photovoltaic plants remained flat YoY to 120.0GWh.
1H22 earnings review. Profit attributable to owners of the company decreased by 22.5% YoY to HK$4.370bn. Basic earnings per share for the period amounted to HK$0.91, and the company declared an interim dividend of HK$0.21. As at 30 June, the group had an operational generation capacity of 64,610MW and an attributable operational generation capacity of 50,018MW, including the attributable operational generation capacity of thermal power of 33,716MW or 67.4%; and the combined attributable operational generation capacity of wind, photovoltaic and hydropower of 16,302MW or 32.6%.
Updated market consensus of the EPS growth in FY22/23 is 281.6%/29.4% YoY respectively, which translates to 8.5x/6.6x forward PE. Current PER is 91.2x. FY22F/23F dividend yield is 4.7%/6.6%. Bloomberg consensus average 12-month target price is HK$20.7.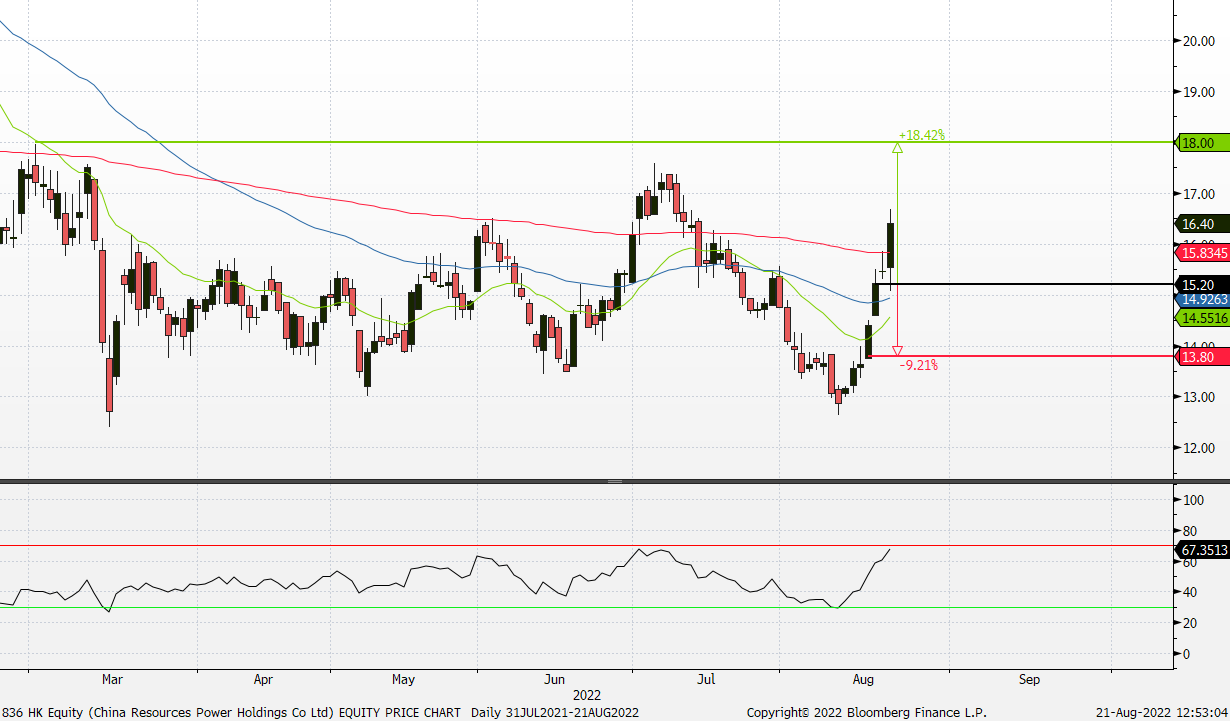 United States
Top Sector Gainers
Top Sector Losers
Snowflake Inc. (SNOW US) surged 23.1% after beating Wall Street's revenue estimates in the recent quarter. The cloud data platform provider said product revenue grew 83% year-over-year.
Peloton Interactive Inc (PTON US) plunged 18.3% after the company reported quarterly results Thursday showing a wider-than-anticipated loss and declining revenue. The company also did not give an outlook for its next fiscal year.
Figs Inc (FIGS US) jumped 17.9% after billionaire investor Ron Baron said on CNBC's "Squawk Box" that he's been buying shares of the medical apparel company. Baron called it the "Lululemon of health care," referring to one of the fastest-growing apparel stocks of the past decade.
Dollar Tree Inc (DLTR US) slumped 10.2% after the company cut its forecast for the full year, citing attempts to offer competitive pricing. The company beat on earnings estimates but reported revenue that fell in line with Wall Street's expectations.
Salesforce Inc (CRM US) dropped 3.4% after the company gave a disappointing forecast for fiscal 2023. Salesforce did report earnings and revenue that topped analysts' estimates, while approving a $10 billion stock buyback program, a first for the company.
Singapore
Y Ventures Group Ltd (YVEN SP) rose 65.2% yesterday. The Board of Directors of Y Ventures announced that its investment in Toyrrential Pte Ltd is in a net liability position and the company is also exploring the sale of its commercial unit at 46 East Coast Road #09-06 Eastgate Singapore 428766. The valuation of the Property is approximately S$1,950,000 as at 10 January 2022.
Asiaphos Ltd (APHOS SP) continued to rise 12.9%, after previously announcing that the Company and its wholly owned subsidiary, Norwest Chemicals Pte Ltd have received confirmation of its agreement with a US based Fund that will provide non-recourse funding in respect of the Group's pending international investment arbitration against the People's Republic of China.
NIO Inc (NIO SP) rose 7.2% yesterday. NIO stock rebounded firmly from two-month lows and reversed the previous decline, tracking the recovery in major Wall Street indices. An upswing in the consumer and tech stocks led a rebound in broader markets. Investors cheered the additional economic stimulus announced by China, worth CNY1 trillion, to bolster growth.
Rex International Holding Ltd (REXI SP) rose 6.1% yesterday. Oil prices rose in early Asian trade on Wednesday after Saudi Arabia suggested the Organisation of the Petroleum Exporting Countries could consider cutting output, though bearish economic signals from central bankers and falling equities weighed. Both crude oil benchmark contracts touched three-week highs on Wednesday after the Saudi energy minister flagged the possibility of cutting production.
Marco Polo Marine Ltd (MPM SP) rose 5.6% yesterday. It was recently announced that Lee Wan Tang, the former executive chairman of SGX-listed Marco Polo Marine, has entered into a share purchase agreement on Aug 21 to acquire 121.8 million shares in the company at 3.3 cents apiece. The transaction is expected to be completed on or before Oct 31. Following the purchase, Lee will hold a direct stake of 148 million shares, or 4.19% of the company's total share capital, from 0.75% previously.
Hong Kong
Top Sector Gainers
Top Sector Losers
JD.com Inc (9618 HK) continued to rise on the second day after the results, rising by 11.0% yesterday. Goldman Sachs said that JD.com's quarterly results significantly beat expectations, and management remains confident in its long-term growth potential. Credit Suisse raised the company's 2022-24 profit forecast by 16%-23% and raised the target price to HK$374.
China Mengniu Dairy Co Ltd (2319 HK) rose 9.2% after it released its interim results. In the first half of the year, the company achieved a net profit of 3.751 billion yuan, an increase of 27.3%. Goldman Sachs commented that the company's profit in the first half of the year was better than expected and maintained a "buy" rating.
Baidu Inc (9888 HK) shares rose 9.2% yesterday. Macquarie released a research report saying that Baidu's search advertising is expected to gradually recover from Q1 in 2023, which will be its main share price catalyst. The budget for search advertising will remain relatively stable as advertisers try their best to improve advertising efficiency. In addition, new businesses in the cloud and smart driving will drive long-term growth and are in line with national strategic development. It is estimated that non-advertising revenue will account for about 40% of core revenue in 2024, compared with 22% last year. The bank gave Baidu an "outperform" rating with a target price of HK$185.
Yankuang Energy Group Co Ltd (1171 HK) shares rose 9.1% along with the coal stocks. Northeast Securities said that EU coal imports accounted for 10.4% of the global seaborne coal trade carrying capacity during the same period, and Europe's ban on importing Russian coal was equivalent to a 3.3% reduction in market supply, while the top two coal exporters, Indonesia and Australia, were basically producing at full capacity. The tight supply and demand in the global coal market is expected to catalyse a further rise in coal prices.
JD Health International Inc (6618 HK) shares rose 8.1% yesterday. On the evening of August 23, JD Health released its interim results. In 22H1, the company's revenue increased by 48.3% year-on-year; Non-IFRS net profit was 1.21 billion yuan, a year-on-year increase of 82.0%, exceeding market expectations. UBS commented that the company's performance in the first half of the year was better than the market and the bank's expectations, because the revenue growth and profitability were better than expected, and investors believed that there would be a positive reaction. Maintain "Buy" rating and target price of HK$70.
Trading Dashboard Update: No stocks additions/deletions.