25 November 2022: Genting Singapore Ltd (GENS SP), China National Building Material Company Limited (3323 HK)
Singapore Trading Ideas | Hong Kong Trading Ideas | Market Movers | Trading Dashboard
Genting Singapore Ltd (GENS SP): The year-end holiday season coming
Genting Singapore is best known for its award-winning flagship project Resorts World Sentosa, one of the largest fully integrated destination resorts in South East Asia. Genting Singapore is one of the constituent stocks of the FTSE Straits Times Index. The principal activities of Genting Singapore and its subsidiaries are in developing, managing and operating integrated resort destinations including gaming, hospitality, MICE, leisure and entertainment facilities.
Pent-up demand for travel. Singapore's international visitor arrivals rose for the ninth straight month, since the start of the pandemic, hitting a record of 816,758 tourists in October, according to the Singapore Tourism Board's latest figures. Genting Singapore owns and operates Resorts World Sentosa (RWS) Integrated Resort which comprises six luxury hotels, a world-class convention centre, Universal Studios Singapore, a casino, and the S.E.A Aquarium and Adventure Cove waterpark. With more tourists coming to Singapore, RWS is a location that they are sure to visit as it consists of some main attractions in Singapore.
Loosening of restrictions. Additionally, with the relaxation of Covid restrictions, more locals are able to visit RWS for a day of fun or even stay for a weekend. Furthermore, large-scale events such as international conferences and Halloween Horror Nights can once again be held with the loosened safe management measures and increased operating capacity.
RWS 2.0 expansion. Genting Singapore's $4.5 billion mega expansion of RWS is proceeding expeditiously as planned. RWS will add two new zones to Universal Studios Singapore – Minion Park and Super Nintendo World – as well as a new oceanarium. The Oceanarium will be three times the size of the SEA Aquarium and encompass a research and learning centre. RWS will also refurbish the Hard Rock Hotel Singapore, Hotel Michael and Festive Hotel, which have around 1,200 rooms in all, in phases from the second quarter of 2022 through 2023. Festive Hotel will be refashioned into a business-leisure and work-vacation hotel, while the Resorts World Convention Centre will be refurbished.
3Q22 results. Genting reported a significant improvement in its 3Q results ended in September. For the period, earnings reached $135.8 million, versus $60.7 million in the year-earlier; revenue in the same quarter was $519.7 million, more than double $251.5 million in 3QFY2021, led by increases in both gaming and non-gaming revenue. Non-gaming revenue soared 144.3% YoY to S$137.3 million.
Updated market consensus of the EPS growth in FY22/23 is 92.9%/58.9% YoY respectively, which translates to 30.0x/18.5x forward PE. Current PER is 58.5x. Bloomberg consensus average 12-month target price is S$0.96.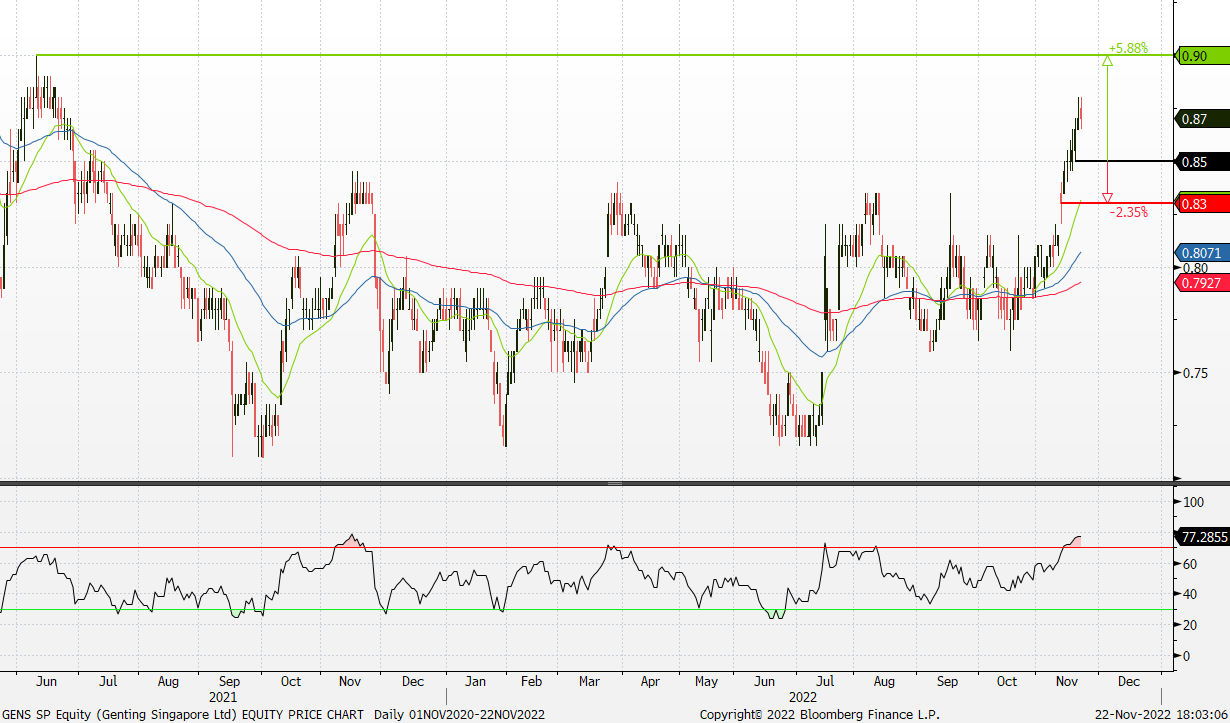 (Source: Bloomberg)

Thai Beverage PCL (THBEV SP): An SG-listed FIFA World Cup-themed stock
Thai Beverage Public Company Limited is Thailand's largest and leading beverage producer and distributor. Its operation is considered among the leading distillers and brewers and in Southeast Asia. ThaiBev's leading products include a variety of well-established spirits brands, including its famous brew Chang Beer. In the non-alcoholic beverage category, key products include water, tonic soda, energy drink, ready-to-drink coffee and green tea.
FIFA World Cup. With the FIFA World Cup happening from 20 Nov to 18 Dec, many football fans will have their eyes on the 64 matches among 32 qualified national teams, streamed globally. Many fans enjoy drinking while watching the games streamed over live television. During this FIFA season, alcohol sales are expected to rise as fans go to various establishments to watch the matches.
Relaxed Covid measures. With the relaxation of Covid-19 measures globally, there has been an increase in social activity, leading to an increase in the consumption of both alcoholic and non-alcoholic drinks. Nightlife has also resumed, contributing to the increase in the consumption of beverages.
Consumer staple. Their extensive beverage range ensures that there is still demand for their products despite inflation. Consumers will still purchase their products but maybe in smaller quantities as compared to before.
3Q22 results. Their nine months sales revenue increased 8.2% YoY to BAHT207,922M and EBITDA rose 6.7% YoY to BAHT39,110M.
Updated market consensus of the EPS growth in FY22/23 is 14.85%/6.23% YoY respectively, which translates to 14.5x/13.7x forward PE. Current PER is 15.4x. Bloomberg consensus average 12-month target price is S$0.83.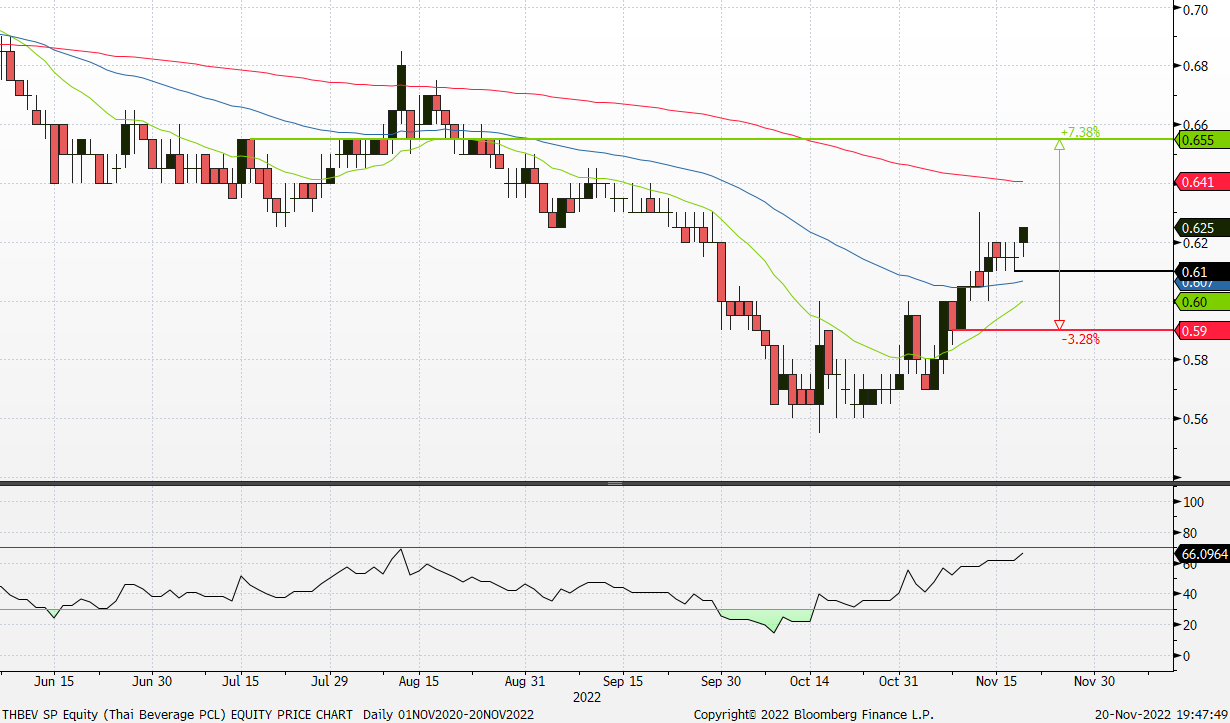 (Source: Bloomberg)


China National Building Material Company Limited (3323 HK): Infrastructure expansion to revive growth
RE-ITERATE Buy Entry – 6.35 Target –7.00 Stop Loss – 6.00
China National Building Material Company Limited is an investment holding company. The Company operates its business through four segments. The Cement segment is mainly engaged in the production and sale New Suspension Preheater (NSP) cement and commercial concrete. The Lightweight Building Materials segment is mainly engaged in the production and sale of dry wall and ceiling system. The Glass Fiber and Composite Materials segment is engaged in the production and sale of rotor blades, glass fiber and composite materials. The Engineering Services segment is engaged in the provision of engineering services to glass and cement manufacturers, as well as equipment procurement business.
Resort to the most effective growth driver to restart China's economic growth. China is suffering from another wave of Covid cases spike right now. Even though the central government relaxed some of the Zero Covid measures, the restrictive lockdowns are back in the high-risk regions. Accordingly, the slowdown in economic growth is expected to extend throughout 4Q22. The softness in domestic consumption, fixed asset investment, and exports will not turn in the near term, and the last resort is government spending. Previously, the authority had announced 16 measures to support the property market. Once the winter season is gone and the Covid outbreak tapers, construction projects will resume. In a nutshell, infrastructure is the main driver for China to revive economic growth.
3Q22 earnings review. 9M22 total operating revenue decreased by 13.1% YoY to RMB171.3bn. Net profit attributable to the owners of the company decreased by 48.5% YoY to RMB7.0bn. The fall of performance reflected the slowdown in infrastructure development due mainly to lock-down measures.
The updated market consensus of the EPS growth in FY22/23 is -34.1%/22.9% YoY, respectively, translating to 4.4×/3.6x forward PE. FY22F/23F dividend yield is 7.4%/9.6% respectively. The current PER is 3.44x. Bloomberg consensus average 12-month target price is HK$9.18.
(Source: Bloomberg)

Jiangxi Copper Company Limited (358 HK): The turning point emerges
RE-ITERATE BUY Entry – 10.5 Target – 11.5 Stop Loss – 10.0
Jiangxi Copper Company Limited is a China-based company, principally engaged in the mining, smelting and processing of copper. The Company is also engaged in the extraction and processing of precious metals and dissipated metals, sulfur chemical industry business, and financial and trading businesses. The company's products include cathode copper, gold, silver, sulfuric acid, copper rods, copper foils, selenium, tellurium, rhenium, bismuth and others. The Company mainly conducts its businesses within Mainland China and Hongkong.
China to bail out property market. The People's Bank of China and the China Banking and Insurance Regulatory Commission on Friday jointly issued a notice to financial institutions laying out plans to ensure the "stable and healthy development" of the property sector. The notice includes 16 measures that range from addressing the liquidity crisis faced by developers to loosening down-payment requirements for homebuyers. Meanwhile, developers' outstanding bank loans and trust borrowings due within the next six months can be extended for a year, while repayment on their bonds can also be extended or swapped through negotiations. The authorities also told the nation's second-tier banks to dole out another RMB 400bn (US$56bn) of financing for the property sector in the final two months of the year.
Copper price stablised and dollar index fell. Yesterday, shanghai copper futures closed at RMB64,990/tonne, and the dollar index pulled back to 105.9, a mid-August level. US October inflation was better off, beating the market estimates. Meanwhile, China signalled a gradual reopening and a bailout of the property market. Both catalysts are a turning point for the commodities market as both positive pricing and demand factors are expected to uphold the near-term recovery of the metal market.
3Q22 earnings review. 3Q22 operating revenue grew by 2.2% YoY to RMB112.9bn. Net profit attributable to shareholders of the company dropped by 13.8% YoY to RMB1.3bn. 9M22 operating revenue grew by 9.2% YoY to RMB368.2bn. Net profit attributable to shareholders of the company increased by 4.9% YoY to RMB4.8bn.
The updated market consensus of the EPS growth in FY22/23 is -3.8%/-23.8% YoY respectively, which translates to 6.2x/8.1x forward PE. The current PER is 5.7x. Bloomberg consensus average 12-month target price is HK$11.36.


United States
Top Sector Gainers
Top Sector Losers
Hong Kong
Top Sector Gainers
Top Sector Losers
Trading Dashboard Update: Take profit on CNOOC (883 HK) at HK$10.2. Cut loss on Tsingtao Brewery (168 HK) at HK$64.5.