25 March 2022: ComfortDelGro (CD SP), Xtep International Holdings Ltd (1368 HK)
Singapore Trading Ideas | Hong Kong Trading Ideas | Market Movers | Trading Dashboard
SINGAPORE
ComfortDelGro (CD SP): Singapore reopens
BUY Entry – 1.48 Target – 1.62 Stop Loss – 1.42
CD is one of the largest land transport companies in the world, operating in seven countries and with a global network of over 40,000 vehicles. The company's businesses include bus, taxi, rail, car rental and leasing, automotive engineering, inspection and testing services, drive centres and outdoor advertising. Singapore is the largest contributor of revenue, making up 55% in FY2020, followed by UK/Ireland (23% of total revenue), Australia (19%) and China (4%).
Singapore reopens. The Singapore government yesterday announced that all vaccinated travellers can enter Singapore without quarantine from the first of April. Travellers will no longer be required to take only designated flights to enter Singapore quarantine-free, and will not have to take the antigen rapid test (ART) within 24 hours of arrival. This latest round of easing will make travelling as seamless as it was before the pandemic.
Freedom. On the domestic front, up to 75% of workers can return to their workplaces, while social gatherings will increase up from the 5 maximum limit to 10. This should lead to an increase in daily commuters and benefit CD's extensive taxi fleet.
Positive street view and attractive valuations. There are currently 9 BUYS and 2 HOLDS, and a 12m average TP of S$1.75 (implying a return of 18% from the last close price). CD trades at 16x FY2022F P/E and only 4.6x FY2022F EV/EBITDA, which is among the cheapest of the transport-related stocks listed in Singapore.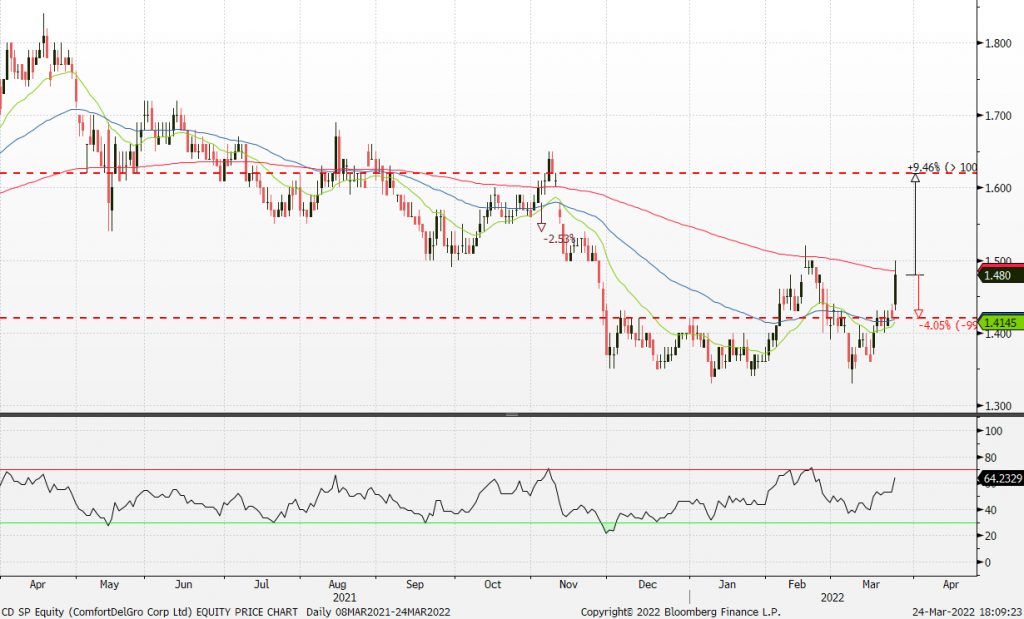 ---
Geo Energy (GERL SP): Riding the super cycle
RE-ITERATE BUY Entry – 0.51 Target – 0.56 Stop Loss – 0.48
Valuable coal. GERL owns four coal mining concessions in Indonesia. The group reported a JORC VALMIN valuation of US$726mn for its coal reserves (as at 31 August 2021), and had cash of US$191mn (as at end-Dec 2021). This compares favourably against its current market capitalisation of around US$543mn (S$733mn).
A great year…The group reported its highest coal volume sales of 11.4mn tonnes in 2021, which generated sales of US$642mn (+109% YoY) and net profit of US$179mn. This was mainly on the back of higher coal prices as ICI4 rose and averaged US$65.85 in 2021.
…and an even greater year ahead. Indonesia's coal miners are expected to benefit from the tight supply amid the disruptions to Russian supply due to sanctions. The ICI4, Indonesia's coal benchmark for 4,200 GAR coal is once again trading above US$100 per tonne. (see coal price chart below)
Juicy dividends and cheap valuations. GERL will be paying out a final dividend of 5.0 Sing cents, which is pending approval at the upcoming AGM. This brings total full-year 2021 dividends to 9.0 Sing cents, or US$93.5mn. GERL currently trades at
SGX IHS McCloskey Indonesian 4200kc GAR FOB Thermal Coal Futures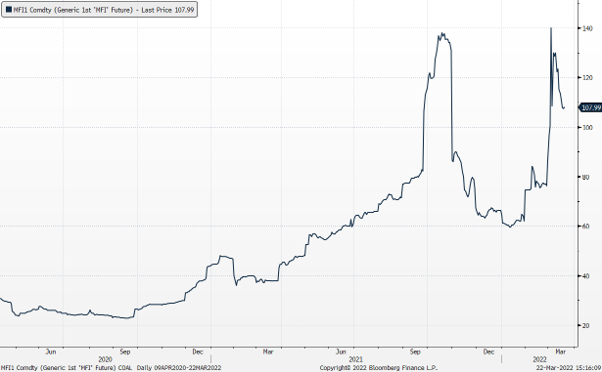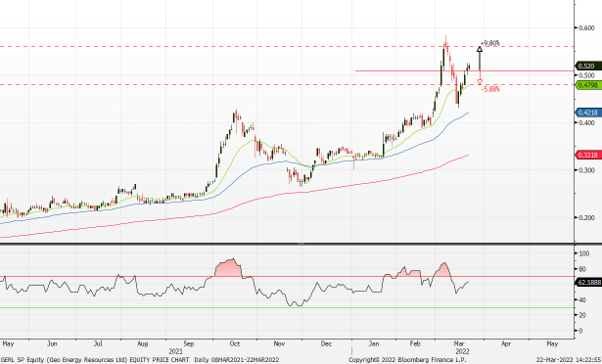 ---
HONG KONG
Xtep International Holdings Ltd (1368 HK): Exercise more after reopening
RE-ITERATE BUY Entry 11.8 – Target – 13.5 Stop Loss – 11.0
Xtep International Holdings Limited engages in the design, development, manufacture, sale, and marketing and brand management of sports footwear, apparel, and accessories. The company sells its products primarily under the XTEP brand, as well as Palladium, K-Swiss, Saucony, and Merrell brand names. It is also involved in the trading of sportswear products.
Outstanding FY21 earnings. The company announced its FY21 annual results last week. FY21 is the highest record year for the company. Revenue 22.5% YoY to RMB10bn. Gross profit jumped by 30.6% YoY to RMB4.2bn. Profit attributable to ordinary equity holders jumped by 77.0% YoY to RMB908.3mn. Gross profit margin increased by 2.6 ppts to 41.7%. Net profit margin increased by 2.8 ppts to 9.1%.
A solid customer base is established. The Summer and Winter Olympic Games in 2021/22 have helped domestic sportswear brands to gain more market shares from International brands such as Nike and Adidas. Once the customer base is established, the company is expected to have stable growth due to brand loyalty and user stickiness.
Lockdowns are actually a buying opportunity. China is experiencing a surge in COVID cases and ensuing lockdowns of cities. However, this will generate pent-up demand for outdoor activities afterwards. In November, there will be another international sports event tantamount to the Olympic Games, the FIFA World Cup Qatar 2022. Sportswear companies are expected to enjoy another shopping spree in both the near term and mid-term.
Updated market consensus of the EPS growth in FY22/23 is 24.3%/24.4% YoY respectively, which translates to 22.1x/17.8x forward PE. Current PER is 27.5x. Bloomberg consensus average 12-month target price is HK$14.91.
---
Trip.com Group Ltd (9961 HK): Pent-up summer travelling spree
BUY Entry – 190 Target – 230 Stop Loss – 170
Trip.com Group Limited, formerly Ctrip.com International, Ltd., is a travel service provider in China that provides accommodation booking, transportation ticketing, package tours and corporate travel management. The Company aggregates hotel and transportation information to help leisure and business travelers make reservations. The Company helps leisure travelers book travel packages and guided tours and helps corporate clients manage their travel needs. The Company also offers a range of travel-related services to meet the different booking and travel needs of leisure and business travelers, including visitor reviews, attraction tickets, travel-related financial services, car services, travel insurance services and passport services. The Company also offers package tours for independent leisure travelers, including tour groups, semi-tour groups and private groups, as well as package tours that require different transportation arrangements (such as cruise, buses or self-driving).
FY21 earnings review. On 24th March, the company announced its FY21 annual results. Net revenue (breakdown is shown below) increased moderately by 9% YoY to RMB20bn in FY21. Adjusted EBITDA dropped by 23.5% YoY to RMB1.3bn. Net loss attributable to company shareholders was RMB550mn compared to a net loss of RMB3.2bn in FY20. Non-GAAP net income attributable to company shareholders was RMB1.4bn in FY21 compared to a net loss of RMB913mn in FY20.
| | | | |
| --- | --- | --- | --- |
| Segment revenue (RMB bn) | FY21 | FY20 | YoY change |
| Accommodation reservation | 8.1 | 7.1 | 14.2% |
| Transportation ticketing | 6.9 | 7.1 | -3% |
| Package-tour | 1.1 | 1.2 | -11% |
| Corporate travel | 1.3 | 0.9 | 54% |
| Others | 2.5 | 1.9 | 30% |
Risk and opportunity. The recovery of the tourism sector in China shows strong resilience during the COVID-19 period. The three main waves of infections, namely Alpha, Delta, the current Omicron, resulted in instant lockdowns of cities. However, after the previous two infection waves tapered, the pent-up demand for travelling substantially helped the recovery of the businesses, especially during the ensuing golden week holiday seasons. At the moment, China is undergoing main cities lockdowns amidst rising COVID cases. If China manages to contain the spread, the company will see a surge in bookings in the upcoming May Day holiday and summer holiday.
Updated market consensus of the EPS growth in FY22/23 is 64.0%/145.1% YoY respectively, which translates to 43.7x/17.8x forward PE. Bloomberg consensus average 12-month target price is HK$255.2.
---
MARKET MOVERS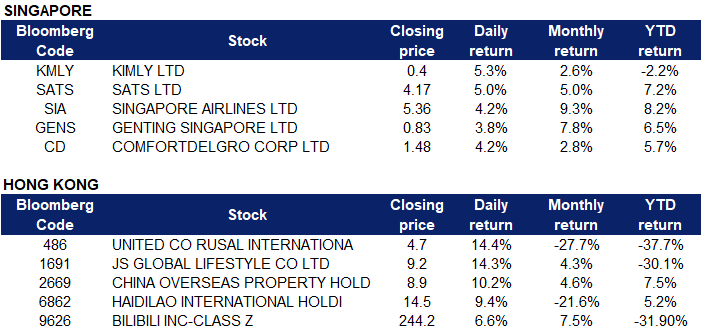 ---
Singapore
Kimly Ltd (KMLY SP) shares rose 5.3% yesterday. Recently, RHB Group Research analyst Jarick Seet has kept his "buy" call on Kimly with an unchanged target price of 46 cents after the coffee shop operator decided not to engage former executive chairman Lim Hee Liat and former executive director Chia Cher Khiang as its independent consultants. In his report dated March 15, Seet remains positive on Kimly's outlook as he sees the resolving of Lim and Chia's case with the commercial affairs department (CAD) as "a new era". "From the recent privatisation of its peer Koufu at 16x FY2022 P/E, Kimly is now trading at a much lower 11x FY2022 P/E," notes the analyst. "Due to its acquisition of Tenderfresh as well as its further plans to expand the number of its coffee shops, we remain positive on the group."
SATS Ltd (SATS SP), Singapore Airlines Ltd (SIA SP) and Genting Singapore Ltd (GENS SP) shares rose 5%, 4.3% and 3.8% respectively yesterday after announcement that Singapore will reopen its borders to all fully vaccinated travellers, removing all existing vaccinated travel lanes (VTL) and unilateral opening arrangements from Apr 1. Instead, it will transition to a new simplified travel framework – the vaccinated travel framework – where countries and regions will be classified into two categories – general travel or the restricted category. Gatherings will be doubled from the current five persons to 10 people for mask-off activities and the capacity limit for larger events and settings – those with more than 1,000 people – will be raised to 75%.
ComfortDelgro Corp Ltd (CD SP) shares rose 4.2% yesterday. ComfortDelGro is planning to gradually remove rental discounts for taxi drivers as it waits to see the impact of the fare hike for taxi businesses, which will take effect on 1 March, on taxi drivers' earnings, according to RHB. RHB, meanwhile, maintained that the reopening of Singapore's economy and borders will back the land transport firm's earnings recovery. Also, RHB added that re-rating catalysts should stem from higher ridership from CD's rail business, eventual discontinuation of rebates offered to Singapore taxi drivers as well as higher earnings from overseas operations in Australia and the UK.
---
Hong Kong
Top Sector Gainers
Top Sector Losers
United Co Rusal International (486 HK) shares rose 14.4% yesterday after Russia announced that the Moscow Exchange will resume trading of 33 stocks and foreign short-selling is prohibited. In addition, the London Metal Exchange (LME) said on Tuesday (March 22) that it has no plans to ban metals from Russian producers, such as Nickel and copper from Norilsk Nickel, or aluminium from Rusal.
JS Global Lifestyle Co Ltd (1691 HK) shares rose 14.3% yesterday after Industrial Securities released a research report with a BUY rating on the company and a target price of HK$15. The securities firm said that JS Global Life is increasing its research and development speed and market expansion. It is expected that the company's adjusted net profit from 2021 to 2023 will increase 20.7%, 23.6% and 27.5% YoY respectively, and its current value is understated.
China Overseas Property Holdings Ltd (2669 HK) shares rose 10.2% yesterday after announcing that its 2021 profit beat expectations. The company's 2021 revenue was HK$9.44bn versus HK$6.54bn in the previous year. Healthy operating metrics underscored the company's solid results. Managed gross-floor-area rose 39% to 260 million square metres. Of the new floor area acquired in 2021, 66% was acquired from independent third parties, signalling its ability to look beyond its parent developer to fuel growth. Analysts hold a broadly positive view on the company. Nine of 13 analysts covering the company rate China Overseas Property as a buy with an average target price of HK$9.64.
Haidilao International Holding Ltd (6862 HK) shares rose 9.4% yesterday. The company recorded revenue of RMB 41bn in FY2021, a YoY increase of 43.7%. However, the company incurred overall losses of RMB 4.16bn, compared to the previous period where it was profitable. This was due to one-off expenses and impairment losses arising from the closure of stores in 2021 and the disposal of long-term assets. Executive director of Haidilao, Yang Lijuan, the CEO who just took office in March, told Zhongxin Finance that the overall turnover rate of Haidilao has been improving MoM in recent months.
Bilibili Inc (9626 HK) shares extended their gains and rose 6.6% yesterday after the company announced a motion to pursue the voluntary conversion to dual-primary listing on the main board of the Hong Kong Stock Exchange. After the primary conversion, Bilibili will become a dual-listed company on HKEX's mainboard and Nasdaq Global Select Market, with the price of shares on two different exchanges being exactly the same after accounting for the exchange rate.
---
Trading Dashboard
Trading Dashboard Update:  No additions or deletions to trading dashboard.

(Click to enlarge image)
---