KGI DAILY TRADING IDEAS – 25 August 2021
Singapore Trading Ideas | Hong Kong Trading Ideas | Market Movers  | Trading Dashboard
SINGAPORE
Golden Energy & Resources (GER SP): Fastest growing coal producer in Asia
BUY Entry – 0.27 Target –0.64 Stop Loss – 0.24
Resources play. Golden Energy and Resources (GEAR) is a diversified mining and natural resources investment company. Having its roots as one of Indonesia's largest coal miner, the group has since branched out into precious metals over the past four years. GEAR will further diversify into base metals that will be utilised for clean energy uses such as copper, cobalt, zinc and nickel.
Still growing. While other coal miners have plateaued or are reporting only single digit production growth, GEAR is expected to increase production by 30% over the next three years. GEAR, through its 50% owned Ravenswood Gold (Ravenswood) gold mine, is estimated to produce around 200koz of gold per annum by 2022. Its ASX-listed company Stanmore Resources Limited (Stanmore) will ramp up production to 2.4mn tonnes per annum of metallurgical coal in 2H2021.
The rise of Asia. It is consensus view that coal demand will decline in North America and Europe but will rise in Asia. Coal is expected to remain a major part of China's electricity generation beyond 2030, alongside growing capacity for renewables. In 2020, coal still dominated China's energy mix at 59% of market share, and Platts Analytics expects the country's coal-fired power generation to only peak by 2027. Therefore, coal demand in the world's largest coal consuming country will continue to grow from 2021 to until at least 2025.
Near term catalysts from sky high coal prices. The group is set to benefit in the second half given how resilient coal prices have been. Coal futures for the ICI 4 coal index (4,200 kcal GAR fob) rose to new 10-year highs amid supportive regional demand, notably from China and India, and limited supply.
We initiate with an Outperform recommendation and a DCF-backed target price of S$0.64. Read our full initiation report here.
ICI 4 (4,200 kcal GAR fob) coal price index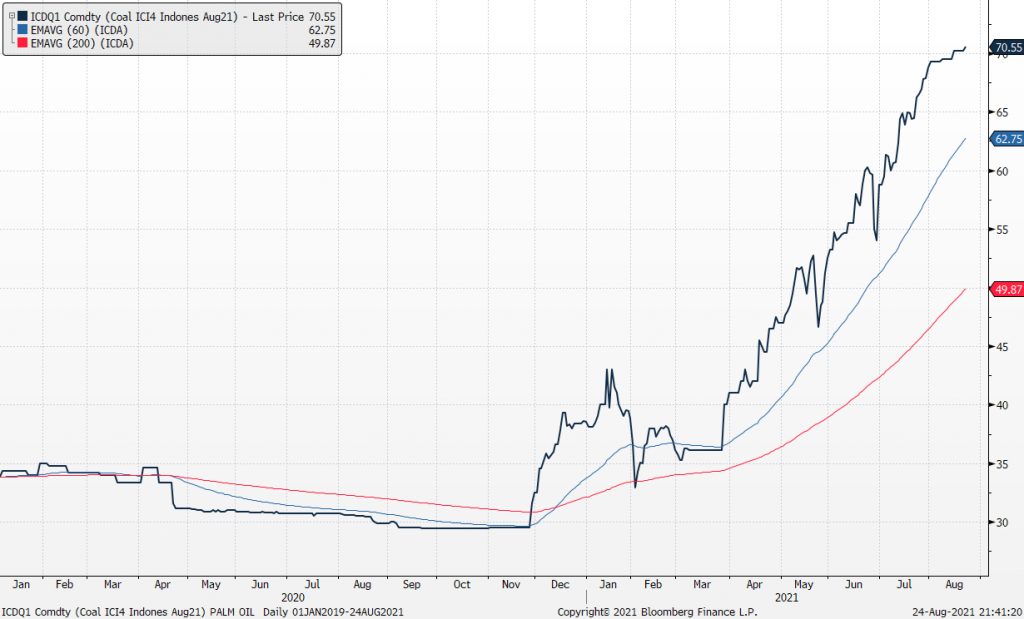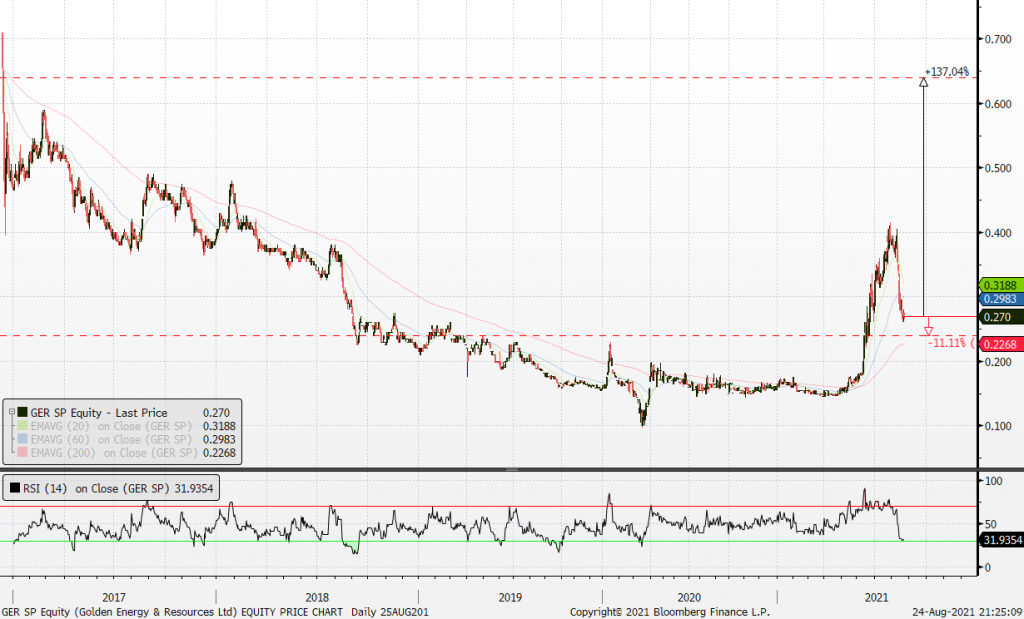 ---
ISDN (ISDN SP): Accelerating the pace of industrial automation
BUY Entry – 0.62 Target –0.85 Stop Loss – 0.55
ISDN is a leading provider of industrial automation solutions throughout Asia. The company has more than 10,000 customers, and 74 offices spanning key Asian growth markets, and has a 35-year history of innovating alongside the growing technology needs of its customers. Today, ISDN's solutions power advanced industrial sectors including semiconductors, Industry 4.0 manufacturing, medical devices, aerospace, and clean energy. The group generates around 68% of sales from China.
Record revenue and profits in 1H2021. ISDN 1H2021 rose 30% YoY to S$217mn while net profit surged 51% YoY to S$19mn. This was on the back of better gross profit margins which rose 2.1% points to 26.8%.
Growing productivity. ISDN has continued its strategic buildout by expanding its solutions portfolio to include industrial internet-of-things (IoT) connectivity, deepening advanced engineering, growing industrial systems projects, and advancing software and cloud solutions. Covid-19 and geopolitical tensions have reduced global labour mobility and increased employee health risk, leading to an acceleration in labour automation for the group's customer base.
Riding on semiconductor wave. ISDN is set to benefit further from its semiconductor segment, where the group's solutions power global semiconductor capital equipment and production.
Fundamental OUTPERFORM and TP to S$0.85. ISDN currently trades at only 6x forward EV/EBITDA, a significant discount to its international peers who are trading at around 10x EV/EBITDA.
Peer comparison table – Singapore technology manufacturers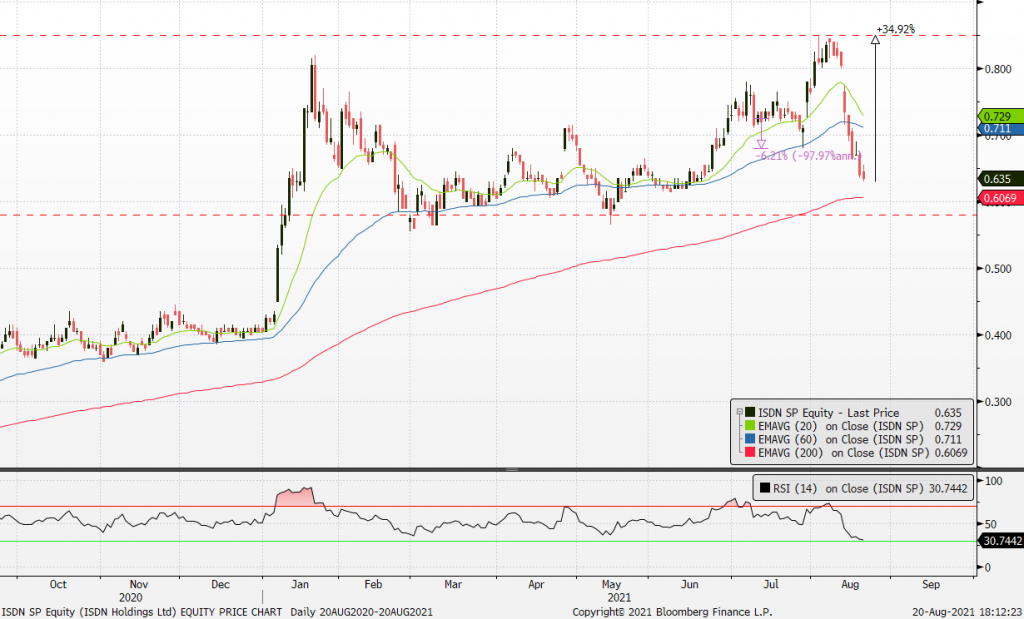 ---
HONG KONG
TRIP.COM (9961 HK): A trip heading north
BUY Entry – 220 Target – 247.8 Stop Loss – 208
Trip.com Group Limited, formerly Ctrip.com International, Ltd., is a travel service provider in China that provides accommodation booking, transportation ticketing, package tours and corporate travel management. The company aggregates hotel and transportation information to help leisure and business travelers make reservations. The company helps leisure travelers book travel packages and guided tours and helps corporate clients manage their travel needs. The company also offers a range of travel-related services to meet the different booking and travel needs of leisure and business travelers, including visitor reviews, attraction tickets, travel-related financial services, car services, travel insurance services and passport services. The company also offers package tours for independent leisure travelers, including tour groups, semi-tour groups and private groups, as well as package tours that require different transportation arrangements (such as cruise, buses or self-driving).
The new wave of COVID-19 outbreak in China is under control. Though summer vacation was ruined, this was factored in the recent sell-down of the stock. The pent-up traveling demand could boost the seasonal sales for the upcoming golden week (Mid-autumn festival and national day Holiday) in late September. The bearish sentiment for the technology sector could be over temporarily. In fact, the US-listed shares had bottomed out last week.
Inclusion in major indices. The stock was included in Hang Seng Tech Index and Hang Seng Composite Index, effective on 6th September.
Updated market consensus of the estimated growth for FY22 is 196.9%, which translates to 19.7x forward PE. FY21 EPS is expected to be HK$3.833 compared to -HK$0.214 in FY20. The FY21F PE is 58.4x. Bloomberg consensus average 12-month target price is HK$329.76.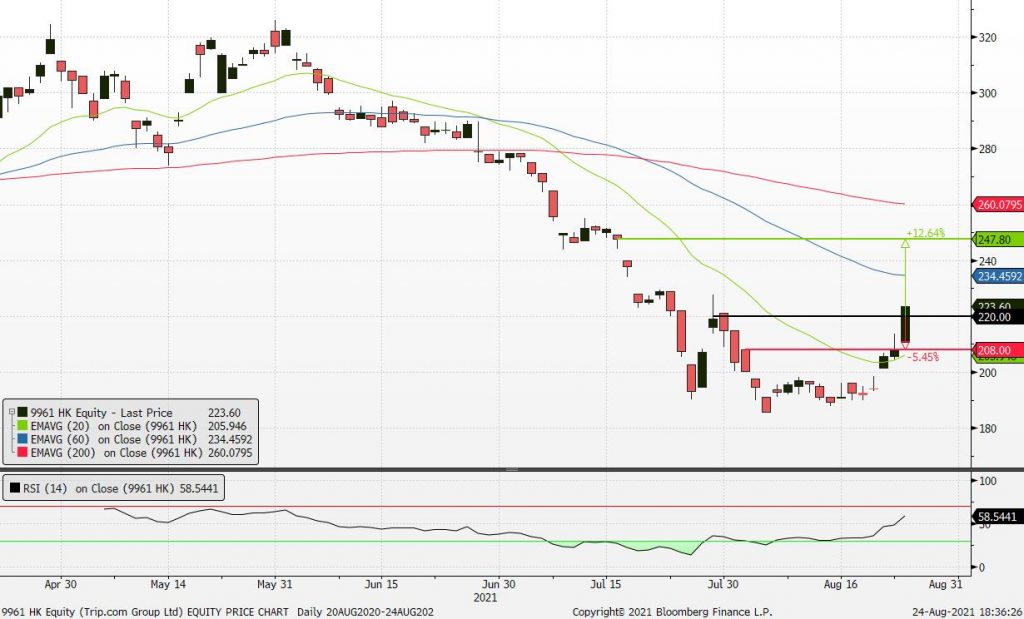 Chinasoft International Limited (354 HK): A tech company under a protective umbrella
BUY Entry – 12.5 Target – 14.5 Stop Loss – 14.5
Chinasoft International Limited is a Hong Kong-based investment holding company principally engaged in the provision of information technology (IT)-related services. The company operates through two segments. Technical Professional Services segment is engaged in the development and provision of solutions, emerging services and IT outsourcing services for banks and other financial institutions, telecommunication carriers and other multinational companies, including the sales of products. Internet IT Services segment is engaged in the development and provision of solutions and IT outsourcing services for government, tobacco industry and other small companies and training businesses.
The Ministry of Industry and Information Technology announced that total revenue of the domestic software sector grew by 23.2% YoY to RMB4.42tn, and net profit grew by 13.6% YoY to RMB500bn.
The recent prevailing crack-down on the technology industry has created panic among investors. However, the software sector, which is the subsector of the larger technology industry, was also mistakenly sold off. The regulations announced are mainly toward Internet and platform companies.
Chinasoft's businesses, meanwhile, are supportive of both traditional industries and new economy sectors. More importantly, it is one of the key themes that China's government is promoting – which is the domestic operating system (OS). Huawei has been developing the Harmony OS, the most promising domestic OS in China. Chinasoft is also engaged in the OS development as Huawei is its largest client.
Among all the big tech companies, Huawei is under national protection rather than regulatory crackdown. Therefore, Huawei-themed companies are another safe haven for investors to look for growth stocks.
Updated market consensus of the estimated net profit growth in FY21 and FY22 are 16.1% and 27.6% respectively, which translates to 24.2x and 19.0x forward PE. The current PE is 28.8x. Bloomberg consensus average 12-month target price is HK$19.68.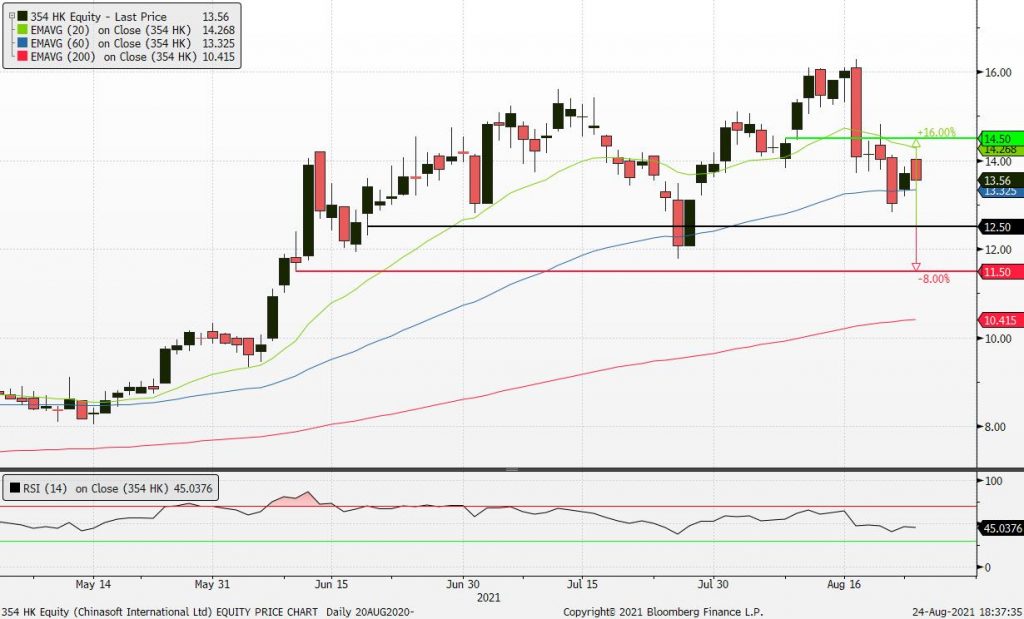 ---
Market Movers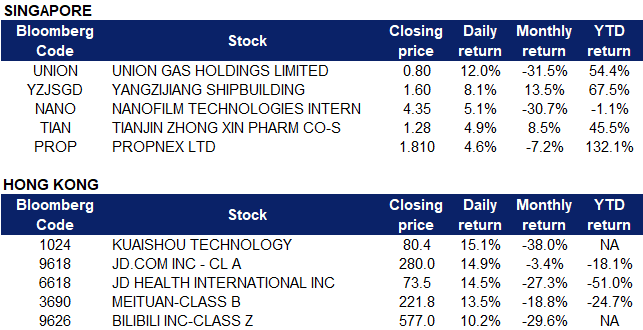 ---
Singapore
Union Gas Holdings Limited (UNION SP) Shares rose by 12% yesterday, even though there was no company specific news. The rally is likely a technical rebound as shares were broadly sold-off over the last 10 days, with RSI falling below 30. Shares of Union Gas declined by almost 40% from 12 August when its price reached an all-time high of S$1.24.
Yangzijiang Shipbuilding (Holdings) Limited (YZJSGD SP) Shares rose by 8.1% yesterday, even though there was no company specific news. Share price continued to rise from Monday, which could be due to industry positive news, as Chinese officials are forecasting that the strong growth in shipbuilding orders experienced in the first half of 2021 will continue for the remainder of the year. The Business Times featured Yangzijiang as a "Hot Stock" as it was the most actively traded by volume, with 77.9mn shares worth S$119.6mn changing hands. Analyst consensus rating currently stands at: 7 BUYS, 1 HOLD and 1 SELL, with a 12M TP of S$1.71, representing a 6.9% potential upside to yesterday's closing price.
Nanofilm Technologies Limited (NANO SP) Shares rose by 5.1% yesterday, even though there was no company specific news. Share price continued to recover from last Wednesday, following the major sell-off. Management provided an upbeat view for the second half of 2021. Among the highlights include: 1) within the Advanced Materials Business Unit, 3C segment revenue grew 17% YoY and the Automotive segment grew 103% YoY, despite the severe global supply chain disruptions, 2) 1H21 costs that were incurred for the new Shanghai Plant 2 and equipment qualification (~S$2.6mn) were largely capitalized under cost of sales, hence negatively impacting gross profit margin, and 3) the departure of CEO Mr Lee, announced on 23 June 2021, was due to health reasons.
Tianjin Zhong Xin Pharmaceutical Group Corporation Limited (TIAN SP). Shares rose by 4.9% yesterday and closed near the 5-year high, even though there was no company specific news. This could be due to a spillover effect as the company's Shanghai-listed shares surged by 8.2% yesterday.
Propnex Limited (PROP SP) Shares rose by 4.6% yesterday, likely on bargain hunting after a recent share price correction. According to data by the Council for Estate Agencies (CEA), PropNex and ERA Realty Network dominate Singapore's HDB resale and leasing market, accounting for 70% of total HDB resale transactions every year since 2017. On a separate note, Phillip Securities downgraded Propnex to ACCUMULATE from BUY, considering that the recent rally has priced in most of the positives. However, Phillip Capital raised Propnex's FY21E PATMI forecast by 53% to S$63.5mn as revenue was lifted by 77%. DCF TP for Propnex was increased from S$1.36 to S$2.08.
Trading dashboard: Remove Wilmar (WIL SP) at S$4.19.
---
Hong Kong
The Hong Kong market saw a huge rebound on Tuesday after a 2-week sell-off. The Hang Seng Index jumped by 618.33 points (+2.46%). Meanwhile, the Hang Seng Tech Index surged 424.91 points (+7.06%), the second largest single day gain in history. All the large cap technology stocks rebounded with close to or more than double digits gains. Southbound fund net flows was reported at HK$2.18bn.
JD.com Inc (9618 HK/JD US) released 2Q21 earnings on Monday night, with revenue in the quarter coming in better-than-expected. Revenue grew by 38% YoY to US$39.3bn. Adjusted EPS dropped by 10% YoY to US$0.45. Annual active customer accounts increased by 27% to 531.9mn for the 12-month period ending on June 30. Cathie Wood's Autonomous Technology & Robotics ETF (ARKQ US) bought 164,889 shares of JD on Monday, worth more than US$10mn.
Meanwhile, Tencent (700 HK) repurchased 230,000 shares at prices ranging from HK$432-443.8 with a total amount of HK$101mn on Monday. Previously, it repurchased 180,000 and 240,000 shares with a total amount of HK$178.7mn.
---
Trading Dashboard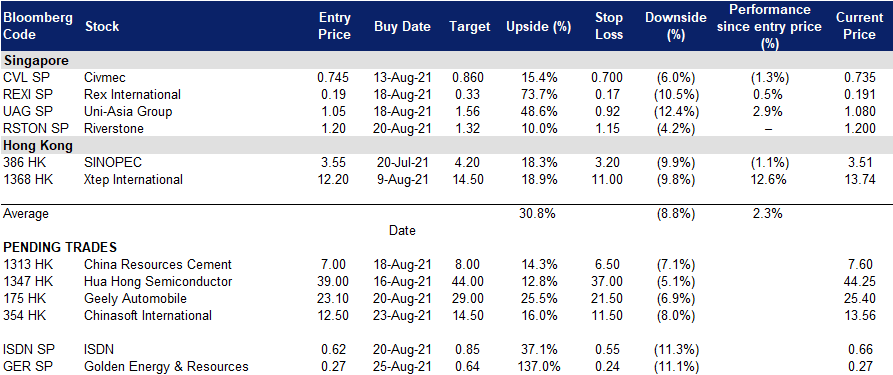 ---

---
Related Posts: