25 April 2022: Aztech Global (8AZ SP), Xinjiang Goldwind Science & Tech Co Ltd (2208 HK)
Singapore Trading Ideas | Hong Kong Trading Ideas | Market Movers | Trading Dashboard
SINGAPORE
Aztech Global (8AZ SP): IoT enabler
BUY Entry – 0.93 Target – 1.00 Stop Loss – 0.90
Aztech provides Original Equipment Manufacturer (OEM), Original Design Manufacturer (ODM), Joint Development Manufacturing (JDM) or Contract Manufacturing Services (CMS) services to brand owners sold under the label of the respective customers. The company distributes a wide range of IoT devices and Data-communication products sold under its proprietary "Aztech" and "Kyla" brands through channel partners and e-commerce platforms. In addition, the company manufactures a wide range of LED lighting products used in residential, commercial and industrial applications.
Missed expectations. On 18 April, Aztech posted 1Q results which missed expectations, making up only 15% of consensus full-year forecast. While the company posted a 10% YoY revenue increase to S$128mn and a 5% YoY increase in net profit to S$14mn, management said that inflationary cost pressure negated improvements in revenue and led to margin compression of between 60 to 110 bps for its net profit. Furthermore, Aztech's Dongguan factory was closed in March due to the Covid-19 restrictions.
Strong outlook. Aztech's strong order book of S$677mn as at end March 2022 puts it in a favourable position when Covid-19 restrictions start to loosen up in China. The company remains a locally-listed proxy for the high-growth Internet of Things (IoT) trend.
Positive consensus estimates and attractive valuations. There are currently 4 BUY recommendations and a 12m average TP of S$1.40, implying a 47% return from the last close price. Aztech trades at attractive valuations of 8x and 7x FY2022 and FY2023F, and offers a higher-than-average industry dividend yield of 4.4% and 5.2% in FY2022 and FY2023. Net cash of S$187mn as at end Dec-2022 makes up 25% of market cap.
Aztech Global (8AZ SP) (Source: Bloomberg)
---
Bumitama Agri Ltd (BAL SP): Palm oil prices on another run
RE-ITERATE BUY Entry – 0.83 Target – 0.88 Stop Loss – 0.80
Bumitama Agri Ltd is an Indonesia-based producer of crude palm oil and palm kernel with oil palm plantations and mills located in three provinces of Indonesia, namely Central Kalimantan, West Kalimantan and Riau. Its primary business activities are cultivating and harvesting oil palm trees, processing fresh palm fruit bunches from its oil palm plantations, plasma plantations and third parties into crude palm oil and palm kernel, and selling crude palm oil and palm kernel.
Outstanding FY21 financials. Revenue rose 34.6% to IDR 12,248,630mn in FY21 while gross profit rose 36.8% to IDR 3,456,655mn. Gross profit margin improved marginally by 0.4ppts to 28.2% in FY21, compared to 27.8% in FY20. Overall bottom-line grew 53.4% to IDR 2,089,377mn in FY21.
Russian-Ukraine war a boon to commodity prices. Against an already turbulent backdrop of global inflationary pressures amid rising food and energy prices and disrupted supply chains following the coronavirus pandemic, the war between Russia and Ukraine is exacerbating supply and demand tensions, damaging consumer sentiment and is threatening global economic growth. Palm oil prices spiked to slightly above $8000 in the beginning of March 2022 and even though prices have corrected, they remain well above 2021 levels.
Recent catalyst of palm oil prices. Cargill Inc., one of the world's biggest agricultural traders, stopped buying palm oil products from Sime Darby Plantation Bhd. after the U.S. said it found indicators of forced labour in the Malaysian grower.
Cargill has suspended all new sourcing of palm oil and derivative products from Sime Darby since Feb. 25, the world's biggest oil palm planter by acreage said in an emailed response to questions. Positive consensus estimates. Bumitama Agri currently has a positive consensus estimate of 4 BUYS, 0 HOLD and 0 SELL, with a 12M TP of S$0.93.
Generic 1st Crude Palm Oil (K01 Comdty)
Bumitama Agri Ltd (BAL SP) (Source: Bloomberg)
---
HONG KONG
Xinjiang Goldwind Science & Tech Co Ltd (2208 HK): Headwinds already priced in
BUY Entry – 10.8 Target – 12.5 Stop Loss – 10.0
Xinjiang Goldwind Science & Tech Co Ltd is a China-based company, principally engaged in the manufacture and distribution of wind turbine generator sets and spare parts. The company is also engaged in the provision of wind power services, as well as the investment and development of wind farms. The company distributes its products within domestic and overseas markets.
Expecting bottom-out after the headwinds. China's economy will hit a speed bump in 2Q22 due to a surge in Covid infection in major cities and ensuing lockdowns. Domestic supply chains are disrupted, and manufacturing activities are halted. PBOC lowered the required reserve rate a week ago. To revive the economy, Chia will probably resort to infrastructure expansion, and clean energy projects will be one of key propellants. According to BloombergNEF, prices for turbines in China plummeted from about US$700,000 per megawatt in early 2020 to about US$470,000 at the end of 2021. Currently, the bid for new projects averages at about US$370,000. Xinjiang Goldwind's Chairman commented that the price of wind turbines had reached the bottom, and there was no room for further price declines.
FY21 financials and operations review. FY21 operating revenue dropped by 10.2% YoY to RMB50.4bn. Net profit attributable to owners of the company grew by 16.7% YoY to RMB3.4bn. The decline in revenue was due mainly to the offshore wind sector experiencing rush-to-installation and onshore wind sector entering the era of grid-parity. The company will announce its 1Q22 earnings on 26th April Tuesday.
Revenue breakdown
Operation breakdown
The updated market consensus of the EPS growth in FY22/23 is 18.9%/9.4% YoY respectively, which translates to 10.3x/9.4x forward PE. The current PER is 12.4x. Bloomberg consensus average 12-month target price is HK$16.08.
Xinjiang Goldwind Science & Tech Co Ltd (2208 HK) (Source: Bloomberg)
---
Xinte Energy Co Ltd (1799 HK): A way to sustainable development
RE-ITERATE BUY Entry – 16 Target – 18 Stop Loss – 15
Xinte Energy Co., Ltd. is an investment holding company principally engaged in the provision of solar energy and wind power solutions. The Company operates through seven segments. Polysilicon Production segment is engaged in the production and sales of polysilicon. Engineering and Construction Contracting (ECC) segment is engaged in the provision of ECC services for solar energy plants and wind power plants. Inverter Manufacturing segment is engaged in the manufacture of inverters. Sales of Electricity segment is engaged in the generation and sales of electricity. Photovoltaic (PV) Wafer and Module Manufacturing segment is engaged in the manufacture and sales of PV wafers and modules. Build-Own-Operate (BOO) segment is engaged in the building and operation of solar energy plants and wind power plants. Others segment is engaged in related trading businesses and the provision of design and logistics services.
High oil prices are tailwins for renewable energy. The Russia-Ukraine conflict results in unprecedented sanctions on Russia which is a main crude oil exporter. The unexpected widening supply gap of 4mn bbl/d boosted oil prices to 2014 highs. Europe and the US are rushing to secure alternative sources of supply and ramp up domestic oil output amidst the looming energy crisis. Meanwhile, the situation will also accelerate the deployment of renewable energy supply, especially solar. Photovoltaic sector is expected to revive after months of correction. The concerns over potential sanctions on China photovoltaic companies should be relieved as the US priorities reining in inflation by increasing energy supplies at the moment.
Proposal of application and offering of infrastructure REITs. Previously, the company announced to consider to use the wind power and photovoltaic power generation operation projects owned by Hami Huafeng New Energy Power Generation Co., Ltd. and Hami Fengshang Power Generation Co., Ltd., which are wholly-owned subsidiaries of TBEA XINJIANG SUNOASIS CO., LTD., as the infrastructure assets for the application and offering of the Publicly Traded Infrastructure REITs.
Positive FY21 earnings alert. Net profit attributable to shareholders of the company is expected to be no less than RMB5.0bn compared to RMB0.7bn in FY20. The increase in the Group's profit is mainly due to the increase in sales volume of polysilicon products, the significant increase in the sales price of polysilicon products, as well as the increase in the scale and power generation volume of the group's self-operated wind power and photovoltaic power plants. The company will be announcing 1Q22 earnings on 22th April Friday.
Updated market consensus of the EPS growth in FY22/23 is 30.4%/-18.9% YoY respectively, which translates to 2.8x/3.4x forward PE. Current PER is 3.7x. FY22F/23F dividend yield is 9.2%/6.1%. Bloomberg consensus average 12-month target price is HK$27.08.
Xinte Energy Co Ltd (1799 HK) (Source: Bloomberg)
---
MARKET MOVERS

---
United States
Top Sector Gainers
Top Sector Losers
Kimberly-Clark Corporation (KMB US) shares spiked 8.1% after Kimberly-Clark exceeded earnings expectations. The firm earned $1.35 per share in its most recent quarter, versus consensus estimates of $1.23 per share from Refinitiv. Kimberly-Clark also raised its full-year organic sales forecast.
SVB Financial Group (SIVB US) shares for the regional bank soared 7.5% after the company reported strong earnings. SVB Financial Group earned an adjusted $6.22 per share, compared with a consensus estimate of $5.60 from FactSet. The company's net interest income also beat expectations.
Schlumberger NV (SLB US) shares jumped 2.5% after the oilfield services producer beat earnings expectations. Schlumberger earned 34 cents per share, versus analyst expectations of 33 cents per share. Schlumberger also hiked its dividend by 40%.
Verizon Communications Inc (VZ US) shares fell 5.6% after the company reported a loss of 36,000 monthly phone subscribers during the first quarter, compared with a FactSet estimate of a 49,300 loss. Verizon also posted earnings and revenue for the quarter that were in line with Wall Street forecasts.
Gap Inc (GPS US) shares fell 18% after Gap announced the chief executive officer of its Old Navy business, Nancy Green, is leaving the firm this week. Gap also cut its outlook for net sales growth this fiscal year.
---
Singapore
Wee Hur Holdings Ltd (WHUR SP) shares rose 11.1% on Friday. Wee Hur announced via a bourse filing before the market opened on Friday that it will be selling its 9.9% stake in Wee Hur PBSA Master Trust (WHPMT) for A$112.7 million (S$113.3 million).
Keppel Corp Ltd (KEP SP) shares rose 2.4% on Friday. The deadline for a transformative deal between Keppel Corp and Sembcorp Marine is just days away. Shares of both companies surged on expectations that they will decide on combining their oil rig businesses into a separate entity by the end of April, with some expecting further gains. "The shares could re-rate if the Sembcorp deal comes through," Phillip Securities Research analyst Terence Chua said, referring to Keppel's stock. "The value of the Keppel group without the offshore and marine (O&M) business should increase as working capital will reduce, as will the conglomerate discount."
RH Petrogas Ltd (RHP SP) and Rex International Holdings Ltd (REXI SP) shares fell 6.4% and 1.4 respectively on Friday. WTI crude futures fell 1% to below $103 per barrel on Friday and were on track to lose about 4% this week, weighed down by the prospect of higher interest rates, weaker global growth and slower demand from top importer China, even as the EU considered a ban on Russian oil. Concerns about the Ukraine conflict fanning inflation and denting economic growth dominated trading in the second half of the week, with the IMF slashing its global growth forecast by nearly a full percentage point. Federal Reserve chair Jerome Powell on Thursday indicated more aggressive rate hikes ahead to control inflation, dragging risk sentiment.
Golden Agri-Resources Ltd (GGR SP) shares fell 2.8% on Friday. Malaysian palm oil futures traded around MRY 6,350 per tonne, not far from a near five-week high of 6,546 hit on April 20th as stronger edible oil and crude futures supported buying of palm in spite of weak export data and prospects of higher production this month. Exports of Malaysian palm oil products for April 1-20 fell by 14%-18% from the same period in March, according to data by cargo surveyors while markets were expecting strong exports due to higher Indonesian export taxes.
---
Hong Kong
Top Sector Gainers
Top Sector Losers
Yancoal Australia Ltd (3668 HK) and Inner Mongolia Yitai Coal Company Ltd (3948 HK) shares rose 14.4% and 8% respectively on Friday. Newcastle coal futures, the benchmark for top consuming region Asia, moved to levels not seen in almost a month around the $330-per-tonne mark, supported by continued robust demand against a tightening market backdrop. Russia's invasion of Ukraine and the unprecedented economic sanctions have thrown the global energy market into chaos, with top consumers scrambling to find alternative supplies to replace Russian coal. Markets were already tight even before the Russian invasion of Ukraine as the energy crisis and soaring natural gas prices in Europe and Asia in late 2021 boosted coal use for power generation.
Bosideng International Holdings Ltd (3998 HK) shares rose 8% on Friday. Various institutions commented that Bosideng's performance will improve in the new fiscal year and raised the company's net profit forecast. Zhongtai Securities pointed out that the company's down jacket business generally enters the off-season in March, and expects that the performance of the company in the new fiscal year will be less affected. Additionally, Zheshang Securities said that the company is expected to survive the impact of the current overall macro environment relatively smoothly.
XPeng Inc (9868 HK) and Nio Inc (9866 HK) shares fell 4.3% and 5.7% respectively on Friday. The US Securities and Exchange Commission (SEC) added companies such as Li Auto, Best Group and Shell to the "pre-delisting" list, which is the fifth batch of Chinese concept-stock companies to be included in the list since March.
---
Trading Dashboard
Trading Dashboard Update: No additions and deletions of any stocks.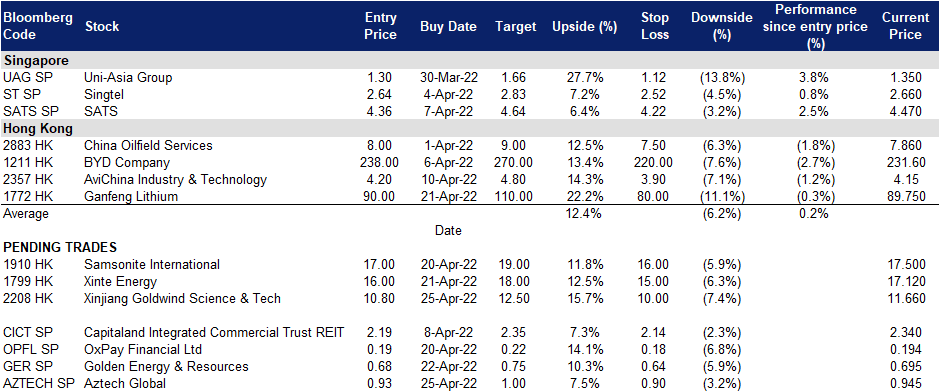 ---