KGI DAILY TRADING IDEAS – 24 September 2021
IPO Watch: Audience Analytics | Singapore Trading Ideas | Hong Kong Trading Ideas | Market Movers | Trading Dashboard
IPO WATCH
Audience Analytics: Scalable business model
Business partner. Audience Analytics (Audience) partners with companies to grow their businesses. Audience operates a wide portfolio of awards, exhibitions, conferences, digital and print media. The group plans to tap on its existing businesses to expand the business analytics segment.
Placement shares. Audience will be issuing 26mn placement shares, comprising of 18.2mn new shares and 7.8mn vendor shares, at a price of S$0.30 each. The company expects to raise gross proceeds of S$7.8mn and net proceeds of around S$6.4mn.
Timetable. Application for the IPO opened on Tues, 14 September and will close on Tues, 28 September, 12pm noon. Audience will start trading on Thurs, 30 September, 9am.
Attractive valuations given its growth profile. At the IPO price of S$0.30, Audience will trade at 17.2 FY2020 P/E and have a market capitalisation of around S$50.5mn. We believe valuations are justifiable based on the growth profile and potential to expand rapidly in the region. The reopening of borders and winding down of Covid-19 related restrictions will likely provide a tailwind to its exhibition business in 2022.
Read our full IPO note here.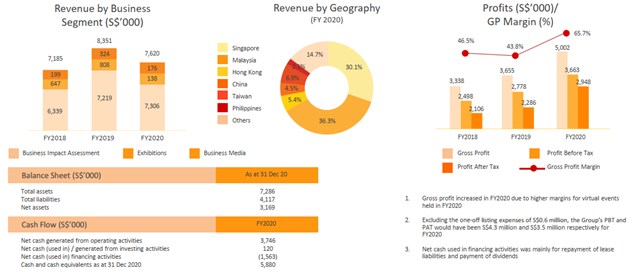 ---
SINGAPORE
Uni-Asia Group (UAG SP): Strength to strength
BUY Entry – 1.03 Target –1.56 Stop Loss – 0.92
UAG is an alterna tive investment company that owns and manages bulk carriers, invests in Hong Kong commercial offices and develops residential properties in Japan. The group derives around 65% of its revenues from charter income generated by its fleet of bulk carriers. The remainder of its revenue is from the property projects in HK and Japan.
Sky-high freight rates. The broad-based increase in commodity demand and the tight supply of vessels have pushed Baltic Freight rates to their highest in more than 10 years. The market for handysize, which UAG specialises in, is even more favourable as rates rise to their highest since 2008. Current charter rates for handysize carriers are now above US$30,000 per day, which is three times more than the average US$10,900 charter rate that UAG achieved in 1H2021.
More structural than expected. We expect charter rates to remain resilient at these levels, or even increase, amid historically low order book, rising scrap rates and further cuts in operating speeds.
UAG is set to benefit. Six of UAG's wholly-owned dry bulks will renew in 2H2021, three will renew in 1H2022 and one in 2H2022.
Attractive valuations. Valuations are attractive amid the stronger-than-expected bulk carrier upcycle. We have an OUTPERFORM recommendation and a TP of S$1.56, or an implied 0.7x FY2021F P/B, which is still a conservative 30% discount to international peers who are trading above 1.0x P/B.
Read our full report here.
Baltic Dry Index Handysize Index (2016-2021 YTD)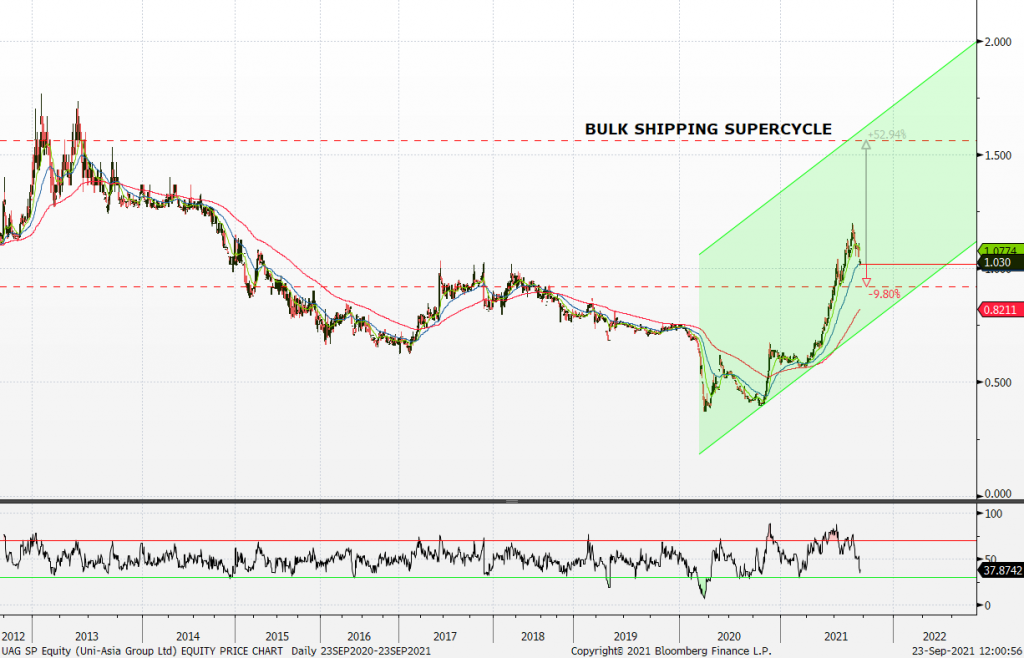 ---
Yangzijiang (YZJSGD SP): Oversold due to concerns over its debt investment business
Reiterate BUY Entry – 1.36 Target – 1.70 Stop Loss – 1.25
China's largest private shipbuilder. Yangzijiang is China's largest private shipbuilder. The company builds a broad range of commercial vessels including containerships, bulk carriers and LNG vessels. Yangzijiang has been at the forefront of shipbuilding in China, receiving its first ever 24,000 TEU containership order in December 2020, the largest containership currently operating in the world.
Share price correction. Shares of Yangzijiang have corrected almost 18% from its recent peak of S$1.69 due to concerns over its debt investment business. Based on a scenario analysis done by CGS-CIMB, Yangzijiang's TP will still be around S$1.77, down from the current TP of S$1.91, even if the company were to take RMB 2.8bn of additional impairments to its debt investment business.
Record order book. The company has secured a total of 118 effective shipbuilding contracts with an aggregate value of US$7bn year-to-date, a new record for the group. Its previous record was US$5bn of new orders secured during the last supercycle in 2007. Its current order book is full until 2024, and the group has stated that it is still receiving client enquiries for 2025. All this points to Yangzijiang being in a good position to negotiate for higher prices.
Upside catalyst from the potential spin-off of its investment portfolio. Yangzijiang is currently conducting a preliminary strategic review of its debt investment portfolio to focus on shipbuilding. The potential listing of Yangzijiang's debt securities portfolio, which makes up 50% of gross profit, could provide a rerating to its share price.
Positive consensus estimates. Valuations are still attractive at 9x/7x/6x FY21/22/23 PE, while trading at a 25% discount to historical book value. Cash & cash equivalents make up almost 80% of its current market cap. Consensus currently has 7 BUYS, 1 HOLD and 1 SELL, and a 12m TP of S$1.71.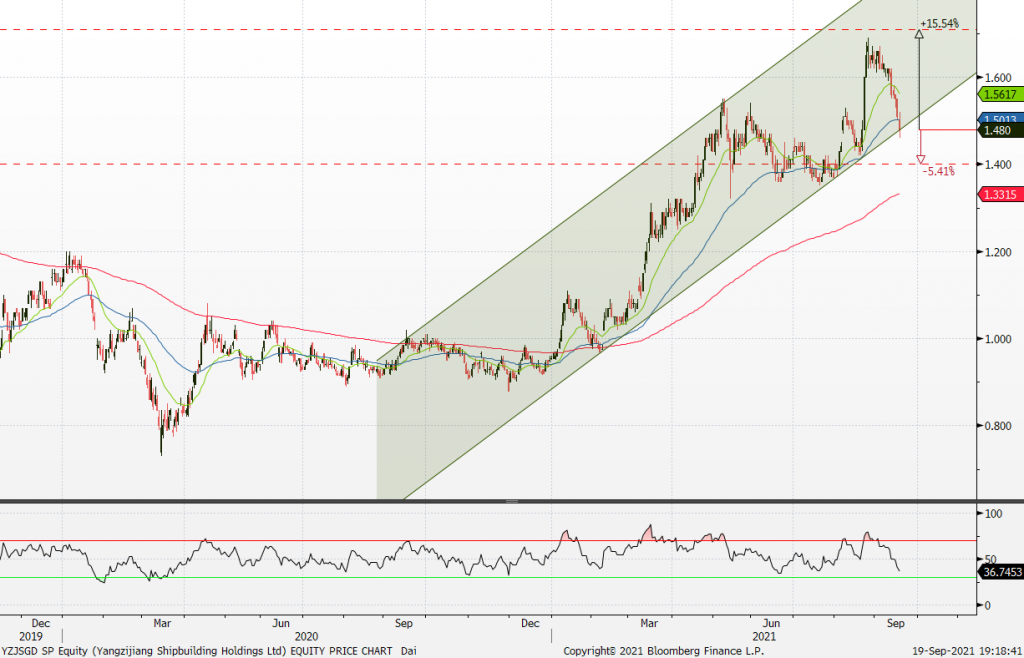 ---
HONG KONG
Geely Automobile Holdings Limited (175 HK): The road is tortuous, but the future is bright
Buy Entry – 22 Target – 26 Stop Loss – 20.5
Geely Automobile Holdings Ltd is an investment holding company principally engaged in the production and sales of automobiles. The company mainly develops, manufactures and sells automobiles, including cars, sport utility vehicles (SUVs), new energy and electrified vehicles. The company's car types include home, travel and sports. The company's new energy and electrified vehicles include electric vehicles, battery electric vehicles, hybrid electric vehicles, mild hybrid electric vehicles and plug-in hybrid electric vehicles. In addition, the company produces and sells automobile parts and related automobile components.
1H21 revenue grew by 22% YoY to HK$45bn. During the period, profit attributable to the equity holders grew by 4% YoY to HK$2.4bn. Total automobile sales volume grew by 19% YoY, ranking it third place in China with a market share of 6.3%. The overseas sales volume jumped by 173% YoY to 53,422 units. EV sales jumped by 189% YoY. The 2021 deliverable orders of new model ZEEKR 001 were sold out. 
Chip shortage. The recent sell-down was due mainly to the unfavourable August sales resulting from the shortage of chips. Total sales volume of the Group (including the sales volume of LYNK & CO-branded vehicles sold by the Group's 50%-owned joint venture) for the month of August 2021 was 88,348 units, a decrease of approximately 22% from the same period last year and down approximately 11% from July 2021.
Catalysts from the IPO of Volvo. The chip shortage issue has been a bottleneck for auto makers globally. However, it is temporary, and the situation could be mitigated in 4Q21. There is another catalyst that could lift share prices. Volvo, where Geely is the largest shareholder, is seeking an IPO in Europe with an initial valuation of US$30bn.  
Consensus estimates per the 12-month target price at HK$32.74, implying a 41% upside potential. EPS is forecasted to grow at 39.5%/40.7%/22.4% for FY2021/22/23F, which would bring forward P/Es down to 25.9x/18.4x/15.0x FY2021/22/23F.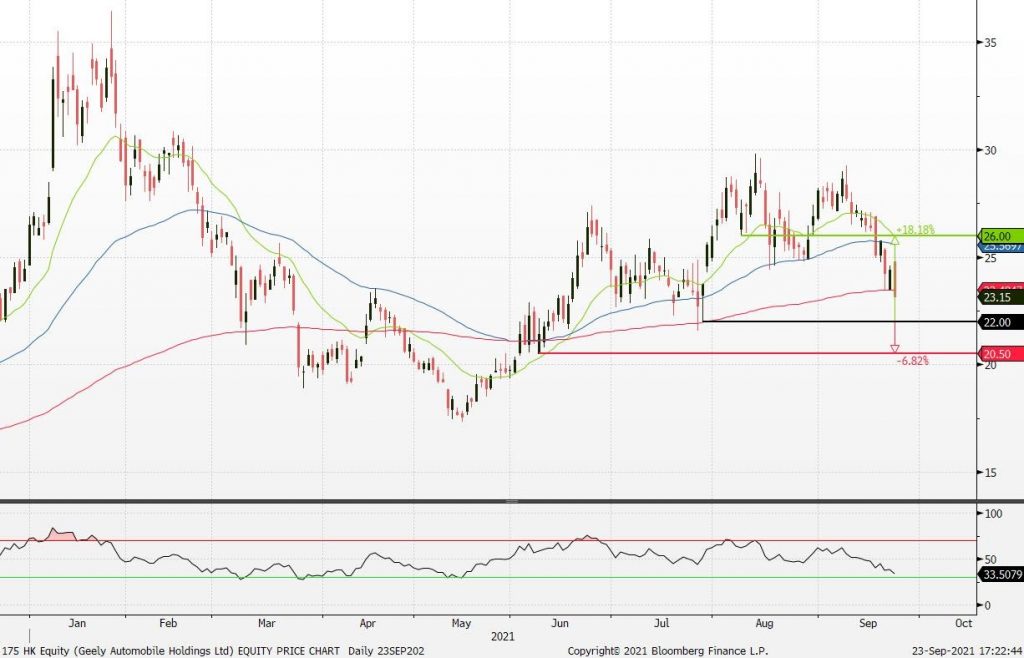 ---
Xinjiang Goldwind Science & Tech Co Ltd (2208 HK): Do not let the market headwinds shadow the stock tailwinds
Reiterate Buy Entry – 15.5 Target – 18.5 Stop Loss – 14
Xinjiang Goldwind Science & Tech Co Ltd is a China-based company, principally engaged in the manufacture and distribution of wind turbine generator sets and spare parts. The company is also engaged in the provision of wind power services, as well as the investment and development of wind farms. The company distributes its products within domestic and overseas markets.
The recent overall market weakness was the result from the property sector crisis. Quality stocks with an upbeat outlook were dragged down by the sell-off. Several sectors or investment themes are relatively risk-free in terms of policy and are irrelevant to the property sector, namely semiconductor, electric vehicle, and clean energy.
1H21 revenue decreased by 7.8% YoY to RMB17.9bn due to the 71.5% YoY decrease in capacity sold of 2S-series turbines offsetting the 379.4% YoY and 316.8% YoY jump in capacity sold of respective 3S/4S-series turbines and 6S/8S-series turbines. Net profit attributable to owners of the company jumped by 45% YoY to RMB1.8bn due mainly to the increased gross profits from WTG Manufacturing and Sale and Wind Farm Investment and Development business.
Both onshore and offshore wind power installed capacity is expected to be 50 GW in 2021, 40 GW of which will be installed in 2H21. The overall wind power installed capacity during the 14th-Five-Year Plan period (2021-2025) is expected to be more than 300 GW.
The International Renewable Energy Agency (IRENA) predicts that global renewable energy growth will reach a new normal in 2021 and 2022 and the growth trend will continue. An additional 270GW capacity of renewable energy is expected to become operational worldwide in 2021, followed by another 280GW in 2022. Meanwhile, IRENA projects that the additions to renewable energy capacity in China will be pared down by one-fourth YoY in 2021, owing to the Chinese government's decision to phase out its subsidies for wind and solar power projects by the end of 2020.
Updated market consensus of the EPS growths in FY21/22/23 are 34.6%/5.5%/9.1% YoY respectively, which translates to 15.4x/14.6x/13.4x forward PE. Current PER is 17.3x. Bloomberg consensus average 12-month target price is HK$18.31.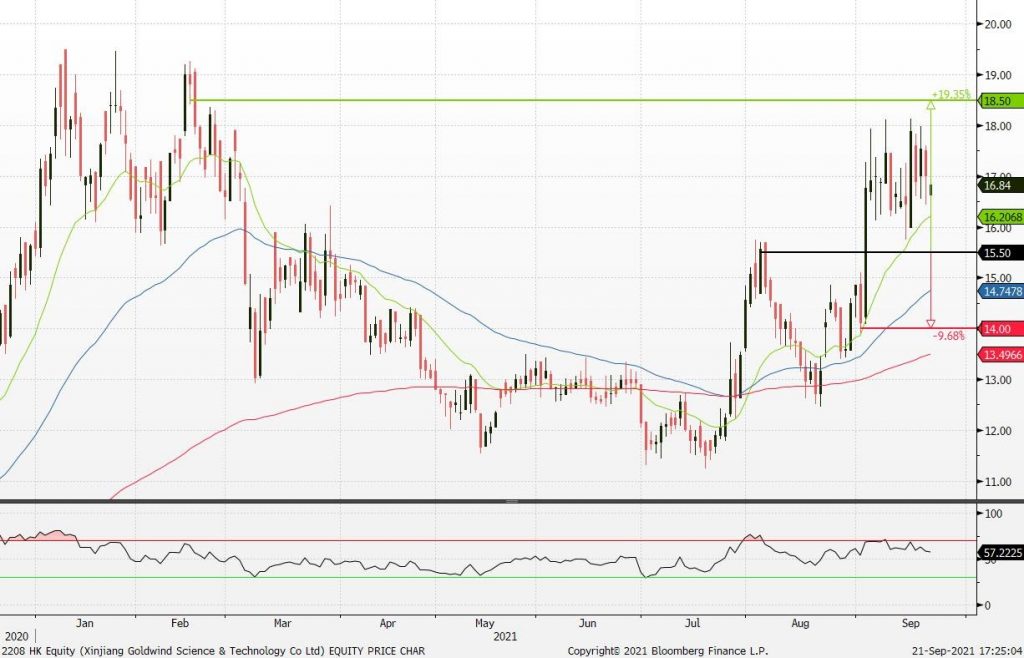 ---
Market Movers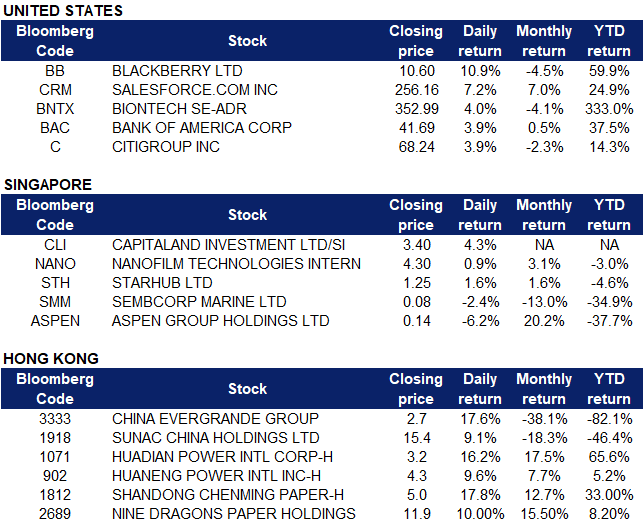 United States
Blackberry (BB US) shares soared 10.99% on Thursday after the company released its fiscal 2022 first quarter financial results. Revenue declined by 32% YOY to $175 million, as the company continued to shift away from its traditional software licensing business; however, this was still above analyst expectations. Sales in the company's AI-powered cybersecurity and IoT businesses were at $120 million and $40 million respectively. Blackberry CEO John Chen said in a press release that "The cybersecurity business unit delivered robust sequential billings and revenue growth and the IoT business unit performed well in the face of global chip shortage pressures."
Salesforce.com (CRM US) shares surged 7.21% on Thursday after the software company boosted its full-year sales forecast. The company raised its revenue guidance for the fiscal year ending 31 Jan to a range between $26.25 – $26.35 billion, a jump from the previous estimate of $26.2 – $26.3 billion. Salesforce expects the growth to continue the following year. It predicts revenue between $31.65 billion and $31.8 billion for the fiscal year ending January 2023. Salesforce recently completed its $27.7 billion purchase of Slack Technologies Inc., the software giant's biggest acquisition ever.
BioNTech (BNTX) shares rose 4.05% after it was announced that the COVID-19 vaccine Comirnaty, developed in partnership with Pfizer, was granted Emergency Use Authorization as a booster by the U.S. Food and Drug Administration. The vaccine is currently the only one that has been fully approved by the FDA. Both BioNTech and Pfizer have said that they are continuing to supply the vaccine under the current arrangement with the U.S. government, which runs through next April, and that this arrangement includes "sufficient volume for boosters."
U.S. banks Bank of America (BAC US) and Citigroup (C US) rebounded from a difficult week, and traded nearly 4% higher on Thursday as the yield on the 10-year Treasury bounced to the highest it has been since July 2021, at 1.41%. Bank of America is up almost 40% year to date with today's rally.
---
Singapore
CapitaLand Investment (CLI SP) shares rose another 4.3% after Goldman Sachs and Morgan Stanley started their coverage on the company at "buy" and "overweight" with target prices of $3.64 and $3.75 respectively. Goldman Sachs believes CLI is set to benefit from improved earnings visibility and margins post CapitaLand's restructuring, while Morgan Stanley views CLI as a "deeply undervalued asset manager" whose strengths, such as its Singapore real estate investment trust platform and strong property management fee contributions, have been overlooked by the market.
Nanofilm Technologies (NANO SP) shares climbed as much as 2% yesterday before closing 0.95% higher at $4.27. The company founder and executive chairman Shi Xu has sold a one per cent stake of the company's total issued shares to Venezio Investments, an indirect wholly-owned subsidiary of Temasek Holdings, on Tuesday, according to a regulatory filing after markets closed. Venezio Investments will pay S$27.1 million for the approximately 6.6 million shares that it will receive and the sale is expected to be completed in a week's time.
StarHub (STH SP) shares climbed 1.63% yesterday, after the company proposed its acquisition of a 50.1% interest in MyRepublic's broadband business in Singapore. Upon successful acquisition, StarHub's market share in Singapore's broadband market will increase by 6% to 40%. Singtel is Singapore's current market leader with 43% market share. DBS Bank analyst Sachin Mittal said that MyRepublic needs financial support and validation from a firm like StarHub to help propel the company forward in its journey toward an IPO, which has already been delayed a few times. In 2019, MyRepublic said that it had planned to go public in Hong Kong by end-2020. Earlier, it had pushed back its debut from late-2018 to mid-2020.
Sembcorp Marine (SMM SP) shares dropped another 2.41% yesterday following the news of Temasek Holdings' mandatory conditional general cash offer of $0.08 per share. CGS-CIMB Research analyst Lim Siew Khee has kept her "hold" recommendation for Sembcorp Marine with an unchanged target price of 9.3 cents. The Edge Singapore reported that Lim's research note said ""We believe the likelihood of shareholders accepting the offer at 8 cents could be low, unless there is a correction in the overall equity market. In addition, the free float of circa 53.4% provides some buffer in the event of an irrational sell-down."
Aspen Group Holdings (ASPEN SP) shares dropped 6.16% yesterday coming down from its 28.6% surge on the previous trading day which prompted a query from SGX for unusual price and volume movements. The company responded to the query saying that it is not aware of any information not previously announced which might explain the trading. Aspen previously announced that it obtained two 510(k) premarket notification clearances from the US Food and Drug Administration to market its nitrile examination gloves and latex surgical gloves, which allows the company to design, manufacture and directly distribute the gloves under the "Aspen Glove" trademark in the U.S.
---
Hong Kong
China Evergrande Group (3333 HK), Sunac China Holdings Ltd (1918 HK) The property sector rebounded yesterday, after prolonged heavy sell-offs due to the spillover effect from Evergrande Group. China Evergrande's shares jumped 17.6% while large cap stock Sunac China's shares rose 9.1%. Other property sector shares such as Country Garden and Shimao Group Holdings followed suit. Evergrande announced yesterday that top priority would be placed on retail investors to help them redeem their investment products. The group had negotiated a plan to pay interest worth RMB 232mn (S$48.48mn) for its 5.8% 2025 onshore bond. However, the developer has not indicated whether it would be able to pay US$83.5mn in interest due on its March 2022 bond on Thursday. It has another US$47.5mn payment due on Sept 29 for its March 2024 notes. Both bonds would default if Evergrande fails to settle the interest within 30 days of the scheduled payment dates.
Huadian Power International Corp Ltd (1071 HK), Huaneng Power International Inc (902 HK) Power sector shares rose collectively yesterday. Huadian Power shares rose 16.2% while Huaneng Power shares rose 9.6%. JP Morgan issued a research report recently stating Chinese power stocks have outperformed the market recently. The Chinese government has allowed the raising of electricity prices by no more than 10% to reflect rising coal prices, resulting in stable long-term gross profit margin for Chinese power stocks. The bank expects that more provinces and cities would announce electricity price hikes and this would become a catalyst for Chinese power stocks.
Chenming Paper (1812 HK), Nine Dragons Paper (2689 HK) Paper sector stocks rose collectively yesterday. Chenming's shares rose 17.8% while Nine Dragon's shares rose 10%. Paper industry shares have regained presence as the peak consumption season driven by China's National Day and 11/11 sales has re-emerged, driving the increase in demand for paper products related to corrugated cardboard boxes. In addition, paper mills have also raised prices again. Statistics show that the current national average price of AA-grade corrugated paper in China is about RMB 3,870 per ton, a YoY increase of about 15%.
---
Trading Dashboard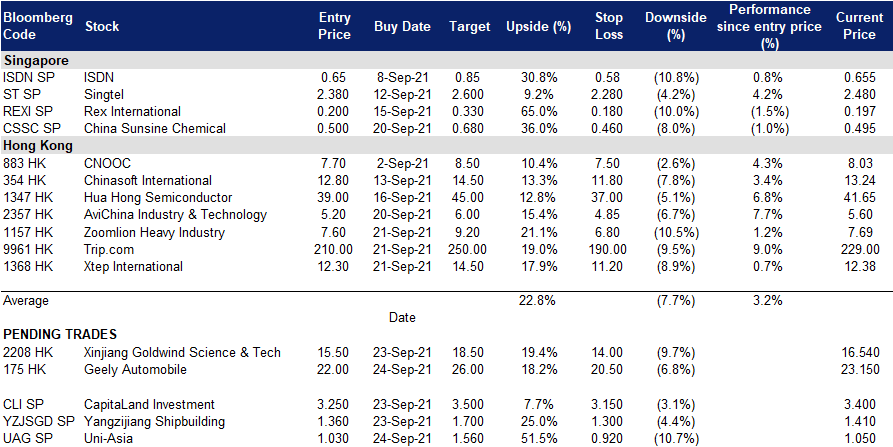 ---

---
Related Posts: