24 Nov 2021: Sembcorp Marine (SMM SP), BYD Electronic (International) Co Ltd (285 HK)
IPO Watch | Singapore Trading Ideas | Hong Kong Trading Ideas | Market Movers | Trading Dashboard
IPO WATCH
Digital Core REIT (DCREIT SP): Data is king
DCREIT will be offering 267mn shares for subscription at US$0.88 per unit. Initial market cap is estimated to be US$990mn.
The Digital Core REIT IPO Portfolio comprises 10 institutional quality, 100% freehold data centres concentrated within top-tier markets in the US and Canada with an aggregate appraised valuation of US$1.4bn.
DCREIT is backed by US-listed Digital Realty, who will take a 10% stake in the REIT. Digital Realty is the largest owner, operator, developer and acquirer of data centres in the world. As of 30 June 2021, Digital Reality had a total committed active investment of US$5bn.
The REIT will have a projected distribution yield of 4.75% for FY2022 and DPU growth of 5.26% from FY2022 to FY2023. For reference, DCREIT's DPU is higher than Keppel DC REIT's (KDCREIT) forecasted yield of 4.3% for FY2021 and 4.5% for FY2022.
Overall, we think DCREIT offers an attractive opportunity given that it will be able to tap on the sponsor's huge pipeline of data centres globally.
Digital Core REIT portfolio of 10 data centres in North America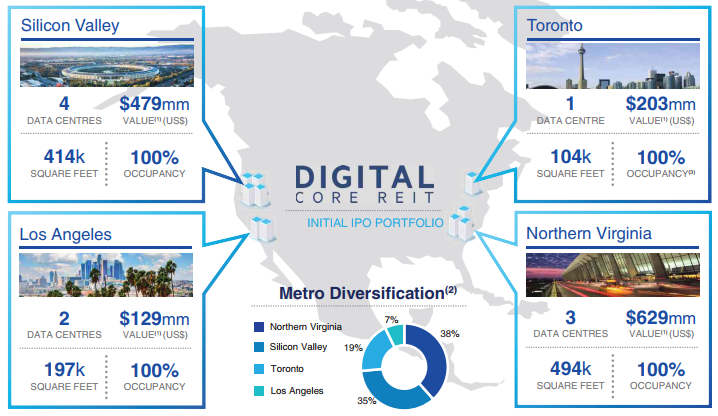 ---
Mooreast (MOOR SP): Debut of an offshore marine company in a niche market
Mooreast is a total mooring solution provider.
Its financial performance was stable during 2018-2020 but was negatively impacted by the slowdown in the offshore marine market in 1H21.
The recovery in oil and gas E&P expenditure could benefit Mooreast in 2022.
Ongoing growth in demand for renewable energy will be a tailwind for Mooreast in the long term.
Read the full report here.
---
SINGAPORE
Sembcorp Marine (SMM SP): Rising from the ashes
BUY Entry – 0.085 Target –0.100 Stop Loss – 0.080
SMM is one of two major shipyards in Singapore (the other being Keppel O&M). SMM provides a one-stop engineering solution for the offshore, marine and energy industries. The company's four key capabilities are in 1) Rigs & Floaters, 2) Repairs & Upgrades, 3) Offshore Platforms, and 4) Specialised Shipbuilding.
Bottomed out. SMM's share price has likely found a long-term bottom at 8.0 Sing cents, which was basically the price of this year's S$1.5bn rights issue. Temasek took up 49% of the rights issuance, bringing its stake up to 46.6% and triggering a mandatory offer.
Kena rejected. Temasek's offer was eventually rejected with only 8% acceptance. Temasek's stake after the mandatory offer amounted to 17.1bn shares, or 54.6% of the total outstanding shares.
The path forward. Consensus' current views on the company are largely neutral or tilted towards the negative side, unsurprisingly given how much value has been destroyed over the past 5 years. While the outlook remains cloudy, we think that the combination of low expectations and positive surprises (e.g., contract wins) will likely trigger a short squeeze on the stock. Thus, this looks like a decent short-term trade from a risk/reward perspective.
---
Uni-Asia Group (UAG SP): Bumper year ahead for Handysize
REITERATE BUY Entry – 1.30 Target –1.56 Stop Loss – 1.25
UAG is an alternative investment company that owns and manages bulk carriers, invests in Hong Kong commercial offices and develops residential properties in Japan. The group derives around 65% of its revenues from charter income generated by its fleet of bulk carriers. The remainder of its revenue is from the property projects in HK and Japan.
Still going strong. UAG provided a 9M21 business update. While no revenue and earnings were disclosed, the overall tone was positive. Industry trends for handysize dry bulk carriers remain supportive, even with the recent correction of the Baltic Dry Bulk indices. Meanwhile, HK's property market is expected to improve upon the reopening of borders with China.
Resilient demand for handysize. Six of UAG's wholly-owned dry bulks will renew in 2H2021, three will renew in 1H2022 and one in 2H2022. Charter rates in the market remain above US$25,000 per day vs UAG's average charter income of US$14,321 in 3Q2021, leaving more upside as we head into 2022 .We expect charter rates for handysizes to remain resilient at these levels, or even increase, amid historically low order book, rising scrap rates and further cuts in operating speeds.
Attractive valuations. Despite the 125% YTD rally of its shares, UAG's valuations are attractive amid the stronger-than-expected bulk carrier upcycle. Our TP implies a 0.7x FY2021F P/B, which is still a conservative 30% discount to int'l peers who are trading >1.0x P/B. Read our full report here.
---
HONG KONG
BYD Electronic (International) Co Ltd (285 HK): The vape theme is back
Entry – 30.85 Target – 35.5 Stop Loss – 28.8
BYD Electronic International Co Ltd is an investment holding company principally engaged in the manufacture of mobile intelligent terminal components and modules. The Company with its subsidiaries mainly provides one-stop services including new material development, product design, research and development, manufacturing, supply chain management, logistics and after-sales services. Its businesses include three major parts: smartphones and personal computers (PCs), new intelligent products and automotive intelligent systems, covering molds, metals, plastic parts, glass, ceramics and electronic products. Its products are used in consumer electronics, Internet of things, smart home, smart industry, smart business, smart game equipment, smart cockpits, smart networked systems, communication modules and other fields. The Company conducts its businesses within the China market and to overseas markets such as Asia-Pacific and the United States.
3Q21 results update. 9M21 total turnover grew by 27.99% YoY to RMB65.9bn. Gross profit fell by 38.5% YoY to RMB4.6bn. Profit attributable to equity owners of the parent fell by 50.2% YoY to RMB2.2bn. The unfavorable performance was due to the shortage of chips and the restrictions on the short-term production arising from the national dual-control policies for energy consumption.
Uncertainties of e-cigarrette eased. Chinese media cited the National Public Service Platform for Standards Information, the international standards of e-cigarette (20171624-Q-456) had its status changed to "drafting" from "reviewing". Meanwhile, the testing criteria for e-cigarette liquid of nicotine, glycol and glycerol-gas (20172264-T-456) had its status still at "approving".
The updated market consensus of the estimated net profit growth in FY21/22/23 is -46.9%/40.5%/35.6% respectively, which translates to 20.6x/14.7x/10.8x forward PE. The current PE is 13.0x. Bloomberg consensus average 12-month target price is HK$35.27.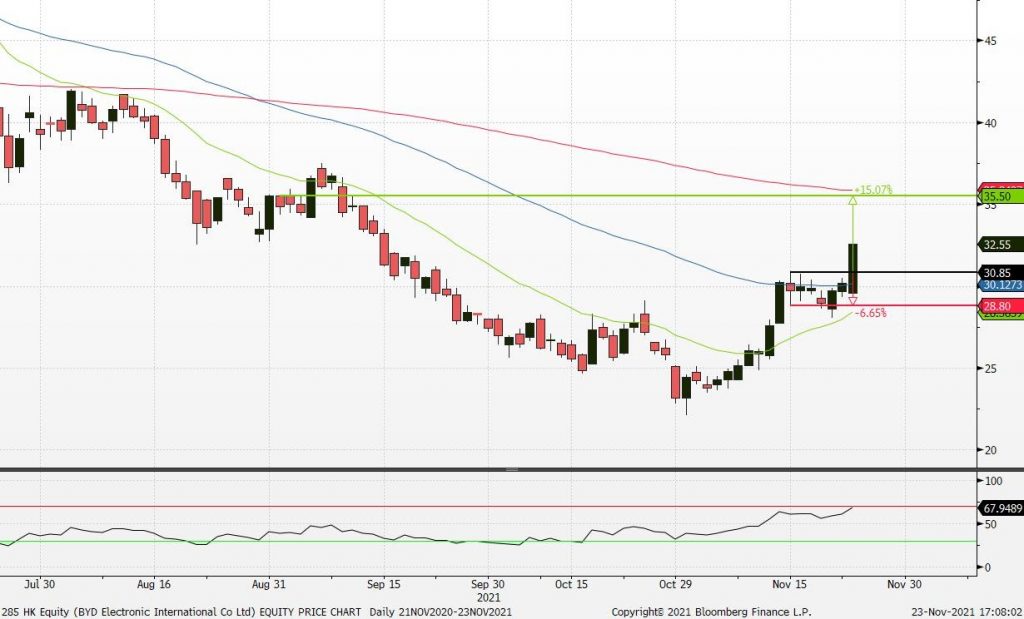 ---
TRIP.COM (9961 HK): Range bound trade
REITERATE Buy Entry – 220 Target – 250 Stop Loss – 205
Trip.com Group Limited, formerly Ctrip.com International, Ltd., is a travel service provider in China that provides accommodation booking, transportation ticketing, package tours and corporate travel management. The company aggregates hotel and transportation information to help leisure and business travellers make reservations. The company helps leisure travellers book travel packages and guided tours and helps corporate clients manage their travel needs. The company also offers a range of travel-related services to meet the different booking and travel needs of leisure and business travellers, including visitor reviews, attraction tickets, travel-related financial services, car services, travel insurance services and passport services. The company also offers package tours for independent leisure travellers, including tour groups, semi-tour groups and private groups, as well as package tours that require different transportation arrangements (such as cruise, buses or self-driving).
Speed bump again. Tourism and recreation sector is on a tortuous path of recovery. Countries who have 60% to 70% of vaccination rates gradually open the borders. However, China still strictly adopts the zero-infection policy domestically. Recently, there were rising infection cases in China, and related cities and districts were locked down again. This led to the sell-down of the stock, breaking the recovery of price. However, it is a buying opportunity now as the past performance showed a resiliency to such kind of news.
Promising recovery against COVID-19. Previously, the company announced 1H21 results. Total net revenue increased by 86% YoY and 43% QoQ to RMB10bn, driven by the strong recovery momentum of the China domestic market. Both domestic hotel and air-ticket GMV increased by about 150% YoY. Compared with the same pre-COVID period in 2019, both domestic hotel and air ticketing reservations achieved double-digit growth in 2Q21. Staycation travel continues to serve as a major driver of domestic recovery with local hotel reservations growing nearly 80% versus pre-COVID period in 2019. Revenues from corporate travel management grew 141% year over year and 26% compared with the pre-COVID period in 2019. In 1H21, the company reported a net profit of RMB 1bn compared to a net loss of RMB 5.8bn during the same period last year.
Best performance among all the e-commerce large-cap Chinese companies. The crackdown of multiple sectors hammered share prices of technology stocks. Currently, there is no obvious sign of turnaround. However, tourism is one of the few sectors that are relatively immune to policy risks. The price performance of the company showed positive signs of turnaround amidst the recent bearish market sentiment.
The updated market consensus of the estimated net profit growth in FY22 and FY23 is 383.1% and 51.6% respectively, which translates to 27.4x and 18.1x forward PE. Bloomberg consensus average 12-month target price is HK$286.36.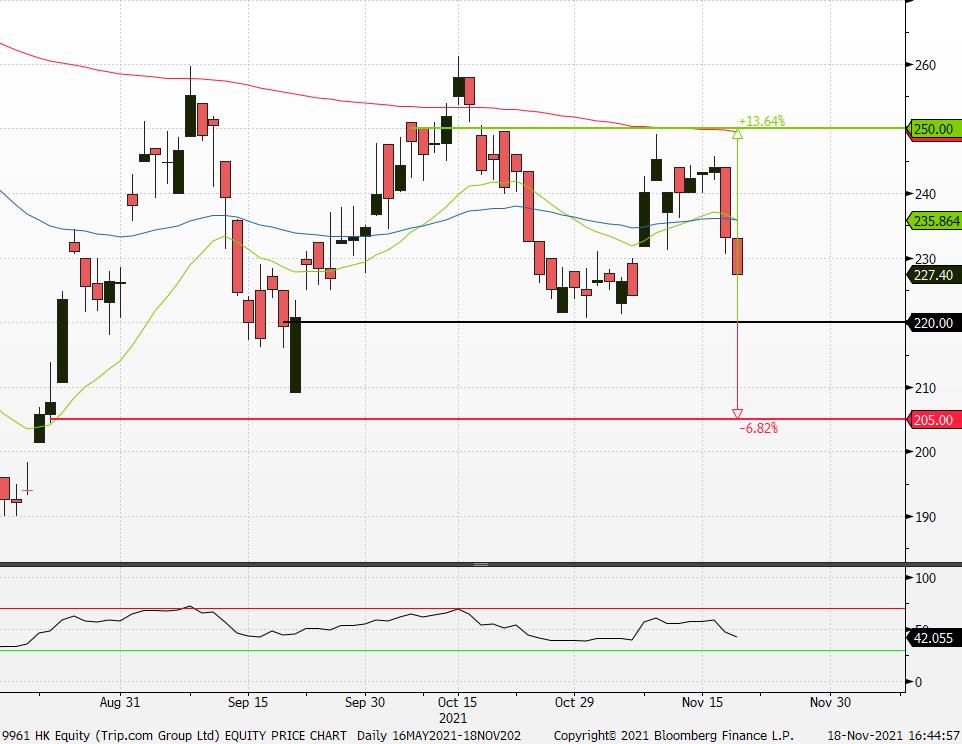 ---
Market Movers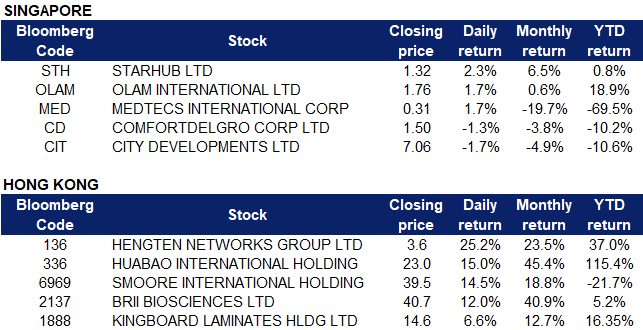 United States
Top Sector Gainers
Top Sector Losers
Energy stocks Occidental Petroleum (OXY US), Marathon Oil Corporation (MRO US) and Diamondback Energy (FANG US) gained 6.4%, 5.4% and 4.5% respectively after the White House announced that the U.S. will release 50 million barrels of crude from the Strategic Petroleum Reserve to calm 2021′s rapid rise in fuel prices.. The move is a coordinated release between the U.S., India, China, Japan, Republic of Korea and the United Kingdom, and is the first of its kind. U.S. oil dipped 1.9% to a session low of $75.30 per barrel following the announcement, before recovering those losses and moving into positive territory.
Xpeng (XPEV US) shares jumped 8.3% after the Chinese EV maker reported stronger-than-expected third quarter revenues amid the global shortage in semiconductor supplies. The company delivered 25,666 cars over the three months ending in October, a 200% increase from the same period last year that powered a 187.4% surge in overall revenues to RMB 5.72 billion, well above analyst expectations. Xpeng posted a loss of $0.27 per share on a non-GAAP basis, and said deliveries over the fourth quarter would range between 34,500 and 36,500 vehicles.
Zoom (ZM US) shares plummeted 14.7% yesterday despite exceeding analysts' estimates for the quarter and issuing better-than-expected guidance. Earnings per share came in at $1.11 vs $1.09 estimates, and revenue was at $1.05 billion vs expectations of $1.02 billion. The company, however, warned investors of a revenue growth slowdown, causing analysts from Deutsche Bank to lower their 12-month target to $280 per share from $350 per share. Additionally, the company also said it had called off its plan to acquire cloud contact center software provider Five9 for $14.7 billion. Instead, its own cloud contact center software would launch in early 2022.
---
Singapore
Medtecs International (MED SP) shares jumped 1.7% yesterday after the company announced that its wholly-owned subsidiary Medtecs (Asia Pacific) and US healthcare market player ACO International are in discussions to enter into a share subscription agreement. The company previously warned that its third quarter earnings for FY2021 is "not expected to be strong"as the first half of the year, and posted a 77% slide in net profit for the 9 months ended September 2021 to US$19.26 million, as demand for personal protective equipment fell.
StarHub (STH SP) shares jumped 2.3% yesterday after the telco announced its 'DARE+ Initiative' at its Investor Day 2021 on Tuesday. DARE+ is a five-year business transformation plan that will see StarHub focus on becoming a "full-on digital life" and digital services provider. It also is aiming for further cost savings of $280 million and $220 million in gross profit growth cumulatively between 2022 and 2026. The DARE+ strategy will move StarHub from "quad play" to "Infinity Play," offering an "infinite continuum" of connectivity, over-the-top (OTT) streaming entertainment, cloud gaming and digital solutions.
ComfortDelgro (CD SP) shares lost 1.3% yesterday after CGS-CIMB analyst Lim Siew Khee said that the transport operator could drop out of the Straits Times Index (STI) in December when a quarterly review is due. Lim suggested that Olam International (OLAM SP) is likely to take its place. Lim cited the duo's market capitalization as at market close of 22 November, with ComfortDelgro at 42nd place with $3.29 billion, as compared to Olam at 23rd place with $6.38 billion. Lim also added that ComfortDelgro had weathered up a "slew of bad news" recently, with one of them being the group's announcement that it was no longer pursuing a listing on the Australian Exchange. Olam shares closed 1.7% higher on Tuesday.
City Developments (CIT SP) shares lost 1.7% yesterday after it was announced that Tan Chong International's indirect, wholly-owned subsidiary has granted a call option to a unit of City Developments to purchase its property, plant and equipment for S$126.3 million. The Business Times reported that the potential buyer CDL Aries is owned by CDL's subsidiary, CDL Constellation. An option fee of some S$6.3 million or 5% of the consideration is payable to Tan Chong should CDL Aries decide to exercise the call option, with a remaining S$120 million to be paid upon completion of the transaction.
Trading Dashboard Update: Add Uni-Asia Group (UAG SP) at S$1.30
---
Hong Kong
Top Sector Gainers
Top Sector Losers
HengTen Networks Group Ltd (0136 HK). Shares surged 25.2% yesterday, extending its gains to 5 consecutive days. China Evergrande issued an announcement that the company sold 1.662bn shares of Heng Ten Network at a price of HK$1.28 per share, a discount of approximately 24.26% from the closing price on November 17, and a total consideration of approximately HK$2.13bn.  Prior to this, China Evergrande had sold 2.2bn shares of Heng Ten Network, with a cash value of HK$8.808bn. Since the beginning of this year, China Evergrande has sold 3.86bn shares of Heng Ten Network, with a cash value of over HK$10bn.
Huabao International Holdings Ltd (0336 HK), Smoore International Holdings Ltd (6969 HK). E-cigarette related shares rose collectively yesterday. Huabao shares rose 15% while Smoore shares rose 14.5%. According to the National Public Service Platform for Standards Information website, international standards of e-cigarette had its status changed to "drafting" from "reviewing". Meanwhile, the testing criteria for e-cigarette liquid of nicotine, glycol and glycerol-gas had its status at "approving". Industry participants analyzed that the release of international standards will further regulate the industry development, raise the product quality and improve technical threshold and quality inspection capabilities.
Brii Biosciences Ltd (2137 HK). Shares rose 12% yesterday. Two Covid-19 antibody drugs developed in China have yielded promising results in studies and clinical trials, researchers said during an academic conference over the weekend. BRII-196 and BRII-198 have shown an efficacy rate of 78% in cutting hospitalisations and deaths among high-risk groups in late-stage clinical trials. The treatment has been jointly developed by Tsinghua University's School of Medicine, Third People's Hospital of Shenzhen, as well as Brii Biosciences. Meanwhile, the drug is being tested in a mid-stage clinical trial in China. Since May, it has also been delivered to more than 800 patients as an emergency treatment method.
Kingboard Laminates Holdings Ltd (1888 HK). Shares rose 6.6% yesterday after Citi raised its earnings forecast and reiterated its BUY rating on the company. According to Citi's research report, the recent implementation of power rationing in China's manufacturing industry would mainly affect small-scale competitors of Kingboard Laminates and not the company itself. The company's forecast is raised 1-4% to reflect the strong profit margin performance in 4Q21, and the target price of the stock is raised from HK$23 to HK$23.2. According to Bloomberg consensus, the company currently has a rating of 6 BUYS, 1 HOLD and 0 SELL, with a 12M target price of HK$20.16, representing an upside potential of 38.1% as of yesterday's closing price.
Trading Dashboard Update: Add Prada (1913 HK) at HK$56.0
---
Trading Dashboard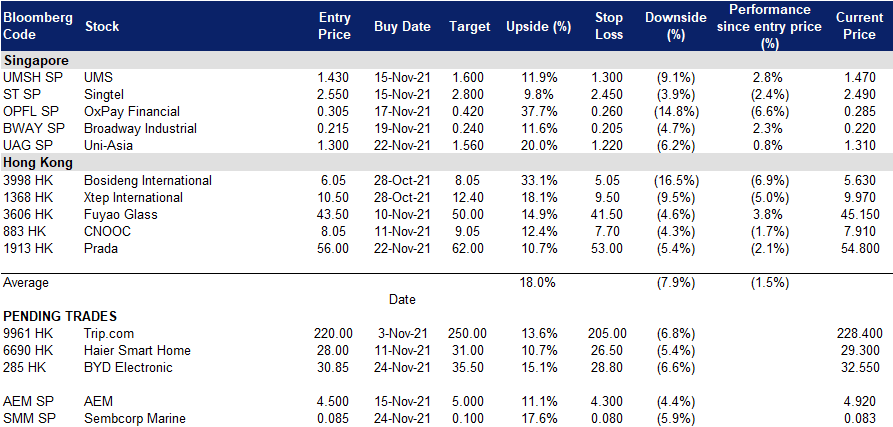 ---

---
Related Posts: