24 August 2022: Geo Energy Resources Ltd (GERL SP), Sinopharm Group Co., Ltd. (1099 HK)
Singapore Trading Ideas | Hong Kong Trading Ideas | Market Movers | Trading Dashboard
Geo Energy Resources Ltd (GERL SP): Unexpected tailwind to uphold coal prices
Geo Energy is a coal mining group that commenced business operations in 2008 and has an established track record in the operation of coal mining sites for the purpose of coal production and coal sale in Indonesia. Its coal production operations are primarily located in Kalimantan, Indonesia. Its main businesses include 1. owning and operating its own coal mine. 2. offering mine contracting services to third party mine owners. 3. selling coal to both coal traders and coal export companies.
Tailwinds for thermal coal prices. China's Southwest regions are under a heatwave. State weather forecasters issued a heat "red alert" for the 11th consecutive day on Monday, as extreme weather continues to play havoc with power supplies and damage crops. China's scorched southwestern regions extended curbs on power consumption on Monday as they deal with dwindling hydropower output and surging household electricity demand during a long drought and heatwave. The supply shortage of hydropower will put thermal power plants under pressure. It is expected that thermal coal prices to rebound in the near term as urgent demand resumes.
Record-high 1H22 earnings. Revenue jumped by 67% YoY to US$368.3mn. Gross profit surged by 117% YoY to US$151.5mn. GPM was 31.7% compared to 11.0% during the same period last year. Profit attributable to owners of the company soared by 118% YoY to US$105.0mn. The stellar performance was mainly driven by the skyrocketing coal prices. The average ICI4 in 1H2022 was US$85.89/tonne, compared to US$47.78/tonne in 1H2021. The total coal sales volume dropped 3.7% YoY to 5.18mn tonnes.
High dividends and cheap valuations. GERL declared a second interim dividend of S$0.02 per share. Along with the first interim dividend of S$0.02 per share paid on 27 May 2022, this represents 39% pay-out ratio on the Group's 1H22 net earnings. GERL currently trades at only 2.3x FY21 P/E.
SGX IHS McCloskey Indonesian 4200kc GAR FOB Thermal Coal Futures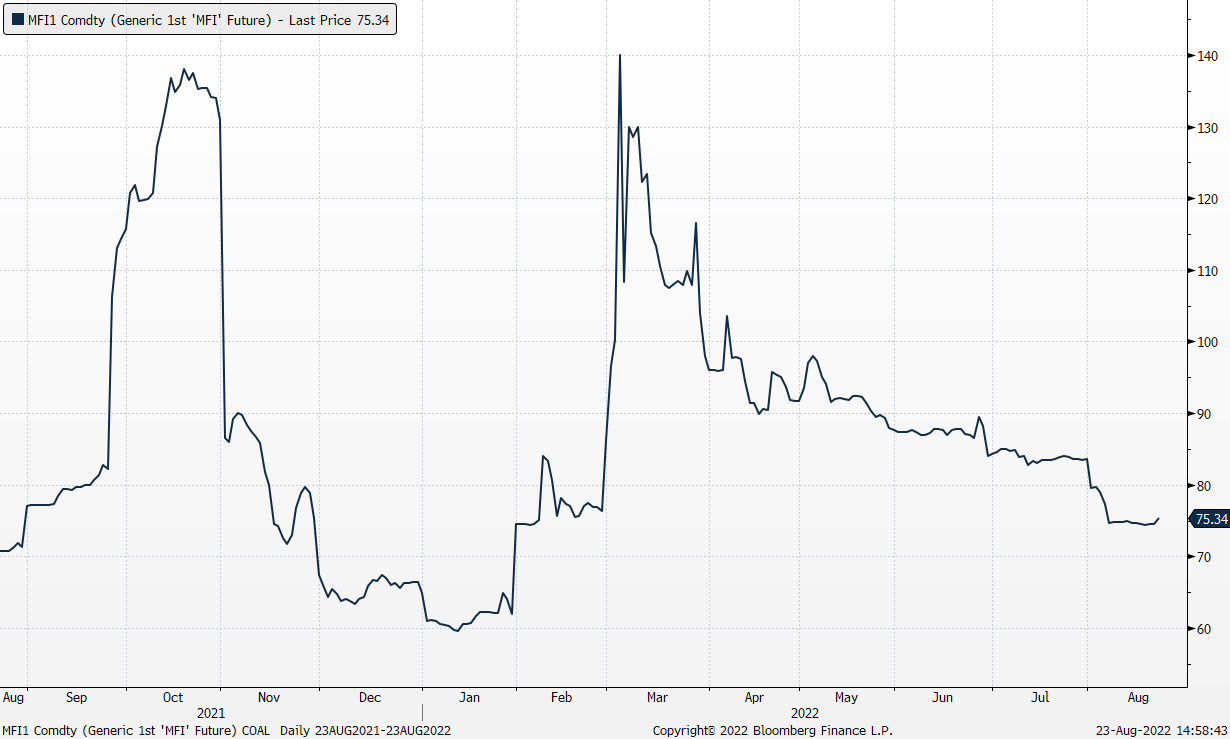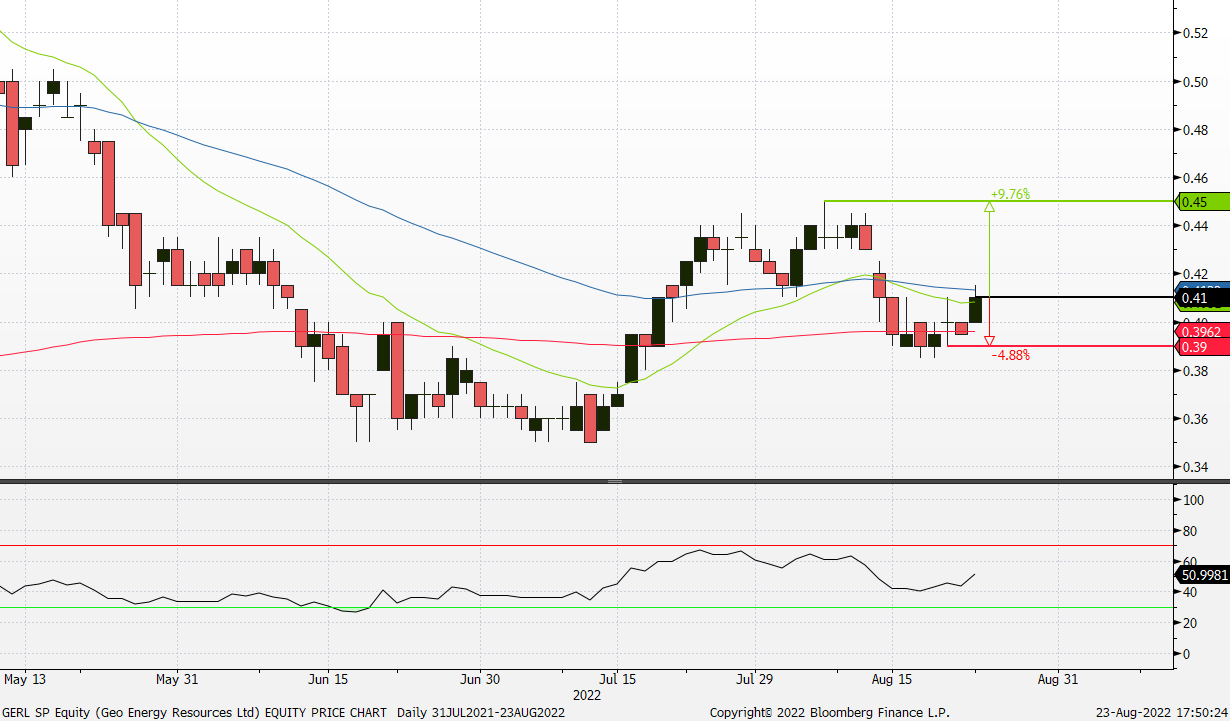 (Source: Bloomberg)

Bumitama Agri Ltd (BAL SP): Short-term rebound of palm oil
RE-ITERATE BUY Entry – 0.64 Target – 0.68 Stop Loss – 0.62
Bumitama Agri Ltd is an Indonesia-based producer of crude palm oil and palm kernel with oil palm plantations and mills located in three provinces of Indonesia, namely Central Kalimantan, West Kalimantan and Riau. Its primary business activities are cultivating and harvesting oil palm trees, processing fresh palm fruit bunches from its oil palm plantations, plasma plantations and third parties into crude palm oil and palm kernel, and selling crude palm oil and palm kernel.
Palm oil prices recovered from a two-week low. Futures for November delivery climbed as much as 1.6% to RM4,250, before closing at RM4,200 in Kuala Lumpur. Soybean oil, palm's closest substitute, rose as much as 1% in Chicago to snap two days of losses. The recovery of prices was also driven by bargain hunting as some buyers wanted to take advantage of Indonesia's export levy waiver until the end of August. Indonesia reduced the additional exports levy from US$200/tonne to zero for shipments between mid-July and end-August.
Stellar 1H22 earnings. Revenue jumped by 64.9% YoY to IDR8,968,347 mn. Gross profit surged by 223.8% to IDR3,772,241mn. Gross profit margin was 42.1% in 1H22, compared to 21.4% in 1H21. Net profit attributable to the owners of the company soared by 350.1% YoY to IDR2,178,739mn. The stellar results were due mainly to an increase in the average CPO and PK sales price. CPO sales volume decreased by 6.5% YoY, resulting from delays in shipment arising from buyers' full tank capacity due to the export ban of cooking oil and its raw material imposed by Indonesia Government.
Updated market consensus of the EPS growth in FY22/23 is 76.8%/-31.3% YoY respectively, which translates to 4.0x/5.9x forward PE. Current PER is 3.6x. FY22F/23F dividend yield is 9.2%/6.6%. Bloomberg consensus average 12-month target price is S$0.83.
Crude palm oil prices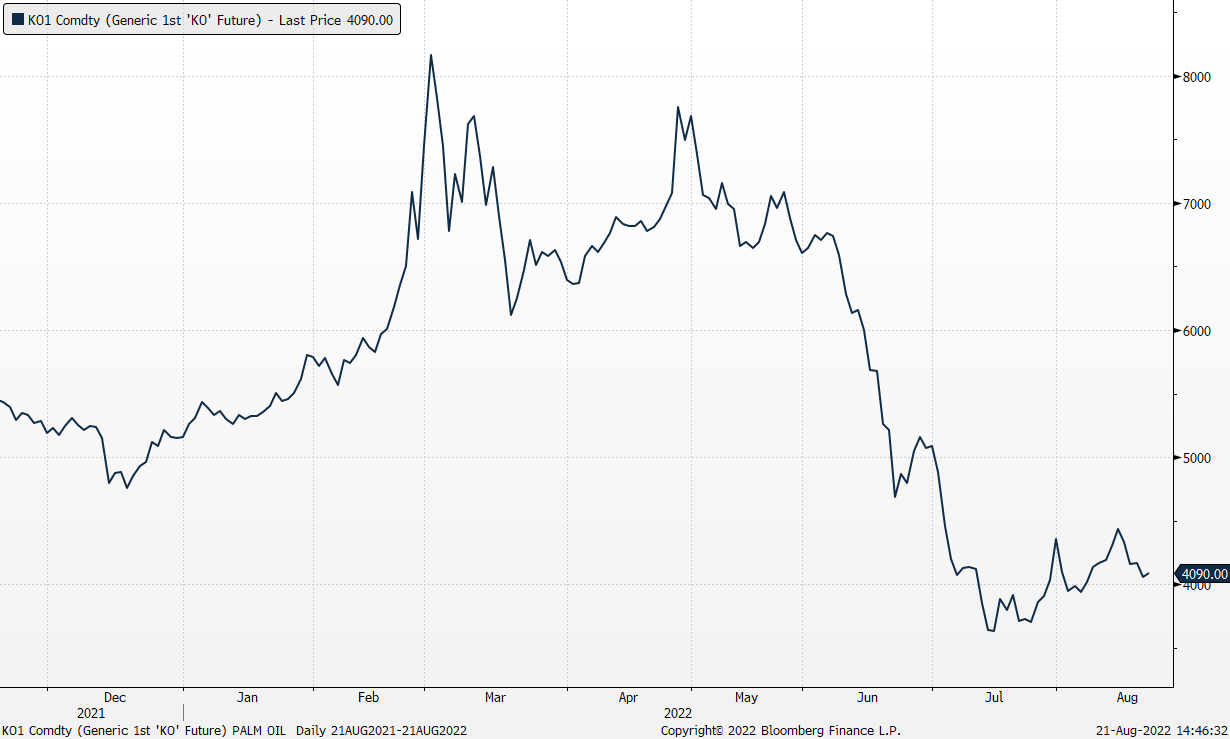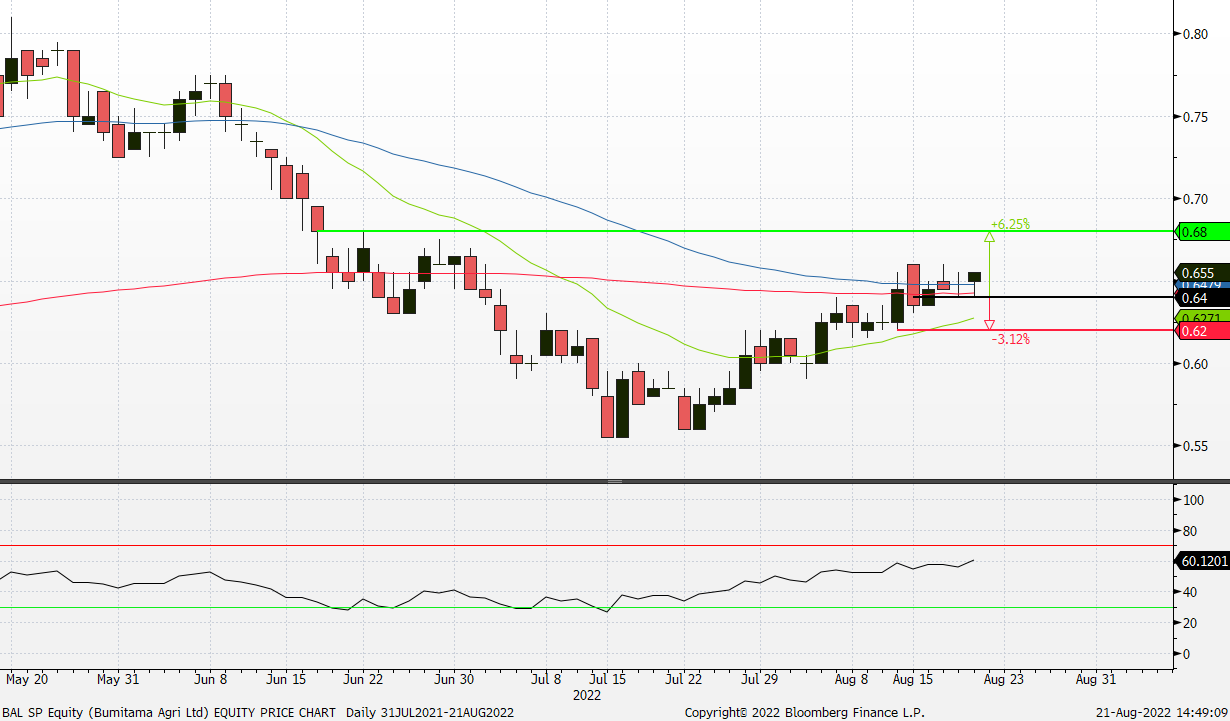 (Source: Bloomberg)


Sinopharm Group Co., Ltd. (1099 HK): A defensive counter amidst a market downturn
RE-ITERATE BUY Entry – 17.5 Target – 19.5 Stop Loss – 16.5
Sinopharm Group Co Ltd is a China-based company principally engaged in pharmaceutical and medical devices distribution business. The Company operates its business through four segments. Pharmaceutical Distribution segment is engaged in the distribution of pharmaceutical products to hospitals, other distributors, retail pharmacy stores and clinics. Medical Devices segment is engaged in the distribution of medical devices, as well as provides installation and maintenance services. Retail Pharmacy segment is engaged in the operation of chain pharmacy stores. Other Business segment is engaged in the distribution of laboratory supplies, manufacture and distribution of chemical reagents, production and sale of pharmaceutical products.
1H22 earnings review. 1H22 revenue grew by 8.9% YoY to RMB36.1bn. Net profit attributable to shareholders dropped by 9.1% YoY to RMB674mn. The decrease in profit was mainly attributable to the decline in the results of Sinopharm Accord's associates due to the impact of the scattered and frequent outbreaks of the Covid-19 pandemic, which resulted in a decline in the store traffic and a slowdown in the sales growthof the retail sector. In addition, the retail business segment opened new directly-operated stores in2021and the first half of 2022 with large initial investment in new stores, the benefits of which have not yet been realized, resulting in a decrease in the margin levels. At the same time, the performanceof Sinopharm Accord's associates declined, leading to a decrease in investment income.
A defensive stock amidst a market downturn. The Hong Kong market has been hammered by both a slowdown in China's economy and geopolitical risks. Growth, value, and cyclical sectors, as well as other thematic stocks, have been sold off indiscriminately. However, this stock is relatively outperforming the rest as its business is largely immune to inflation and policy risks. The business driver is the distribution volume rather than profit margins. The growth in demand for medicines and medical devices is stable with low price sensitivity.
The updated market consensus of the EPS growth in FY22/23 is -0.6%/6.9% YoY respectively, which translates to 5.6x/5.3x forward PE. The current PER is 8.0x. The FY22F/23F dividend yield is 5.4%/5.9%. Bloomberg consensus average 12-month target price is HK$21.65.
(Source: Bloomberg)
China Resources Power Holdings Company Limited (836 HK): Heat wave stikes
China Resources Power Holdings Company Limited is a Hong Kong-based investment holding company principally engaged in the investment, development and operation of power plants. The Company operates through three segments. Thermal Power segment is engaged in the investment, development, operation and management of coal-fired power plants and gas-fired power plants, as well as the sales of heat and electricity. Renewable Energy segment is engaged in wind power generation, hydroelectric power generation and photovoltaic power generation, as well as the sales of electricity. Coal Mining segment is engaged in the mining of coal mines, as well as the sales of coal. The Company mainly operates businesses in China.
Worse heat wave in 60 years. Temperatures in several provinces routinely reached 40°C (104°F). In Sichuan, a regional manufacturing powerhouse that is home to more than 80 million people, the record heat wave has exacerbated an ongoing drought, cutting water levels at hydropower reservoirs in half this month. It is expected that the domestic power supply shortage could haunt again as hydropower generation falls. Coal-fired power generation will surge accordingly.
Net generation of subsidiary power plants edged up in July. Total net generation of subsidiary power plants in July 2022 increased by 8.0% YoY to 17,396.8GWh, among which, subsidiary wind farms decreased by 6.9% YoY to 2,273.2GWh, subsidiary photovoltaic plants remained flat YoY to 120.0GWh.
1H22 earnings review. Profit attributable to owners of the company decreased by 22.5% YoY to HK$4.370bn. Basic earnings per share for the period amounted to HK$0.91, and the company declared an interim dividend of HK$0.21. As at 30 June, the group had an operational generation capacity of 64,610MW and an attributable operational generation capacity of 50,018MW, including the attributable operational generation capacity of thermal power of 33,716MW or 67.4%; and the combined attributable operational generation capacity of wind, photovoltaic and hydropower of 16,302MW or 32.6%.
Updated market consensus of the EPS growth in FY22/23 is 281.6%/29.4% YoY respectively, which translates to 8.5x/6.6x forward PE. Current PER is 91.2x. FY22F/23F dividend yield is 4.7%/6.6%. Bloomberg consensus average 12-month target price is HK$20.7.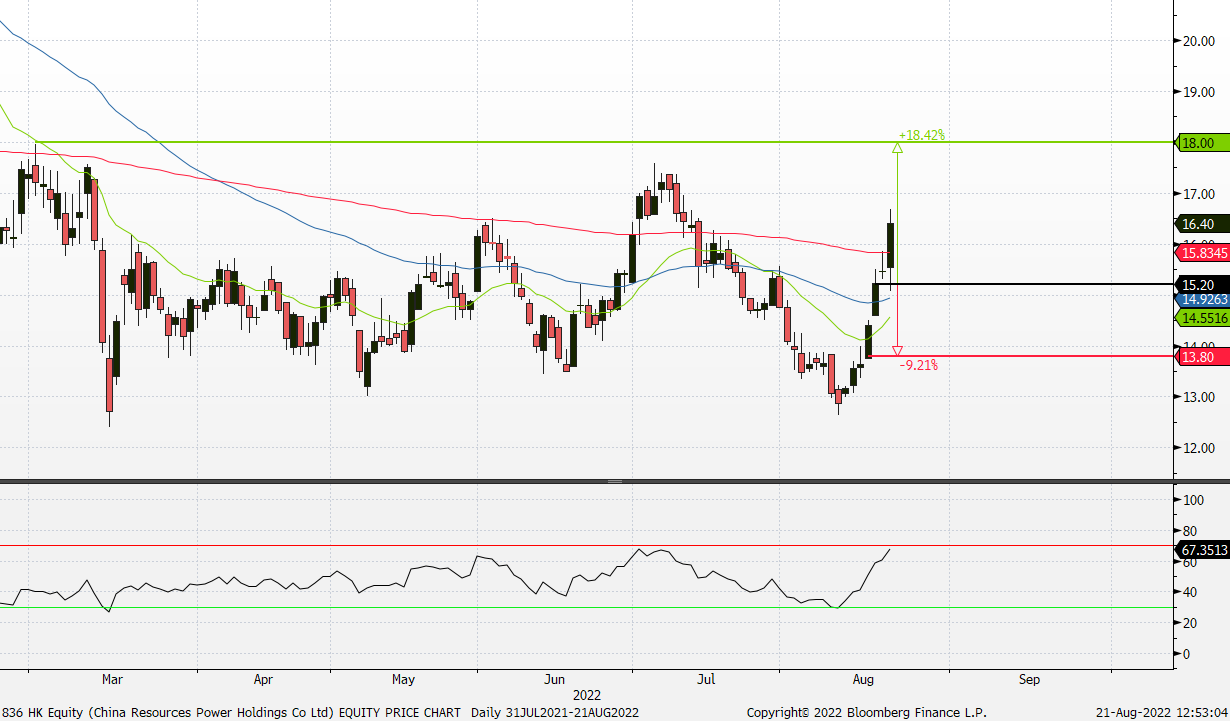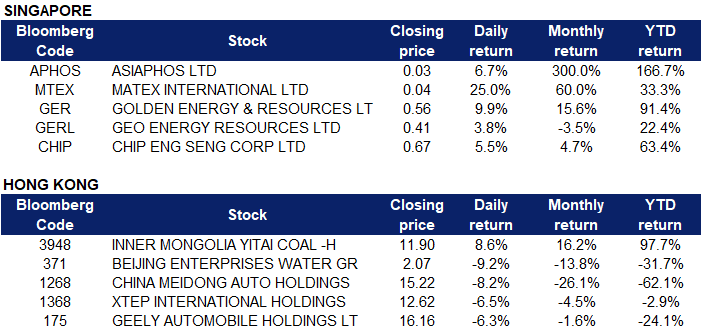 United States
Top Sector Gainers
Top Sector Losers
Twitter Inc (TWTR US) fell 7.3% after a whistleblower at the company filed complaints with the Securities and Exchange Commission, Federal Trade Commission and Justice Department alleging "extreme, egregious deficiencies by Twitter" related to privacy, security and content moderation.
Palo Alto Networks Inc (PANW US) jumped 12.1% after the company reported an earnings beat Monday, driven by strong billings up 44% in the quarter. The cybersecurity company also raised its quarterly and full-year guidance, boosted its buyback program and announced the approval of a 3-for-1 stock split.
Macy's Inc (M US) rose 3.8% after the retailer reported a fiscal second-quarter profit and revenue that topped analysts' expectations. Macy's also teased that its digital marketplace, which was announced last year, is launching in the coming weeks. However, the company cut its full-year forecast, saying it anticipates deteriorating consumer spending on discretionary items such as apparel that will lead to heavy markdowns to move items off shelves.
JD.com Inc (JD US) rose 3.4% after the company exceeded analyst expectations on the top and bottom lines in the recent quarter. JD.com also said that annual active customer accounts rose 9.2%.
Xpeng Inc (XPEV US) sank 10.8% after posting a wider-than-expected loss in the previous quarter. The China-based electric vehicle company topped revenue expectations but said deliveries nearly doubled from the year-ago period.

Singapore
Asiaphos Ltd (APHOS SP) continued rising 6.7% yesterday. The Board of Directors of Asiaphos Limited together with its subsidiaries announced on Friday, that the Company and its wholly owned subsidiary, Norwest Chemicals Pte Ltd have on 18 August 2022 received finalisation of its agreement with a US based Fund that will provide non-recourse funding in respect of the Group's pending international investment arbitration against the People's Republic of China.
Matex International Ltd (MTEX SP) rose 25.0%, it recently posted an update regarding the disposal by the Company of 100% of the registered share capital in Amly Chemicals Co Ltd to the purchaser, Taixing Jinfu Chemistry Co Ltd for a cash consideration of RMB50,000,000 pursuant to a sale and purchase agreement entered into between the Company and the Purchaser on 23 February 2022. The Board announced that the Company has received the first payment of approximately RMB34 million (SGD7.2 million) on 17 August 2022 and the Purchaser is preparing the balance payments in accordance with the terms and conditions of the SPA.
Golden Energy & Resources Ltd (GER SP) and Geo Energy Resources Ltd (GERL SP) rose 9.9% and 3.8% yesterday. Global coal prices have shot up over fears of a supply crunch after the European Commission decided to ban imports from Russia following its invasion of Ukraine, while persisting supply-chain issues are likely to keep prices elevated. Concerns about a shortage have increased dependence on top coal exporter Australia. Coal producers have fielded calls from buyers reliant on Russia and have been approached by governments to help buyers in allied countries to replace Russian supply.
Chip Eng Seng Corp Ltd (CHIP SP) rose 5.5% yesterday. Singapore's Park Hotel Alexandra will be rebranded as Momentus Hotel Alexandra. Opened in 2015, the 442-key PHA will be temporarily closed from 26 August 2022 for a significant refurbishment and name change. Owned by the Momentus Hospitality Ptd Ltd, a Singapore-based Chip Eng Seng Group subsidiary, the soon-to-be owner-operated property will implement sustainable solutions and drive technology innovation and adoption in the refurbished property. The refurbished hotel is expected to benefit from the uptrend in the global tourism and hospitality sector when it reopens in Q1 2023.

Hong Kong
Top Sector Gainers
Top Sector Losers
Inner Mongolia Yitai Coal Co Ltd (3948 HK) rose 8.6% yesterday. Yitai Equity Investment Management Co Ltd, a wholly owned subsidiary of the company signed a contract with Shenzhen Taiyu Private Equity Fund Management Co Ltd, a wholly-owned subsidiary of Yitai Equity Investment, and Inner Mongolia Zhongtai Energy Co Ltd in April 2022. It has been recently announced that the "Shenzhen Shangzhu Investment Partnership" has completed the filing of private investment funds with the Asset Management Association of China.
Beijing Enterprises Water Group Ltd (0371 HK) fell 9.2% yesterday. It issued a profit warning, expecting the net profit in the first half of the year to decrease by about 70% year-on-year. Mainly due to the dilution of the company's shareholding in Seco New Energy from 31.88% to 18.03%, a loss of about 1 billion yuan was confirmed as a deemed sale; Suspended or delayed implementation will reduce the net profit of water environment treatment and construction services.
China Meidong Auto Holdings Ltd (1268 HK) shares fell 8.2% yesterday. On the evening of August 22, Meidong Auto issued a profit warning saying that the profit in the first half of this year is expected to fall by no more than 40% year-on-year. The main factors include: the decrease in sales volume of new cars by no more than 10%; the additional costs related to the issuance of convertible bonds under the guarantee of not less than 40 million; the expenses incurred by the amortisation of dealership rights of about 25 million; and the additional issuance of employee options. Expenses are about 18 million. Earlier, CMB International predicted that the company's 1H22 revenue would increase by 3% year-on-year, and its net profit would drop by 10% year-on-year to 480 million yuan.
Xtep International Holdings Ltd (1368 HK) shares fell 6.5%. At noon on August 23, Xtep International released its interim results. In 22H1, the company achieved revenue of 5.684 billion yuan, a year-on-year increase of 37.45%; recorded a profit attributable to shareholders of 590 million yuan, a year-on-year increase of 38.4%. Gross profit margin during the period was 42%, up 0.2 percentage points year-on-year. An interim dividend of 13 HK cents was paid. Previously, the company expected 1H22 revenue and net profit to increase by 35%+ year-on-year. Relevant operating indicators show that in the first half of this year, the company's average inventory turnover days increased significantly from 79 days in the same period of the previous year to 106 days, setting a new high since its listing in 2008, and also setting a new record for interim financial reports.
Geely Automobile Holdings Ltd (0175 HK) shares dropped 6.3% yesterday. Regarding the market's concern about the impact of power shortages in Sichuan Province, Geely's management said that from August 16th to August 20th, production had been stopped for four days. It is uncertain whether there will be further shutdowns, but if it is only suspended for four days, the impact on the supply of spare parts in Sichuan Province and Chongqing will be limited, because the general spare parts inventory can last for about a week. It is worth mentioning that most of Geely's manufacturing bases and parts suppliers are located in East China, which will not be affected by the power shortage in Sichuan Province.


Trading Dashboard Update: No stocks additions/deletions.