KGI DAILY TRADING IDEAS – 23 September 2021
Singapore Trading Ideas | Hong Kong Trading Ideas | Market Movers | Trading Dashboard
SINGAPORE
CapitaLand Investment (CLI SP): The new game in town
BUY Entry – 3.25 Target – 3.50 Stop Loss – 3.15
CLI was listed from the privatisation of CapitaLand Ltd (CAPL SP). CLI is one the leading global real estate investment managers (REIM) with a strong Asia foothold and pro forma total real estate assets under management of S$115bn and S$78bn of real estate funds under management. As of yesterday's close, CLI had a market cap of S$16bn.
Three synergistic growth drivers. CLI will focus on growing its fund management, lodging management and capital recycling.
Growing fees under AUM. CLI's funds under management grew from S$46bn in 2015 to S$78bn in 2020, or an implied 11% CAGR during this time. Fee income grew at a 12% CAGR from 2017 to 2020.
Lodging business. CLI's lodging units under management increased at a much higher 20% CAGR between 2017 to 2020. By the end 2020, it had 123,000 lodging units. CLI receives S$20-25mn fee income per 10,000 stabilised serviced resident units.
Capital recycling. CLI is able to tap on its parent company's ecosystem for investment opportunities. Following the restructuring, the parent company, CapitaLand, will focus on the real estate development business. CapitaLand has provided a rights of first refusal to CLI in regards to relevant assets that it will dispose of.
Potential to trade above NAV. Given CLI's asset-light business model and stable recurring income stream, we expect CLI to trade at least 15-20% premium to its NAV of S$2.93, translating to a conservative fair value of between S$3.37 and S$3.52. We peg our S$3.45 trading target price to an average between the 15-20% premium to NAV.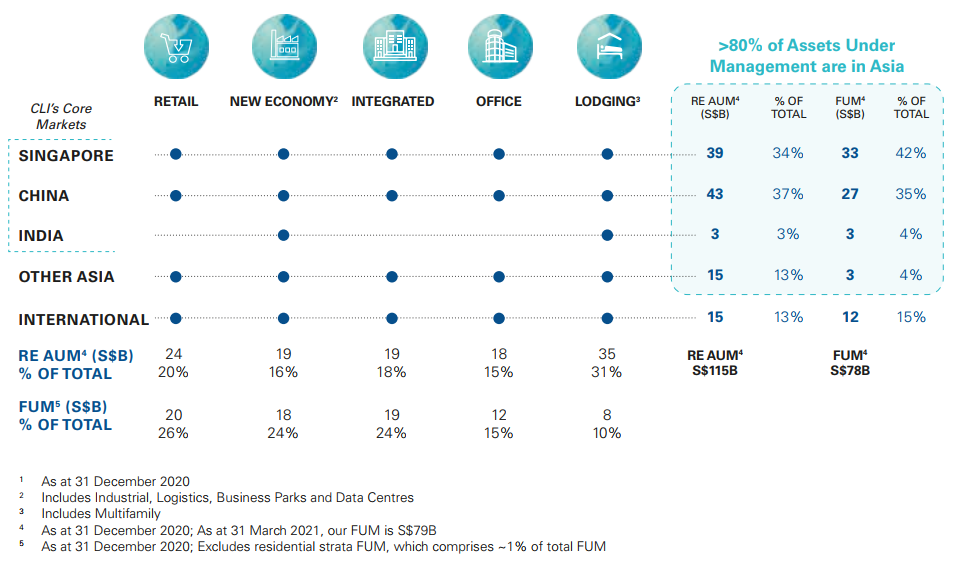 ---
Yangzijiang (YZJSGD SP): Stay calm and buy the dip
BUY Entry – 1.36 Target – 1.70 Stop Loss – 1.25
Broad-based market correction. Shares of Yangzijiang have corrected more than 11% over the past month on broad-based selling among China-based companies. We see this as a buying opportunity. Yangzijiang currently trades at S$1.48 vs its 5-year high of S$1.74, even though it's order book is at the highest since 2007.
China's largest private shipbuilder. Yangzijiang is China's largest private shipbuilder. The company builds a broad range of commercial vessels including containerships, bulk carriers and LNG vessels. Yangzijiang has been at the forefront of shipbuilding in China, receiving its first ever 24,000 TEU containership order in December 2020, the largest containership currently operating in the world.
Record order book. The company has secured a total of 118 effective shipbuilding contracts with an aggregate value of US$7bn, a new record for the group. Its previous record was US$5bn of new orders secured during the last supercycle in 2007. Furthermore, as delivery slots are already filling for the second half of 2023, Yangzijiang should be in a good position to negotiate for higher prices.
Upside catalyst from potential spin-off of investment portfolio. Yangzijiang is currently conducting a preliminary strategic review of its debt investment portfolio to focus on shipbuilding. The potential listing of Yangzijiang's debt securities portfolio, which makes up 50% of gross profit, could provide a rerating to its share price.
Positive consensus estimates. Valuations are still attractive at 9x/8x/7x FY21/22/23 PE, while trading at a 20% discount to historical book value. Cash & cash equivalents make up almost 80% of its current market cap. Consensus currently has 7 BUYS, 1 HOLD and 1 SELL, and a 12m TP of S$1.71.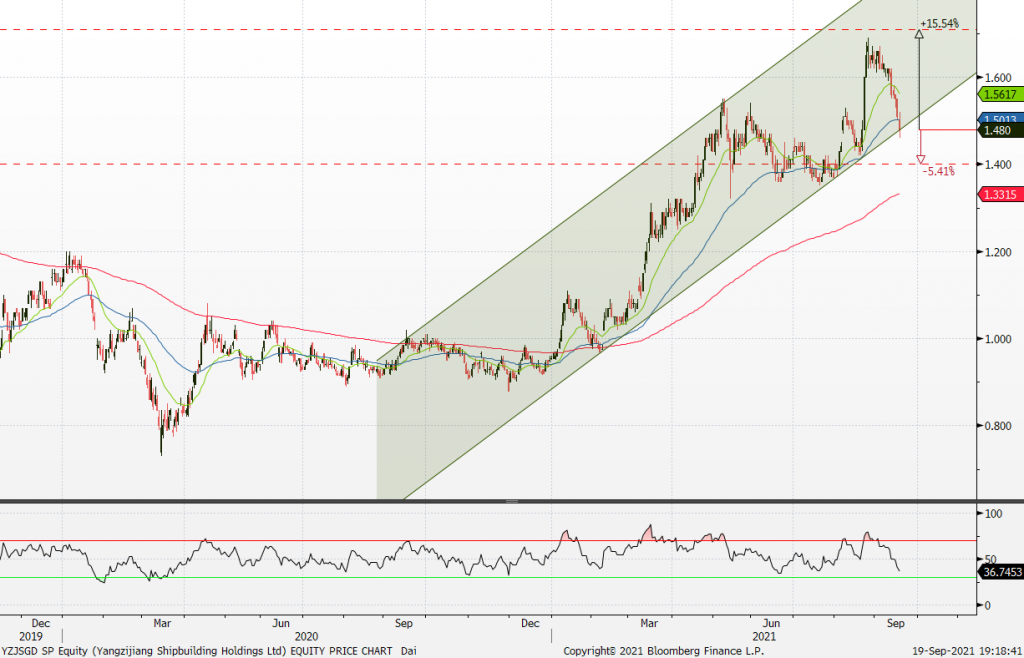 ---
HONG KONG
Xinjiang Goldwind Science & Tech Co Ltd (2208 HK): Do not let the market headwinds shadow the stock tailwinds
Buy Entry – 15.5 Target – 18.5 Stop Loss – 14
Xinjiang Goldwind Science & Tech Co Ltd is a China-based company, principally engaged in the manufacture and distribution of wind turbine generator sets and spare parts. The company is also engaged in the provision of wind power services, as well as the investment and development of wind farms. The company distributes its products within domestic and overseas markets.
The recent overall market weakness was the result from the property sector crisis. Quality stocks with an upbeat outlook were dragged down by the sell-off. Several sectors or investment themes are relatively risk-free in terms of policy and are irrelevant to the property sector, namely semiconductor, electric vehicle, and clean energy.
1H21 revenue decreased by 7.8% YoY to RMB17.9bn due to the 71.5% YoY decrease in capacity sold of 2S-series turbines offsetting the 379.4% YoY and 316.8% YoY jump in capacity sold of respective 3S/4S-series turbines and 6S/8S-series turbines. Net profit attributable to owners of the company jumped by 45% YoY to RMB1.8bn due mainly to the increased gross profits from WTG Manufacturing and Sale and Wind Farm Investment and Development business.
Both onshore and offshore wind power installed capacity is expected to be 50 GW in 2021, 40 GW of which will be installed in 2H21. The overall wind power installed capacity during the 14th-Five-Year Plan period (2021-2025) is expected to be more than 300 GW.
The International Renewable Energy Agency (IRENA) predicts that global renewable energy growth will reach a new normal in 2021 and 2022 and the growth trend will continue. An additional 270GW capacity of renewable energy is expected to become operational worldwide in 2021, followed by another 280GW in 2022. Meanwhile, IRENA projects that the additions to renewable energy capacity in China will be pared down by one-fourth YoY in 2021, owing to the Chinese government's decision to phase out its subsidies for wind and solar power projects by the end of 2020.
Updated market consensus of the EPS growths in FY21/22/23 are 34.6%/5.5%/9.1% YoY respectively, which translates to 15.4x/14.6x/13.4x forward PE. Current PER is 17.3x. Bloomberg consensus average 12-month target price is HK$18.31.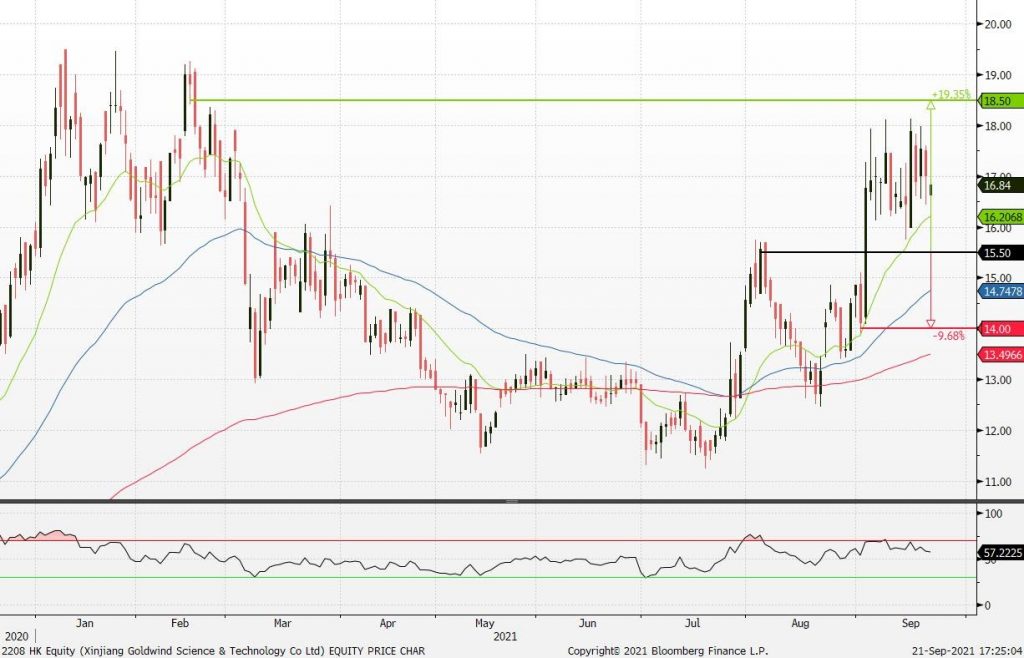 ---
AviChina Industry & Technology Company Limited (2357 HK): Defence is defensive amid the market downturn
Reiterate Buy Entry – 5.2 Target – 6.0 Stop Loss – 4.85
AviChina Industry & Technology Company Limited is principally engaged in the research, development, manufacture and sale of civil aviation products. The company operates its business through two segments. The Aviation Entire Aircraft segment is engaged in the manufacture, assembly, sales and servicing of helicopters, trainers and other aircraft. The Aviation Parts and Components segment is engaged in the manufacture and sale of aviation parts and components.
Healthy growth in 1H21 results. Revenue grew by 33.06% YoY to RMB27.9bn. GPM increased by 0.97ppt to 39.3%. Net profit attributable to the owners of the parent company grew by 39.7% YoY to RMB1,199mn, which was due mainly to the growth craft segment and aviation ancillary system and related business segment. In 2H21, 5G communications and new energy vehicles are the two fields that the company sees as opportunities of business growth.
The recent catalyst for the stock could be the announcement of broadening the 2018 pilot program to allow Red-chip companies to make domestic listings. It has a higher potential to be dual-listed in mainland China. Meanwhile, market sentiment of the stock is positive as long as there are military tensions between China and countries such as Japan and the US.
Consensus estimates per the 12-month target price at HK$7.61, implying a 26% upside potential. EPS is forecasted to grow at 32.6%/17.5%/13.5% for FY2021/22/23F, which would bring forward P/Es down to 16x/13x/12x FY2021/22/23F.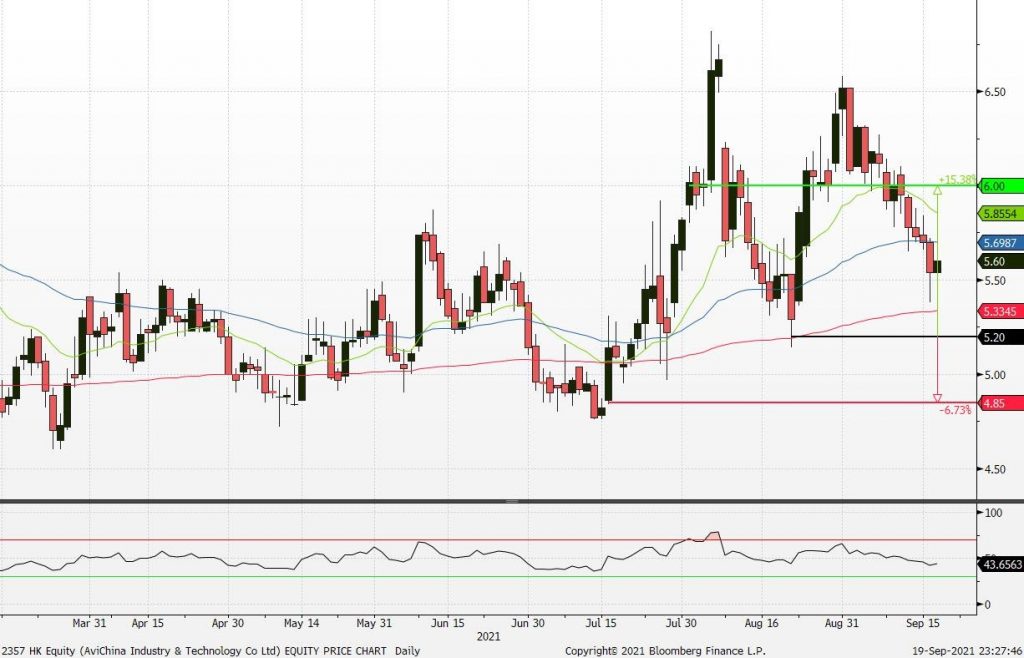 ---
Market Movers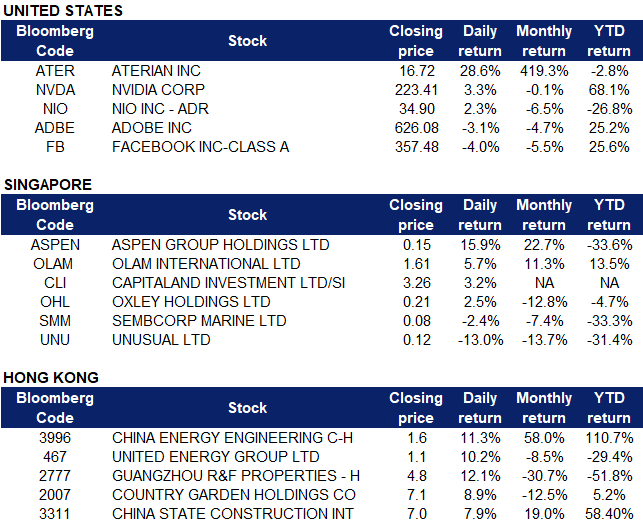 United States
Aterian Inc (ATER US) shares continued making big gains, closing 28.62% higher on Wednesday, and up another 3.83% in after-hours trading. There was no company specific news. The stock began spiking earlier this month after it emerged as a new short-squeeze favourite among investors on Reddit.
Nvidia (NVDA US) stocks climbed 3.27% after CNBC reported that Goldman Sachs analysts are bullish on the U.S. semiconductor market. Additionally, the International Data Corporation has just released its forecast for the semiconductor industry over the next two years, showing that chip sales that grew 11% last year and 17% this year will not slow down anytime soon. IDC also sees the global semiconductor industry having $600 billion in annual sales by 2025, a compound annual growth rate of 5.3% from today.
NIO Inc (NIO US) shares bounced back on Wednesday, climbing as much as 3% higher before closing 2.29 up at $35.70. The company showcased its upcoming ET7 electric sedan in a video workshop in Germany last week. NIO's expansion outside of China might have boosted investors' confidence in the stock. Additionally, Chinese publication CNEVPost reported that the company may be releasing a new hybrid battery pack which might cost less and have a bigger range than the current 70kWh version.
Adobe Inc (ADBE US) shares dipped 3.07%, despite posting quarterly financial results that beat analyst expectations. The company posted revenue of $3.94 billion, up 22% from $3.23 billion in the year-earlier quarter. On a year-over-year basis, Adobe earnings rose 21% while sales climbed 22%. While the company beat consensus estimates on the top and bottom lines, it missed expectations for revenue in its core Digital Media business as it experienced more adverse seasonality than expected in its Creative Cloud business last quarter.
Facebook (FB US) shares dropped 3.99% on Wednesday, on top of the 5% the stock lost last week. Following in The Wall Street Journal's footsteps with the multi-series expose 'The Facebook Files', The New York Times published an article about Facebook's 'Project Amplify', explaining the goal of Project Amplify is "to show people positive stories about the social network" by "pushing pro-Facebook news items" directly into users' News Feeds. Additionally, Facebook on Wednesday accused Apple of thwarting its advertising business, warning investors that its bottom line could take a hit thanks to Apple's meddling.
---
Singapore
Aspen Group Holdings (ASPEN SP) shares jumped as much as 28.6%, prompting a query from SGX for unusual price and volume movements. There was no company specific news, and the company responded to the query saying that it is not aware of any information not previously announced which might explain the trading. Aspen previously announced that it obtained two 510(k) premarket notification clearances from the US Food and Drug Administration to market its nitrile examination gloves and latex surgical gloves, which allows the company to design, manufacture and directly distribute the gloves under the "Aspen Glove" trademark in the U.S. The stock closed 15.87% at $0.146 on Wednesday.
Olam International (OLAM SP) Shares rose 5.7% to close at its highest since June 2021. Earlier this week, the company posted more information on the planned demerger and IPO of Olam Food Ingredients (OFI). OFI will be seeking a primary listing on the premium segment of the London Stock Exchange, and will concurrently seek a listing in Singapore. The company expects OFI's strong business momentum to continue into the second half of 2021, after OFI reported a 29.5% YoY increase in 1H2021 EBIT amid continued EBIT margin expansion.
CapitaLand Investment (CLI SP) climbed another 3.16% yesterday, now closing 16% above the S$2.82 implied consideration when it listed on Monday. The Edge Singapore reported that CapitaLand Investment Chairman Miguel Ko bought over $2 million worth of shares on its trading debut on 20 September, paying $2.9349 each for 700,000 shares. Ko previously held just 3,679 shares.
Oxley Holdings (OHL SP) shares closed 2.5% higher yesterday, after the company announced on Tuesday that it had divested its land parcels in North Sydney for approximately $96.3 million. The sale is expected to have an impact on the expected earnings per share of Oxley for the financial year ending 30 June 2022. In a bourse filing on Tuesday, the company said that it expects the transaction to contribute positively to its cashflow, as it does not have any outstanding bank loan secured by the asset.
Sembcorp Marine (SMM SP) shares dropped 2.35% after it was announced that Temasek Holdings has made a mandatory conditional general cash offer to acquire issued and paid-up shares in Sembcorp Marine after Temasek raised its stake following a rights issue. Temasek Holdings said in a filing yesterday that through its indirect wholly-owned subsidiary Startree Investments, the offer is made at a price of S$0.08 per share in cash, which is in line with the rights issue price, and intends to keep Sembcorp Marine listed on the SGX following the completion of the offer.
UnUsUaL Limited (UNU SP) shares plunged 13.0% to close at S$0.12 after RHB Research downgraded the company to a neutral rating with a lower target price of $0.14. Analyst Jarick Seet said in his report that "Although the worst is over for UnUsUaL, we still think concerts and events will likely not resume so soon… We only expect events to resume from 1Q22 onwards, if the pandemic remains controlled with no new variants thwarting the efficacy of existing vaccines." The company previously said in its profit guidance last week that it expects to record a net loss for FY2021 compared to a net profit a year ago, attributed to disruptions from the pandemic.
Trading Dashboard: Cut loss on Yangzijiang (YZJSGD SP) at S$1.40
---
Hong Kong
The Hong Kong market was closed yesterday in observance of the Mid Autumn Festival holiday. Trading resumes today, 23 September 2021.
---
Trading Dashboard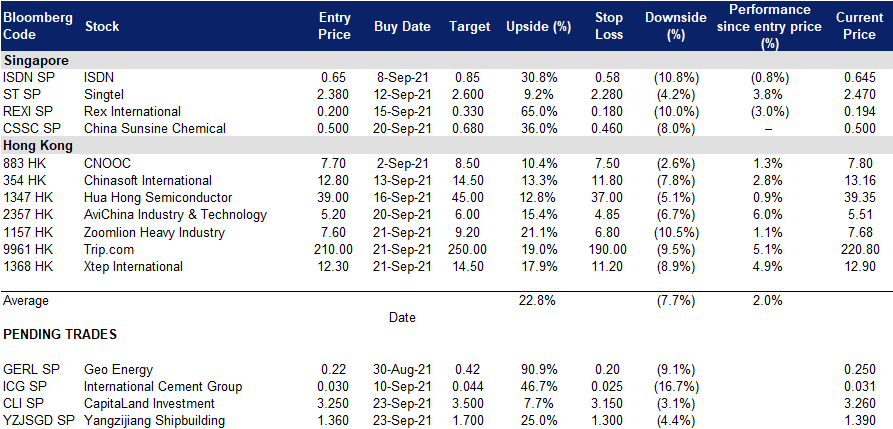 ---

---
Related Posts: