23 May 2022: ThaiBev (THBEV SP), WH Group Ltd (288 HK)
Singapore Trading Ideas | Hong Kong Trading Ideas | Market Movers | Trading Dashboard

ThaiBev (THBEV SP): To Spin off BeerCo to unlock value
BUY Entry – 0.700 Target – 0.770 Stop Loss – 0.665
ThaiBev is Thailand's largest and one of Southeast Asia's largest beverage companies. THBEV has a 28.5% stake in SGX-listed Fraser & Neave Ltd (FNN SP) and a 28.3% stake in Frasers Property Limited (FPL SP). It also has a 53.6% stake in Saigon Beer-Alcohol-Beverage Corporation (SABECO), Vietnam's largest beer company. ThaiBev has a 90% market share of Thailand's spirit market.
Strong 2Q22 performance. ThaiBev announced its 2Q22 (YE Sep) business update. Revenue in the quarter increased by 11% YoY to THB65.8bn. Net profit grew by 20% YoY to THB7.1bn. The stronger growth was driven by the recovery in the beer (+20.3% YoY sales) and food (+41.6% YoY sales) segments. Balance sheet also improved with net gearing dropping to 0.77x as of Mar-2021 vs 0.86x as of Sep-2021.
Resumption of proposed spin-off of BeerCo unit. Its wholly-owned subsidiary International Beverage Holdings, which holds all the issued ordinary shares of BeerCo, will conduct a public offering of up to 20% of the total number of issued ordinary shares of BeerCo. BeerCo has 3 breweries in Thailand and a network of 26 breweries in Vietnam. Its business includes the production, distribution and sales of beer including the Chang and Bia Saigon brands. BeerCo posted a net profit of S$104mn (+12.1% YoY) and revenue of S$1.16bn (+30.7% YoY) in 2Q22.
Positive consensus estimates. Consensus has 15 BUYS and 1 HOLD on ThaiBev, with an average TP of S$0.90, implying a 26.8% upside potential from the last close price. Earnings are expected to recover 7-15% per annum over three years, which would bring its forward P/E down to 15.8x/14.7x/13.6x FY2022/23/24F (YE Sep).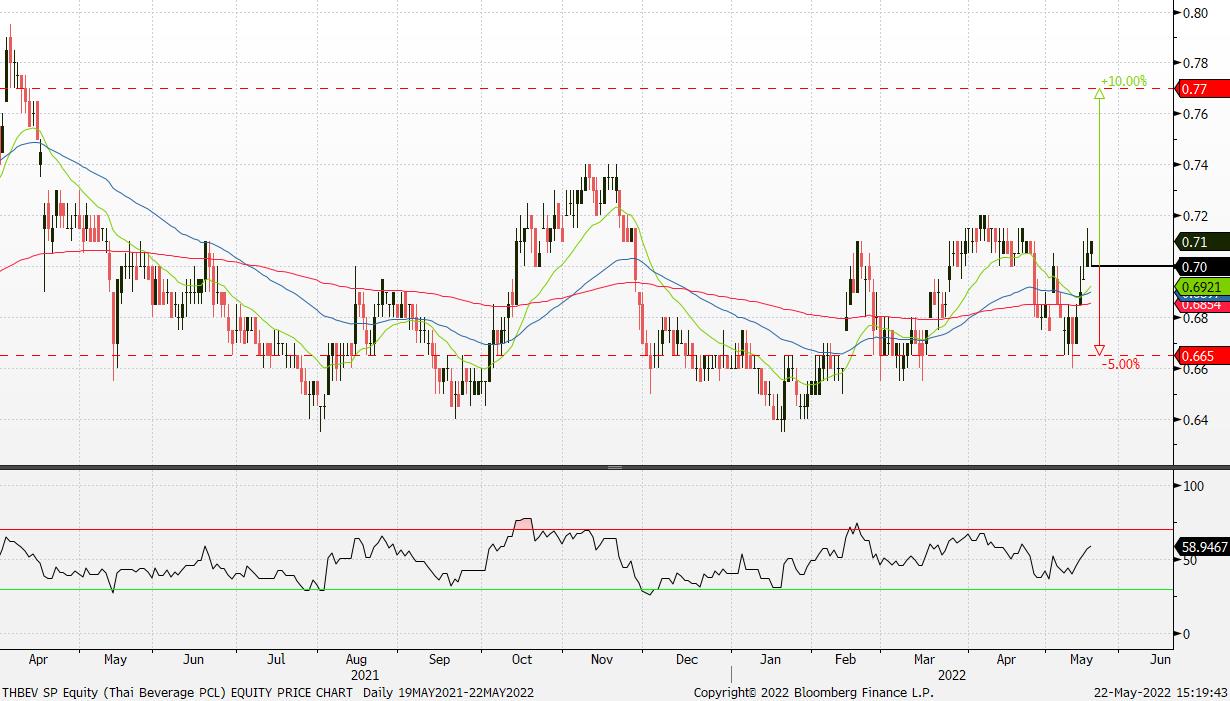 (Source: Bloomberg)

SATS (SATS SP): Reopening theme still intact
RE-ITERATE BUY Entry – 4.40 Target – 4.64 Stop Loss – 4.28
SATS is Asia's leading provider of food solutions and gateway services with 13,000 employees in over 55 locations and 33 countries across the Asia Pacific, UK and the Middle East. SATS is part of the STI with a market cap of almost S$5bn as of 5 April 2022.
Singapore reopens. The Singapore government announced on 25 March 2022 that all vaccinated travellers can enter Singapore without quarantine from the first of April. Travellers will no longer be required to take only designated flights to enter Singapore quarantine-free, and will not have to take the antigen rapid test (ART) within 24 hours of arrival. This latest round of easing will make travelling as seamless as it was before the pandemic.
Twin engines of growth. SATS has a dominant 80% share of inflight catering and gateway services at Changi Airport and a strong presence in regional airport hubs in key Asian cities, and would thus benefit from the recovery of air travel. Furthermore, SATS has diversified into non-aviation businesses such as central kitchens, which should provide another venue of growth while its main business recovers from the pandemic-induced slump.
Inflection point. Overall international traffic in Asia Pacific so far remains at -88% of 2019 peaks, compared to -42% for North America and European international traffic. However, reopenings in the region (except for major countries like China and Japan) should start to accelerate going into 2Q2022 with more governments announcing relaxation of restrictions. According to a report by Pacific Asia Travel Association (PATA), international visitor arrivals into Asia is forecasted to jump by 100% between 2022 and 2023
Positive consensus estimates. There are 4 BUY/1 ADD/1 OUTPERFORM and an average 12m TP of S$4.84, implying a return of 9.7% from the last close price. SATS trades at 142.3x FY2022F P/E and 45.5x FY2023F P/E (YE March). While expensive on a headline P/E level, investors may accord a premium to SATS given the strong balance sheet and positive earnings growth going forward.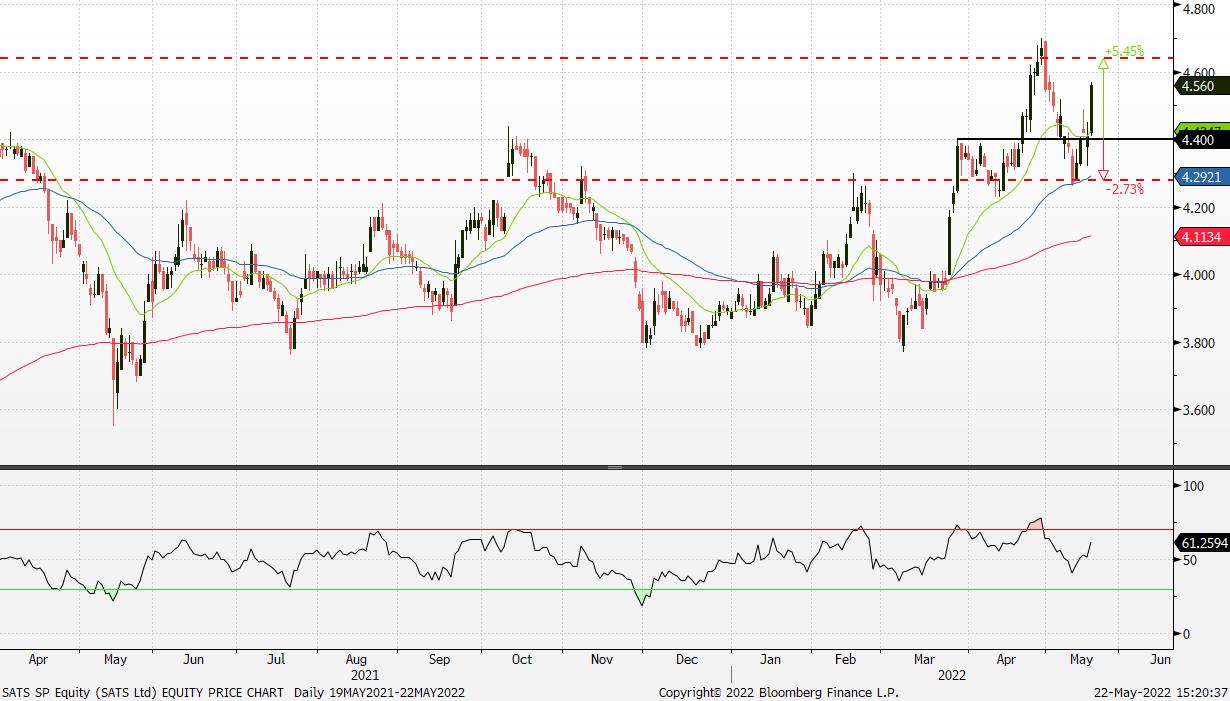 (Source: Bloomberg)


WH Group Ltd (288 HK): Riding on the upswing of pig prices
WH Group Ltd is an investment holding company mainly engaged in the pork business. The Company operates its business through three segments. The Packaged Meats segment is engaged in the production, wholesale and retail of low temperature and high temperature meat products. The Pork segment is engaged in the slaughtering, wholesale and retail of fresh and frozen pork and hog farming businesses. The Others segment is engaged in the slaughtering and sales of poultry. The Segment is also engaged in the sales of ancillary products and services such as provision of logistics services, manufacturing of flavouring ingredients and natural casings, manufacture and sales of packaging materials, operating finance companies, property development companies, a chain of retail food stores, sales of biological pharmaceutical materials, trading of meat related products and others.
Live pig price rebounding. As of 20th May, the average live pig price in the rural retail market arrived at RMB20.9/kg, up 13.6% MoM. The turnaround was due mainly to supply chain disruptions resulting in traffic congestion. But the utilisation rates of the meat processing plants started to edge up. Currently, the number of pig stock is 424mn, compared to 449mn at the end of 2021. The number of pig breeds dipped by 0.2% MoM and fell by 4.3% YoY in April. The destocking of live pigs has come to an end. The demand weights more among factors impacting live pig prices in the near term. With China easing lockdowns soon, the demand is expected to revive again.
China Retail Price: Rural Market Fair: Live Pig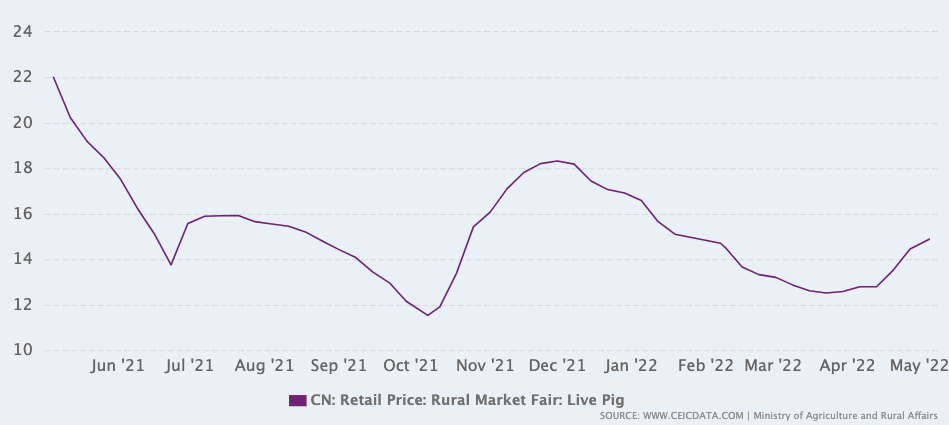 Source: CEIC
1Q22 results review. Total operating income dropped by 24.7% YoY to RMB13.8bn. Net profit dipped by 1.6% YoY to RMB1.5bn. Operating margin increased by 3.6ppts to 13.8%. Shuanghui Development's external sales volume of meat products increased by 1.8% YoY to 0.76mn metric tonnes.
The updated market consensus of the EPS growth in FY22/23 is 37.5%/7.3% YoY respectively, which translates to 7.1x/6.6x forward PE. The current PER is 9.8x. Bloomberg consensus average 12-month target price is HK$7.87.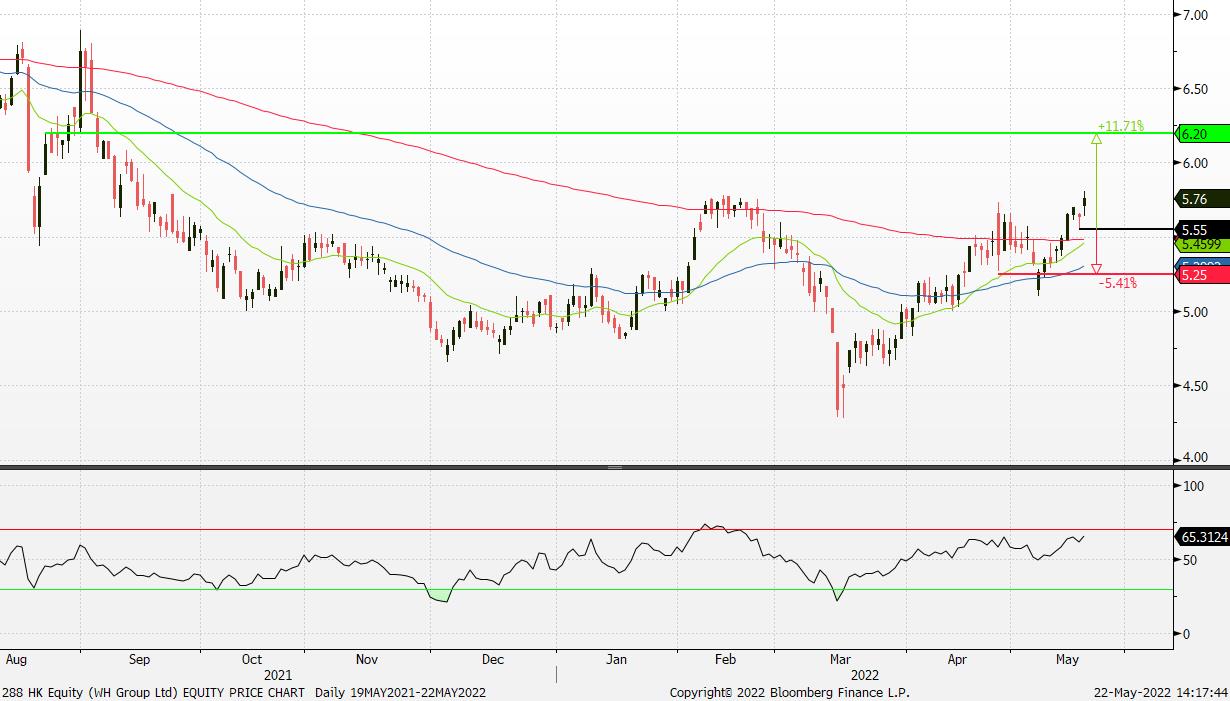 (Source: Bloomberg)

Xinjiang Goldwind Science & Tech Co Ltd (2208 HK): Slowly bottoming out
Xinjiang Goldwind Science & Tech Co Ltd is a China-based company, principally engaged in the manufacture and distribution of wind turbine generator sets and spare parts. The company is also engaged in the provision of wind power services, as well as the investment and development of wind farms. The company distributes its products within domestic and overseas markets.
Expecting bottom-out after the headwinds. China's economy will hit a speed bump in 2Q22 due to a surge in Covid infection in major cities and ensuing lockdowns. Domestic supply chains are disrupted, and manufacturing activities are halted. PBOC lowered the required reserve rate a week ago. To revive the economy, Chia will probably resort to infrastructure expansion, and clean energy projects will be one of key propellants. According to BloombergNEF, prices for turbines in China plummeted from about US$700,000 per megawatt in early 2020 to about US$470,000 at the end of 2021. Currently, the bid for new projects averages at about US$370,000. Xinjiang Goldwind's Chairman commented that the price of wind turbines had reached the bottom, and there was no room for further price declines.
FY21 financials and operations review. FY21 operating revenue dropped by 10.2% YoY to RMB50.4bn. Net profit attributable to owners of the company grew by 16.7% YoY to RMB3.4bn. The decline in revenue was due mainly to the offshore wind sector experiencing rush-to-installation and onshore wind sector entering the era of grid-parity. The company will announce its 1Q22 earnings on 26th April Tuesday.
Revenue breakdown

Operation breakdown

(Source: Bloomberg)





United States
Top Sector Gainers
Top Sector Losers
Palo Alto Networks (PANW US) shares jumped 9.7% after it beat analyst estimates on the top-and-bottom lines in the recent quarter and raised its outlook for the current quarter.
Foot Locker Inc (FL US) shares rose 4.1% after the company reported better-than-expected quarterly earnings. Foot Locker reported an adjusted quarterly profit of $1.60 per share, 5 cents above estimates per Refinitiv. Same-store sales also fell by less than half of what analysts had expected.
Ross Stores Inc (ROST US) shares slid 22.5% after the company posted weaker-than-expected earnings and revenue for its latest quarter and issued weak financial guidance due to inflationary pressures and other macroeconomic conditions.
Deere & Company (DE US) stock plummeted 14.1% after Deere reported a miss on revenue but a beat on profit in the recent quarter. The equipment maker reported earnings per share of $6.81 on revenues of $12.03 billion. Analysts expected $6.71 per share on $13.2 billion in revenue.
Hewlett Packard Enterprise Co (HPE US) shares fell 5.9% after Bank of America downgraded the stock to neutral from a buy as it faces worsening supply chain issues.
---
Singapore
Golden Agri-Resources Ltd (GGR SP), Bumitama Agri Ltd (BAL SP) and Wilmar International Ltd (WIL SP) shares rose 9.1%, 4.7% and 4.1% respectively on Friday. Malaysian palm oil futures consolidated above the MYR 6,200-a-tonne level, rebounding from a five-week low around MYR 5,925 after Indonesia said it would impose a domestic sales requirement for the vegetable oil. This move came in the aftermath of President Joko Widodo's signalling that Jakarta would lift its export ban later this month, allowing supply from the world's biggest producer to re-enter the international market. Adding to the chipper mood were prospects of robust export demand from Malaysia after such a ban.
The Place Holdings Ltd (THEPLACE SP) shares rose 4.0% on Friday. The Place Holdings has proposed buying a 51% stake each in 2 companies that are involved in the operations of an LED sky screen in Beijing, China, for an aggregate consideration of around S$47 million. The company has entered into sale and purchase agreements for a 51% stake in Sun Xin Investment for S$26.5 million, and a 51% stake in Sun Oriental for S$20.5 million, it said on Wednesday (May 11). The assets of Sun Xin comprise mainly of intellectual property (IP) rights of trademarks and patent of the Shimao Tianjie Sky Screen, as well as of the logo of mixed-use development The Place in Beijing, which is located next to the sky screen.
Jardine Matheson Holdings Ltd (JMH SP) shares rose 4.4% on Friday. Jardine Matheson Holdings announced that it and its companies have seen a positive YoY recovery in performances for their 1QFY2022 ended March period. Leading the recovery is Astra, Hong Kong Land (HKL), Jardine Cycle & Carriage (JC&C) and the Motors business, with all delivering increases in profit. Jardine Pacific saw a decline year-on-year and the performances of DFI Retail and Mandarin Oriental were broadly flat, with these businesses impacted by the resurgence of the pandemic in North Asia.
Hong Kong
Top Sector Gainers
Top Sector Losers
GDS Holdings Ltd (9698 HK) Shares rose 9.64% last Friday after the company announced its 1Q22 results. Net revenue jumped by 31.5% YoY to RMB2.24bn. Net loss was RMB373.3mn in 1Q22, compared with a net loss of RMB278.7mn during the same period last year. Total area committed and pre-committed by customers increased by 24.5% YoY to 575,009 sqm as of 1Q22. Commitment rate for area in service was 95.3%, and pre-commitment rate for area under construction was 63.1%. The area utilized by customers increased by 32.2% YoY to 332,019 sqm. The utilization rate for area in service was 67.4%.
NIO Inc (9866 HK) Shares rose 9.55% last Friday. The company successfully listed its Class A ordinary shares on the main board of the Singapore Exchange Securities Trading Limited. The shares listed on the Singapore exchange are fully fungible with the ADSs listed on the NYSE. Meanwhile, the stock will be included in Hang Seng Composite Index and Hang Seng Tech Index, effective on June 13th.
Angelalign Technology Inc (6699 HK) Shares rose 8.49% last Friday. There was no company-specific news. The positive price movements aligned with the rebound in the tech and other growth sectors.
Smoore International Holdings Ltd (6969 HK) Shares rose 8.33% last Friday. There was no company-specific news. Recently, more than 20 provinces, municipalities, and autonomous regions released regulations of e-cigarette retailing. Currently, there are more than 40,000 e-cigarette licenses released. It is expected the national e-cigarette trading regulatory platform to be launched on 15th June.
Yankuang Energy Group Company Limited (1171 HK) Shares rose 7.57% last Friday and closed at a one-month high. There was no company-specific news. National Energy Administration announced that raw coal production grew by 10.5% YoY in 4M22. Coal imports dropped by 24.2% YoY in 1Q22 but increased by 8.4% YoY in April.


Trading Dashboard Update: Take profit on Jiutian Chemical (JIUC SP) at S$0.11.