23 March 2022: Geo Energy (GERL SP), Xtep International Holdings Ltd (1368 HK)
Singapore Trading Ideas | Hong Kong Trading Ideas | Market Movers | Trading Dashboard
SINGAPORE
Geo Energy (GERL SP): Riding the super cycle
BUY Entry – 0.51 Target – 0.56 Stop Loss – 0.48
Valuable coal. GERL owns four coal mining concessions in Indonesia. The group reported a JORC VALMIN valuation of US$726mn for its coal reserves (as at 31 August 2021), and had cash of US$191mn (as at end-Dec 2021). This compares favourably against its current market capitalisation of around US$543mn (S$733mn).
A great year…The group reported its highest coal volume sales of 11.4mn tonnes in 2021, which generated sales of US$642mn (+109% YoY) and net profit of US$179mn. This was mainly on the back of higher coal prices as ICI4 rose and averaged US$65.85 in 2021.
…and an even greater year ahead. Indonesia's coal miners are expected to benefit from the tight supply amid the disruptions to Russian supply due to sanctions. The ICI4, Indonesia's coal benchmark for 4,200 GAR coal is once again trading above US$100 per tonne. (see coal price chart below)
Juicy dividends and cheap valuations. GERL will be paying out a final dividend of 5.0 Sing cents, which is pending approval at the upcoming AGM. This brings total full-year 2021 dividends to 9.0 Sing cents, or US$93.5mn. GERL currently trades at only 3x FY2021 P/E.
SGX IHS McCloskey Indonesian 4200kc GAR FOB Thermal Coal Futures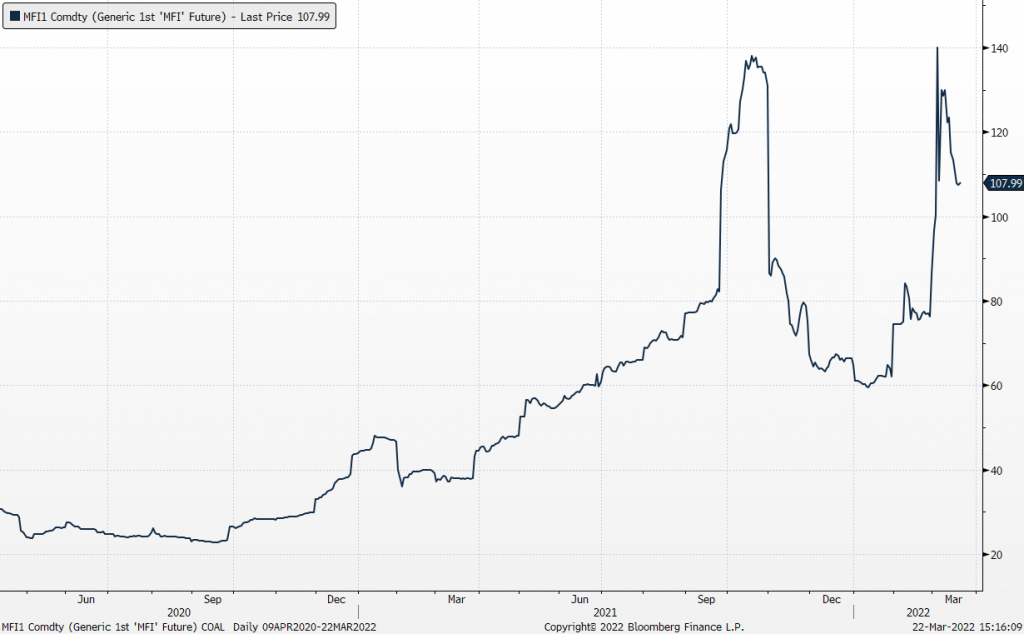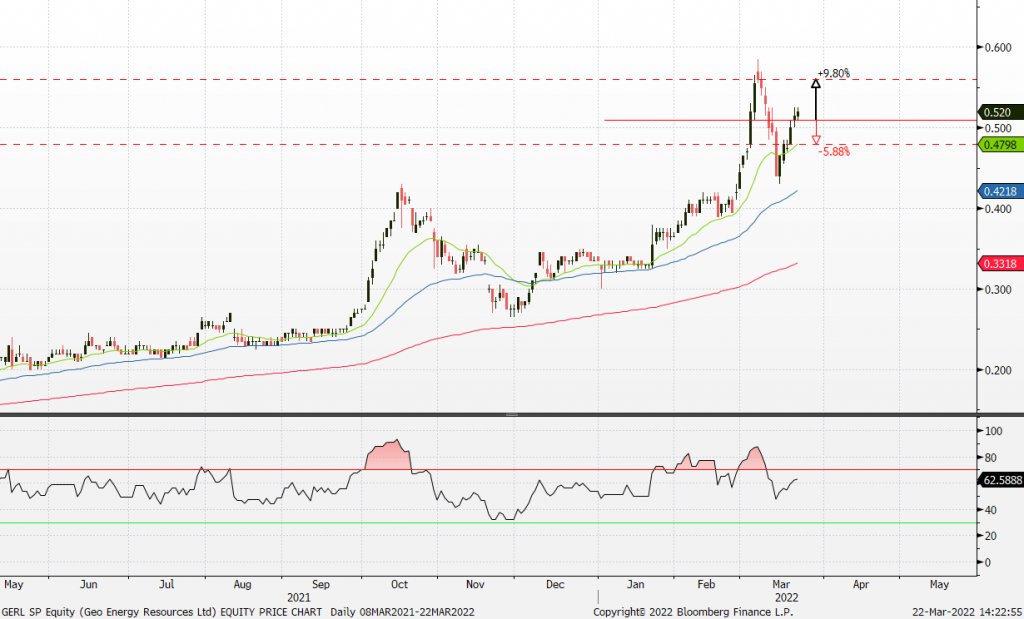 ---
OxPay Financial Ltd (OPFL SP): From losses to profits
RE-ITERATE BUY Entry – 0.175 Target – 0.200 Stop Loss – 0.160
The turnaround. OxPay announced adjusted net profit of S$3.2mn in FY21 VS FY20's net loss of S$1.9mn, driven by a surge in revenue of 53.2% YoY in FY21. Gross profit margin jumped to 62% in FY21, from 32% in FY20, mainly due to an increase in remittance activities from its merchants.
Riding on the BNPL trend. OxPay recently entered into multiple partnerships in the "Buy Now Pay Later" (BNPL) space, such as with IOU Pay and PaySlowSlow. Pursuant to the partnership with IOU Pay, OxPay will be able to add the BNPL option into its online e-invoicing, Quickpay and web payment acceptance platform in Malaysia, thereby catering to the growing consumer demand for deferred payment choices. OxPay has also collaborated with BNPL brand PaySlowSlow in Singapore and will provide the brand with payment gateway and merchant acquiring services. PaySlowSlow Singapore targets to roll out BNPL services in 1Q22, with 500 merchants and monthly gross transaction value of approximately S$1.0mn, which is expected to translate into additional processing volume for OxPay.
Reinforcing foothold in the F&B and retail space. Capitalising on its specialty in the F&B and retail space, OxPay has also acquired up to 20% stake in AppPOS, a network of over 300 F&B and retail merchants. AppsPOS has more than 1mn users on its mobile apps/website in Asia, facilitating over S$300mn worth of Gross Merchant Value annually.
Neobanking in UK and European markets. OxPay announced earlier this year that it has partnered with TranSwap, a global banking-as-a-service platform with multiple central bank licenses across the UK, Singapore, Hong Kong and Indonesia. TranSwap will integrate its neobank technology stack in OxPay's current platform. With this partnership, OxPay will offer neobanking products such as the issuance of local and global virtual name bank accounts to clients for collection, payment and conversion of currencies, as well as global cross-border payment and issuance of cards.
Summary. Despite being a fintech company, OxPay managed to turnaround its losses from the previous year and generated adjusted net profits in FY21. The company has low levels of debt, a negative net gearing ratio and the business is free from large capex commitments, inventory and operates on a straightforward revenue model.
While we have a technical buy TP of S$0.200, we have a fundamental outperform rating and TP of S$0.30 based on 18x P/E (Previously 25x) to FY22F EPS of S$0.017. Read our fundamental report here.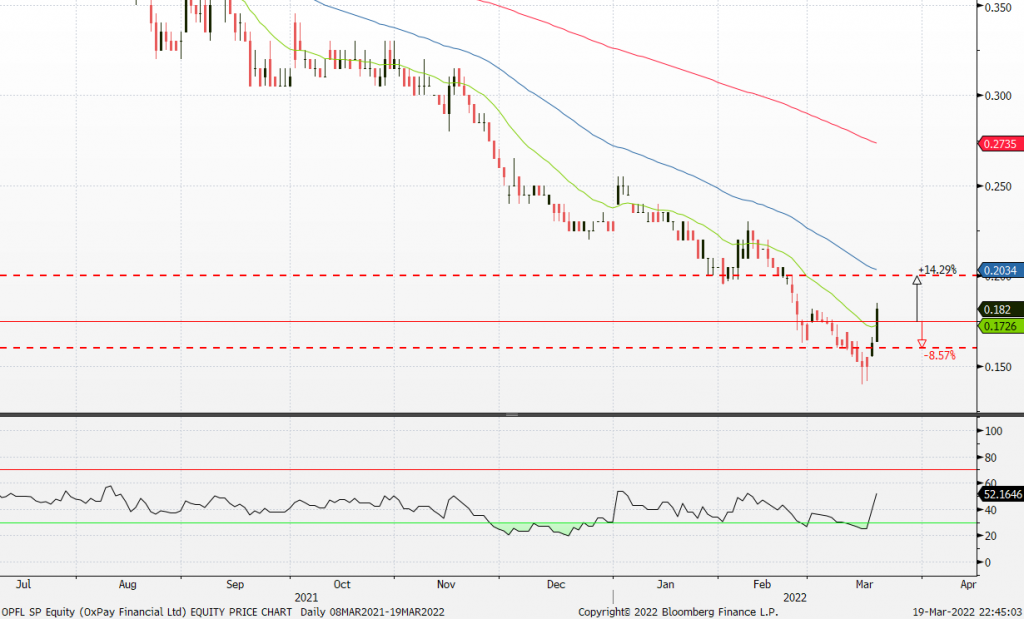 ---
HONG KONG
Xtep International Holdings Ltd (1368 HK): Exercise more after reopening
BUY Entry 11.8 – Target – 13.5 Stop Loss – 11.0
Xtep International Holdings Limited engages in the design, development, manufacture, sale, and marketing and brand management of sports footwear, apparel, and accessories. The company sells its products primarily under the XTEP brand, as well as Palladium, K-Swiss, Saucony, and Merrell brand names. It is also involved in the trading of sportswear products.
Outstanding FY21 earnings. The company announced its FY21 annual results last week. FY21 is the highest record year for the company. Revenue 22.5% YoY to RMB10bn. Gross profit jumped by 30.6% YoY to RMB4.2bn. Profit attributable to ordinary equity holders jumped by 77.0% YoY to RMB908.3mn. Gross profit margin increased by 2.6 ppts to 41.7%. Net profit margin increased by 2.8 ppts to 9.1%.
A solid customer base is established. The Summer and Winter Olympic Games in 2021/22 have helped domestic sportswear brands to gain more market shares from International brands such as Nike and Adidas. Once the customer base is established, the company is expected to have stable growth due to brand loyalty and user stickiness.
Lockdowns are actually a buying opportunity. China is experiencing a surge in COVID cases and ensuing lockdowns of cities. However, this will generate pent-up demand for outdoor activities afterwards. In November, there will be another international sports event tantamount to the Olympic Games, the FIFA World Cup Qatar 2022. Sportswear companies are expected to enjoy another shopping spree in both the near term and mid-term.
Updated market consensus of the EPS growth in FY22/23 is 24.3%/24.4% YoY respectively, which translates to 22.1x/17.8x forward PE. Current PER is 27.5x. Bloomberg consensus average 12-month target price is HK$14.91.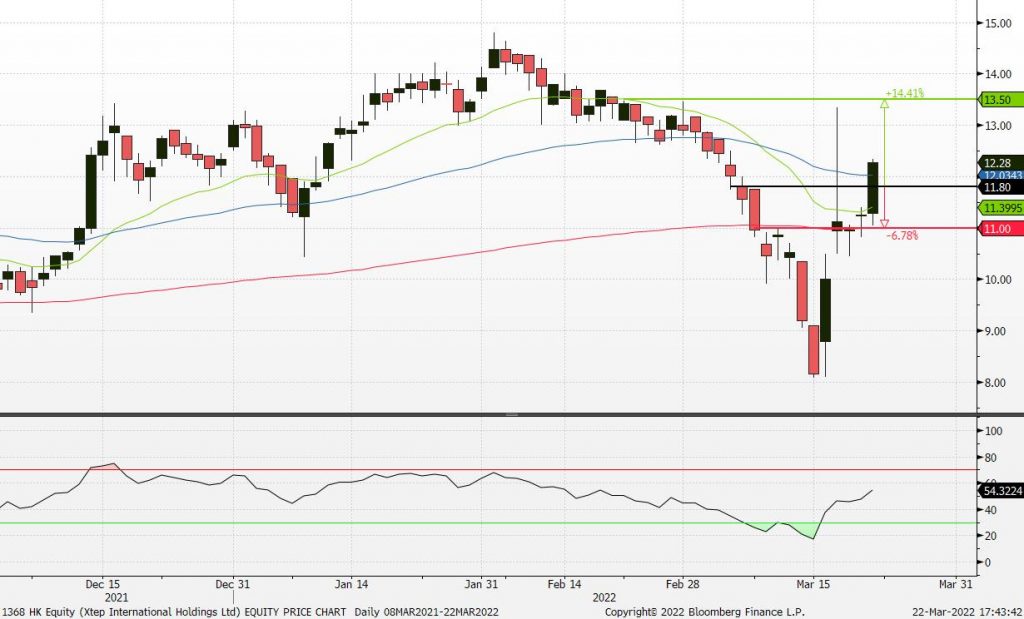 ---
Xinte Energy Co., Ltd. (1799 HK): Substitution effect in play
RE-ITERATE BUY Entry – 16.8 Target – 18.5 Stop Loss – 15.5
Xinte Energy Co., Ltd. is an investment holding company principally engaged in the provision of solar energy and wind power solutions. The Company operates through seven segments. Polysilicon Production segment is engaged in the production and sales of polysilicon. Engineering and Construction Contracting (ECC) segment is engaged in the provision of ECC services for solar energy plants and wind power plants. Inverter Manufacturing segment is engaged in the manufacture of inverters. Sales of Electricity segment is engaged in the generation and sales of electricity. Photovoltaic (PV) Wafer and Module Manufacturing segment is engaged in the manufacture and sales of PV wafers and modules. Build-Own-Operate (BOO) segment is engaged in the building and operation of solar energy plants and wind power plants. Others segment is engaged in related trading businesses and the provision of design and logistics services. 
High oil prices are tailwins for renewable energy. The Russia-Ukraine conflict results in unprecedented sanctions on Russia which is a main crude oil exporter. The unexpected widening supply gap of 4mn bbl/d boosted oil prices to 2014 highs. Europe and the US are rushing to secure alternative sources of supply and ramp up domestic oil output amidst the looming energy crisis. Meanwhile, the situation will also accelerate the deployment of renewable energy supply, especially solar. Photovoltaic sector is expected to revive after months of correction. The concerns over potential sanctions on China photovoltaic companies should be relieved as the US priorities reining in inflation by increasing energy supplies at the moment.     
Positive FY21 earnings alert. Net profit attributable to shareholders of the company is expected to be no less than RMB5.0bn compared to RMB0.7bn in FY20. The increase in the Group's profit is mainly due to the increase in sales volume of polysilicon products, the significant increase in the sales price of polysilicon products, as well as the increase in the scale and power generation volume of the group's self-operated wind power and photovoltaic power plants.
Updated market consensus of the EPS growth in FY22/23 is 8.6%/-18.6% YoY respectively, which translates to 3.4x/4.2x forward PE. Current PER is 8.7x. FY22F/23F dividend yield is 5.1%/3.1%. Bloomberg consensus average 12-month target price is HK$20.94.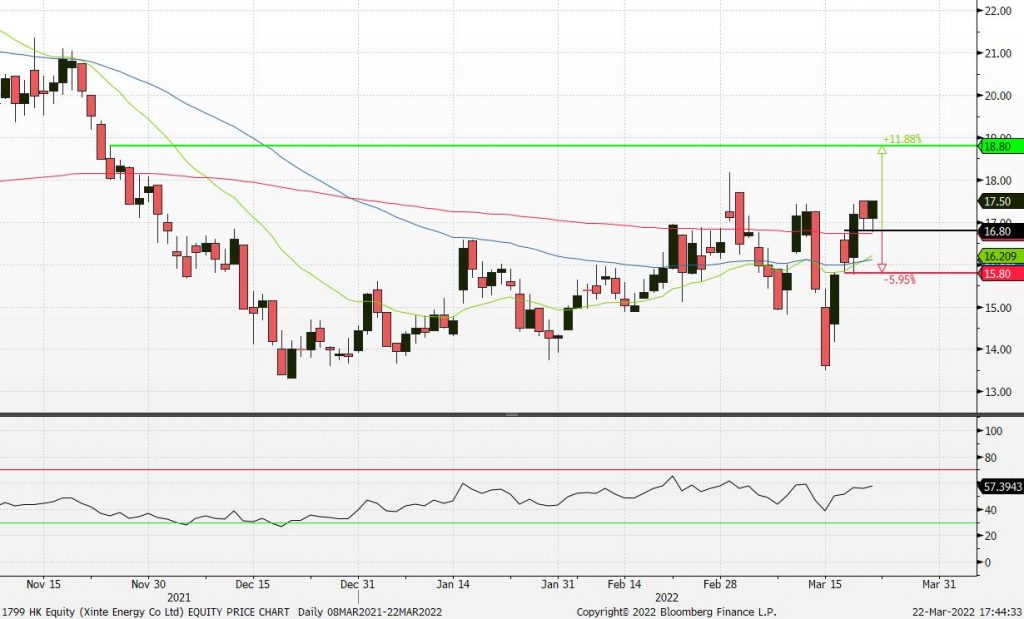 ---
MARKET MOVERS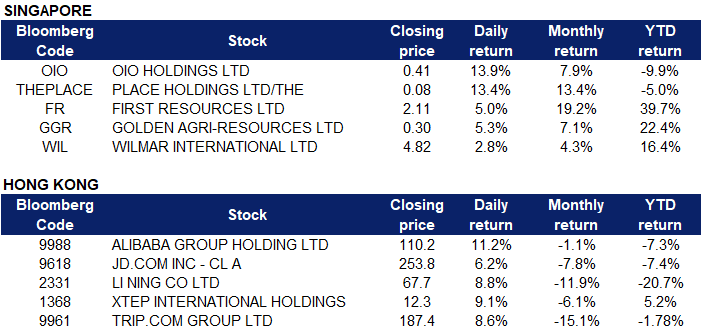 ---
United States
Top Sector Gainers
Top Sector Losers
Alibaba Group Holding Ltd (BABA US) shares rose 11% after the company increased its share buyback program to $25 billion from $15 billion, effective for a two-year period through March 2024. Alibaba also appointed Weijian Shan, executive chairman of Hong Kong-headquartered investment group PAG, to its board as an independent director.
Tesla Inc (TSLA US) shares rose 7.9% yesterday after the company announced that it will on Tuesday (Mar 22) deliver to customers the first 30 Model Y cars made at its 5 billion euro Gruenheide plant, the biggest investment in a German car factory in recent history. At full capacity, the plant will produce 500,000 cars annually – more than the 450,000 battery-electric vehicles that German rival Volkswagen sold globally in 2021. It will also generate 50 gigawatt hours of battery power, surpassing all other plants in Germany.
Datadog Inc (DDOG US) shares rose 6.1% yesterday after investment firm BTIG initiated coverage of the stock with a buy rating. BTIG said in a note to clients that Datadog is set up for near- and long-term success.
Alphabet Inc (GOOG US) shares rose 2.8% yesterday after Google's parent company spun off Sandbox AQ, a quantum computing start-up that includes former Google CEO Eric Schmidt as investor and chairman of the board.
Nike Inc (NKE US) shares rose 2.2% yesterday after the company reported a beat on the top and bottom lines in the third quarter. The retailer reported earnings of 87 cents per share on revenues of $10.87 billion, topping analysts' estimates of 71 cents per share on revenues of $10.59 billion. Nike delayed giving its outlook for the year.
---
Singapore
OIO Holdings Ltd (OIO SP) shares rose 13.9% yesterday, in tandem with the recovery in crypto prices. Ether jumped as much as 4.8% on Tuesday in Asia, touching its highest level since Feb 17, as anticipation builds for the biggest software upgrade in Ethereum's eight-year history. Called the Merge and expected within months, it will change how transactions on Ethereum are ordered, helping the network consume less electricity and run more efficiently. Developers have been promising the upgrade for years.
Place Holdings Ltd (THEPLACE SP) shares rose 13.4% yesterday. Recently. The company signed a MOU to Acquire 51% of IP Rights Associated with Property Landmark, THE PLACE, and Iconic Attraction, Shimao Tianjie Sky Screen, in Beijing. Both the IP Rights and Shimao Tianjie Sky Screen are income-generative businesses and they are expected to strengthen the financial performance of the Group. There are also various opportunities to leverage on the IP Rights and technological features of Shimao Tianjie Sky Screen to develop new business propositions related to the digital economy (such as gamification, NFTs, Metaverse) and create new revenue streams.
First Resources Ltd (FR SP), Golden Agri-Resources Ltd (GGR SP) and Wilmar International Holding Ltd (WIL SP) shares rose 5%, 5.3% and 2.8% respectively yesterday. Malaysian palm oil futures edged higher towards the MYR 6,000 region in late March, bouncing off their worst weekly drop since 1986 as threats of a Russian oil embargo lifted crude prices and boosted the appeal of the tropical oil. Last week, Indonesia surprised markets and removed its export restrictions on palm oil products. The world's top producer has raised its export levy instead of asking producers to sell 30% of their planned exports to the domestic market, marking a new bid to stabilise domestic prices
---
Hong Kong
Top Sector Gainers
Top Sector Losers
Alibaba Group Holding Ltd (9988 HK) shares rose 11.2% yesterday after the company raised its share buyback programme to $25 billion, the largest ever repurchase plan by the e-commerce giant. This is the second time Alibaba Group Holding Ltd has expanded its buyback programme in a year. It had hiked the programme from $10 billion to $15 billion last August. Meanwhile, tech stocks continued to rally, such as JD.com Inc (9618 HK) which gained 6.2% yesterday, after Chinese Vice Premier Liu He said that Beijing will roll out more measures to boost the economy as well as favourable policy steps for capital markets.
Li Ning Co. Ltd. (2331 HK) and Xtep International Holdings Ltd (1368 HK) shares rose 8.8% and 9.1% respectively yesterday, after Shenwan Hongyuan, Orient Securities and other institutions continued to be optimistic about the growth space of high-quality national sports brands under the rise of domestic products. In addition, from January to February, the retail sales of clothing increased 4.8% YoY, and the online retail sales of clothing increased 3.9% YoY. Bank of China International said that retail sales in March are expected to fluctuate, but the recovery trend of clothing retail demand in the medium and long term will not change.
Trip.com Group Ltd (9961 HK) shares rose 8.6% yesterday after Hong Kong announced the easing of travel rules in an apparent shift from zero-Covid policy. Hong Kong will lift a ban on flights from nine countries and reduce hotel quarantine alongside a "roadmap" towards eased restrictions that suggest a departure from the territory's zero-Covid policy, its leader has announced. Lam also announced social restrictions on gathering limits, mask-wearing, and business and venue operations would begin easing in three phases from 20 April.
---
Trading Dashboard
Trading Dashboard Update: No additions or deletions to trading dashboard.

(Click to enlarge image)
---