KGI DAILY TRADING IDEAS – 22 September 2021
Singapore Trading Ideas | Hong Kong Trading Ideas | Market Movers | Trading Dashboard
SINGAPORE
CapitaLand Investment (CLI SP): The new game in town
BUY Entry – 3.15 Target – 3.45 Stop Loss – 3.00
CLI was listed from the privatisation of CapitaLand Ltd (CAPL SP). CLI is one the leading global real estate investment managers (REIM) with a strong Asia foothold and pro forma total real estate assets under management of S$115bn and S$78bn of real estate funds under management. As of yesterday's close, CLI had a market cap of S$16bn.
Three synergistic growth drivers. CLI will focus on growing its fund management, lodging management and capital recycling.
Growing fees under AUM. CLI's funds under management grew from S$46bn in 2015 to S$78bn in 2020, or an implied 11% CAGR during this time. Fee income grew at a 12% CAGR from 2017 to 2020.
Lodging business. CLI's lodging units under management increased at a much higher 20% CAGR between 2017 to 2020. By the end 2020, it had 123,000 lodging units. CLI receives S$20-25mn fee income per 10,000 stabilised serviced resident units.
Capital recycling. CLI is able to tap on its parent company's ecosystem for investment opportunities. Following the restructuring, the parent company, CapitaLand, will focus on the real estate development business. CapitaLand has provided a rights of first refusal to CLI in regards to relevant assets that it will dispose of.
Potential to trade above NAV. Given CLI's asset-light business model and stable recurring income stream, we expect CLI to trade at least 15-20% premium to its NAV of S$2.93, translating to a conservative fair value of between S$3.37 and S$3.52. We peg our S$3.45 trading target price to an average between the 15-20% premium to NAV.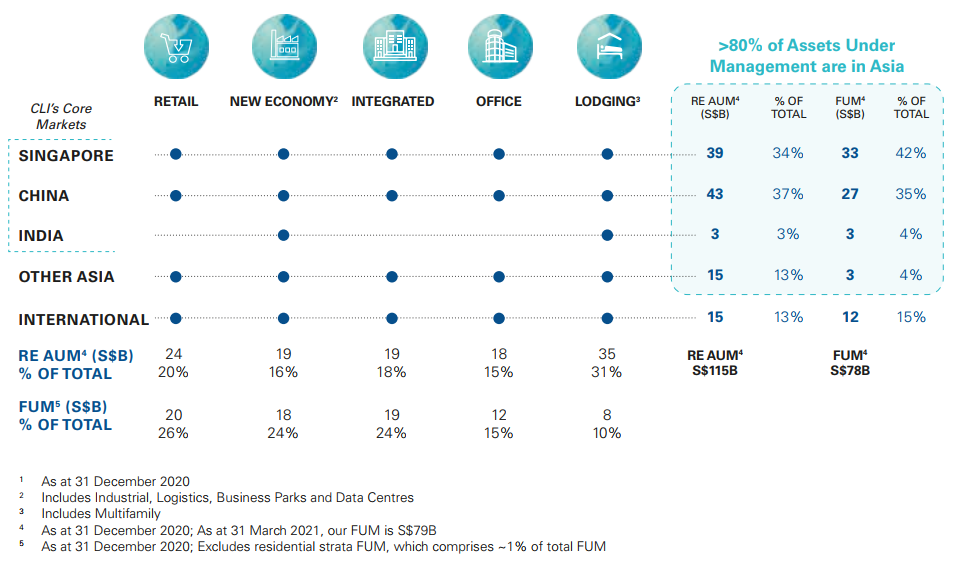 ---
Yangzijiang (YZJSGD SP): Stay calm and buy the dip
RE-ITERATE BUY Entry – 1.48 Target – 1.71 Stop Loss – 1.40
Broad-based market correction. Shares of Yangzijiang have corrected more than 11% over the past month on broad-based selling among China-based companies. We see this as a buying opportunity. Yangzijiang currently trades at S$1.48 vs its 5-year high of S$1.74, even though it's order book is at the highest since 2007.
China's largest private shipbuilder. Yangzijiang is China's largest private shipbuilder. The company builds a broad range of commercial vessels including containerships, bulk carriers and LNG vessels. Yangzijiang has been at the forefront of shipbuilding in China, receiving its first ever 24,000 TEU containership order in December 2020, the largest containership currently operating in the world.
Record order book. The company has secured a total of 118 effective shipbuilding contracts with an aggregate value of US$7bn, a new record for the group. Its previous record was US$5bn of new orders secured during the last supercycle in 2007. Furthermore, as delivery slots are already filling for the second half of 2023, Yangzijiang should be in a good position to negotiate for higher prices.
Upside catalyst from potential spin-off of investment portfolio. Yangzijiang is currently conducting a preliminary strategic review of its debt investment portfolio to focus on shipbuilding. The potential listing of Yangzijiang's debt securities portfolio, which makes up 50% of gross profit, could provide a rerating to its share price.
Positive consensus estimates. Valuations are still attractive at 9x/8x/7x FY21/22/23 PE, while trading at a 20% discount to historical book value. Cash & cash equivalents make up almost 80% of its current market cap. Consensus currently has 7 BUYS, 1 HOLD and 1 SELL, and a 12m TP of S$1.71.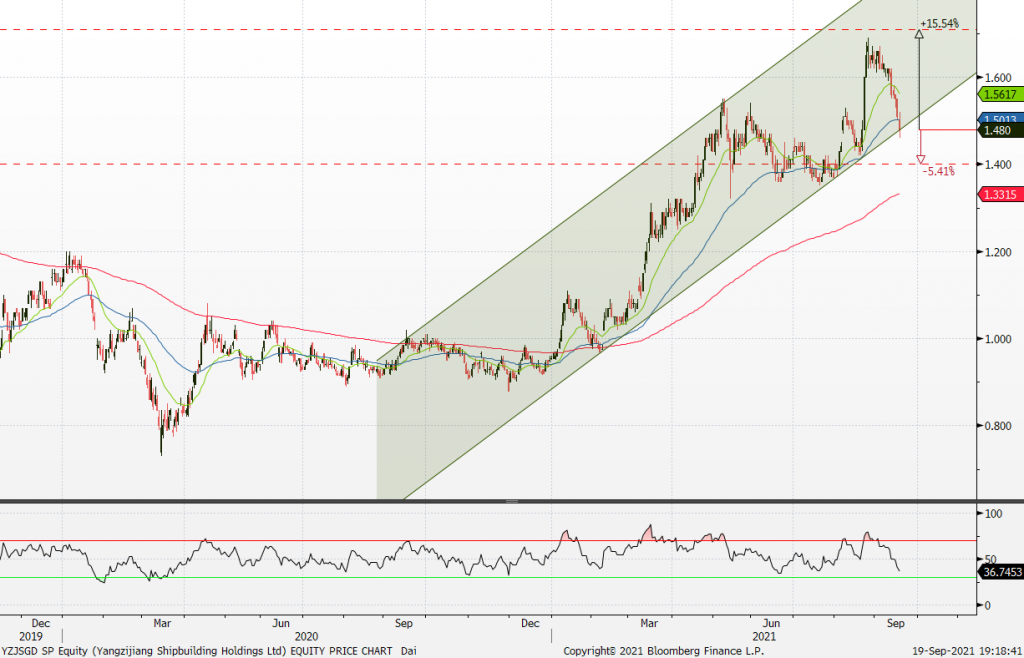 ---
HONG KONG
Xinjiang Goldwind Science & Tech Co Ltd (2208 HK): Do not let the market headwinds shadow the stock tailwinds
Buy Entry – 15.5 Target – 18.5 Stop Loss – 14
Xinjiang Goldwind Science & Tech Co Ltd is a China-based company, principally engaged in the manufacture and distribution of wind turbine generator sets and spare parts. The company is also engaged in the provision of wind power services, as well as the investment and development of wind farms. The company distributes its products within domestic and overseas markets.
The recent overall market weakness was the result from the property sector crisis. Quality stocks with an upbeat outlook were dragged down by the sell-off. Several sectors or investment themes are relatively risk-free in terms of policy and are irrelevant to the property sector, namely semiconductor, electric vehicle, and clean energy.
1H21 revenue decreased by 7.8% YoY to RMB17.9bn due to the 71.5% YoY decrease in capacity sold of 2S-series turbines offsetting the 379.4% YoY and 316.8% YoY jump in capacity sold of respective 3S/4S-series turbines and 6S/8S-series turbines. Net profit attributable to owners of the company jumped by 45% YoY to RMB1.8bn due mainly to the increased gross profits from WTG Manufacturing and Sale and Wind Farm Investment and Development business.
Both onshore and offshore wind power installed capacity is expected to be 50 GW in 2021, 40 GW of which will be installed in 2H21. The overall wind power installed capacity during the 14th-Five-Year Plan period (2021-2025) is expected to be more than 300 GW.
The International Renewable Energy Agency (IRENA) predicts that global renewable energy growth will reach a new normal in 2021 and 2022 and the growth trend will continue. An additional 270GW capacity of renewable energy is expected to become operational worldwide in 2021, followed by another 280GW in 2022. Meanwhile, IRENA projects that the additions to renewable energy capacity in China will be pared down by one-fourth YoY in 2021, owing to the Chinese government's decision to phase out its subsidies for wind and solar power projects by the end of 2020.
Updated market consensus of the EPS growths in FY21/22/23 are 34.6%/5.5%/9.1% YoY respectively, which translates to 15.4x/14.6x/13.4x forward PE. Current PER is 17.3x. Bloomberg consensus average 12-month target price is HK$18.31.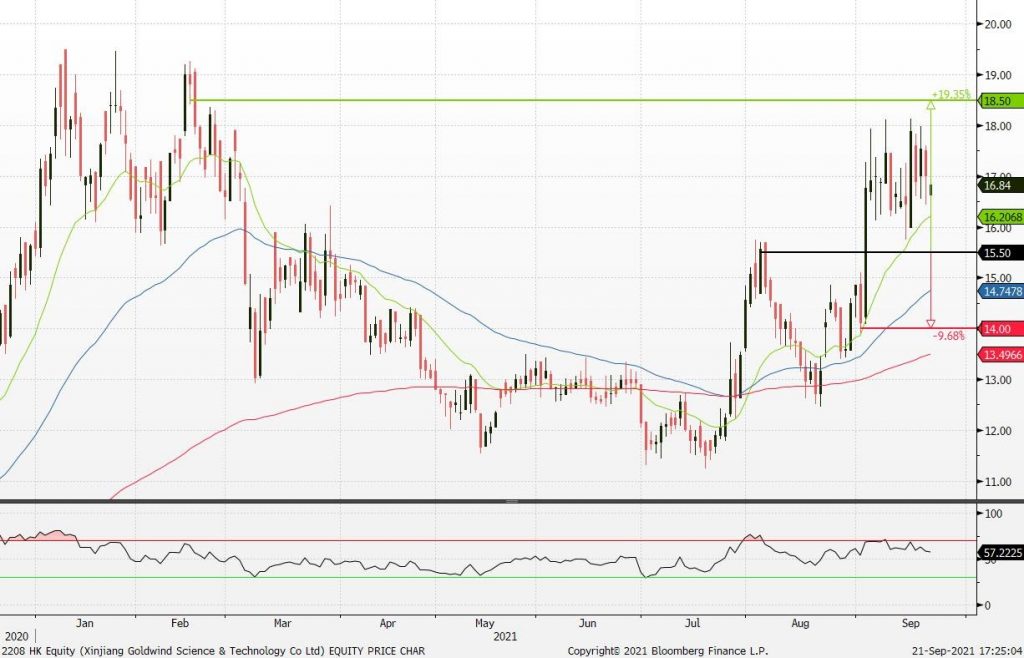 ---
AviChina Industry & Technology Company Limited (2357 HK): Defence is defensive amid the market downturn
Reiterate Buy Entry – 5.2 Target – 6.0 Stop Loss – 4.85
AviChina Industry & Technology Company Limited is principally engaged in the research, development, manufacture and sale of civil aviation products. The company operates its business through two segments. The Aviation Entire Aircraft segment is engaged in the manufacture, assembly, sales and servicing of helicopters, trainers and other aircraft. The Aviation Parts and Components segment is engaged in the manufacture and sale of aviation parts and components.
Healthy growth in 1H21 results. Revenue grew by 33.06% YoY to RMB27.9bn. GPM increased by 0.97ppt to 39.3%. Net profit attributable to the owners of the parent company grew by 39.7% YoY to RMB1,199mn, which was due mainly to the growth craft segment and aviation ancillary system and related business segment. In 2H21, 5G communications and new energy vehicles are the two fields that the company sees as opportunities of business growth.
The recent catalyst for the stock could be the announcement of broadening the 2018 pilot program to allow Red-chip companies to make domestic listings. It has a higher potential to be dual-listed in mainland China. Meanwhile, market sentiment of the stock is positive as long as there are military tensions between China and countries such as Japan and the US.
Consensus estimates per the 12-month target price at HK$7.61, implying a 26% upside potential. EPS is forecasted to grow at 32.6%/17.5%/13.5% for FY2021/22/23F, which would bring forward P/Es down to 16x/13x/12x FY2021/22/23F.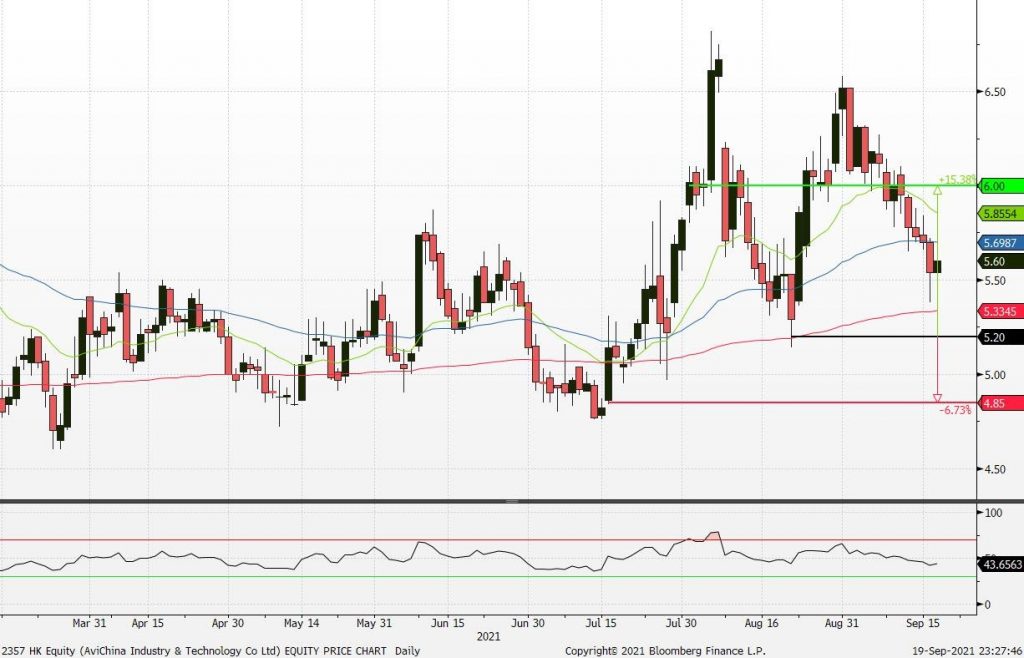 ---
Market Movers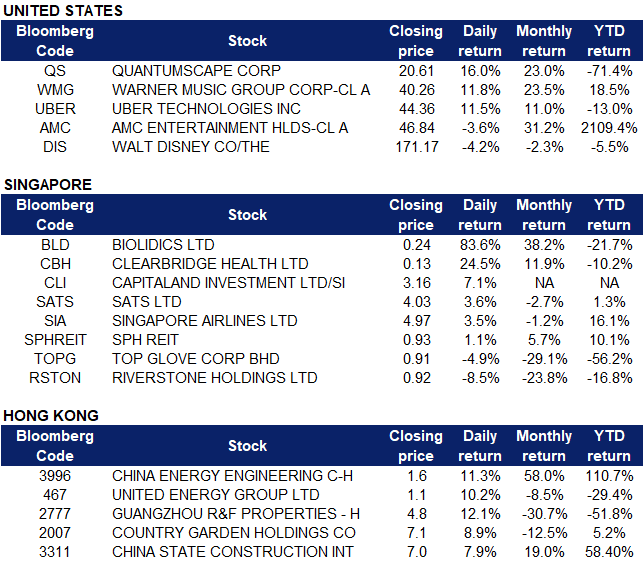 United States
Quantumscape (QS US) shares rose 16.02% after the company announced that it had partnered with an unnamed original equipment manufacturer (OEM) to evaluate prototypes of its solid-state battery cells. The OEM will assess more advanced prototypes of QuantumScape's solid-state battery cells, and will buy 10 megawatt-hours of capacity from QS's pre-pilot plant to use in "pre-series" vehicles.
Warner Music Group (WMG US) shares surged 11.77% after Credit Suisse analysts upgraded their target price for the stock to $48 from $37. Analyst Meghan Durkin sees further upside in the stock as its growth outlook, margin profile, and valuation "become clarified."
Uber Technologies (UBER US) shares jumped 11.5% after it boosted its third quarter financial outlook, saying that its profit margins are improving in both its ride-hailing mobility segment and Uber Eat delivery business. CFO Nelson Chai said in a press release that "With positive adjusted EBITDA in July and August, we believe Uber is now tracking toward adjusted EBITDA breakeven in Q3, well ahead of our prior guidance." Uber sees its adjusted EBITDA rising to as much as $100 million in the fourth quarter.
AMC Entertainment (AMC US) shares continued falling on Tuesday trading, despite most of the market largely rebounding. The stock closed 3.65% lower and dipped another 1.80% in postmarket trading. There was no company specific news; the stock could be trading lower due to theater uncertainty and COVID-19 delta variant concerns. Additionally, CEO Adam Aron asked users on Twitter if "AMC should explore accepting Dogecoin?"
The Walt Disney Company (DIS US) shares dropped 4.17% after the company reportedly said fourth quarter streaming growth would be lower than expected due to headwinds related to the COVID-19 pandemic. Disney CEO Bob Chapek said at the Goldman Sachs "Communacopia" conference that he expects that "low single-digit millions" of streaming subscribers will rise in the fourth quarter.
---
Singapore
Clearbridge Health (CBH SP); Biolidics (BLD SP) Shares of BLD surged 84% while its parent company CBH rose 25% after BLD announced that it has developed a new product that detects an individual's protective immunity against Covid-19. The company expects the new product to contribute positively to its revenue for the financial year ending December 2021, provided the company is able to successfully market and commercialise the test in the EU.
CapitaLand Investment (CLI SP) surged another 7% yesterday, closing 12% above the S$2.82 implied consideration when it listed on Monday. CapitaLandInvest takes over from CapitaLand Limited which ceased trading on 9 September at $4.00 and will delist today at 9am. The listing comes after CapitaLand Limited restructured business to form two distinct entities – CapitaLand Investment, a real estate management investment business and CapitaLand Development, the privatized property development segment.
Singapore Airlines (SIA SP); SATS (SATS SP) Travel-related stocks traded higher after news emerged that the Biden administration plans to relax rules for vaccinated travelers from the EU and the U.K. The administration's new travel policy will be effective in November 2021, and will cover all international travel intended to replace the current system of bans and restrictions that apply to different parts of the world.
The large-cap glove makers continued their sell-off yesterday, led by Riverstone (-9%) and Top Glove (-5%). Top Glove, the world's largest rubber glove producer, said it expects the business environment to remain challenging over the next few quarters as demand for protective gear moderates. However, from a technical perspective, Riverstone looks oversold with its RSI dropping to a low of 16.5 as of yesterday's close, indicating a potential technical rebound in the cards. Its smaller peers, including Aspen Group and Medtecs International, managed to rebound 17-18% yesterday.
SPH Reit (SPHREIT SP) shares climbed 1.09% after it was announced that the Singapore REIT would be included in the FTSE EPRA Nareit Global Real Estate Index series effective 20 September. Earlier this month, eleven other Singapore REITs made their way into the index: AIMS APAC Reit, ARA Logos Logistics Trust, Cromwell European Reit, ESR-Reit, Far East Hospitality Trust, Keppel Pacific Oak US Reit, Lendlease Global Commercial Reit, OUE Commercial Reit, Prime US Reit, SPH Reit and Starhill Global Reit.
---
Hong Kong
China Energy Engineering Corp Ltd (3996 HK) Shares rose 11.3% yesterday after Guotai Junan Securities upgraded China Energy Engineering to BUY with a TP of HK$2.05. The bank recently released a research report stating that China Energy's operating performance in 1H21 is consistent with its earlier positive profit forecast and in line with expectations. The value of newly signed contracts in 1H21 reached RMB 483.3bn, a YoY increase of 58.2%, As of the end of June 2021, the contract value on hand is expected to reach approximately RMB 1.68tn, a YoY increase of 25.4%. Huge contracts in hand will continue to promote the company's growth in the next few years. The bank maintains an optimistic view of the company's prospects and believes that the company's growth will further accelerate after its A-share listing, which is expected to be completed in 3Q21.
United Energy Group Ltd (467 HK) Shares rose 10.2% yesterday after CMB International issued a research report last week, issuing United Energy a BUY rating and a TP of HK$1.70. The company had acquired high-quality assets through strategic acquisitions in the past 10 years, of which Block B9 in Iraq will be the main source of profit growth in the next few years. According to the report, the company's profit performance in the past 9 years has been good, contributed by its excellent cost control, effective resource development and prudent financial planning. CMB International believes that these characteristics will help the company's long-term development. The profit of HK$ 959mn in 1H21 has exceeded 2020's results. Net profit is expected to grow at an average annual compound growth rate of 44% for 2020-23.
Guangzhou R&F Properties Co Ltd (2777 HK), Country Garden Holdings Co Ltd (2007 HK) The property sector rebounded yesterday, after a prolonged heavy sell-off due to the spillover effect from Evergrande Group. R&F's shares rose 12.1% while Country Garden's shares rose 8.9% yesterday. Country Garden Service, a subsidiary of Country Garden, announced that it has signed an agreement with R&F Properties, which is 93% owned by Li Silian and Zhang Li, to acquire R&F Global, which is wholly-owned by R&F Properties, for a consideration of no more than RMB 10bn. Sunac China Holding's shares rose 8.5% while China Evergrande Group's shares declined slightly by 0.44%,
China State Construction Intrnl Hold Ltd (3311 HK) Shares rose 7.9% yesterday after UBS issued a report raising China State Construction's TP from HK$6.8 to HK$8.6, with a maintained BUY rating. The bank believes that the compound annual growth rate for China Construction's earnings will accelerate from 4% from 2018 to 2020 to 17% from this year to 2023. As for net debt, it is expected to decline, and operating cash flow is expected to become positive in 2023. UBS believes that the group's positive catalysts include the growth of new contracts in 3Q21 and the 14th Five-Year Plan for prefabricated housing.
Trading dashboard: Add Zoomlion Heavy Industry (1157 HK) at HK$7.60, add Trip.com (9961 HK) at HK$210, add Xtep International (1368 HK) at HK12.3.
---
Trading Dashboard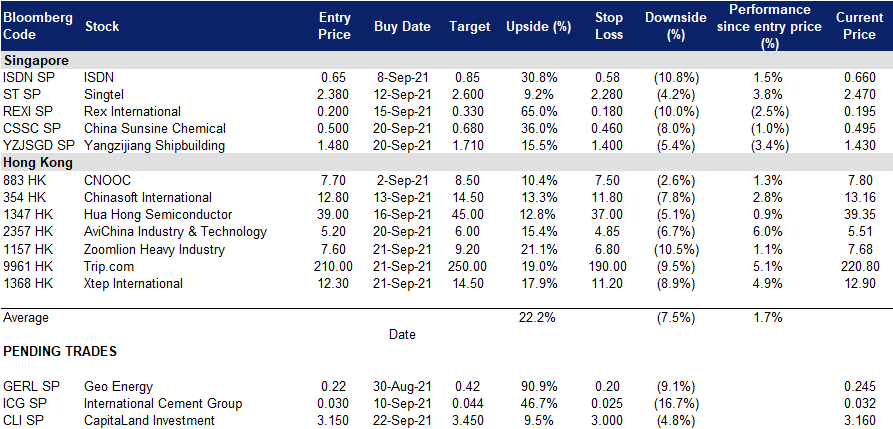 ---

---
Related Posts: